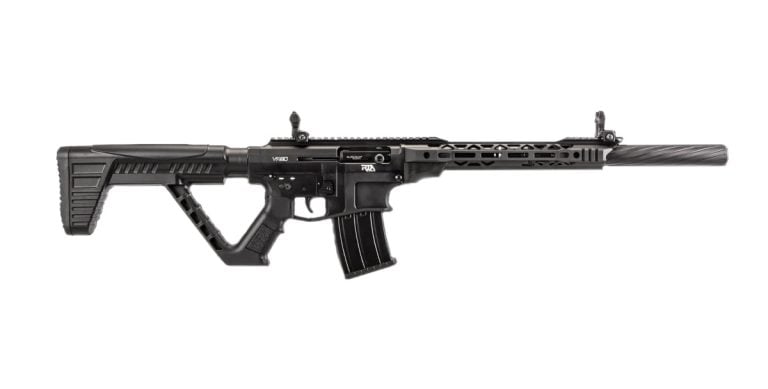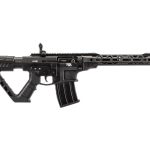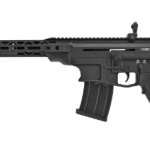 4
Editor's Note:
The RIA VR80 is a gas-operated semi-automatic 12ga shotgun that offers familiar AR-15 ergonomics and controls for comfort. It is magazine-fed with a standard capacity of 5+1 and fires 2-3/4" and 3" shells. An M-LOK rail allows for easy mounting of accessories, making it the VR80 a versatile shotgun at a very reasonable price.
Read full review
Rock Island VR80 For Sale - Compare Prices
Rock Island VR80 Specs
Sights
Flip up front & rear sights
Rock Island VR80 Features

5+1 magazine capacity

Polymer fixed thumbhole stock

20" barrel

Flip-up front and rear sights

Gas-operated semi-automatic action
By The Numbers - Rock Island VR80
Accuracy
Point it at what you need to hit and it'll get there within shotgun range.
Reliability
Low powered birdshot resulted in a few failures to feed before the 500-round break in period was reached. Reliability was great after 300 rounds.
Customization
The VR80 allows for the easy attachment of accessories including lights, optics, and lasers due to the rail system. Additionally, you can utilize any AR stock and pistol combo.
Ergonomics
It's basically an AR-15 ergonomically. More than that it's one that utilizes advanced control like a side charging upper, ambidextrous controls, and a thin but strong and comfortable to grip rail.
Overall
Hands-On Reviews & Related Post
Rock Island VR80 Variations & Comparables
Rock Island VR80 Upgrades & Accessories
final verdict
"The VR series are some really fun guns. These guns are an absolute blast. As far as box-fed semi-auto shotguns go they are reliable, simple to operate and affordable. The VR series seems to be growing quickly and I wouldn't be surprised if we saw at least one more by the end of this year." – Travis Pike
Community reviews
There are no reviews for this product yet.
Add your own rating and help other Pew Pew users pick the right guns