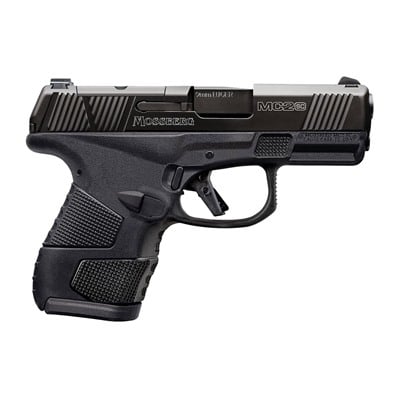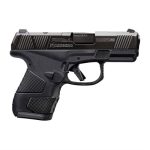 4.5
Concealable, micro compact design

9mm chambering

Optics ready
May feel too small too some

Grip ergonomics may not work for everyone
Editor's Note:
Mossberg's MC2sc is the company's venture into the micro compact, red dot ready pistol world. Built on the MC2c platform, this 9mm offers a tiny way to carry. It sports 11+1 rounds with a standard mag and 14+1 with an extended mag.
Product Description
The Mossberg Mc2SC is a micro compact 9mm pistol with an 11+1 standard capacity. It features an optics ready design with J-Point/Shield RMSc footprint. A snag-free dovetail sights and TRUGLO sights (available on some models) make it a decent contender for concealed carry.
Mossberg MC2SC For Sale - Compare Prices
Mossberg MC2SC Specs
Magazine Capacity
11+1-Round, 14+1-Round
Magazine Included
1 x 11-Round, 1 x 14-Round
Mossberg MC2SC Features

11+1 capacity standard, 14+1 extended

Red dot ready

Slim build for CCW
By The Numbers - Mossberg MC2SC
Accuracy
It's an accurate shooter
Reliability
It's a reliable model from an established brand
Customization
Aftermarket is lacking
Ergonomics
It feels okay, but not the best CCW pistol ergos out there
Overall
Solid CCW contender
Hands-On Reviews & Related Post
Mossberg MC2SC Variations & Comparables
4.5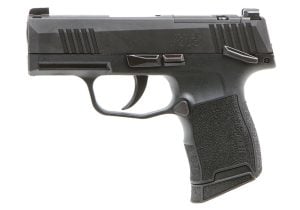 VIEW DETAILS
The Sig P365 is an impressive micro 9mm with a great track record. This gun is a popular subcompact semi-auto pistol, designed for CCW and self defense. Some of it's key features include a 10-round capacity, which is higher than many of its competitors, compact and modular, has XRAY3 Day/Night sights providing visibility in low light conditions, and ambi controls. We've tested this gun time and time again. As our writer puts it, "The rest of the industry has had a couple of years to catch up but the P365 is still an impressive micro 9mm that is super popular as a CCW option." – Travis Pike
Read More
final verdict
Mossberg's Mc2SC is a tiny 9mm pistol with an 11+1 standard capacity and optics ready design — J-Point/Shield RMSc footprint, for those that want to know. The real selling point of this gun is its size — it's super tiny. If you're looking for a red dot ready, slimline pistol…this is your gun.
Community reviews
There are no reviews for this product yet.
Add your own rating and help other Pew Pew users pick the right guns