Mossberg makes some outstanding firearms — beyond what we know them for, which is, of course, shotguns.
Though they are the other American shotgun company, they do make more than just shotguns.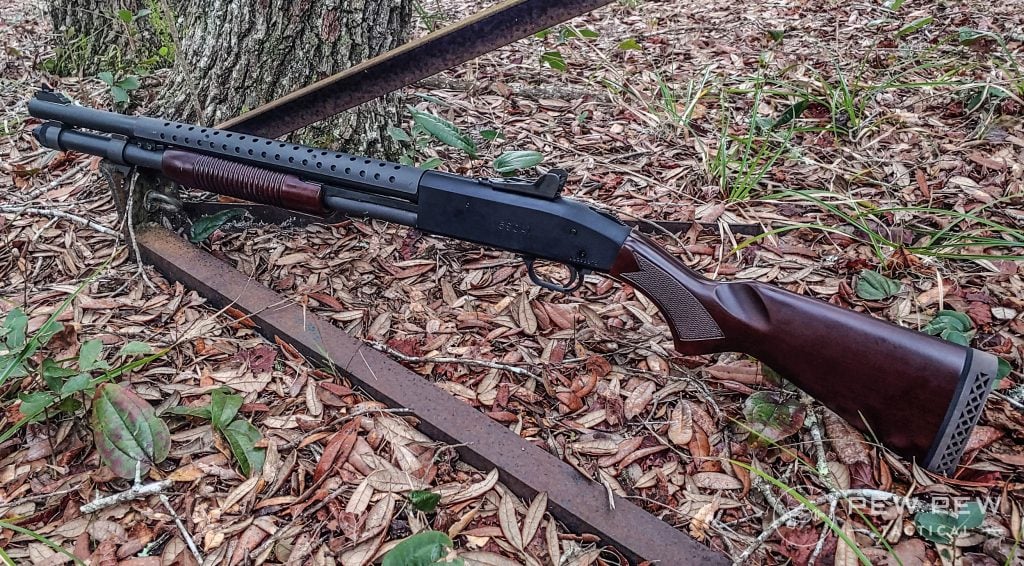 Did you know Mossberg has produced firearms for over a century now? And the company is still a family-owned business – something Oscar Mossberg would likely be proud to hear.
He'd be even prouder to know that Mossberg still makes some of the best firearms on the market that don't typically break the bank.
What are some other Mossberg firearms, you ask? Well, we've gathered a handful of models worthy of your attention.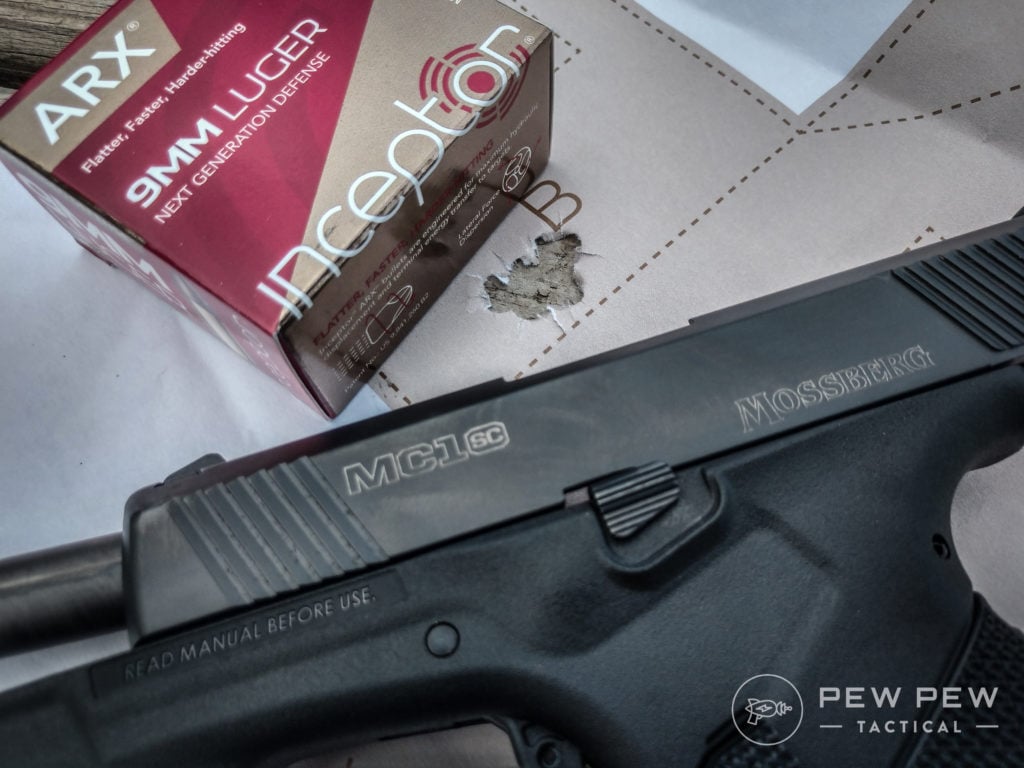 While, of course, this list features shotguns…c'mon, it is Mossberg, after all…we did list guns that don't fall into shotgun territory.
So, we encourage you to dive deep into this roundup and take a look at the diversity Mossberg offers.
Without further ado, here are the best Mossberg firearms.
Best Mossberg Models
1. Brownie
We all know Mossberg mostly from their shotguns, so some may be surprised that a 4-barreled .22 LR pistol kicked things off for this legendary company in 1920.
Designed for trappers, it was meant to finish off animals stuck in traps.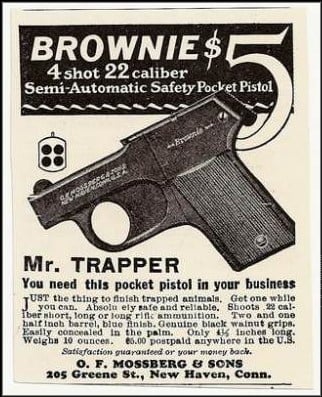 As such, the Brownie wasn't quite a pepperbox nor a derringer — it sat somewhere between with four non-rotating barrels.
A rotating firing pin and double-action trigger operated the weapon.
The Brownie was a small, cheap, and reliable handgun with long trigger and simplistic sights. But all that meant it wasn't very handy beyond near point-blank ranges.
This little niche handgun used a striker-fired system back when hammer-fired was all the rage.
Mossberg sold the Brownie from 1920 to 1932 before calling it quits on the design.
Oddly enough, Mossberg didn't produce another handgun until the launch of the MC1sc in 2019.
2. Mossberg 500
Mossberg became Mossberg when they brought the 500 to market in 1960.
Though the company made various shotguns before the 500 series, the Mossberg 500 cemented them as one of American's premier shotgun manufacturers.

Using a pump-action system and tubular magazine, this shotgun does it all.
If you need a deer gun, a slug gun, a bird gun, and a home defense gun, the Mossberg 500 has you covered.
Heck, they even make barrels to convert 500 series guns to muzzleloaders.
Additionally, the 500 Series helped bring dual-action bars to mainstream popularity with its reliable design – though the original Mossberg 500 series utilized a single-action bar. (Mossberg later changed it to a dual-action bar system.)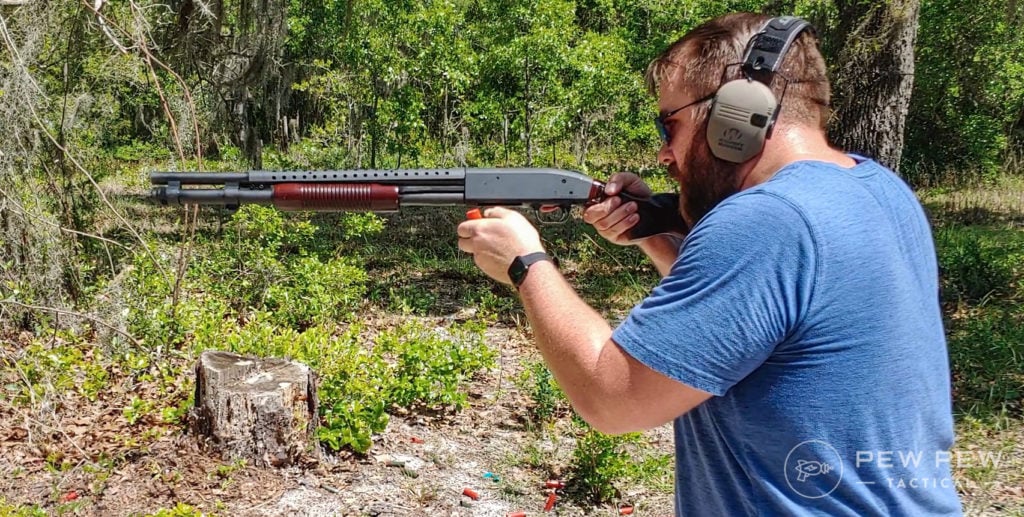 Dual-action bars help improve reliability and the control of your action and increase durability near tenfold.
Mossberg designed the 500 series to be superbly reliable in foul conditions, and clearances are rather loose.
Loose clearances allow the gun to be full of dirt, mud, and gunk and still function.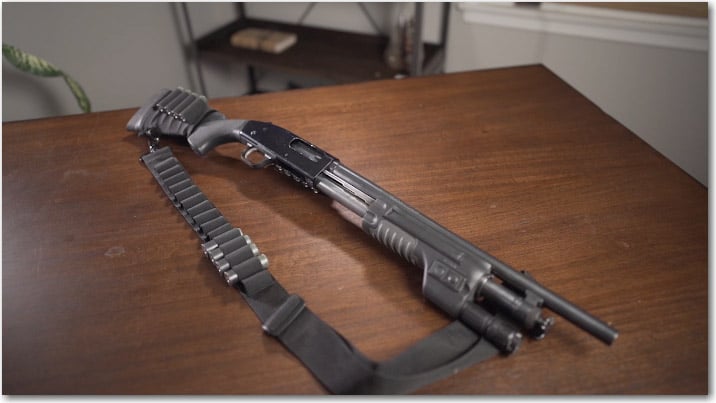 User-level maintenance allows the end-user to easily fix broken parts without needing to ship them back to Mossberg.
The Mossberg 500 offers shooters an affordable but extremely reliable platform found in nearly any configuration.
382
at GrabAGun
Prices accurate at time of writing
Prices accurate at time of writing
Mossberg 500 series guns also bring with them the ability to upgrade. Make sure to check out the Best Mossberg 500 and 590 Upgrades for some ideas.
3. 590A1
Building on the Mossberg 500 series was easy for Mossberg.
The 590A1 took the basic Mossberg 500 and purpose-built it into a tactical pump-action.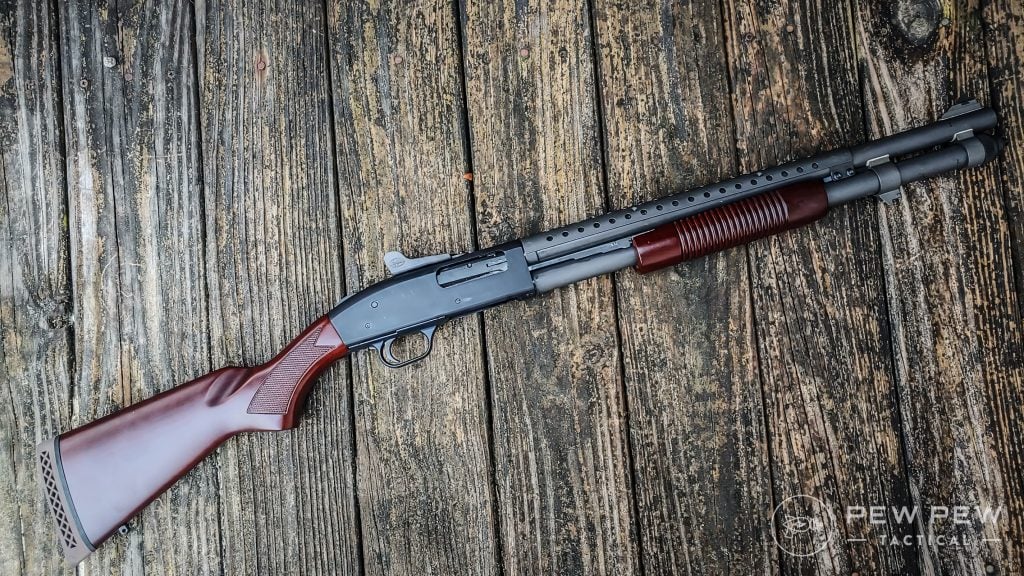 When the military wanted a pump-action shotgun, they put out a specific series of guidelines for manufacturers. Most notably, they wanted a heavy-walled barrel, a metal trigger grip, a bayonet lug, and the ability to pass a 3,000-round test.
Mossberg used those guidelines to produce one of the best shotguns on the market.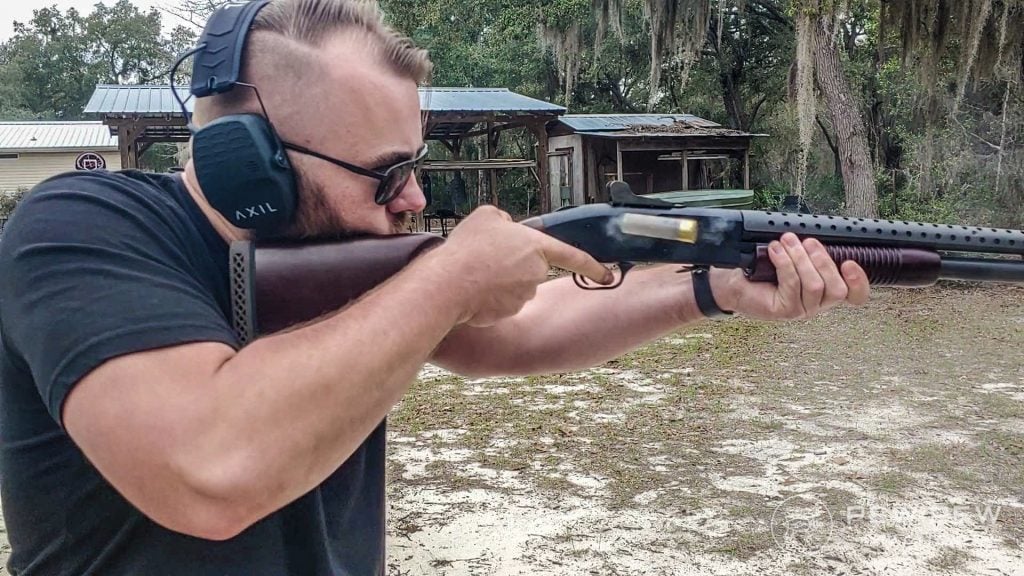 The 590A1's design allows for a very tight shot group due to its unique barrel harmonics.
Even the cheapest buckshot patterns nice and tight compared to other cylinder bore guns. A hefty and thick barrel also means it takes serious abuse without issue.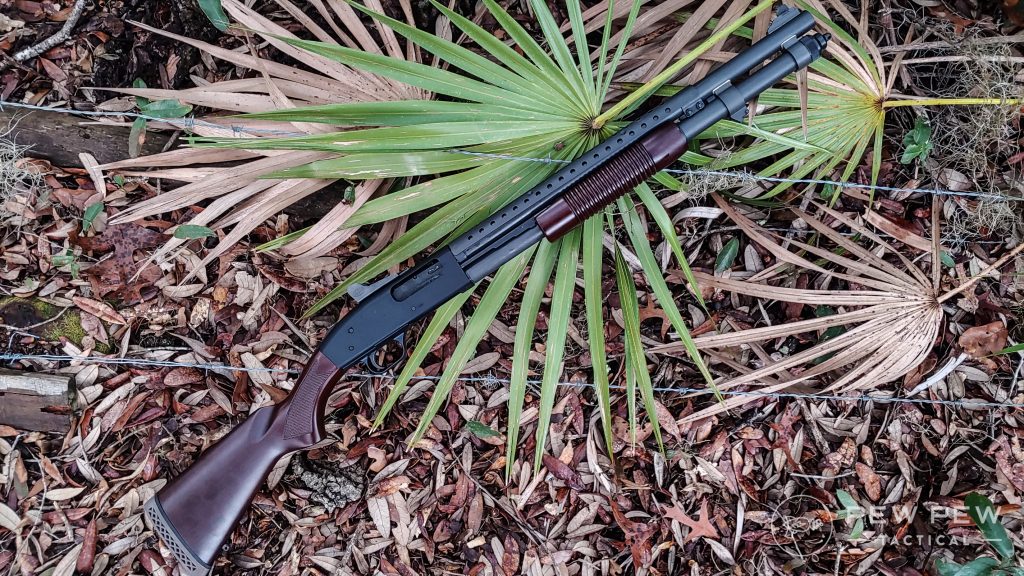 590A1s come in various configurations, and most offer proper ghost ring sights, 9-round capacity, and all the tactical trimmings a fighting shotgun needs.
The Mossberg 590A1 is my very favorite pump-action tactical shotgun.
I've put thousands of rounds through my 590A1s, and they still function like brand new. You can't beat 'em.
999
at GrabAGun
Prices accurate at time of writing
Prices accurate at time of writing
Want to dive deeper into the 590A1? Check out my full review.
3. 940 JM Pro
Mossberg's 930 semi-auto shotgun is a lot like the Mossberg 500 series. Mossberg designed the 930 as a do-it-all shotgun for the semi-auto world.
Over time it became a favorite for budget shooters looking for an American-made but affordable semi-auto.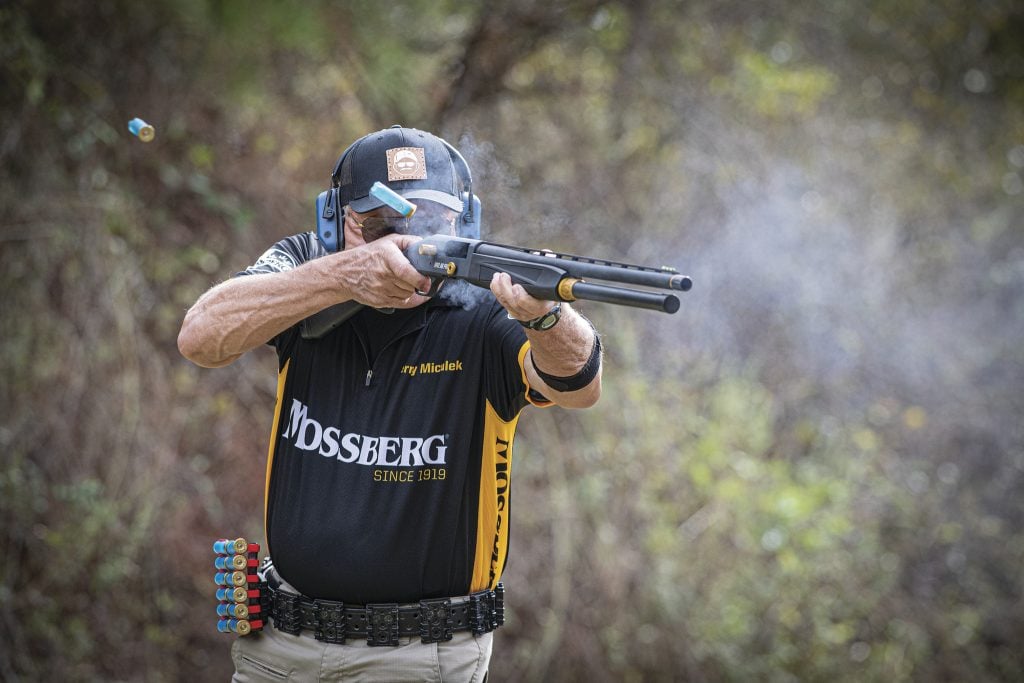 Mossberg introduced the 940 JM Pro to address issues with the Mossberg 930 and give 3-Gunners a plug-and-play, out-of-the-box option for 3-Gun and similar shooting sports.
One of the biggest changes? The advent of a gas system capable of firing 1,500 rounds before it needs cleaning.
Before that, you were lucky to get 1,000 rounds out of the 930 before it needed cleaning.
On top of that, the 940 JM Pro fixed two major issues I had with the 930 SPX — enlarging both the charging handle and bolt release.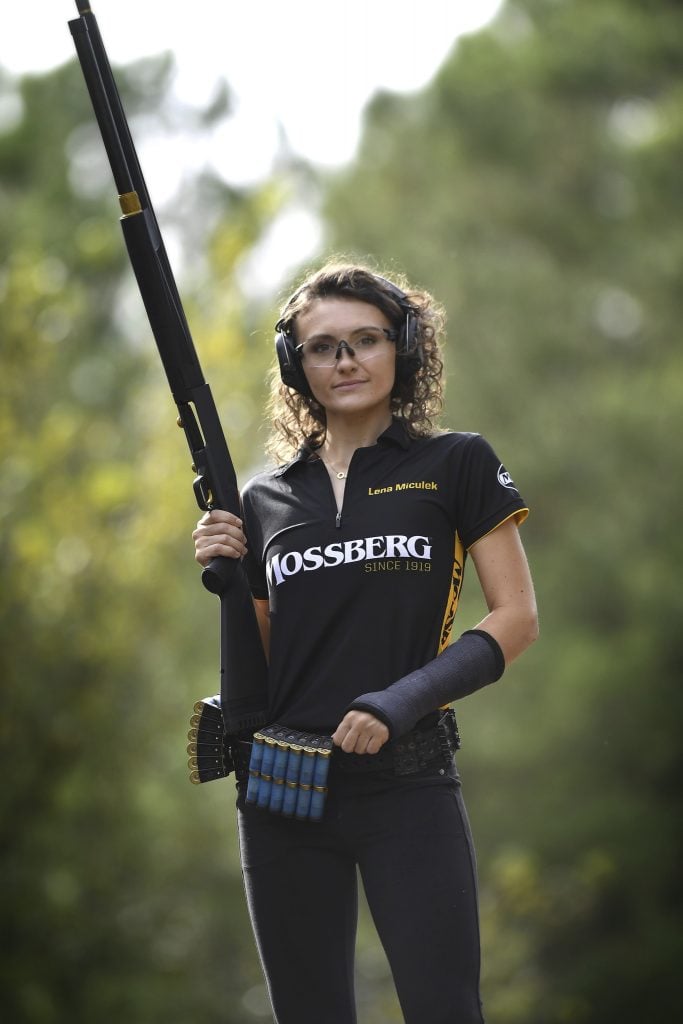 Gone are the tiny stock options, and now we have properly enlarged controls for improved ergonomics.
Mossberg wisely gave the gun a stock with an adjustable length of pull. LOPs are always too long on shotguns, and being able to adjust is a godsend.
The soft-shooting, fast-cycling 940 JM Pro provides shooters with an awesome experience.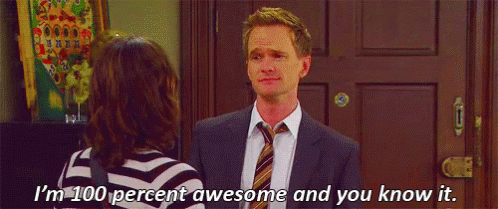 You can drop half a dozen shells in what seems like the blink of an eye without losing control.
It's a sweet-shooting shotgun, and I hope Mossberg expands into the tactical realm with the 940.
1178
at Guns.com
Prices accurate at time of writing
Prices accurate at time of writing
4. Mossberg MVP Light Chassis
Who doesn't love a good precision rifle? The feeling of hitting your target at a crazy distance delivers a pleasure I've yet to replicate.
And the Mossberg LVP Light Chassis aims to deliver combining the superb MVP rifle with an in-house, accuracy-increasing chassis system.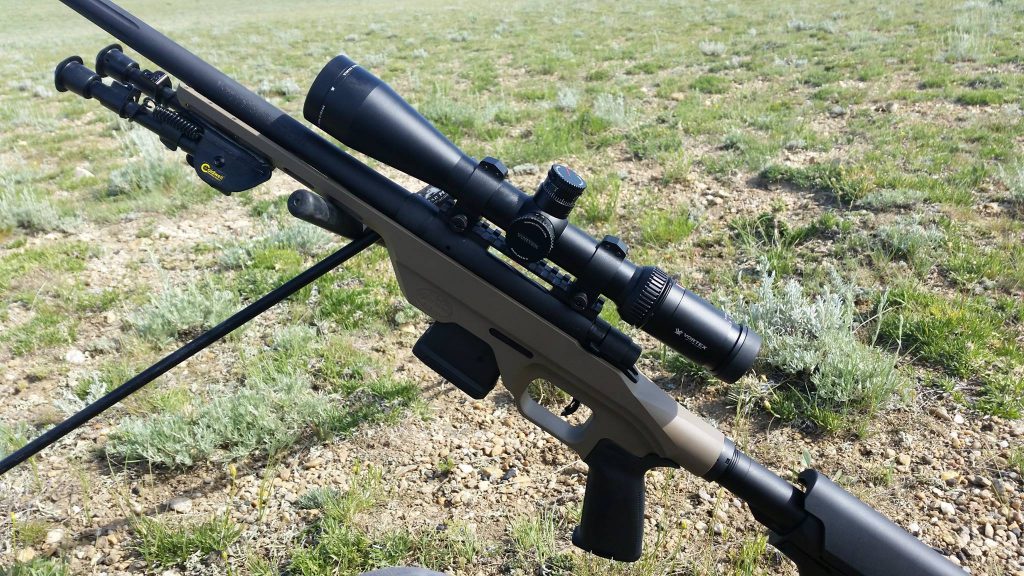 The medium bull-barrel design sports a threaded end for end suppressor attachment.
Free-floating the barrel is a must, and you get that with the MVP LC.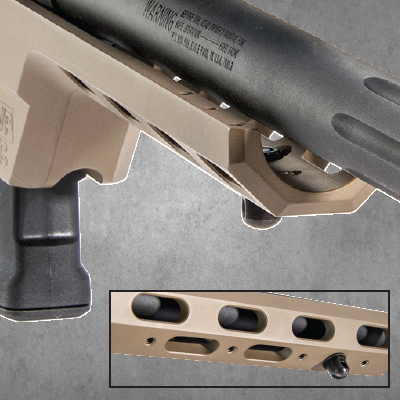 Everything about this rifle prioritizes accuracy without being absurdly heavy.
The MVP LC comes in 6.5 Creedmoor, 308 Winchester, and 5.56 — barrel lengths vary between calibers.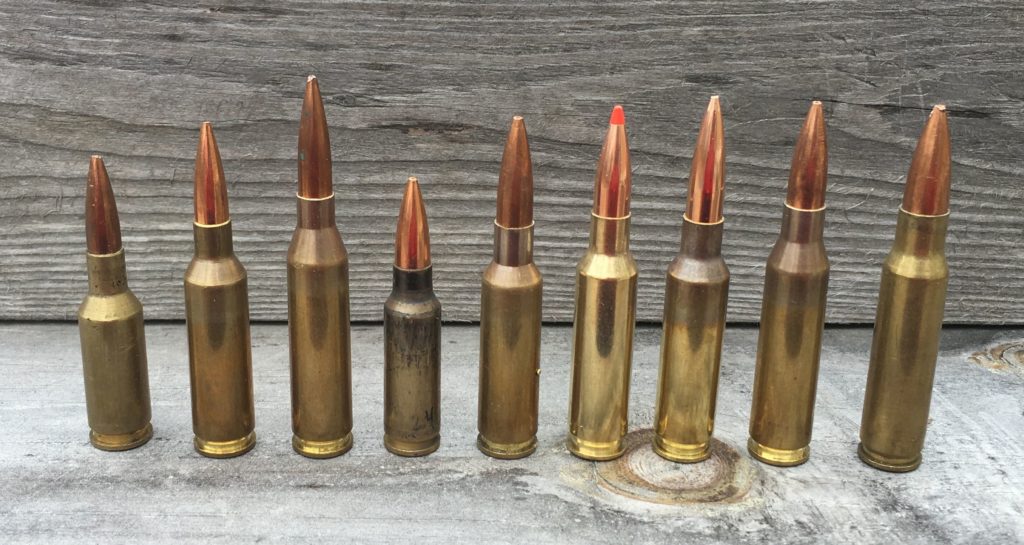 Weight varies as well, but none get over the 8-pound mark. Keeping things light and accurate makes the rifle usable beyond a bench.
It's well-suited for precision tactical use, bench rest shooting, and hunting.
The chassis offers compatibility with accessories like bipods, while the stock allows the end-user to adjust the length of pull for individuals.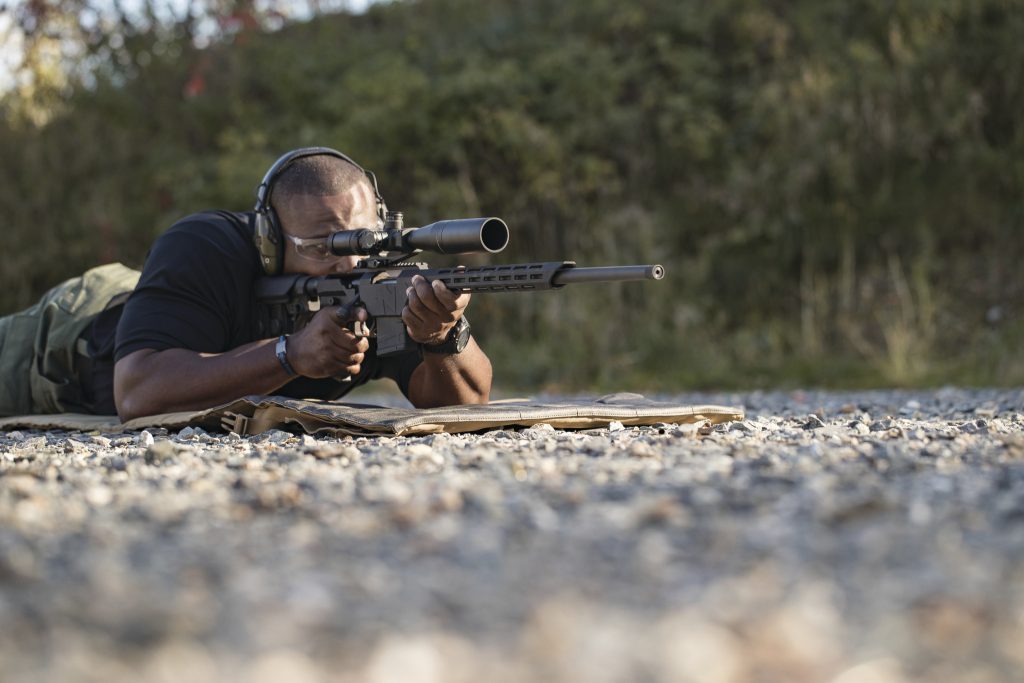 Mossberg's MVP LC provides an extremely accurate rifle that's portable enough for practical tasks…an excellent way to get into precision rifle shooting without spending a fortune.
Oh, and did I mention this rifle takes AR-15 and AR-10 magazines?
Yep, Mossberg wisely opted for a common pattern magazine system for their MVP series.
1129
at Palmetto State Armory
Prices accurate at time of writing
Prices accurate at time of writing
5. Mossberg 464
It's gotta be dopamine, right. You know that feeling you get when you operate the lever of a lever-action rifle.
For me, I get this rush of satisfaction that can't be explained by anything else.
The lever-action Mossberg 464 gives me that sweet hit of dopamine every time.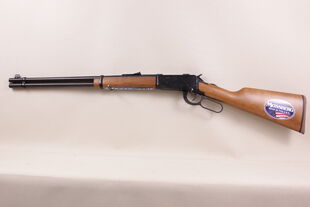 Mossberg produces two models — I don't count the tactical version — so you can choose between a more modern design with an integral pistol grip or the classic straight stock.
Either way, you get a fantastic rifle for hunting almost all North American game.
A 20-inch barrel and open sights provide a good sight radius and the ability to get on target quickly.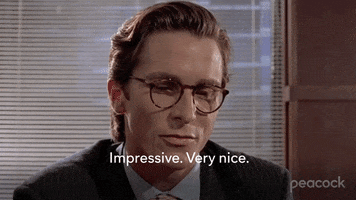 On the other hand, a side-loading gate permits you to top off when needed. That said, hunters probably won't need more than the six .30-30 rounds the tubular magazine contains.
If the sights don't do you right, feel free to attach a rail and optic.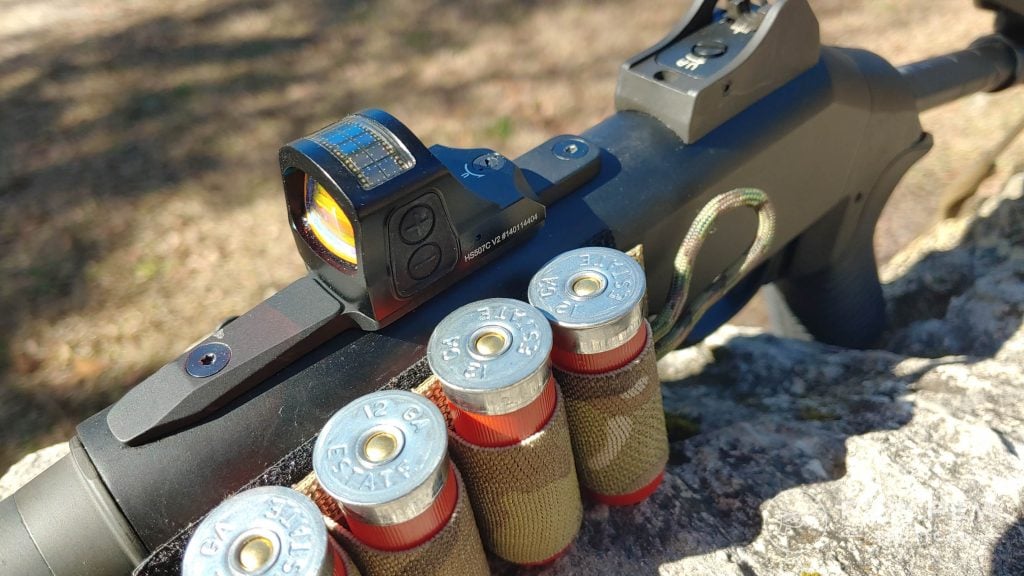 The tapped base makes it ready to go for optics. A good red dot will do wonders for a .30-30 rifle like the 464.
Mossberg's 464 is a highly underrated but awesome option for a lever-action rifle.
574
at Guns.com
Prices accurate at time of writing
Prices accurate at time of writing
6. Shockwave
We can't ignore the fact that a major firearm manufacturer helped propel a firearm that maliciously compliances its way off of an NFA category.
Normally, you need an NFA tax stamp if you want a 12-gauge, pump-action Mossberg 590 with a 14-inch barrel, you need an NFA tax stamp.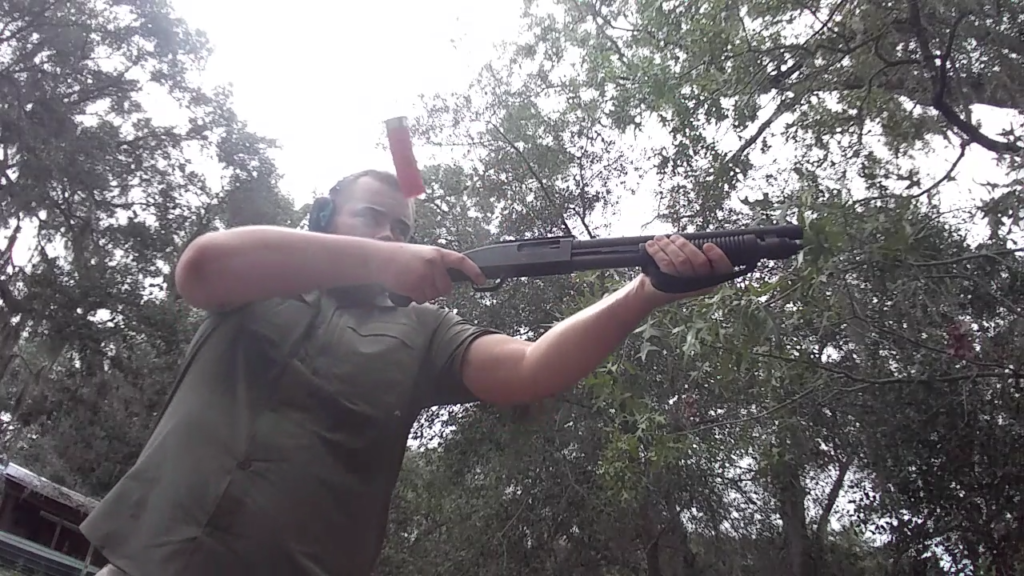 With the Shockwave, no such stamp is needed…but you still get a 14-inch barrel.
The Shockwave's features place it in the firearm category and not shotgun territory. It uses a bird's head grip and a 14-inch barrel to keep its total length over 26-inches.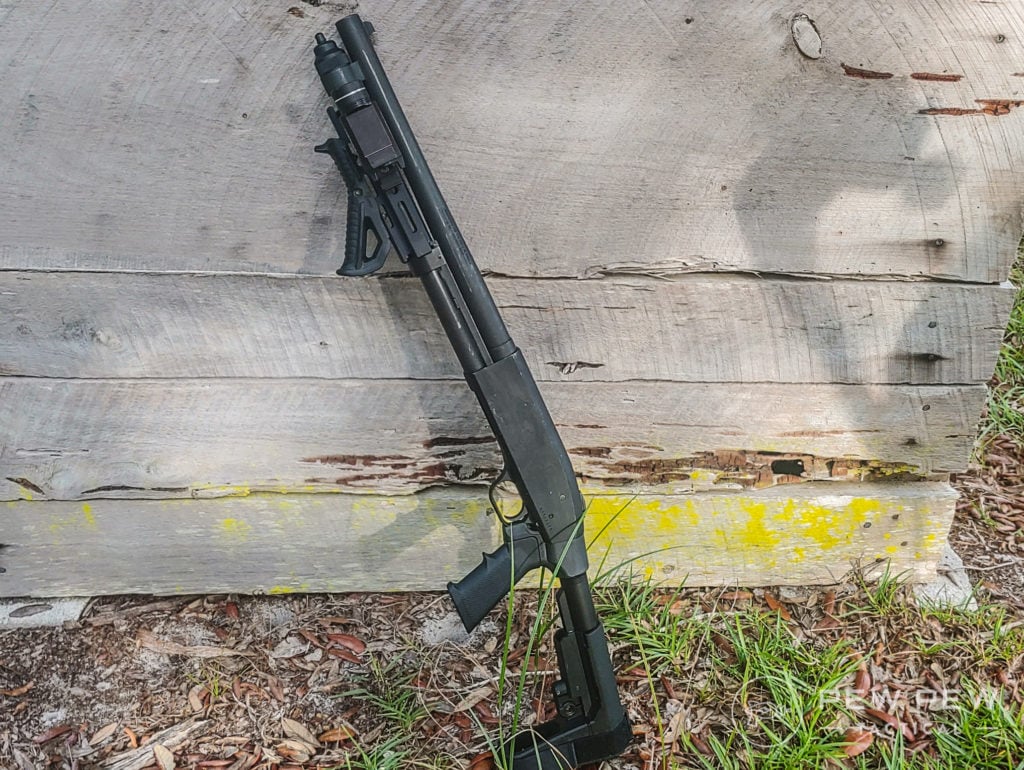 By doing so, it avoids being either a short-barreled shotgun or AOW.
Instead, we have a Title 1 firearm that's a ton of fun to shoot.
Honestly, it's not super handy, but man is it a ton of fun.
The Shockwave series comes in 12- and 20-gauge as well as .410.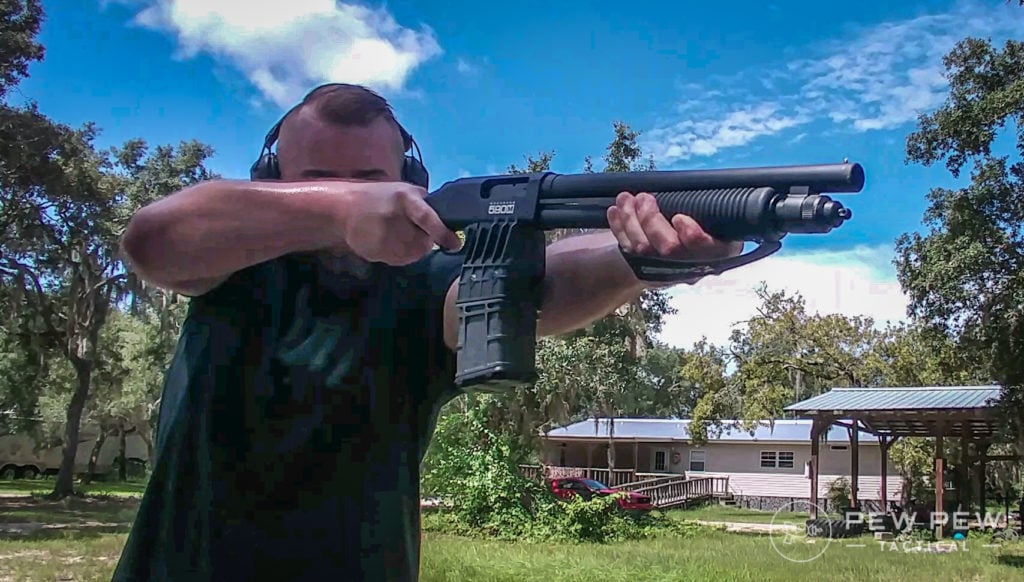 Offering a super compact build, it provides users with a short but powerful firearm. I guarantee you'll get a smile when firing one.
Editor's Pick Not-A-Shotgun
441
at GrabAGun
Prices accurate at time of writing
Prices accurate at time of writing
Read our full review on the Mossberg Shockwave here!
7. Mossberg MMR Pro
When I tell people Mossberg makes an AR-15, they often seem confused.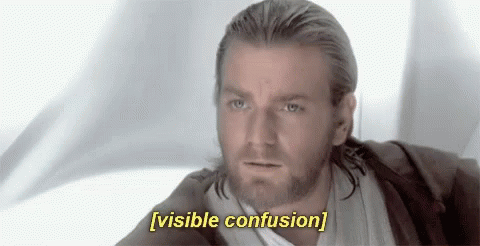 Why Mossberg doesn't market the MMR Pro more confuses me because it's an awesome out-of-the-box AR-15.
Designed for the action shooting market, the MMR Pro comes filled with tons of features, all in an interesting and soft-shooting package.

This platform includes an 18-inch barrel with a rifle-length gas system — providing a very soft, controllable shooting experience.
Additionally, the barrel is topped with a suppressor-ready SilencerCo 3-Port Muzzle Brake that's quick-detach ready for a can.
A free-floating M-LOK handguard surrounds the barrel, so you have room for accessories.

Instead of a lame mil-spec trigger, Mossberg opts for a JM Pro Drop-In Trigger that's super lightweight and smooth.
Little things like an AXTS Raptor charging handle, a flex stock, and Magpul pistol grip round out one very well-made AR-15.
1322
at Guns.com
Prices accurate at time of writing
Prices accurate at time of writing
8. MC2c
Mossberg's latest entry into the handgun realm is the MC2c.
The MC1sc premiered a year or so before the MC2c model, and predictably the C means compact.
Slightly smaller than something like the Glock 19, this 9mm comes with a flush-fitting 13-round magazine and extended 15-round magazine.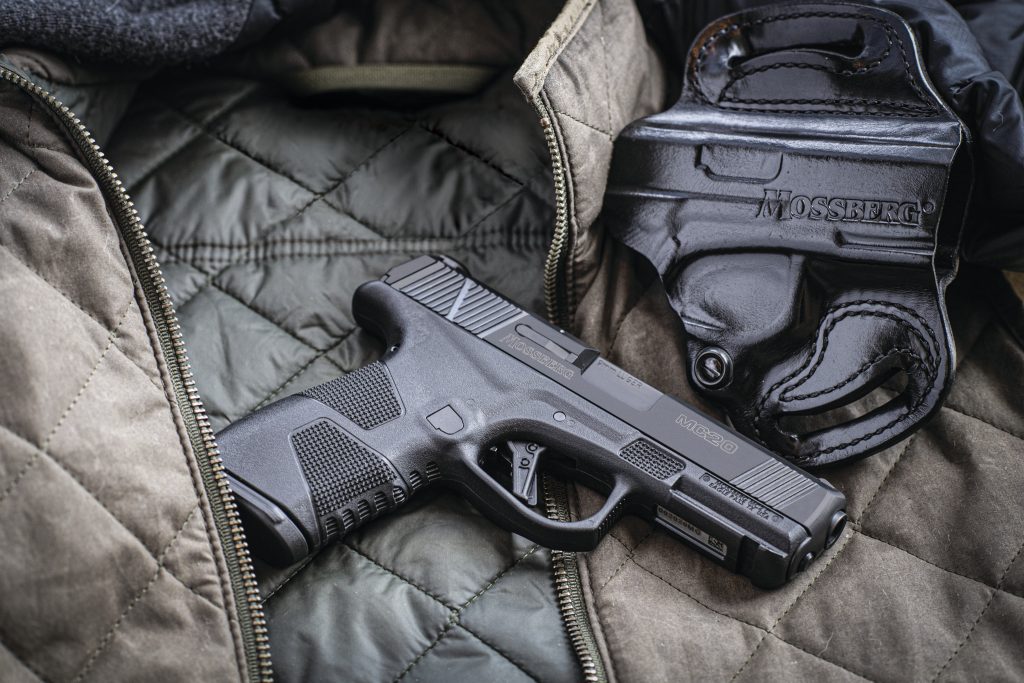 The Mossberg MC2c delivers an excellent striker-fired trigger that's surprisingly smooth.
Shooters can also choose between a standard model and one outfitted with a cross-bolt manual safety. Mossberg famously uses a tang safety on their shotguns but a cross bolt on their handguns.
Ergonomics are dead-on, and the MC2c is a surprising contender for a solid little carry gun.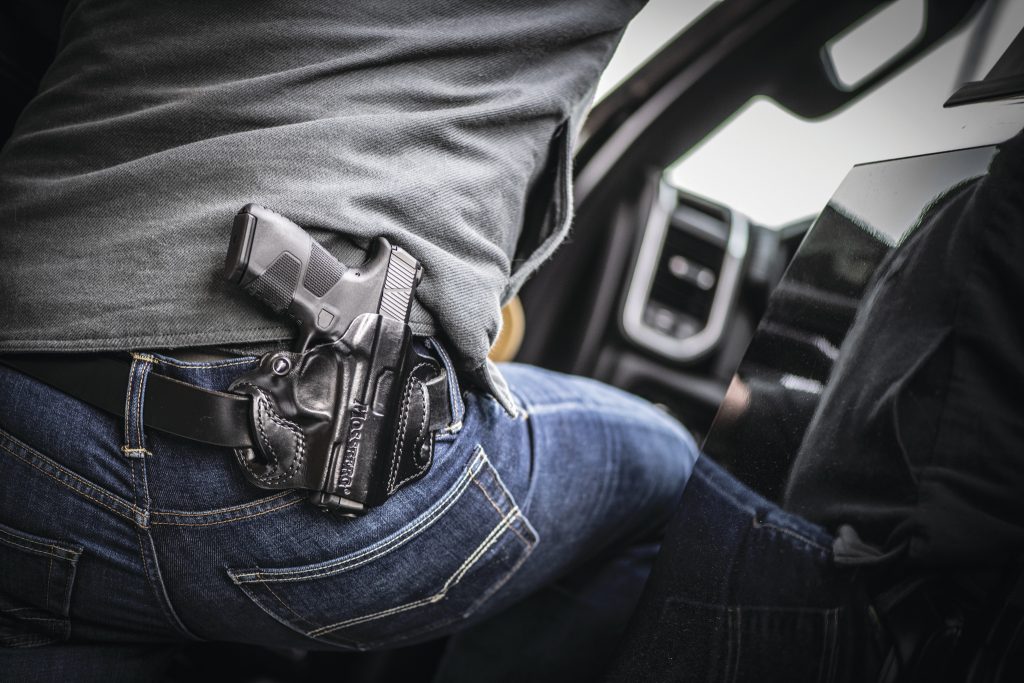 It's affordable, and even the proprietary magazines are relatively cheap.
Mossberg's little pistol delivers in every way possible — capable, reliable, and offers shooters an American-made, polymer frame, striker-fired pistol.
Mossberg started with the Brownie but came full circle with the latest lineup of handguns.
369
at Gunprime
Prices accurate at time of writing
Prices accurate at time of writing
Conclusion
You might know Mossberg for their shotguns, but I encourage you to get to know them for their entire family of firearms.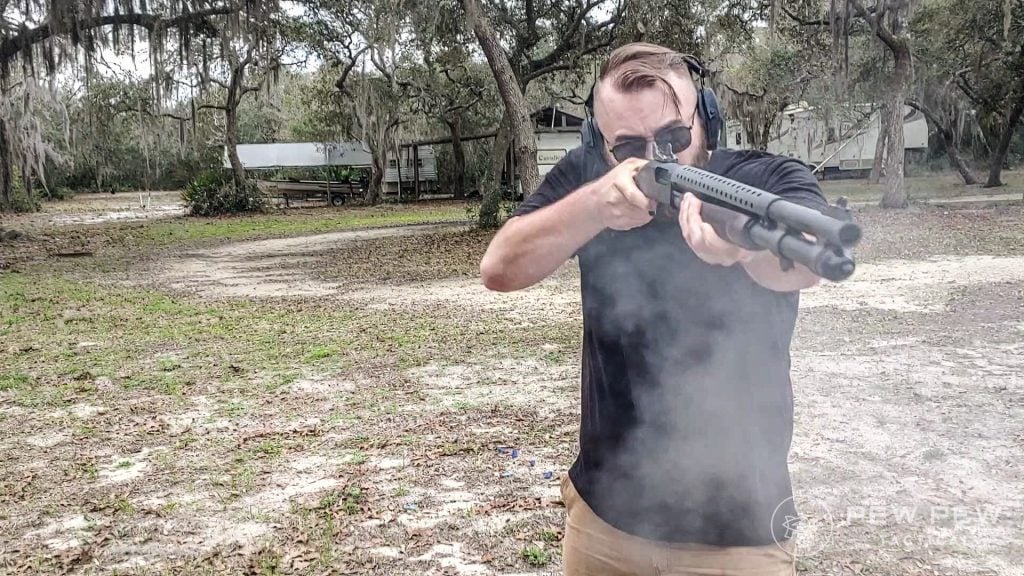 From pistols to AR-15s, this company has proven why it has staying power.
What's your favorite Mossberg? Heck, even throw in your favorite out-of-production guns and let us know below. While we're talking Mossberg, check out the Best Mossberg 500 and 590 Upgrades or see my Ultimate Mossberg Shockwave Build.