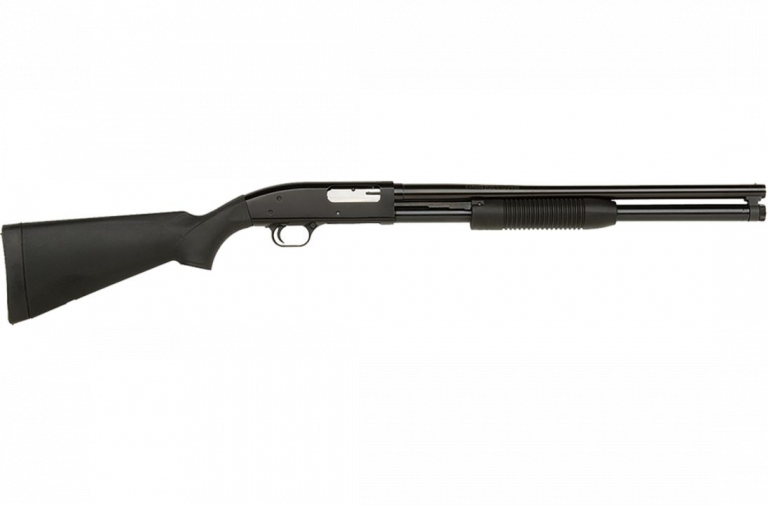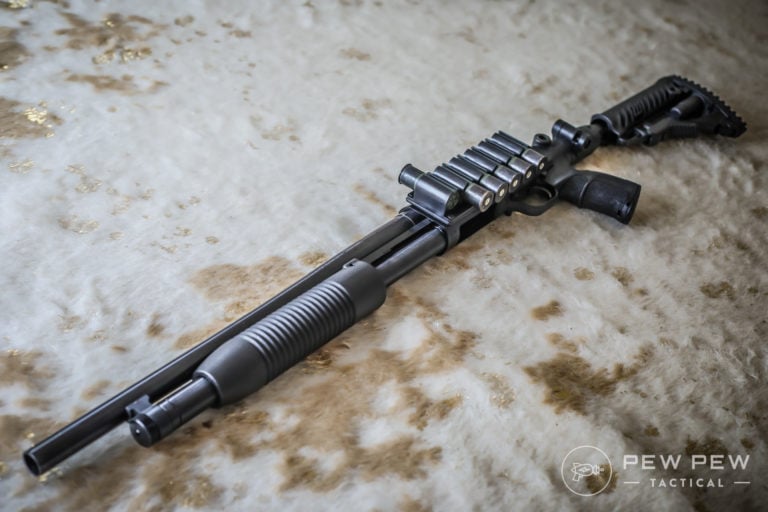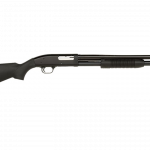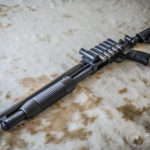 4.5
Reliable

Interchangeable barrels

Extremely affordable
Editor's Note:
The Mossberg Maverick 88 is the true everyman's shotgun. It is affordable, reliable, durable, and is built on the design of one of the most proven shotguns in the world. This is the ultimate bang for your buck in the shotgun world and possibly one of the best deals in the firearms world as a whole.
Read full review
Mossberg Maverick 88 For Sale - Compare Prices
Palmetto State Armory
Save $110
Mossberg Maverick 88 Specs
Barrel Length
20in / 22in / 24in / 26in / 28in
Magazine Included
No / Yes
Caliber
12 Gauge / 20 Gauge
Overall Length
39.8in / 41in / 45.3in / 47.8in
Mossberg Maverick 88 Features

5+1 or 7+1 capacity

3" chamber

Twin action bars

Dual extractors

Cross-bolt safety

Accu-choke tubes available in certain models
By The Numbers - Mossberg Maverick 88
Accuracy
Mossberg shotguns tend to pattern well, but some models with shorter barrels and fixed chokes may show some accuracy drop off
Reliability
This shotgun is as tough as they come
Customization
Being able to accept Mossberg 500 barrels and furniture means customization is there
Ergonomics
The safety location is not as good as its bigger brother, the Mossberg 500
Overall
Hands-On Reviews & Related Post
Mossberg Maverick 88 Variations & Comparables
4.5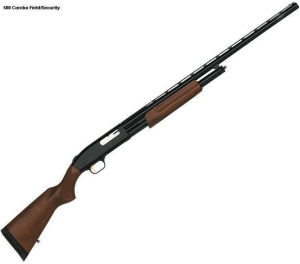 VIEW DETAILS
Usually coming in at under $400, the Mossberg 500 Field/Security pump-action shotgun is one of the most versatile guns you can buy for the money. This gun comes with two barrels, a 28-inch field barrel with interchangeable choke tubes and an 18.5-inch security barrel with a fixed choke. Having both barrels allows you to have a do-all gun that can cover anything from hunting to sporting to home defense. Mossberg makes the barrel change process simple and easy, with a single screw making the barrel swap a 60-second affair that takes no tools. The ambidextrous tang safety makes this gun intuitive for most users, but the rest of the gun is pretty standard fare when it comes to ergonomics. The Mossberg 500 has been the gold standard for basic shotguns since the 60s, and it has the aftermarket to prove that. If you need a shotgun to cover all the bases, this is it.
Read More
final verdict
"The Maverick 88 is a solid tactical defense shotgun that shares a lot in common with the Mossburg 500. It'll never fail you if you use it right. It will, however, kick you pretty hard if you don't. But for an affordable home-defense shotgun it offers the best bang-for-the-buck." – Gun Noob
Community reviews
There are no reviews for this product yet.
Add your own rating and help other Pew Pew users pick the right guns