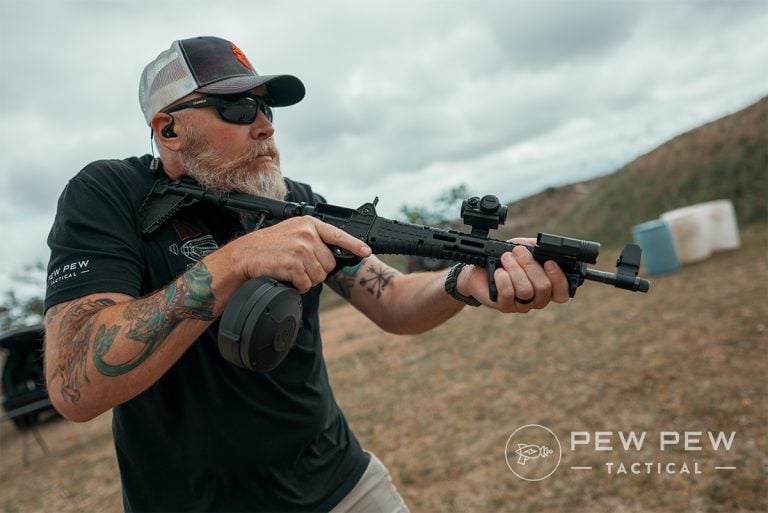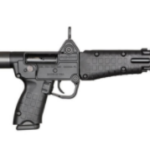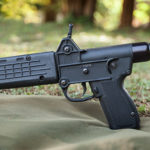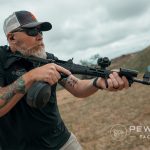 Folds in half

Can run any Glock magazine

Lightweight

Affordable
Ergonomics aren't great

Hard to get sight picture

Trigger is on the heavy side and a bit mushy
Editor's Note:
"One of the best foldable pistols on the market, but does have a few sacrifices. Game changer for those looking to carry around a long gun in a smaller package." – Sean Curtis
Read full review
Product Description
The Kel-Tec Sub 2000 is a 9mm folding carbine that can easily compact into an easy-to-carry on the go type firearm.  This semi-automatic folding carbine comes with many pistol magazine options.  It's offered in 9mm as well as .40cal, the Sub 2000 packs up nicely and also can be deployed quickly.  It's a pistol caliber with a 16″ barrel which adds to it's accuracy and power downrange.
Kel-Tec is definitely innovative in the space of firearms. There are variants of this gun that runs on different magazines. From the M&P, Sig P226, Beretta 92, 96 to Glock 17, 19, 22, 23 – these are all options, making this gun compatible with a pistol you may already have. This is useful because only one type of ammunition is needed for the same mag in both rifle and handgun.
Kel-Tec Sub 2000 For Sale - Compare Prices
Kel-Tec Sub 2000 Specs
Magazine Capacity
15rd / 17rd
Caliber
9mm Luger or 0.40S&W
Kel-Tec Sub 2000 Features

16" barrel

Various versions can take different magazines

Adjustable stock

Tool-less disassembly

Folds in half

4.25 pounds
By The Numbers - Kel-Tec Sub 2000
Accuracy
The gun showed good accuracy despite the stock iron sights being extremely lacking.
Reliability
We had zero malfunctions over 600 rounds of testing.
Customization
The aftermarket is growing for this platform and the upgrades that are out there have an amazing impact on the performance you can expect from the Sub-2000.
Ergonomics
The ergonomics are lacking, but the gun is really meant to be folded and stashed away.
Overall
Kel-Tec Sub 2000 Hands-On Reviews & Related Post
Kel-Tec Sub 2000 Variations & Comparables
final verdict
"The bottom line is, you get a rifle that can be folded up and stowed and keep it not far from your reach.  Whether you're on a weekend camping trip, out on a day hike, or just protecting your home, the Sub 2000 is a potent little shooter with tons potential." – Sean Curtis
Community reviews
There are no reviews for this product yet.
Add your own rating and help other Pew Pew users pick the right guns