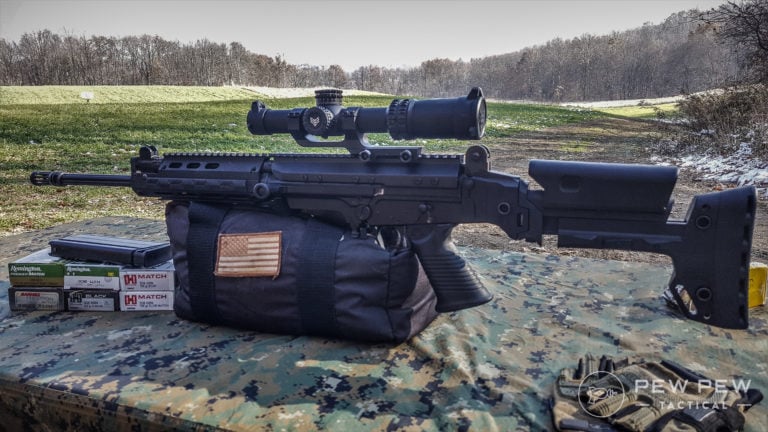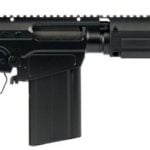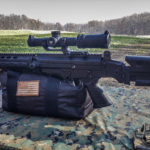 Great ergonomics

Foldable stock
Price

Mediocre accuracy

"Spongey" trigger reset
Editor's Note:
The DSA SA58 Improved Battle Rifle takes the ruggedness and reliability of the original FAL design and adds modern features. This rifle uses the B.R.S. (Battle Rifle Buttstock), which is adjustable for length-of-pull and comb, and also allows the gun to fire when folded. Also present is DSA's extreme duty Picatinny scope mount and M-LOK front handguard. This allows you to mount all the optics and accessories you need to bring one of the most proven rifle designs in the world into the 21st century.
Read full review
DSA SA58 Improved Battle Rifle For Sale - Compare Prices
DSA SA58 Improved Battle Rifle Specs
DSA SA58 Improved Battle Rifle Features

18" medium contour fluted barrel

Heat treated cast steel Type 1 receiver

DS Arms M-LOK handguard

DS Arms Extreme Duty extended PARA scope mount

Left side non-reciprocating charging handle

Chrome lined chamber and bore
By The Numbers - DSA SA58 Improved Battle Rifle
Accuracy
Accuracy was unpredictable at first, but tightened up to 3-4 MOA once more rounds were put through the gun.
Reliability
Feeding, extraction and ejection were 100%, but that a faulty trigger (later fixed) was cause for caution.
Customization
This rifle is already fairly customized, but rails and the M-LOK handguard allow for any attachments to be added.
Ergonomics
The rifle has exceptional ergonomics. Between the DSA B.R.S., the modernized MLOK handguard and the controls for bolt release and mag drop, the feel of this old design is great.
Overall
Hands-On Reviews & Related Post
DSA SA58 Improved Battle Rifle Variations & Comparables
4.5

VIEW DETAILS
The Galil ACE is IWI's modern version of their original Galil ARM, which itself was a sort of the AK-47/Valmet/AR-15 mashup. The ACE uses the same mechanics as the original Galil, but in a lighter, smaller platform with a polymer lower receiver.
Considered widely to be the ultimate refinement of the AK-style platform, the Galil ACE in 7.62x39mm is a gas piston operated rifle that adds numerous improvements over its predecessors. A non-reciprocating left-side charging handle, M-LOK free float handguard, full-length Picatinny top rail, and a folding M4 style buttstock ensure that those who enjoy the 7.62x39mm cartridge have a rifle that is adapted for modern times and modern accessories.
Read More
4.3

VIEW DETAILS
Yes, it looks like an Ugg boot…now with that out of the way, the FN SCAR 17S is a nifty rifle that will make all your range mates jealous. Though it feels clunky, and there's not a ton of aftermarket here, it brings a smooth, reliable shooting experience. Plus, it's just fun. The folding stock makes it easy to tote to and from the range. It also has rails for optics but beware it will destroy cheap optics. Only the finest of glass here.
The FN SCAR 17S is chambered in .308 and offers a reliable rifle with a folding stock. It features a 16.25-inch barrel with 1:12 RH twist and a magazine capacity of 10 or 20 rounds, depending on your state. It's a clunky 8 pounds, but shoots well and performs reliably.
Read More
final verdict
"The DS Arms SA58 FAL has great ergonomics and aesthetics, but our non-functioning trigger and lackluster accuracy put a damper on our testing. However, in a world where it's difficult to find a modernized FAL, the high price tag of around $2200 might be your only bet. I went about this review to be as completely transparent and honest as possible, like any other review. This rifle at first came up short in my opinion, but then redeemed itself." – Ken Whitmore
Community reviews
There are no reviews for this product yet.
Add your own rating and help other Pew Pew users pick the right guns