With almost a cult-like following, the FAL or Fusil Automatique Léger, has been a popular rifle in Europe and with collectors in the United States.
DS Arms sent me one of their modern variants of the FAL with a 16" barrel.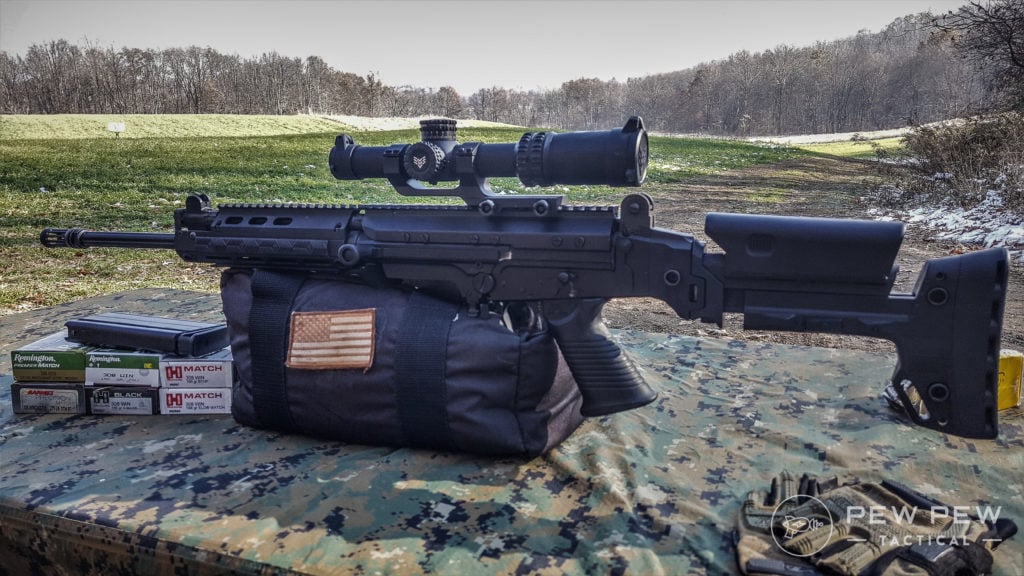 Is it as reliable and well built as its FN Herstal predecessors that earned the nickname of the Right Arm of the Free World?
I went about testing this rifle with multiple optics, 700 rounds of FMJs, 500 rounds of match grade ammunition, and some steel plate action at 300 yards.
If you have been interested in getting a weapon that has been used worldwide and is a piece of firearm history, dive in with me to find out if the DS Arms SA58 is worth the price tag of $2,200+.
Table of Contents
Loading...
A Brief History
The FNH (Fabrique Nationale de Herstal) FAL was originally designed back in the late 1940s. It was widely chosen as a service rifle starting in 1953 by NATO forces.
The FAL was also tested and evaluated by the United States, which is one of the reasons why it was chambered in 7.62x51mm. One of the original designs was chambered in a .280 British.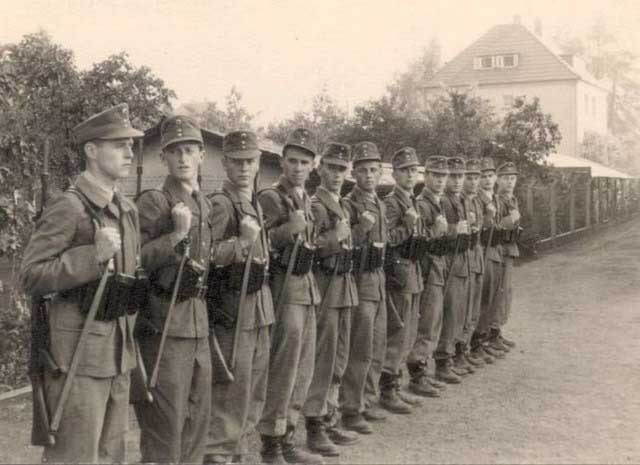 The U.S. picked the M14 to be their short-lived battle rifle which was ultimately replaced by Eugene Stoner's (AMEN) design in the M16 service rifle.
That didn't stop European NATO allies from choosing the FAL going into the Cold War era. Or it showing up in movies like HEAT.
One of the most well-known wars with the FAL in recent memory was the Rhodesian Bush War.
Being a baby of the 80s and growing up in the 90s, I can remember reading "Soldier of Fortune" magazines showing Rhodesian propaganda. Slogans like "Be a Man Among Men" were saturated on the pages.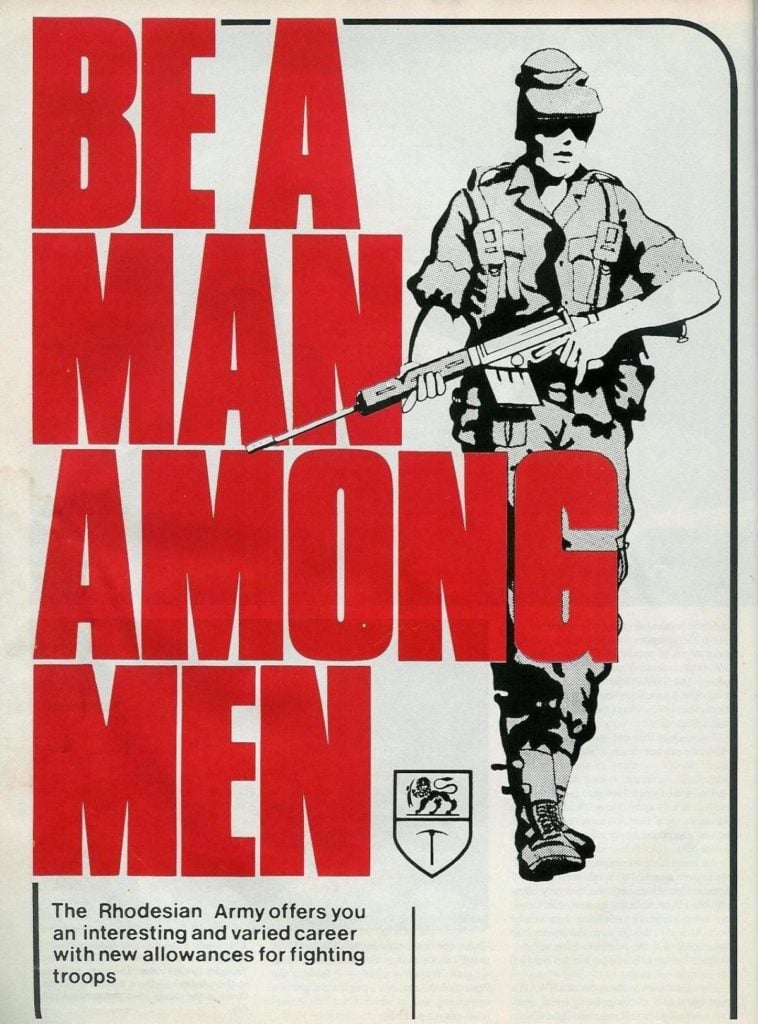 I won't get too far in the weeds, but if you are aged 30-40 and grew up in the gun culture, you know what I am talking about.
While a generation of "woke" people claim the Rhodesian Bush War was a racist movement of white supremacy, regardless of your interpretation, the FAL was a superior battle rifle.
From Tip to Butt
The DSA FAL sent to me uses a more typical muzzle device. Shooting was done during daylight hours, so I can not speak to the efficiency of flash hiding, but it served a purpose.
Recoil wasn't severe. The muzzle device looks more like an A2 birdcage that has cuts completely around it.
2300
at Brownells
Prices accurate at time of writing
Prices accurate at time of writing
The barrel is fluted. DSA is tight-lipped about the materials used for the barrels, but it is more than likely a 4140 steel that is unlined and Duracoated on the outside.
However, actual materials are not listed on their website or the included manual.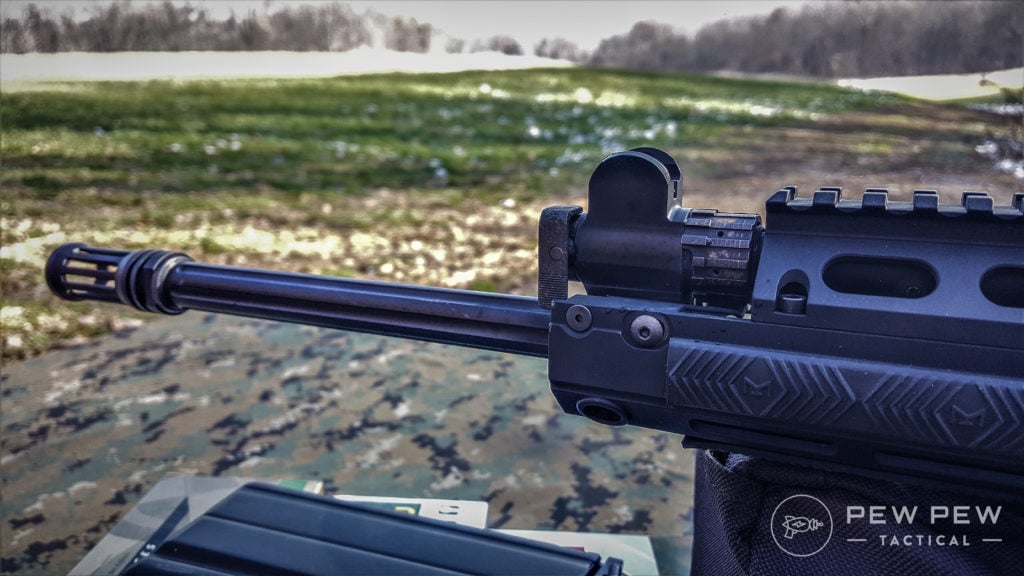 The gas regulator is user adjustable. I played with it a bit, but to keep the rifle working across multiple brands of ammo, I kept the gas relatively high.
Ejection was typically far forward of the shooter and launched brass with authority.
The handguard was well made. After doing multiple mag dumps and heating the rifle up, the handguard had a noticeably small amount of wiggle to it.
Cooling down, the handguard tightened back up. The rifle got hot during torture testing, so my theory is expansion and contraction affected the handguard lock up.
Some extra torque and Loctite should remedy the situation.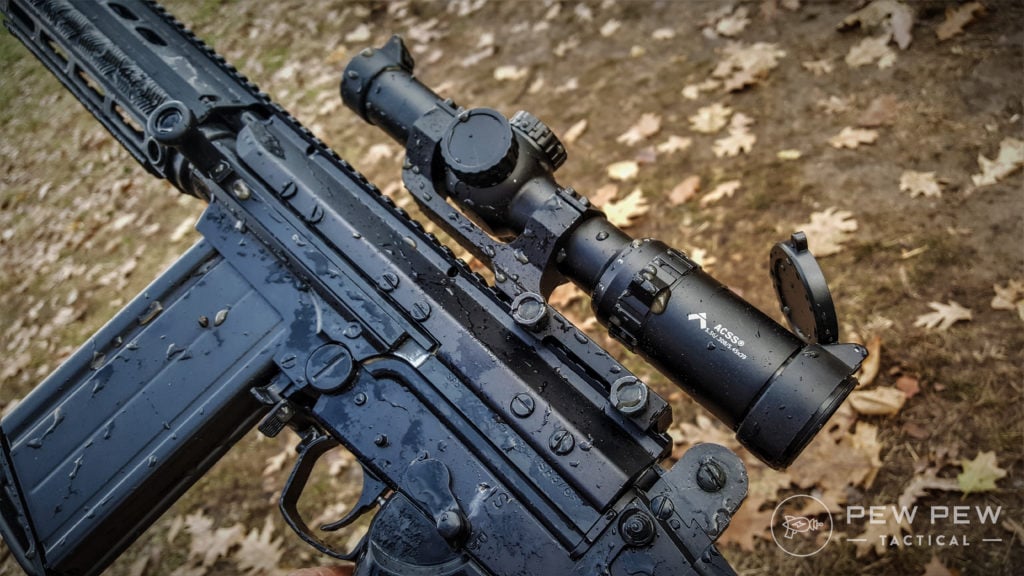 The trigger is nothing special, but it is completely functional. While it is not a match trigger, it is smooth enough and breaks predictably.
I did have major issues with trigger resetting during firing, but more on that later.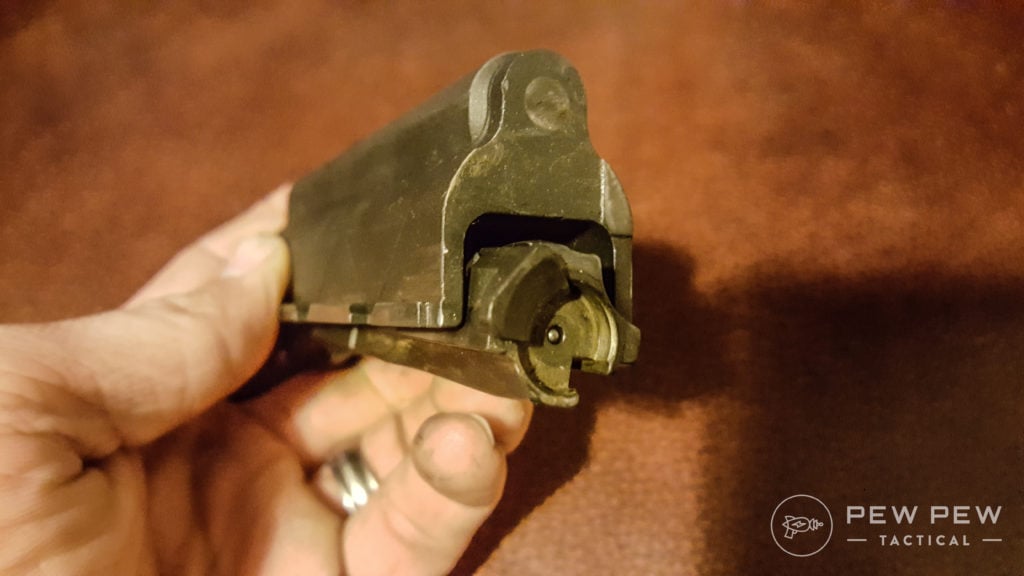 The non-reciprocating side charger was easy to use. Mag drops were easy using the trigger finger to depress the mag release.
Putting in a fresh mag took a little practice, as it is more like the AK than an AR. Once the magazine is in position, dropping the bolt is quick with the support side thumb.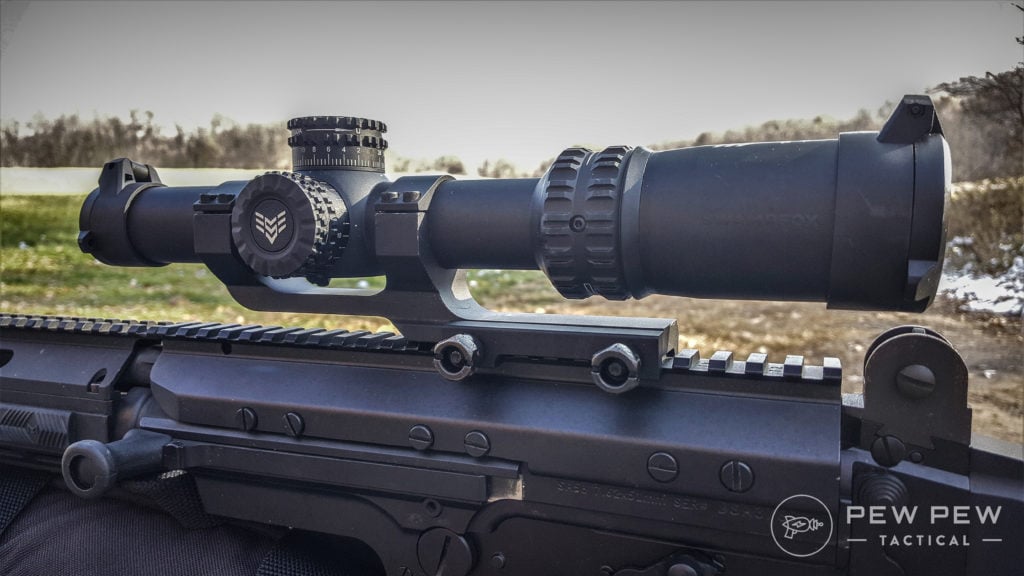 The rail on the receiver was straight and provided a secure attachment point for optics.
470
at Optics Planet
Prices accurate at time of writing
Prices accurate at time of writing
I ran multiple LPVOs, red dots, and the irons during function and accuracy testing. I had no issues with optics having zeroing issues like its newer cousin the FN SCAR17.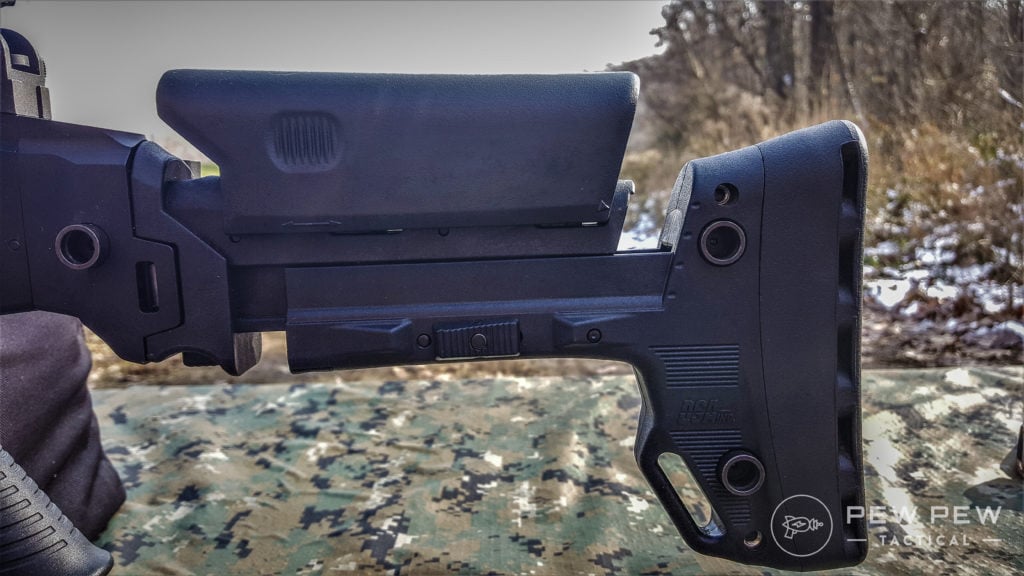 This buttstock was oddly what I loved most. The DSA B.R.S. is masterfully made. It is adjustable for LOP, foldable, and has an adjustable riser for adjusting cheek weld.
Height adjustment is the most important, because the iron sights sit low to the center of bore.
Since the FAL mechanical offset is not like an AR, you must be low on the stock for proper sight picture.
Trouble in Paradise
Anyone who has been in a long-term relationship will pick up what I am about to lay down.
You meet your significant other, they light up the room, you fall in love, and you know they are the one.
That was how I felt with the DSA SA58 when I picked it up at my FFL. Style-wise, aesthetics, and its overall solid nature in 7.62×51 made my eyes glisten. A match made in heaven.
But then it moved in with me, and I took it out for a fun range day.
That was when the honeymoon ended. It soon began to show me some of its personality quirks.
I felt neglected that my needs weren't being met. I soon began texting my old rifles…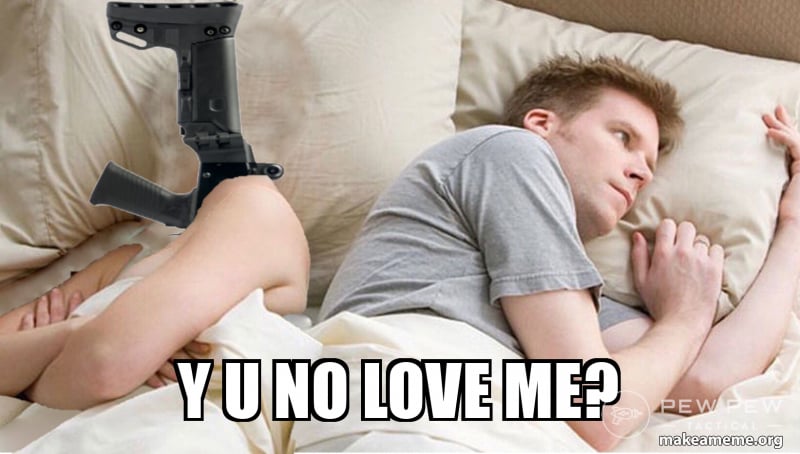 In all seriousness, I had major trigger reset issues right off the bat. At first, it was intermittent, and I hoped that it was a matter of the rifle breaking in. It only got worse on my first range day.
The reset was either "spongey", or I had to physically push the trigger forward after the shot to properly reset the trigger.
When the trigger did work properly, the rifle performed great which only added to my frustration.
As I kept putting the rifle through its paces, I realized that breaking in the rifle wasn't helping so I reached out to DSA. I was told there would be a 4-6 week turn-around time until I would get the rifle back.
I was hoping for half that time…
While I don't recommend doing any kind of modifications to a rifle's fire control group, I took it upon myself to see if I could remedy the situation.
After taking out the fire control group, I noticed the geometry of the trigger was off. There was a slight indentation on the rear shelf of the trigger, and I suspected it was the issue with the trigger resetting.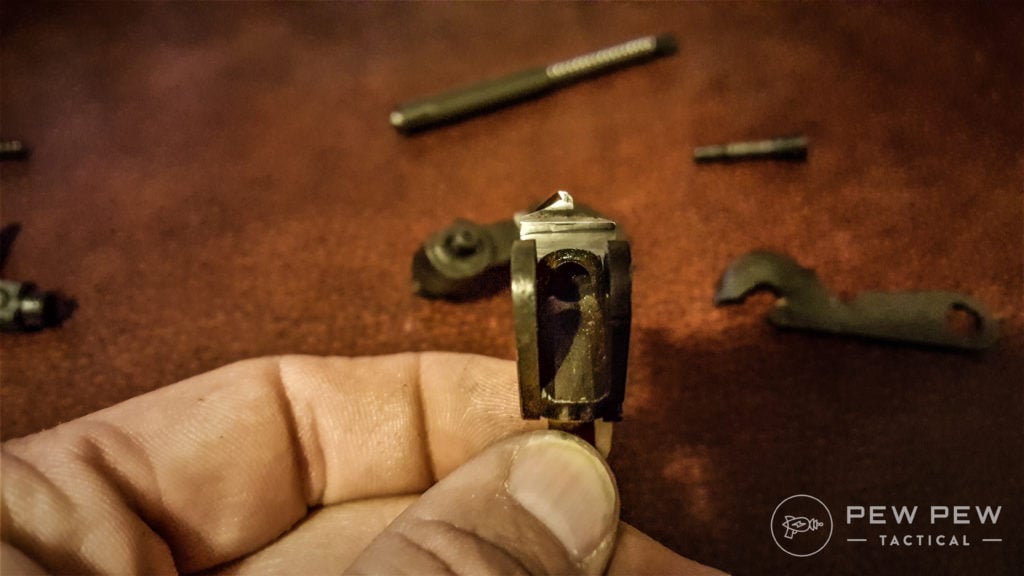 At the site of the issue, I honed the trigger with 800 grit lapping compound. I wanted to even the shelf and smooth it.
After some trial and error, I was able to get the trigger to run at 100% without any issues.
But that wasn't all. Accuracy was also less than ideal.
Precision Rifle This is Not
I did not go into this review expecting a modernized FAL to be a tack driver. They have never been known for that.
At first, this rifle was inconsistent at best. The rifle tended to throw the first shot of a 5 round group very low and then tighten up from there.
Within the first 500 rounds, this was the case repeatedly.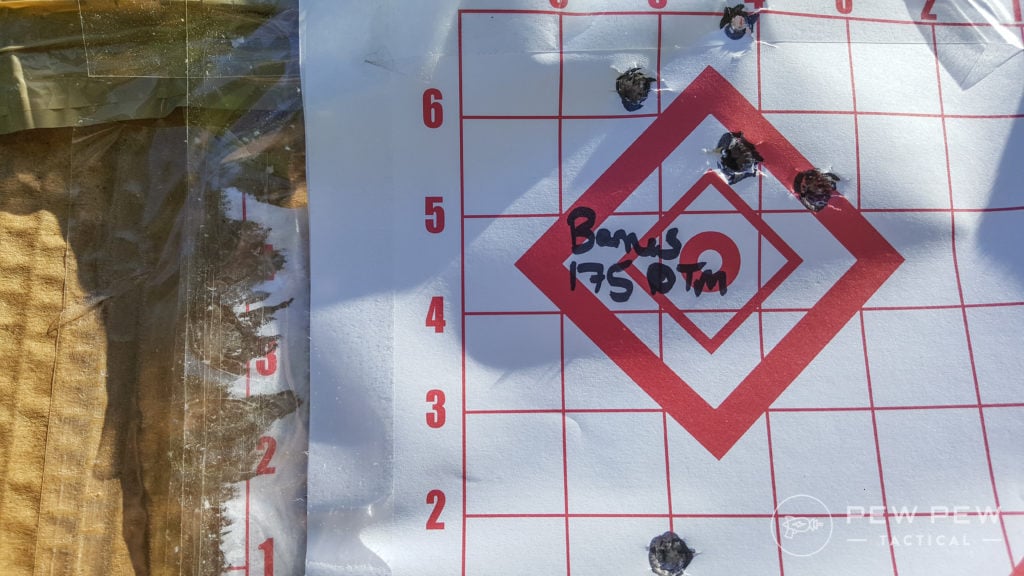 Ammunition tested was sent to me by Remington, Barnes, and Hornady.
I also put a few hundred rounds of steel cased TulAmmo to slum it up. All ammunition performed well, and once the rifle FINALLY broke in, groups were to be as expected with match grade ammunition out of a FAL barrel.
Accuracy was tested with the Swamp Fox Arrowhead 1-10x and the Primary Arms 1-8x Silver.
389
at Primary Arms
Prices accurate at time of writing
Prices accurate at time of writing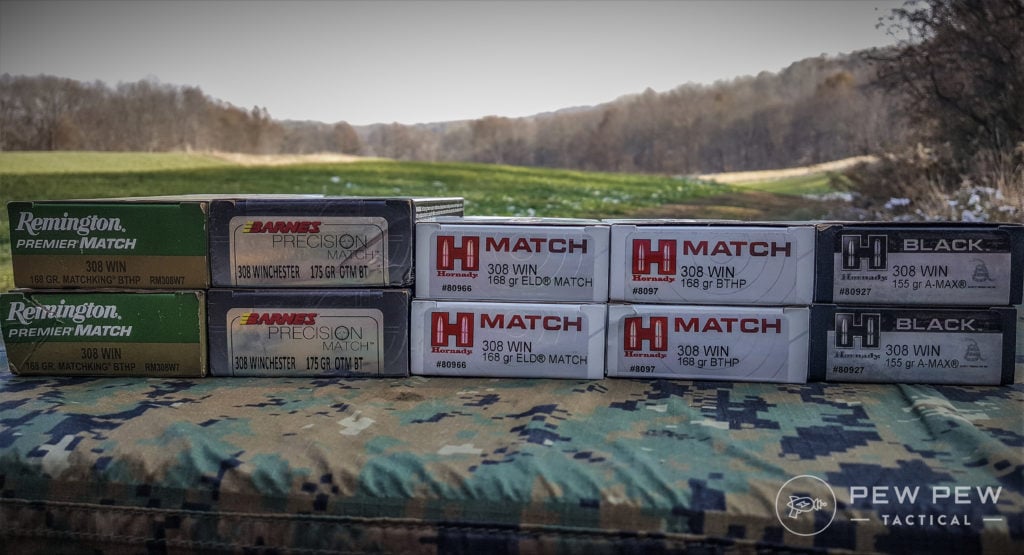 After getting the trigger working at 100%, slowly but surely the accuracy began to tighten up.
25
at Lucky Gunner
Prices accurate at time of writing
Prices accurate at time of writing
The rifle tended to have intermittent fliers, but they happened less often and overall the groups shrank.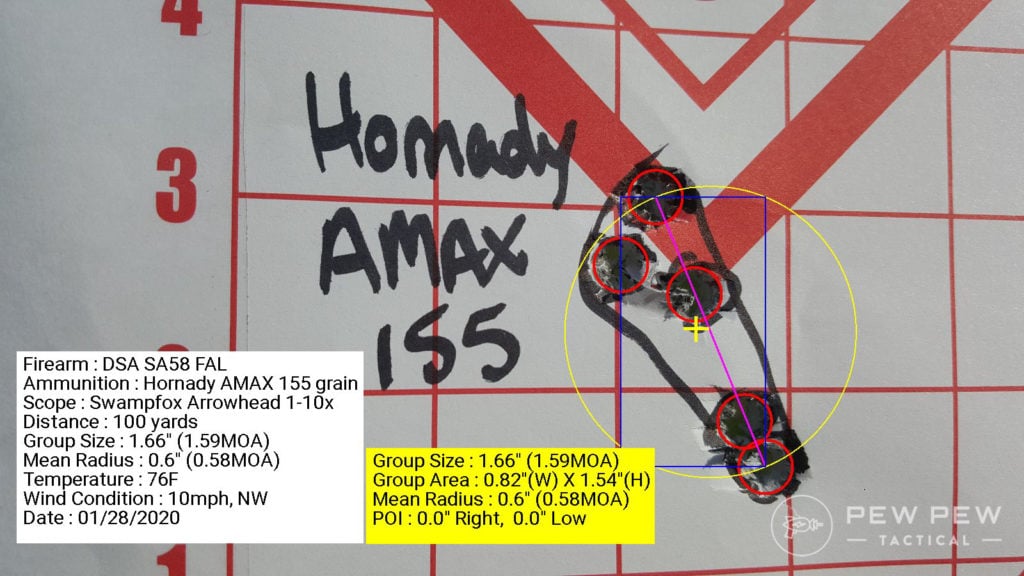 This pleased me. A battle rifle isn't meant to be a tack driver typically, but when fliers are 5" low at 100 yards, its unacceptable at 300.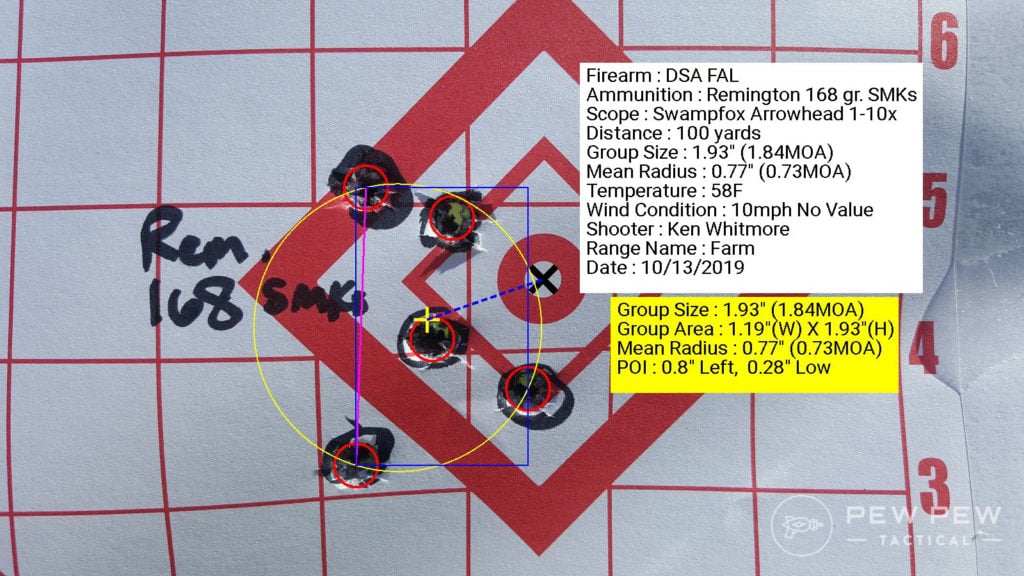 I was hoping that this rifle would be capable of shooting 2.5 MOA groups or better. When all was said and done, it was able to do it with match grade ammo.
24
at Lucky Gunner
Prices accurate at time of writing
Prices accurate at time of writing
Factoring in all the different types of match ammo, the mean average was 2.47 MOA after the 500-round mark.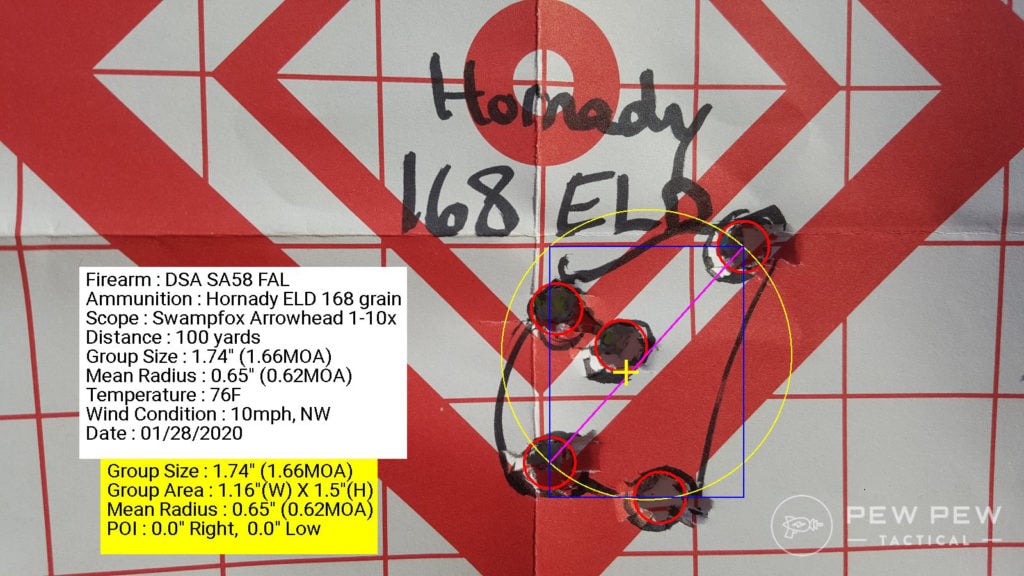 Figuring in ALL the data, the mean average was 3.8 MOA. This proved to be good enough when shooting a 10" gong out to 300 yards after break-in.
30
at Lucky Gunner
Prices accurate at time of writing
Prices accurate at time of writing
By The Numbers
Reliability – 2.5/5
Feeding, extraction and ejection were 100%, but that trigger. That god forsaken trigger absolutely wrecked it for me.
After that was addressed, reliability was tip top and of course YMMV. But a non-functioning trigger completely wrecks a rifle for any kind of use.
Accuracy – 3.5/5
Accuracy was lack luster with the unpredictable fliers at first. Groups did tighten up the more rounds that I put through the barrel. By the end of it, the rifle was a 2-3 MOA shooter, with FMJs usually around the 4 MOA mark.
Ergonomics – 4.5/5
The rifle has exceptional ergonomics. Between the DSA B.R.S., the modernized MLOK handguard and the controls for bolt release and mag drop, the feel of this old design is great. It's absolutely a battle rifle.
Aesthetics – 5/5
Without a doubt, the DSA SA58 is styled just right. Everything about it looks like a solid battle rifle. Even the SAW-styled grip goes well with the rifle.
The stock and the MLOK handguard finish off the whole rifle to be a beautifully modernized work horse.
Value – 3/5
The DSA SA58 comes with a hefty price tag. The model sent to me to review has a street price around $2,300
Considering it does not have a chrome-lined or nitrided barrel, that's a bit steep. You will be hard-pressed to find a modernized FAL from anyone else though.
Overall – 3.5/5
The DSA SA58 is the epitome of a modern day FAL. Had it not been for the trigger issue that plagued the rifle with issues, I would have scored this rifle much higher.
Overall the FAL is an awesome design, and it runs remarkably clean due to its piston design.
2300
at Brownells
Prices accurate at time of writing
Prices accurate at time of writing
DSA SA58 Improved Battle Rifle Gun Deals
Conclusion
The DS Arms SA58 FAL has great ergonomics and aesthetics, but our non-functioning trigger and lackluster accuracy put a damper on our testing. However, in a world where it's difficult to find a modernized FAL, the high price tag of around $2200 might be your only bet.
I went about this review to be as completely transparent and honest as possible, like any other review.
This rifle at first came up short in my opinion, but then redeemed itself.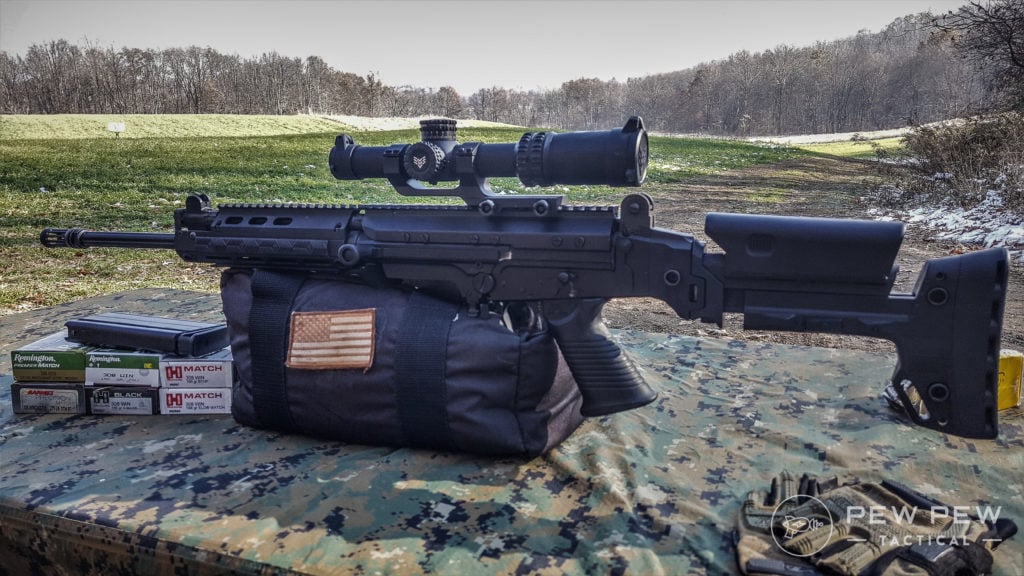 Obviously, YMMV and I don't necessarily think this is a typical experience with DSA.
The feel of a battle rifle in 7.62×51 is something every shooter should experience.
Do you have a FAL? Maybe shot a different DSA FAL model? Have a different Battle Rifle you love? Let us know in the comments below! If you want another classic 7.62×51 rifle, take a look at the Brownells BRN-10!