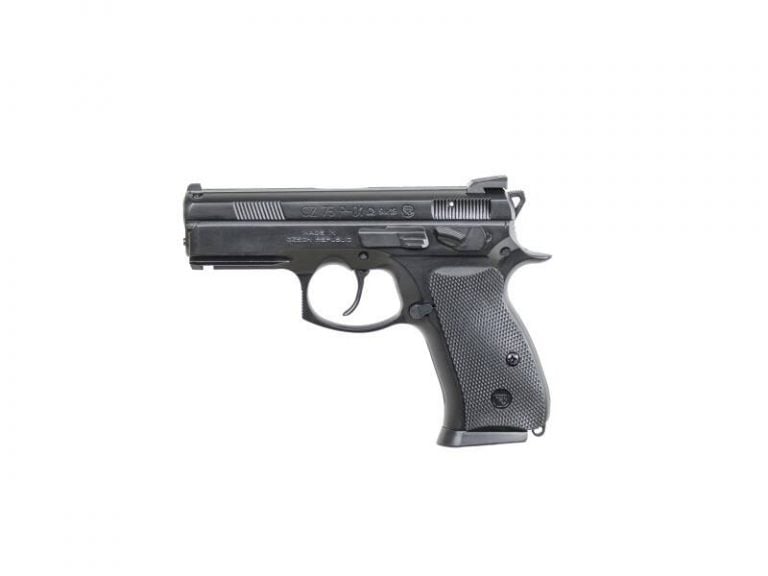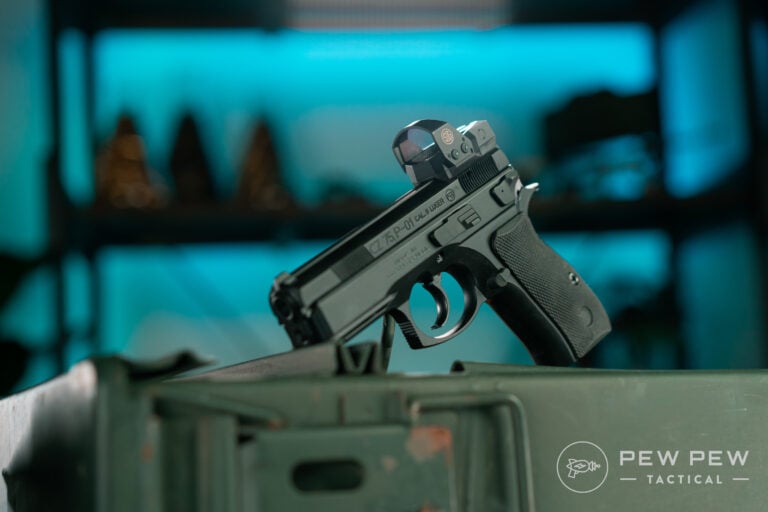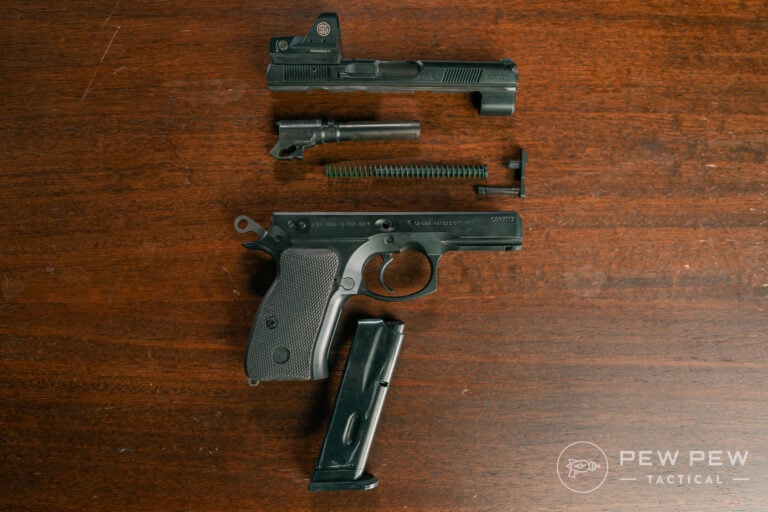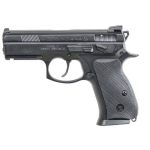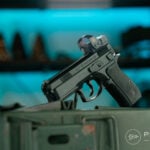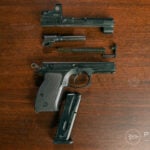 5
Easy to conceal

Awesome ergonomics

Shoots great
Limited holster options if you carry with a red dot

DA/SA trigger might not be for everyone
Editor's Note:
"The CZ P-01 is a small pistol that doesn't know it. Most smaller guns feel like small guns, but CZ found the magic though and built the P-01 so that it's smaller but doesn't feel like it. Between an excellent cold hammer-forged barrel and outstanding design, it is the most accurate compact I have in my safe. While there is an argument to be made that it isn't as important as some might claim it is, the P-01 has a very low bore axis. Combined with the metal frame and it simply eats recoil. Everything about the P-01 adds up to being a great pistol." – David Lane
Read full review
Product Description
Basically a scaled-down version of the CZ-75, the P-01 was NATO approved in 2003 and heavily tested by a number of major militaries. The US Army testing proved the CZ P-01 to have an MRBF (Mean Rounds Between Failure) of 2,142 rounds — and it replaced the CZ 75 as the Czech National Police sidearm. Think of it as the CZ version of the Glock 19 if the CZ 75 was like the Glock 17. It's smaller, lighter, handier, and easier to conceal. But it still retains all of the goodness of its larger older brother.
CZ P-01 For Sale - Compare Prices
Palmetto State Armory
Save $200
CZ P-01 Specs
Action
Double/Single Action
Magazine Included
2 x 14-Round
Weight
1.7 lbs / 1.75 lbs
CZ P-01 Features

Low bore axis

Cold hammer forged barrel

Optics compatible
By The Numbers - CZ P-01
Accuracy
Superbly accurate, hits your target every time.
Reliability
Steel cased, weird Russian mystery ammo, fancy self-defense rounds, my P-01 has literally never had a failure or malfunction of any kind in 2,500+ rounds.
Customization
Cajun Gun Works offers a huge range of upgrade options and aftermarket support if you want to play pimp your pistol.
Ergonomics
From large hands to small, the P-01 just fits. Your mileage may vary, but for me at least this is one of the most ergonomic pistols I've ever shot.
Overall
Hands-On Reviews & Related Post
CZ P-01 Variations & Comparables
5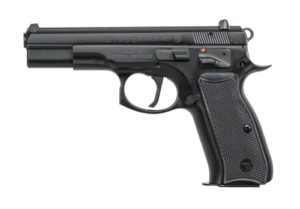 VIEW DETAILS
"The venerable CZ-75 is a classic design that still serves in many militaries around the world…and it's a great addition to any firearm collection. Chambered in 9mm, it offers an all-metal design with DA/SA operation. And its most modern version, the CZ 75B is a solid and well-built pistol with great ergonomics and a tough, dependable reputation. For that, we can't recommend it enough." – Travis Pike
Read More
4.7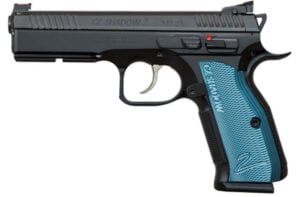 VIEW DETAILS
"The CZ Shadow 2 boasts legendary accuracy, reliability, and shootability. Its ergonomics, phenomenal trigger, and added weight help make this one of the flattest, easiest shooting pistols on the market. If you are looking for an off the shelf ready competition gun, home-defense gun, or a fun range toy, there are few guns that do it better than the Shadow 2." – Johnny B.
Read More
final verdict
"If you've shot a CZ 75, the P-01 feels almost exactly the same. If you haven't shot one, then you should because they are awesome. While the P-01 looks and carries like a compact pistol, it shoots like a full-sized. The ergonomics of the P-01 are so well designed that they easily fit a huge range of hand types and sizes. It's also crazy accurate. Red dot or irons, the P-01 simply puts rounds exactly where you want them to go. If you like DA/SA triggers, enjoy the weight of a metal frame, or shoot a CZ of some kind in competition, then the P-01 might be the perfect compact carry option for you." – David Lane
Community reviews
There are no reviews for this product yet.
Add your own rating and help other Pew Pew users pick the right guns