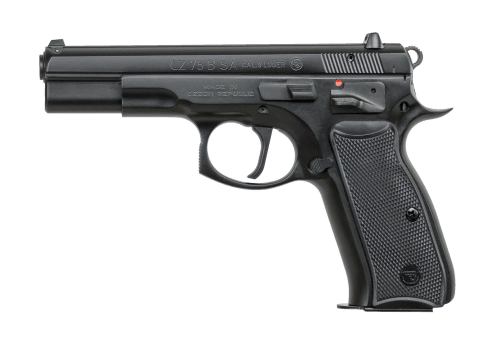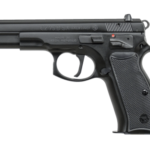 Extremely accurate

All metal design

Reliable, durable design
Long, heavy double action trigger

Can be pricier than competitors
Editor's Note:
"The venerable CZ-75 is a classic design that still serves in many militaries around the world…and it's a great addition to any firearm collection. Chambered in 9mm, it offers an all-metal design with DA/SA operation. And its most modern version, the CZ 75B is a solid and well-built pistol with great ergonomics and a tough, dependable reputation. For that, we can't recommend it enough." – Travis Pike
Read full review
Product Description
The CZ 75B comes chambered in 9mm and builds on the classic 75 design. It features a capacity of 16+1 and sports 3-dot sights and a firing in block safety (as noted by the "b" designation). Barrel length measures at 4.6 inches while overall length sits at 8.1 inches .
CZ 75B For Sale - Compare Prices
CZ 75B Specs
Action
Double/Single Action / Semi-Auto
Magazine Included
1 x 10-Round / 2 x 16-Round
Stock Material
Polymer / Synthetic / Wood
Weight
2.2 lbs / 5.75 lbs
CZ 75B Features

All metal frame

Heavier trigger

DA/SA design
By The Numbers - CZ 75B
Accuracy
While mechanically this handgun is extremely accurate and was my choice to pass numerous NRA qualifications…it has one flaw. The sights are small, and the air between the rear and front sight posts makes mistakes easy.
Reliability
It's never hit any major issues.
Customization
You can customize the internals with either Cajun Gunworks, or CZ Custom parts. If you don't want to dig into the internals you can swap the grips out and that's about it.
Ergonomics
It loses a point for that very long and very heavy double-action trigger.
Overall
Hands-On Reviews & Related Post
CZ 75B Variations & Comparables
4.7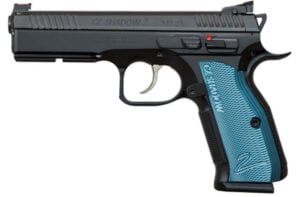 VIEW DETAILS
"The CZ Shadow 2 boasts legendary accuracy, reliability, and shootability. Its ergonomics, phenomenal trigger, and added weight help make this one of the flattest, easiest shooting pistols on the market. If you are looking for an off the shelf ready competition gun, home-defense gun, or a fun range toy, there are few guns that do it better than the Shadow 2." – Johnny B.
Read More
4.5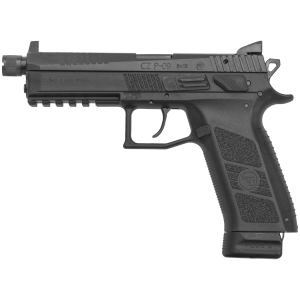 VIEW DETAILS
"The CZ P-09 is an overall excellent handgun.  It's a modern option for those who desire a polymer frame, hammer-fired, DA/SA gun.  It's taken the CZ-75 platform and brought it into the modern era of defensive handguns. The P-09 is a great handgun, and it performs where it needs to." – Travis Pike
Read More
final verdict
"The CZ 75 is chambered in 9mm with a DA/SA operation. Of course, that means a long, heavy trigger. But don't be fooled; this is a smooth shooter once you've put in the time to learn it. Is it worth the price and training? Overwhelmingly, yes!" – Travis Pike
Community reviews
There are no reviews for this product yet.
Add your own rating and help other Pew Pew users pick the right guns