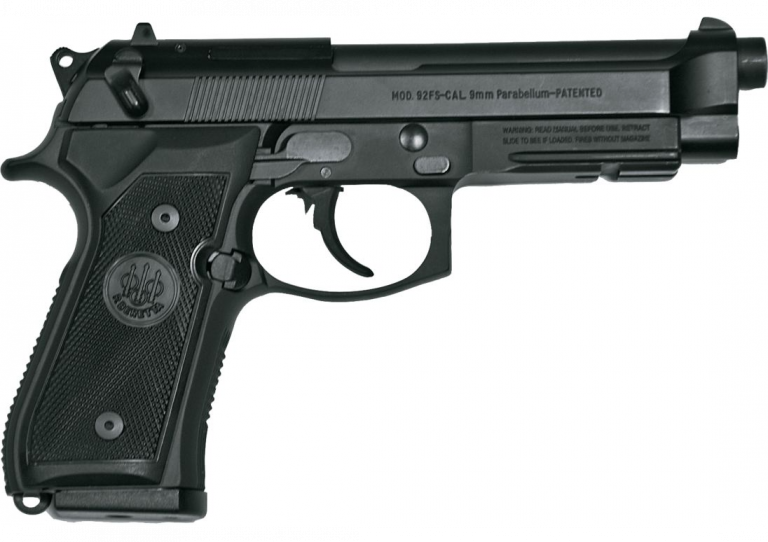 Open slide design reduces weight

Easy to reach controls

Ambi safety/decocker
Difficult for those with small hands
Editor's Note:
The Beretta M9 served as the standard sidearm of the U.S. military for over 30 years, owing to its reliability and ease of use. These are accurate handguns with strong ergonomics, and the size and weight make them easy to shoot and instill confidence in the user. Although the design is a bit dated at this point, many are still drawn in by the aesthetics, shootability, and reliability of the 92-series platform.
Beretta M9 For Sale - Compare Prices
Beretta M9 Specs
Action
Double/Single Action
Caliber
22 LR / 9mm Luger
Beretta M9 Features

Ambidextrous safety & decocker

Open-top slide

Various other magazines available to increase capacity

Lanyard loop
By The Numbers - Beretta M9
Accuracy
This is a very accurate and precise gun.
Reliability
The M9 has a proven military and police track record
Customization
There is plenty of aftermarket for the M9
Ergonomics
Although a bit large, the texturing and grip shape are comfortable for most hands
Overall
Strong ergonomics and a great design make this gun easy to shoot and fun to boot
Beretta M9 Variations & Comparables
final verdict
The Beretta M9 served admirably as the standard military sidearm of the U.S. for a long time. Although the design is growing older, the basic M9 is still one of the softest and easiest shooting pistols on the market today. While newer versions have some nice improvements, the iconic original M9 is still quite effective and fun to shoot, especially when paired with the newer higher-capacity flush-fit magazines.  Its proven track record and ease of use have ensured that it is here to stick around for the long haul.
Community reviews
There are no reviews for this product yet.
Add your own rating and help other Pew Pew users pick the right guns