There are a lot of companies making belts for those of us who want to carry handguns on a regular basis — so many in fact, you might wonder what all the fuss is about.
I'm here to tell you a belt can be almost as important as the firearm you select.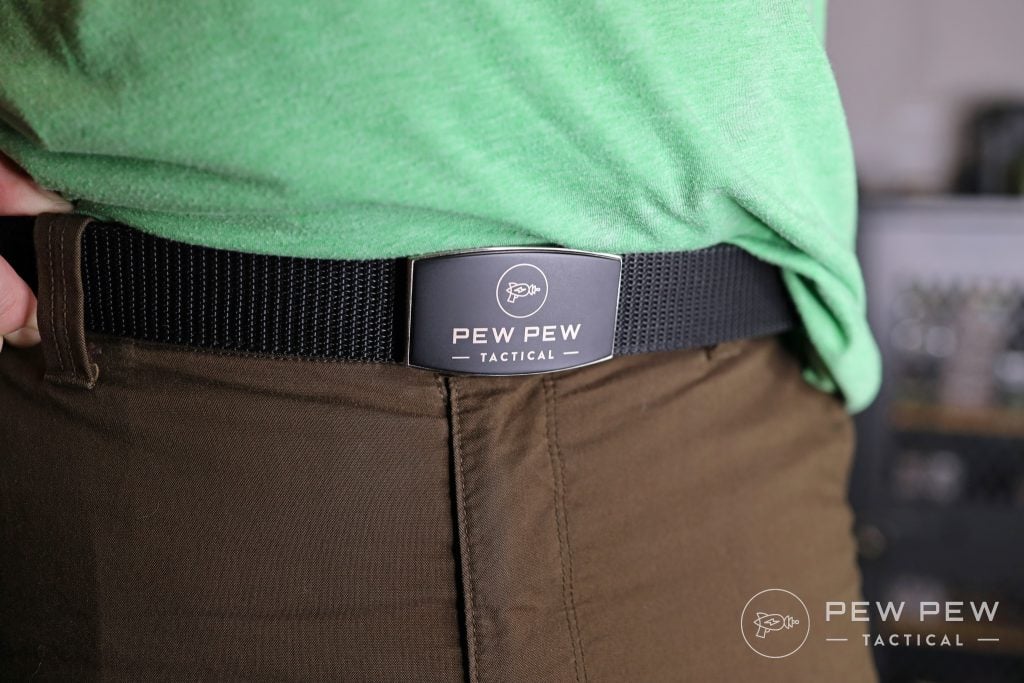 So when I received the Titan EDC, Supreme Appendix, and Rogue EDC belts from Nexbelt, I was interested to see how they would stand up against regular carry. In short, they did well.
Today, I'm going to run you through the Nexbelt options I tested, layout the pros and cons, and help you decide if this belt system is right for you.
By the end, you should have a better idea of whether Nexbelt should end up in your concealed carry rotation.
Table of Contents
Loading...
The Importance of Belts
As an officer on duty, I had to wear an enormous, leather, duty belt to tote all my gear.
I attached this heavy belt to a smaller belt that I wore under the belt loops on my pants. Together, the belts were rugged, stiff, and carried a lot of weight.
That stiffness was something I came to depend on. When I reached for a piece of gear in a hurry, I could always rely on it being there.
I developed muscle memory and quickness as a result.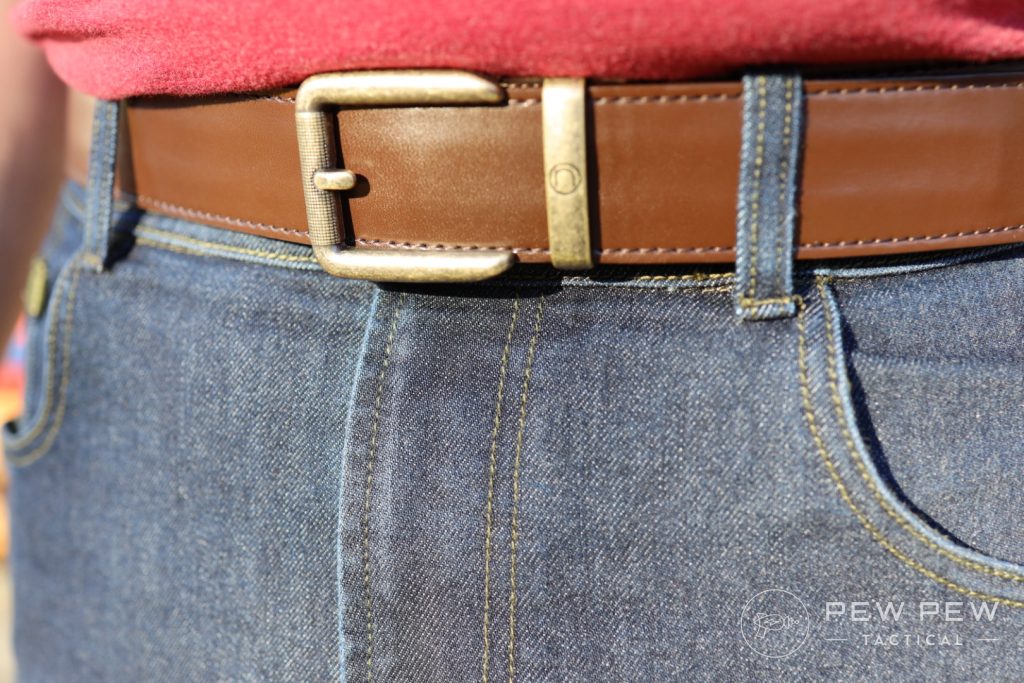 When I switched to plainclothes for investigations, I was once again reminded of the importance of the belt.
The big clunker was not an option in a suit and tie, so I made the mistake many folks do — I enlisted a dress belt.
It wasn't stiff and couldn't handle the weight of my gear, even though I carried less. This makes sense in the end because it was only designed to look nice and hold my pants up.
Nexbelt: Belt…Evolved
The folks at Nexbelt knew about these struggles. So, they set about designing something that would accomplish the goals of gun carriers without previous limitations.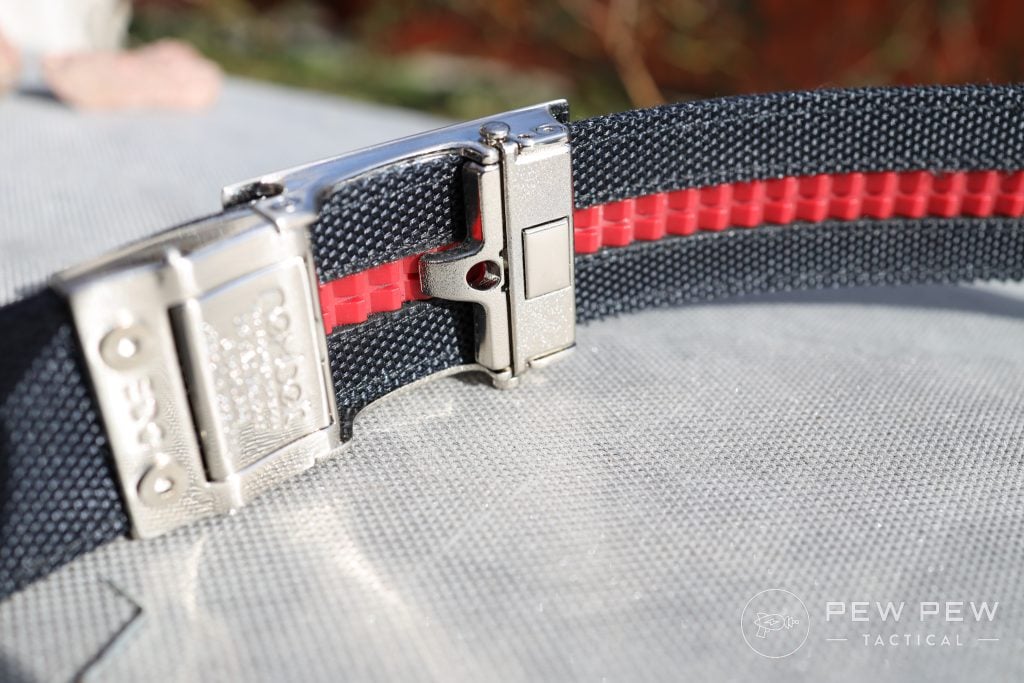 Nexbelt went with a ratchet system. And while they did not invent it, they improved upon it in a few ways.
If you're not familiar, there is a strip of plastic teeth built into the belt. Wearers don the belt by placing the tail back through the buckle.
61
at Nexbelt
Prices accurate at time of writing
Prices accurate at time of writing
A pawl, pulled into place with a magnet, holds the belt in the position where the wearer likes it.
Pulling out on the lever disengages the pawl and enables the removal of the belt.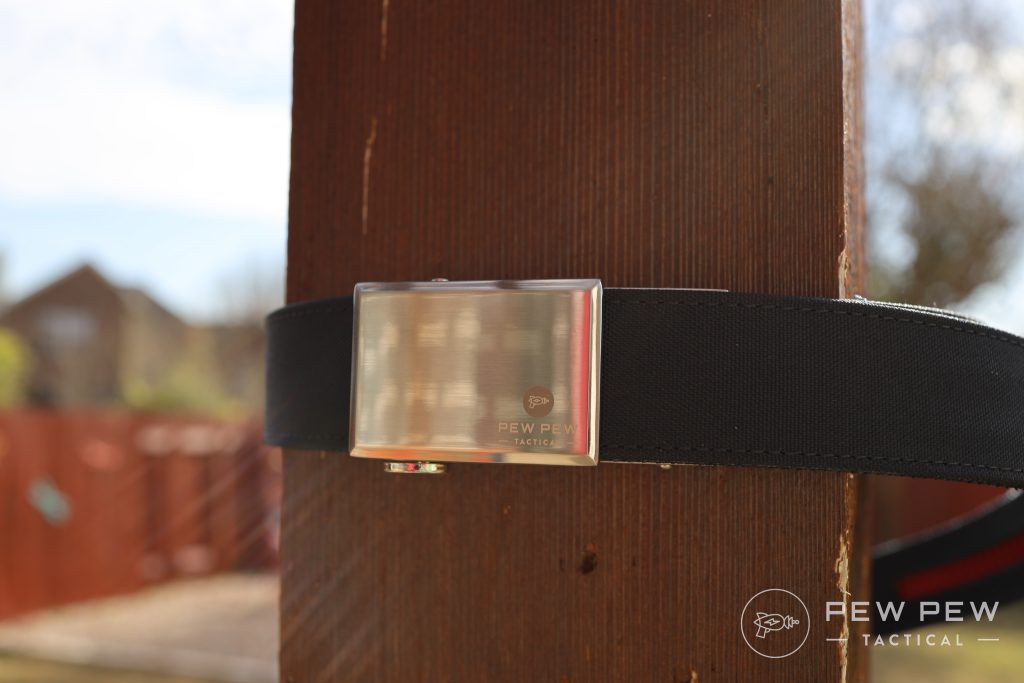 Off the bat, Nexbelt set quality materials as a standard, using tough nylon or premium leather. Next, they upgraded the plastic teeth in their ratchet strip after trial and error.
Now the company claims their strip will outlast any other belt on the market.
Nexbelt also upgraded its buckle mounting hardware to stainless steel hex-head screws. This practically eliminates the buckle-to-belt attachment as a possible failure point.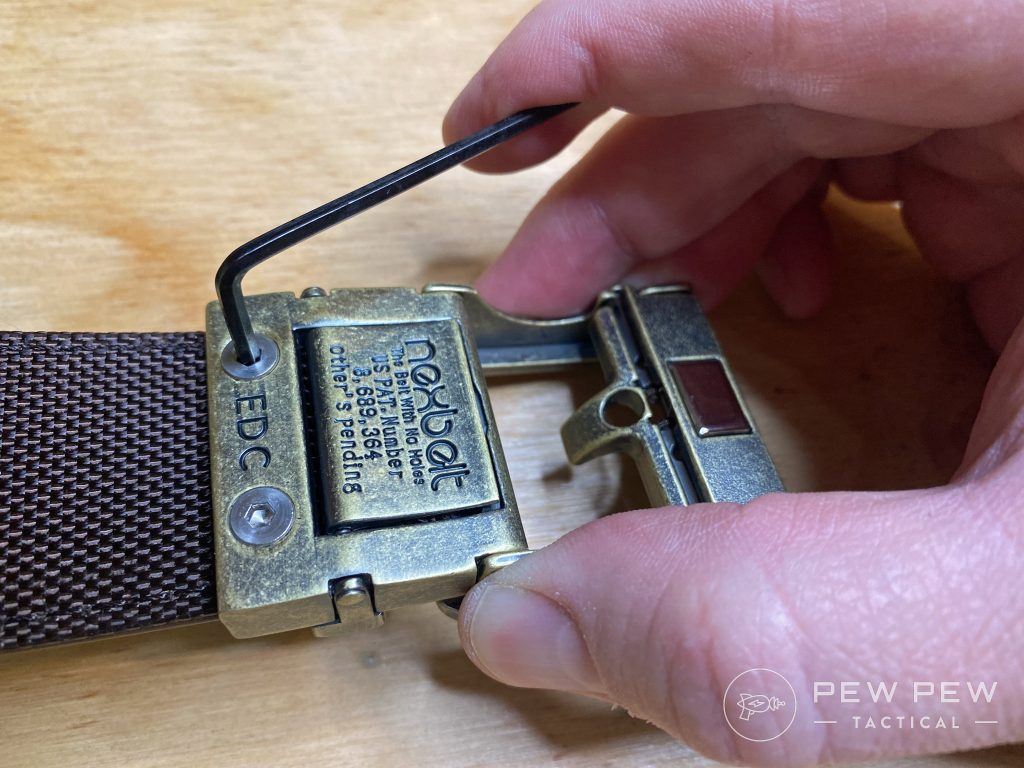 The company admits they charge a bit more for their belts…but they argue the quality is worth it. I tend to agree, especially after I tried them.
EDC — The Way to Be
Nexbelt sent three belts and a few buckles for me to try out.
I mounted up the buckles to the belts and wore them over the course of a couple of months for testing, carrying a pistol every day I wore the belt.
61
at Nexbelt
Prices accurate at time of writing
Prices accurate at time of writing
I found the materials to be of high quality. The leather belt was sturdy but refined, having a supple exterior and matching color nylon (I believe) interior.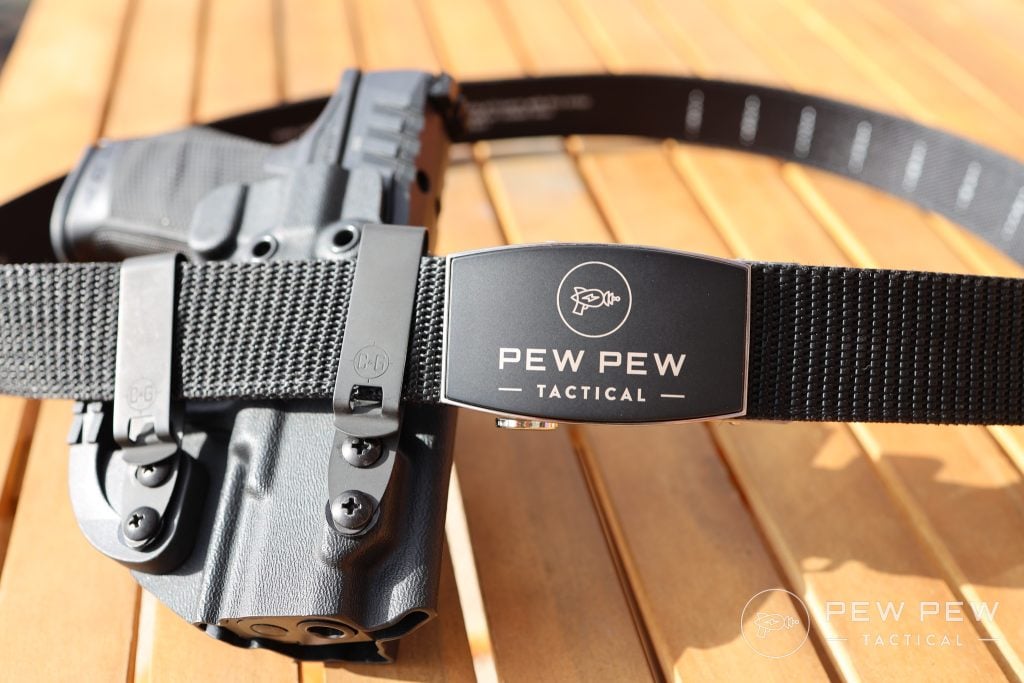 The EDC nylon belts were thick and beefy, coming in around 3/16 of an inch. These straps felt so strong I was reminded of too many tow straps I've used over the years.
Following the theme of quality, the buckles were serious metal. The EDC buckle was a skeletonized affair, powder-coated black. It was all business.
Also included was a version of the Supreme Appendix Belt with a smaller buckle was designed for appendix carry.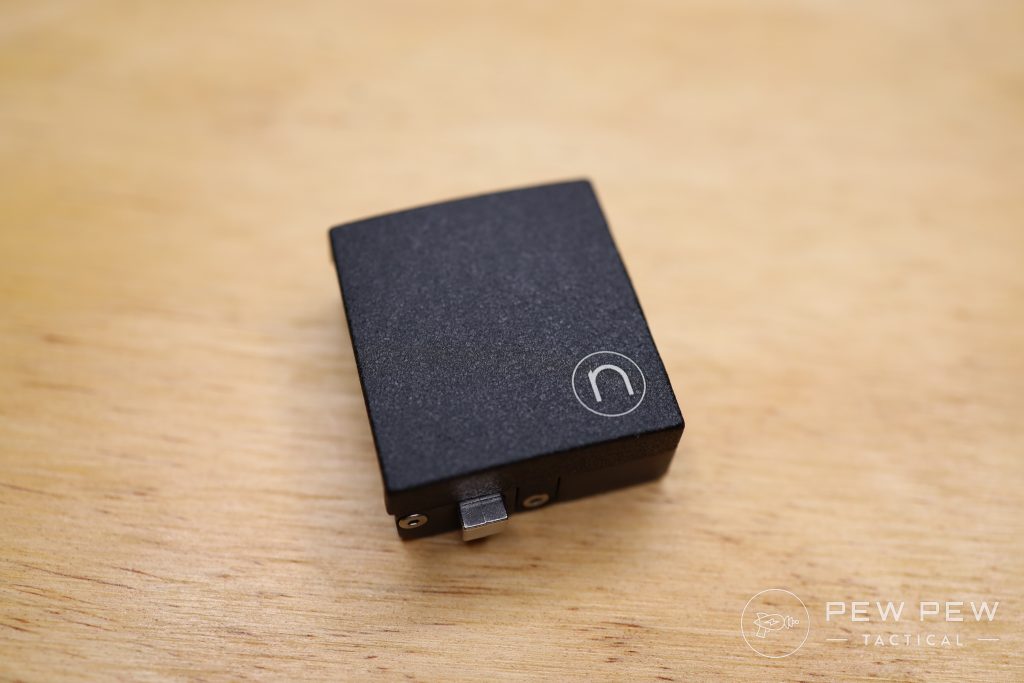 Concealed carriers can move the buckle around where they need it for holstering, rather than keeping it in the traditional 12 o'clock position.
Nexbelts Assemble!
Assembly went really well and is straightforward. Nexbelt's system for measuring and cutting the belt is smartly done.
The company marked a series of waist-size numbers on the inside of the strap. Simply add 4 inches to your normal waist size and cut the strap there.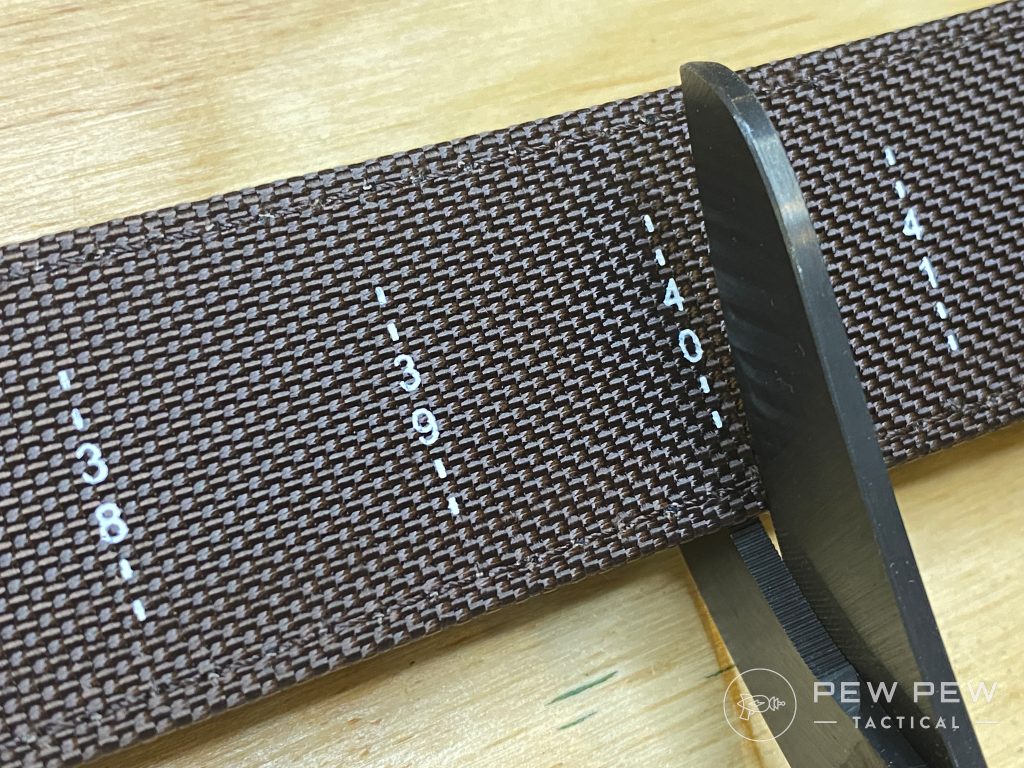 Next, open the toothy clasp on the buckle and insert the buckle on the cut end.
When I closed the retainer I thought that might be more than enough to hold the buckle in place, but no, Nexbelt went even further.
71
at Nexbelt
Prices accurate at time of writing
Prices accurate at time of writing
Finally, screw in the thread-locker coated screws into the buckle. Short of a rough encounter with some seriously heavy equipment, that buckle is not coming off.
Wear and Tear
Each of the belts I wore tested fantastically. Some of the things I worried about (like the belt getting tighter or somehow coming loose) never happened.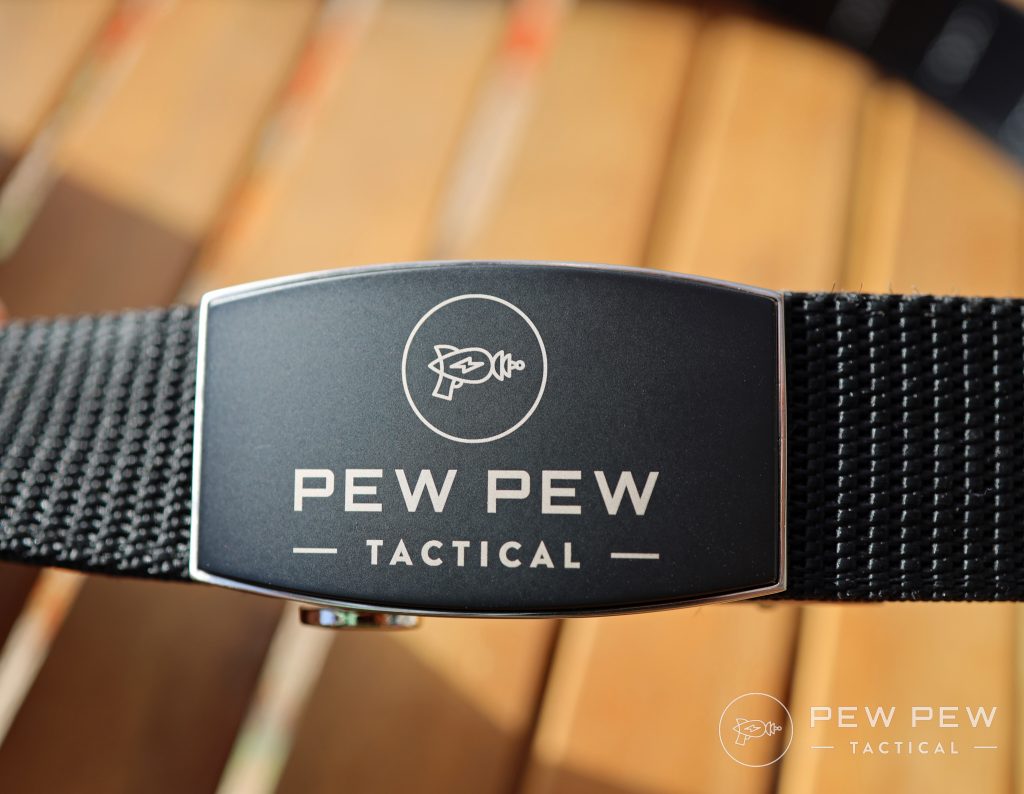 One of the qualities I appreciated the most was predictability. Its rigid nature ensured the items on my belt stayed right where I put them.
Whether I bent over, sat in a chair, or did other activities, the belt stayed in place.
Whenever I would unfasten it, I found it easy to put it back on and find that magical fit of "just right" by clicking the tail back in.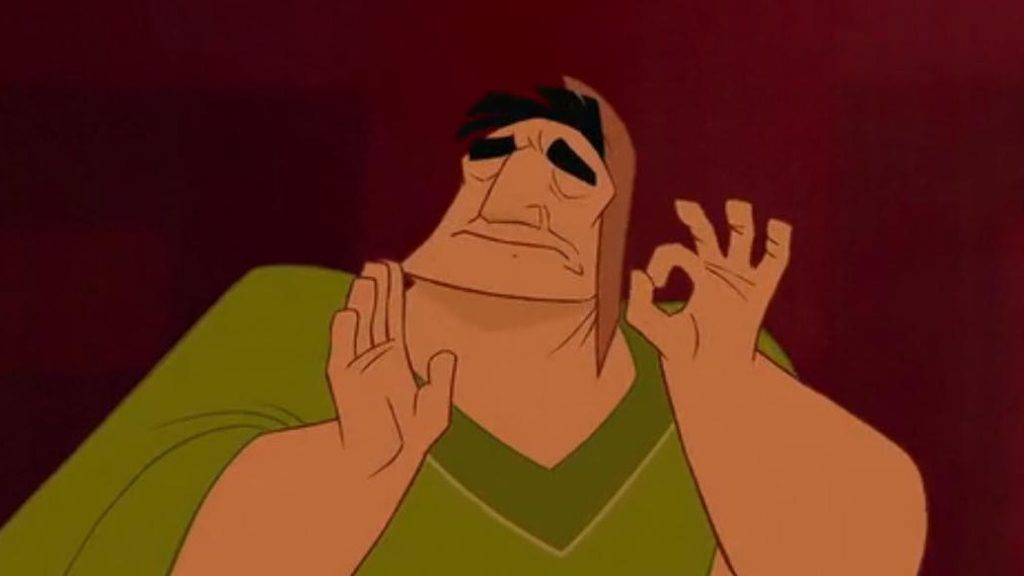 If I went too far, I simply backed it off.
Just as important, the rigidity of the belts made sure my gun stayed upright. Inferior belts sag and roll if they aren't tensioned tight.
I loved that I did not have to use excessive compression in order to keep everything in place.
It was easy to get into a habit of slowly clicking the belt into that Goldilocks spot and heading out to face the day.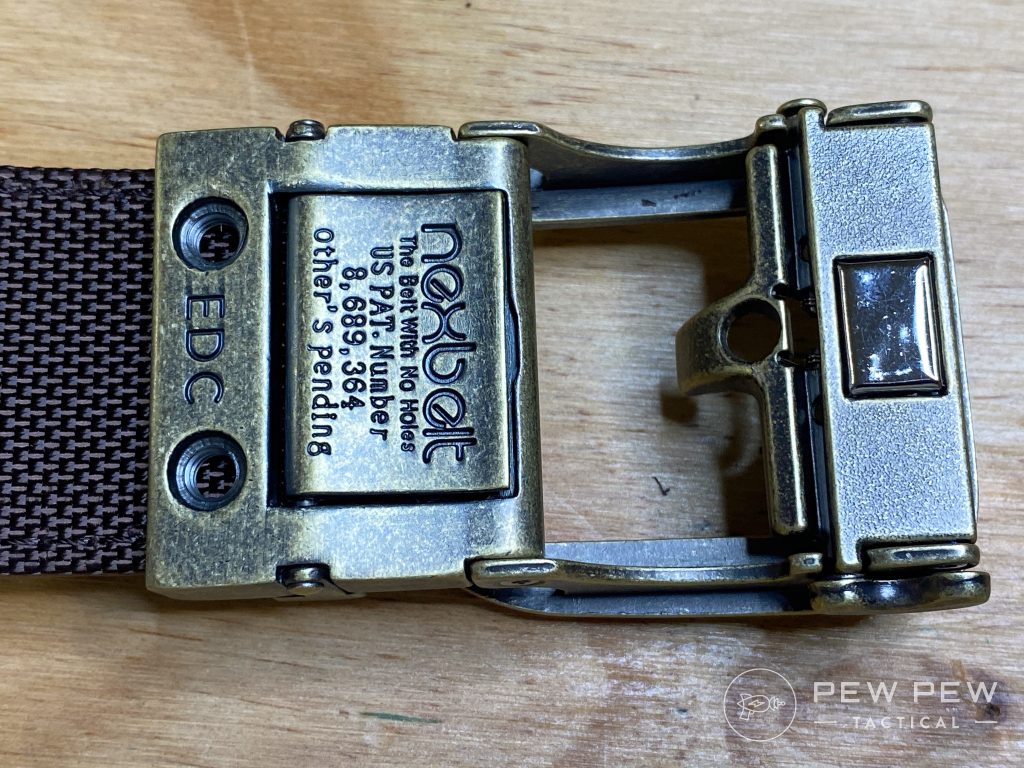 The adjustability of the ratchet belt well surpasses the traditional belt loop system. I'm not sure why these are just now becoming popular in the states.
One word of advice…the first time I put one of these belts on I clicked it into place in the morning and went about my day.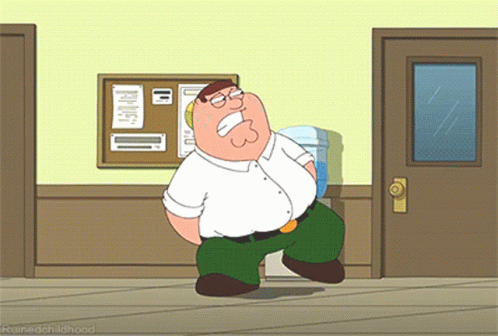 A while later when the coffee hit me, I headed to the bathroom and suddenly realized I didn't know how to take the belt off. There was a frantic moment of exploration before I found the release and activated it!
In short, practice removing it when you first try it on.
Conclusion
As I indicated, importance of belts is crucial to carrying a handgun. It's a fundamental part of the delivery system.
Should a belt fail, the gun may not be there at a critical moment. Even if the belt does a poor job, it's a risky proposition.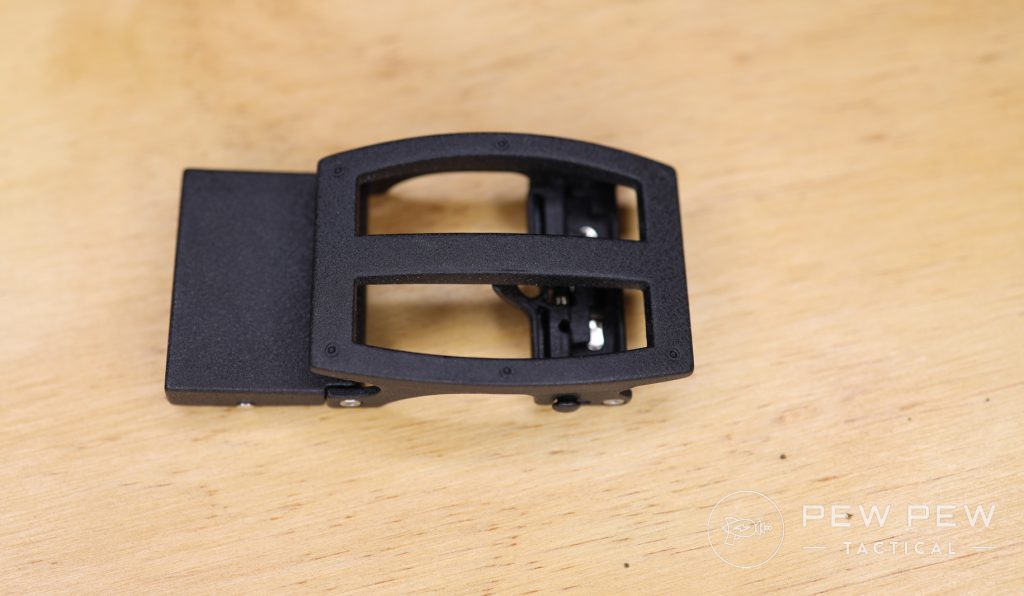 Belts need to hold a holster in place, predictably, so users can access a firearm quickly in defense of life situations. This is not a place to scrimp, and it's not a place to enlist the old dress belt you've had for years.
I can tell you that after trying the Nexbelt, I don't see myself wearing anything else.
Have you used Nexbelt? Tell us your experiences in the comments below! See more belts by checking out our article 5 Best Gun Belts for Concealed Carry & Range.