In September 2020, I packed a bunch of hunting gear and three of my children into my Chevy, bound for the Colorado backcountry. Although I told my friends and family I was disappearing to hunt elk, I was mostly trying to hide from 2020.
Let's face it, 2020 has thrown most of us for a loop. Between COVID-19, social unrest, and political unease, this year's events combined to create a cocktail of stress and anxiety.
If you have contemplated trekking off into the wilderness for just a moment's reprieve, you're not alone. The events of this year definitely left me wanting to head for the hills screaming.
So I did.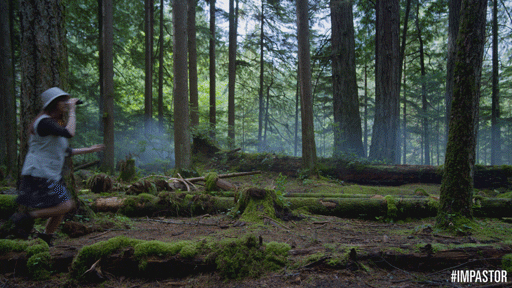 This was not my first Colorado hunting trip. I had done DIY archery hunts with my dad in the past. In fact, he and I had been planning a trip for the fall of 2017.
Unfortunately, that trip didn't happen. Daddy died in January that year after complications from a heart attack on the last day of the Virginia deer season.
There's a really nostalgic story I could insert here about taking Daddy's ashes with me for one last hunting trip. I could also tell you how my youngest son, Silas, planned to hunt with his grandfather's bow.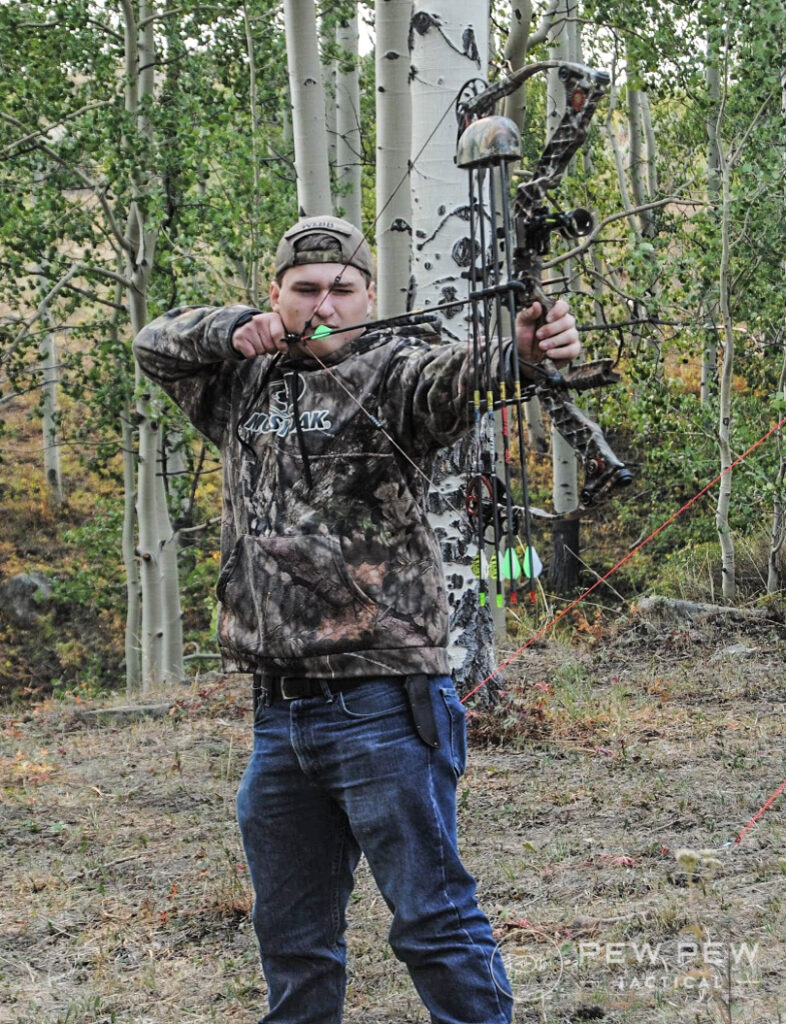 Every time I try to tell the story, though, it has a way of coming out kinda creepy. I'm only going to give it a cursory mention and save us the awkwardness of a sappy moment.
Table of Contents
Loading...
The Best Laid Plans
Like I said, this wasn't my first DIY Colorado hunting trip; however, it was the first time I was totally in charge of all the planning and execution.
I live in North Carolina and it's a good distance from the Colorado Rockies. Not to mention, it's a pretty long haul that makes in-person, pre-season scouting pretty impractical.
My plan was to hunt the same areas my dad and I had hunted previously.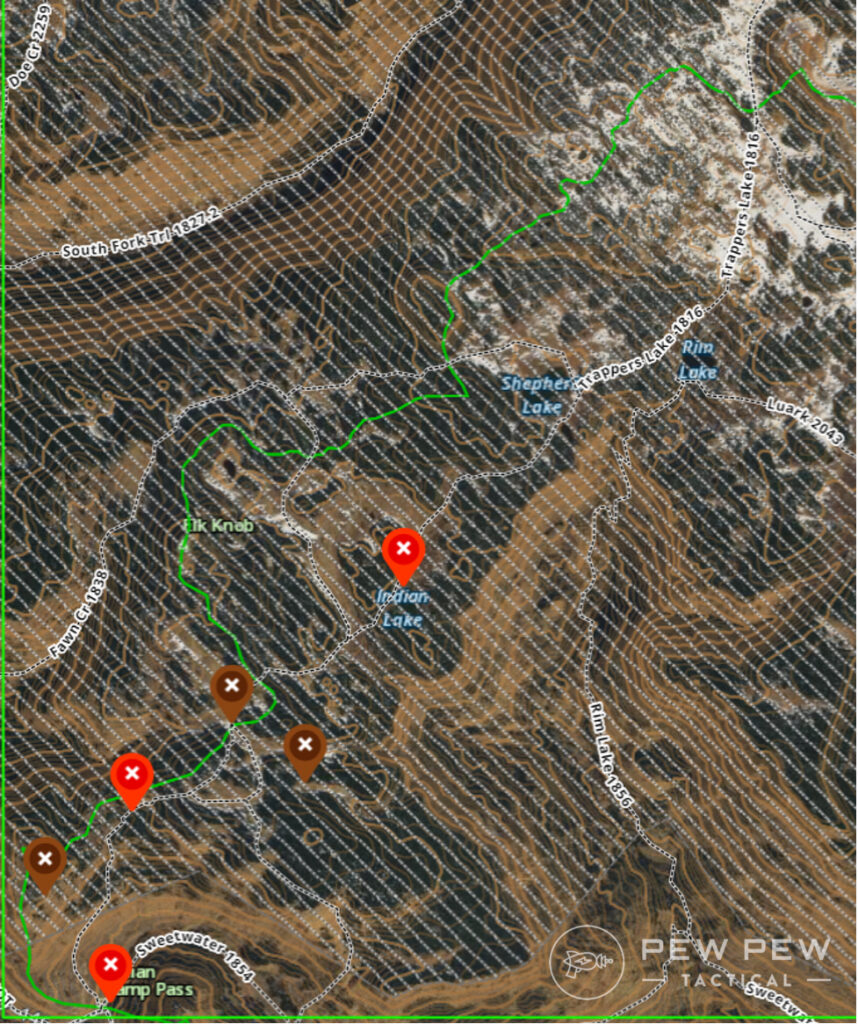 Although I was familiar with the area, I still spent weeks pouring over satellite images and topo maps in preparation. (If you've never used OnX Hunt, you're totally missing out.)
I also studied the coordinates of our previous elk sightings and old campsites and planned our hunt around those locations.
After months of planning, gear gathering, list checking, and general anxiety, we loaded up the truck and hit the road.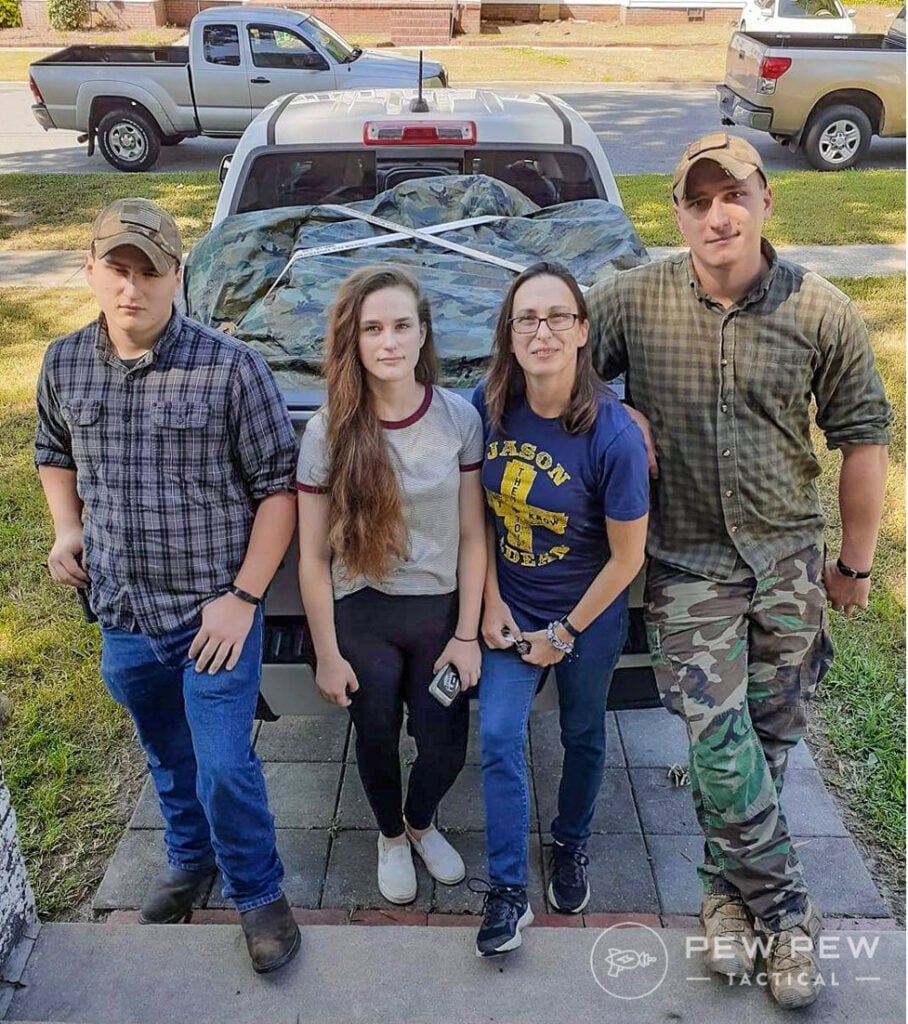 World on Fire
Because 2020 has been little more than a string of everything dumpster fire, it makes total sense that there would be a literal fire raging through Grizzly Creek near Glenwood Springs, Colorado.
The wildfire started on Aug. 10 and would eventually expand to cover almost 33,000 acres before it was finally contained. At its peak, the fire caused a record-long two-week closure of Interstate 70 between Gypsum and Glenwood Springs.
When we arrived, firefighters were still attempting to contain the blaze. Because 2020 is what it is, the fire was burning approximately 15 miles from the spot we planned to pitch our base camp. We were supposed to hike into the wilderness area from there.
15 miles is a long way. We should be fine, right?
Nope. The road that led to our planned base camp location (and our access point to Flat Tops Wilderness) was being used as a staging area for firefighters.
No one was getting in.
There went months of planning flying right out the window.
We didn't drive over 1,800 miles for nothing, so we scrambled to find another access to Flat Tops. (Thank you, OnX!)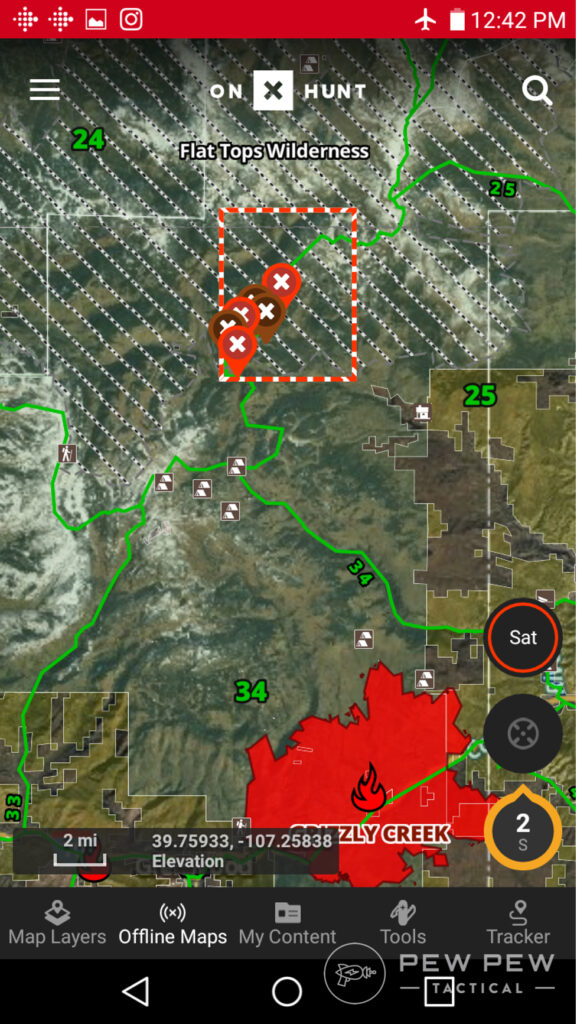 We found what looked like a likely route to another access point and set out to salvage our hunt.
Interesting fact: On a map, "4WD Access Only" roads all look the same. However, not all "4WD Access Only" roads are created equal.
It could mean that the road will be a little bumpy, but your Chevy Colorado can totally handle it. It could also mean that the road is actually a steep goat path much narrower than the average Chevy Colorado.
We apparently picked the goat path.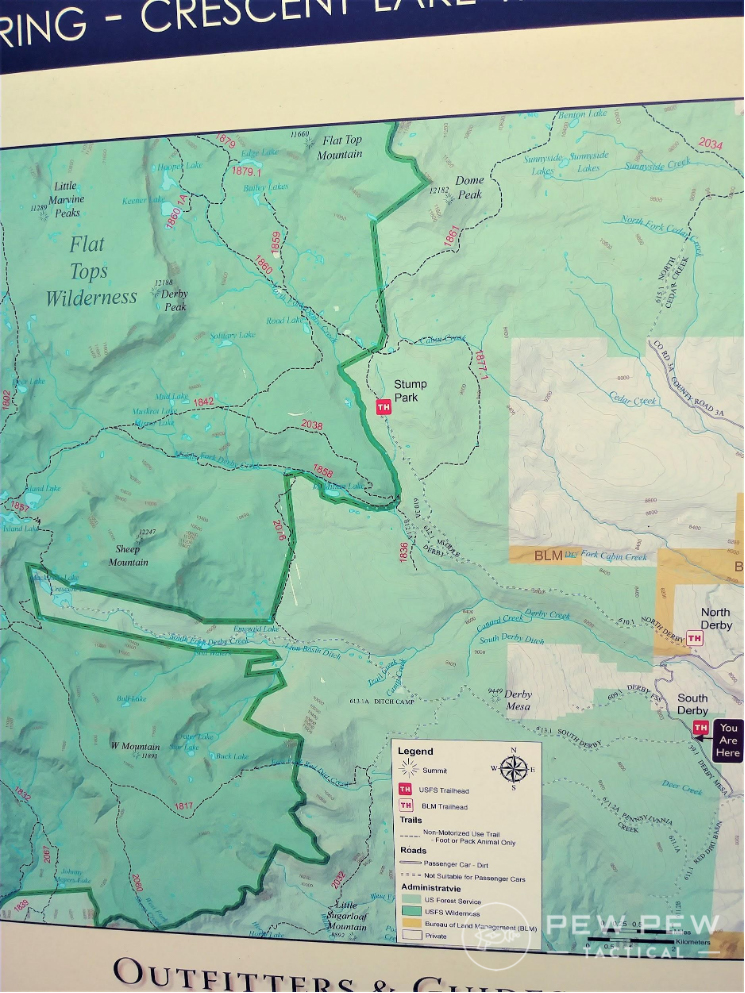 Since I am a flatlander who spends my normal life at a comfy 43 feet above sea level, that steep drop off next to the truck tires looked seriously ominous.
My older son, Daniel, fresh from deployment to Afghanistan, was behind the wheel. Nothing phases him, especially after spending nine months in a war zone.
But he told us all proper good-byes on the side of that ravine with the truck perched precariously on a much-too-narrow path.
I was pretty miffed as a fiery truck crash might ruin my elk hunt.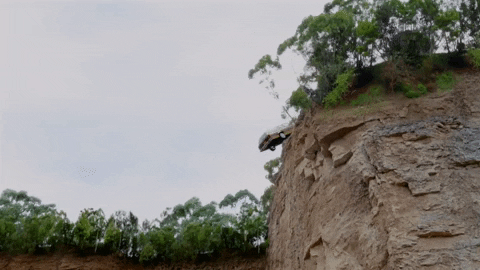 Somehow we made it out alive. I don't know how, because I had my eyes closed. Kudos to Daniel's steady hand and top-notch 4WD skills.
We wound our way back down the ravine and found a more Chevy-appropriate road to the Flat Tops access. One that was far more bumpy than goat-y.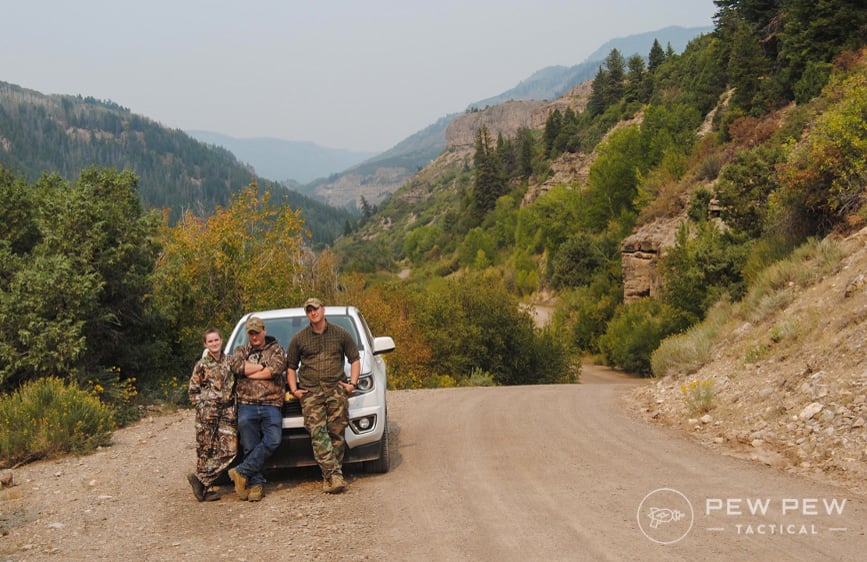 How Many Ways Can 2020 Ruin An Elk Hunt?
Colorado's partnership with 2020 dished out more than catastrophic wildfires and treacherous goat paths during my hunting trip. It also produced some seriously dramatic weather.
The temperature was an absolute roller coaster ride. Thermometers in Denver sweltered through a 102-degree day on Labor Day. We hiked from our base camp to our spike camp in the wilderness area that same day.
At the higher elevation, we only recorded a super chilly 92 degrees on Monday afternoon.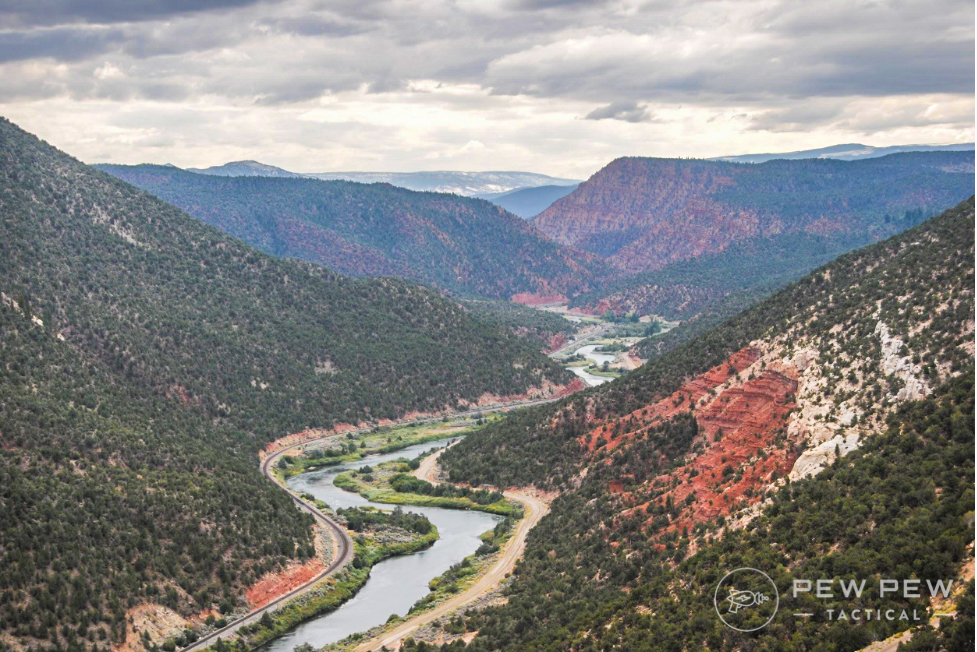 We sweated through a hike and an evening hunt that also had us swarmed with sweat-loving yellow jackets. After that, we ate a hasty dinner and climbed into our tents.
It was too hot for the sleeping bag; so I curled up on top, using my rolled-up jacket for a pillow. Somewhere during the night I noticed it was raining, and slid into my sleeping bag to keep warm.
When I woke just before dawn and staggered from the warm comfort of my tent, I learned that the rain had turned to snow.
Before the sun was completely up, the snow was driving hard, and we decided to wait it out in camp. We expected to be out chasing elk with bows and pointy sticks before lunchtime.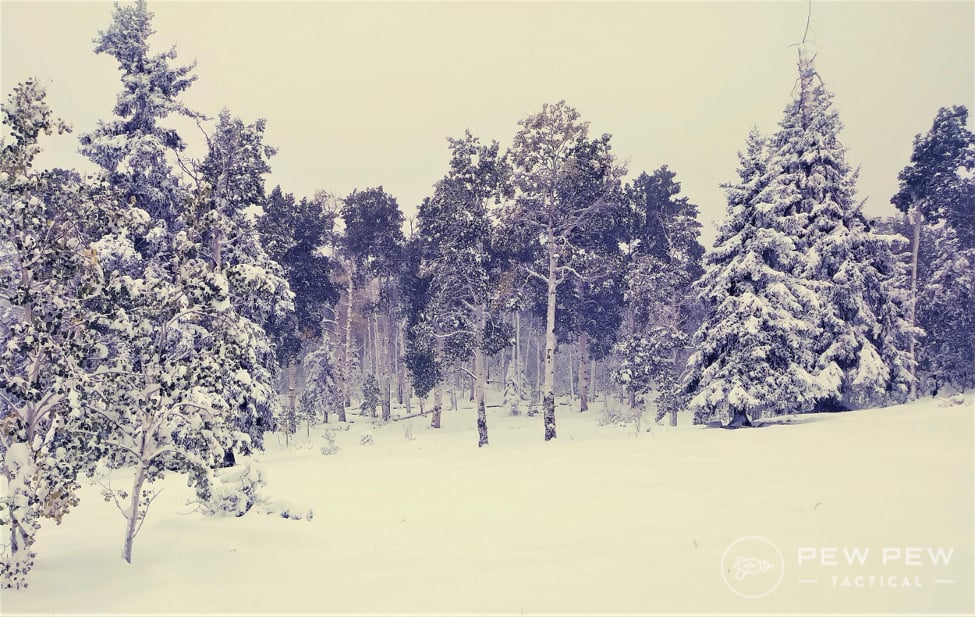 Hunting in the snow can be cold, but it has its perks. Big brown animals stand out like flashing neon signs against white, snowy backgrounds.
However, we spent the next 8 hours actively trying to keep ourselves from being buried alive.
The snow was driving down hard and fast. We had to beat the snow off the top of the tents every 15 minutes to keep them from collapsing.
This was not turning out to be the restful escape I envisioned.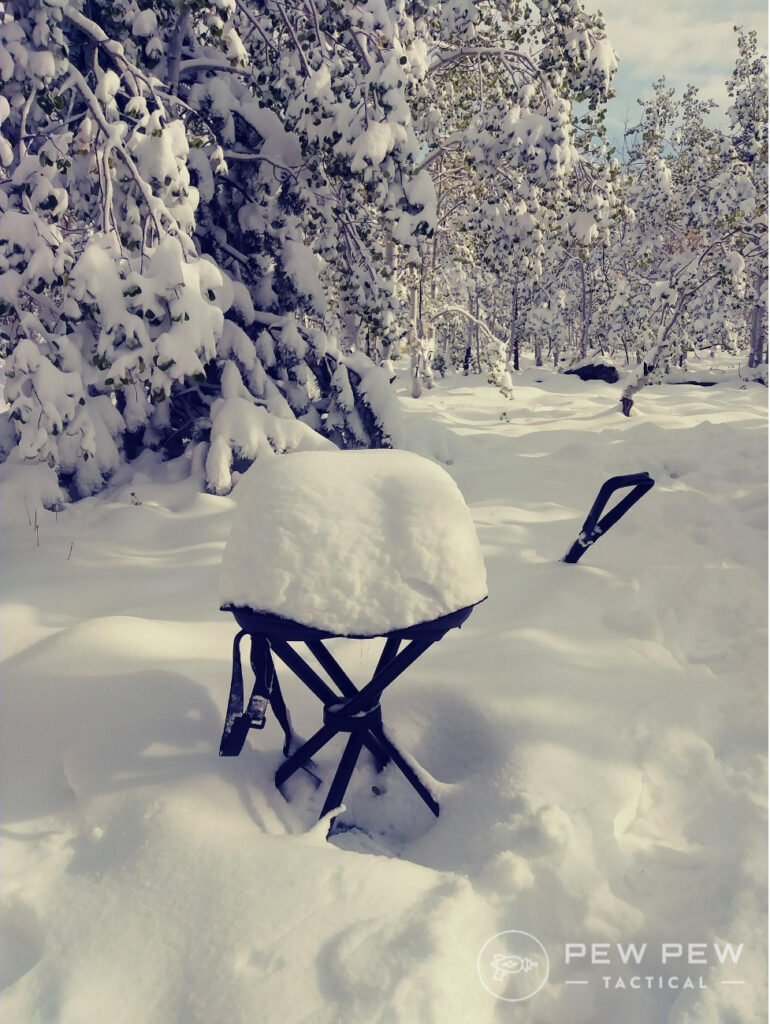 Tired from actively trying to stay alive, that afternoon we said, "Screw it. We're going hunting even if we do get lost in the snow."
Although not the safest hunting conditions, I paid a ton of money for that elk tag. I was pretty sure I wasn't going to tag out sitting in my tent.
The snow finally stopped falling just as the sun was setting on Tuesday. When everything was said and done, the temperature dropped 71 degrees and the sky dumped close to a foot of snow on us in less than 24 hours.
Heading Back to Base
With the threat of more precipitation looming on the horizon and my daughter Emma's sleeping bag soaked from a leaky camelback, we decided to head back to our base camp a day early.
That's when I did what any self-respecting elk hunter who pumped a large sum of money into non-resident elk tags only to have their hunt cut short would do.
I cried.
We found our base camp completely snowed in. Blizzard-like straight winds had blown snow and debris everywhere, and our tent had collapsed under the weight of wind-driven snow.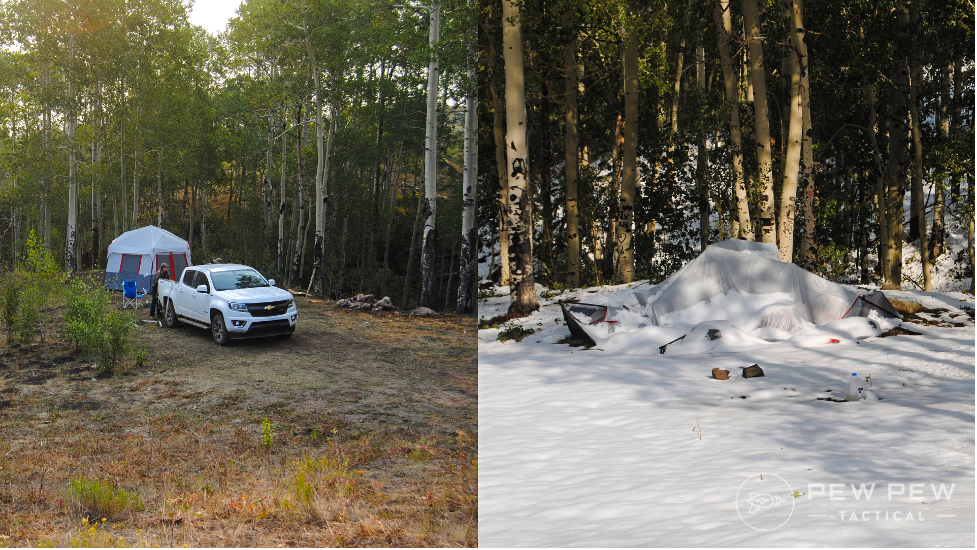 All our clothes and backup gear were buried. And since snow is really just a more annoying form of water, all that gear was also thoroughly soaked. We decided to pack up everything and head for a drier, warmer place.
After spending several hours shoveling out our gear and packing it up, our trip was far from over.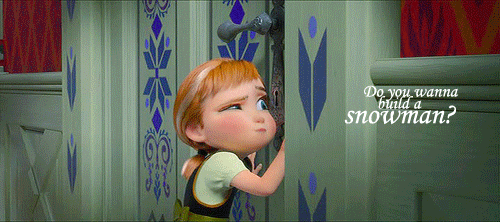 We found the incline from our base camp to the hard-packed road too muddy for our Chevy to handle. The truck ended up stuck in a wallow of thick Colorado mud.
This trip was just adding insult to injury.
With no dry tent or gear, we spent the night in the truck — frustrated and miserable. All of us were covered in thick mud from our attempts to dislodge the Chevy.
Miles from civilization, with absolutely no cell service, we figured we were stuck until the snow melted and the landscape was dry enough to drive out…which could take days.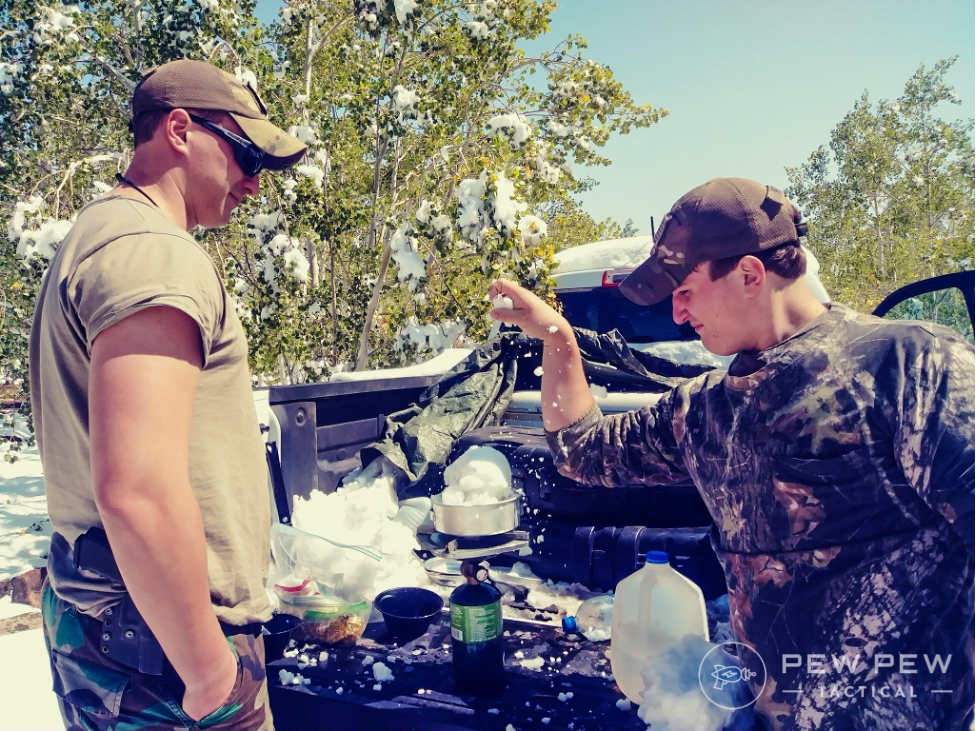 Thankfully, the temps dropped well below freezing overnight. Just as the sun cast a rising halo over the Rockies, we were able to drive over the now frozen mud, up the incline onto the hard-packed road.
With that, we headed for home.
Gearing Up
Good gear is important for any hunt, whether you're headed for your own back 40 or the Colorado backcountry. However, when you're on a backpack hunt, far from your truck, it is absolutely crucial.
I'm not going to lie, good gear is expensive, but it's pricey for a reason.
Quality costs money.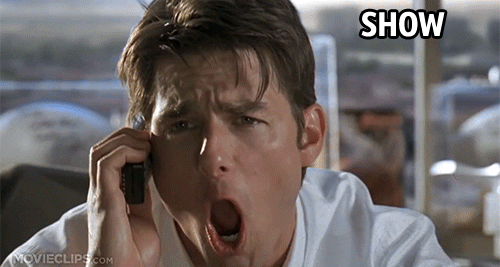 If you skimp on quality, though, it's going to cost you in other ways — ways that can hurt far worse than a temporary strain on your bank account.
Trying to work with crappy gear in the backcountry is going to be uncomfortable on a good day and absolutely dangerous on a bad one.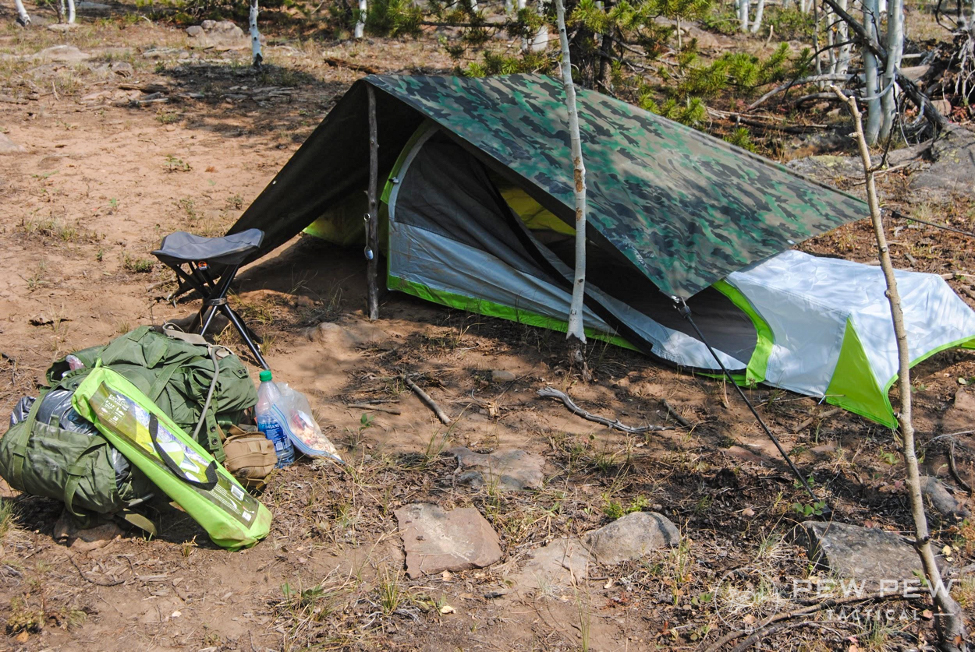 The most important pieces of hunting gear, aside from your bow or rifle, are your boots, pack, and a proper clothing layering system. Honestly, if I hadn't had quality gear, this trip would have been far more miserable than it was.
Here's a quick run-down of what I carried with me.
Putting Your Best Boot Forward: Hiking Boots
I ordered these really awesome boots from 5.11 to use in Colorado. But, of course, my size in the 5.11 A/T Boots was back-ordered. The boots didn't arrive until I was already well into that 28-hour drive to Colorado.
150
at 5.11 Tactical
Prices accurate at time of writing
Prices accurate at time of writing
Instead, I used an old beat-up pair of boots I've had for years. This may actually have been a stroke of luck, since breaking in new boots on the trail isn't exactly smart.
P.S. I'll offer an update on the 5.11 boots after I put them through the wringer during the North Carolina hunting season.
Packing It In: 5.11 RUSH72 Backpack
Since my plan was to pack everything into the wilderness area on my back, I needed a durable pack to handle the rugged conditions. I also required enough capacity to carry all my gear out and back.
I used the 5.11 RUSH72 backpack.
180
at 5.11 Tactical
Prices accurate at time of writing
Prices accurate at time of writing
It has a full 55L capacity, which was plenty enough for all my gear and sufficient for toting several loads of elk backstrap and deboned hindquarters, had I been lucky enough to fill my tag.
The RUSH72 also has more organization pockets than I can count. (I probably haven't found all of them yet. They seem to keep multiplying.)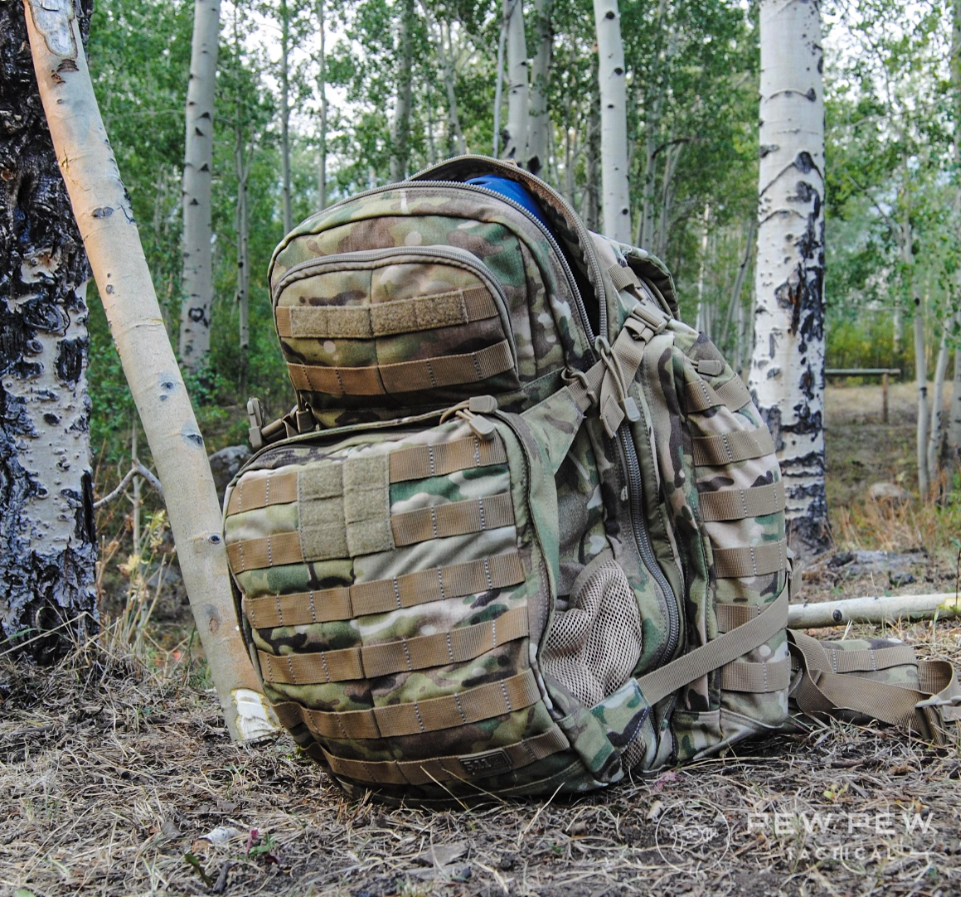 Organizational pockets made it easy to keep my personal hygiene stuff from mixing in with my cover scents and cow calls.
Since I'm not a fan of having elk estrus jostling around next to my toothbrush, this is a very handy perk.
19
at Amazon
Prices accurate at time of writing
Prices accurate at time of writing
The pack has foam padded straps and decent weight distribution. I was toting approximately 55-pounds of gear including my bow.
I weigh all of 125-pounds after a big meal and didn't once tip over backwards.
It also has a padding and air ventilation system that kept my back surprisingly cool and un-sticky, even on that 92-degree hike.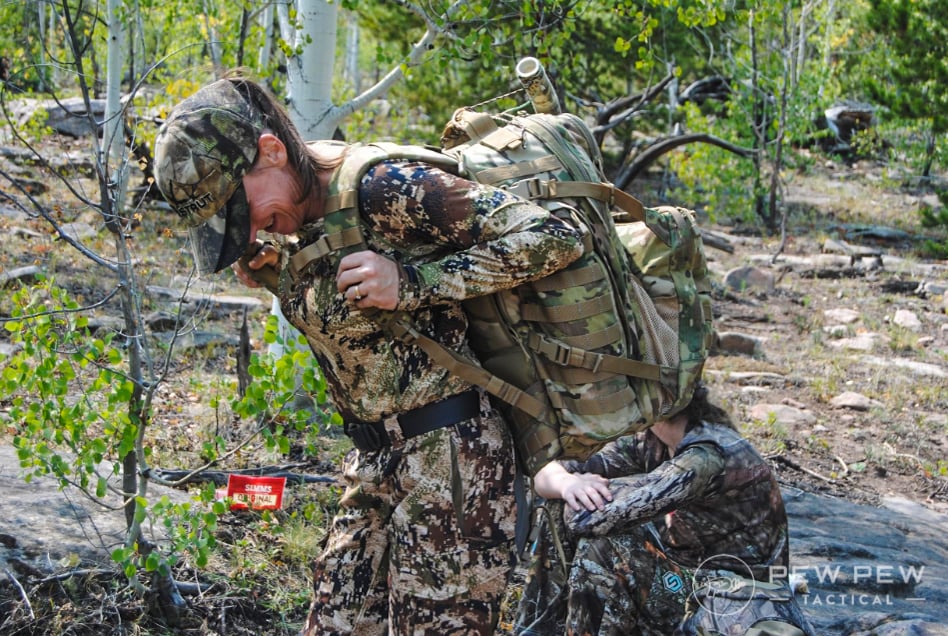 Was it the best pack for the job? Probably not.
After gaining almost 2,000 feet of altitude on a 2-mile stretch of trail, I was praying for something lighter. (This one weighed 5.5-pounds before I put a single sock in it.)
But I was also rethinking every single ounce of gear I had at that point. Do I really need toothpaste? How much does that plastic spork actually weigh? How about my shoelaces?
Layering It On: Sitka Gear
I'm going to offer some advice that will save you some serious suffering. If you're going to hunt in Colorado, spring for some Sitka gear. Just buy the whole system from base layer to rain gear. 
You. Will. Not. Be. Sorry.
This stuff is worth its weight in gold.
A proper clothing system can make or break a hunt, and you really need to be prepared for anything in the backcountry. You can always peel off layers to cool down, but it isn't always easy to get warm.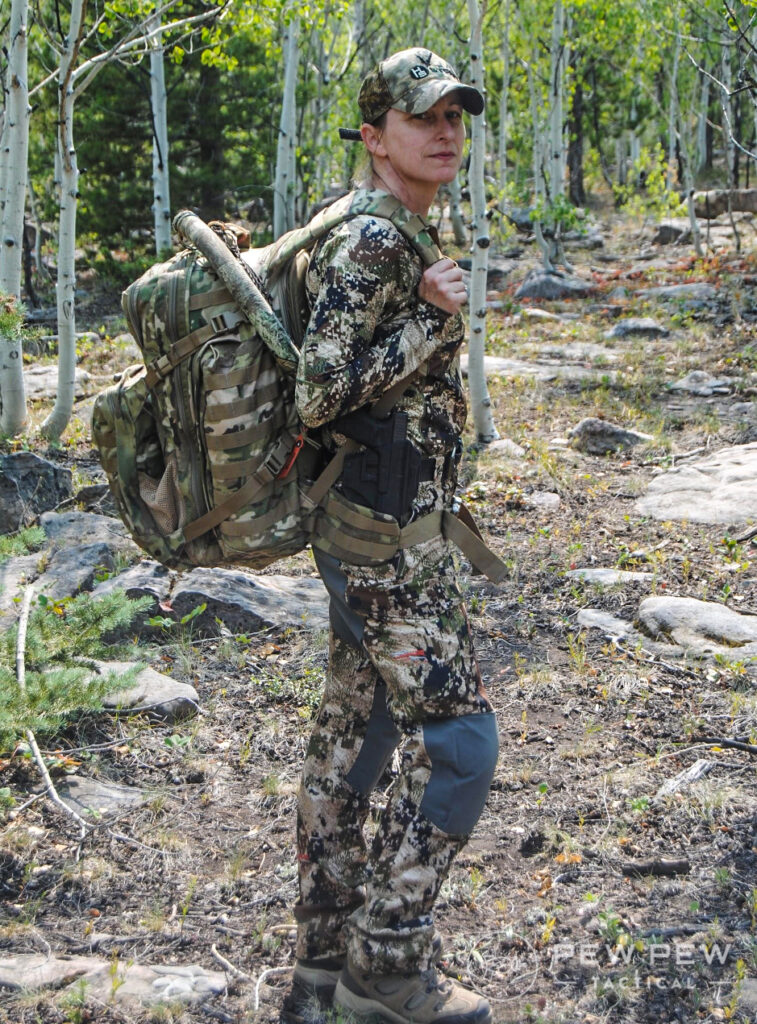 I've hunted in subpar clothing for decades, and I didn't even know it. I steered clear of Sitka for years because I thought it was too expensive.
In short, I suffered. I thought being sweaty and smelly on a hike and then shivering through the onset signs of hypothermia once I got to my stand was totally normal.
It is not.
Sitka gear was completely breathable and well-ventilated through warm, sweaty hikes. The gear also managed to offer beautiful layers of warmth and insulation when the weather turned sour. 
To read more about Sitka, read my full, hands-on review on Sitka Hunting Gear.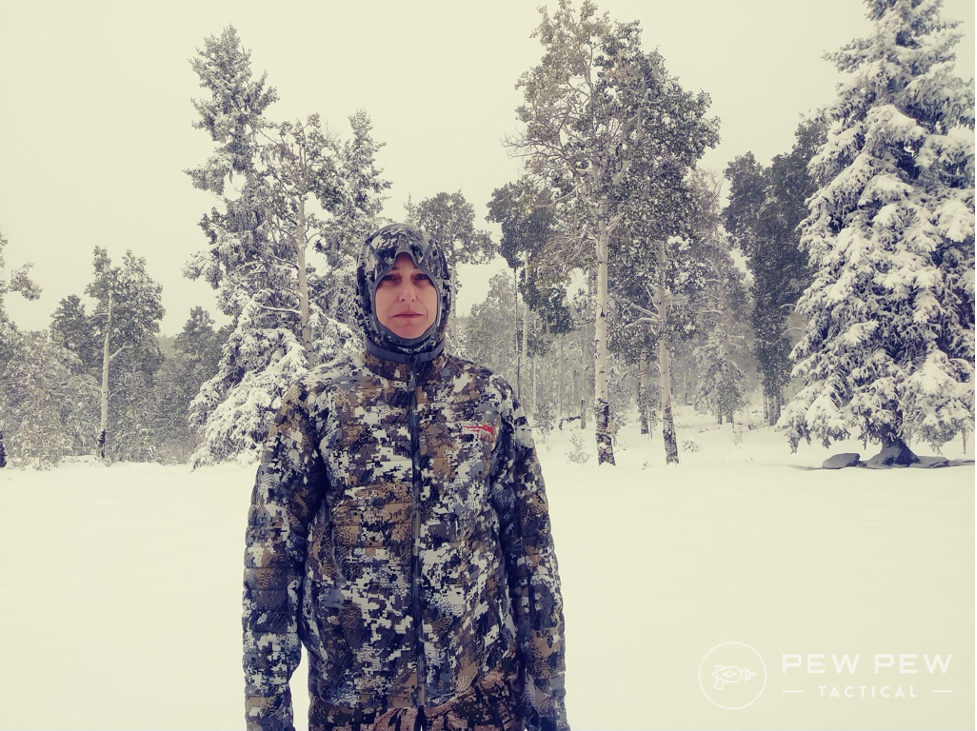 And the layers are ultra-lightweight, which means it was easy to stuff them in my pack. It also meant that I could bundle up without bulking up.
Even outfitted in all of my Sitka cold weather gear, I never felt like the Michelin man. I could still draw my bow without the clothing bunching up or getting in the way.
Further, I was warm.
Sitka gear was a welcomed bright spot.
159
at Amazon
Prices accurate at time of writing
Prices accurate at time of writing
Scoping It Out: Maven S.2 Spotting Scope and OnX App
I want to mention two other things that helped me salvage my hunt.
First is the OnX app. Since we had to do super quick, on-the-fly recon to find a new hunting area, this app was invaluable.
I downloaded topo maps of Flat Tops Wilderness and the surrounding areas to my phone before leaving civilization. I used those same maps to track our new and changing position using GPS and the OnX app, even though I had zero cell service.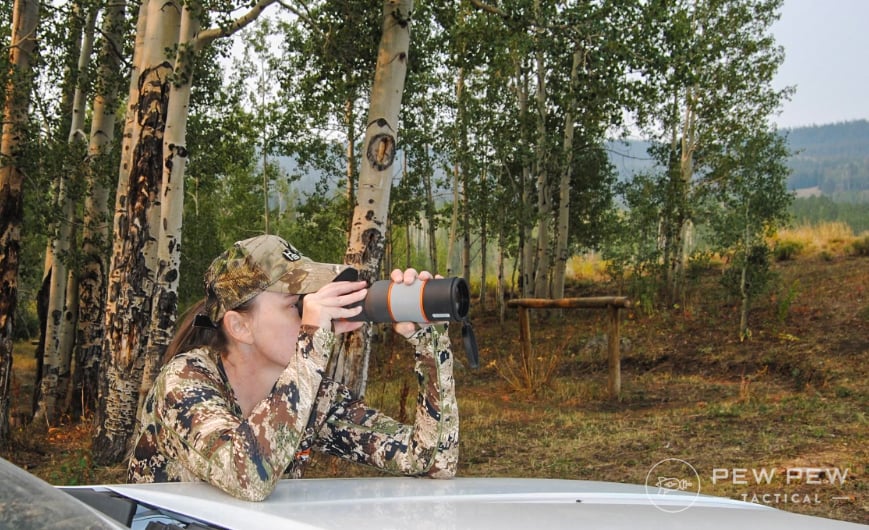 The Maven S.2 Spotting Scope also helped scout out new hunting territory.
This thing is really compact and easy to pack, and the 12-27x magnification range was perfect for scanning subalpine meadows for big bulls.
950
at Amazon
Prices accurate at time of writing
Prices accurate at time of writing
We used it to look for elk from our base camp, hoping to spot some and then hike up after them.
Did we see any elk through it? Of course not, it's freakin' 2020. Remember? We did see some mule deer and one rogue golden retriever, though. None of this is the scope's fault. It's a nice optic with crisp image quality.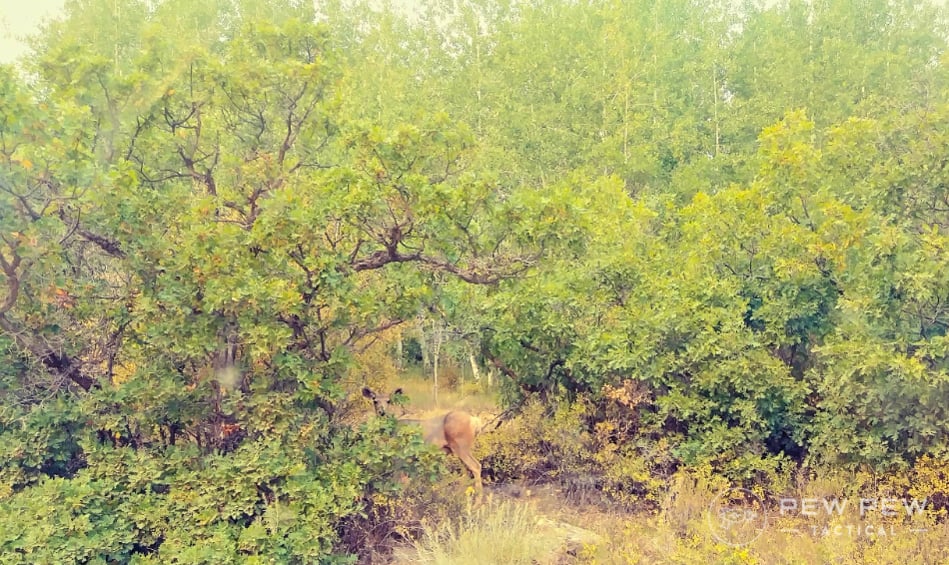 Although it is definitely "packable," it weighs what feels like a literal ton on the trail. (It's really only 34-ounces.)
In the end, I opted to leave this one in the truck and chose to go with a pair of practical pocket binoculars. While the image quality wasn't ideal, the binos were so lightweight I almost forgot I had them.
13
at Amazon
Prices accurate at time of writing
Prices accurate at time of writing
Conclusion
So what did I learn from my Colorado wilderness experience?
Murphy's law REALLY applies to hunting, especially in what is turning out to be the worst of years.
Seriously….prepare for the unexpected, even if you think the odds of experiencing it are slim.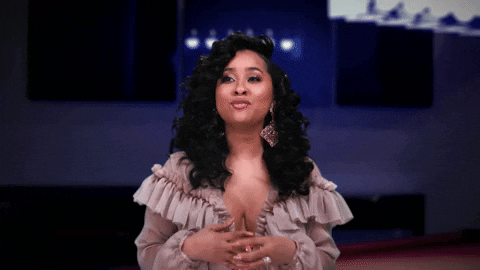 Also, back up every Plan A with a rock-solid Plan B (and probably Plans C through G, too). Be ready to fly by the seat of your pants if things go south.
Yes, thousands of people wander into the Colorado backcountry to hunt every year. However, if you aren't from around those parts, and you don't plan to use an experienced guide who is, it's smart to stock up on decent gear and some basic survival skills.
Next time, I think I'm going to splurge on the guide…
If you have any suggestions on guides or what could have made this trip better, hit me up in the comments. Got any crazy 2020 stories — good or bad? Share them below. If you want to hunt big game, but archery isn't your thing, check out our list of the Best Hunting Rifles for Putting Meat On The Table.