Holosun's media blitz around the Advanced Enclosed Micro Sight was a smart move and one that certainly captured the attention of the gun world.
My curiosity was piqued, so I got my hands on one as soon as they became available.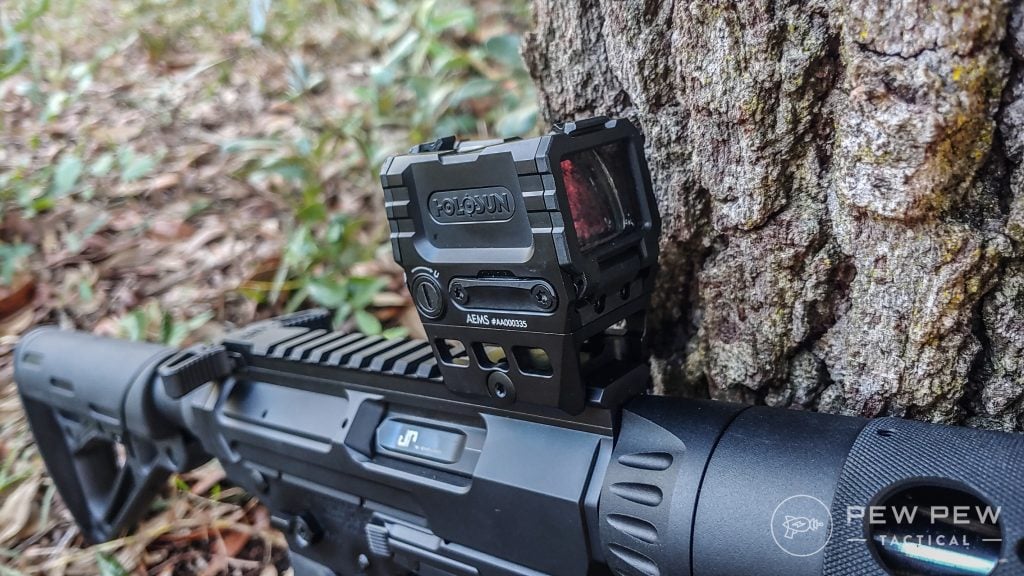 With the AEMS in hand, I rushed to find an empty optics rail among my gun safe. More so, I wanted to give the AEMS the test of its life between three different long guns.
So, with a JP5 PCC, a Colt EPR AR-15, and Smith and Wessons latest M&P 12 shotgun, I got on with it.
But before we dive into my time at the range, let's take a moment to explore the AEMS, its specs, and why it garnered so much buzz.
399
at Optics Planet
Prices accurate at time of writing
Prices accurate at time of writing
Table of Contents
Loading...
It's All About Size
Making small optics is nothing new. But what sets the AEMS apart is that it makes a small optic that's also incredibly efficient.
Part of that efficiency comes in the form of a field of view that measures wider than the competition while still remaining small.
The AEMS falls into the world of "compact" optics — not pistol-sized, but rather Aimpoint Micro-sized. It's well suited for rifles, shotguns, and PCCs.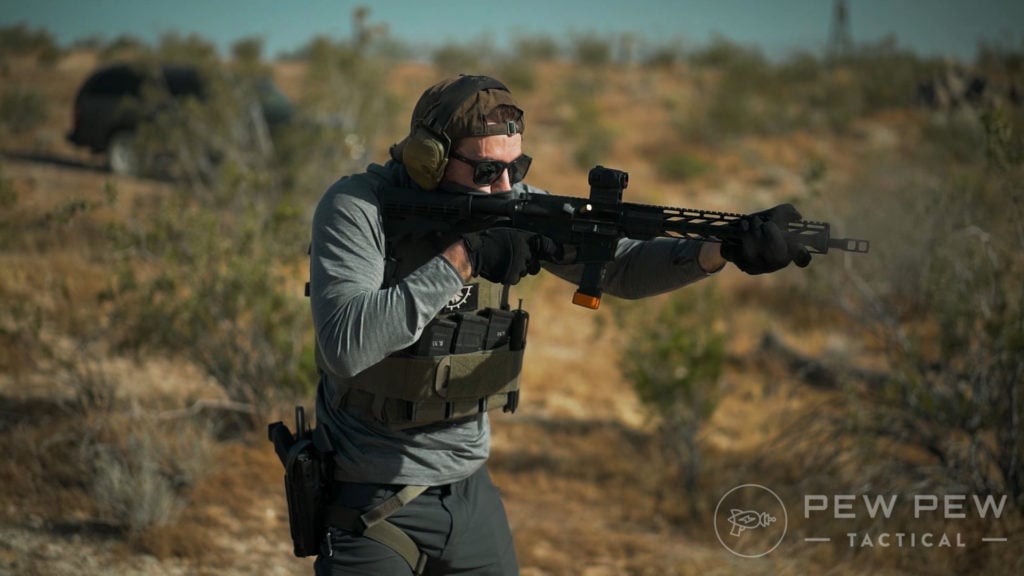 Size-wise the optic measures 2.2 inches long, 1.4 inches wide, and 2.59 inches tall.
It's a fair bit shorter than most other compact optics that utilize a lower 1/3 co-witness. That's not too impressive at first glance.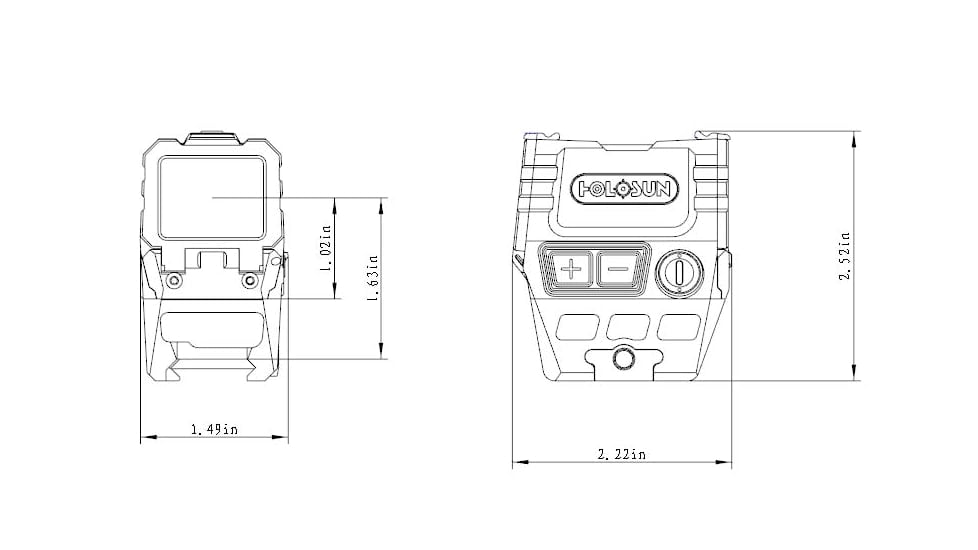 What is impressive, though, is the square-shaped window size at 1.1 inches by .87 inches.
For comparison, the EOTech XPS2 opts for a window size of 1.2 by .8 inches. It's a hair bigger, but the optic is much bigger overall.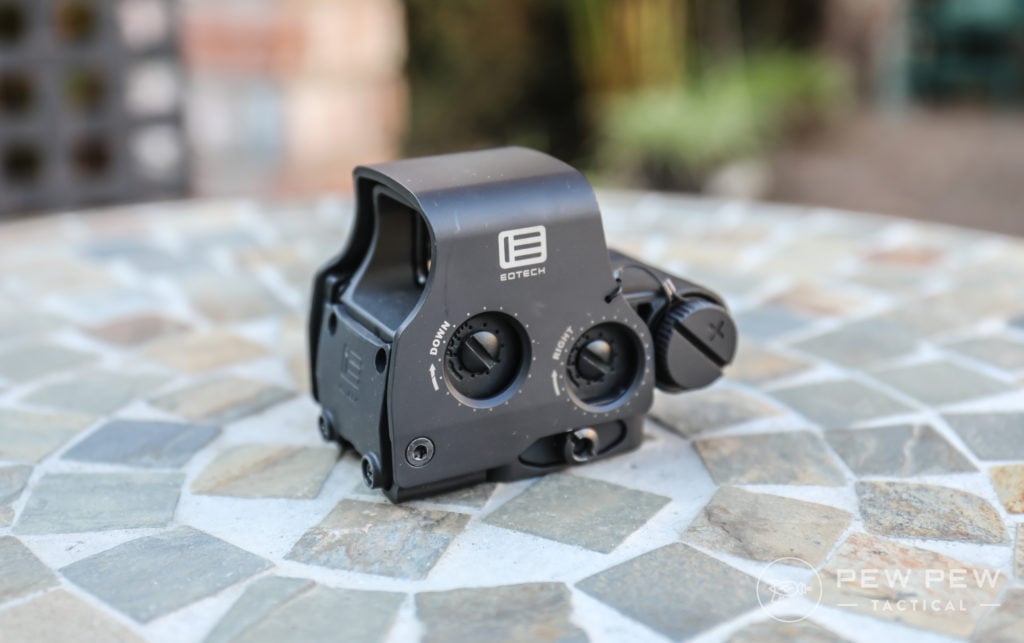 The XPS2 measures 3.8 inches long, 2.1 inches wide, and 2.5 inches tall and provides an absolute co-witness…so it's a little shorter.
This illustrates the size efficiency of the AEMS well and even shows how light the optic is. The AEMS weighs 3.9 ounces, while the XPS2 weighs 9 ounces.
Being a Square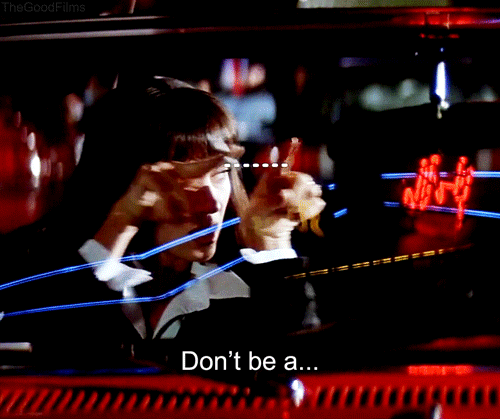 The AEMS window is larger and square and that's why the window size is efficient.
Square windows offer some advantages in the world of red dots.
Though they might never be as small or sleek as tube-style red dots, the additional width makes them easier to use. Not to mention, they provide a wider field of view.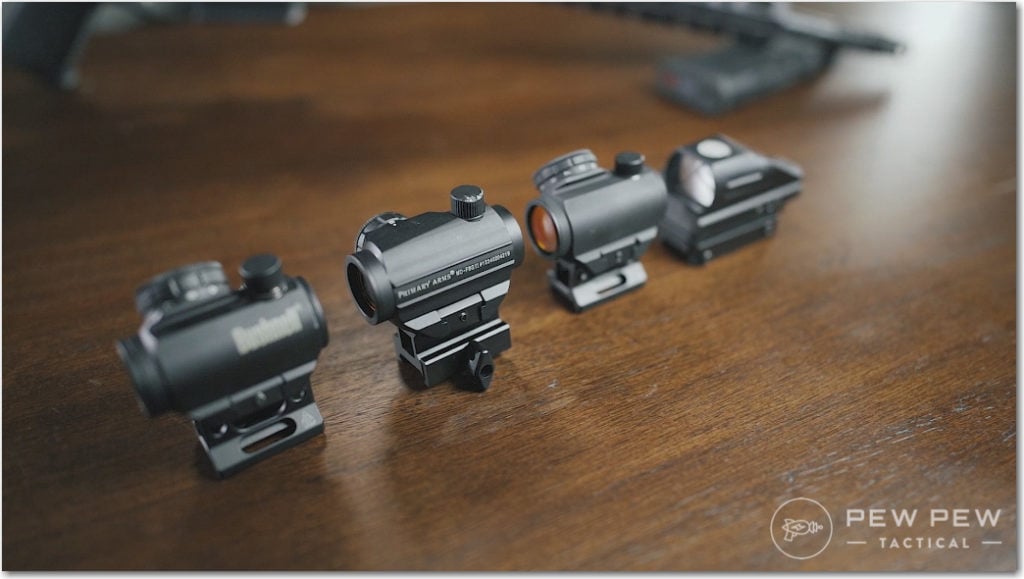 For a lot of red dot shooting, a two-eyed open shooting style makes the field of view irrelevant, right?
Sure, at the square range, that makes sense. However, when you start shooting around barriers or vehicles, or anything that forces you to acquire a weird shooting position, the square window gives you a fair bit of leeway.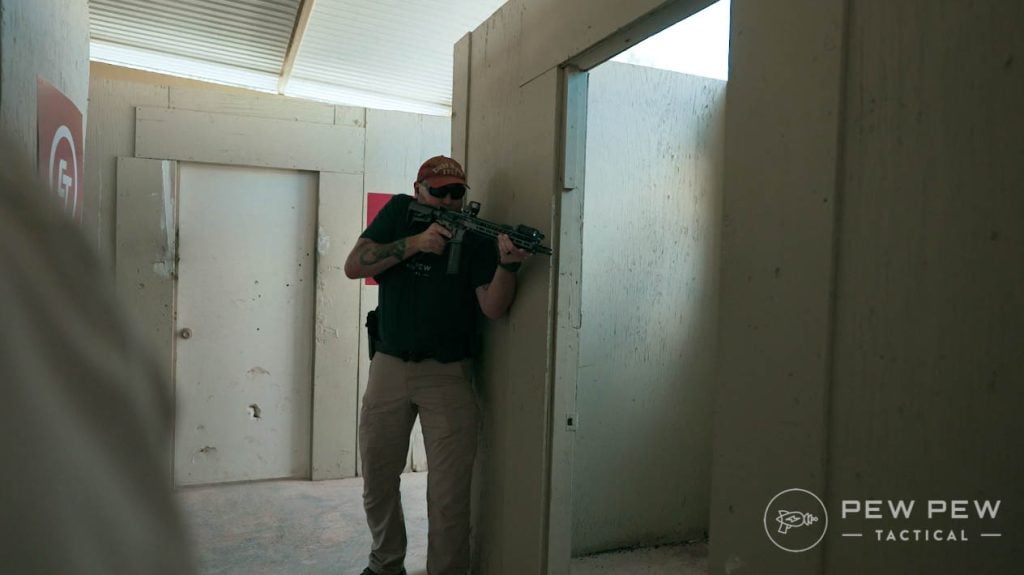 It's easier to look into the square window from odd angles and use the optic than a tubular-shaped red dot.
A good example of this is some of the nutty USPSA PCC stages where shooters are making some crazy yoga-like moves against very small targets around various barriers.
In these competitions, you see lots of EOTechs and even Holosun 510Cs on competitors' rifles.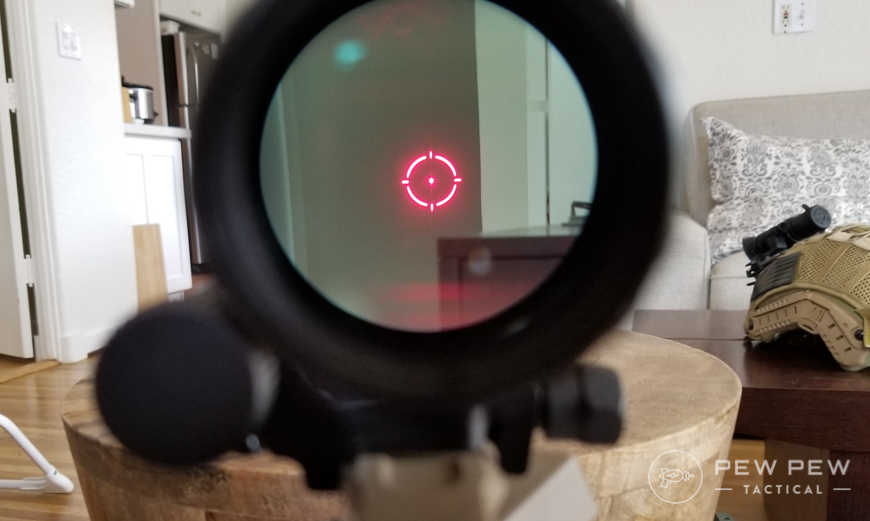 I don't use night vision, but I've heard that square optics work better with night vision and that leeway works when you have a 7-inch tube strapped to your face.
Breaking Down The AEMS
Outside its efficient size, the AEMS also packs a number of notable, stand-out features — including the awesome shake-awake tech.
If you leave the optic alone and without movement, it will automatically shut off and preserve the battery.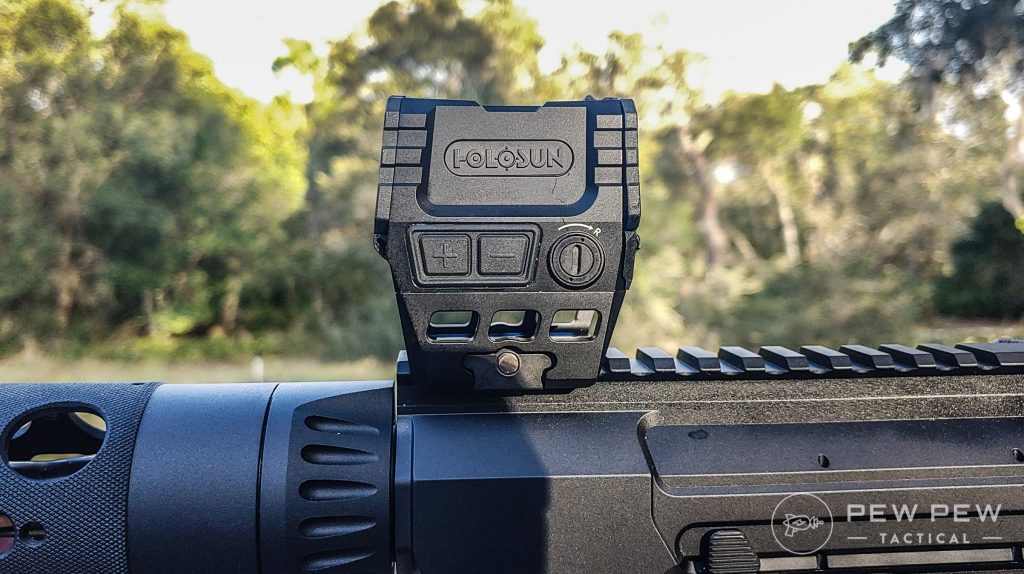 Here's where the shake awake feature comes in. As soon as the optic detects movement, it springs back to life on the last setting — convenient for people like me who often forget to shut optics off before stashing guns in the safe.
Next, solar panels live atop the optic and provide a backup to the battery.
This solar panel works with both indoor and outdoor lighting, proving very convenient for when the battery dies.
However, the battery lifespan is approximately 50K hours, so it'll take time for that to happen.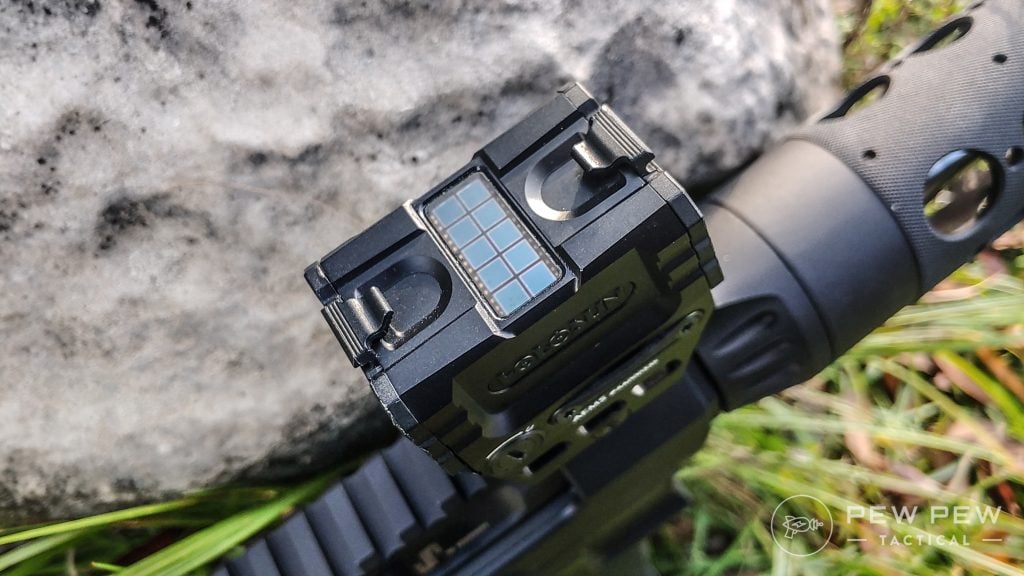 Holsoun's multi-reticle system also makes an appearance with a choice between a 2 MOA dot, a 65 MOA circle, and a combination of the two.
My preference is for the latter for most uses.
With eight daylight settings and four night vision settings, there's something for everyone.
Brightness can be adjusted manually or set to automatic. The automatic mode works…but doesn't adjust when using a weapon mounted light, so I stick to manual mode.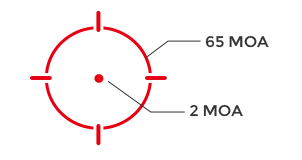 The AEMS does use a proprietary mount, which sucks.
Holosun has used Aimpoint and Trijicon mounting patterns in the past, and that's always been handy. The newest proprietary mount locks you into that one option.
It's not a bad mount, but currently only comes in a lower 1/3rd AR height.
Holosun promises more mounts to come…but in the gun world, I firmly believe that it's not real until it actually happens.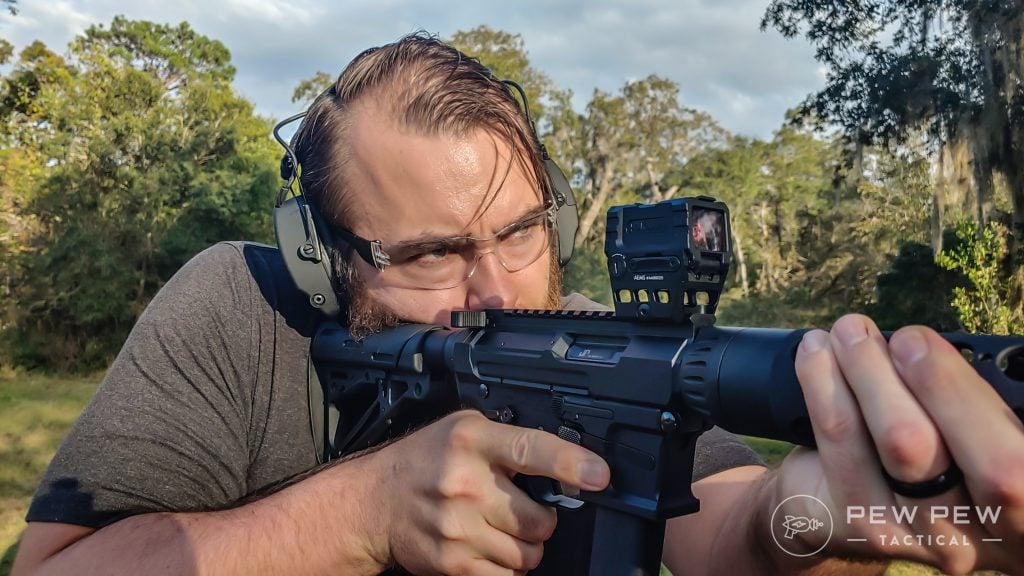 Zeroing The AEMS
The AEMS comes with a handy little tool for attaching the optic to the gun with a flathead portion for adjusting the slotted, uncapped turrets. Each adjustment of the turrets is .5 MOA.
I've zeroed the AEMS three times with varying levels of precision required over the three different platforms.
For the JP5 and AR-15, I used a 25 and 50-yard zero, respectively, and used a tape measure and some quick math to make zeroing easy.
In doing so, I did find that the 1/2 MOA adjustments are dead on and accurate. With a little math, I was able to zero both guns in only nine rounds by firing three-round groupings. The final three rounds were just for confirmation.
At the Range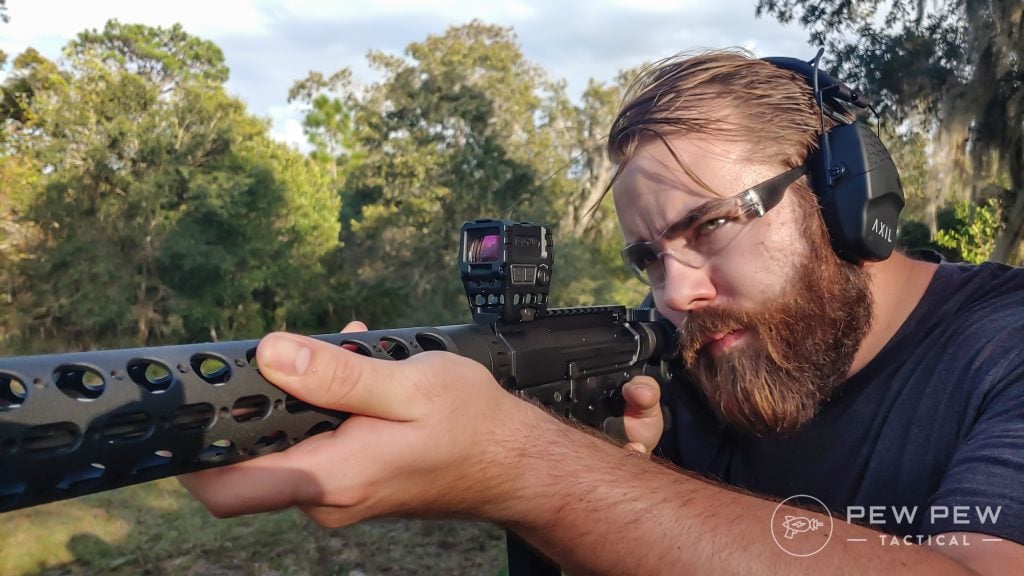 The AEMS scores high in the clarity department.
It offers a nice clear view through the optic, even with the lens covers in place. Holosun ships the optic with two lens covers on hinges that are see-through.
They don't seem to distort the image through the optic, but they do provide outstanding protection.
Should they become scratched or break, they are replaceable with extras ordered from Holosun. Not a bad idea by any means. Unless I was using a magnifier, I don't see a reason not to use the lens covers.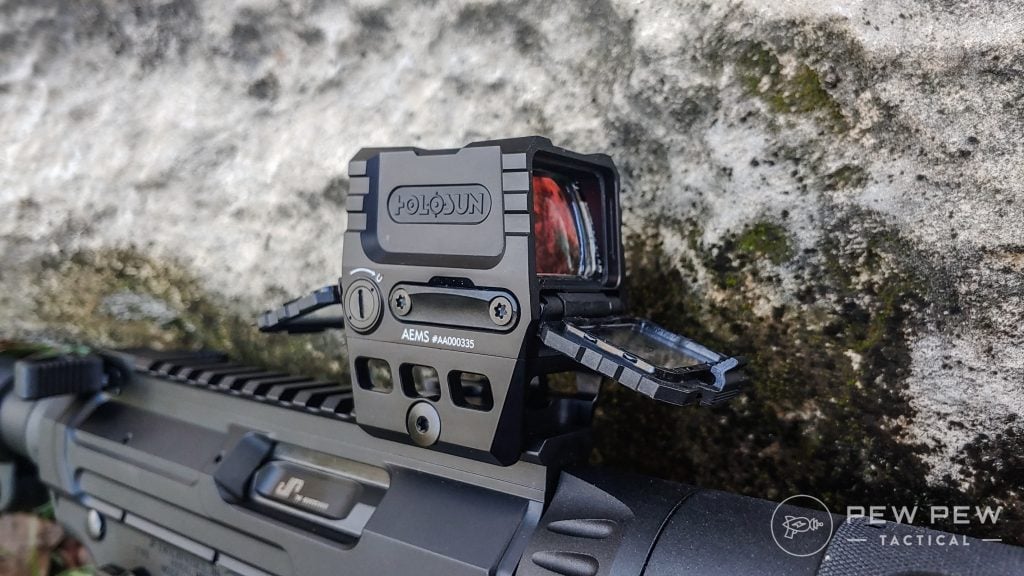 On the Shotgun
For the Smith & Wesson M&P 12, I used the big 65 MOA reticle.
A big circular reticle allows you to pattern your buckshot inside it at various ranges. I used some cheap Rio 00 buckshot and S&B number 4 and found it to be quite handy.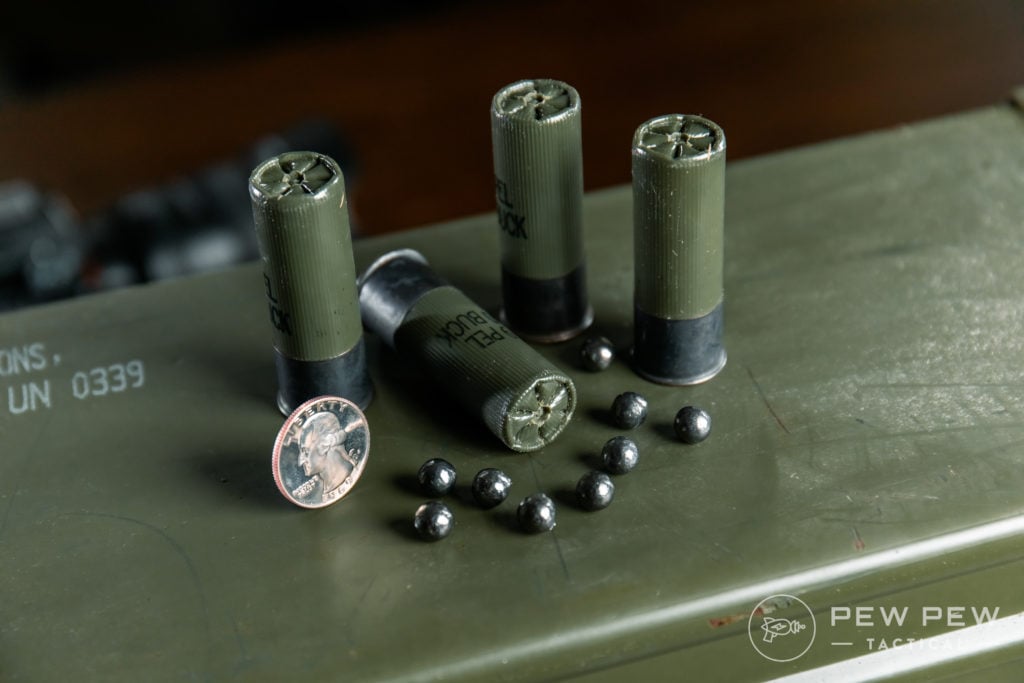 I knew that within a certain yard range, the buckshot would stay inside that big circle.
It helps account for pellets and does make it fun to see exactly where the pellets will be. Admittedly, with nine pellet buckshot, it might not always account for that occasional flyer.
Performance-wise a pump-action shotgun generates a fair amount of recoil. The little AEMS soaked it all up without issue.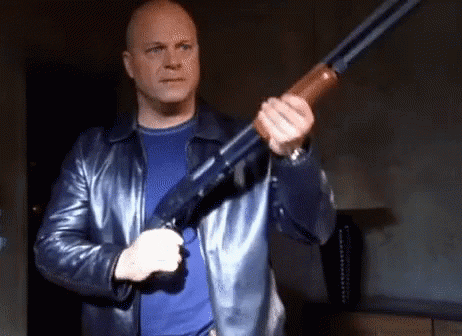 The zero didn't shift, and I could easily and repeatedly put buckshot into the chest, head, and pelvic regions of my target.
With my metal IPSC target, I kept its little A zone gong ringing with repeated and rapid blasts. Everyone loves beads on shotguns, but red dots are the superior choice.
Reticles In Action
On the JP5 and AR-15, I used the 65 MOA circle with the 2 MOA dot. I love this type of reticle a good deal more than your standard dot.
First, it's huge. Big reticles are easy to see reticles and easy to see reticles are fast on target and easy to track.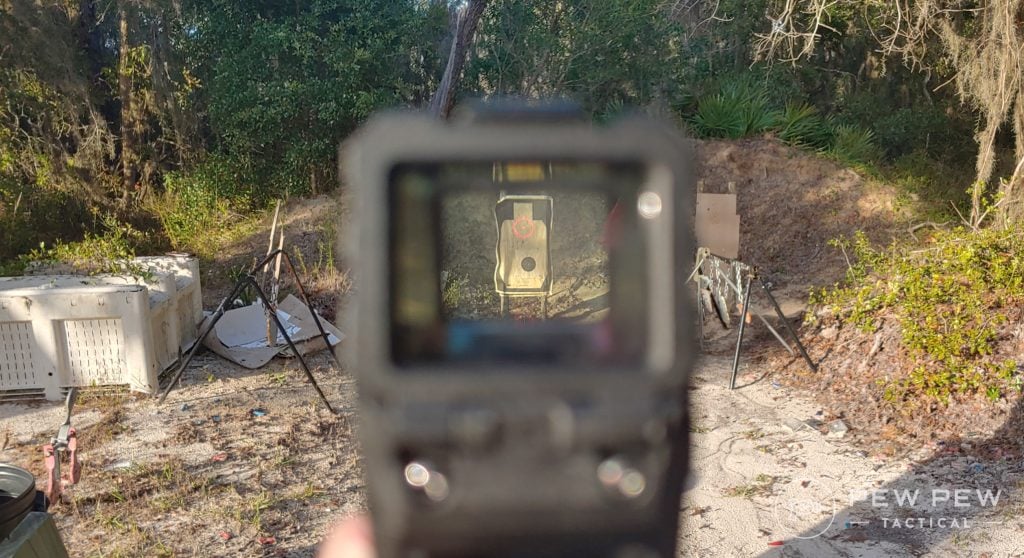 Speaking of, another benefit to a square-shaped optic is how much easier it is to track the reticle when transitioning from target to target or when transitioning to different portions of the same target.
When I began shooting failure to stop drills with the AEMS, I could easily track the reticle from the chest to the head.
With box drills, I could transition between multiple targets and the multiple target engagement points on each target.
I followed the big red circle, and when it arrived on target, I used the little 2 MOA dot to refine my aim and make accurate shots—easy peasy lemon squeezy.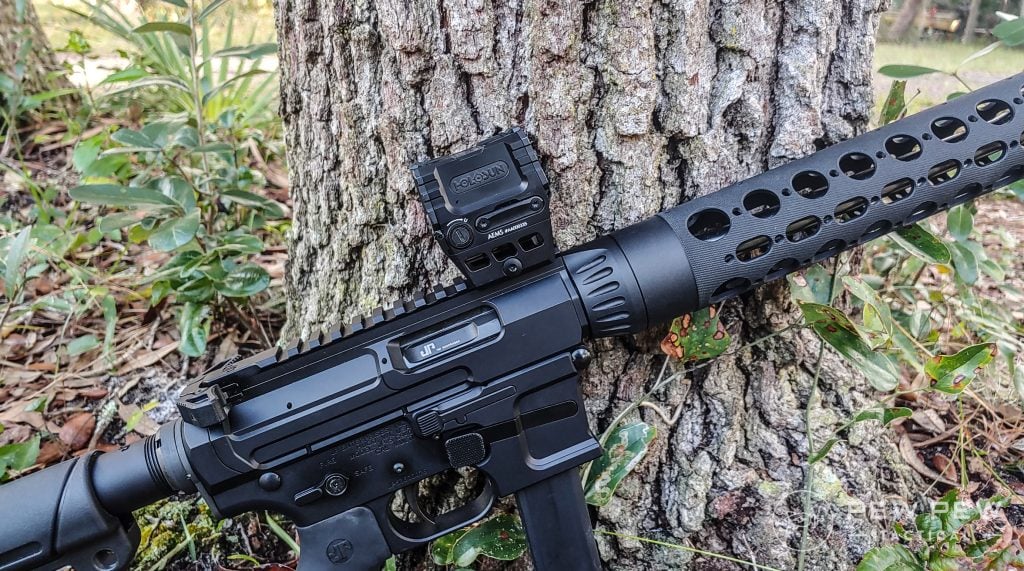 With the JP5 PCC, I quickly swapped between small targets with great precision.
I used clay pigeons and split those things over and over with increasingly faster times. The reticles make that an easy task.
Near & Far
At close range, the big circle and bottom stadia allow you to compensate for mechanical offset. When you are super close to your target, you'll have to deal with height over bore issues.
However, if you use the bottom stadia, you can precisely compensate for this problem and place precise close-range shots without issue.
I had no problems scoring headshots on failure to stop drills with either rifle at yards.
Not just headshots, but precise headshots in or dang near the T-zone of the head. This makes close-range shots very precise, and anyone can make them.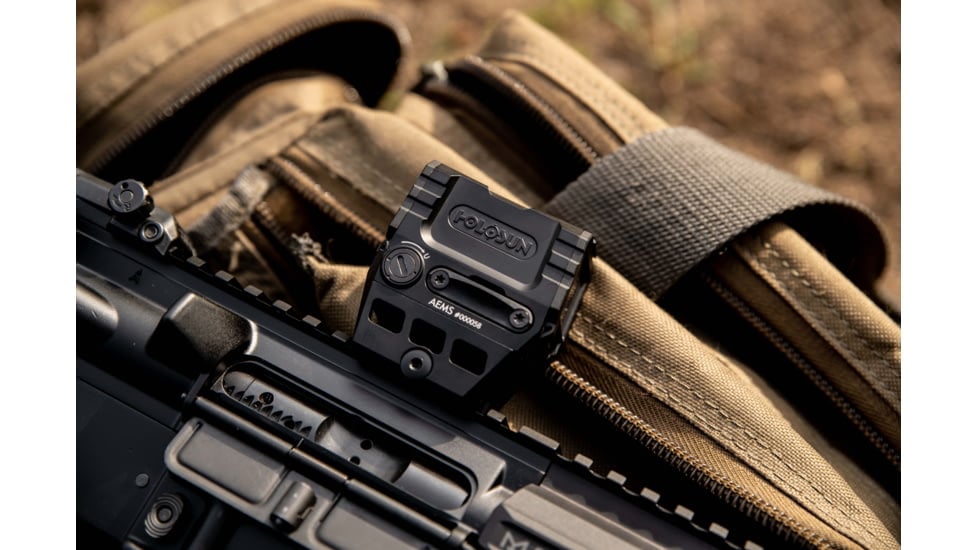 At longer ranges, I used the reticle to isolate and compensate for bullet drop with my JP5.
At 100 yards, 9mm drops quickly, but I could place the dot on the head of my IPSC target and knew my rounds would land between the dot and the bottom of the reticle. This made it easier to rapidly take shots at 100 yards with a weapon that's not designed for that range.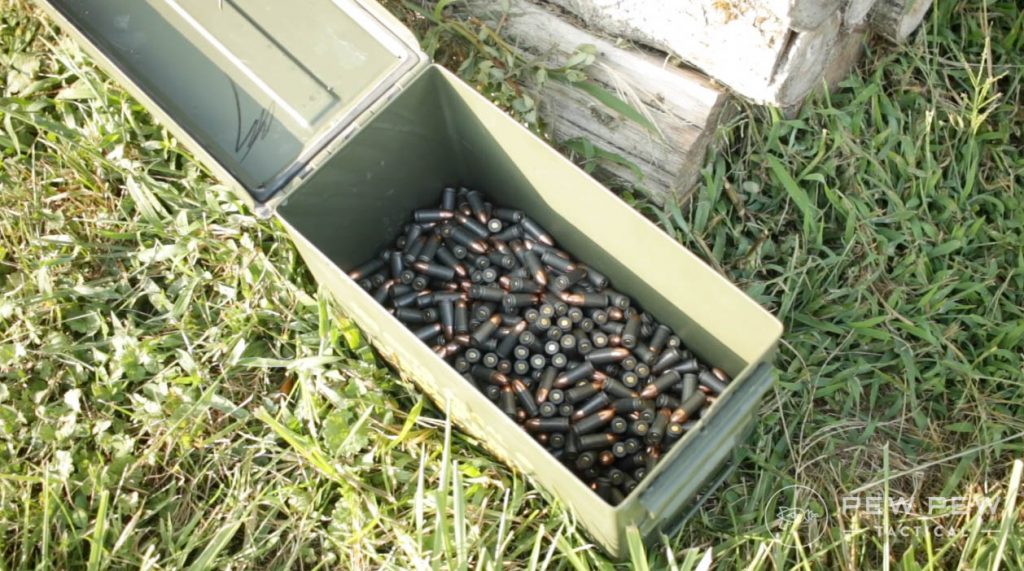 On a real AR-15, the reticle works as a good rangefinder out to 200 yards.
If a man-sized target fits into the circular reticle from top to bottom, it's roughly 100 yards away. On the other hand, if a man-sized target fills the reticle from the bottom to the dot, it's at 200 or so yards.
Anything beyond 200 yards requires a little guesswork with the reticle but it's doable — especially when paired with a magnifier.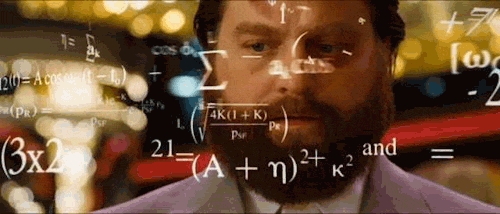 At 100 yards, I was able to ring a 10-inch gong over and over with my Colt and the AEMS.
The clarity of the AEMS and the crispness of the dot make it really easy for a proper rifle to make shots like this. One hundred yards isn't fair, but the target was small, and with less than a couple seconds between shots, it kept ringing.
Banging Away
I will say the adjustment buttons are massive and very easy to engage if you need to swap the brightness levels. They provide great feedback and work well on the fly — instantly responsive for those must-have adjustments.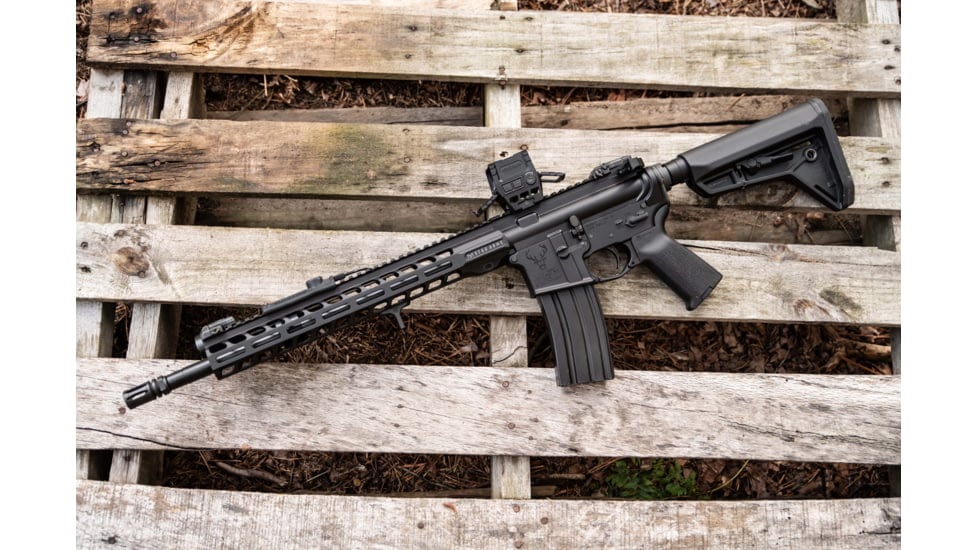 I used this thing on both bright and sunny days and in the rain. Even on cloudier days, the solar panel seemed to function without issue — not picky about how much light it needs to power itself.
Also, the rain didn't affect the optic's performance by any means. Rain means nothing to an optic-rated IPX8, which means submersible beyond a meter. In terms of forces, it's rated for up to 1000Gs.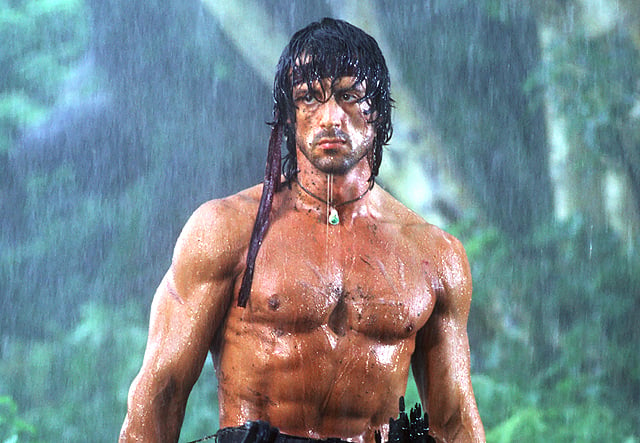 That's well beyond the recoil of any normal rifle or shotgun, so don't worry about roughing it up a bit.
By the Numbers
Reliability: 5/5
It took the abuse of being zeroed three times. And was rained on, faced the abuse of hundreds of rounds, and still kept working without losing zero. It never flickered and always fired right back up.
Ergonomics: 5/5
The AEMS has a great layout with easy to reach buttons that deliver tactile feedback that is nice. Not to mention, it comes in a nice compact package that's lightweight and easy to mount.
Looks: 4/5
It's a black square with some nice little cuts and trimmings here and there. My only real complaint is the giant Holosun logo that sits on both sides. I'm not a fan of billboards on my guns or optics.
Bang for Your Buck: 4/5
Like most Holosun optics, the AEMS appears to be relatively affordable. It's about $400, so it's certainly a far cry from the early Holosun optic…which made their name for less than $200. I knocked a point off for the price and the proprietary mount you'll have to buy to use this on other weapons.
399
at Optics Planet
Prices accurate at time of writing
Prices accurate at time of writing
Overall: 4/5
The AEMS is worth the hype. End of story.
Conclusion
It's proven to be a solid little optic that's chock full of features and very capable on rifles, PCCs, and shotguns.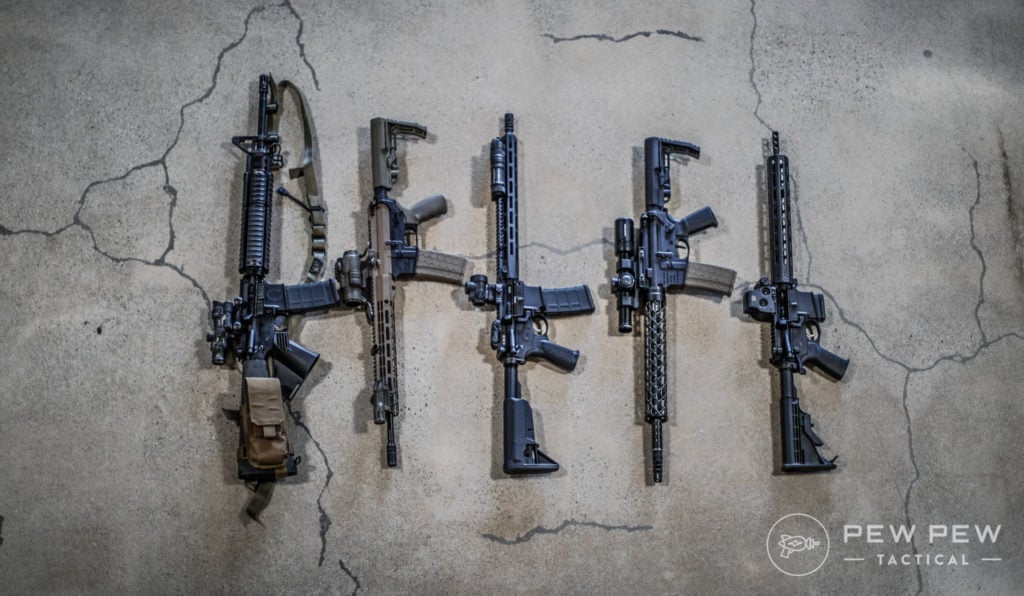 If you are looking for a lightweight, compact optic with a full field of view, it's going to be tough to beat the AEMS.
What do you think of the AEMS? Let us know in the comments below. If want to see a few more optics before committing to the Holosun AEMS, check out the Best Red Dot Sights.