Lever action shotgun? Sign me up!
Ok, we don't have the same exact shotgun…but one from Henry Repeating Arms in a friendly recoiling .410 gauge.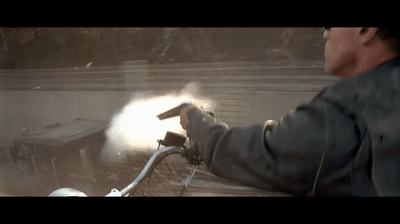 Find out how it feels, shoots, and if it's right for you!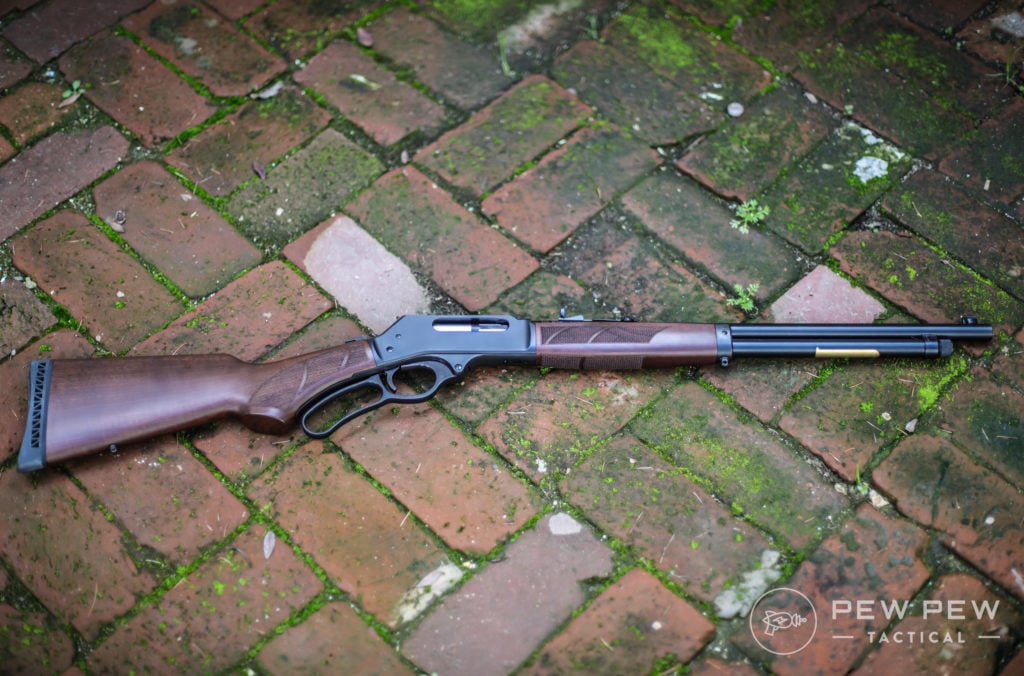 Table of Contents
Loading...
About
Henry Repeating Arms bought the rights to the "Henry" name and has been manufacturing in New Jersey since the late 90's.
They make a bunch of awesome lever-action rifles (check out my .22LR Golden Boy Review) and have ventured into single-shot rifles and shotguns.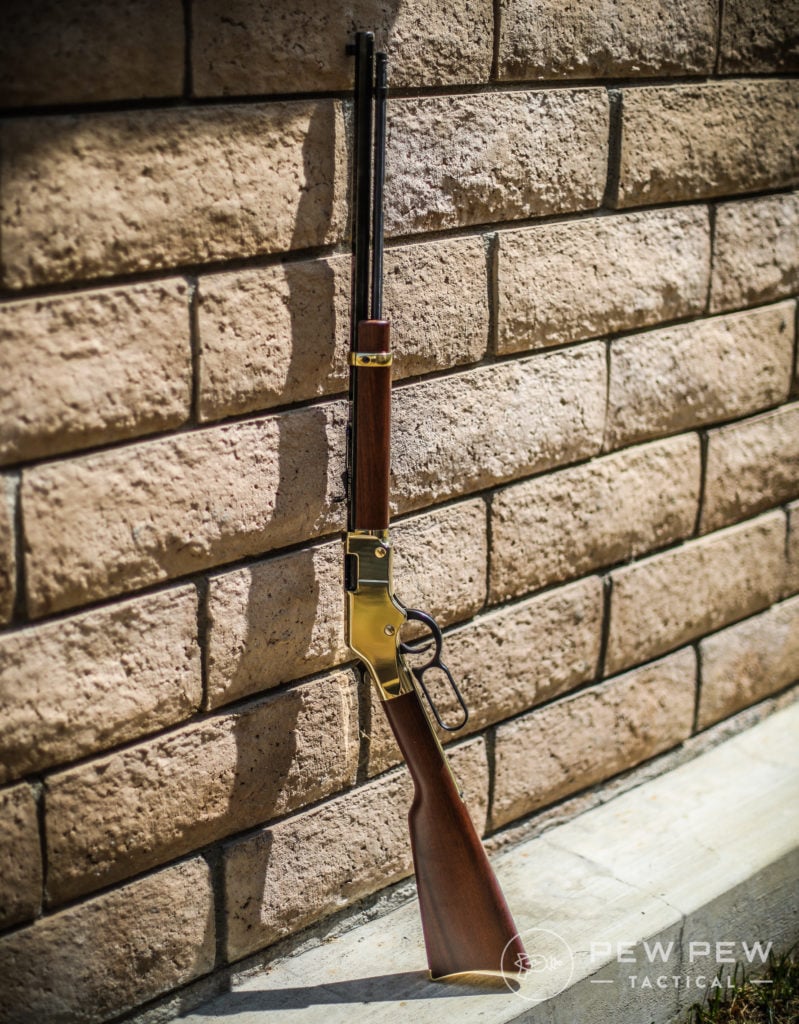 I asked for one of their new .410 shotguns and they delivered!
Best Range Toy Shotgun
799
at Cabelas
Prices accurate at time of writing
Prices accurate at time of writing
Who Is It For?
Lever Action Shotgun…who doesn't want one! But here's my take on specifics:
Small pest management: accurate, decent spread, and the smaller .410 gauge is much quieter than anything else with the same power.
Challenging clay shooting: Sure…you have basically no recoil, but it's so much more challenging (and fun) to use a lever action shotgun. Get ready for people to come up thinking you're shooting a rifle at clays.
Fun-seekers of all ages: lever actions are plain fun…and this one is also a great gateway shotgun for smaller/younger shooters.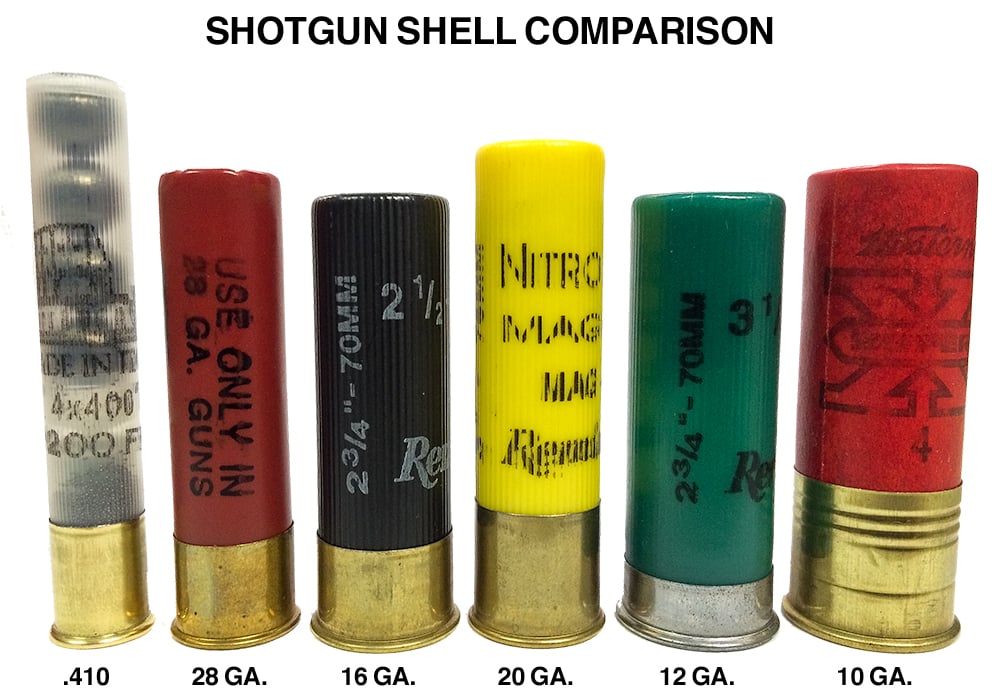 I don't list home-defense since I think .410's are a little too under-powered for it…even with some of the "self-defense" rounds we tested.  See the minimum gauge we recommend for shotguns at Best Shotgun Ammo.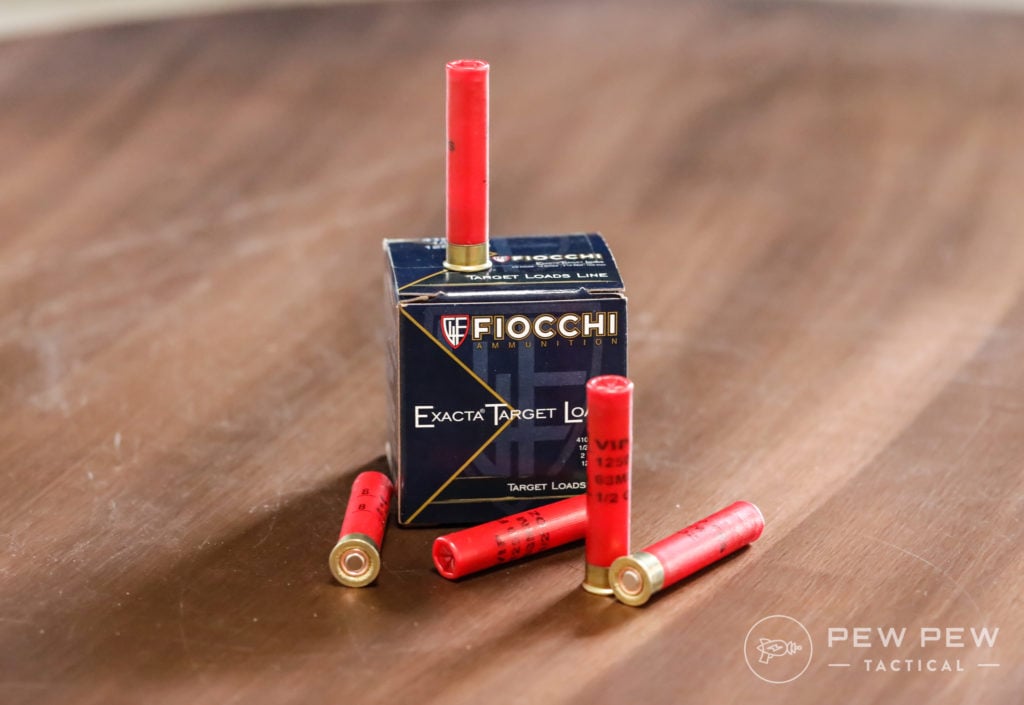 Fit & Feel
Like the Golden Boy .22LR…the .410 shotgun feels QUALITY.
A good amount of heft (7-ish pounds) but still very maneuverable for almost everyone…even when tracking clays.
It doesn't come in brass but in a nice American Walnut that is checkered smartly and looks even better.
The lever is like the other Henry's I've tried…very smooth once you've dry-fired a couple times.
Trigger is also good weight for a shotgun…coming in right at a Goldilocks 7 pounds. Very little takeup before a crisp break.
How Does It Shoot?
In short…it's really really fun to shoot!
As you can see above…virtually no recoil and relatively low volume at least when compared to a 12-gauge shotgun.
All you do is load up the cylinder with 2 1/2″ shells…I managed to get 6 in the tube. I suppose you can hold up to 7 with one in the chamber.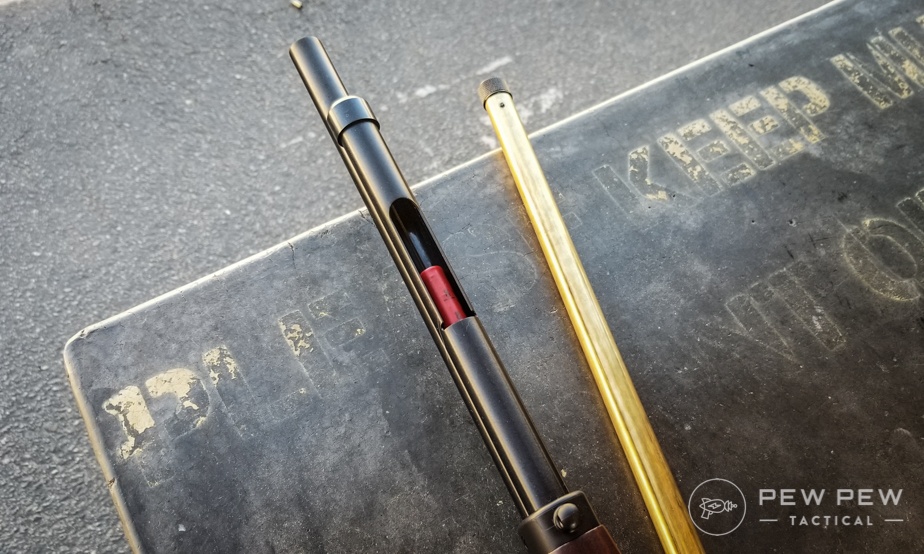 Close it up and you're ready to rock and roll.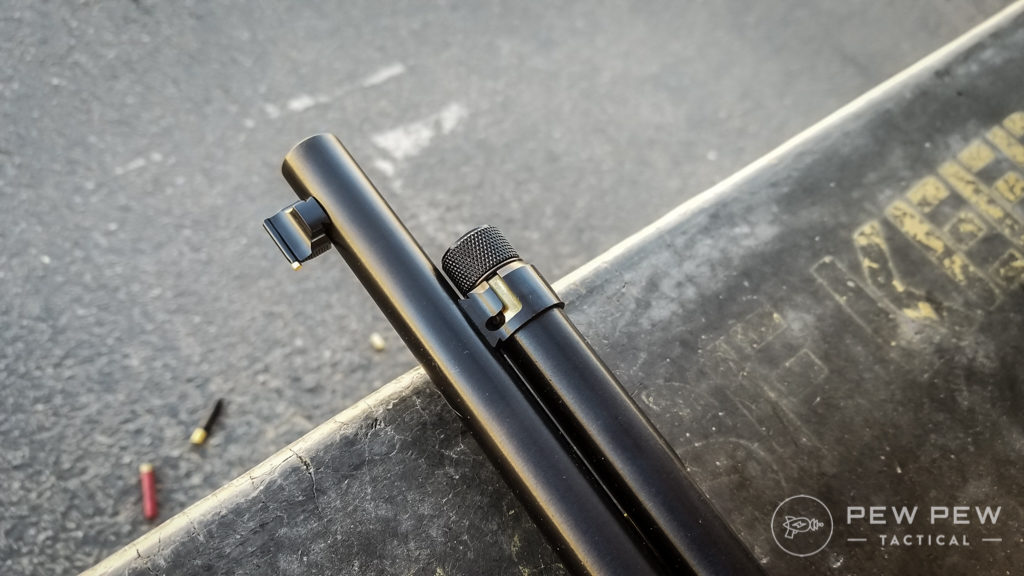 Again…lever is smooth and trigger pull is nice. Keep in mind there's no traditional safety on this but there's a transfer bar safety mechanism when the hammer is lowered. If you decide to de-cock…you'll have to slowly let the hammer down.
Accuracy
Let's start off with the sights…they aren't anything to write home about…but are perfectly adequate for close up work and even clays.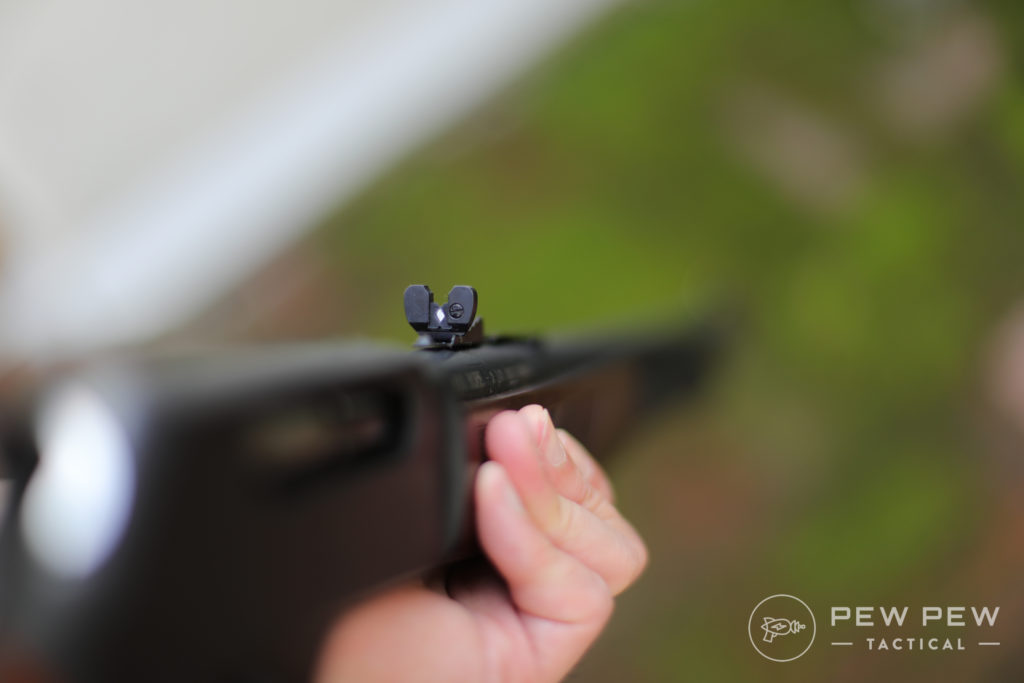 And a pretty visible brass bead for the front sight.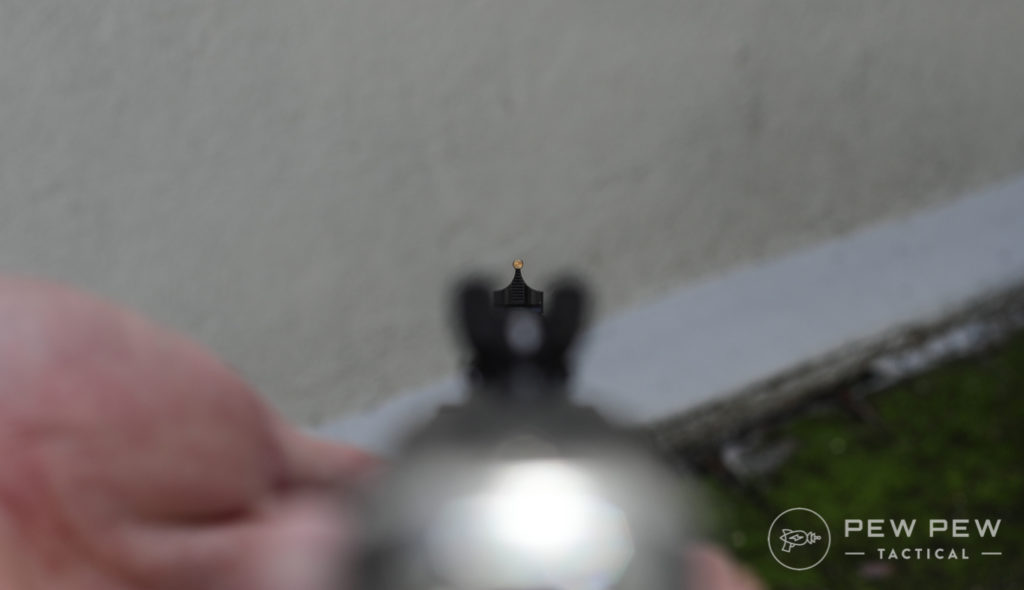 I set up a target 25 yards away and brought out some birdshot and self-defense rounds.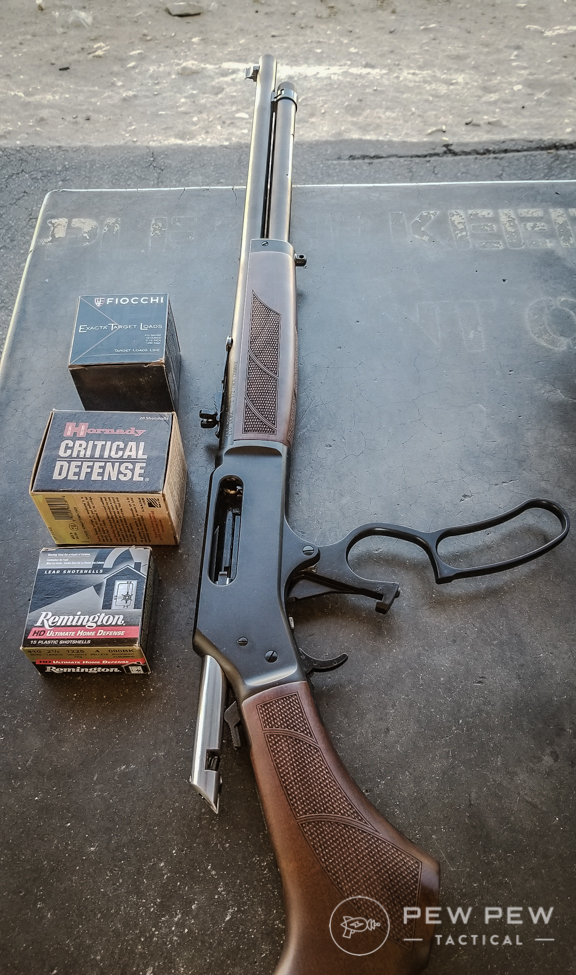 I was actually shocked when I first bought the ammo…that .410 ammo is about twice as expensive at 12 gauge. Even though it's about 1/2 the size (or even smaller).
But anyways…here's what I tested: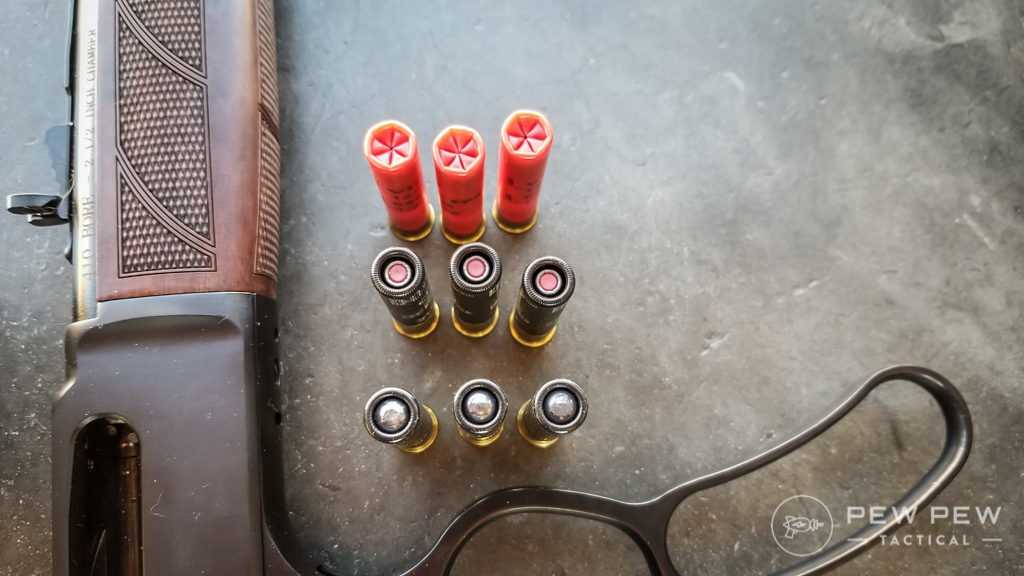 While standing, I shot three rounds of each into targets at 25 yards…and of course it was so windy that my pasties flew away.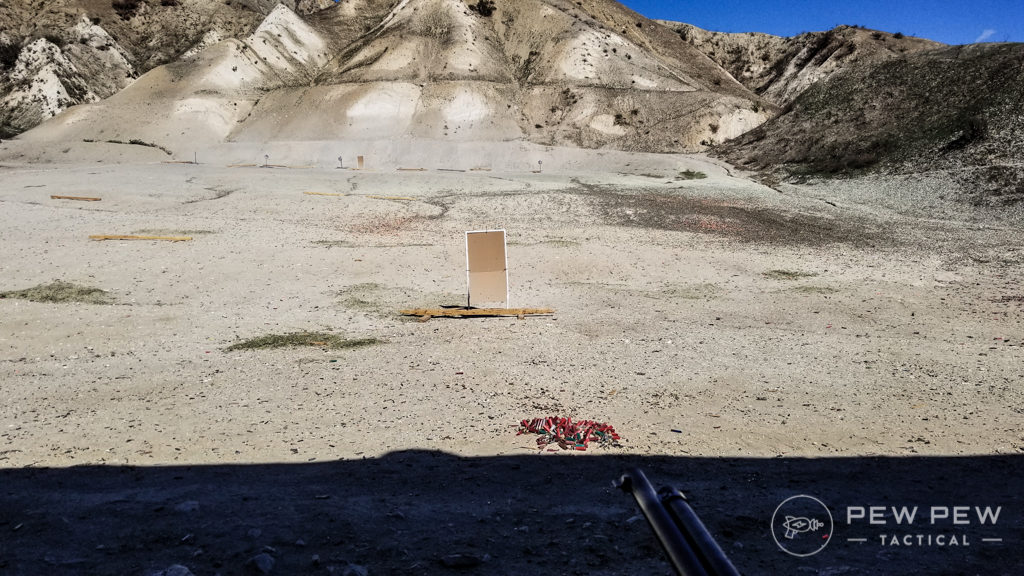 Here are the results. You can see the spread of the birdshot on top, then the Hornady slug + 2 balls, and finally the Remington 000 Buckshot.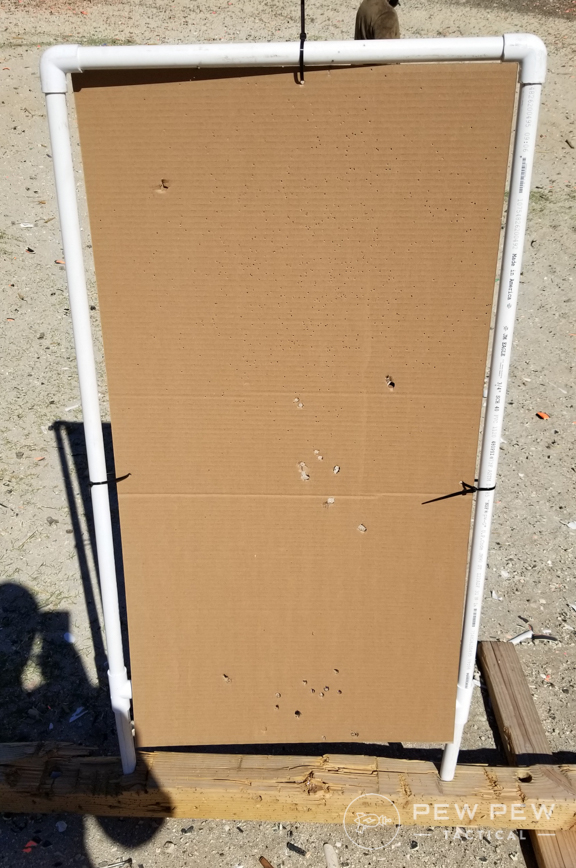 Quite happy with it at 25 yards off-hand shooting!
Specifications
More from the official page, but I had the 20″ version:
Barrel Length: 20″
Caliber: .410, 2 1/2″ shells
Barrel Type: Round Blued Steel
Rate of Twist: Smooth/Cyl. Bore
Receiver Finish: Blued Steel
Rear Sight: Fully Adj. Semi-Buckhorn w/ Diamond Insert
Scopeability: Drilled and Tapped
Stock Material: American Walnut
Buttplate/Pad: Black Ventilated Rubber Recoil Pad
By the Numbers
Reliability: 5/5
A couple trips to the range, half a dozen shooters, and ~300 rounds…only one failure to extract. When it did come out…I saw that there was a defect on the brass lip of the cartridge that made it harder for the extractor to grab.
Accuracy: 4.5/5
At 25 yards it hit everything in a 12″ circle with the defensive ammo. Birdshot did well with clays…as long as you know what you're doing.
Ergonomics: 4.5/5
Like other Henry's…it's a little front heavy because of the barrel. But with the shorter 20″ barrel it wasn't too bad even when fully loaded. My wife and a buddy's young son had no problems loading, manipulating, and shooting on target.
Looks: 5/5
You can feel the history behind the gun…plus the walnut looks great against the parkerized steel.
Customization: 2/5
It's drilled and tapped but unless you're shooting slugs out to 100 yards you probably don't need to add anything.
Bang for the Buck: 3.5/5
It retails for almost $800 which means…you gotta really want it. This ain't no impulse kind of buy.
Overall Rating: 4.5/5
Conclusion
Best Range Toy Shotgun
799
at Cabelas
Prices accurate at time of writing
Prices accurate at time of writing
Awesome little gun that combines Henry's lever action expertise and a fun little shotgun caliber. Perfect for collectors, people who want a clay challenge, varmint hunting, and fun-lovers.
Did you end up getting one…or already have one? Let me know what you think! And check out even more in our Gun & Gear Reviews.