Lever action in a big buffalo caliber? Yesssss!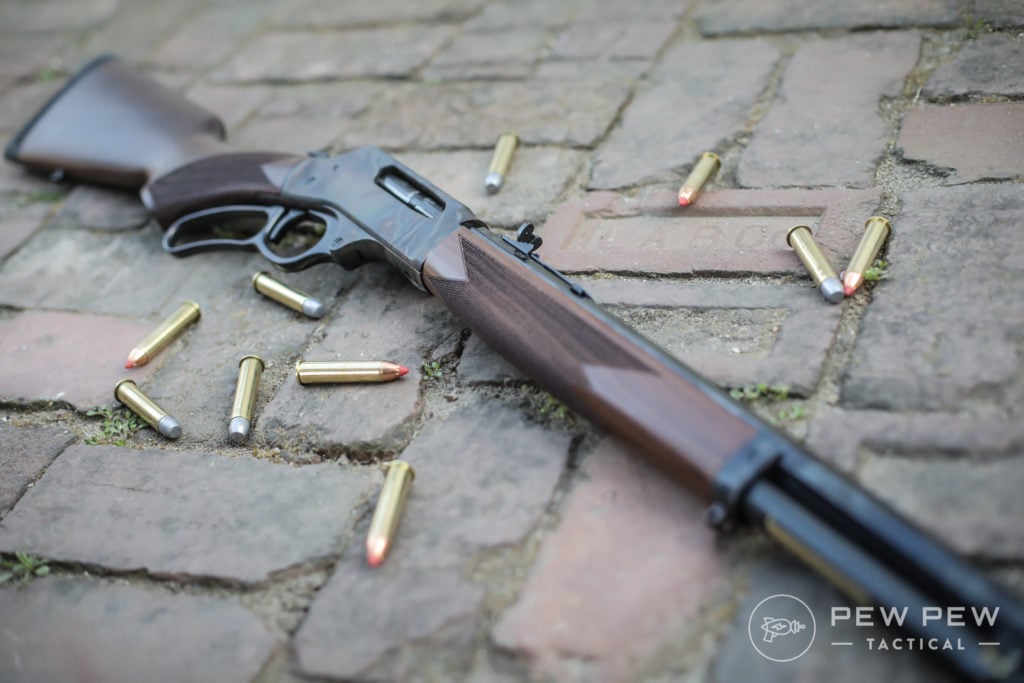 Doesn't hurt that it's also one of the prettiest guns I've ever handled.
Check out our experience with Henry's .45-70 Lever Action as my team and I review it for shootability, reliability, accuracy, looks, and more.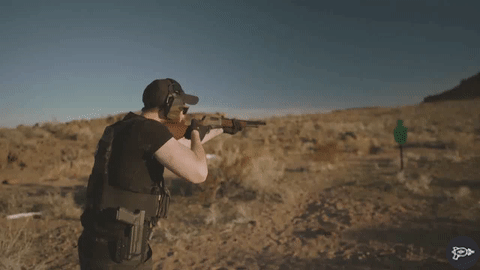 By the end you'll know if it could be your next heavy hitting range gun and/or big game hunting rifle.
Beautiful Dinosaur Hunter
759
at Brownells
Prices accurate at time of writing
Prices accurate at time of writing
Fit & Feel
Like the Henry Golden Boy (.22LR) and .410 Shotgun I've tested before…the .45-70 version feels quality.
It's hefty but not heavy at just above 7 lbs. I wouldn't want a super light rifle chambered in .45-70 anyways.
How about that lever action?
Smooth right out of the box. And I'm sure will get even smoother with use.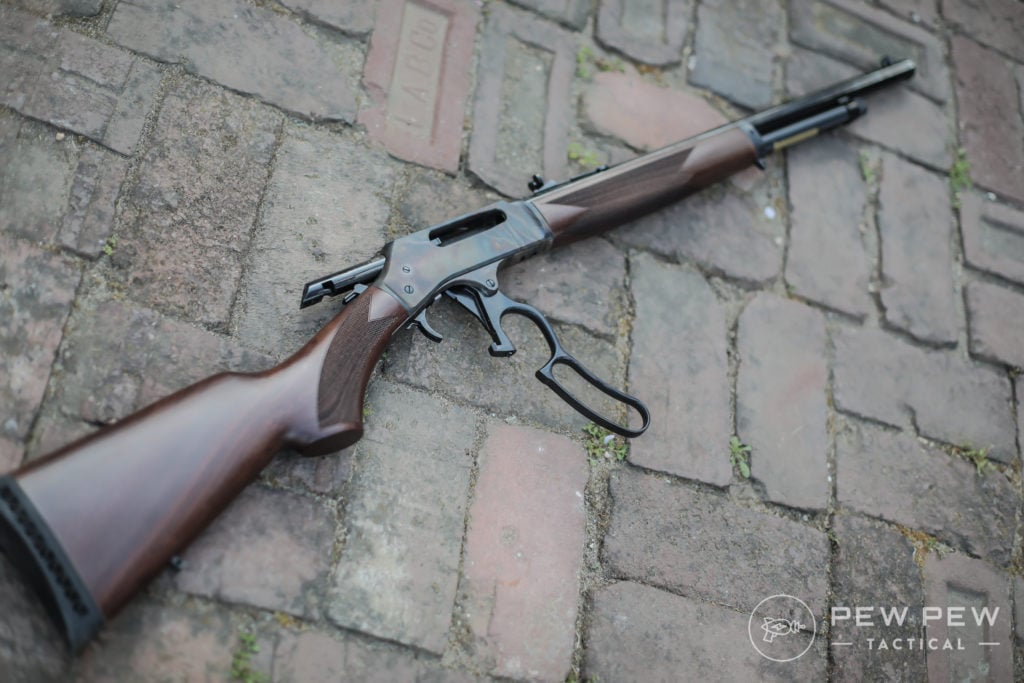 Stay tuned for our shooting videos below for more details.
Now…how about that case hardening?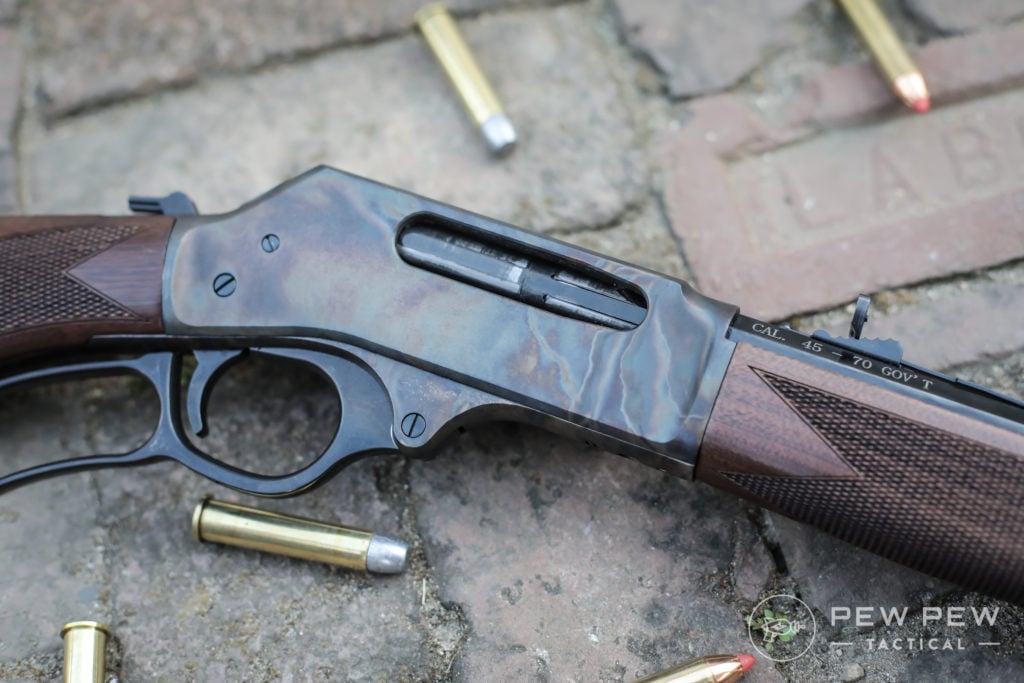 It's so pretty I didn't even want to shoot it…just put it up in a glass case in the middle of the den to show it off!
As for the other things…the wood is great as always and nicely checkered for grip.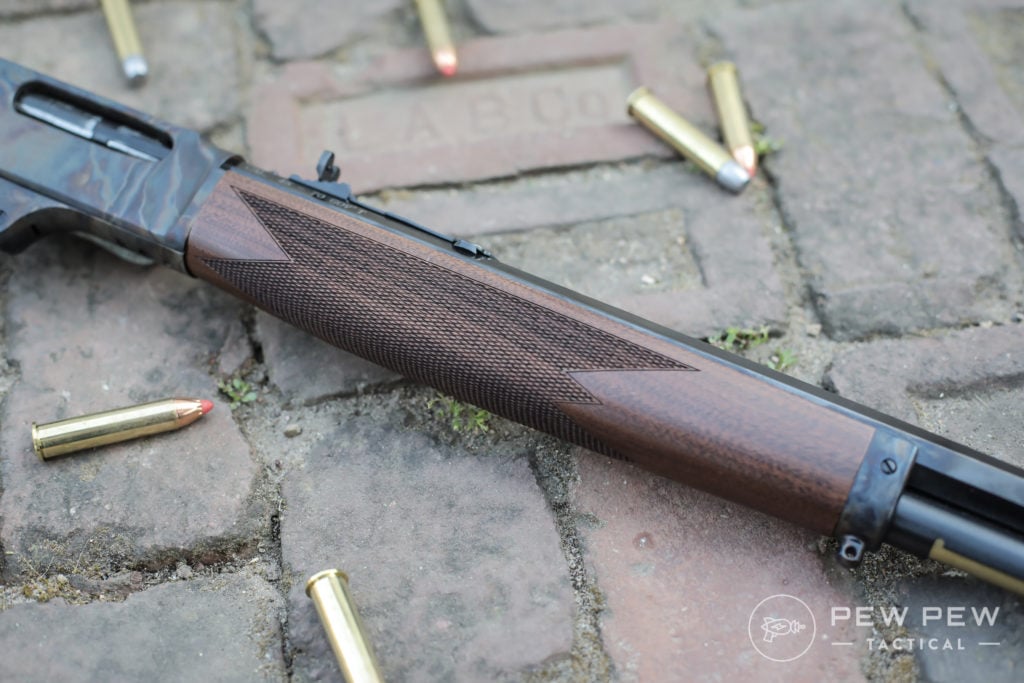 Sights are decent with an adjustable buckhorn-style rear sight…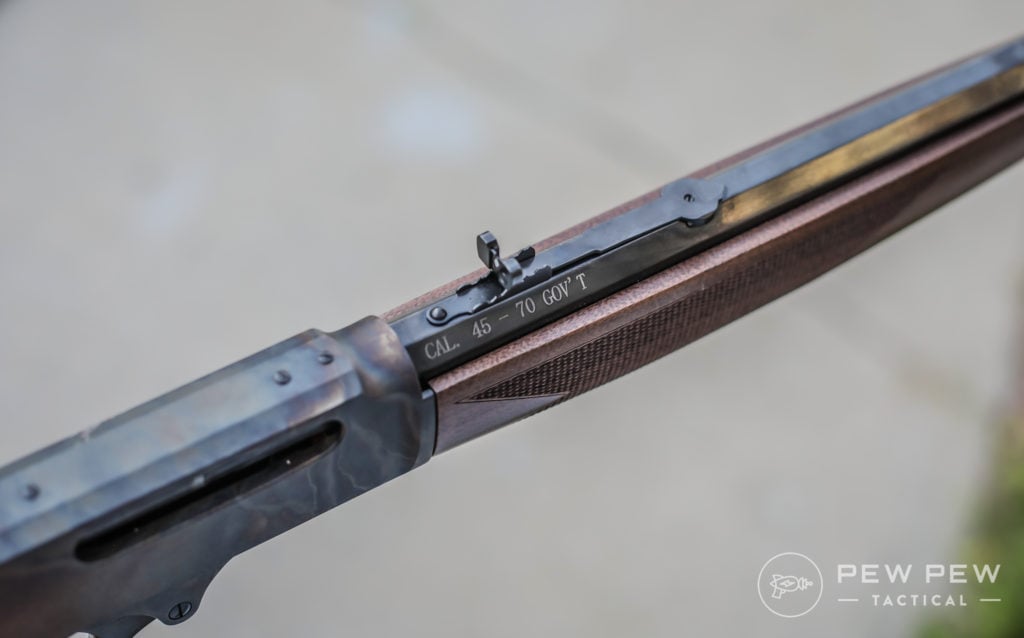 And a green hi-vis front sight bead.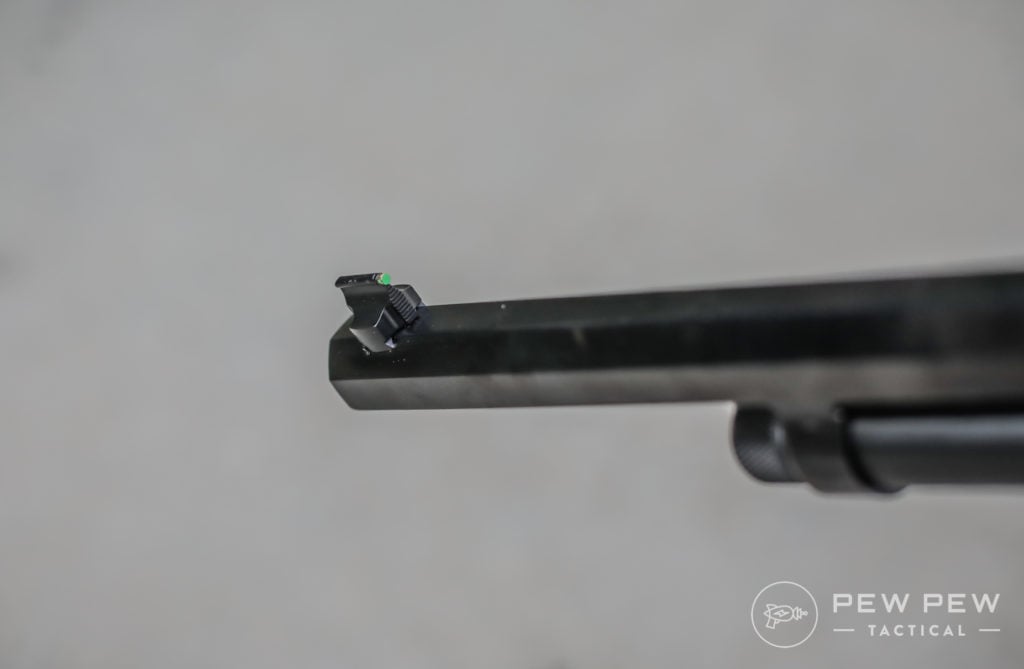 Ok…one more full rifle shot then we'll go into how it shoots.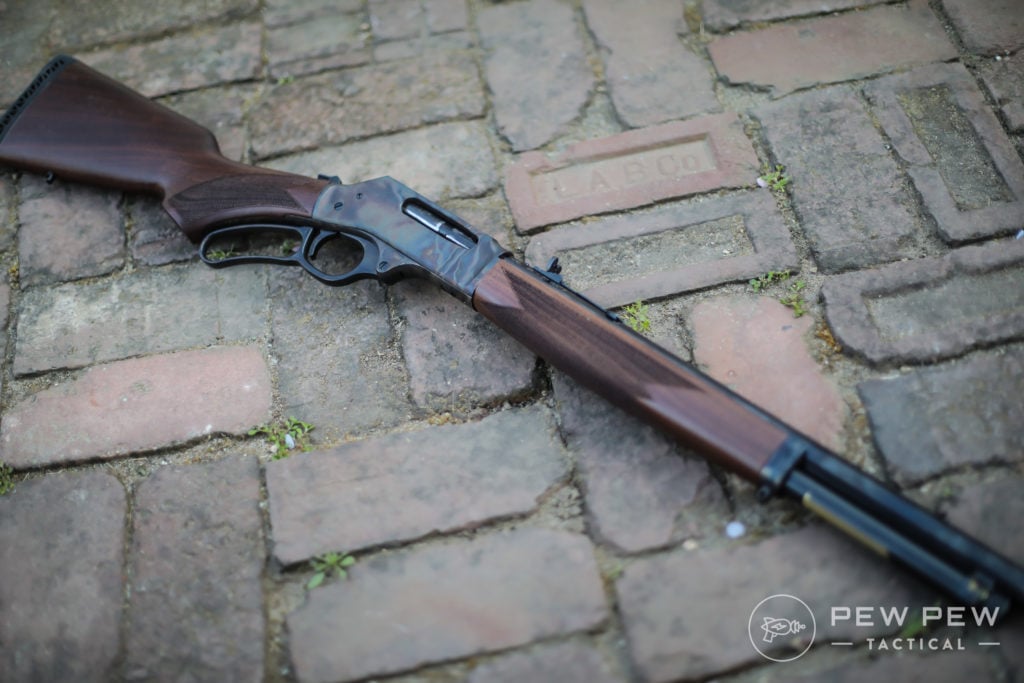 Shootability
First, Henry rifles load through a cylinder magazine at the front.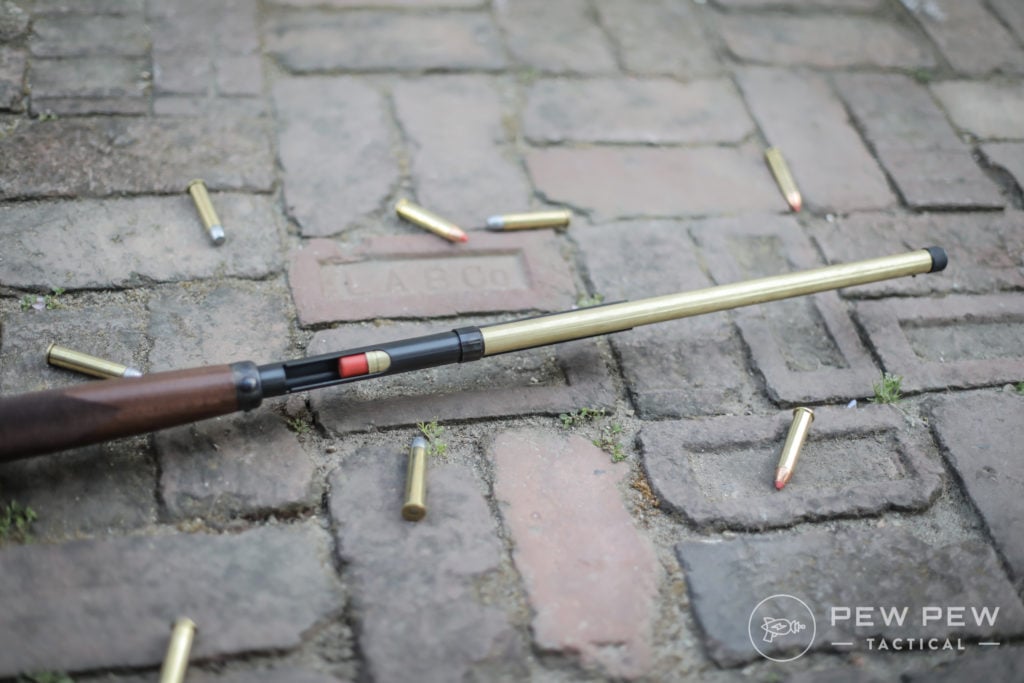 You unlock the cylinder and bull out the brass loading tube. Then drop your rounds into the rifle…and finally push the tube back down and re-lock.
The spec sheet states a capacity of 4 rounds…but I was able to get 5-6 in there although closing the tube took a little more trouble. So probably don't be like me!
So…how does it shoot?
Superbly…
We thought we were going to be blown away by the recoil of the .45-70 round. But it comes down to ammo selection.
We started with some Cowboy Action rated rounds which felt really nice and made everyone that tried it put on a surprised face…and then a smile.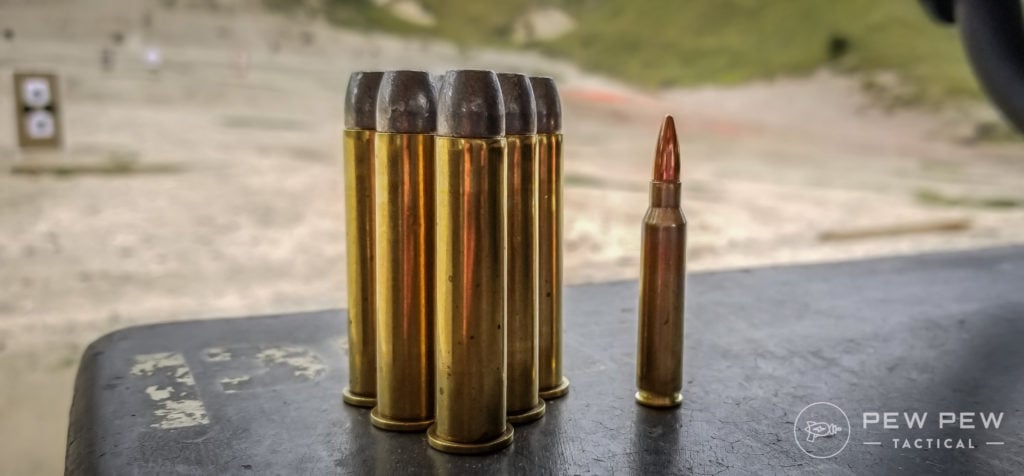 However…then we moved into some more modern rounds that really added some oomph.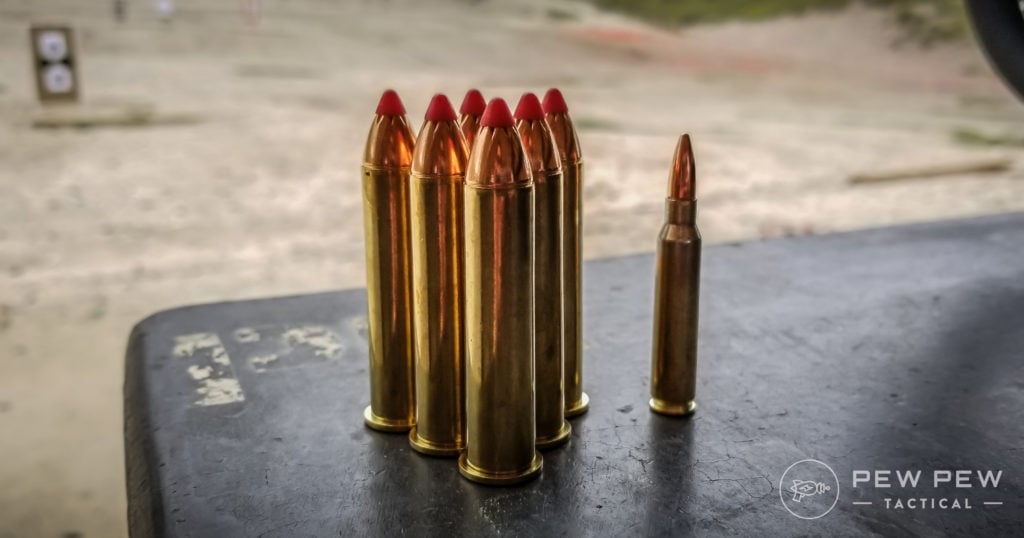 You can check out John's reaction in this video with the Hornady…
The lever action is smooth and the single action trigger is nice.
There's no traditional safety button or lever…but there is a transfer bar mechanism when the hammer is let down.
And for me…I always made sure to load on an empty chamber since you'll likely have to get some part of your hand/arm in front of the muzzle to load.
Accuracy
For accuracy we took it to our local range for some fixed distance and lead sled shooting.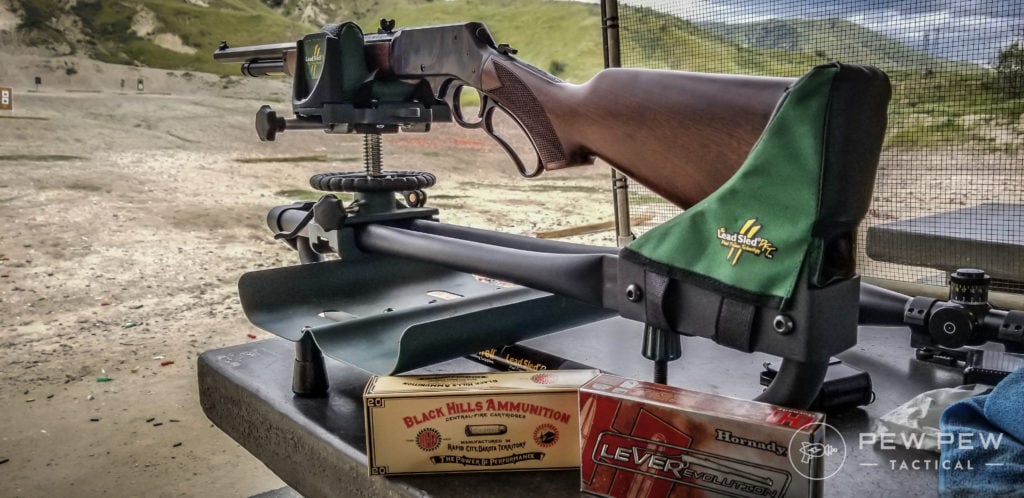 .45-70 ammo was a little hard to come by so we stuck with the two from before…
Here's the view from the sights…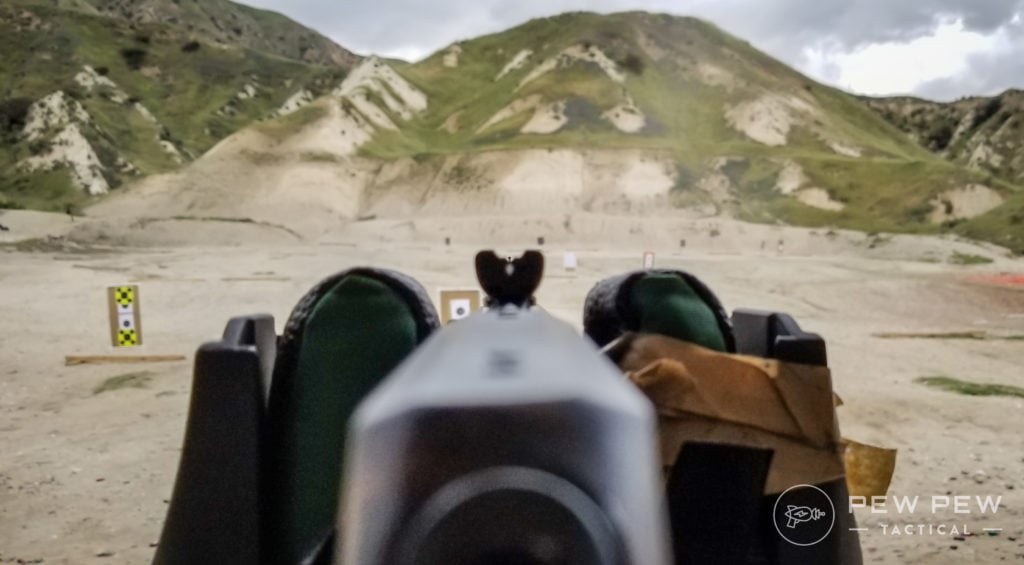 I placed the targets at 75 yards since it was difficult for me to get a good sight picture at 100 yards.
I loaded 5 rounds for each test and fired slowly for my maximum accuracy potential.
The results?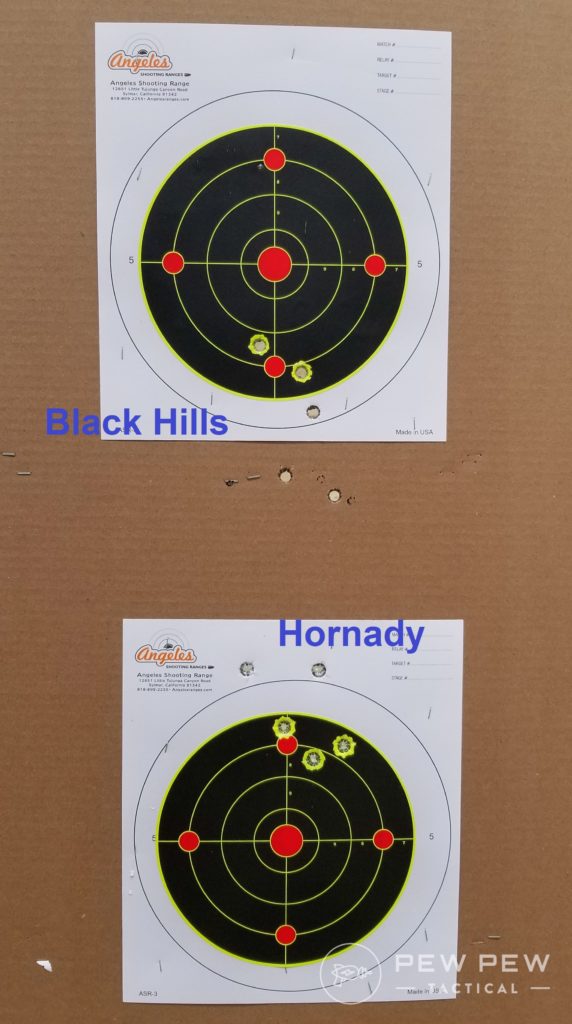 OK with my skill level…around 4-5 inches with the Black Hills and slightly smaller at around 3 inches for the Hornady.
I'm sure you can definitely tighten it up by getting behind the sights more…I've been spoiled with fancy scopes and red dots.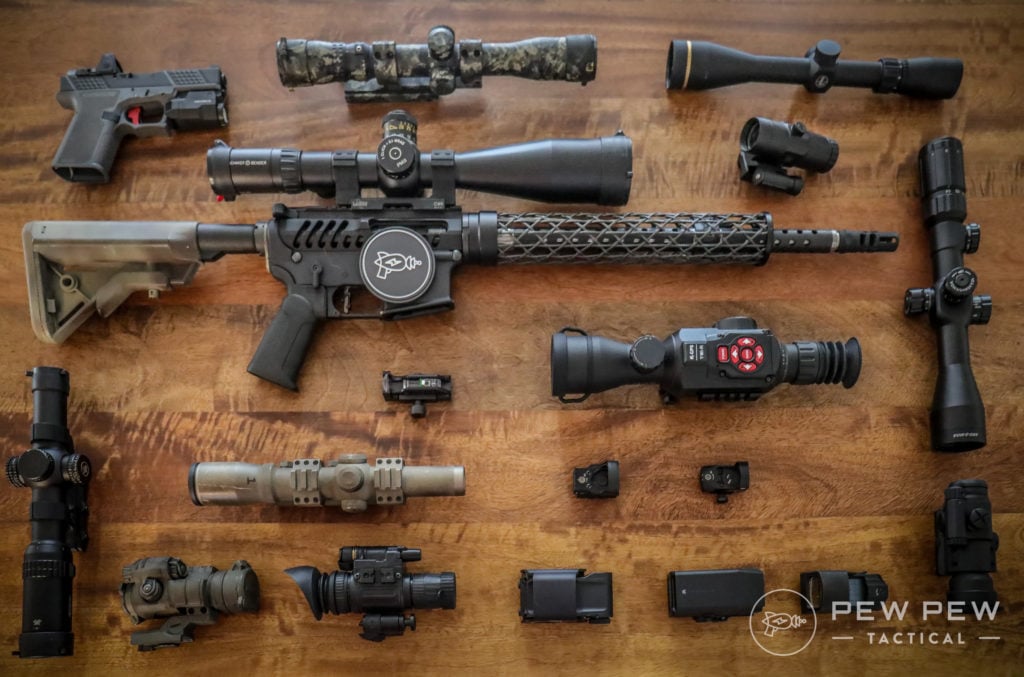 But…the good thing is that the Henry is drilled and tapped…so it's ready to accept optics and rail mounts! I'd probably put some sort of hunting 3-9x optic like the Leupold VX Freedom soon.
By the Numbers
Reliability: 5/5
Several trips to the range, four shooters, ~100 rounds (.45-70 is pretty expensive), and no failures of any kind.  What I've come to expect from Henry.
Accuracy: 3/5
More likely down to my skill level…but it's showing around 4 MOA at 100 yards.  Nothing against the trigger either…it's great.  I feel I'd do much better with it lightly scoped.
Ergonomics: 4/5
Like other Henry's…it's a little front heavy because of the barrel.  But for this caliber I'd rather have more heft all around…especially if I start shooting the harder hitting hunting rounds more.
Looks: 5/5
Oh yes…the prettiest Henry I have in my collection.  Love that case hardening.  You also can't go wrong with their regular blue case or brass models.
Customization: 3/5
It's drilled and tapped so you can add a scope.  That's about all you'd probably do to it anyways.
Bang for the Buck: 4/5
Normal versions of the .45-70 are around $750 while if you want to get the case hardened version…it's over $1000.  I personally think it's worth it!
Overall Rating: 4/5
Conclusion
Henry goes back to its lever action roots with the hard hitting .45-70 caliber.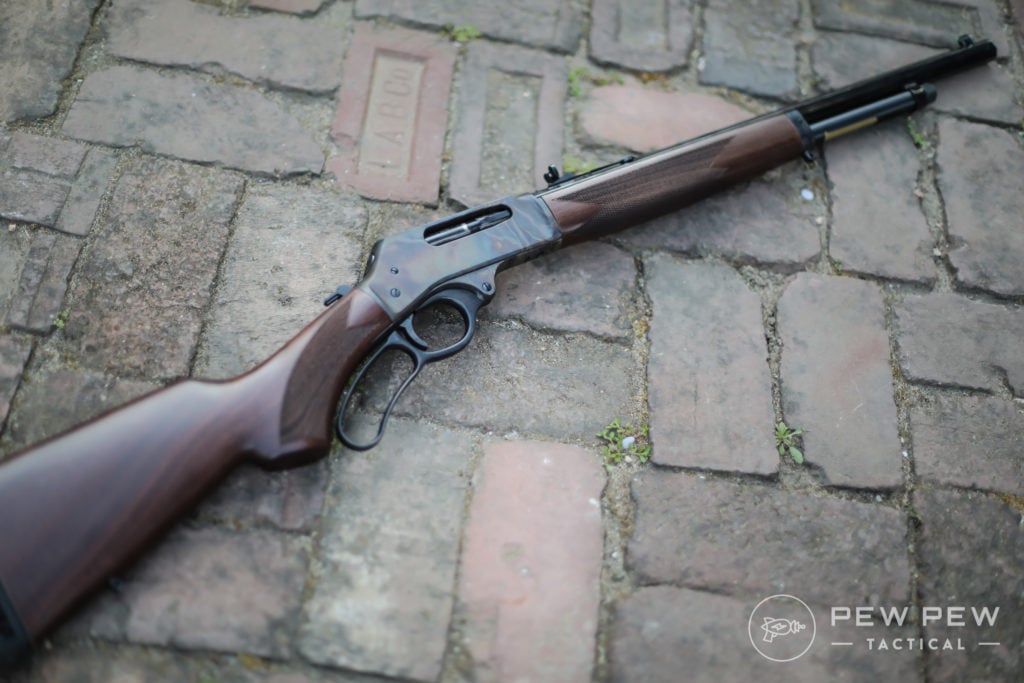 If you're looking for something old school that won't let you down…and will get oohs and aahs from sight alone…check out the Henry .45-70.
Beautiful Dinosaur Hunter
759
at Brownells
Prices accurate at time of writing
Prices accurate at time of writing
Looking at other lever action guns? Check out the Best Lever Action Guns (You Can Still Get Today). Or our other reviews of Henry's .22LR
Golden Boy and .410 Shotgun.