If you were a gun nerd in 2008, then I'm betting you couldn't escape the film Wanted. How could you? The main characters were superheroes, and their special powers were guns.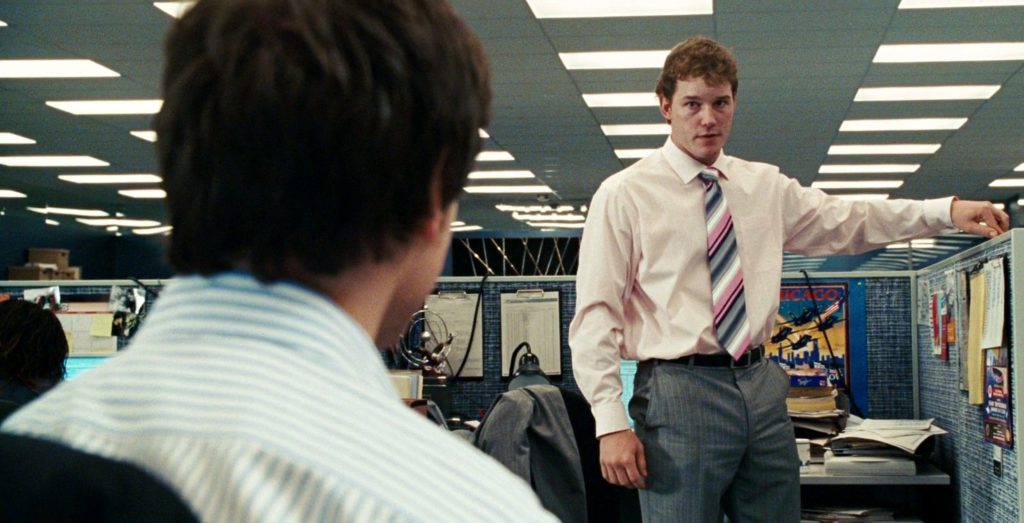 Sure the movie was as far from realistic as it could get, but the action was a ton of fun. The film didn't take itself super seriously, and we got to see a near pre-fame Chris Pratt get smashed in the face with a keyboard.
It's fun with guns without trying to be serious.
Wanted is full of guns, and today we are looking at the highly customized 1911 wielded by Fox in the film.
Bending Bullets
Wanted takes place in a universe where master assassins defy physics to get their kills.
The film is very loosely based on a graphic novel but loosely is the keyword. In the film, a magical loom directs the assassins to their targets. 
Wait, I just realized how stupid that sounds as I typed it. Okay, but hear me out. The film is a super stylish romp where highly trained assassins shoot at each other.
Our main character Wesley is a newbie and a bit of a loser. He works a dead-end office job, his girlfriend is cheating on him, and he gets massive anxiety attacks. The movie later goes on to state those anxiety attacks are a superpower. 
Must be nice. The only power I get from anxiety is the drive to avoid people at all costs.
Anywho, he trains under the mysterious Fox, played by Angelina Jolie. She teaches him how to bend bullets (no, really), and she does so with a highly customized 1911.
Specifically a Safari Arms Matchmaster. The dead giveaway is the weird finger groove thing on the grip.
Safari Arms is the only company I know that does that. Also, if you look closely, it has "Matchmaster" right on the side.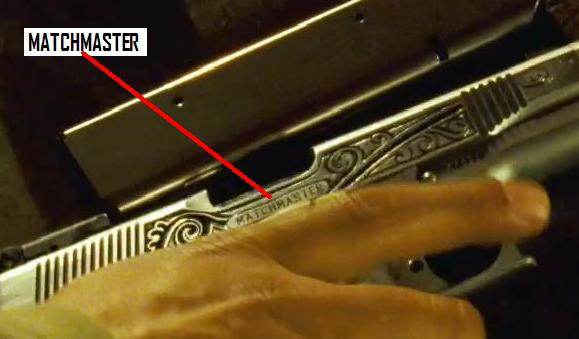 The gun itself features a mix of practical customization and ornate customization.
The Matchmaster sports beautiful work on the slide and a set of custom grips that makes it stand out even in the hands of the beautiful Angelina Jolie. Beyond that, the gun features a massive compensator. 
Specifically a Parrish 1911 Bushing Compensator. Who wants more recoil and muzzle rise when you can have less?
On top of that, it sports a skeletonized hammer, a super longer beavertail, a massive safety, and adjustable sights.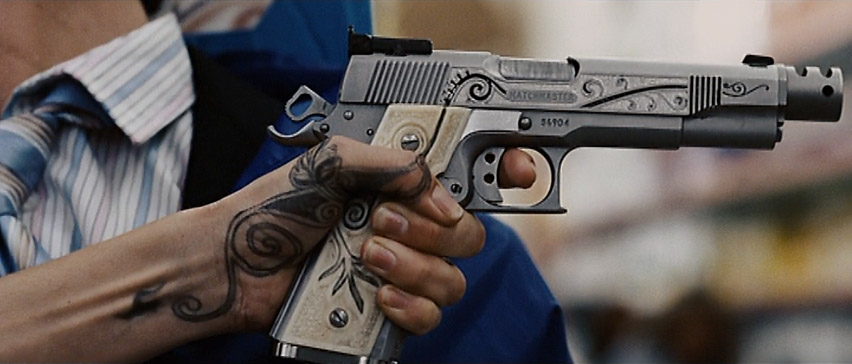 Fox also seems to be a fan of the Wilson Combat 10-round magazines, as that seems to be all she ever uses. 
The Safari Arms brand is no more but where once a subsidiary of Olympic Arms. The Matchmaster was an extremely high-quality M1911 designed for competition.
These guns are exquisite works and border on absurd in terms of price.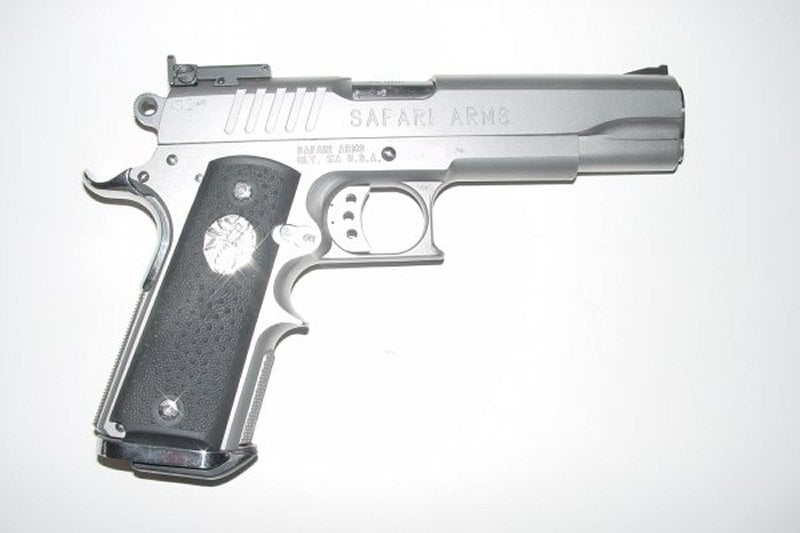 Admittedly, if you were an assassin, the Matchmaster is the type of gun you could trust your life to.
Dropping Hammers
Throughout the film, the action is always over the top.
From the shootout in the store with a Corner Shot to the end gun design where the Halo double-kill voice would lose his mind.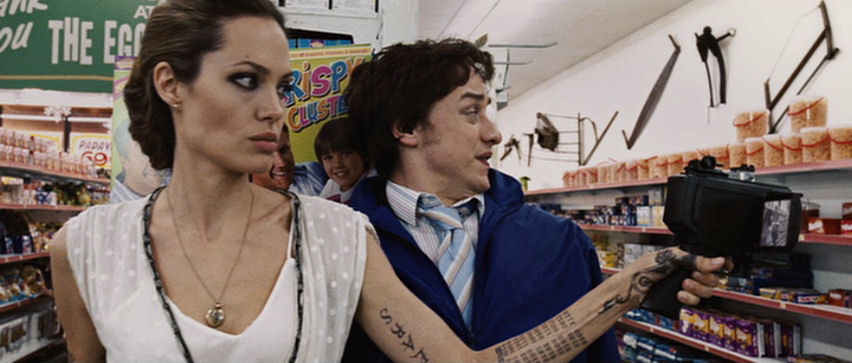 Fox alternates between one-handed and two-handed grip, and while the movie is silly, Angelina Jolie knows her way around a gun.
She always uses a high grip and makes the most of that massive beavertail. Her two grip is fantastic, and while aiming seems optional, she holds the gun at eye level to shoot.
She also curves bullets with the best of them!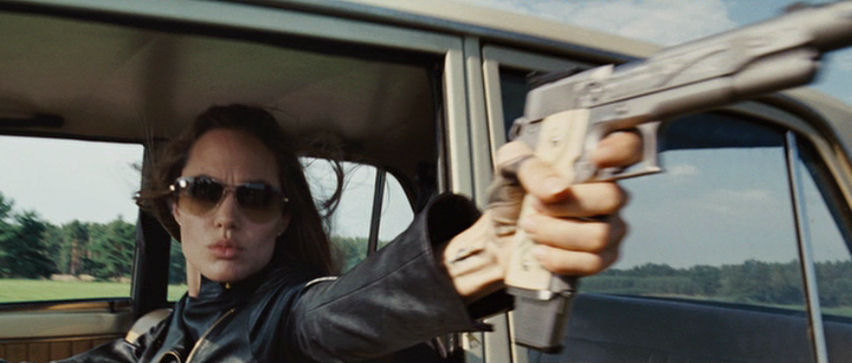 Angelina Jolie has a bit of a history of wielding firearms well with Tomb Raider and its sequel, as well as Mr. and Mrs. Smith.
Rumor has it she's a bit of a firearms aficionado. At the very least, she is confident and competent with a handgun.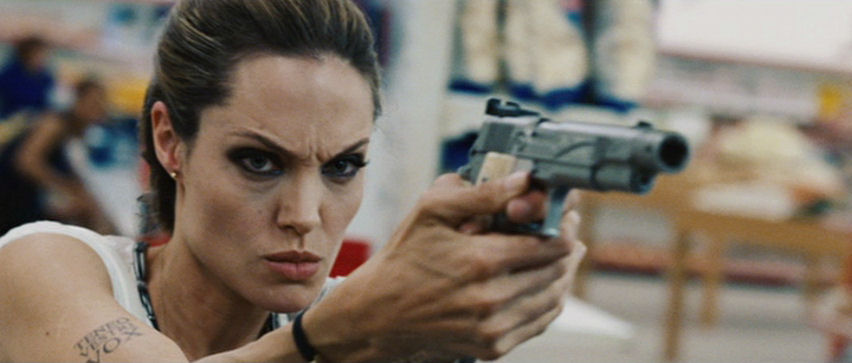 While Angelina Jolie is still making flicks, Safari Arms is gone, and so is the Matchmaster. It's a real shame because they are fantastic firearms and quite nice. At least we have the gun immortalized in the film. 
Wanted was a fun movie, and the gunplay might not have been realistic, but it was original.
What do you think of Wanted? Let us know below. For more Guns of Pop Culture, head to our Fun Category!