Michael Mann makes the best movies for gun guys. His films include Heat, Miami Vice (series and movie), Collateral, and Thief. The guy either loves guns or loves the accurate portrayal of guns.
In one of his films, Public Enemies, he tells the true story of John Dillinger and Melvin Purvis, along with characters like Baby Face Nelson.
Baby Face Nelson and Dillinger carried a similar arsenal now to a very interesting 1911 design. 
Mann likes to be realistic and accurate in his films. The guns used in Public Enemies are representative of the actual guns Dillinger and Nelson used.
This includes one particular 1911…
The Lebman Special
It's a .38 Super converted to full auto and fit with a long extended magazine and a Thompson forward grip and Cutts compensator.
In the film, we never see Dillinger use his. We do, however, see Baby Face Nelson wield one in the Little Bohemia shootout. 
In real life, these men chose .38 Super for these pistols because of their superior penetration. These rounds could zip through car doors without issue and even penetrate through the body armor of the time.
When you're a motorized bandit being constantly hunted by armed and armored FBI agents having a compact machine gun that zipped through cars and armor makes sense. 
In the film, Baby Face Nelson lays down the lead with one. In the Little Bohemia shootout, he starts with a Lebman special and seemingly empties one out of a window before switching to a Thompson. As the situation devolves, the robbers separate. 
Baby Face Nelson still has his baby machine gun, and when an FBI agent pulls up next to him in a car. The agent doesn't recognize who he is, and Baby Face Nelson takes advantage of that and uses the .38 Super to do exactly what he wants it to do.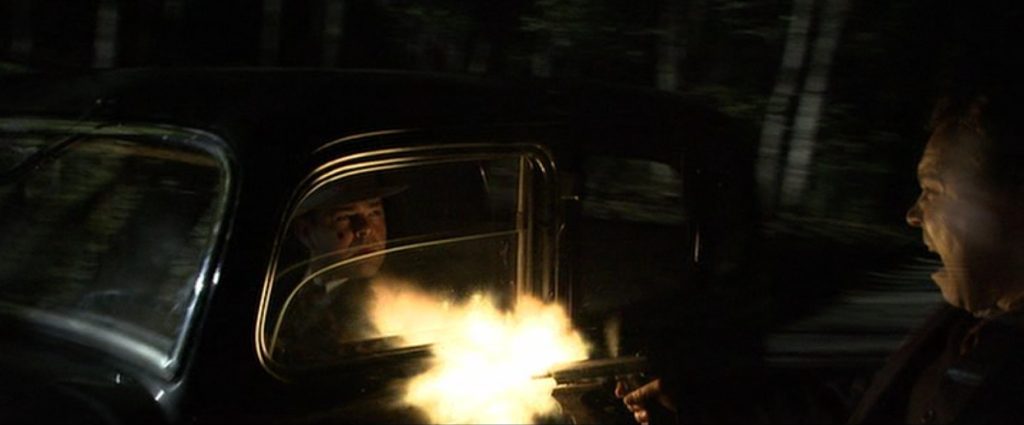 He shoots through the car door and follows FBI Agent Baum as he tries to escape the car out of the passenger seat.
He proclaims, "I know you bastards wear vests, so I'm gonna give it to you high and give it to you low!" Then, he shoots the man with a burst of fire from the gun before seemingly experiencing and clearing a malfunction.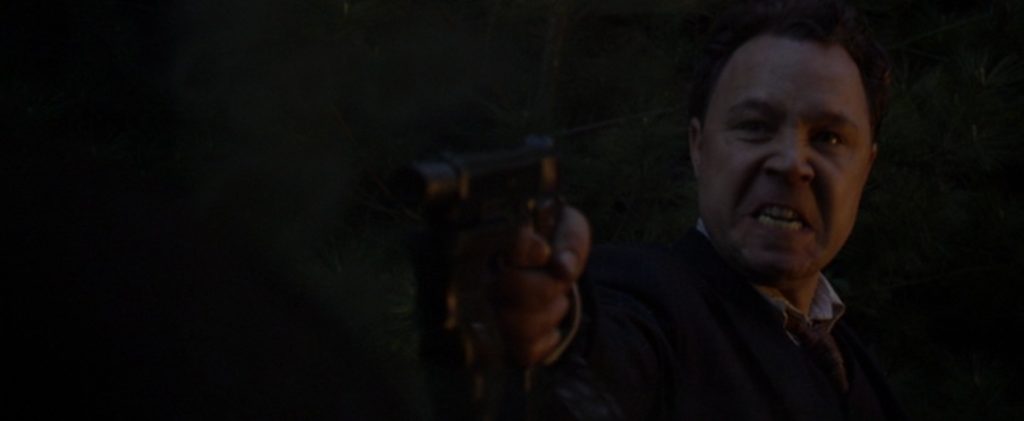 Mann knows guns, so he doesn't have Nelson firing it one-handed with an ultra-long burst. It's seemingly always fired in short bursts and almost always from a low position.
Even with the grip and compensator, this would have been a bucking bronco of a gun.
The Real Lebman
But Colt wasn't making machine pistols in the 1930s. So how exactly did Dillinger and Nelson both get such a bizarre and fanciful gun?
Well, the answer comes back to a saddle shop in San Antonio, Texas, owned by one Hyman S. Lebman, sometimes spelled Lehman.
Lebman was well-known as a gunsmith and often sold guns out of his saddle shop. This includes the mail-order Thompsons of the day. He began tinkering with guns and eventually created a machine pistol variant of the 1911.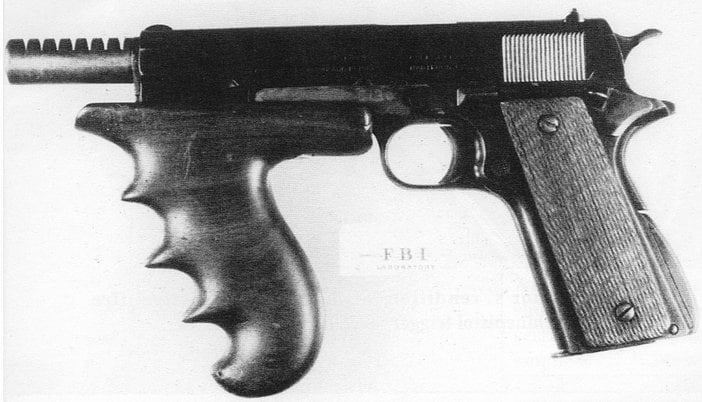 He called this his Baby Machine Gun. 
Lebman would convert 1911s to fully automatic, add a Thompson grip, and produce extended magazines.
He created the guns in both .45 ACP and 38 Super. Later, he added a Cutts compensator after he lost control of the weapon in his basement firing range and sent a round through the floor into his house.
Lebman sold pistols to Dillinger, Nelson, as well as Roger Touhy, Pretty Boy Floyd, and several associates of the Dillinger gang. He also maintained that he did not know these men were criminals. 
In real life, Baby Face Nelson did, in fact, kill FBI Agent Baum during the Little Bohemia shootout with his Lebman special.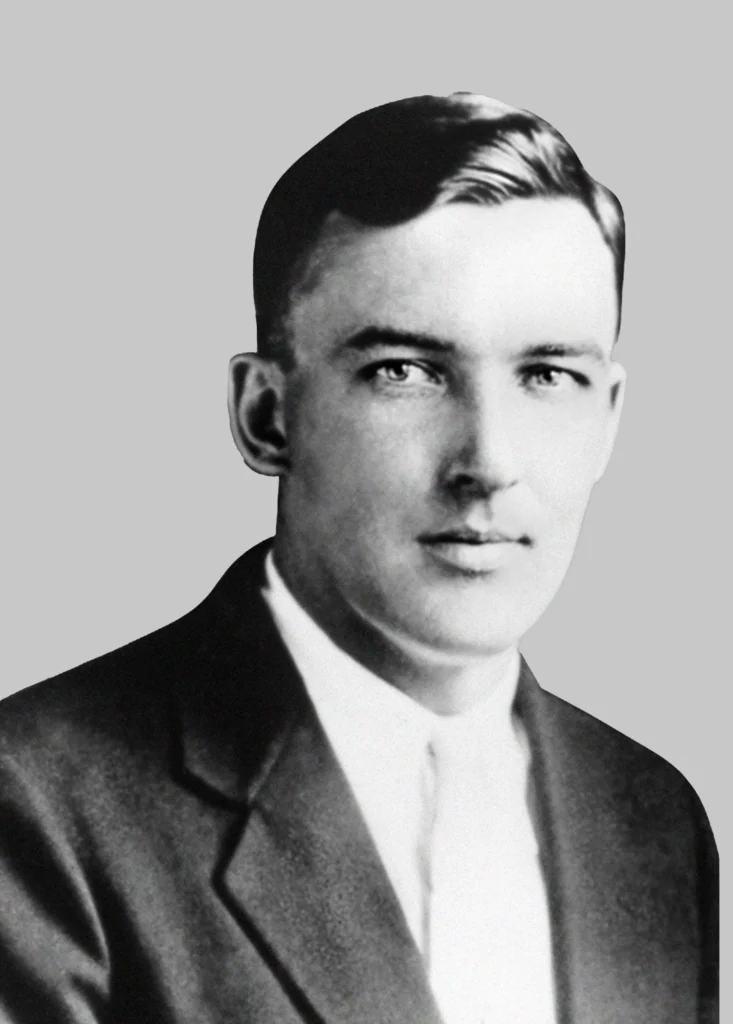 Dillinger ended up leaving his Baby Machine Gun behind, and the FBI conducted an early trace of the firearm using its serial number and records from Colt's Connecticut facility.
Lebman was never charged or prosecuted for selling the weapons to Dillinger, Nelson, and others. However, he faced some later troubles in texas for selling machine guns, which ended with a dismissed case.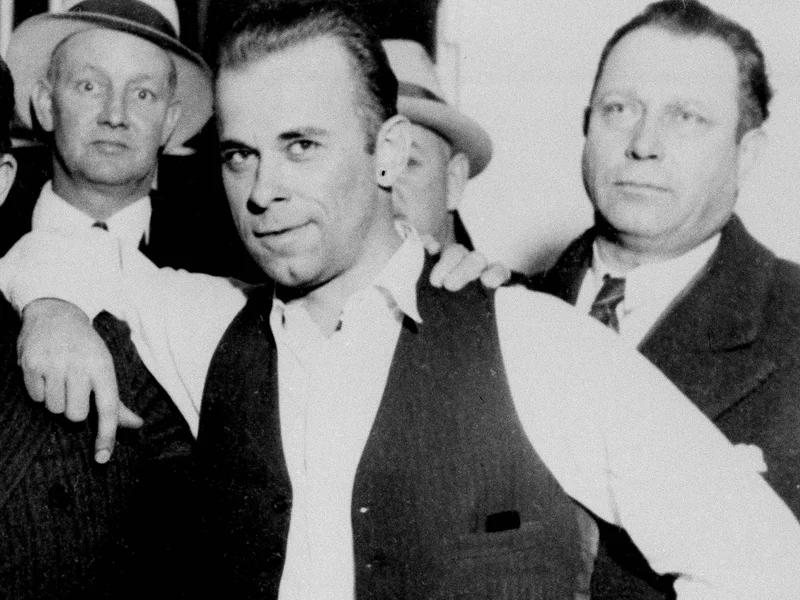 The NFA ended the practice of recreational machine guns, but Lebman continued to sell firearms until 1976.
His Baby Machine Gun is certainly an interesting part of depression-era gangster history and was correctly portrayed by Mann in Public Enemies.
What do you think of Public Enemies? Let us know in the comments below. For more Guns of Pop Culture, check out our Fun Category.