Blood Diamond is one of those movies that made a big splash but little ripple. I hardly ever hear it come up when we talk gun movies.
It's an action thriller starring Leonardo DiCaprio and Djimon Hounsou that mixes politics and colonialism with tight action and good gunplay. It's not an empty action flick either…there is a lot of heart to it.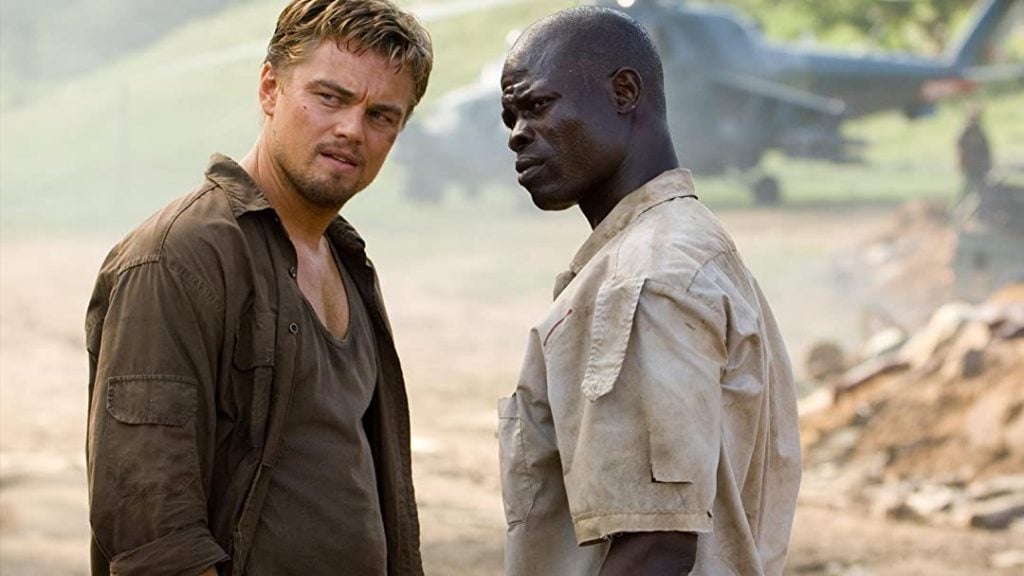 The movie shows killers kill, but it's not without weight. Solomon Vandy's reaction to the violence around him can be heartbreaking, but he isn't without his rage when it comes to his family and protecting them.
I don't want to spoil anything, but I do suggest you see the flick; it's a great one. Besides heart, weight, and a good script, there are also guns, guns, and more guns.
Today, we are looking at a very specific rifle used by the South African mercenary force in the film, as well as Leo's character Danny Archer at the end of the film. 
One Odd Carbine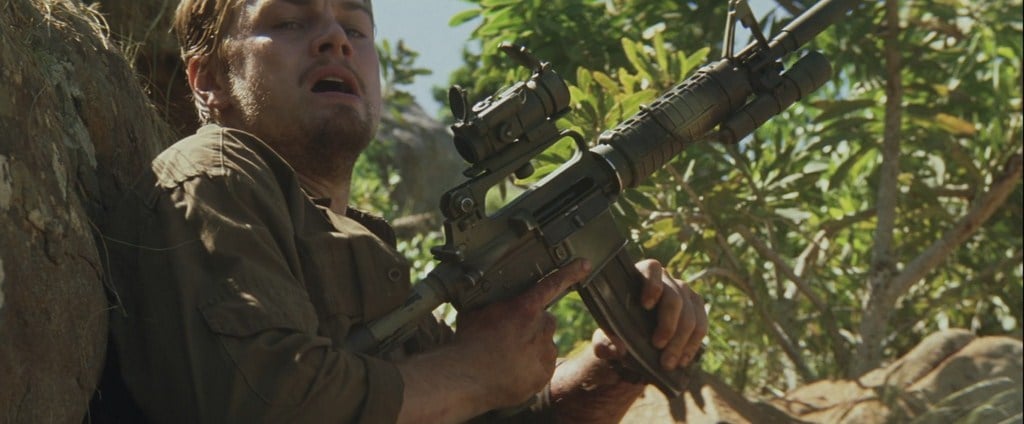 Blood Diamond took place in 1999, and in the context of the film, the rifle used by this mercenary force and Archer is quite modern in its layout. Although, it's still an odd duck of a gun.
What rifle is it? 
Uhm, well, it's an AR-type carbine. It's not an M4 and not exactly a CAR-15 either. It's seemingly a mishmash of AR parts.
The upper and lowers are that of the M16A2 series. We see a few dead giveaways — the two main ones being the rear iron sight setup and the pronounced brass deflector. A real close look at the lower shows the reinforced area near the receiver extension.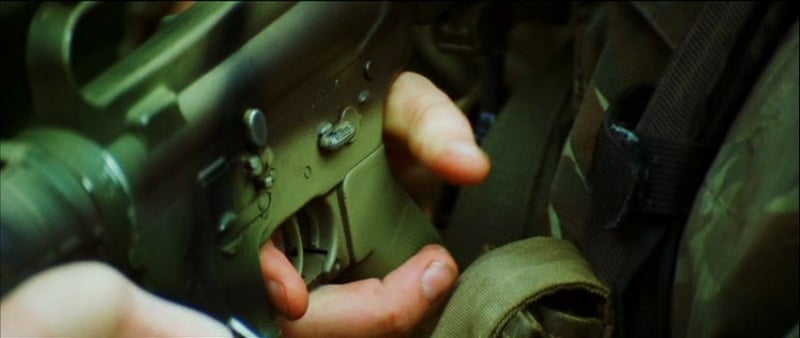 However, the guns have 10-inch barrels, and this ensures they are not Colt 725s, which would later become the basis for the M4 rifle. At the end of the 10-inch barrel sits the big long XM177 flash hiders.
These rifles wear the standard CAR-15 collapsible stock to finish the early Colt carbine look.
We know what makes them weird, but what makes them modern?
First, they are painted camouflage. If you're like me, you've likely wondered what's the point of wearing all this specialized camouflage while carrying giant black rifles.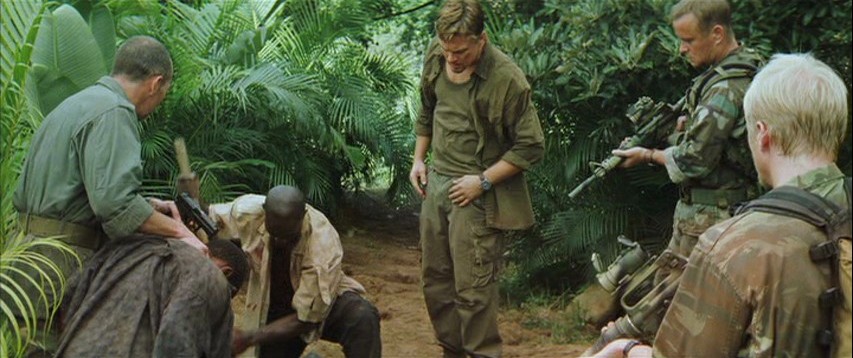 Beyond the camo paint job, these rifles sport Aimpoint Comp M2 weapon sights. Optics on rifles in 1999 weren't all that common, although admittedly, the Europeans beat the United States to the punch well before '99.
What makes the Aimpoint so modern for 1999 was that the Comp M2 didn't actually come out until 2000.
Another accessory that shows a good degree of modernization is the weapon light. The Surefire 660 Universal Weapon light provided a long gun option that didn't require a rail to mount. As seen in the film, it's mounted directly to the barrel.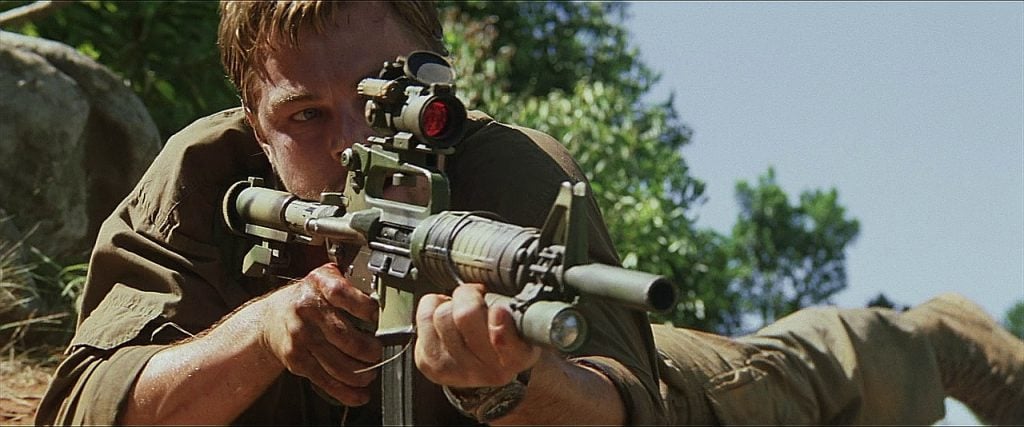 This is exactly how this light was intended to be mounted. It wasn't exactly new in 1999 but provided a modern accessory for a modern rifle. While dated, the rifle would still be plenty capable today.
The Gunplay
Blood Diamond isn't a movie that needed action to be good, but damn they did a fine job.
The movie shows a distinct difference between the African conscripts, trained mercenaries, and Sierre Leone Army soldiers. The conscripts often fire wildly, with the soldiers and mercenaries and soldiers aiming and exhibiting more control. 
Danny Archer doesn't get the ultra-modern, weirdo CAR whatever until the end. Although throughout the film, he handles plenty of guns like a professional. In the end, he assumes a prone position, aims, and places some effective fires on target. 
DiCaprio clearly has a little training and doesn't look like a fool handling his rifle. The gunplay is rather solid and impressive for a film that focuses more on drama. 
If you haven't seen Blood Diamond, put it on your list. It's not only a solid action movie but a great film.
What other guns did you spot in Blood Diamond? I know we get plenty of HK USP and AK action, but what else? Let us know in the comments below. To see more Guns of Pop Culture, head to our Fun Archives.