Lots of my favorite guns of pop culture occupy the hands of action heroes from the 80s and 90s.
Today we are looking at good ole Arnold's flick, End of Days.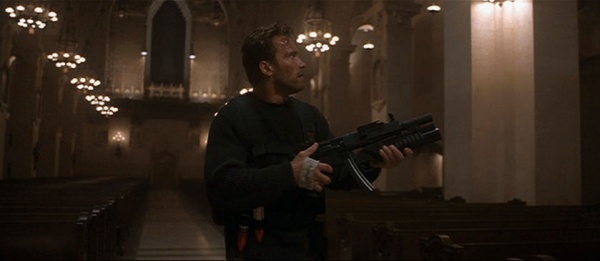 This is certainly not one of his most famous movies, but it features a gun that occupied a lot of the late 1990s for me — a unique model of the MP5…
It's a Little Extra
Everything in this 1999 movie is a little extra, but not in a good way…in a desperate way. The film follows a battle between good and evil, and Satan literally gets involved.
Nothing is subtle in this movie.
Arnold's character, Jericho Cane (yes, that's really the character's name), and his coworker Bobby Chicago protect the Devil, who has possessed an investment banker.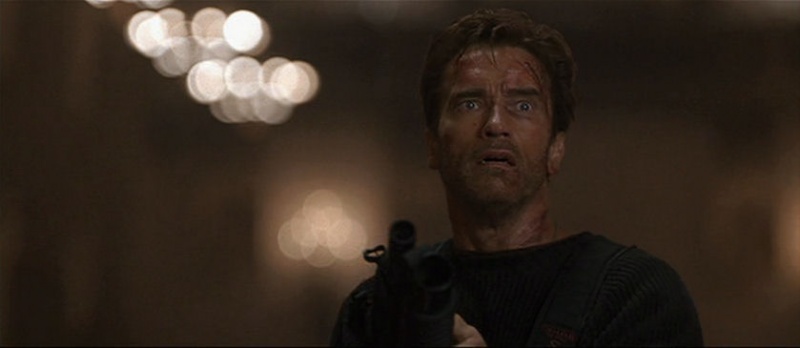 Anyway, Jericho Cane clashes with both the Devil and the Vatican, kills Satanists, and at one point even gets crucified.
He has to protect Christine York, the woman Satan and his cronies are after, from getting impregnated by the Devil until midnight. If he can do that, then he can prevent the End of Days.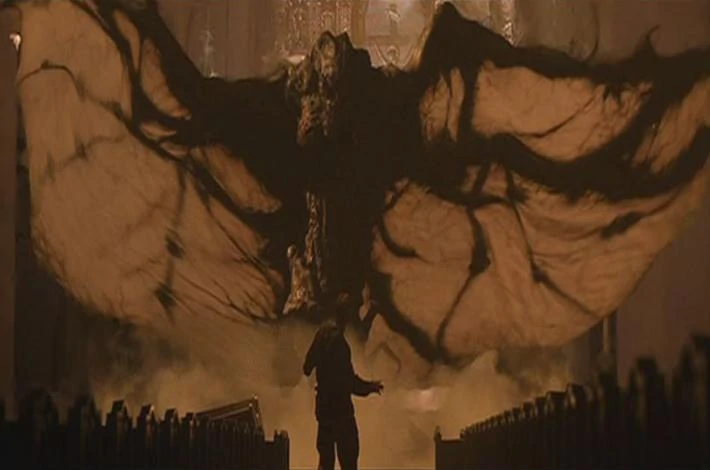 He fights the Devil, gets possessed, and resists the Devil long enough to throw his body onto the sword of a statue of the Archangel Michael.
I swear this is a real movie…
It may not be great, but one of the guns in it is…
Stealth is Always Optional
Undermounted grenade launchers are plenty common on rifles, but what about SMGs?
Well, apparently, in the End of Days world, it's also an option. Arnold's MP5A3 sports an under-mounted M203.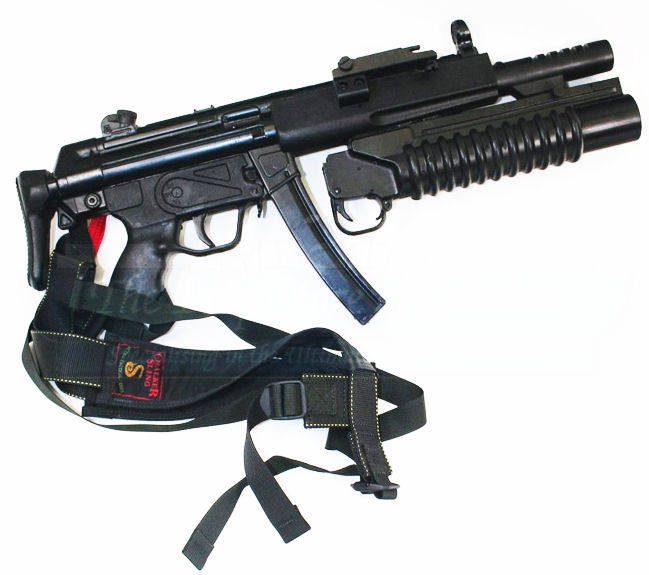 This is possible, and adapters were made to combine the two weapons.
An MP5 is a submachine gun. These things should be lightweight, maneuverable, and designed for close quarters.
Why someone would want to attach a grenade launcher to the gun is beyond me. Yet, it happened, and both End Of Days and the original Half-Life took advantage of this oddball setup.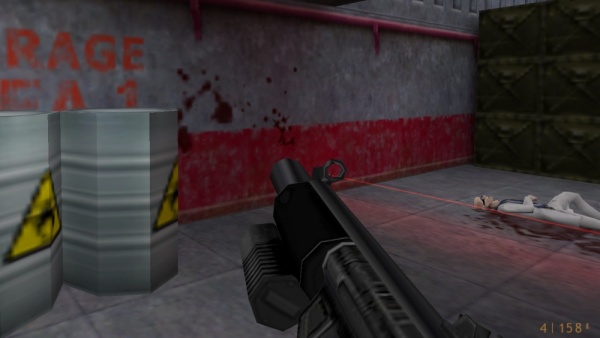 The MP5 is a famed 9mm submachine gun made for effective use within 100 yards or so.
On the other hand, the M203 is a 40mm grenade launcher. It can launch high explosive, high explosive dual purpose, non-lethal loads, and heck, even flairs and CS gas.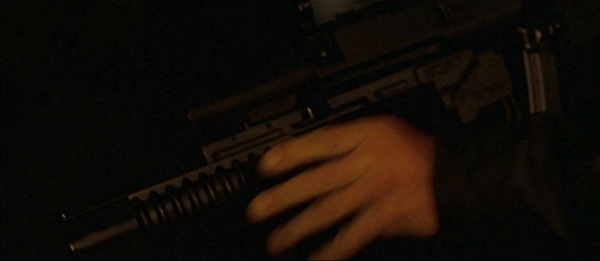 The M203 weighs 3 pounds while the MP5A3 weighs 6.3 pounds. So you're adding 50% of the weapon's weight to the MP5.
The mount to connect the two replaces the MP5 handguard and a muzzle device that also acts as a forward mount for the M203.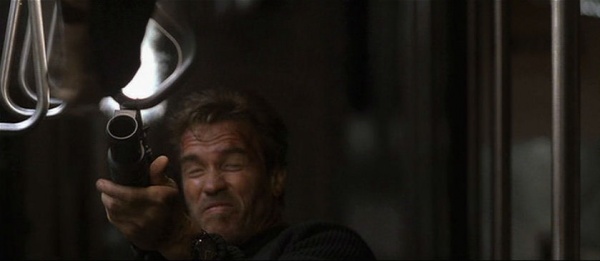 Is it practical? Not especially, but it's pretty freakin' sweet. It stands out, and hero guns should always stand out.
Guess My Name
Arnold is clearly confident with weapons, and his mass makes carrying the 9-something-pound weapon easy enough.
Yet, his character, Jericho, was a cop and should know at least the basics of handling a firearm. That said, I don't think Jericho ever even deploys the collapsing stock on his gun.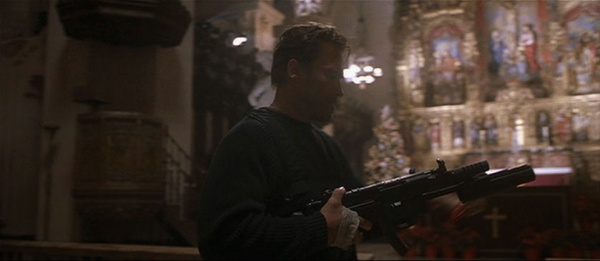 Although the Blackhawk Chalker sling is a sweet throwback to the 90s, he also never really aims the gun. He just points and pulls the trigger, staying in full-auto-only the whole time.
In one scene, he reloads the gun and does the famed HK slap, but that's about the only time reloads are a concern.
He blazes away on full auto over and over, yet never seems to run out of ammo.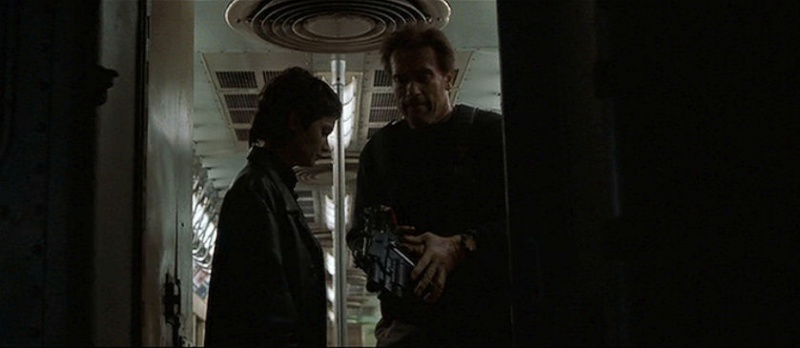 There is one strikingly accurate bit though…
If you've never used an MP5, you might not know how bad the ergonomics are, specifically the safety. In one scene, Arnold uses a weird grip on the gun where his thumb is not wrapped around the pistol grip.
This method allows the thumb to manipulate the safety and is a famed method of operation by experienced MP5 wielders.
Final Thoughts
This movie is worth watching purely for its extra-ness.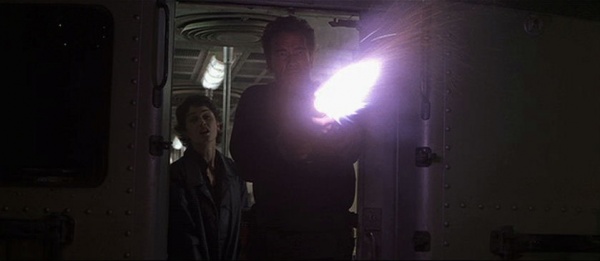 Don't expect much, but if you can just enjoy the stupidity, it's a silly action flick. Plus, you can see a weird combo of gun and grenade launcher in the hands of the Terminator.
Want your own MP5 but need something a little more accessible? Check out our recommendations on the Best MP5 Clones.
This is part of a weekly series on Pew Pew Tactical dedicated to the guns of TV and film. If you'd like more of this content, drop us a comment below. In the meantime, check out last week's pop culture dive with "Predator" & Billy's Rifle/Shotgun Combo.