2020 saw an increase in a lot of things…riots, pandemics, and general unrest and anxiety.
But, interestingly, it also saw a slight uptick in lost or stolen firearms from licensed gun dealers, according to data published by the Bureau of Alcohol, Tobacco, Firearms, and Explosives.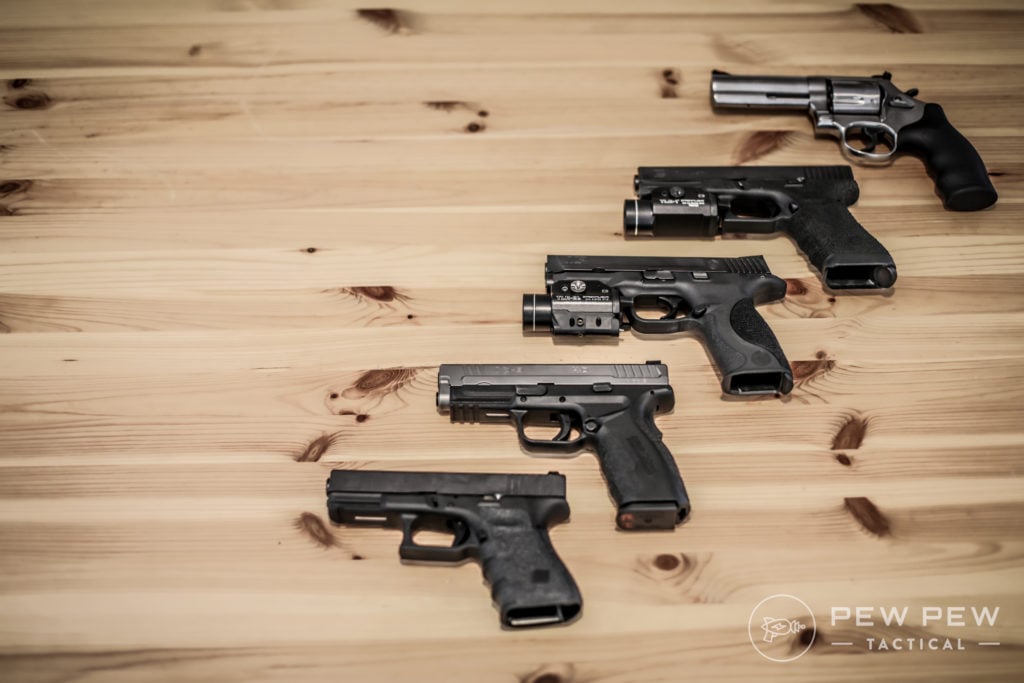 Last year witnessed a 3% increase in missing guns from 2019, the lowest year on record. That said, 2020 also experienced a 46% drop in missing guns from 2013, the highest year on record, data shows.
On top of that, the total number of theft and loss reports has remained consistent over the years.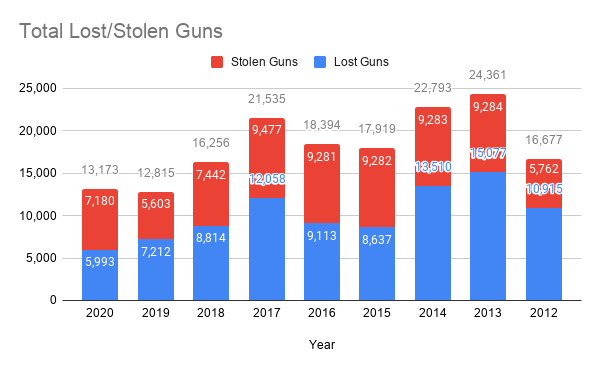 With such big swings in missing guns but consistency in theft attempts and poor recordkeeping, it begs the question: what's being done to reduce the number of missing guns?
In this article, we'll look at the 2020 data and other years to explain the difference between lost and stolen guns and what made 2020 different.
Table of Contents
Loading...
Lost and Stolen Guns
Every year, the ATF publishes the FFL Theft and Loss Report to show the number of guns missing from gun dealers throughout the calendar year.
The report organizes data by firearm types and how they went missing. Then, guns are either reported as lost or stolen.
Lost Guns
The ATF defines a lost gun as missing but not from a theft. They're usually discovered as missing when an FFL self-reports after conducting an inventory or an ATF audit.
Those numbers are a little deceiving, though, but worrisome in their own right.
Last year, the ATF filed 955 reports showing 5,993 lost guns, about 45.5% of all missing guns.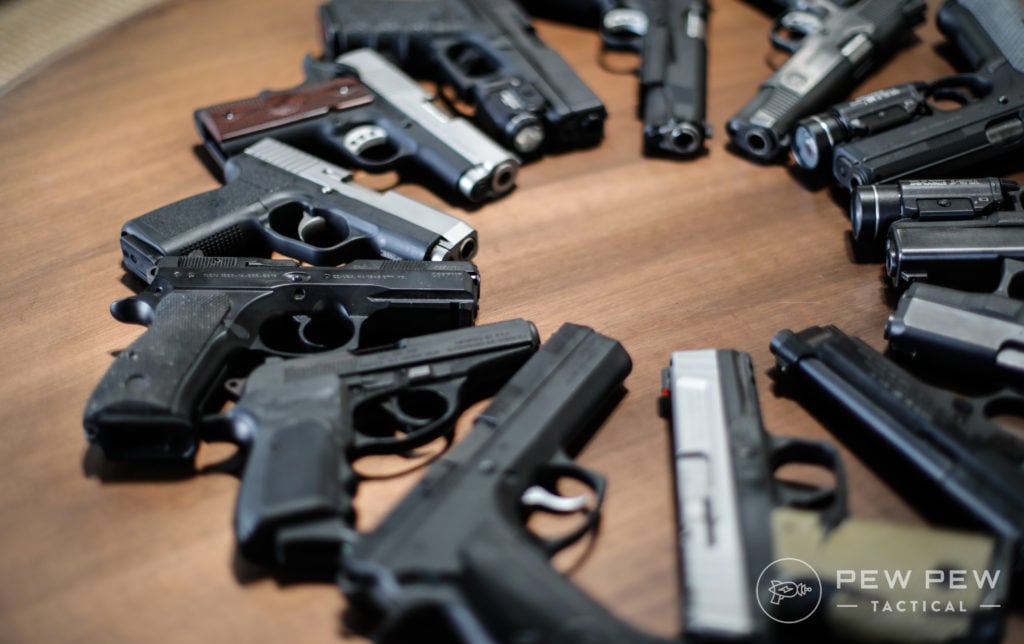 But when you drill down by state, you'll see some lopsided figures.
The five states that reported the most lost guns in 2020 accounted for approximately 50% of all lost guns.
For example, the top state, Louisiana, reported 914 lost guns, but, as ATF spokesman Erik Longnecker explained, 94% of the lost guns were linked to a single store, which is no longer in business.
"Abnormally high loss counts can often correlate to an adverse inspection of an FFL," Longnecker said in an email to Pew Pew Tactical.
According to the data, 860 of the 914 lost guns in Louisiana belonged to one store, so the remaining 54 lost guns belonged to 16 other stores.
Stolen Guns
Stolen guns accounted for the remaining 54.5% of missing guns.
They break down into three groups — burglaries, larcenies, and robberies — and by the number of reports filed.
So, the 7,180 stolen guns were from 2,042 incidents across the country.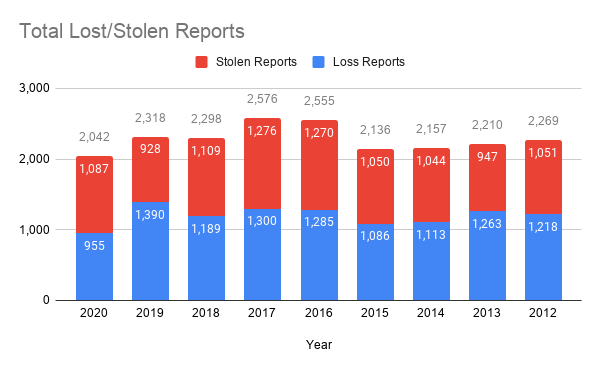 Unlike lost guns, there isn't always a singular incident or state that tips the scale. Rather, a lot of the same states rank in the top 10 for gun thefts and theft reports.
Texas, for example, ranked first for most thefts and most guns stolen in 2020. And it's been that way since 2016.
The 2020 data shows 129 theft reports filed in Texas, which amounted to 834 stolen guns.
An assessment of all FFL Loss and Theft Reports shows that Florida, Georgia, Alabama, North Carolina, Missouri, and California consistently follow Texas in the rankings.
Gun Thefts Over Time
Nationally, gun thefts have seen major swings in the past nine years.
In 2012, they started comparatively low with 5,762, but by 2017, they increased 64% and then dropped again.
While there have been fluctuations in the number of guns stolen, the number of theft reports filed remained relatively flat. With 947 on the low end and 1,276 on the high, the ATF averages about 1,085 reports per year.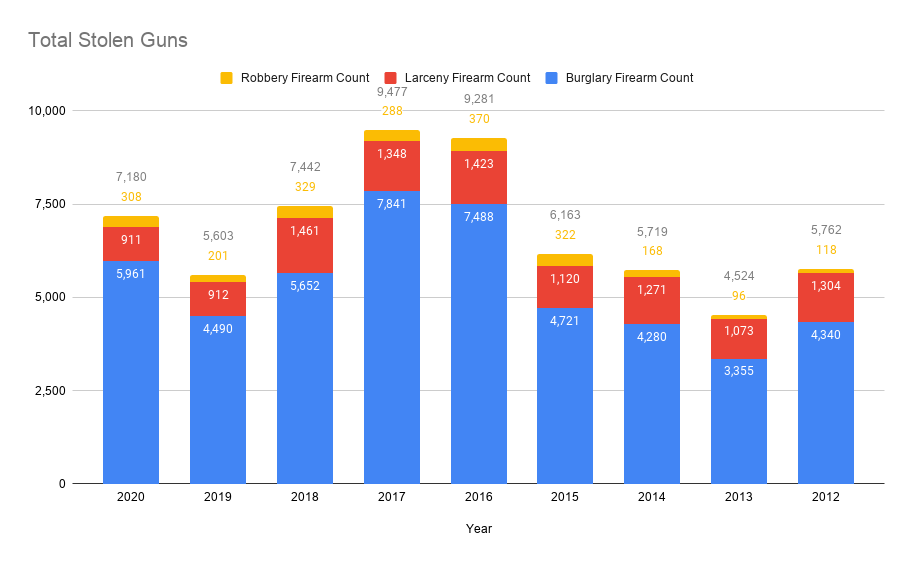 According to the data, larceny is the most common way to steal firearms, followed by burglary, and then robbery for a very distant third with just dozens a year — because who in their right mind tries to rob a gun store?
But the overwhelming majority of guns actually stolen from FFLs were the result of burglaries. If you see one, you'll understand why.
Gun Store Burglaries
The reason gun store burglaries result in such volume is how they're conducted.
It's a blitzkrieg attack.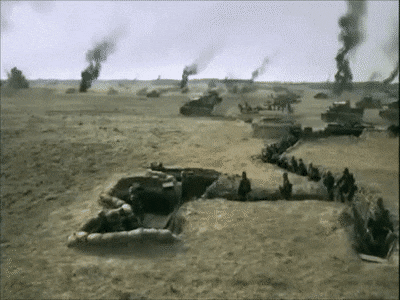 The burglars strike quickly and in numbers, typically smashing their way in and scooping up whatever they can.
In Santa Monica, California, at around 8 pm, a group of suspects used a crowbar and sledgehammer to break windows at Big 5 Sporting Goods.
Then, they used bolt cutters to cut a metal roll-down gate and opened the emergency exit doors to gain access to the store.
Once inside, they stole 29 guns.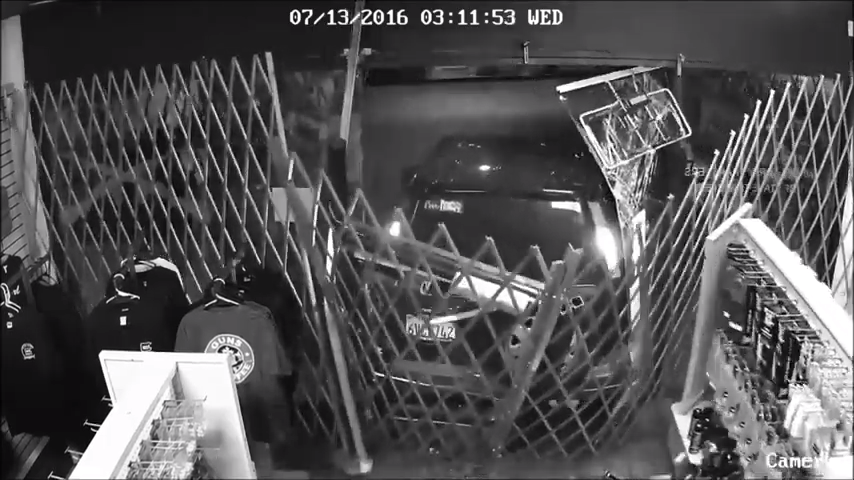 In Hayward, California, around 10:18 pm, about 30 or 40 people congregated outside of Richardson's Tactical until someone smashed the store's front window.
Once inside, they smashed cabinet displays and ripped guns off the walls. They stole at least 27 guns.
In Dallas, Texas, at around 1:45 am, three men pried open a side door of DFW Gun Range and ransacked the store.
They grabbed rifles off the walls and smashed glass cases to get access to pistols, stealing more than 40 guns. In total, they were in and out in 80 seconds.
Notice a trend?
Three separate burglaries involved a crude entry by multiple people who then grabbed anything they could.
The burglaries resulted in almost 100 stolen guns.
Like in other years, burglaries caused the overwhelming majority of stolen guns (83%) in 2020.
How 2020 Compares
This is where things get tricky.
Despite having the second-lowest number of overall missing guns, 2020 also had the third-highest number of burglaries and the fourth-highest number of stolen guns.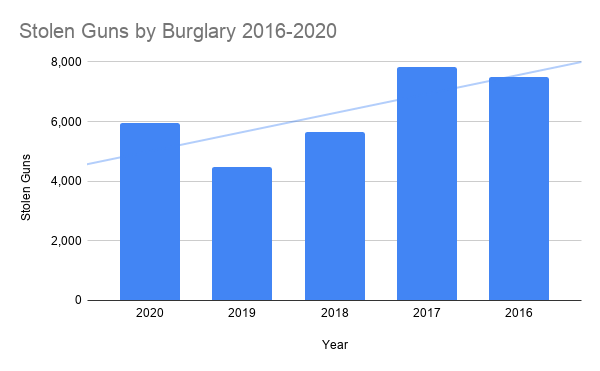 On top of that, the number of total stolen guns was on a downward trend since they peaked in 2017.
So, this requires a little context.
Gun Store Security
At the beginning of 2018, the ATF partnered with the National Shooting Sports Foundation to respond to the increase in gun store burglaries.
Two years in a row, they saw more than 575 burglaries and 7,400 stolen guns.
Together, the organizations launched Operation Secure Store.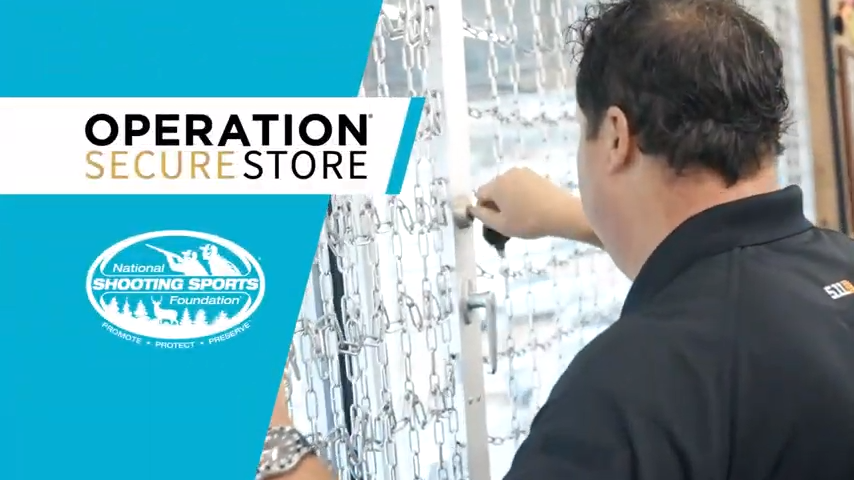 The program was designed to give FFLs guidance on preventing or at least reducing the risk of gun thefts.
When a gun store signed up, they'd get a risk assessment and tailored advice to improve store security.
Advice included things like where to employ gates, how to position products, types of display cases to use, etc.
Following the initiative, gun store burglaries fell.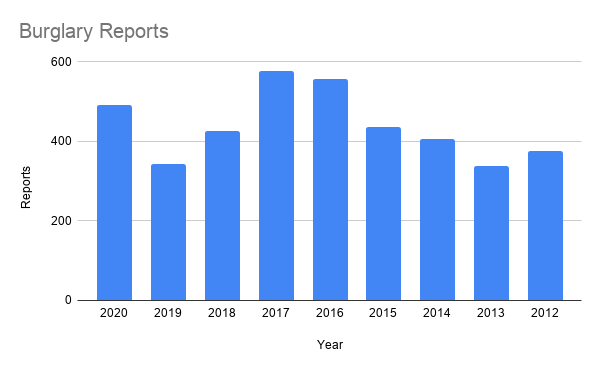 The number of burglaries dropped to the second-lowest since 2012, and the number of guns stolen because of burglaries dropped 43% from when they peaked.
And then 2020 happened…
Compared to 2019, 2020 saw a 43% increase in burglaries and 32% increase in guns stolen because of burglaries.
Is It a Fluke?
Longnecker explained the increase in burglaries happened over a short period last year.
"In the last days of May and the first week of June, there were more than 90 attempted, or successful burglaries of gun stores reported to ATF with more than 1,000 firearms stolen during that time frame," he said.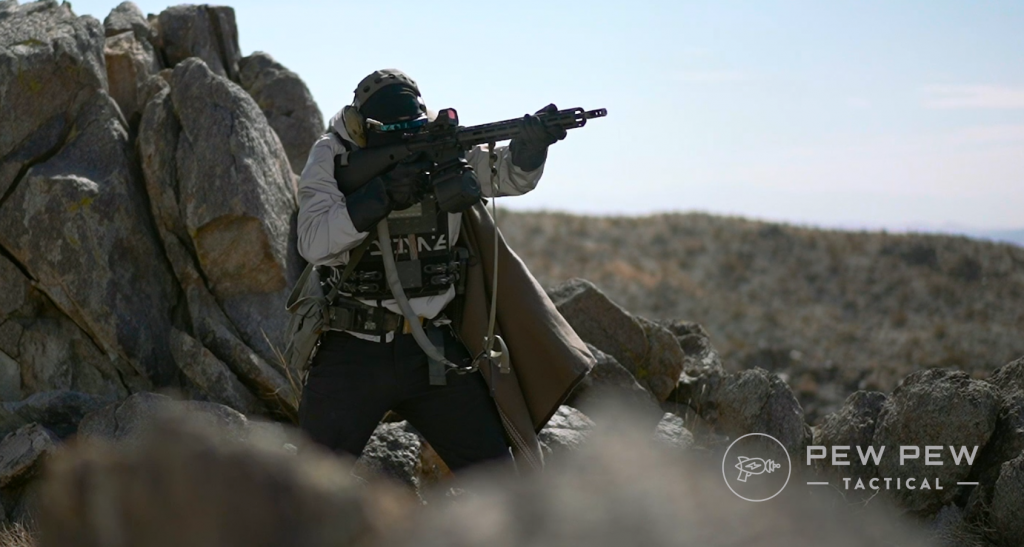 The time Longnecker is referencing is the two weeks following the murder of George Floyd by a Minneapolis police officer.
Demonstrations were held across the country and while most were peaceful, some escalated to riots and looting.
About those burglaries I mentioned earlier, they all happened on May 31, 2020, during demonstrations.
In most cases, investigators determined the culprits exploited the situation.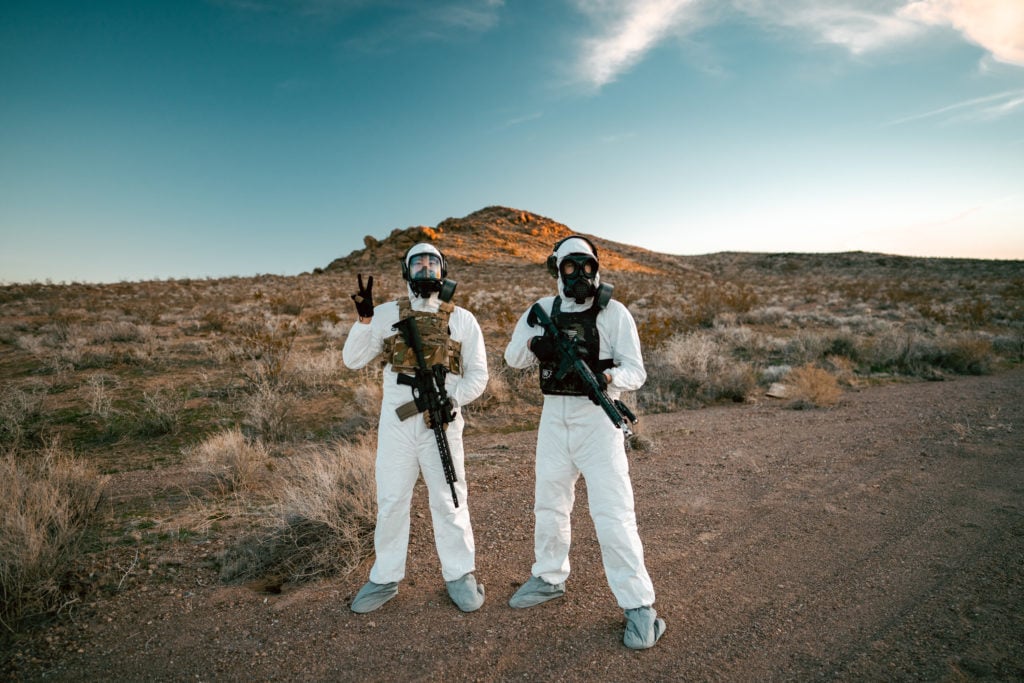 The ATF issued reward notices for a dozen other burglaries across the country during that time as well. But suspects involved weren't immediately caught (or haven't been at all).
Longnecker explained the ATF makes it a priority to investigate gun store burglaries, and in 2020, they worked overtime.
"ATF investigates 100% of all FFL burglaries and robberies using the combined resources of Special Agents and Industry Operations Investigators," he said.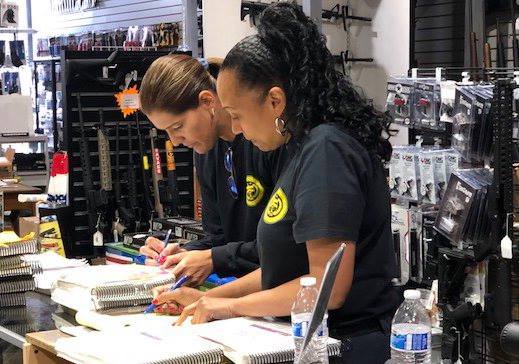 "IOIs also worked diligently throughout the pandemic and civil unrest in 2020, contacting FFLs to provide recommendations, assistance, and education for improving security measures and taking actions to avoid being a victim of theft," he added.
As for 2021…
Although total FFL gun thefts and losses were down in 2020, total gun thefts were still high.
That's largely due to a handful of opportunists who took advantage of national concerns and when communities focused resources elsewhere.
While the ATF and gun groups have been encouraging and educating gun stores to batten down the hatches, so to speak, Congress took legislative steps to increase gun store security.
In May 2021, a bipartisan group of lawmakers introduced the FFL Protection Act to strengthen and enhance criminal penalties for stealing firearms for gun stores.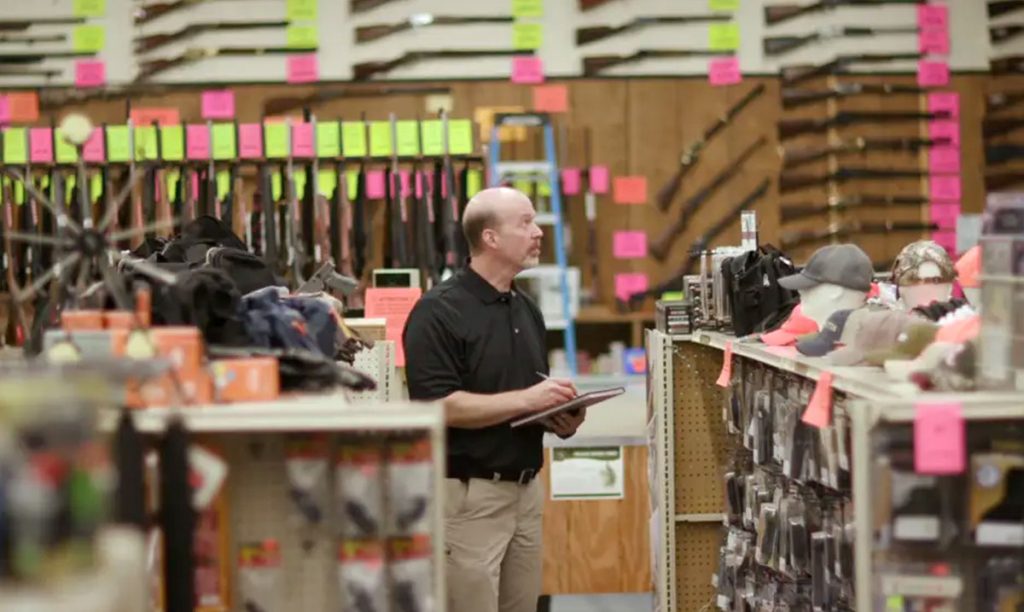 Lawrence G. Keane, senior vice president and general counsel for the NSSF, said the industry was grateful that lawmakers worked together to write legislation that protects gun stores and correctly assigns blame on the criminal.
"The bill sends the clear message that Congress will not tolerate criminals who victimize firearm retailers in order to further prey upon and threaten communities," he said in a statement.
Conclusion
Though firearm thefts are, as a whole, on a downward trend thanks to the educational efforts of organizations like the NSSF, 2020 did see a slight deviation from normal.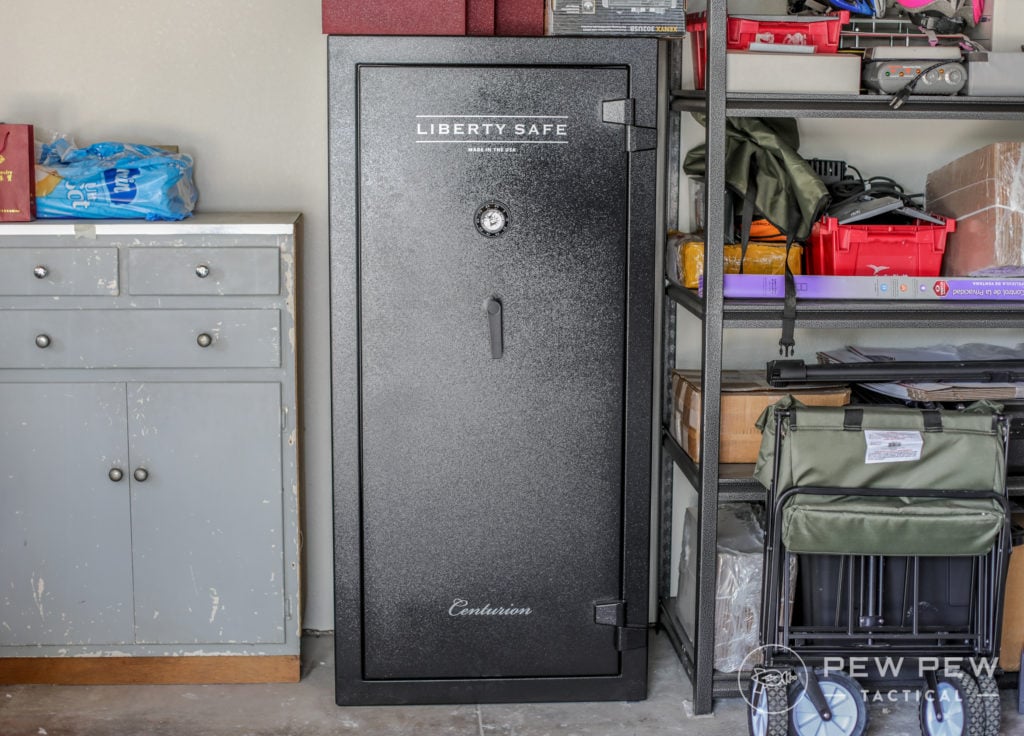 Of course, with a pandemic and civil unrest, it's not too surprising that theft would see an increase during the height of 2020's events.
What do you think? Did these numbers surprise you? Let us know in the comments below. If you're looking to prevent theft of your own guns, check out our list of the Best Gun Safes on the market.