FN Herstal unveiled the latest machine gun series to hit its lineup — the EVOLYS.
Offering two models chambered in either 5.56 NATO or 7.62 NATO, these lightweight machine guns look to take the full auto world by storm with a compact and easy-to-tote design.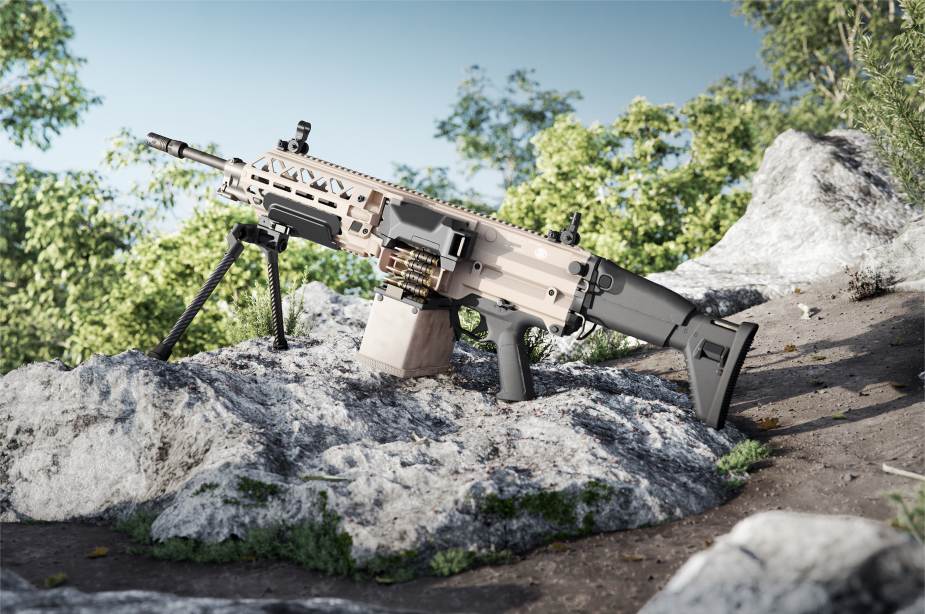 Now, I love machine guns. I spent five years as a machine gunner in the Marine Corps and carried the M240 and M249 in training, combat, and beyond.
Both these guns are hefty models.
The M240 weighs nearly 30-pounds unloaded, while the M249 "light" machine gun comes in at 17-pounds.
On a 10-mile foot patrol, you feel every pound of both.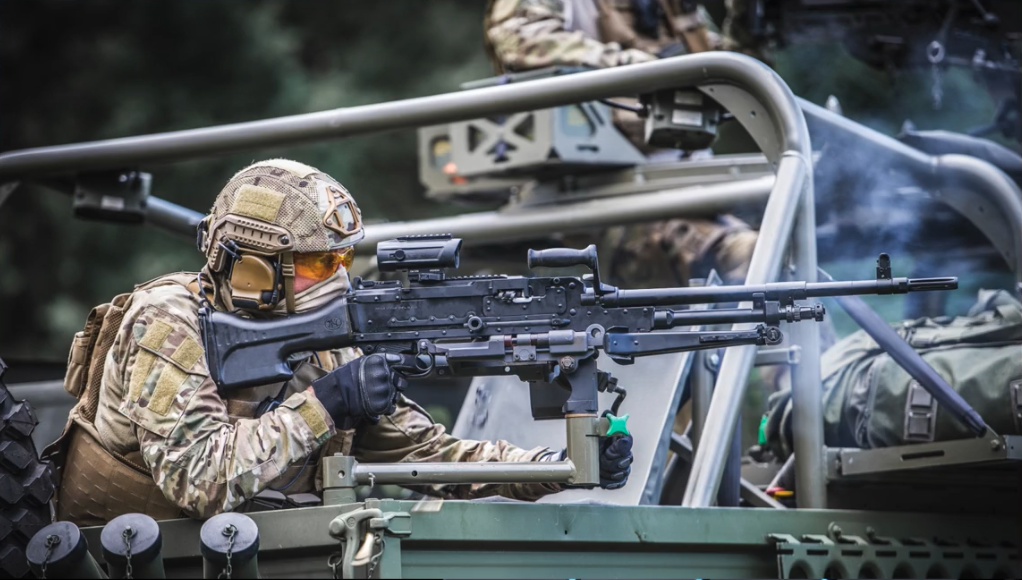 So, the promise of a lightweight machine gun from the Belgian masters of machine guns looks enticing.
Given my machine gun experience, I figured it was worth exploring the EVOLYS design and how it stacks up against the military's current machine gun offerings.
So, with that, let's dive into the EVOLYS a little deeper.
Table of Contents
Loading...
What is the FN Herstal EVOLYS?
Specs:
Calibers: 5.56x45mm NATO or 7.62x51mm NATO
Operation: Gas Operated, Open Bolt, Short Stroke Piston
7.62 Length: 40.35″ (Extended)
7.62 Weight: 13.67-pounds
5.56 Length: 37.40″ (Extended)
5.56 Weight: 12.12-pounds
Cycling: 750 rounds/min
Max Effective Range: 1,000 meters
Chambered in 5.56 and 7.62 NATO, the FN Herstal EVOLYS (pronounced e-vo-less) is more machine gun family than a single weapon.
The series builds on the classic belt-fed design, but ups the ante as only FN can.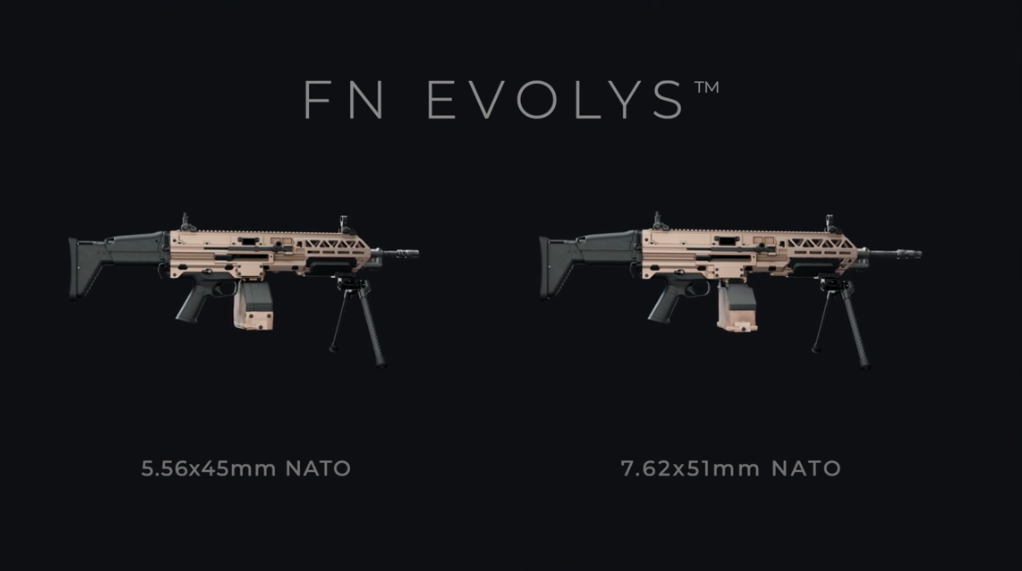 During a demonstration on May 6, 2021, FN Herstal blasted away with the EVOLYS, demonstrating its firepower.
The weapons looked incredibly easy to control. It's an interesting concept, and I like to see someone take machine guns to the next level.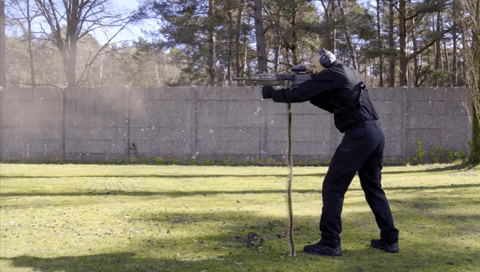 If the NFA wasn't a thing, these would surely be on my shortlist for home defense LMG.
Want to know what stands out most about these guns?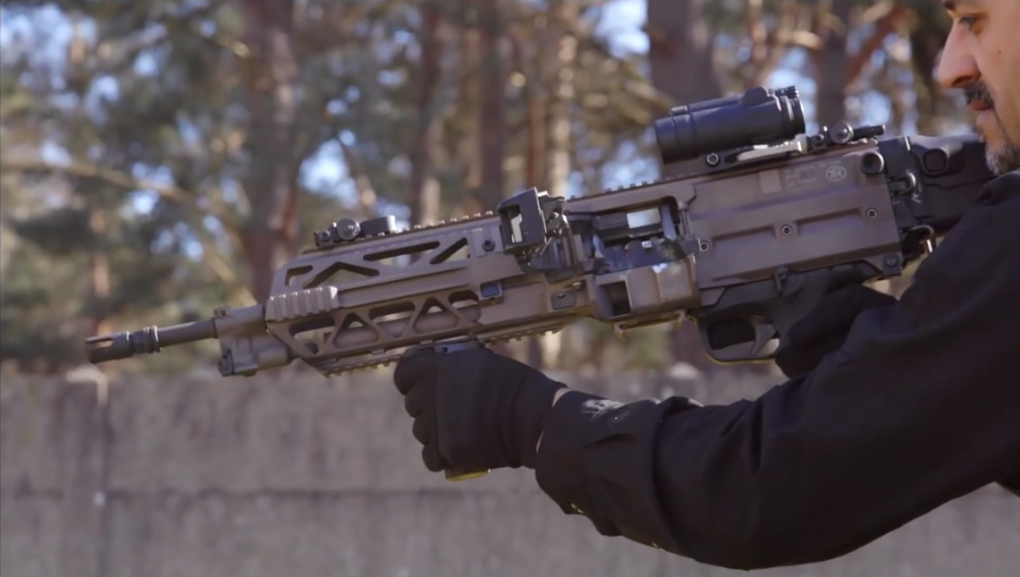 Their weights!
I quickly skimmed the press release looking at how much they weigh. As someone who carried a machine gun for many years, weight matters.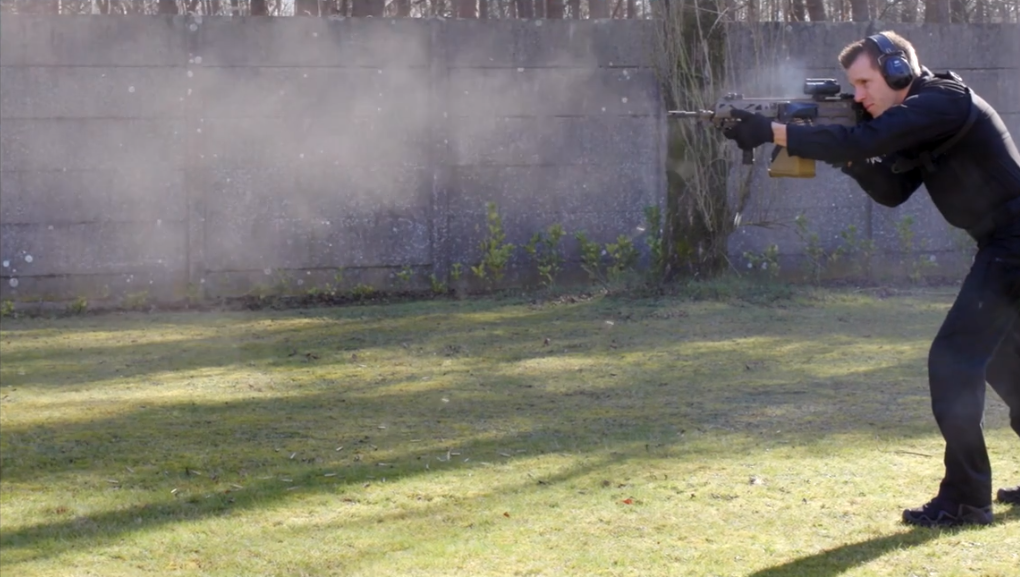 According to FN, the 7.62 NATO EVOLYS weighs only 13-pounds and some change.
Hell, the current USMC-issued IAR with all its accessories weighs nearly that. Not to mention, that's almost exactly half the weight of the M240.
Meanwhile, the 5.56 NATO EVOLYS weighs around 12-pounds. That's remarkably light for a belt-fed machine gun.
For an infantryman, weight is critical, so FN's ability to trim weight is impressive.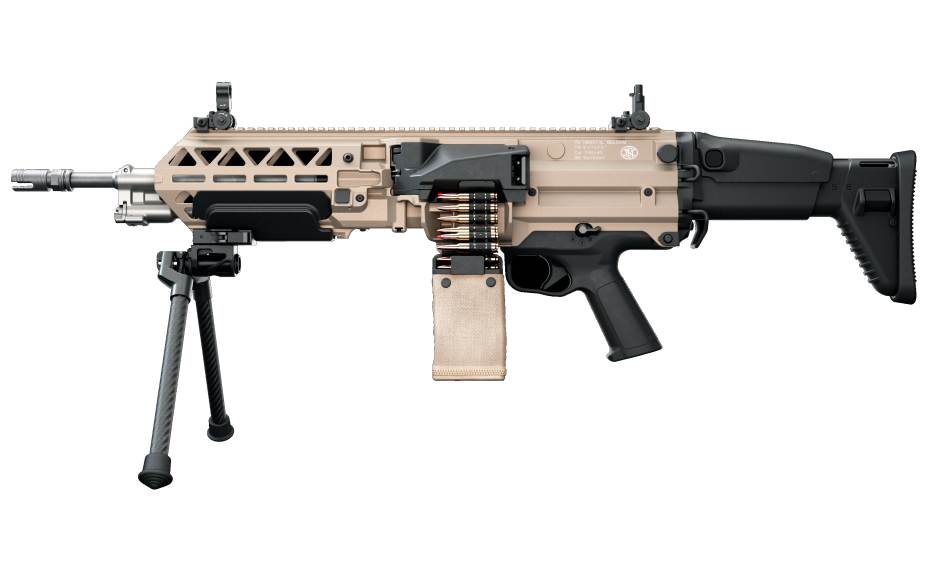 When you start rocking and rolling with a machine gun, the best-case scenario is to have a supported position with bipods in place.
However, the real world is rarely the best-case scenario.
Guns this light prove easier to fire while standing and make close-quarters fighting a bit simpler for the machine gunner as well.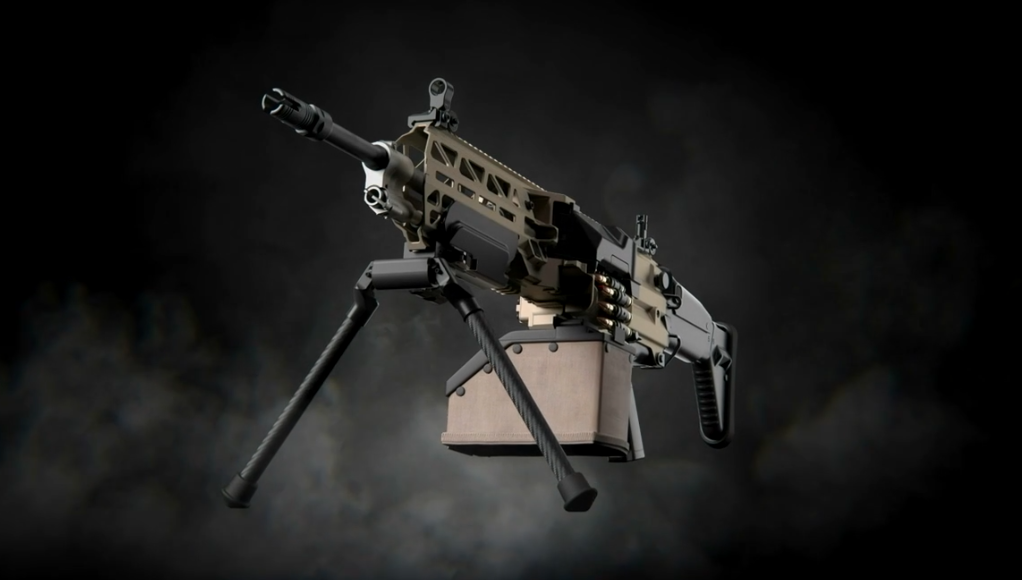 American fighting tactics rely on maneuverability. A lighter gun allows the gunner to rapidly transition from a prone firing position to a buddy rush.
Ultimately, a lightweight machine gun grants the gunner more versatility and the ability to maneuver with ease.
EVOLYS Features
The new EVOLYS uses a tried and true gas-operated, short-stroke gas piston system operating off an open bolt.
On the other hand, both the M240 and M249 use long-stroke gas pistons, so this is an interesting departure.
A short-stroke gas piston system delivers a little less recoil and, overall, offers a more lightweight system.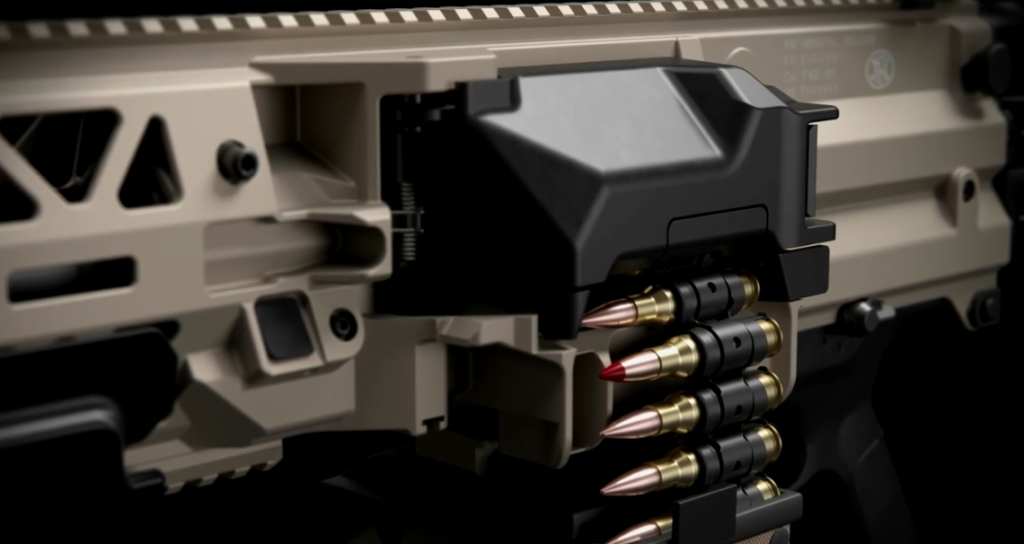 The EVOLYS design philosophy combines the best features of an assault rifle with a machine gun.
So, it makes sense FN Herstal uses the same gas system in the EVOLYS as the SCAR series of rifles.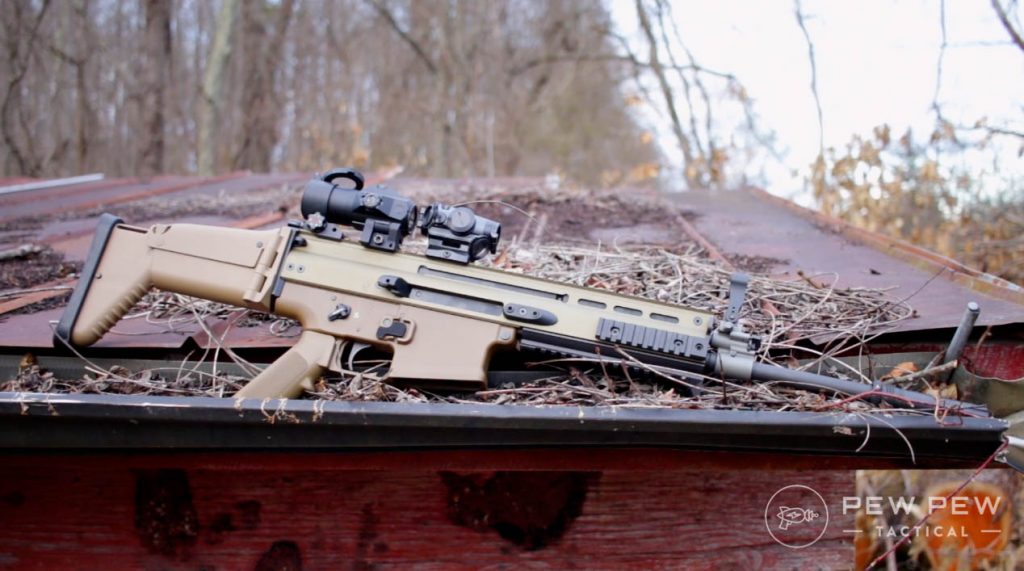 In fact, I can see a SAW influence in this new machine gun series.
It wouldn't be a stretch to call this the SCAR machine gun variant.
Look at that stock! It's the SCAR's famous Ugg boot!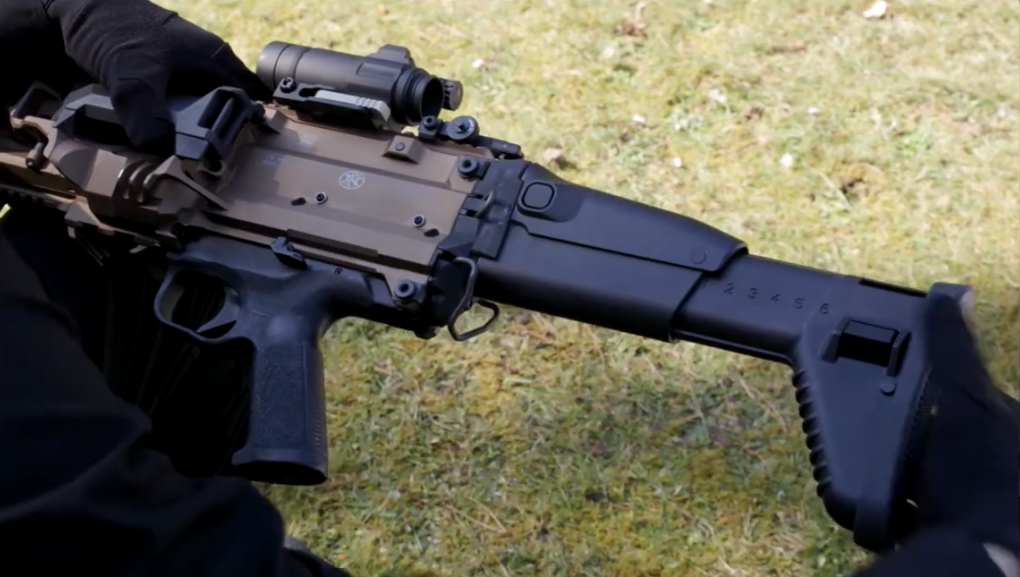 Providing an adjustable stock, the EVOLYS allows for different-sized shooters to fit themselves to the gun.
The stock also folds for a more compact package.
As a dude who rode in AAVs with an M240, making it a little shorter would have been a Godsend.
Additionally, the EVOLYS adopts an ambidextrous three-position fire selector. And, interestingly enough, FN installed a semi-auto position.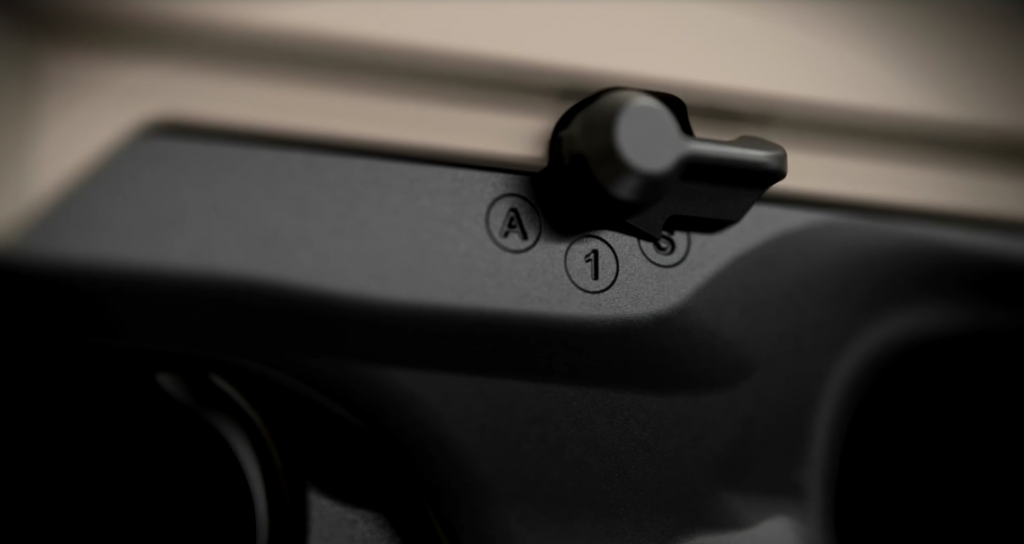 The M240 and M249 have no such option — only offering safe and full auto.
According to FN, this gives the user a precision setting to engage point targets.
I'm not sure I ever needed to do that with a machine gun, but options are always nice.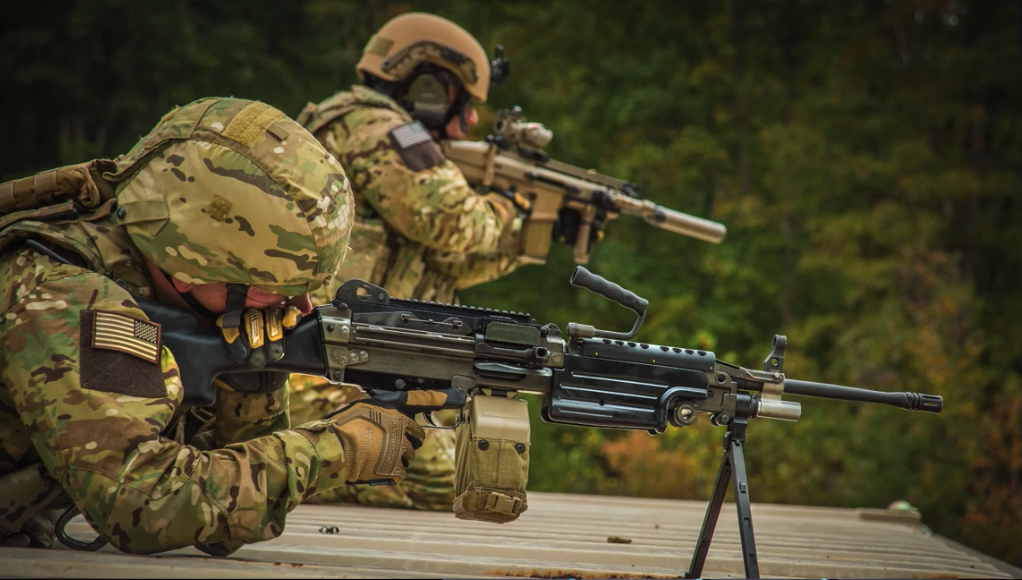 Like the modern versions of the M240 and M249, a hydraulic buffer helps fight recoil.
Anytime something is fired full auto, a little recoil mitigation goes a long way.
These buffer systems are quite effective in my experience and well-proven in the M240 and M249.
Accessorize It
Upfront, we have an M-LOK rail, with FN showing it off with a carbon fiber bipod.
Thus, the EVOLYS inputs the modernization of an assault rifle onto a machine gun.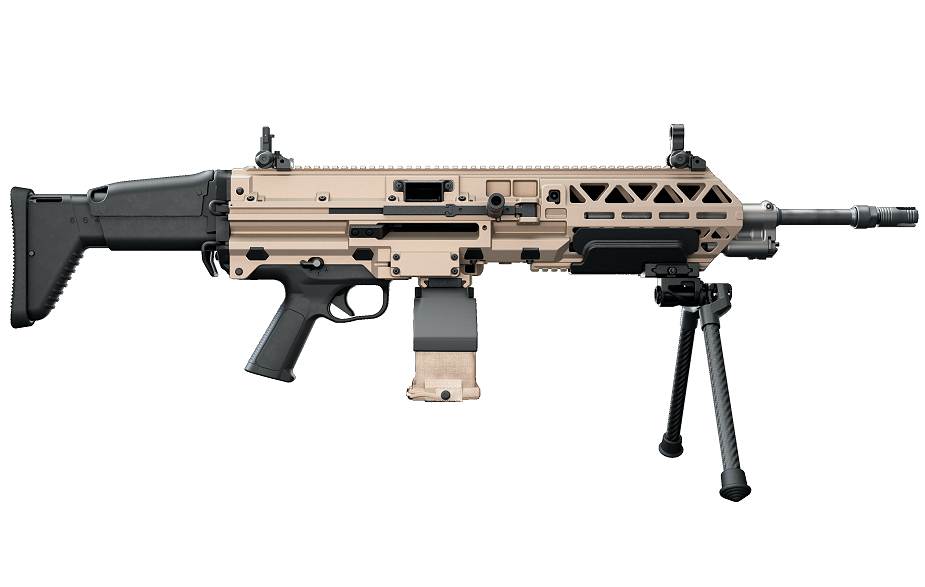 It's welcome!
Like every other firearm in the world, the EVOLYS benefits from accessorization.
Also, we get a long top rail – much longer than the railed top covers of the M240 and M249.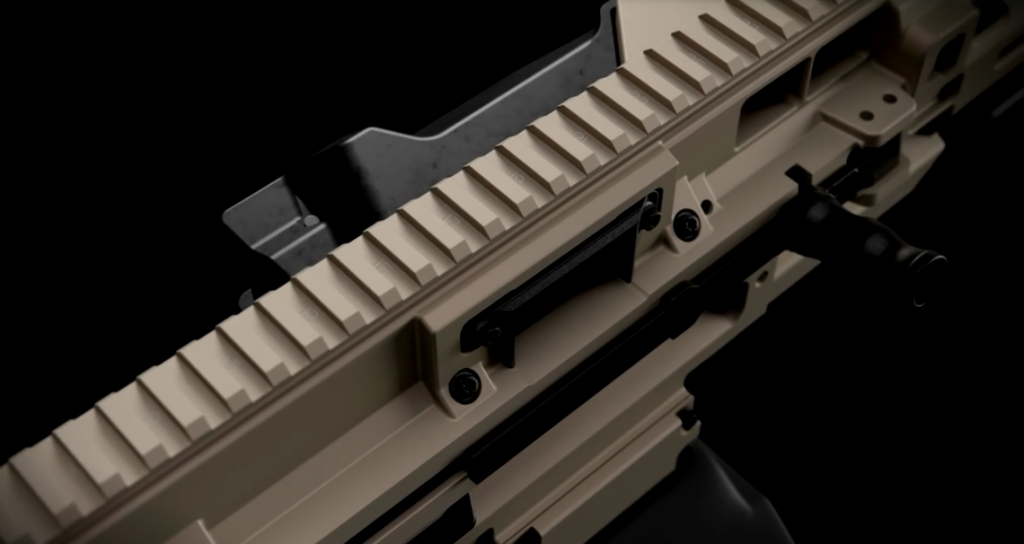 There is plenty of room for variable optics, red dots, night vision, thermal optics, and more!
Unlike most machine guns, the handguard is monolithic and goes around the barrel.
Operating Differences
The M240 and M249 are not left-handed friendly and aren't designed with one-handed function in mind.
They are crew-served weapons, so more hands than normal are expected.
FN Herstal chose another route in an about-face, making the system easy to use for both left and right-handed shooters.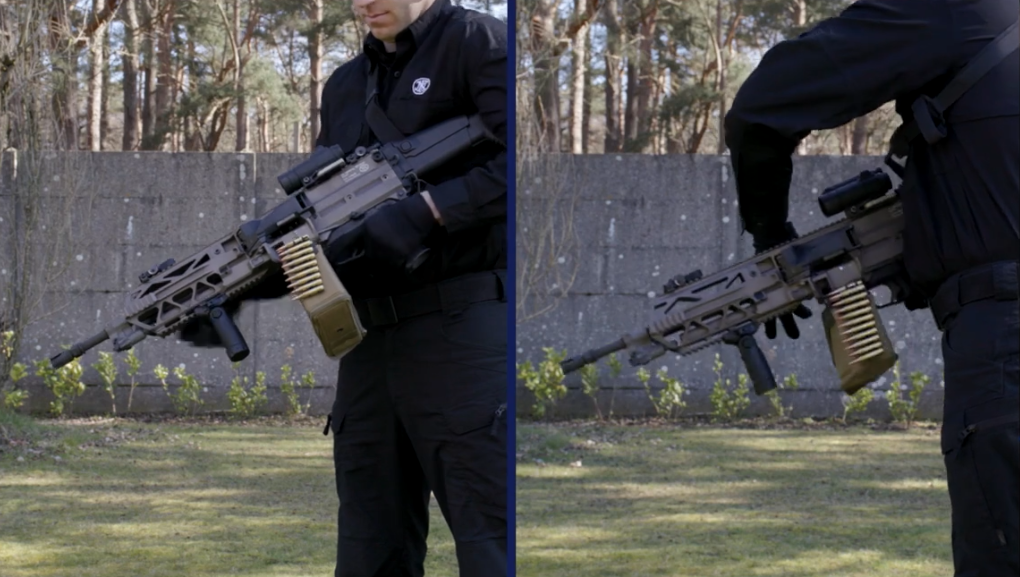 The gun can also be operated with a single hand to include loading and unloading.
Speaking of, the last link is also ejected automatically, which saves time on reloads.
I Have Questions Though….
These sexy, futuristic squad support weapons are quite interesting.
It's neat to see 3D printing help in construction. Not to mention seeing an actual lightweight machine gun from a company proven to make excellent machine guns is rather exciting.
However, I do have a few questions.
First, can you change the barrel? These guns both appear to lack a quick change barrel, affecting how much lead a gunner can dump downrange.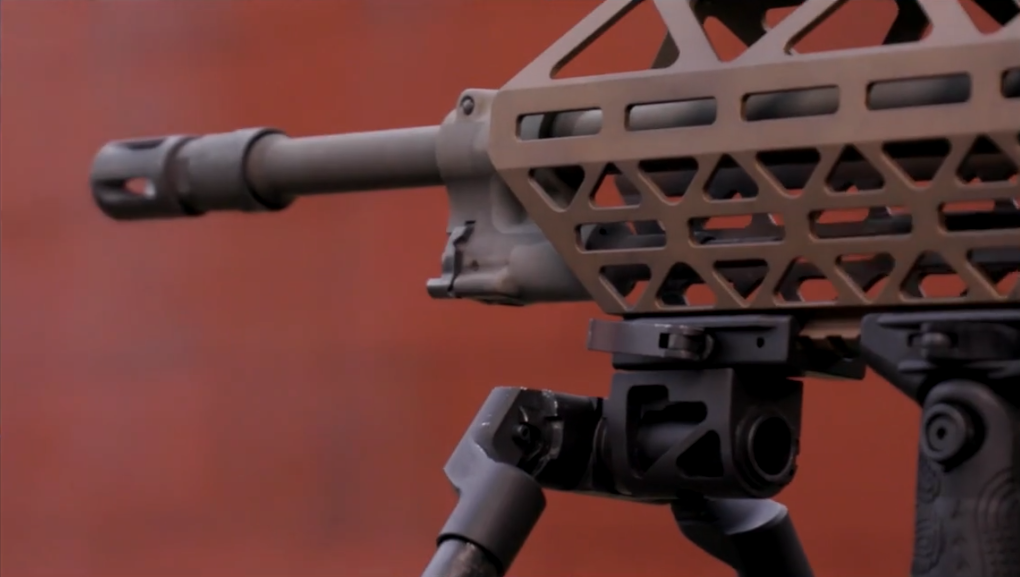 For Special Ops bubbas involved in low-intensity conflict, this won't be an issue. But, for the general infantryman, it sure is.
Also, neither gun has pintle or T&E mounts.
These slots allow the gun to attach to a tripod for more precision-based fire. Honestly, I never used a tripod in actual operations. However, these mounts are still very necessary for vehicle mounting and defensive positions.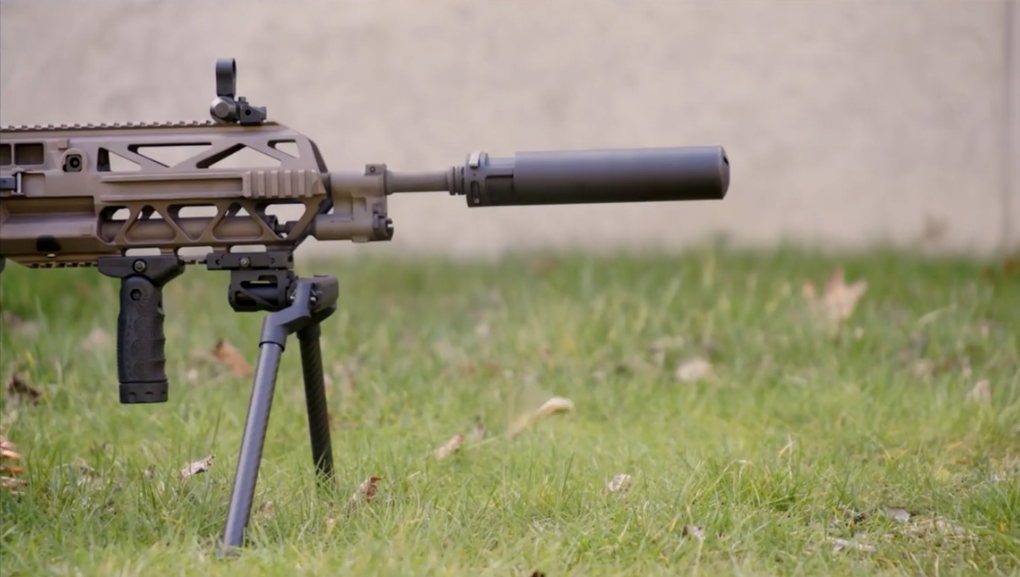 Both are pretty critical for the employment of machine guns in machine gun roles.
From what I gather, this might limit the use of the gun to Special Ops guys. But I'd imagine even those guys would want a means to mount the gun to a vehicle.
I'm curious to see how this will be rectified in the field.
Conclusion
FN Herstal's EVOLYS is an interesting development in the world of machine guns.
Lightweight, 5.56 and 7.62 NATO firearms, these could prove useful with Special Ops units or on-the-ground machine gunners accustomed to lugging the heavier M240 and M249 around.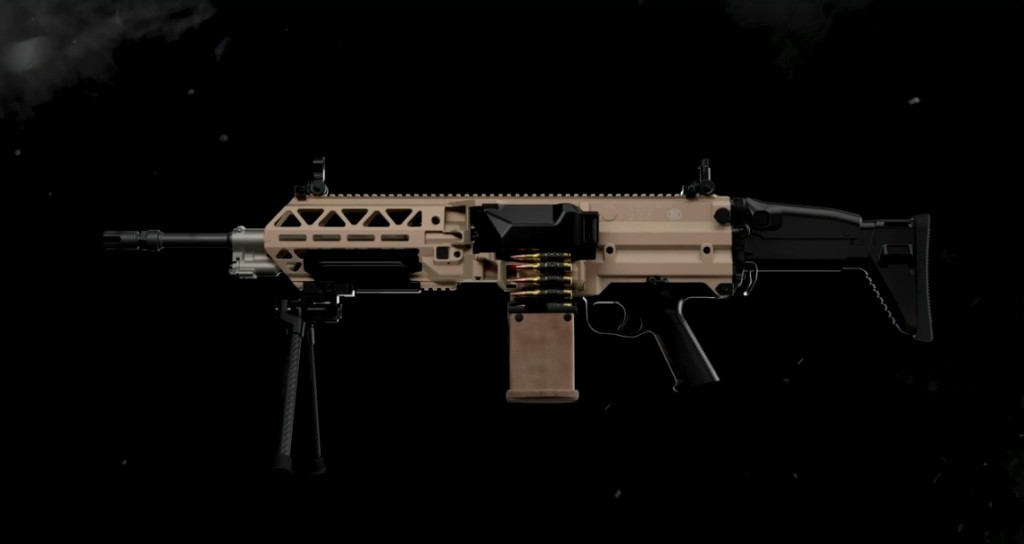 What do you think? Let us know below. If you liked this article, be sure to check out the Civilian-Legal Versions of Military-Only Guns.