Tools are always on our wish-lists, but finding the ones that are actually worth the cost these days is getting harder and harder. They just don't make 'em like they used to.
Finding tools that actually work is a passion of ours, and this time we've found a great one.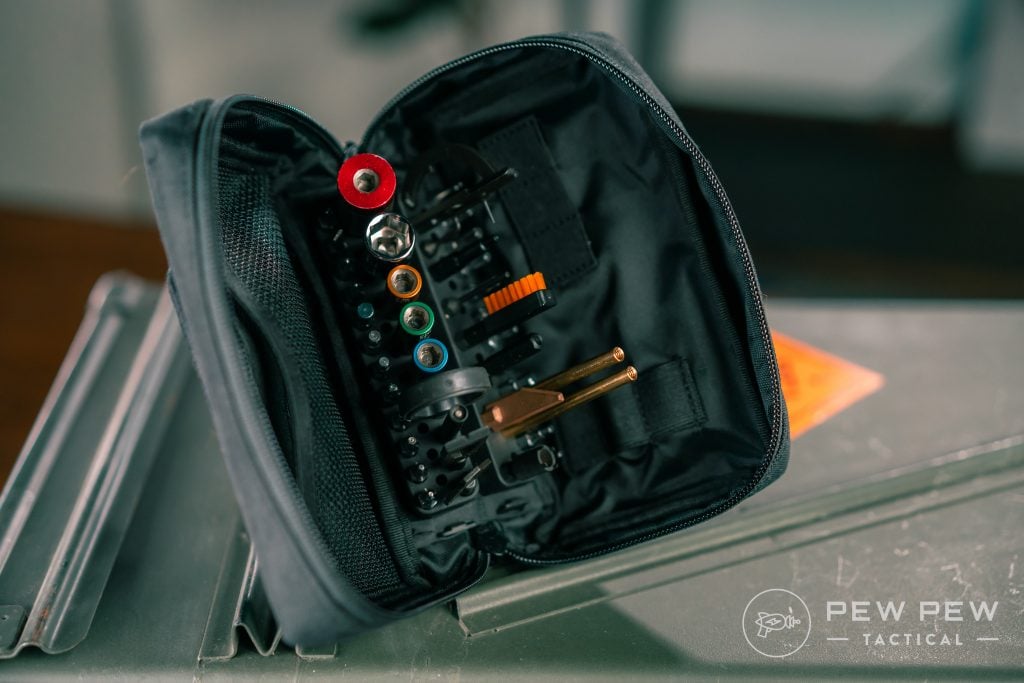 Fix It Sticks are billed as compact, simple, robust, and really handy to have…but are they?
We put a set through some tests, and the results are excellent!
Keep reading to see why we recommend these tools end up in your range bag…plus a special coupon for Pew Pew Tactical readers!
Table of Contents
Loading...
The Quick Basics
Using a basic T-Handle as their base, and employing 1/4-inch bits, Fix It Sticks give you a wide range of tools in a simple, compact form.
The big difference between these and most other kits is the pre-set torque limiters.
Most things in firearms have a torque setting of some kind, some are important and some aren't. The ones that are though can be critical for safety and for precision.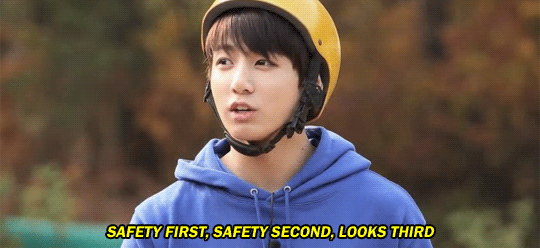 Fix It Sticks provides a small, easy to use in-the-field method of getting your torque settings right.
Use code PEWPEW10 for 10% off.
280
at Fix It Sticks
Prices accurate at time of writing
Prices accurate at time of writing
What About Quality?
The first thing that jumps out when you handle the Fix It Stick (or its bits) is how well made they are. I have a lot of precision gunsmithing tools, none of my other bits is THIS well made.
Edges on the torx bits are almost sharp. Everything feels heavier than it looks and is glossy smooth.
Each surface feels not quite hand polished — but really close.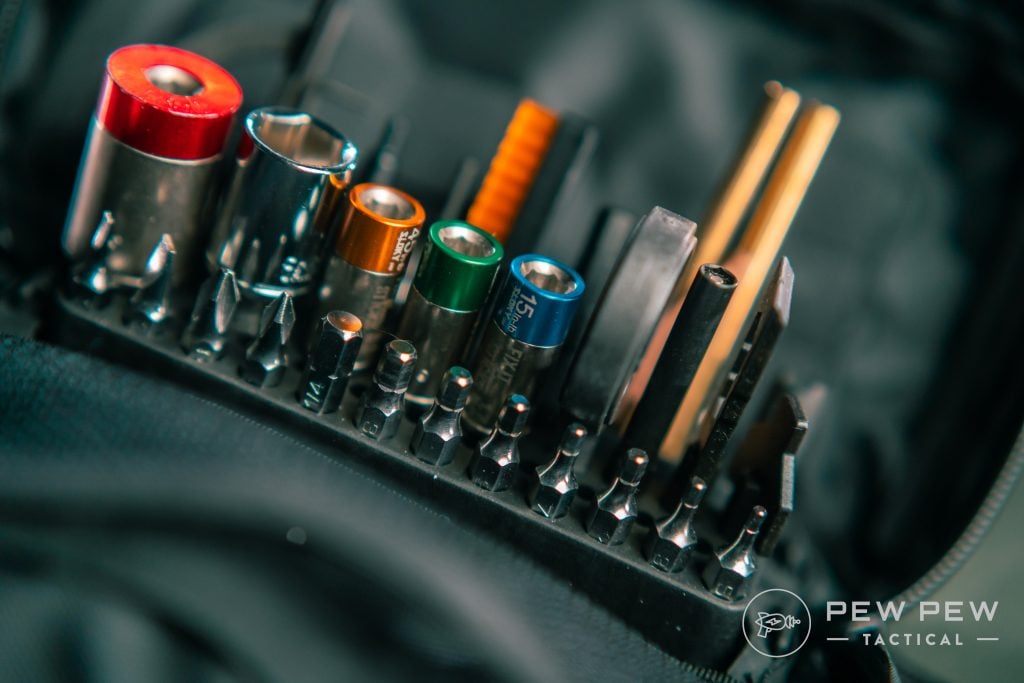 These are definitely not your average overseas tools.
Even the magnet used for the magnetic tip in the T-handle is super strong and grabby. I actually have to get my nail in a groove on the bits to pull them out, I love that.
Field Report
I've only had about a little over two months of use with the Fix It Sticks. But, in that time they've absolutely proven their weight in gold-pressed platinum.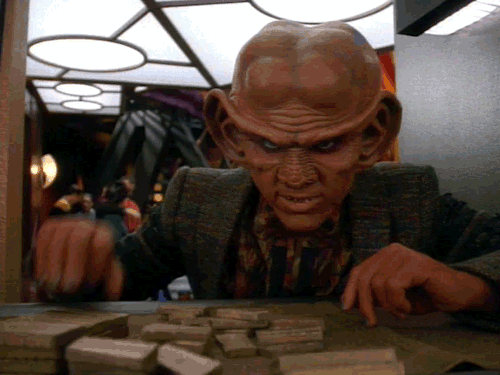 They are as simple to use as they seem. And they are every bit as high-quality as they feel.
Every time I've reached for them they worked perfectly.
While they are mostly designed to be an in-the-field toolset, I've been using them in the shop to get more hands-on time with the set.
From the desert to the workshop, they are awesome. The torque limiters take the guess-work out of things and the T-handle feels perfectly made.
The more I used the set, the more I wished they made a version designed for actual shop use. A slightly bigger T-handle and more bits would work pretty awesome in my workshop.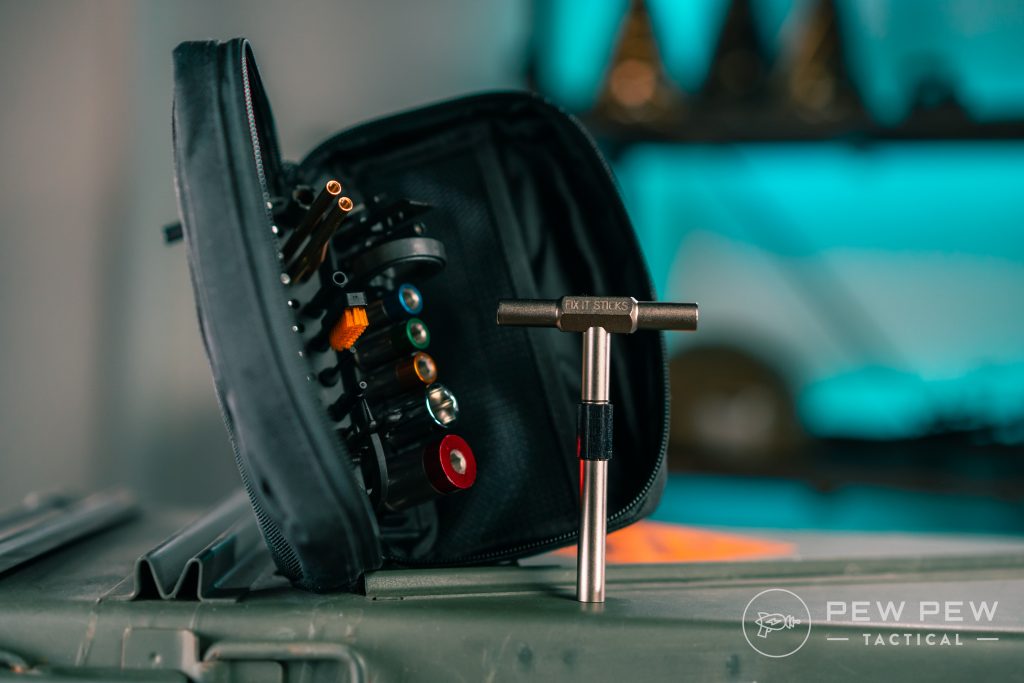 We're in the middle of testing a boatload of optics right now at PPT and this kit was used heavily in the desert while I switched scopes on and off rifles.
Getting a dozen optics mounted, unmounted, and remounted was so much easier with Fix It sticks than in years past.
Though they proved life-saving in the midst of scope mounting, there were a couple of things that stood out I didn't enjoy.
First, while the bits are very well made, they are a little small. Granted, small bits mean you can get into small places.
But I never really ran into that issue while working on scopes and firearms.
A slightly longer shank on the bit would be nice for griping and manipulating in and out of the T-handle.
The super-strong magnet works great for keeping bits in place, but getting the bit out again can take a couple of tries.
I keep my fingernails super short so sometimes the nail in the groove doesn't have enough grab.
A slightly deeper grove, added texture, larger bit, or magnet in the T-handle being slightly weaker would solve this inconvenience.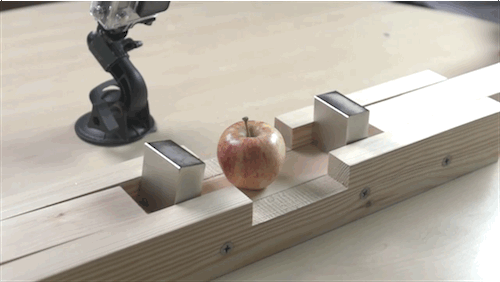 Unfortunately, I haven't been able to run the Fix It Sticks at any competitions since all of my normal matches are closed for COVID.
That said, I'm looking forward to bringing this kit along and knowing that I have things covered.
Very Unscientific Scientific Testing
I have a bit of an assortment of torque drivers and wrenches I've bought over the years.
Wheeler, Harbor Freight, Tekon, Real Avid, and a couple of others too. Most of them ship with a card in their respective box with calibration verification information.
Wheeler's card showed when and how it was tested, as well as how far out of perfect that unit was. It even had the name and signature of the guy who tested it.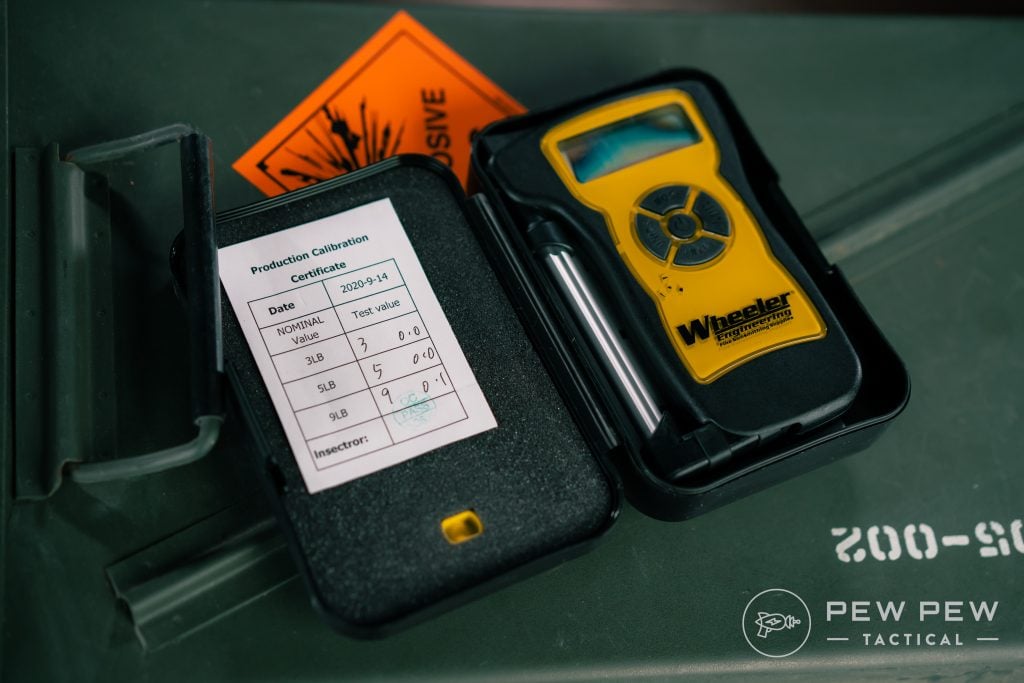 I love that. A precision tool telling you exactly how precise it is and with a name of a real human to back it up.
Unfortunately, Fix It Sticks didn't come with a card like that. Being the dork that I am, I decided I wanted to try and test calibration on my own.
I looked into torque calibration equipment and almost had a heart attack at the price — between $1,500 and $97,000.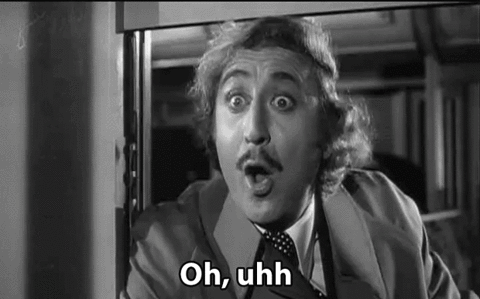 After recovering, I kept looking. Eventually, I found a blog post by Tekon explaining how to garage test your torque wrench using a weight, a rope, and some math.
I don't have weights laying around small enough for this project…but I do have a $15 luggage scale I bought off Amazon four years ago.
To be very clear — this is NOT scientific.
My results should NOT be taken as absolute fact. I 100% guarantee that my results are NOT accurate.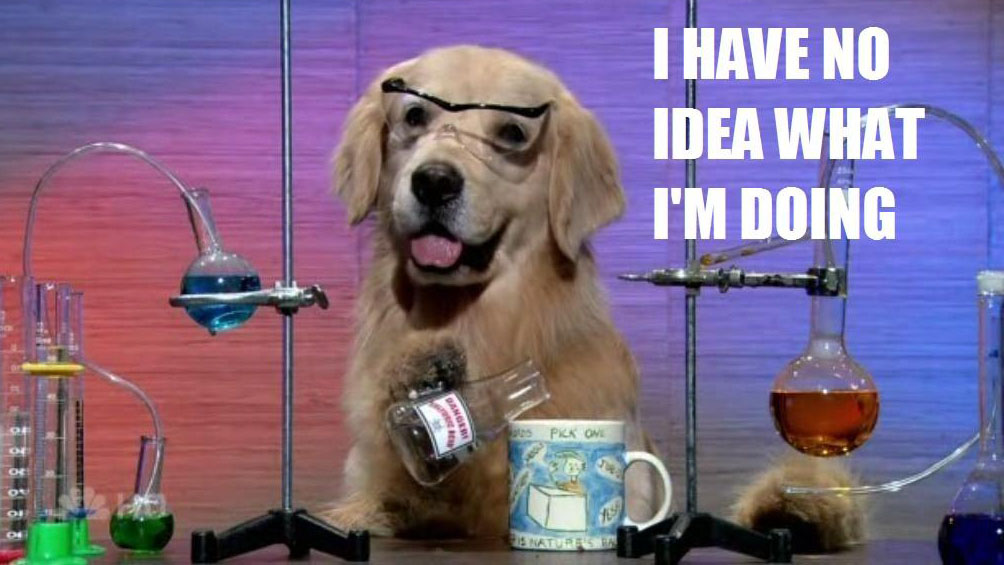 I could go on for an hour about stacking tolerances, imprecise measurements, variables that I didn't account for, my math skills, and the fact that my cheap luggage scale I bought for less than a Jersey Mike's sandwich cannot be fully trusted.
But hey, I did it anyway.
I really am just looking for close enough here. Just a ballpark check on the torque limiters to make sure nothing was crazy outside of expected specs.
I'm happy to say that everything passed, within reason of my horrible testing methods.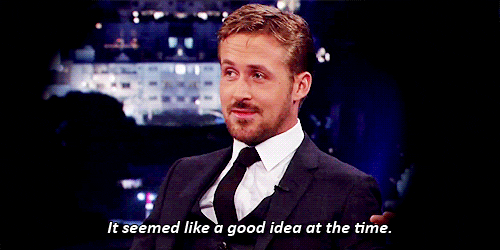 The 15 inch-pound torque bit registered 4.6 to 4.8-pounds on my crappy scale. Math math math, that's 15.64 to 16.32 inch-pounds of torque.
The 25 inch-pound torque bit comes in at 7.5 to 7.9-pounds. Math math math, that translates to 25.5 to 26.85 inch-pounds of torque.
Both came in a little high, but both came in a little high consistently.
My scale is fairly old and I've used it a lot. (Scales at the airport always registered a little lower than what my scale does at home.) So, I think it's pretty safe to assume that my scale reads high.
All of that taken into account — I think the Fix It Sticks are pretty on the money for calibration.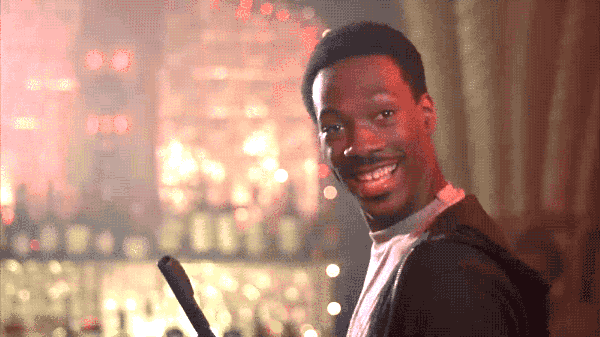 I can't say with absolute certainty that they are perfect or their exact variance, but I'm confident they are within a reasonable spec.
Who Are Fix It Sticks For?
I'll level with you, not everyone needs these. I would even go so far as to say that most shooters probably don't need a set.
This is definitely an upper-tier kind of item. But for people that do need something like these, Fix It Sticks are worth the money.
If you compete in any form or go shooting far from home or far from other people, a good set of tools proves an absolute necessity.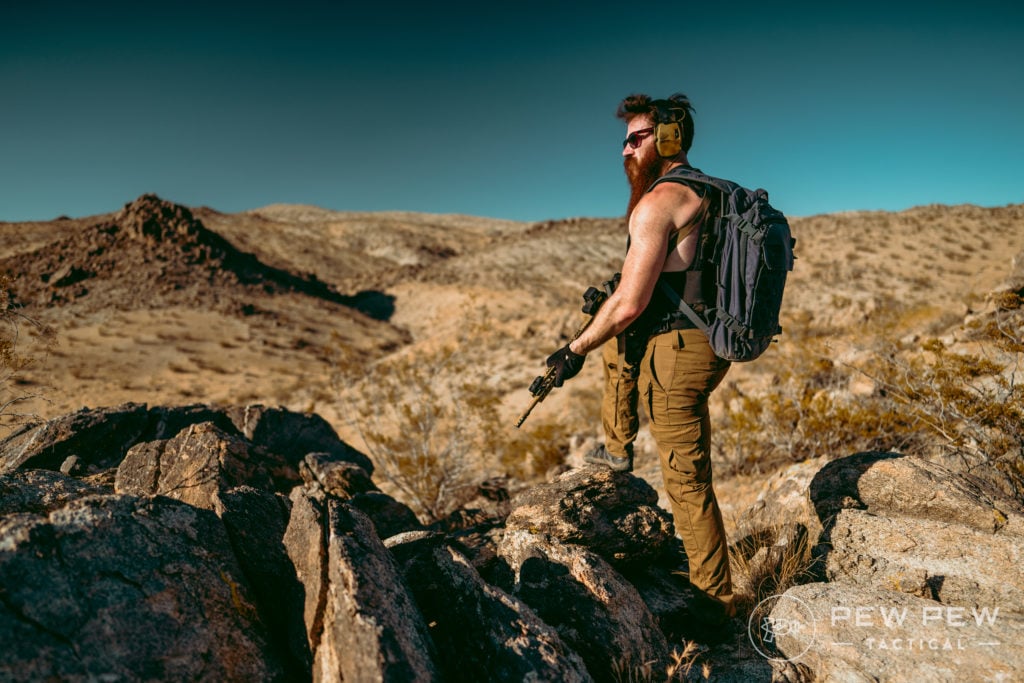 You can make do with cheaper tools, I did for a long time.
But the quality of Fix It Sticks stands out, making every issue, change, or adjustment that much easier, safer, and quicker to accomplish in the field.
My Fix It Stick Set Up
One of the things I really like about the bag this set came in is that it's larger than needed.
It has room for extras and to grow. It also has MOLLE on one side of the exterior and velcro on the other side.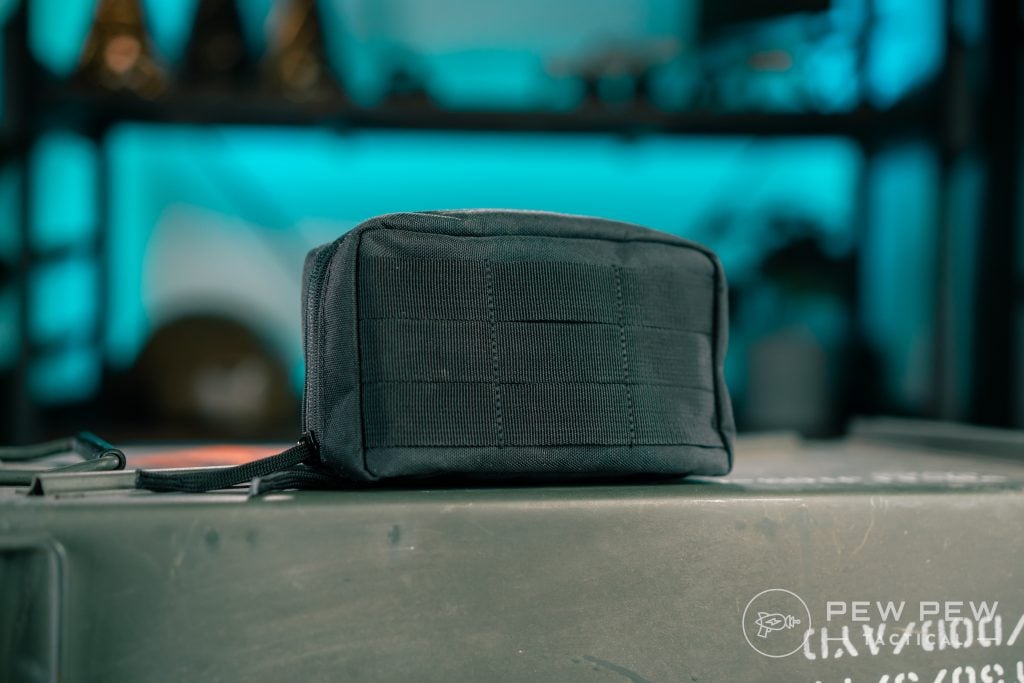 I'm sure I'll add more tools to this pack as I use it, but I started with three things — gun lube, a flashlight, and a universal socket.
I attached the lube with a super cheap pepper spray holster I found on Amazon. It fits perfectly!
My flashlight is an Olight i3T EOS 5/180 lumen light. It's small, handy, pretty cheap, and very bright for the size.
For looking in chambers, digging around in the truck, or anything else where I might want a little light on hand, I dig it.
20
at Amazon
Prices accurate at time of writing
Prices accurate at time of writing
Finally, the universal socket is more of a work thing than anything. When I'm out in the desert testing optics I often have to take a half dozen optics on or off rifles most of them using a different mount type each.
One universal socket is faster than switching sockets every optic.
It's also just generally handy and fits in the T-handle wrench.
Downsides?
Really the only thing negative I can think of is the price. I'm also not crazy about the warranty.
The price is what it is and it is high. You're getting innovative, high-quality tools, that feature lots of interesting extras and a huge amount of usefulness…but you're paying for every bit of it.
Second on my list is that the warranty is surprisingly light. A two year limited warranty on most of it and only one year for the torque limiter bits.
Insert bits don't come with a warranty at all, understandable since they are consumable.
It also, by name, excludes failures caused by corrosion, erosion, wear and tear, rust, or other foreign materials.
For the price of the tools — I expected a more robust policy. Snap-On makes you take out a second mortgage, but at least you get a lifetime warranty for as long as you own the tool.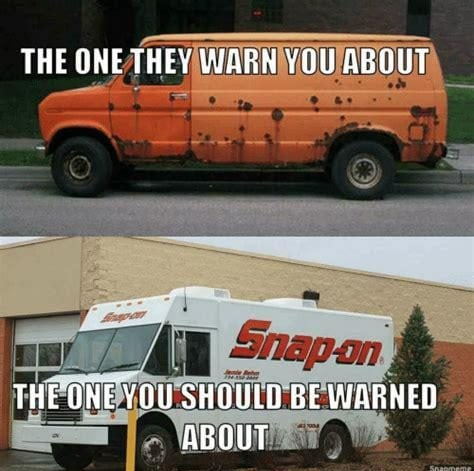 It is fair to note though that Snap-On's lifetime warranty doesn't apply to their torque wrenches — so Fix It's one year is actually better in that regard.
But the rest of the kit really should have more than two years of coverage.
Bonus Round
After getting the sticks, Fix It Sticks sent out their Scope Jack device for us to test. So, I did. It's pretty cool.
Most of you likely know this but getting your scope level on your rifle is critical for precision shooting. Canted to the left or right even a small amount can make you miss by inches and feet at long range.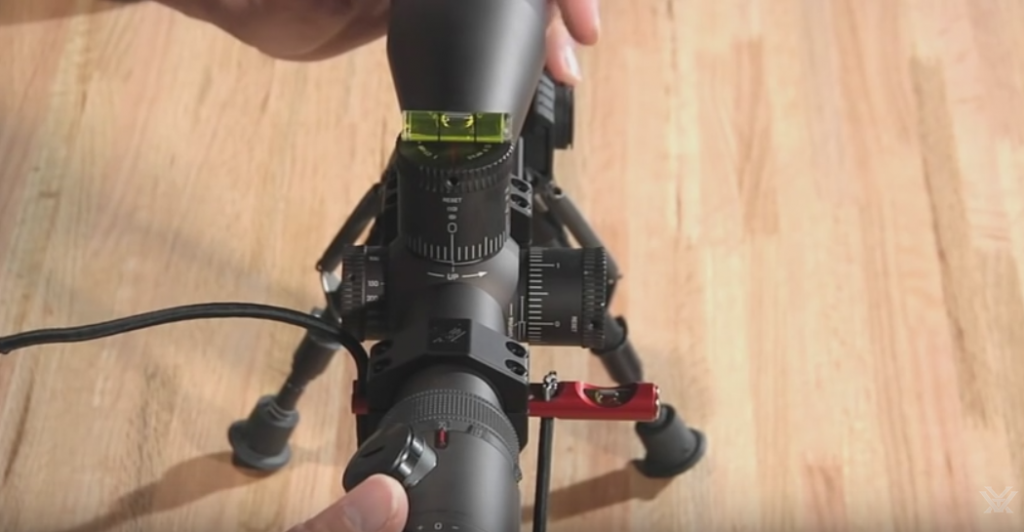 The Scope Jack is a simple extra that works surprisingly well.
There are a number of ways to level your reticle, the ones I've used most are with two levels or a plumb line. However, both of those methods are kind of annoying.
Fix It Stick's Scope Jack uses 1913 rail to mount to your rifle and the bottom of your scope to level off of.
Simply install it on the rail, line it up with your scope, turn the knob, and tighten down the scope rings.
Since the Jack is so small and lays hella flat when down, it's easy to get in and out of the underside of the scope.
I've been using this same concept to level scopes for a couple of months after getting the Arisaka Optic Leveler — but I have to say, the Scope Jack does it much easier and more securely.
While it's amazing for two ring setups, by nature of the design it doesn't work for one-piece mounts. Not an issue, just something to keep in mind when you look at your set up.
44
at Fix It Sticks
Prices accurate at time of writing
Prices accurate at time of writing
By The Numbers
Reliability: 5/5
Everything worked perfectly every time, in the shop and in the desert.
Ergonomics: 5/5
I really like the feel of the kit. Everything feels like a good tool, it's easy to use, and it's just nice. The minor issue of I wish the bit was slightly larger or slightly easier to get out of the T-Drive is minor enough to not lower the rating.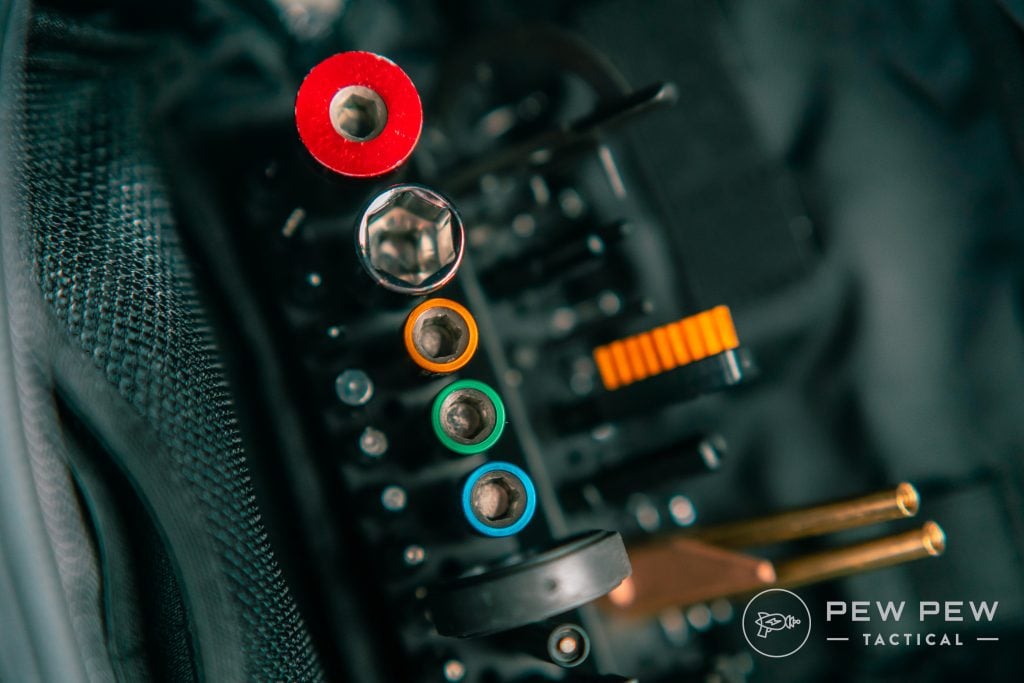 Everything else about the kit is just that good.
Customization: 5/5
A bag big enough to fit more gear in and the options from Fix ItSticks are pretty awesome.
Value: 3.5/5
While the kit is outstanding, the price is also on the upper edge of value. If this is a kit that you see yourself getting a lot of use out of, then it's totally worth it.
If you're a few times a year shooter or don't do a lot of your own maintenance, or you're fine with waiting to do maintenance until you're back home — a more basic set up at half the price might be more bang for your buck.
I would note though that other kits like this that are compact and high quality are about the same price, so the price isn't unreasonable.
Plus use PEWPEW10 for 10% off for a little savings!
280
at Fix It Sticks
Prices accurate at time of writing
Prices accurate at time of writing
Overall: 5/5
I've used my Fix It sticks every time I've gone out shooting since getting them. Out in the desert to train, out with our YouTube crew to film, out to shoot a NRL22 match — every time single time I've had a need or use for the Fix It Sticks.
They've saved several trips so far and that's worth a LOT to me.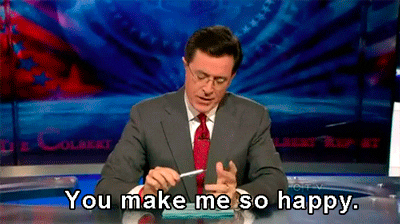 Conclusion
I 100% recommend the Fix It Sticks. While I don't think they are tools that everyone requires and no one can live without, they are absolutely worth every penny if you are in the niche that needs this kind of kit.
And one more time…we've secured a 10% off coupon for you with code PEWPEW10.
If you're a competitive shooter of any kind or want a kit to take with you into the field where you'll have to rely on yourself, this is the kit I would pick.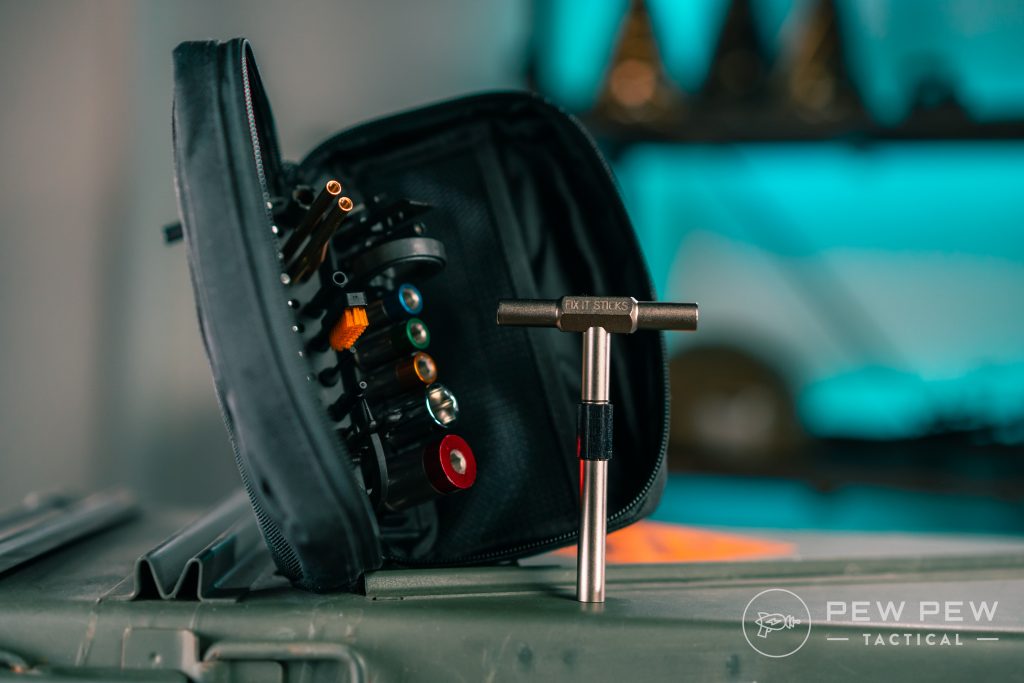 The several times we've needed tools while out in the desert filming, our Fix It sets were what we turned to. They did an outstanding job.
What would you add to your Fix It Sticks bag? What are the go-to tools you can't do without? Let us know in the comments! For some in-the-shop options, take a look at the Essential Gunsmithing Tools!