Last Updated: September 17, 2017
Disclaimer:  While the information provided here is legal in nature, it is not to be construed as legal advice, and is for educational and entertainment purposes only.  
With gun laws varying from state to state, it makes sense the rules on concealed carry for each state would also be a little different everywhere.
With all the hurdles Rhode Island puts in the way of residents trying to buy handguns, the state decided to put up even more roadblocks for those who want to be able to carry their handguns concealed.
Fortunately, our guide has everything you need to know to get a permit and carry your handgun responsibly!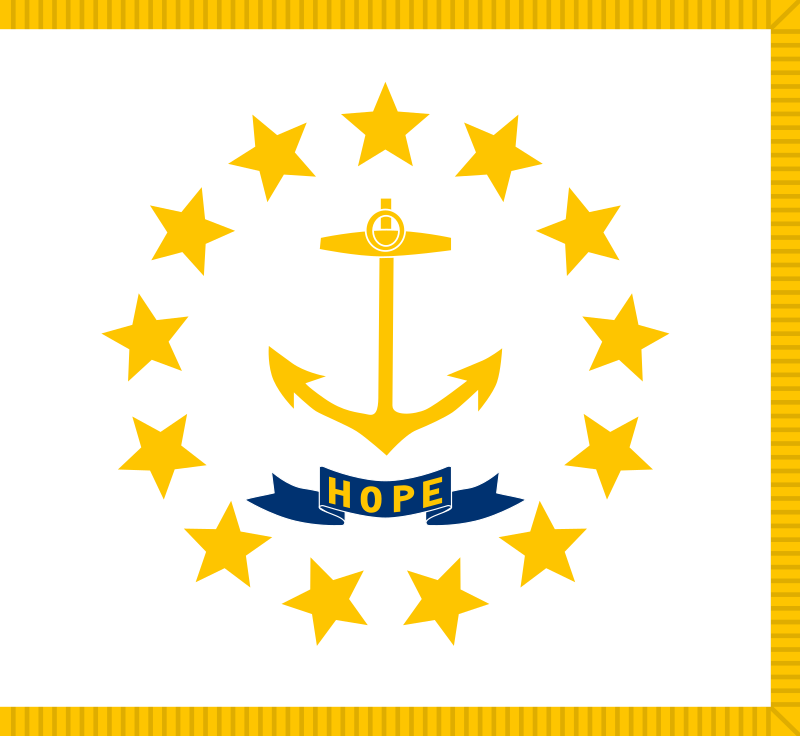 Which Type of CCW Permit?
For those of you who have already looked over our general Rhode Island gun laws section, you'll know that a CCW permit, or Pistol Permit, in Rhode Island is required in order to both open carry and concealed carry.  Additionally, there are actually two types of Pistol Permits, with one being issued by the state Attorney General, and the other by your local sheriff's office.
A permit issued by the Attorney General is more difficult to get, because the Attorney General may issue a permit, based on their discretion.  However, the law requires that local authorities in Rhode Island shall issue permits as long as applicants meet all the requirements.  This means that a permit from the Attorney General is not always guaranteed, but one from the sheriff is.
However, local authorities in the state have been known to try and refer Pistol Permit applicants to the Attorney General's Office, since many of the sheriffs are reluctant to issue permits and they know they must, if the applicant meets all the requirements.  Don't let them trick you!  If you meet the requirements, you are entitled to a Pistol Permit to defend your freedoms!
For Those Out of State… 
Rhode Island does allow non-residents to apply for permits.  However, it will likely be referred to the Attorney General's Office, which is known for denying Pistol Permit applications.  The best options for non-resident CCW permits is a combination of an Arizona, Florida, and Utah CCW permit.  Take a look at our CCW sections on those states to get you started.
What Is Actually Required for an LTC?
To get a permit, you can apply with the chief of police of your town or county.  There are some basic qualifications, though they shouldn't be too difficult to meet.
CCW "Lite"
The Pistol Permit you can get from your local law enforcement authorities is guaranteed to be issued as long as you meet the requirements.  The downside is that even with the permit, you won't be able to open carry a handgun.  
To qualify for a Pistol Permit, you must:
Be 21 or older;

Be a resident of the town or county where you are apply, or have a residence in the US and a CCW permit from another state;

Have a good reason to fear injury to yourself or property,

or

have any other proper reason for carrying a handgun; and

Be allowed to own a handgun.
Beyond those basic requirements, you must also qualify on a certified range by completing a series of target shots.  You can go to any certified range, and as long as they are certified to perform the test (look for NRA-certified instructors), you will just need to demonstrate proficiency with your handgun.
The test itself is pretty simple, though it wouldn't hurt to practice at the range on a regular basis, beyond just preparing for the test.  You will need to qualify with your handgun, or any pistol with a caliber equal to or larger than the one you plan on carrying once you get your Pistol Permit.
To pass the test, you must get a score of 195 or better, out of 300, within 30 consecutive rounds shooting at 25 yards on an Army "L" target, firing "slow" fire.  "Slow" fire means you can have 10 minutes to shoot each of the 3 sets of 10 shot strings.  In other words, you shoot 10 shots, 3 times, and need to score at least 195 from those 30 shots total.  Make sure to practice!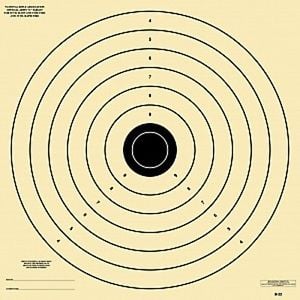 Do You REALLY Need a Pistol Permit?
The Pistol Permit issued by the Rhode Island Attorney General has the added benefit over permits issued by local state authorities of allowing for open carry of handguns.  However, it is much harder to get a Pistol Permit issued by the Attorney General.
To qualify for an Pistol Permit issued by the Attorney General, you must meet all the requirements of a standard permit.  In addition, you need to have a proper showing of need.  This is where they find ways to deny your permit application.  Because the Attorney General may issue a permit, if they do not feel you really have a need for one, they can just deny the application.
While there are no set guidelines for whether someone has provided a proper showing of need for a Pistol Permit, the Attorney General's Office tends to see if:
The applicant has demonstrated a specific risk to life, limb, or property, and how a Pistol Permit will decrease that risk;

The applicant can take reasonable measures other than carrying a loaded gun, to decrease the danger to life, limb, or property;

There are other means of protection available to the applicant other than having a loaded gun that will reduce the risk to himself or his property;

The applicant has presented a plan to secure the firearm to keep it from authorized access; or

The possession of a loaded firearm by the applicant will greatly increase the risk of harm to the applicant or the public.
As you can see, there are many ways for the Attorney General to come up with an excuse to deny a Pistol Permit application, under a may issue standard of consideration.  If you truly do have a need for a permit and believe the Attorney General will grant one, then definitely go for it.  If not, you may be better off applying with your local sheriff's office.
The Waiting Game
There is technically no required time limit by which the local authorities or even the Attorney General must reply to your application, though typically it takes about 90 days for you to get a response back.
If you applied with your local police chief, it is always a good idea to check with them if you haven't heard back by 90 days, and make sure you get everything in writing so you have a record of it all.  Keep in mind, the local authorities shall issue a permit as long as you meet the requirements, so don't give up!  
If you applied with the Attorney General, your chances of getting a Pistol Permit are very slim.  If you do manage to get one, congratulations!  If you don't, well, join the club.    
Rejection
It's never a good feeling to be rejected, whether it's by someone you like, or just some jerk at the sheriff's or Attorney General's office.  The good thing is, if it's the sheriff's office that denied your Pistol Permit application, you can write in and ask why you were denied, and fix the issue to get your permit.  
If you are denied by the Attorney General's Office, you should also try to write in and ask why your application was rejected.  The problem is that since the Attorney General may issue a permit, they will likely just say you did not have a convincing need for a Pistol Permit.    
If you're looking for love advice on why that pretty girl rejected you, there's a different site for that.  On the bright side, if you followed all the instructions here and met all the requirements, you should have a shiny new Pistol Permit to keep you company on those cold and lonely nights.  Just remember to renew your permit every 4 years and it'll never leave you.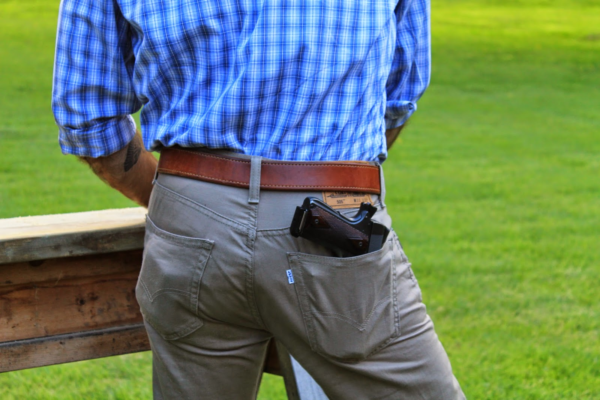 Have Gun, Will Carry
Once you've got your Pistol Permit, you can carry your concealed handgun almost everywhere you go!  There are a few exceptions though.
Even with a permit, you cannot bring your handgun to:
Federal courthouses;

Federal buildings;

Any building owned, leased, or rented by the federal government, including buildings in National Forests;

Federal prisons; or

Places that have signs prohibiting the carrying of firearms on their property.
It's generally a good idea to not try and bring your gun into a place where there are metal detectors, so prisons, jails, courthouses, airports, etc. are all places you may want to avoid, or leave your gun in the car waiting for you in its gun safe while you go run your errands.
Reciprocity
One of the main reasons to get a Pistol Permit is to be able to carry a concealed handgun not just while driving around town, but also when you are visiting other states!  A good number of states in the US recognize a Rhode Island Pistol Permit.
A Rhode Island Pistol Permit is recognized by:
Alabama

Alaska

Arkansas

Arizona

Idaho
Indiana

Iowa

Kansas

Kentucky

Michigan

Minnesota

Mississippi

Missouri

Nebraska

North Carolina

Ohio

Oklahoma

South Dakota

Tennessee

Utah

Vermont

Virginia
Texas also recognizes Rhode Island Pistol Permits, but only the ones issued by the Attorney General's Office.  All the other states are satisfied with just the ones issued by your local sheriff or chief of police.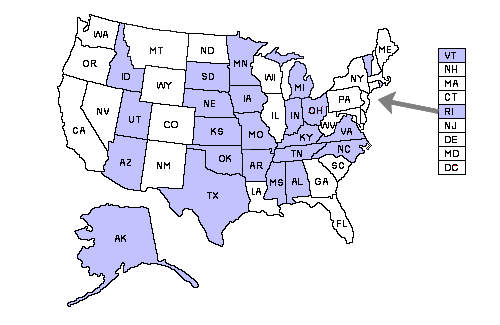 Just Visiting 
For those of you from out of state who have your own CCW permits already, Rhode Island does not recognize CCW permits from any other states. 
Carry On!
That's it!  All you need to know about the Rhode Island Pistol Permit!  Take a look at our recommendations for holsters if you're looking to put that new license to good use, and don't forget about CCW insurance, too!
And if you're a little rusty on the rules for buying and owning guns in Rhode Island, be sure to check out our Rhode Island gun laws section to refresh your memory if you haven't checked it out yet!