Last Updated: May 19, 2017
Disclaimer:  While the information provided here is legal in nature, it is not to be construed as legal advice, and is for educational and entertainment purposes only.
States across the country all have their own laws on carrying a handgun, and when it comes to carrying concealed, things are even more confusing.  
Fortunately, in a free state like Arizona, the rules on carrying concealed are relatively simple.  
This guide will go over how to get your CCW permit from Arizona, and what to watch out for once you've got it.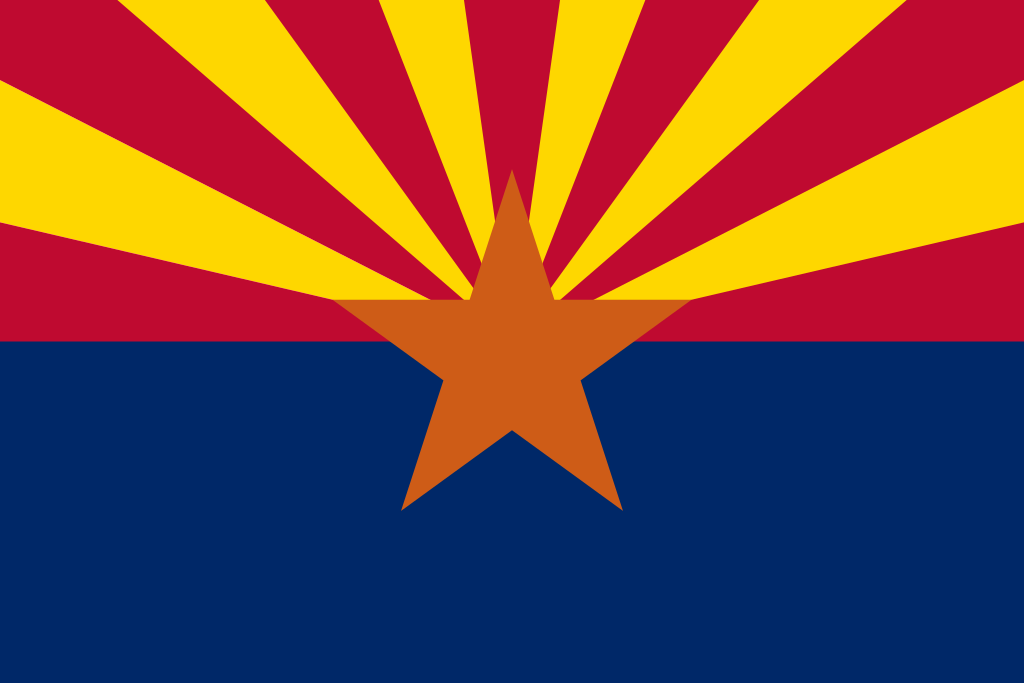 Congratulations!
For what?  For living in Arizona!  As a resident of one of the more gun-friendly states in the country, not only is buying and owning firearms hassle-free, but so is defending your freedom!
No permit is required to carry a handgun concealed in Arizona
.  
If you are ever pulled over, or have some other type of interaction with a law enforcement officer, however, you must comply with their requests when they ask if you are carrying concealed.  Use common sense.
Why even get a permit then?
Even though you don't need a CCW permit to carry concealed in Arizona, it is still a good idea to get one for those times when you travel out of the state, as Arizona's CCW permit is recognized by many states throughout the US.
Arizona is a shall-issue state, which means as long as you meet the requirements for the CCW permit, you will be issued one.  Sheriff cannot arbitrarily decide who they want to issue a permit to.
So how do you qualify? 
To get a CCW permit from Arizona, you must:
Be a resident of Arizona

or

a US citizen;

Be 21 or older;

Not be under indictment for a felony offense;

Not be convicted of a felony offense (

unless

the conviction has been expunged, set aside, or pardoned, or your right to own firearms has been restored);

Not suffer from mental illness or have been adjudicated mentally incompetent, or committed to a mental institution;

Be in the United States legally; and

Complete a firearms safety training program.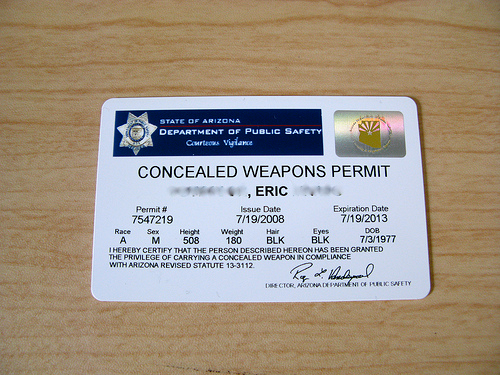 There are a few ways to complete the firearms safety training program:
Complete a firearms safety or training course that is approved by the Arizona Department of Public Safety or uses NRA certified instructors;

Complete a hunter education or hunter safety course approved by the the Game and Fish Department of any state;

Complete an NRA firearms safety or training course;

Complete any law enforcement firearms safety or training course that is offered for security guards, investigators, special deputies, or other divisions of law enforcement or security enforcement that is approved by the Arizona Department of Public Safety;

Provide evidence of current military service or proof of honorable discharge from the US Armed Forces;

Provide a valid (current or expired) CCW permit issued by another state that has a training or testing requirement for obtaining the permit;

Complete any governmental police agency firearms training course and qualification to carry a firearm while on duty.
With so many ways to complete the training, as long as you have had some type of training, you will probably qualify.
After paying the fee and submitting the application, you'll need to wait up to 75 days, and then you'll have a shiny new CCW permit to carry with you everywhere you go!  Don't forget to renew your permit though, as it is only good for 5 years at a time.
And in case you missed it…
As long as you are a US citizen in any state and meet the other requirements, you can get an Arizona CCW permit!  Even those of you born abroad can qualify, as long as you provide proof of US citizenship.
If you're under 21…
You can still qualify if you meet all the other requirements, and are 19 or older, by providing proof of current military service or honorable discharge from the US Armed Forces, US Armed Forces Reserve, or State National Guard.  Thanks for your service!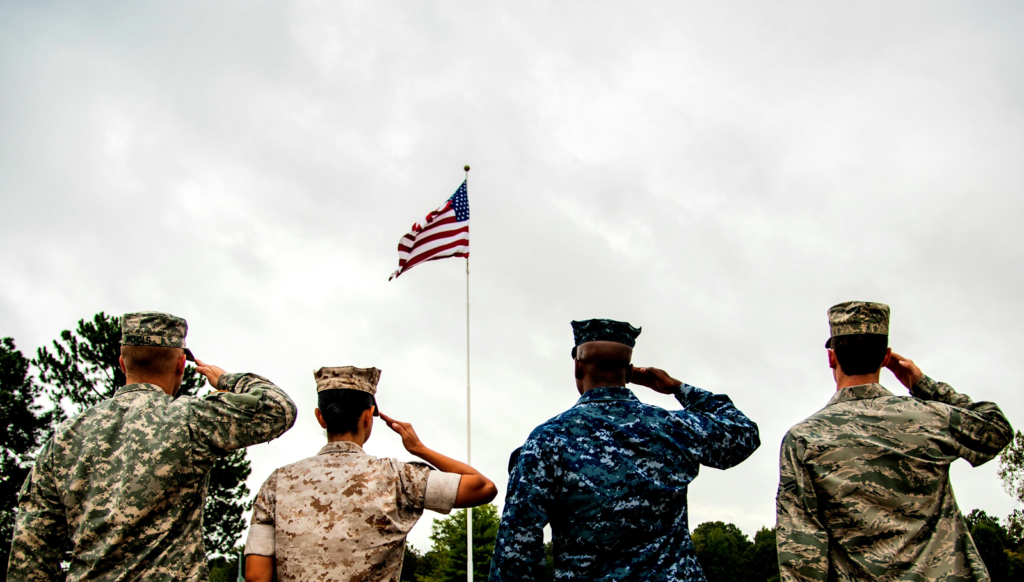 Here's the catch
Even with the right to carry concealed, there are still some places in Arizona where you cannot bring your concealed handgun.
Generally, any state or federal buildings like courthouses, jails, etc. are probably not great places to try and sneak in your gun.  And of course, if a business has a sign that prohibits firearms on the premises, you'll need to respect their rights and not bring your gun into the store.  Or just go to a gun-friendly store.
Reciprocity 
Getting an Arizona CCW permit isn't all that exciting (unless you're from out of state; then it's awesome!) but the fact other states also recognize an Arizona permit makes getting one that much better.  
Most states recognize your Arizona CCW permit when you are visiting their state.  The states that do not recognize an Arizona CCW permit are:
California;

Connecticut;

Hawaii;

Illinois;

Maryland;

Massachusetts;

Minnesota;

New Jersey;

New York;

Oregon;

Rhode Island;

Vermont;

Washington;

Washington D.C.
But on the bright side, you've still got 36 other states to visit, so not really a big loss.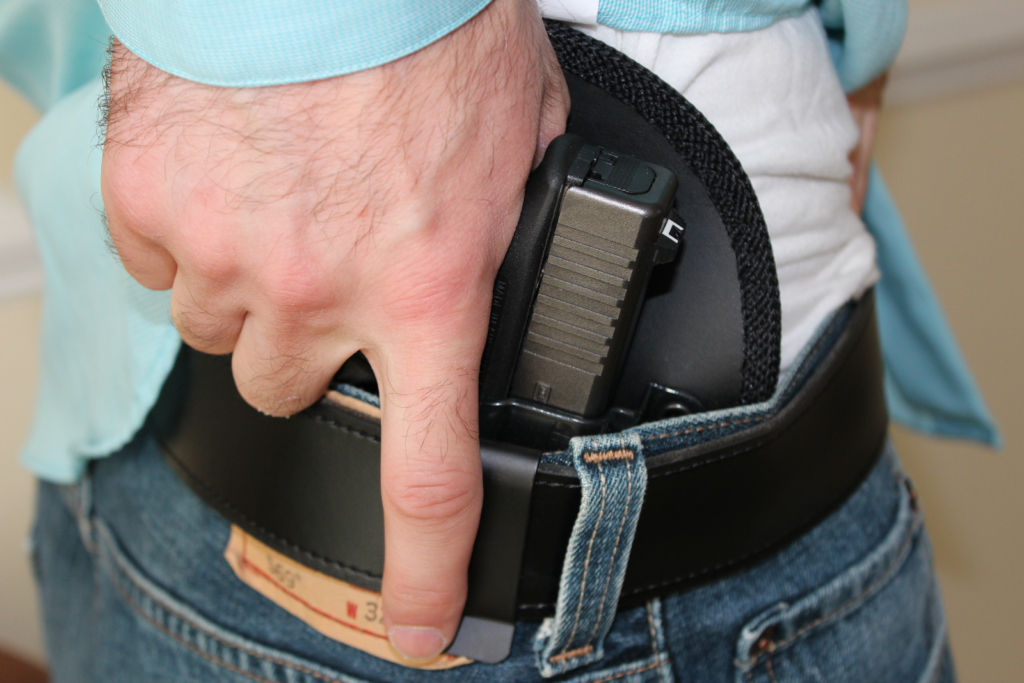 Arizona recognizes CCW permits from all other states, as long as you are in Arizona legally and not prohibited from owning a firearm under Arizona law.
Carry on!
That's it!  All you need to know about getting a CCW permit from Arizona!  Take a look at our recommendations for concealed holsters if you're looking to put that new CCW permit to good use, and don't forget about CCW insurance, too!
And for those of you wondering if you're prohibited from owning a firearm in Arizona, be sure to check out our general Arizona gun laws section and brush up on your knowledge!