Gone are the days when women had to sit home, fold laundry, and make sandwiches while the menfolk got to do all the fun and exciting stuff.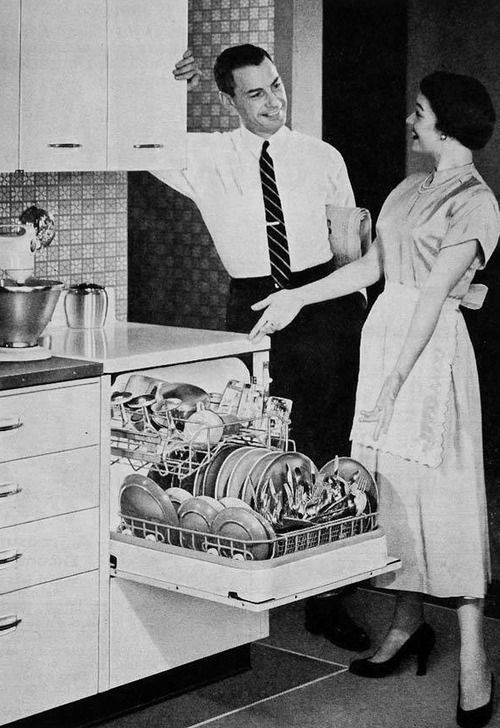 While modern women get to do all the cool tactical stuff our brothers and boyfriends get to do, sometimes our wardrobes aren't up to the task.
Have you ever tried to run tactical drills in fashionable ladies' jeans? Not fun.
Too often we've had to choose between attractive and functional, but not anymore.
Ladies can totally rock a pair of tactical pants.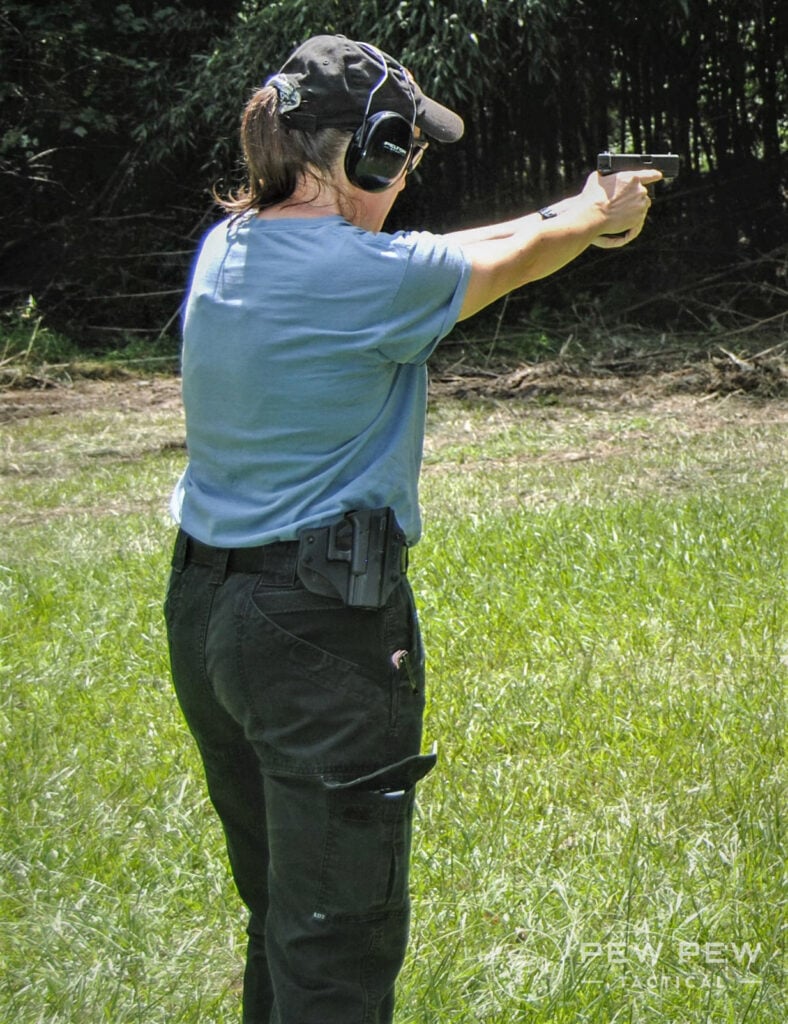 Want to know what tac pants you should add to your wardrobe? Read on to find out.
Table of Contents
Loading...
What are Tactical Pants?
Tactical pants (sometimes shortened to "tac pants") are usually similar to classic cargo pants. Like cargo pants, tac pants typically have more than their fair share of pockets. In fact, many have pockets within glorious pockets, all perfect for stowing your EDC gear.
However, tac pants aren't all about the pockets. They usually have a cocktail of technical modifications (like reinforced knees, double stitching, ripstop fabric, and stain repellent) that will help them outlast any normal, everyday pants you may have hanging in your closet.
These design elements make tactical pants perfectly suited for… you guessed it… tactical professions.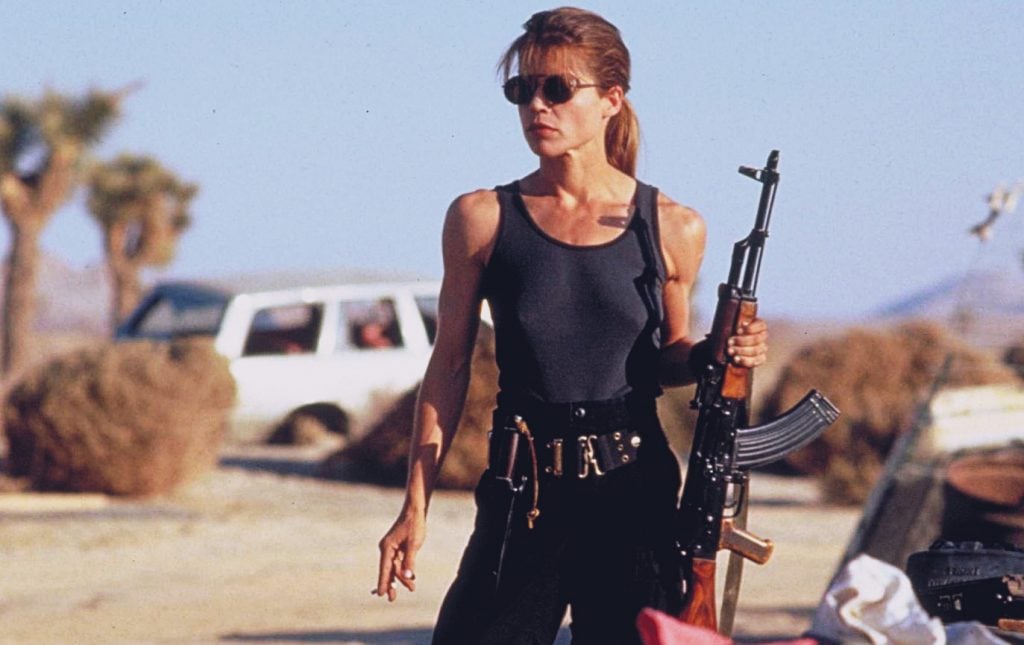 FBI, police officers, SWAT teams, and military personnel all regularly don some version of the hallowed tac pant. Their tough design and plethora of pockets also make them a prime choice for EMTs, paramedics, and other first responders.
However, you'll also find an abundance of tac pants at your local gun range. That's because, these tough, versatile breaches aren't just insanely practical… they're also tactiCOOL.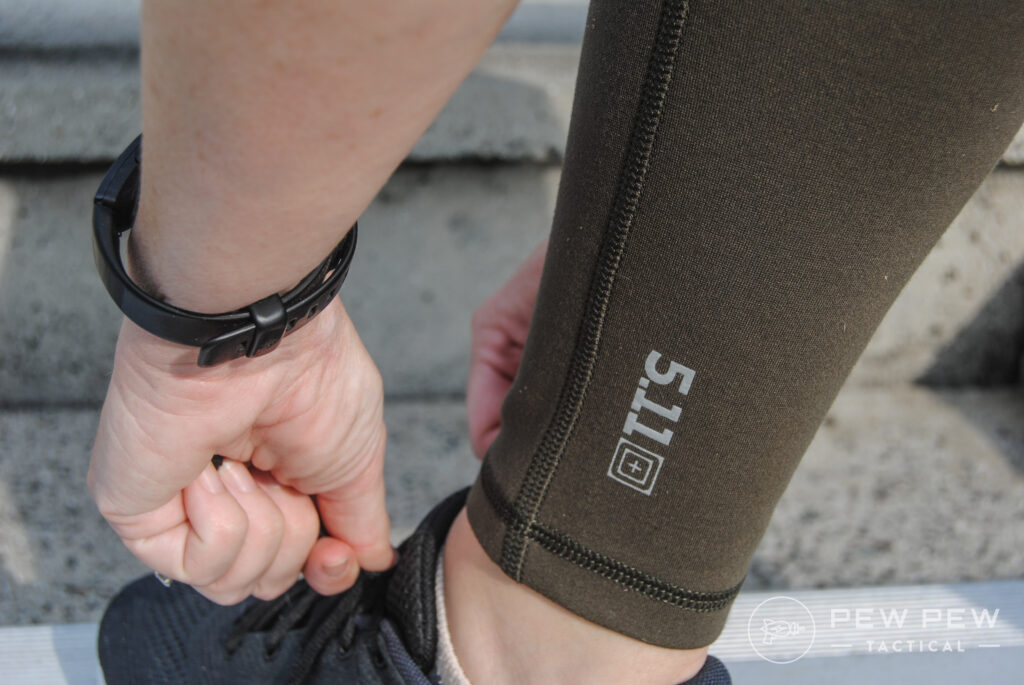 Why Women Need Their Own Tactical Pants
Tac pants aren't just for men. Since women have ventured out from behind our vacuum cleaners and kitchen sinks to bust through gender stereotypes, more of us are taking up tactical careers than ever before. You'll also find a bunch of us at the gun range or forging our own outdoor adventure.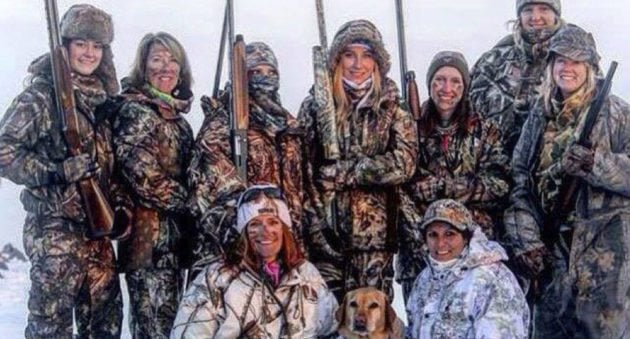 In years past, women who needed a good, strong pair of tac pants had to do their shopping in the men's department, which kind of sucks. I don't know if you've noticed, but women are built very differently than men. Most of us have hips, and we tend to curve in places that the average man just doesn't curve. Boxy men's tac pants simply don't fit right.
Thankfully, there are companies that have filled the gap for their more feminine clientele. Several popular tactical gear companies feature their own women's line.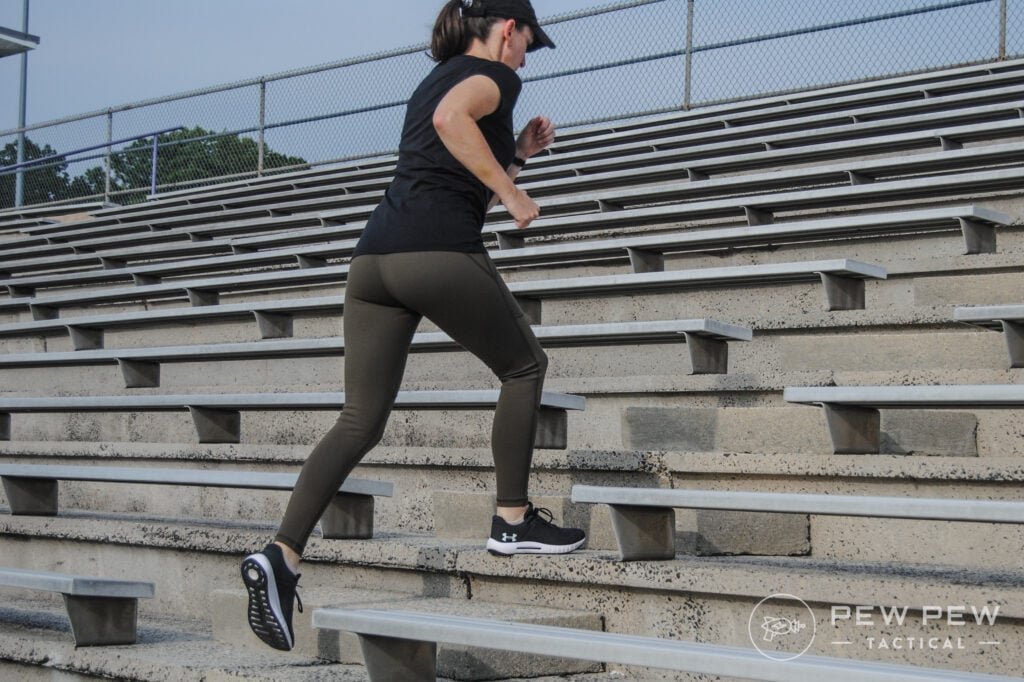 That means we ladies can now round out our wardrobes with tac pants that actually fit us in pretty much every color of the rainbow. In many ways, we actually have better options than our male friends, because women's gear often goes beyond the traditional cargo-style trouser. Some versions don't even look like tac pants at all, allowing us to be super stylish while keeping our active, tactical lifestyle undercover.
Best Women's Tactical Pants
5.11 Tactical
5.11 tac pants are some of the best on the market. I admit to being a bit of a 5.11 fangirl, but unlike the boy bands of my youth, 5.11 has actually earned my undying devotion.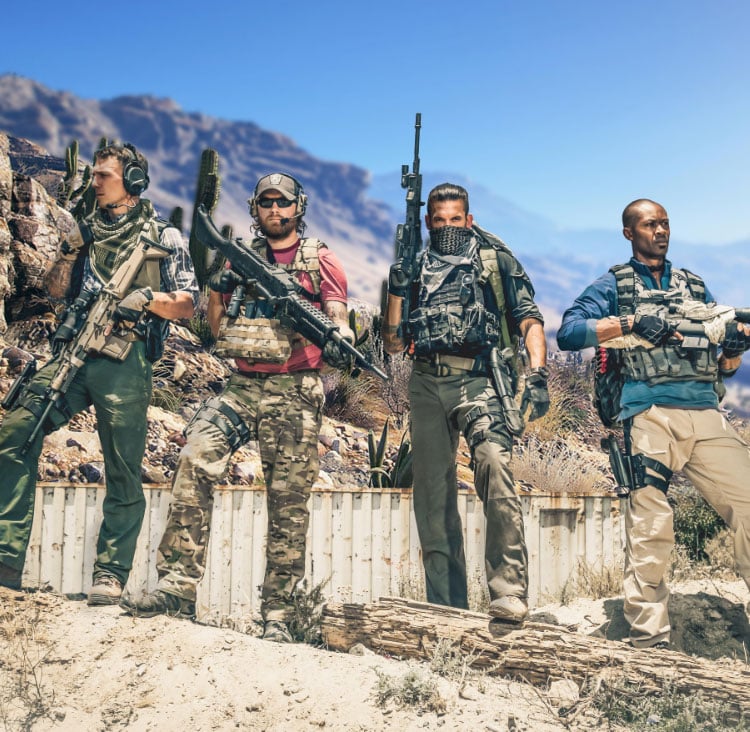 5.11 understands that tactical features are also useful in daily life. They also understand not everyone wants to hit up Starbucks looking like they just jumped from the back of a SWAT vehicle. Much of their gear, including a bunch of their women's tac pants, are highly functional, but so low-profile the girls at book club won't suspect you're packing.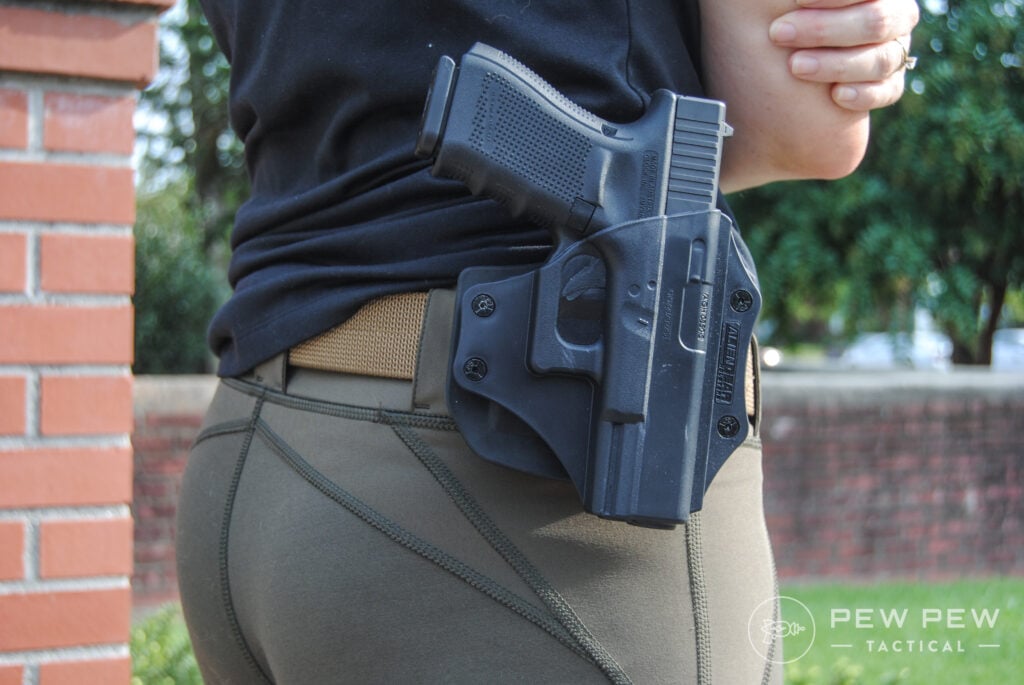 1. 5.11 Women's Stryke Pants
Some tactical clothing companies sissify their women's line, but not 5.11. Their women's Stryke pants have all the same hardcore tactical features as the men's Stryke, including articulated knees (this helps keep the pants from bunching up behind the knee when you squat), roomy gusseted construction (which translates to a super roomy crotch area), and high-quality zippers and snaps.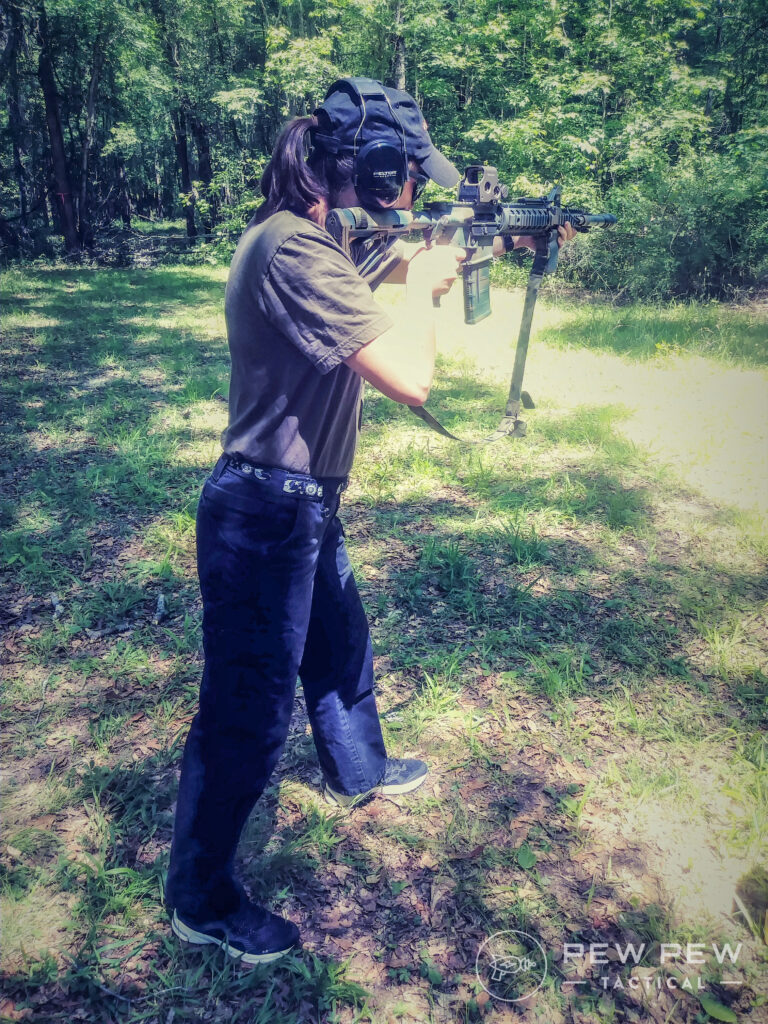 And just like the men's Stryke, the feminine version has 12 gloriously roomy pockets for you to stow whatever your heart desires.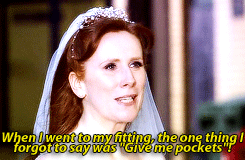 Built for rough use and outdoor abuse, 5.11 Stryke Pants are made from Flex-Tac ripstop fabric with a Teflon finish that resists water, mud, blood, Italian dressing, your favorite cold brew, and pretty much anything you could possibly spill on your pants.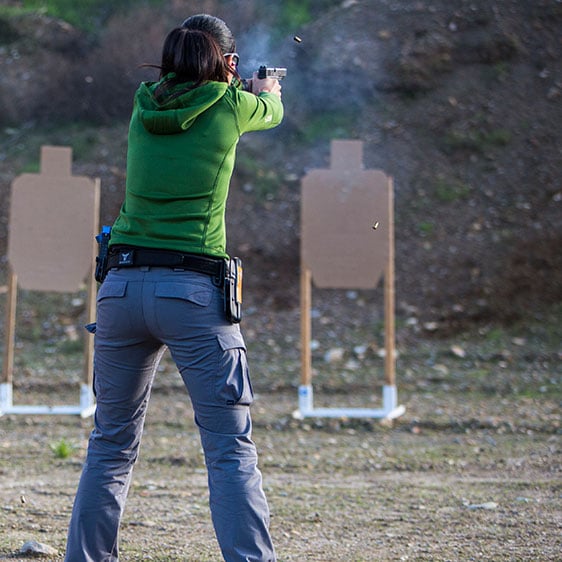 These are my go-to range pants, and they do not disappoint. They have an awesome fit that is perfectly comfortable for running and gunning.
A word to the wise, these run a little short in the leg and slim in the waist. Most ladies will need to size up from what they think they need to wear.
What I love:
So. Many. Pockets.
Super durable Flex-Tac ripstop fabric.
Teflon finish. (It's not just for pots and pans)
Articulated knees.
Plenty comfy.
What I don't:
Legs are cut a little short for women of average height. (If you're a shorty, you'll be fine.)
75
at 5.11 Tactical
Prices accurate at time of writing
Prices accurate at time of writing
What's your take on the 5.11s?
2. 5.11 Natasha Tight
Women seriously love their leggings, and for good reason. Leggings may be the most comfortable clothing ever invented.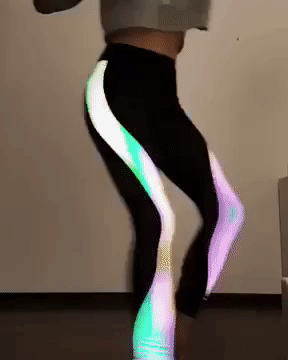 Why do we spend so much time in leggings? We're trying to make up for the painfully uncomfortable corsets and hoop skirts our great grandmothers were forced to wear. Also, they make out butts look good.
I am eternally grateful to 5.11 for developing their Natasha Tights, which are really just super cool tactical leggings. In fact, they look just like leggings normal girls would wear to the gym. If you want to keep your tactical lifestyle covert, these are the perfect pants for the job.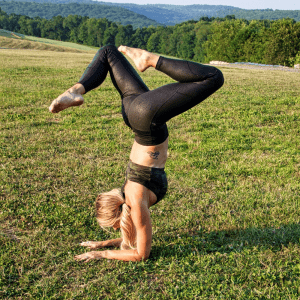 Just like your favorite pair of yoga pants, these leggings offer a maximum range of movement, whether you're perfecting your downward dog or pinging steel on a 3 Gun course.
Built for hard-core PT, Natasha Tights are made from stretchy, breathable fabric that wicks sweat away from your skin during a tough workout.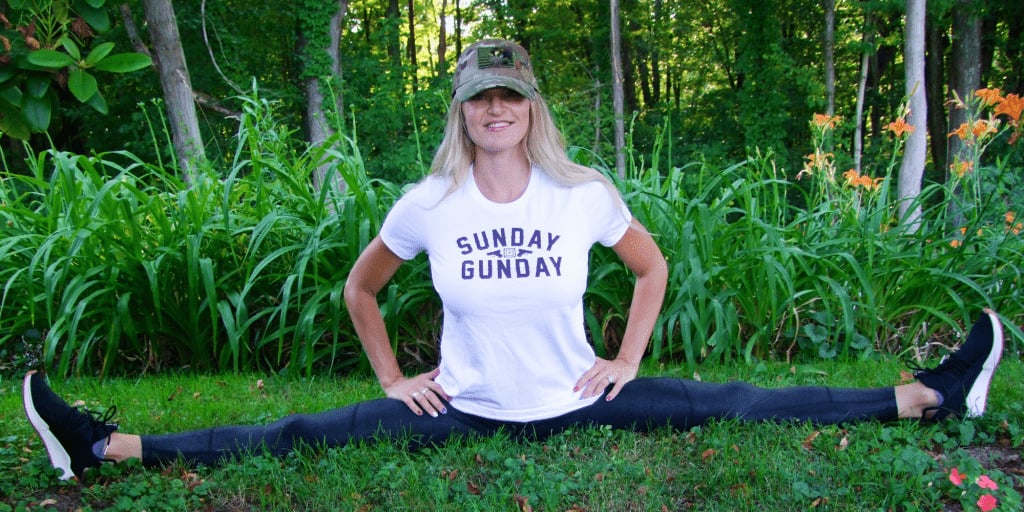 Unlike your typical yoga pants, Natasha Tights have reinforced everything.
The only thing missing from these tactical pants is the stereotypical plethora of pockets. While the Natasha Tight improves on previous 5.11 yoga pants offerings with a hidden waistband pocket and two zippered pockets on the thighs, you'll still have to make some decisions about just what you're carrying.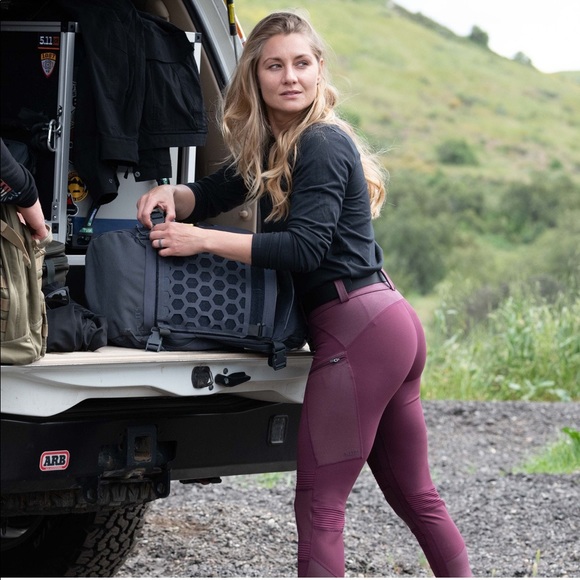 (Ed. Note from Allison: Also, gun gods help you if you put a magazine in one of those pockets and you need to get it out in the middle of a match for a reload while the timer is ticking away. ASK ME HOW I KNOW.)
50
at 5.11 Tactical
Prices accurate at time of writing
Prices accurate at time of writing
What I Love:
Look just like "normal" leggings.
Breathable, moisture-wicking fabric.
Abrasion panels.
Sturdy belt loops.
Super comfy.
What I don't:
A serious lack of pockets. We need more pockets!
Propper
Propper is the other big brand name in tactical clothing. Female first responders have been counting on Propper for decades, and their women's line is designed specifically to fit feminine bodies.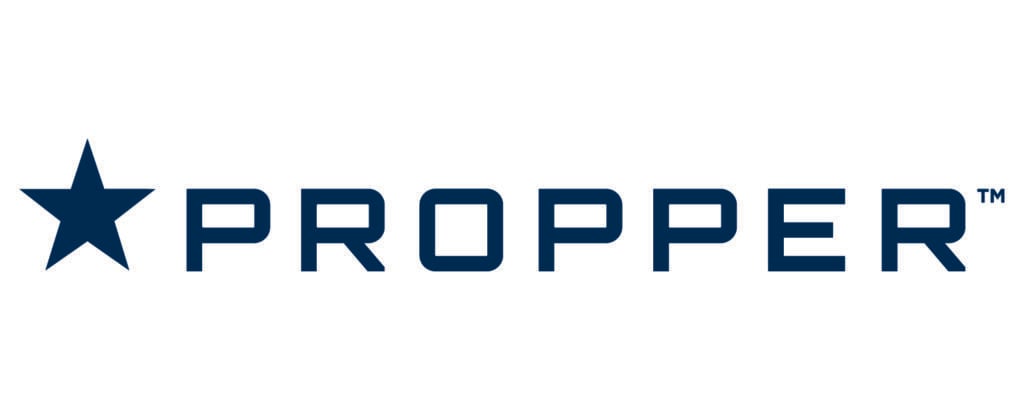 3. Propper Women's Canvas Tactical Pant
These are Propper's best-selling women's tac pants. They are also the most affordable. While the price could play a role in their popularity, I think the quality probably has more to do with it.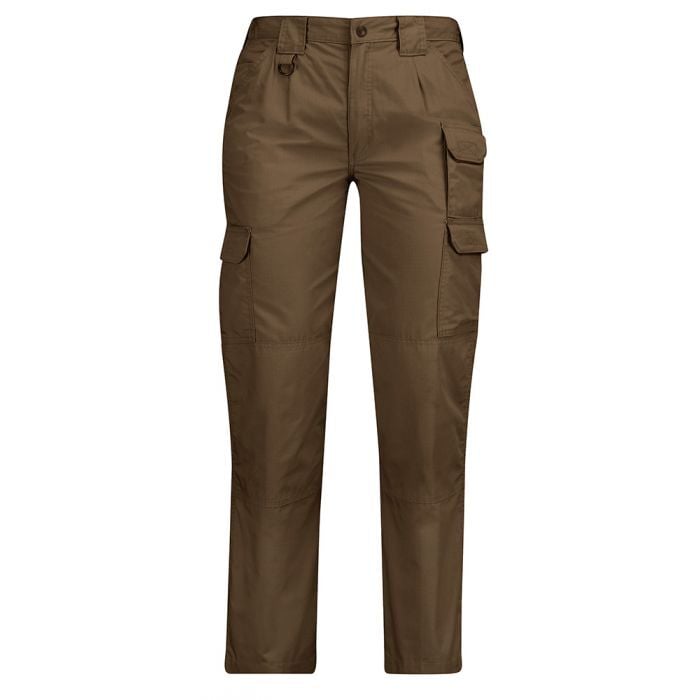 Heavy-duty tac pants can be a major turn-off for those ladies used to thinner, more feminine fabrics. While no one has ever claimed that canvas is a "feminine fabric", these lightweight tac pants are a welcome change from the thick, severe cloth most tac pants are made from.
But don't think for a second these pants are built for gentler pursuits. They have a Teflon coating to repel tough stains, internal knee openings for pads, and a reinforced seat.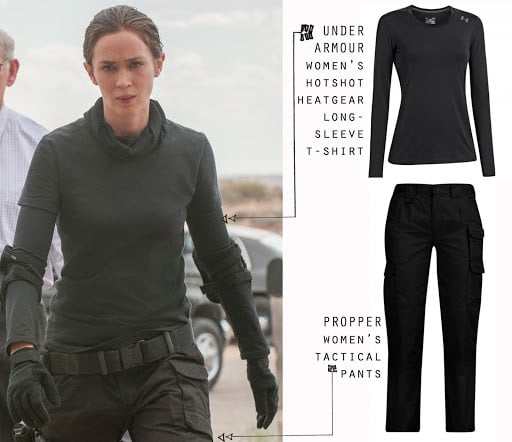 They also have plenty of pockets (nine in total).
Unlike 5.11 tac pants that tend to run a little small, Propper pants are the opposite. They tend to be a little roomy in the waist and hip area and the legs tend to run a little long. You may need to hem them, although you can always order them unhemmed and sew them up to the perfect length. You'll just need to pull out the old sewing machine or find a good seamstress to help you out.
50
at Amazon
Prices accurate at time of writing
Prices accurate at time of writing
What I love:
The affordable price tag feels like I got them on sale.
Pockets aplenty.
Lightweight (yet really tough) fabric.
Stain-resistant.
What I don't:
Pants run a little long and may need to be altered.
4. Propper Women's Kinetic Pant
These are currently my favorite Propper tac pants (and there are plenty to choose from).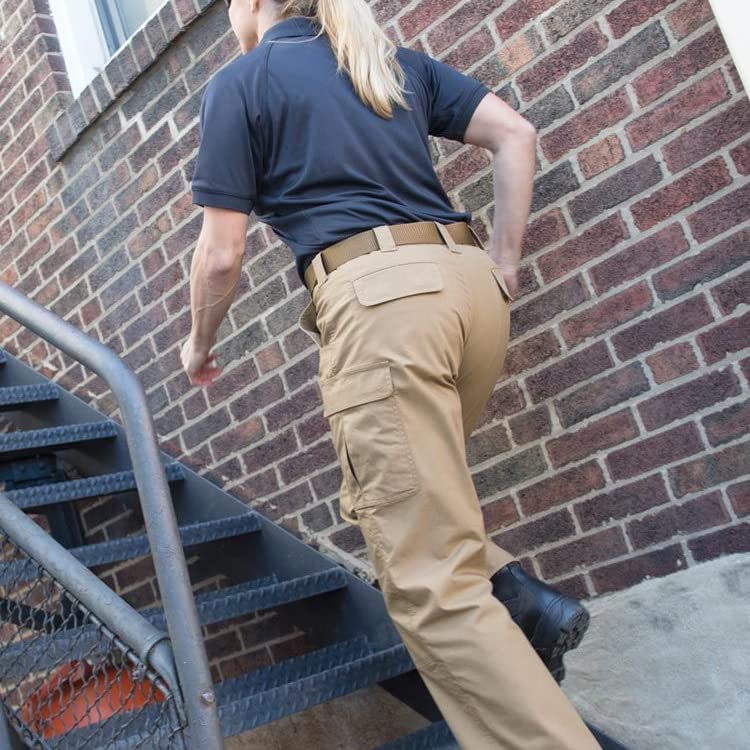 Made to be tough, Propper Kinetic Pants feature ripstop fabric with Teflon for stain protection. What really sets these apart is the stretch fabric. This stuff really moves with the body.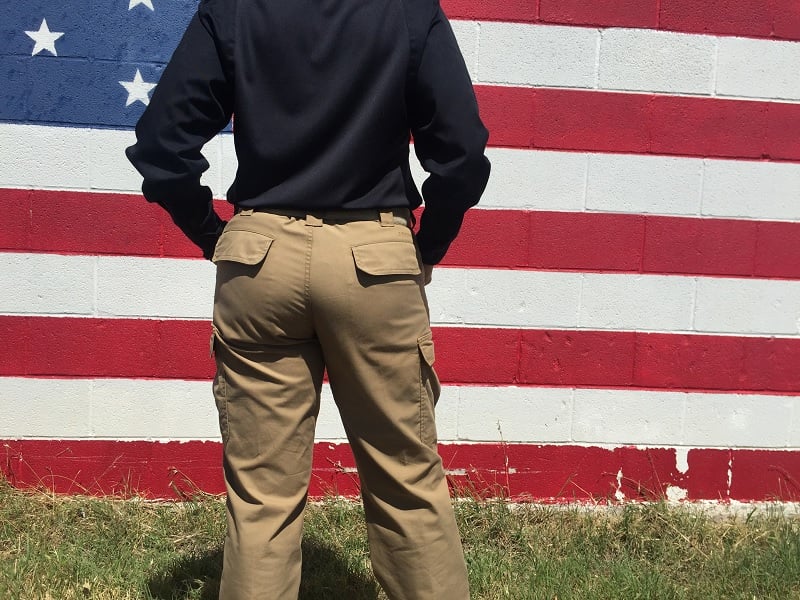 I also love that these pants sit just below the waist. While most women's tac pants make me feel like I'm wearing mom jeans from the mid-1980s, these are definitely not most women's tac pants.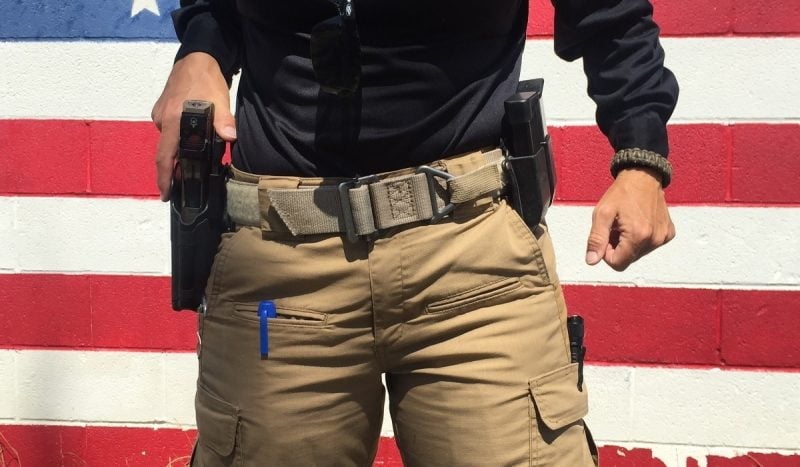 But what gets me most excited is the pockets. There are actually pockets inside of pockets on these pants. The hand pockets are notched and are reinforced, so I can clip my pocket knife right there for easy accessibility. They also have pockets that are the perfect size for spare mags. And the side cargo pockets feature a nifty divider, so it's almost like having two pockets in one.
65
at Amazon
Prices accurate at time of writing
Prices accurate at time of writing
What I love:
The pockets have pockets.
Below-the-waist fit that is definitely not from a 1980s roller rink.
Tough construction with a Teflon finish.
What I don't:
The color starts to fade after a few washes.
Other Notable Tac Pants for Women
5. Under Armour Women's Enduro Pants
Although Under Armour is better known for athletic clothing, their Enduro tac pants are top-notch.
Thankfully, Under Armor chose to make these tac pants with their patented anti-odor technology. Somehow, these pants prevent the growth of odor-causing microbes, so your pants never smell like a sweaty high school gym. They swear it is science, but I'm not convinced it isn't magic.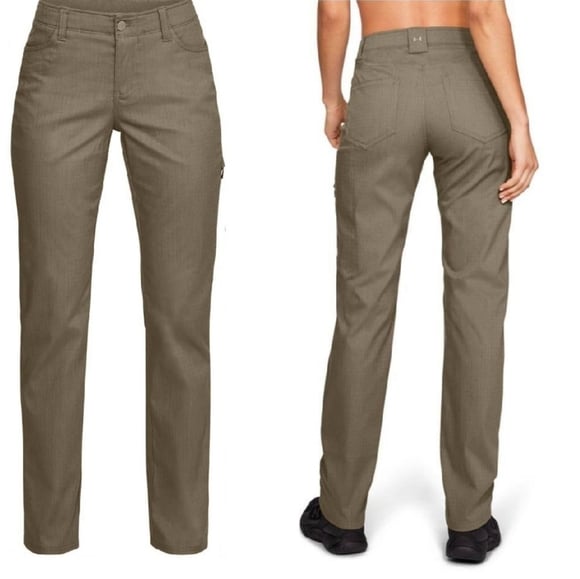 Enduro pants honestly make it easy to forget you're wearing tac pants. They have a relaxed, comfortable fit, and they can easily transition from the training field or gun range to a nice dinner out. They easily dress up with your favorite blouse and some not-so-sensible dress shoes.
I also seriously appreciate the offset belt loops. These make it easy to position an OWB holster. I'm actually kind of disappointed the companies that specialize in tactical clothing didn't think of this. It definitely makes carrying a sidearm so much easier.
80
at Amazon
Prices accurate at time of writing
Prices accurate at time of writing
What I love:
Anti-odor Under Armour magic.
Comfortable fit.
They easily dress up.
Offset belt loops aren't exactly life-changing, but they are pretty close.
What I don't:
The color fades after a few washes (Don't get the black).
6. Vertx Women's Fusion Lt Stretch Tactical Pants
Vertx did a bang-up job in finding a near-perfect balance between function and comfort.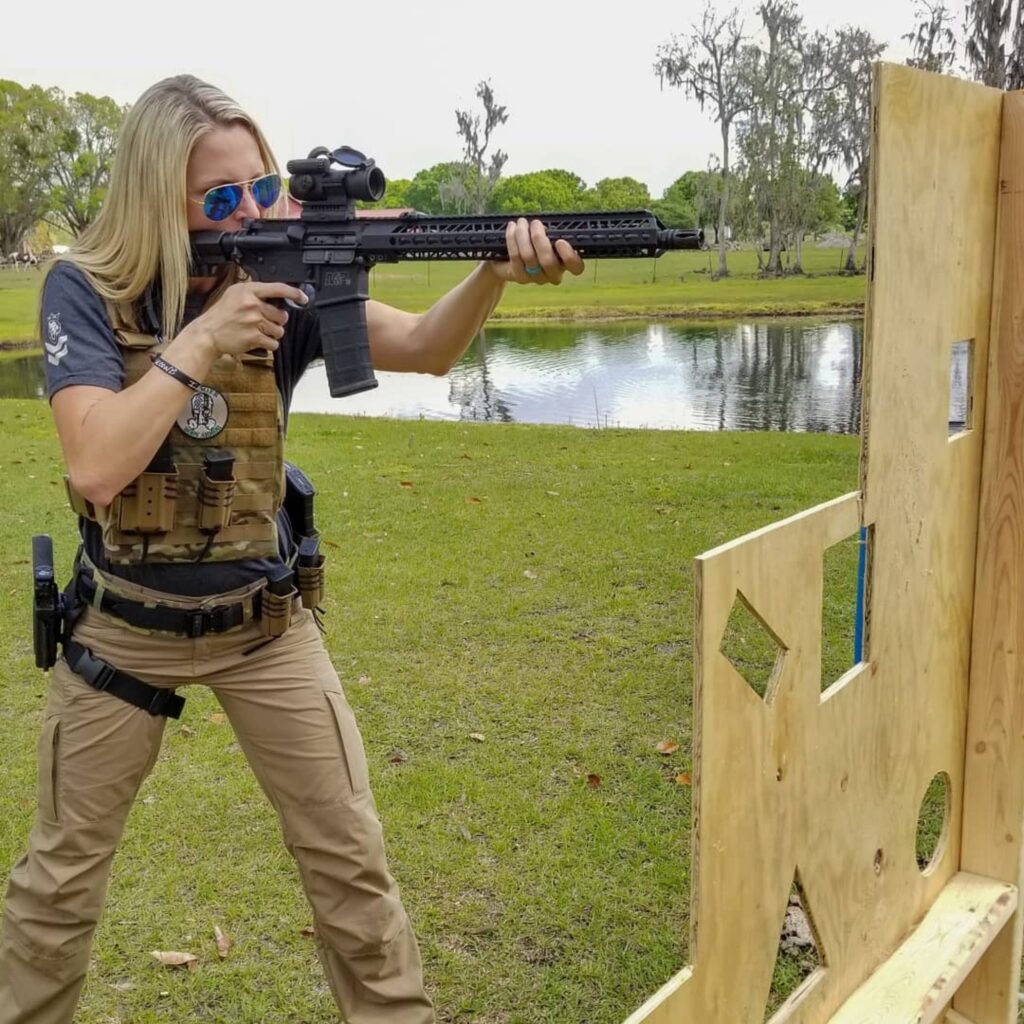 Their Fusion Stretch tac pants have a super comfy relaxed fit with a gusseted crotch and articulated knees. You could do gymnastics in these bad boys if you needed to. I promise they aren't going to bunch up in nasty, uncomfortable ways.
Active ladies will also appreciate the VaporCore technology. Designed to help regulate body temperature whether the weather is Arizona-hot or Alaska-in-January-cold. It dries super fast and traps odor molecules so your friends won't notice if you forget to shower.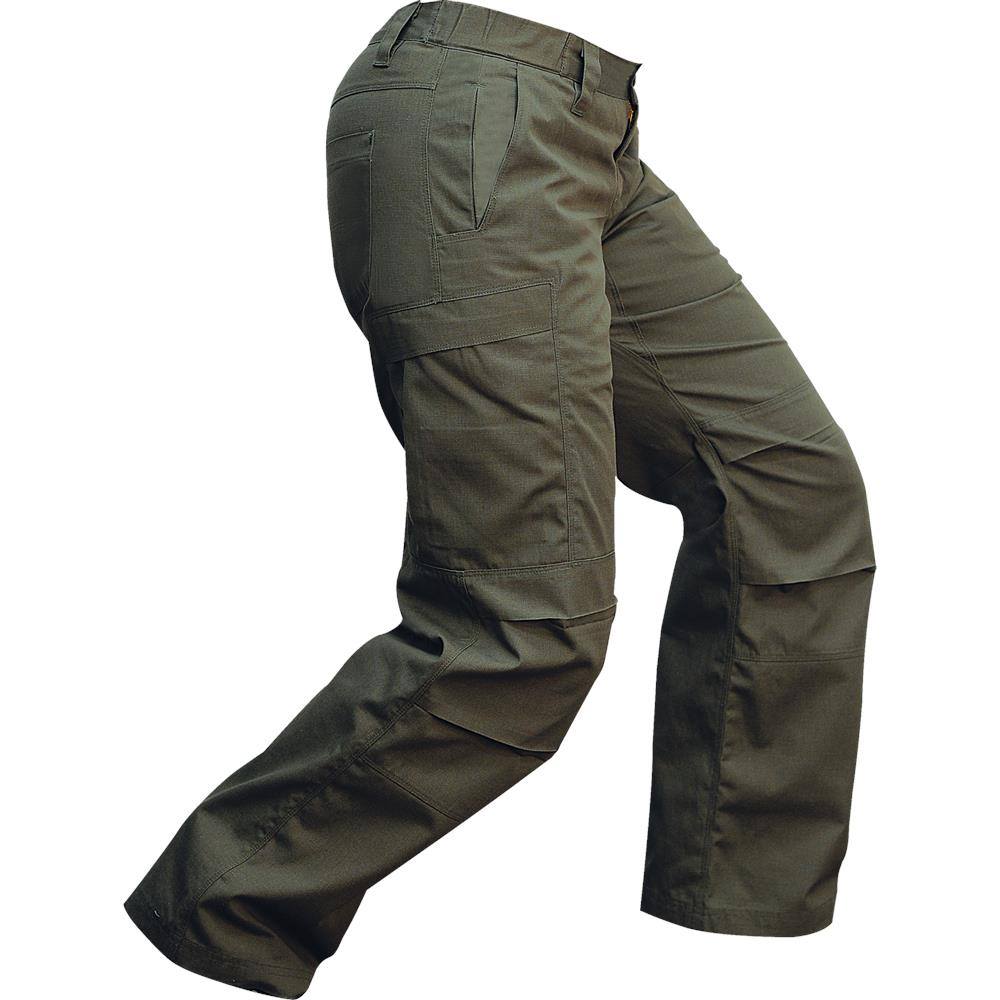 VaporCore is also "scientifically proven to help active users increase stamina and performance." So basically these tac pants are like performance-enhancing drugs… only without the drugs (and all the nasty side effects).
The pockets on the Fusion Stretch tac pants probably deserve some sort of trophy. Vertx definitely thought a lot about ergonomics when they designed and positioned these babies. Plus there are 14 beautiful pockets! I don't even own enough stuff to put in them.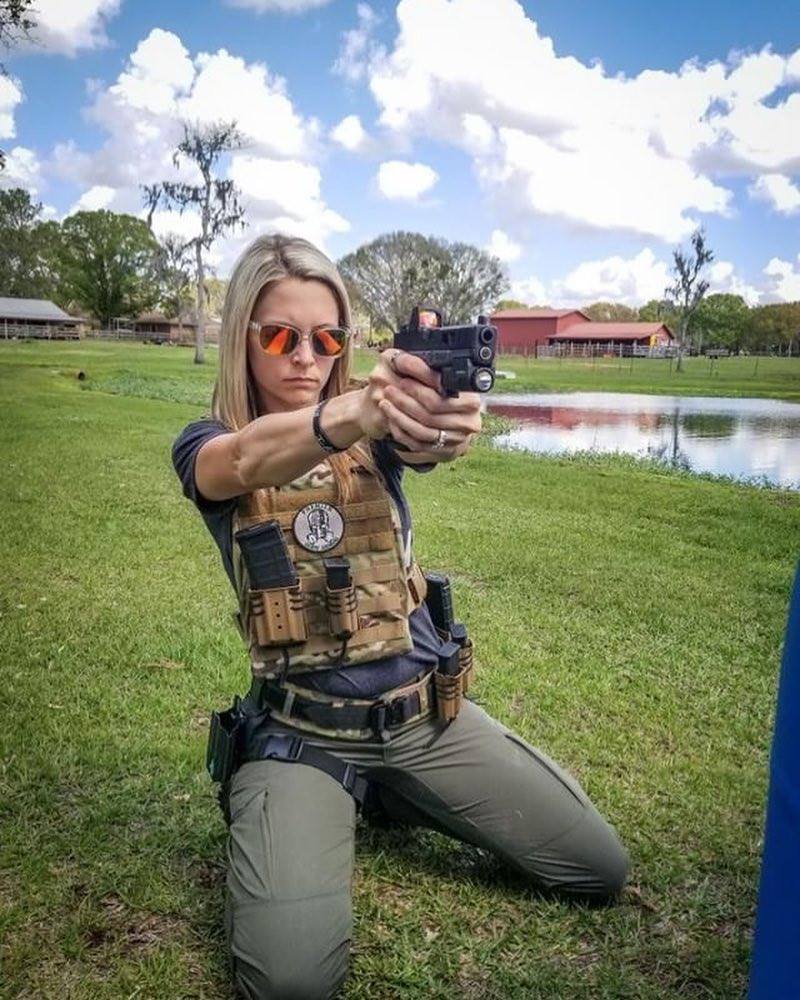 The back pockets are angled so it's super easy to access whatever you have stored inside. Meanwhile, the front pockets sit low, which is a major bonus for pocket accessibility if you're a fan of appendix carry.
A word of caution, these pants run a little small, so keep that in mind when you order. They also sit pretty low on the hips. Vertx may think we're still stuck in 2001. While that's a bit of an exaggeration, you have been forewarned that these pants should probably be categorized as "low rise."
80
at Amazon
Prices accurate at time of writing
Prices accurate at time of writing
What I love:
Comfortable relaxed fit for maximum range of motion.
VaporCore science-y magic.
The most ergonomic pockets on the face of the planet.
What I don't:
The low-rise style sits almost on the hips.
Parting Shots
The term "tactical" sometimes gets a bad rap. Don't let it scare you off.
Think of them as "practical" pants if it makes you feel better. These pants are designed to stand up to abuse and harsh conditions, whether that takes the form of outdoor adventure, an afternoon on the gun range, or a career as a first responder.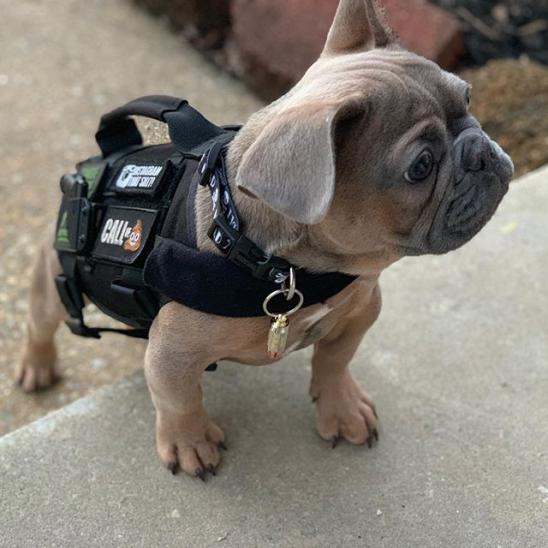 The best women's tac pants need to fit a woman's body while she does all these things and keep her looking good in the process. All of the pants on our list accomplish that, and they do it with flying colors.
Do you have a favorite pair of women's tactical pants? Tell us about them in the comments. Need some solid tactical pants for the men in your life? Our Best Tactical Pants article has some awesome suggestions.