Walther's CCP (Concealed Carry Pistol — catchy, huh?) is, to some shooters, the perfect single-stack 9mm.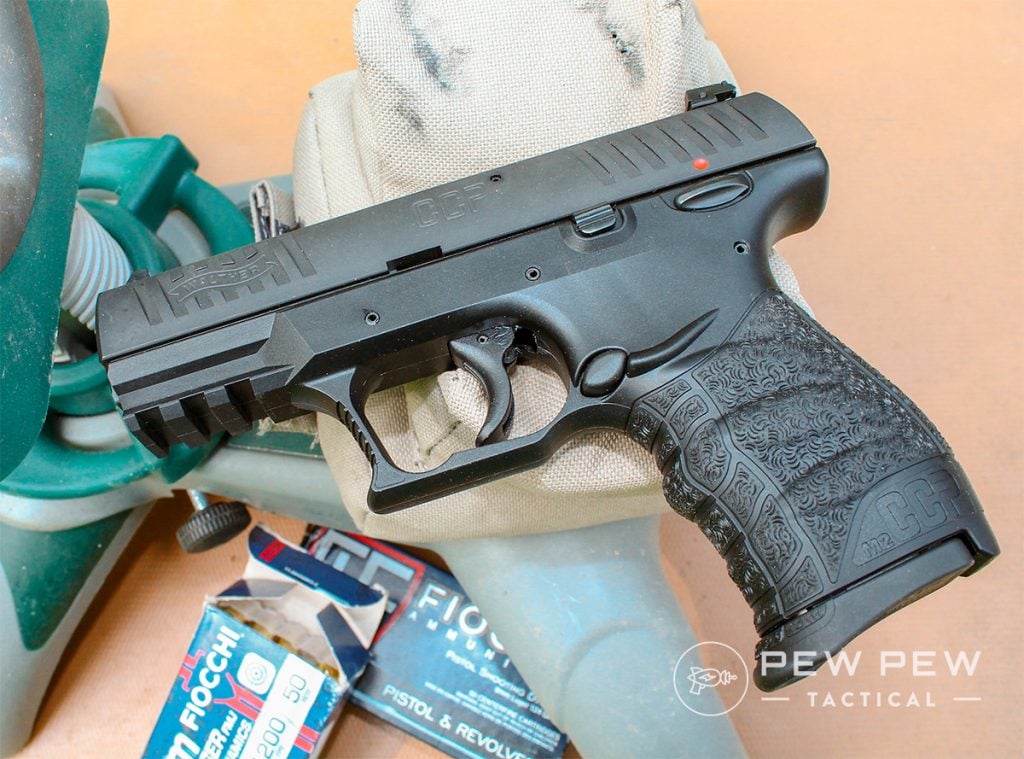 The gun is both old and new. It borrows some features from its cousins — the PPQ and PPS — and sports some other new features.
For those looking for an easy-to-carry, ergonomic 8+1 9mm that could easily go everywhere guns are permitted, the CCP M2 is definitely a gun to consider.
So follow along as we get into the nitty-gritty details of what makes this gun so cool.
Table of Contents
Loading...
Walther CCP M2 Review at a Glance
Pros
Very good ergonomics
"Soft-coil": delayed gas blowback piston softens recoil
Sights are replaceable with Glock 19/17-pattern sights
Easy-Rack Slide
Cross-directional grip texturing
Accurate
Cons
Takedown is different than most other guns and may cause a bit of confusion
The trigger has a long take-up and reset
Gun can get quite hot with extended shooting
The Bottom Line
For many Walther fans, the CCP M2 is a must-buy. Its inherent accuracy, excellent grip, replaceable sights, Pic rail, and lessened felt recoil all point to a CCW that should get carried (and shot) often.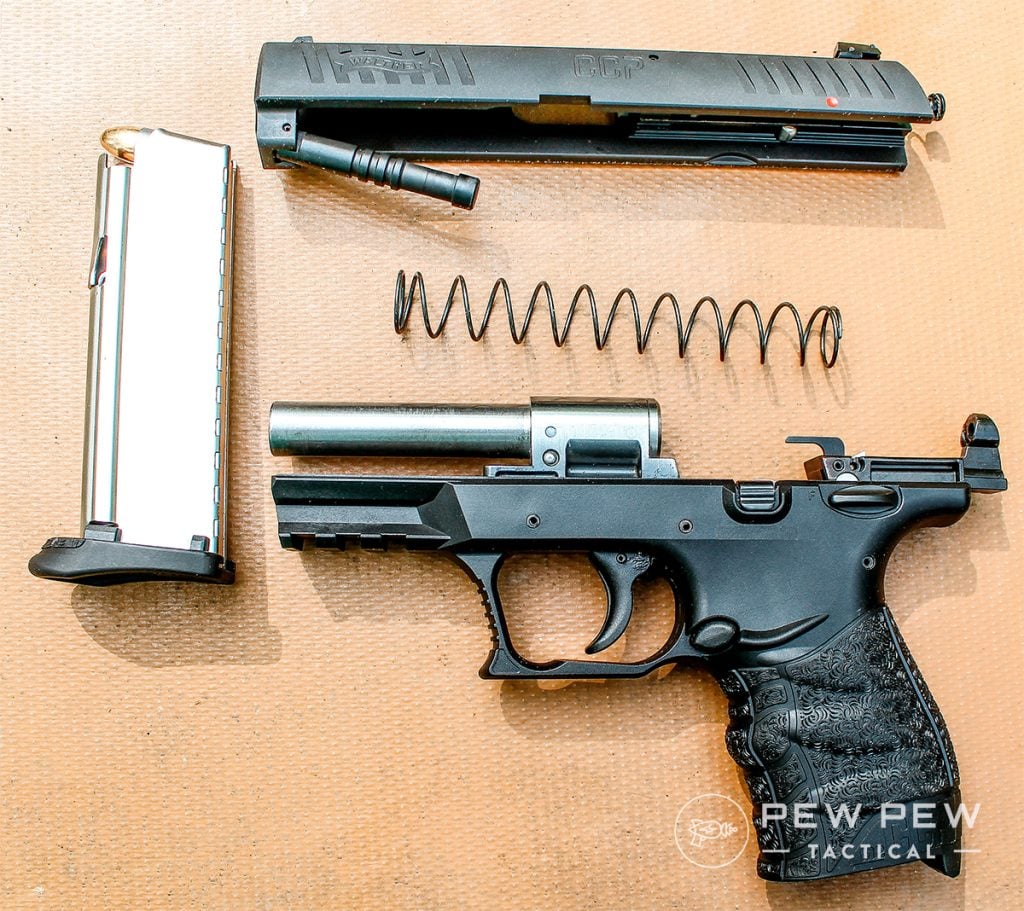 It has a reversible mag release, adjustable rear sight, and thumb safety. Coming in at 8 rounds, its capacity isn't great, but it competes very well against the Glock 43 and similar-sized sub-compacts, all the while adding a useful, hand-filling grip to the mix.
Add in Walther's excellent build quality and reputation, and you have a winner.
Specs & Features
Specs
Width: 1.1"
Length: 6.4"
Barrel Length: 3.54"
Height: 5.1"
Weight: 22.3 oz.
Capacity: 8+1 (two magazines included)
MSRP: $469
Features
The slide is easy to rack – uses a softer recoil spring
Huge trigger guard
Thumb safety
Three-slot Picatinny rail
Source: Walther Arms
418
at Kygunco
Prices accurate at time of writing
Prices accurate at time of writing
Background
For decades, pistols that shot the higher-pressure 9mm cartridge have had the benefit of having a bullet moving at a pretty good velocity. But, with that velocity came an increase in recoil.
Walther's engineers found a solution that softens felt recoil and allows a lighter recoil spring which makes the slide easier to rack.
A pistol slide can be slowed by a spring or a gas piston. Gas pistons are common in rifles and shotguns but not so much in handguns.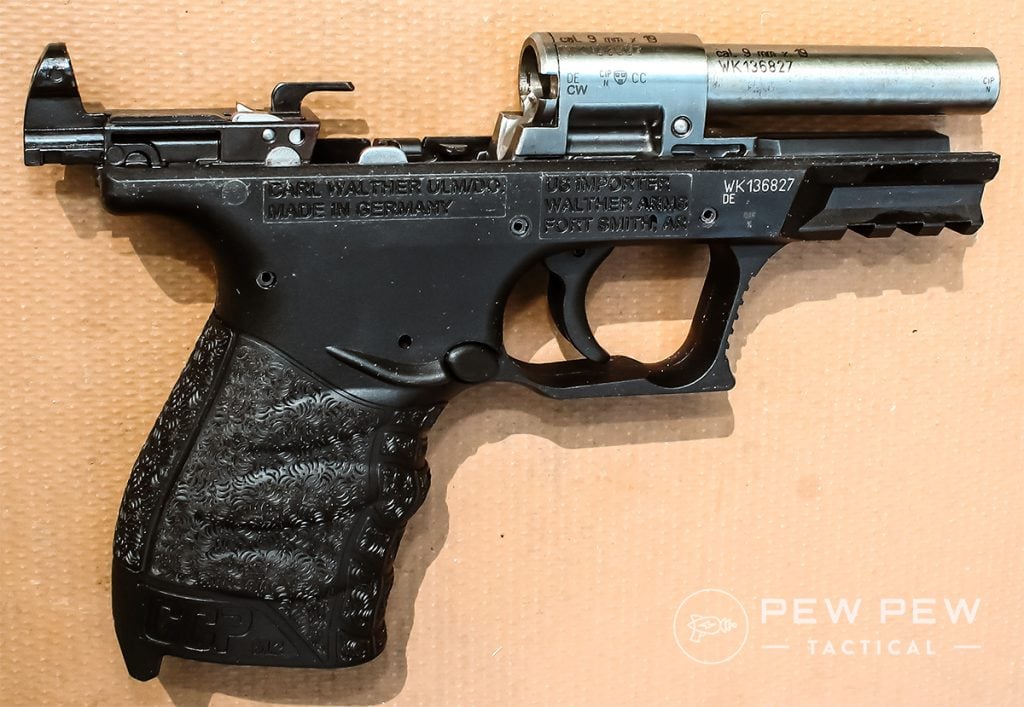 A while back, Walther adopted a system that bled off a bit of gas from the barrel into a cylindrical port below the barrel in the frame. They called it, logically enough, a gas-delayed blowback (GDB) system.
A piston fits within a cylindrical port and is pinned to the slide at the front.
When fired, gas fills the port and slows the movement of the piston rearward, delaying the slide's rearward movement until the bullet has left the barrel. This allows gases to exit the barrel before the slide moves and reduces felt recoil.
Using this system allows a lighter recoil spring, which aids arthritic hands like mine in slide-racking. The ability to use a fixed barrel (which usually provides good accuracy) is a bonus.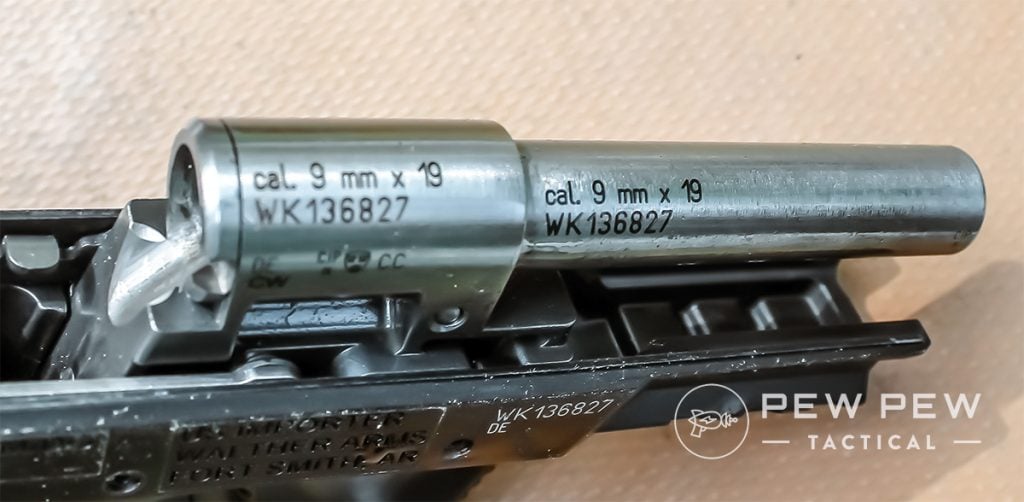 There was another CCP before the M2 (I guess the "M2" gives that fact away). The first CCP was in .380 and used a proprietary tool to remove the slide for cleaning.
The tool fits into the back of the striker from the slide's rear and unlocked the striker, thereby allowing the slide to pop off. It was a unique system and was not hard to do. However, if you lost the tool, you were out of luck.
So, when Walther decided to reissue the CCP, they did it in a more powerful caliber and designed a way to take it apart with no extra, loose tools. The guns are identical, except for the rear of the slide and the caliber designation.
Who Is It For?
The way I see it, the CCP is a gun aimed at folks who are looking for a quality carry 9mm with less felt recoil, an easier-to-rack slide, and decent capacity.

Let's face it: two 8-round magazines with you (or even one) isn't bad. It puts more rounds in your hands than many sub-compact semi-autos and snubby revolvers can when you carry it with a full mag and one in the chamber.
When you factor in the softer recoil, that's a big plus because it might mean that you are more able to put your bullets where they need to go. After all, the gun isn't flipping up so high with each shot.
Fit & Feel
The CCP M2 fits my average-size paw like the proverbial glove. The backstrap-to-trigger distance is just about perfect (which is good because the back strap is not interchangeable).
Add in Walther's unique grip shape and cross-directional texturing, and the gun practically shoots itself. The sight picture is great, and if you want to add a laser to help with the sighting chores, there's a three-slot Picatinny rail on the frame.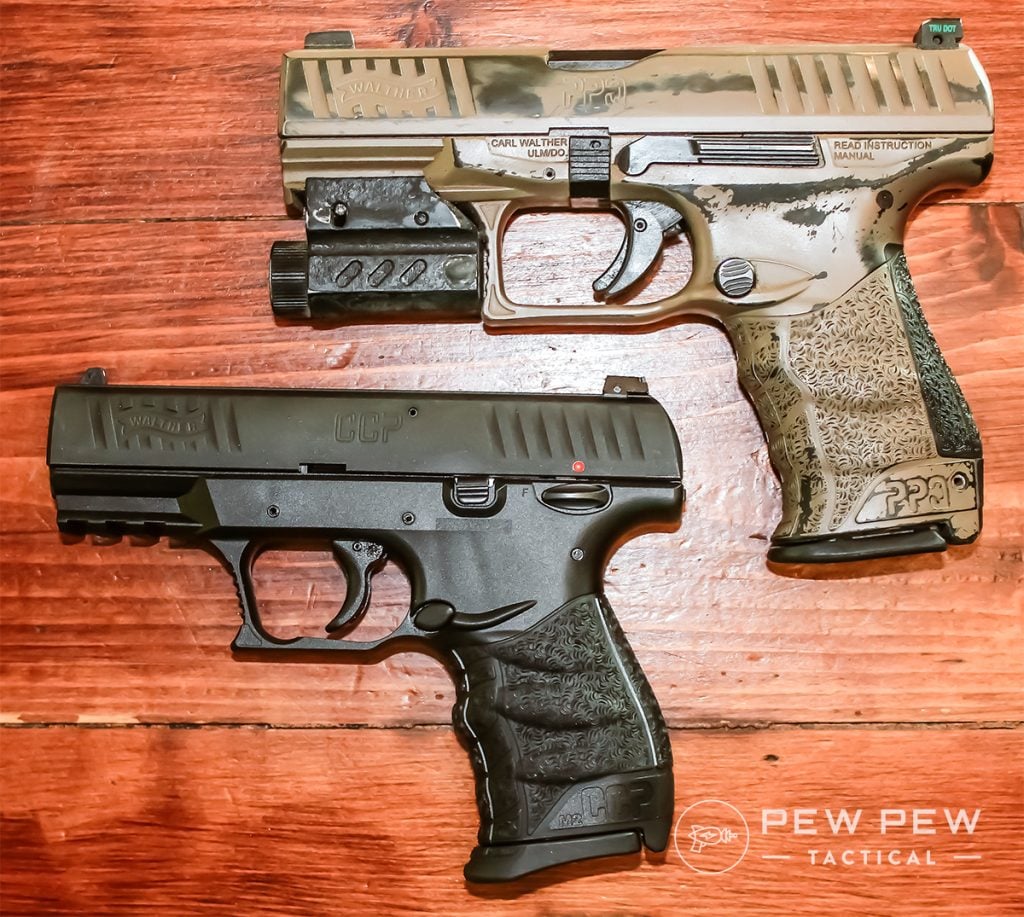 Controls are all easy to reach, and they work very positively. This gun's a shooter, for sure. The grip texturing and overall concept (except takedown) was borrowed from its big brother, the PPQ.
How Does It Shoot?
I was curious as to how the CCP would acquit itself at the range after reading other reviews that talked about its accuracy.
So, I set up some targets at the now-standard range of 15 yards for guns with barrels of 3-inches or so. I had three different types of ammo available at the time I shot it — Tula, Fiocchi Training Dynamics (now Range Dynamics), and Fiocchi 124-grain JHP.
17
at Brownells
Prices accurate at time of writing
Prices accurate at time of writing
Even with my abbreviated testing, I determined that the gun really liked one of the three loads tested across several targets.
All three loads were centered pretty well but were low. Walther gives you a second front sight in the box, which might help to alleviate the elevation problem, but since I didn't own the test gun, I didn't want to install it.
The trigger was a trickster, at least for me. The take-up was long, with just a bit of creep. It also felt a bit gritty ("new-gun-itis").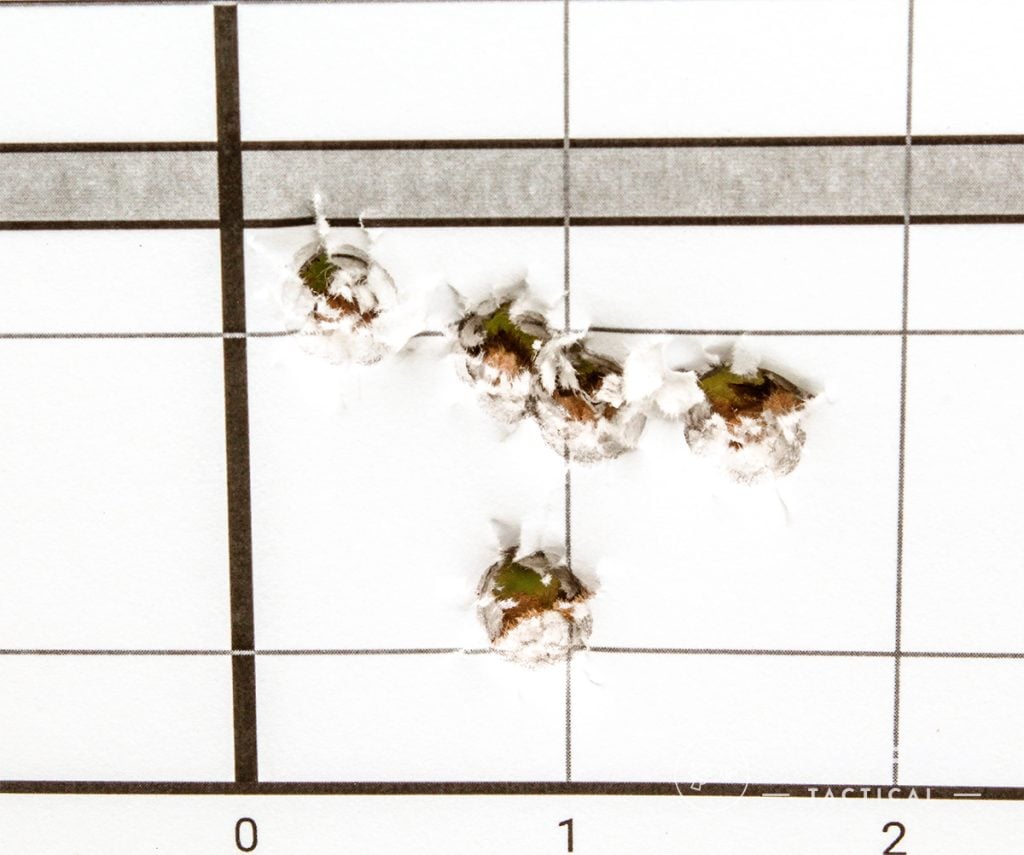 The trigger is fine for what it is and broke at a decent 5 pounds, 7 ounces with boring regularity. The reset was almost all the way out.
You just need to engage the "safety between your ears" pretty firmly when you shoot a pistol with a similar trigger.
Overall verdict: it shot fine, was more than accurate enough, and it handled well in terms of recoil. It DID get fairly hot, though, even with the few rounds I put through it.
There is one more point I need to mention about shooting the CCP, though.
I have average-size hands and had no trouble holding or shooting the pistol. Being a lefty helps, too. But, my friend Ed whom I mentioned above has gorilla-sized paws and had trouble when he dry-fired the gun.
He activated the slide stop inadvertently with his right thumb (he's a righty) when he used his thumbs-forward grip. That would likely cause him some trouble if he shot the CCP.
I know this problem extends across the small pistol world in general, but I thought I should mention it here.
What Sets it Apart?
We are inundated these days by striker-fired 9mm pistols of every size, shape, and capacity. The CCP isn't the smallest 9mm out there, and it certainly isn't the largest, but it fills a need for a light-recoiling, easily-racked 8+1 9mm.
It simply works. Plus, it's a Walther.
| | | | | |
| --- | --- | --- | --- | --- |
| Gun | Capacity | Barrel | Size | Weight |
| CCP M2 | 8 | 3.54″ | 6.41″x1.18″x5.12″ | 20 oz |
| CCP | 8 | 3.34″ | 6.4″x1.18″x5.1″ | 22.4 oz |
CCP vs. CCP M2
By The Numbers
Reliability: 5/5
It handled well at the range and didn't miss a beat.
Ergonomics: 4.5/5
Average-sized hands will be fine but larger mitts may struggle with this compact pistol.
Accuracy: 4.5/5
Out of the box, it hit a little low, but with a swap of the sights, that probably would be fixed.
Customization: 4/5
It doesn't have the same aftermarket as Sig or Glock, but you can add a few things here and there.
Value: 5/5
It's a great little gun at a pretty decent price.
Overall: 4.5/5
418
at Kygunco
Prices accurate at time of writing
Prices accurate at time of writing
Upgrades For Your CCP M2
Looking to upgrade your CCP M2? Here are a couple of ideas…
First off, stock up on mags. You'll want extra for range days.
39
at Gunmag Warehouse
Prices accurate at time of writing
Prices accurate at time of writing
Of course, there are a ton of holsters out there that will work with the CCP M2. A couple of my favorite holster companies are Crossbreed and We The People.
54
at OpticsPlanet
Prices accurate at time of writing
Prices accurate at time of writing
Don't forget that three-slot rail. Stick a weapon light or laser sight there. The choices are endless.
Final Verdict
The 9mm CCW market is crowded, to say the least, but that's a good thing. It gives you several guns to choose from, regardless of whatever category you're shopping for.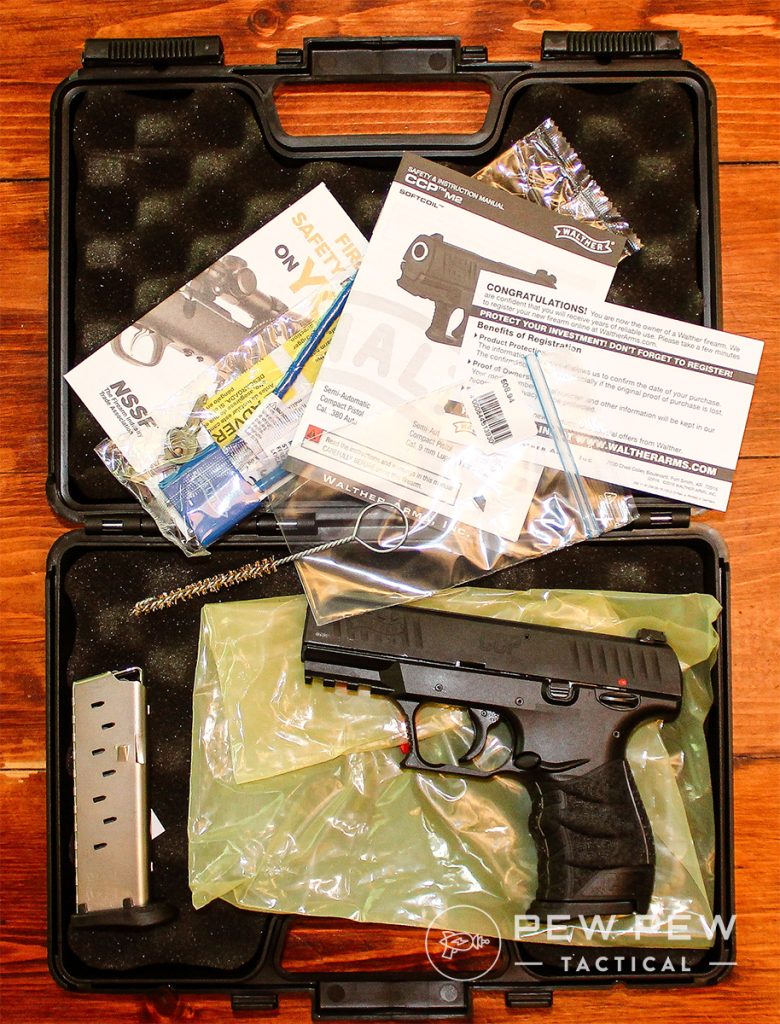 For some folks, the easy-to-use CCP M2 represents the apex of the single-stack triangle.
You could surely do worse than to carry a gun that puts its bullets where you look and does it without beating your hand up. Add a laser or light to it and have an almost-perfect carry gun.
What do you think of the Walther CCP M2? Let us know in the comments below. For more concealable pistols, check out our ultimate Concealed Carry Pistol Guide.