You know what we've been digging lately? Survival shovels.
Though frequently overlooked, a survival shovel can be incredibly useful for both camping and SHTF survival situations.
In fact, survival shovels, aka entrenching tools or E-tools, are generally designed to do quite a bit more than just shovel.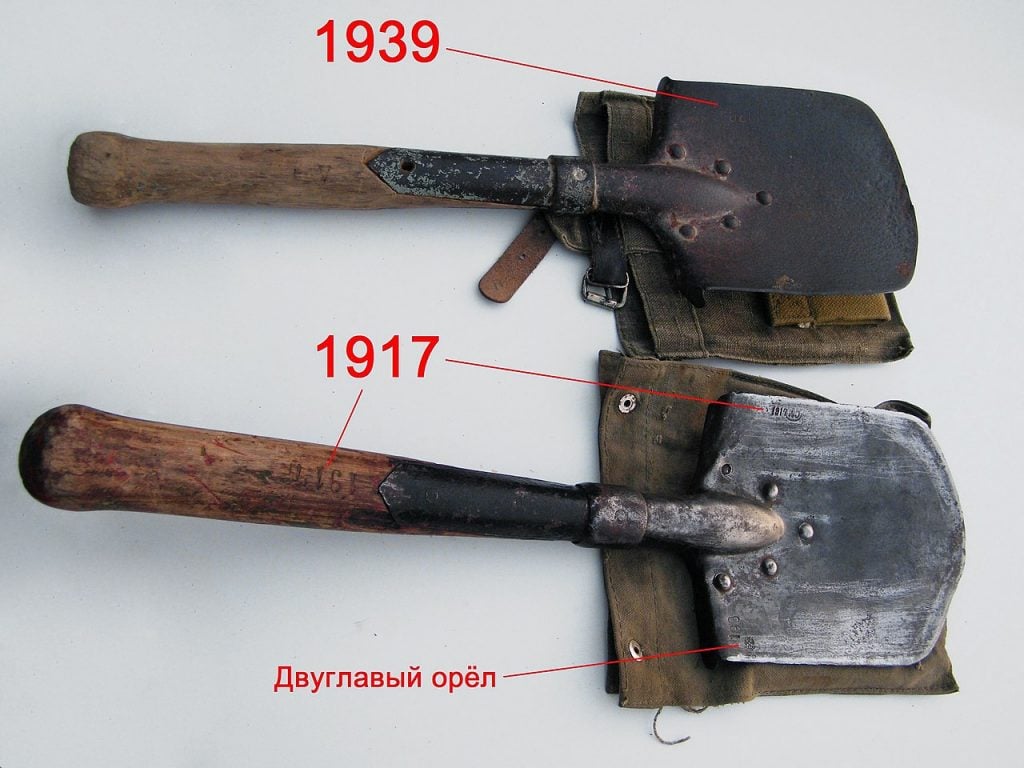 You don't want to just buy the first survival shovel you see, though.
There are a ton of different options out there, but they're not all equal in quality. And even among the good ones, some shovels are better than others for particular purposes.
Depending on what you plan to do with it, the blade size and shape, handle length, and other features that you need may vary.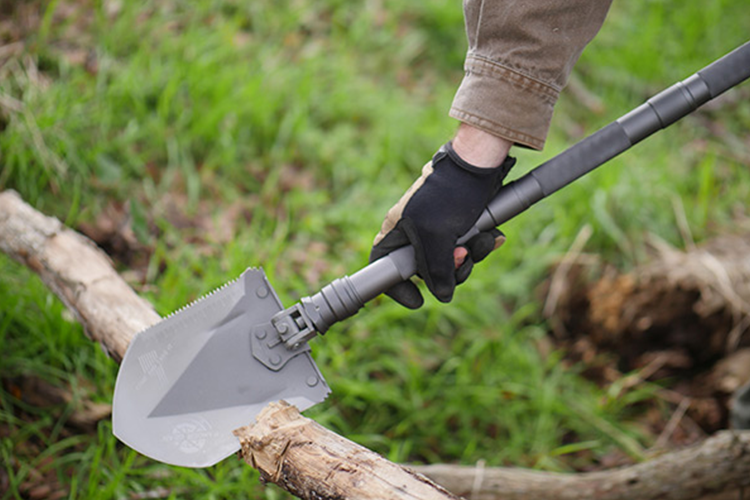 In this guide, we'll go over the best survival shovels of all types and mention what each one is good for to help you find the right one for your needs.
But before we get into all of that, let's talk about why you should get a survival shovel in the first place.
Let's dig in!
Summary of Our Top Picks
Table of Contents
Loading...
Why Have a Survival Shovel?
First and foremost, using a survival shovel or E-tool is easier than digging with your hands and protects your hands from injury, infection, and bites or scratches from any animals you come across.
It also saves you time and energy, which may be essential in a survival situation and is just plain nice on a camping trip.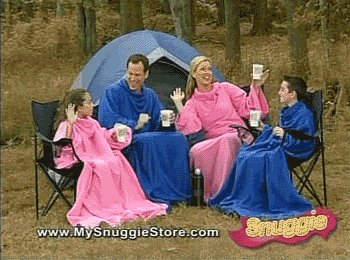 But what are some reasons might you need to dig in the first place?
Creating a Shelter
One of the most basic reasons is to build a shelter.
In pretty much any condition, a shovel is handy for leveling the ground before you build a home away from home. But it can also be useful for building the shelter itself.
In most survival shelters, you'll use some kind of pole.
Having a shovel makes it easier to put the ends of those poles into the ground, keeping them more securely in place.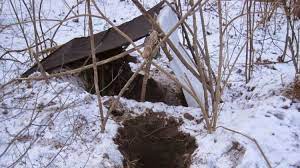 When it comes to specialty shelters, a shovel is even more useful.
Snow shelters pretty much always require some sort of digging to compact walls and hollow out the interior of the shelter.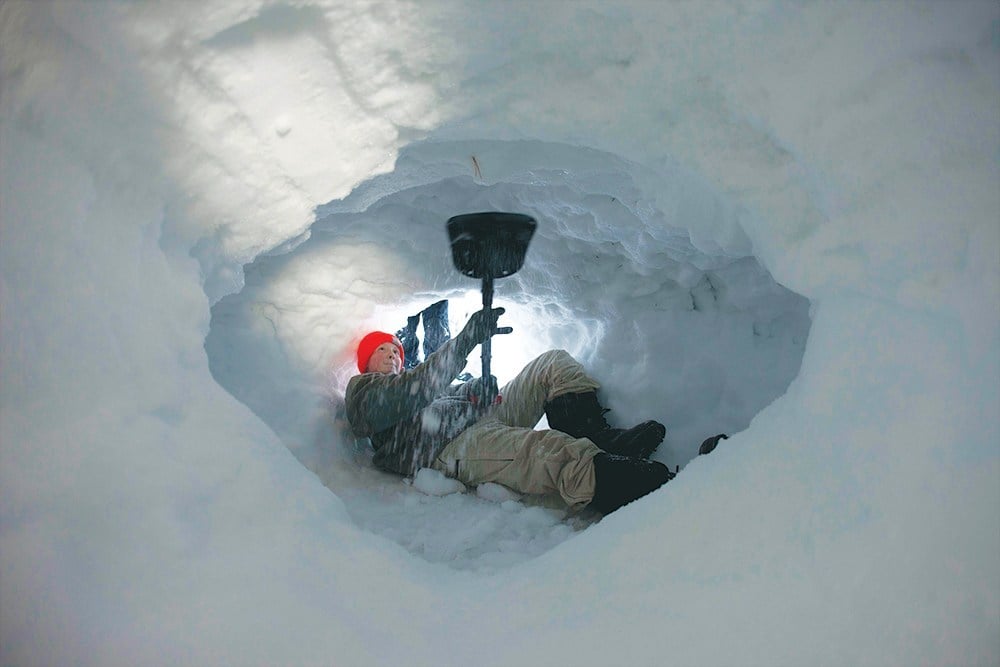 In hot, dry weather, digging into the ground can give you a shelter that's much cooler than the surface and shades you from the sun. This type of shelter can also protect you from the wind.
Just don't do that in wet conditions, though, or you'll find your shelter turning into a swimming pool.
In these conditions, an emergency shovel can be used to create drainage channels to ensure that your ground-level shelter doesn't flood or just get puddles, though!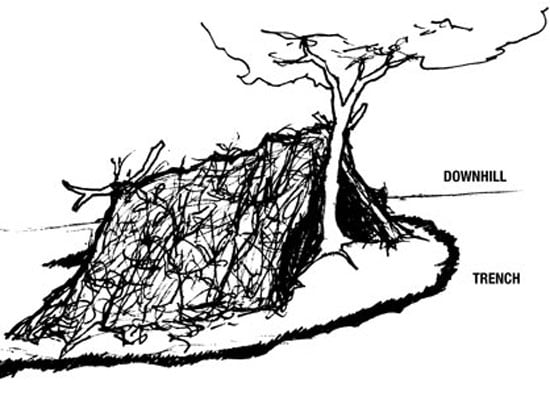 Of course, all of this doesn't just apply to shelters. A shovel can be useful when building other types of structures for these same reasons.
Fire Management
Like shelter, fire is a survival fundamental and a survival shovel can help here too.
A shovel can help you dig a fire pit or build up a wall around your fire — both of which help protect the fire from the wind and keep flames from spreading.
A shovel can be useful for tending a fire, allowing you to ensure that oxygen permeates as needed.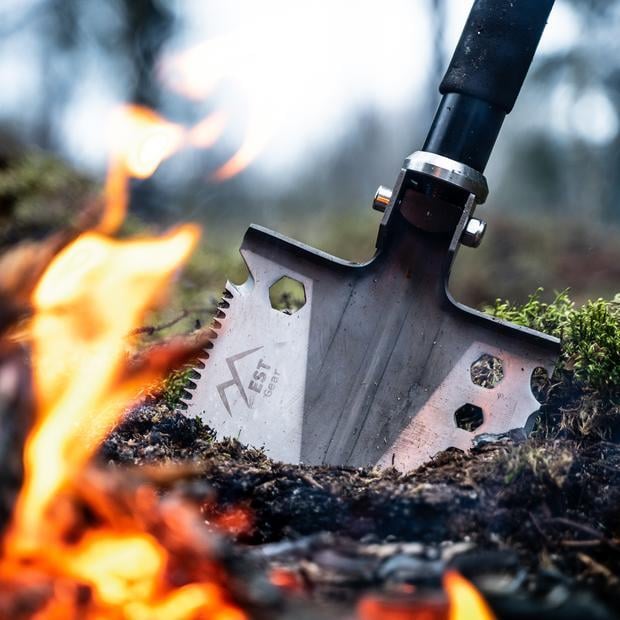 If you want an additional fire or need to move your fire from one place to another, a shovel lets you remove a portion of your existing fire and relocate it. No need to start a new fire from scratch!
And finally, if you need to put out your fire, a shovel allows you to quickly and easily bury it.
Waste Management
A shovel is also handy for dealing with waste.
That includes digging a latrine, but you can also use a shovel to bury any trash you produce.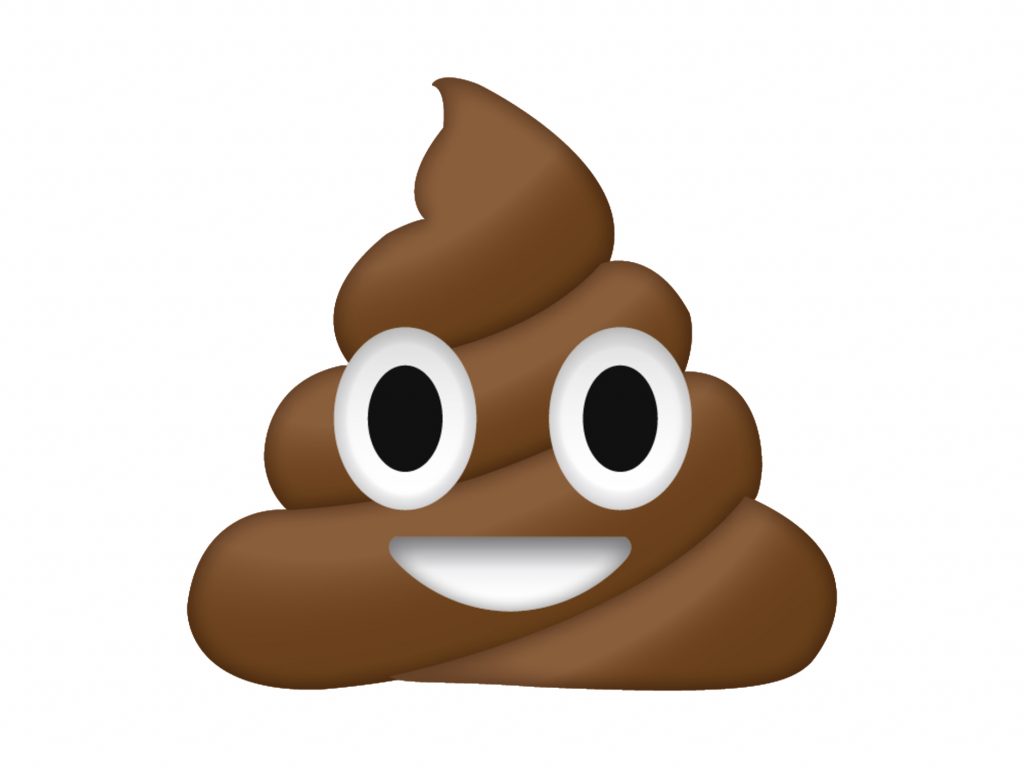 Keeping these things safely and discreetly contained is important for preventing disease, as well as avoiding attracting animals.
Animals can bring brand new problems, like disease, attacks, destruction of food or shelter, and more.
Burying Other Things
For similar reasons, you may also need to bury the dead as well.
Hopefully, you won't be in a position to have to bury another person, but you may want to bury a dead animal.
This is true whether you killed an animal for food or it just happened to die nearby.
Burying remains helps avoid disease, scavengers, and just the discomfort of being near smelly decomposition.
On a lighter note, you can also bury things just to keep them hidden or at a cooler temperature.
Other Uses
A survival shovel is a versatile tool that can be used for a lot of other purposes too.
A shovel can be used for hoeing, prying, chopping, hammering, picking, and more…though it typically won't perform as well as a tool specifically made for those purposes.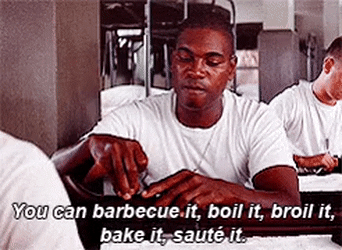 However, many survival shovels are actually multitools, so they're frequently made for some or all of those purposes as well. Some even have a serrated edge for sawing.
Other possible uses for a shovel include digging out a person who's stuck, paddling a raft or boat, or digging a trench for drainage or irrigation.
They can even be used for self-defense in a pinch.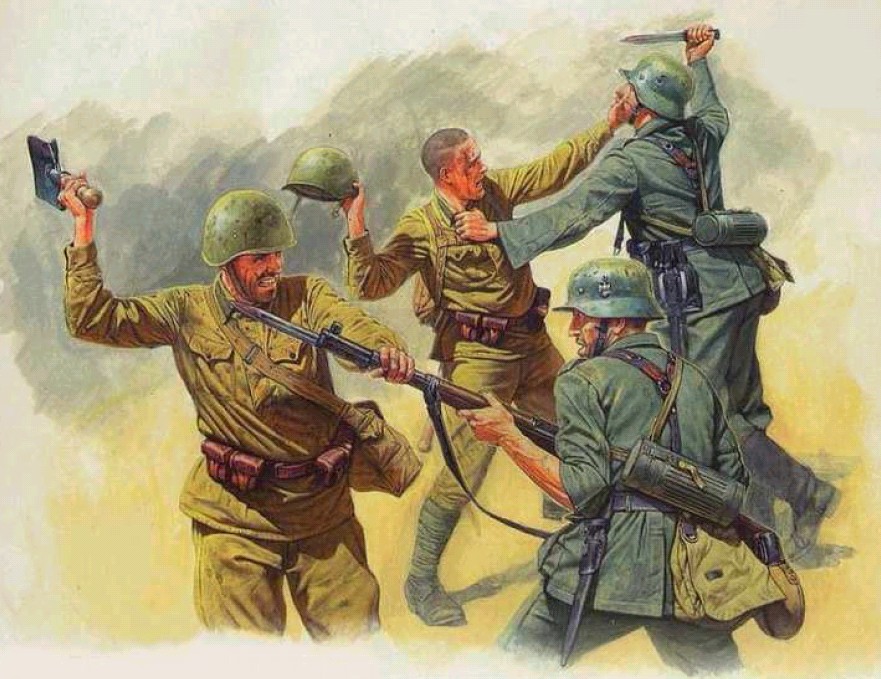 They can also be useful for non-survival situations, such as creating easier terrain for your stuck car or truck.
Best Survival Shovels
Now that you've got an idea of why a survival shovel could be useful in the first place, let's talk about some of the best options out there.
1. SOG Entrenching Tool
The SOG Entrenching Tool is an affordable, minimalist survival shovel that's a great option for those who don't need a lot of extra features.
The blade is made of strong and durable tempered steel and has a serrated edge for sawing on one side.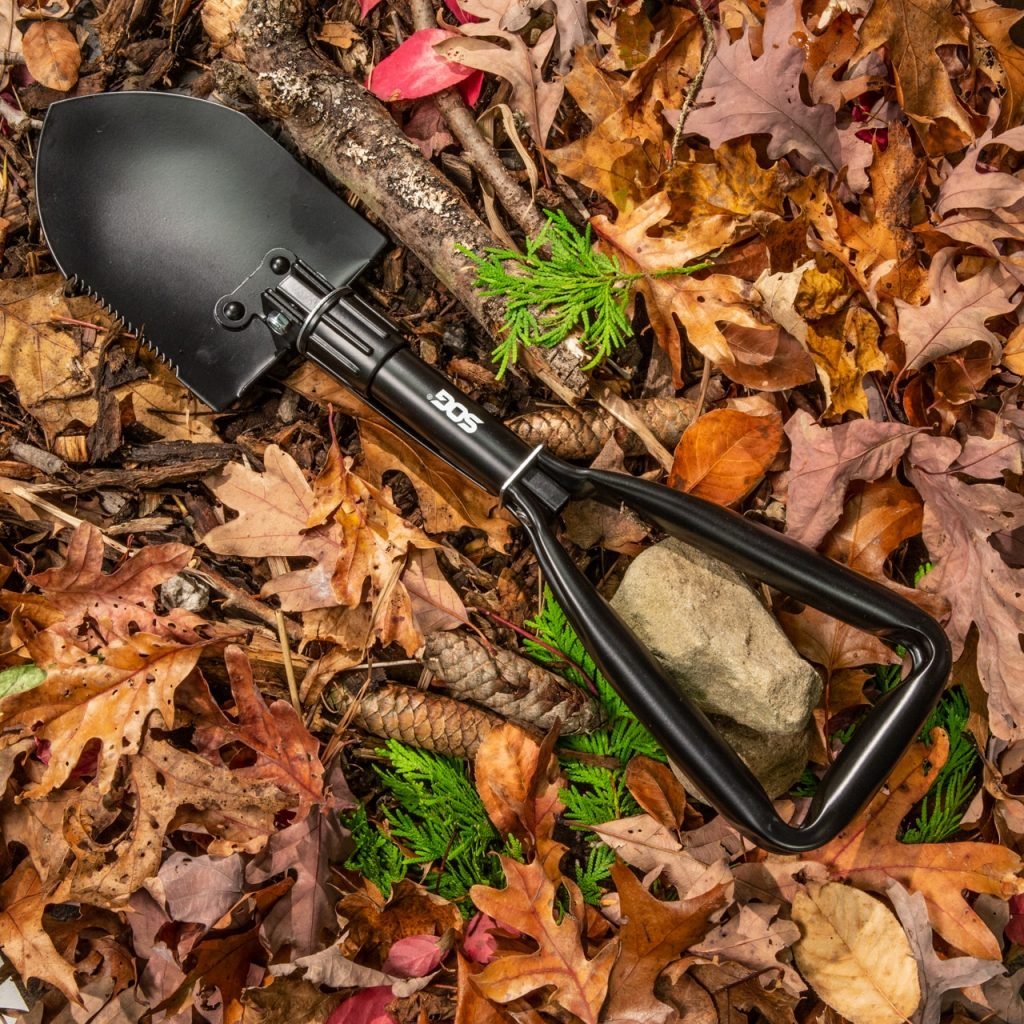 The wide triangular handle allows you to use more force with either one or both hands.
The shovel is 18.25 inches long from the tip of the blade to the top of the handle, but it folds into thirds for convenience. A locking mechanism ensures that the shovel stays in place when you need it to.
Folded up, the SOG Entrenching Tool measures just 10 inches.
It also comes with a ballistic nylon storage pouch that has a velcro closure and a belt loop to allow you to easily carry the shovel around hands-free.
The shovel weighs 1.5 pounds.
Best Budget Friendly Shovel
22
at Amazon
Prices accurate at time of writing
Prices accurate at time of writing
2. Gerber E-Tool Folding Spade
The Gerber E-Tool Folding Spade is another similar survival shovel, but it's a better option if you have a bit more money to spend.
It weighs 2.33 pounds, so it's heavier than the SOG Entrenching tool, but it's also bigger.
Unfolded, the shovel measures 2 feet long but folds down to 9.37 inches.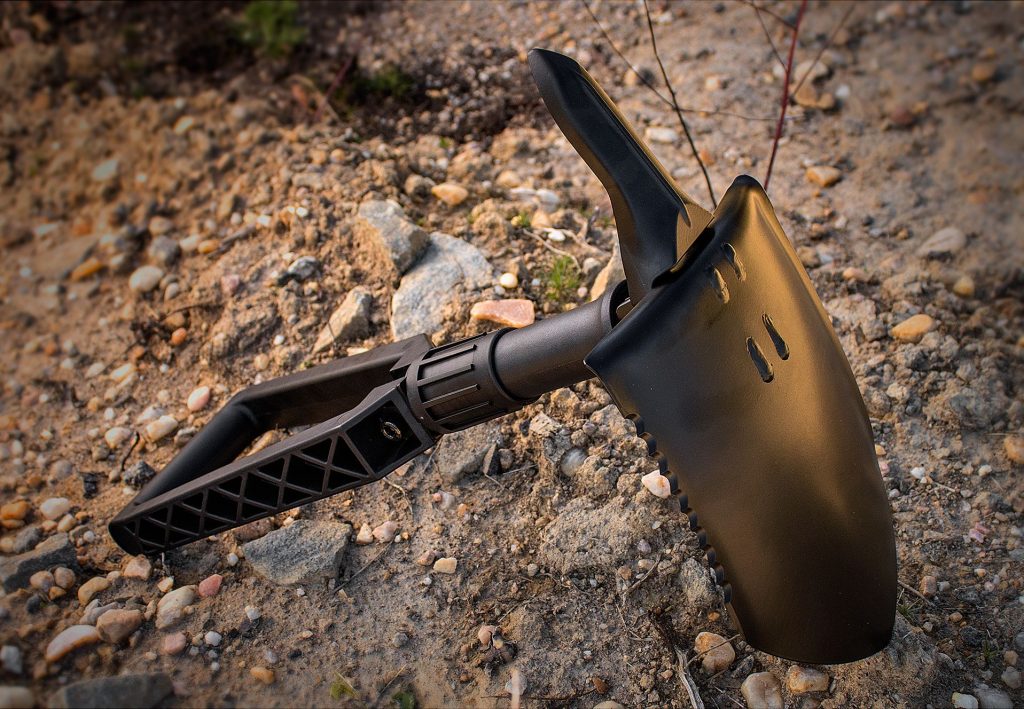 The Gerber E-Tool is also a good bit sturdier than the SOG. It has a nylon-filled handle, an anodized 7075 aluminum shaft, and a steel shovelhead.
The head is also powder coated and features a serrated edge on one side for minor sawing.
Like the SOG, it locks open. It doesn't come with a sheath, but Gerber sells one separately.
And Gerber provides a limited lifetime warranty just in case.
Best Mid-Tier Shovel
65
at Amazon
Prices accurate at time of writing
Prices accurate at time of writing
Have you had hands-on time with the Gerber? If so, rate it below!
3. United Cutlery Kommando Shovel
The United Cutlery Kommando Shovel is an ultra-lightweight survival shovel that weighs just 7-ounces (that's less than a pound).
It's not some flimsy shovel that will break after one use though.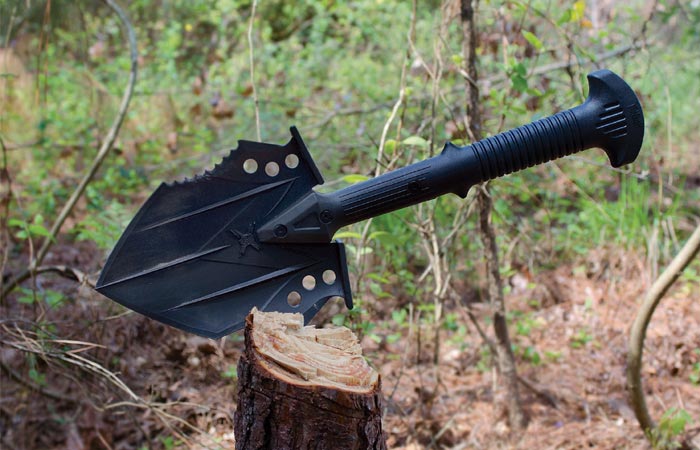 It's able to balance durability and weight because the handle is made from injection-molded nylon and has fiberglass and nylon reinforcement.
The blade is stainless steel and has a black oxide coating.
It's particularly appropriate to call the head of this shovel a blade because the point is sharpened for self-defense or use as a pick.
One side of the head also has a serrated edge, while the other has a concave chopping blade.
The Kommando Shovel doesn't fold down, but it comes with a reinforced nylon belt pouch to make it easier to carry.
Best Lightweight Shovel
56
at Amazon
Prices accurate at time of writing
Prices accurate at time of writing
4. FiveJoy Military Folding Shovel Multitool C1
The FiveJoy Military Folding Shovel Multitool C1 is a more multi-purpose survival shovel.
The shovel head can be locked into place at 30-, 85-, or 180-degrees so it can be used as a hook, hoe, or shovel. One side is sharpened with a serrated edge along half the length and a straight-edge blade along the rest.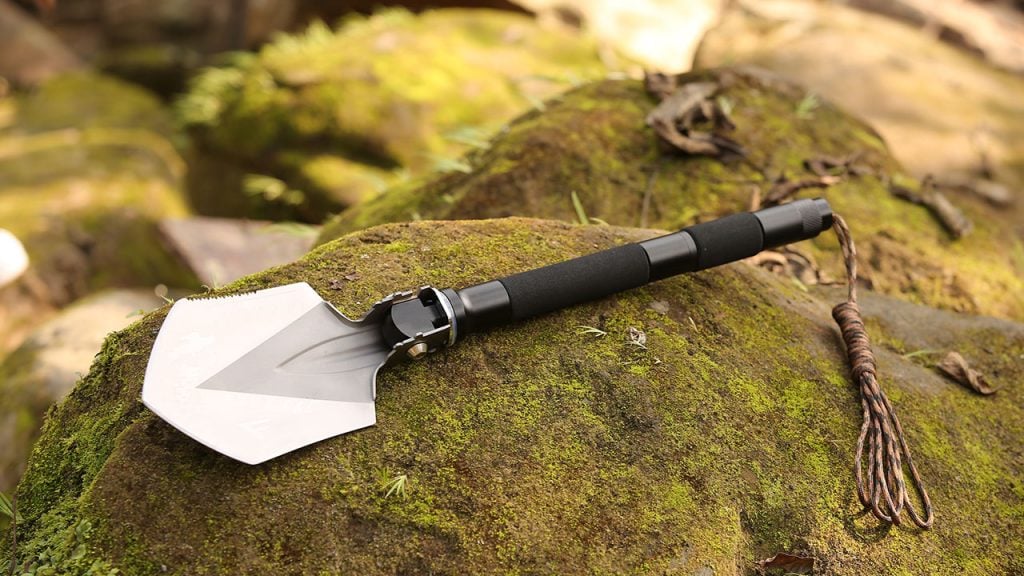 It also has ruler markings engraved into the head. The other side of the head has a straight edge blade along the entire length.
The head of the shovel can be folded down, but the handle pieces also screw together and apart.
Taking them apart reveals even more handy tools, like a saw, fire starter, emergency whistle, and more. The end even has a paracord loop.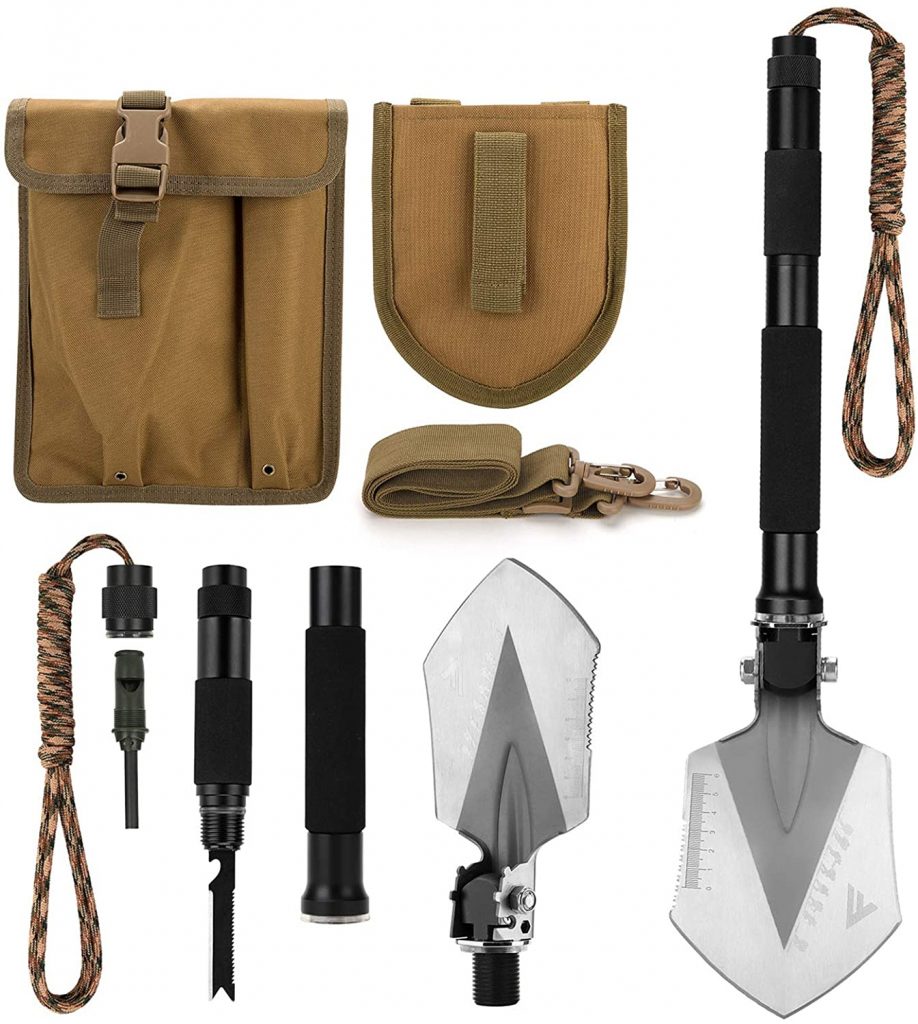 It comes with a carrying pouch that stores the pieces individually for compact storage. There's also an additional separate cover for the shovel for extra safety.
And the shovel only weighs 1.4 pounds, so it's quite lightweight.
49
at Amazon
Prices accurate at time of writing
Prices accurate at time of writing
5. Iunio Survival Shovel Tool
The main problem with most survival shovels is length, but the Iunio Survival Shovel Tool helps with that, thanks to an adjustable length handle.
The shovel head and base handle section measure 12.6 inches. Then you can add the end section to increase the length up to 18.7 inches.
There are also another two middle handle sections that can add 6 inches each, so you can have a shovel up to 30.7 inches long.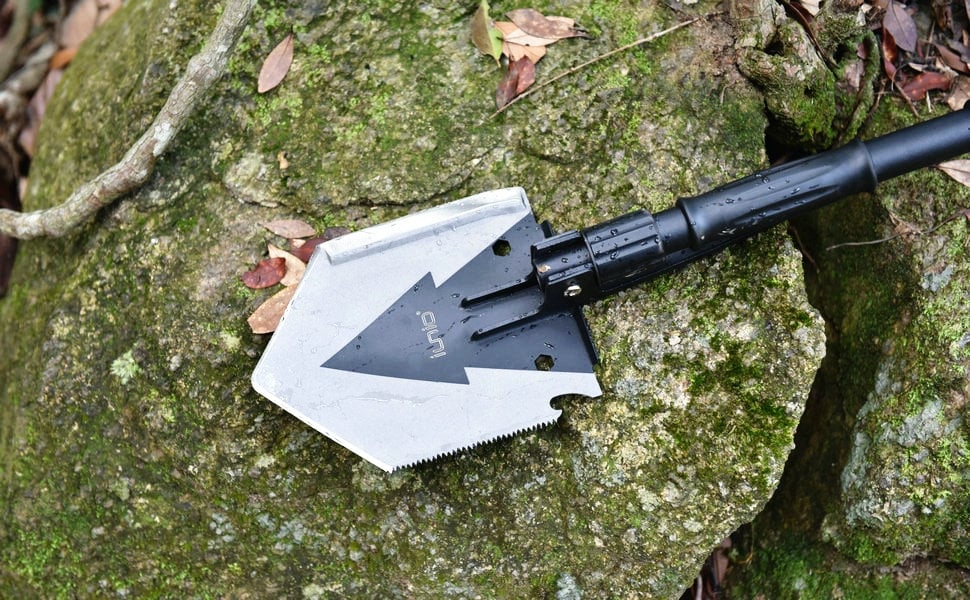 Within the extensions, you can stow numerous other included tools, like a saw, whistle, hammer, or fire starter.
Like the FiveJoy shovel, the head on this one can be locked into position at different angles, so you can use it as a shovel, hook, or hoe.
Opposite the shovel head is a pick, so you can also use the shovel as a pickaxe. The head itself has a knife blade, saw blade, and a bottle opener integrated into it.
The shovel comes with a nylon waist bag for storage. Despite the length, it also weighs 2.29 pounds.
32
at Amazon
Prices accurate at time of writing
Prices accurate at time of writing
6. Zune Lotoo Annihilate Tactical Survival Shovel
This last survival shovel is another long-handled multitool survival shovel.
In addition to the shovel head, the Zune LoToo Annihilate Tactical Shovel comes with five handle sections, each with tool attachments that stow into the other sections.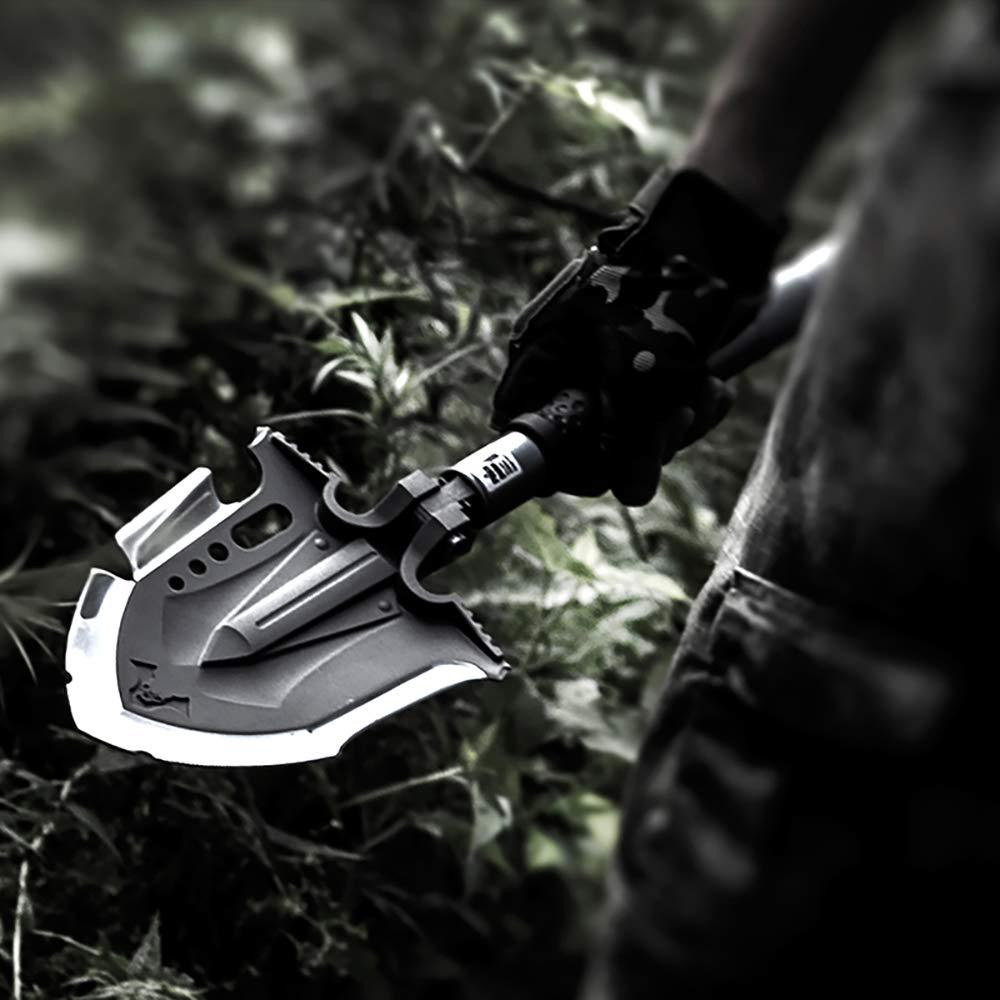 There's also an end cap with a fire starter and window breaker. All of this, in total, measures up to 33.4 inches.
However, there's also an additional handle extension that adds another 7 inches. Altogether, the shovel weighs in at 3.97 pounds.
The Annihalate's head also rotates, but it has seven lockable positions as opposed to the three that the other shovels have.
You can switch between them with just one hand, thanks to the push budget adjustment.
These advantages don't come cheap, though. The Zune Lotoo Annihilate costs about six times what the Iunio shovels do.
Best High End Shovel
209
at Amazon
Prices accurate at time of writing
Prices accurate at time of writing
Final Thoughts
Though you may not have thought about it before, a survival shovel is an important addition to your camping and survival gear. It's even handy to keep one in your car or truck.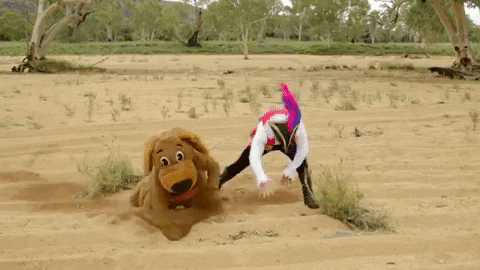 Whether you want to keep it simple with a dedicated shovel, like the SOG Entrenching Tool, or grab something with a few extra tools, like the FiveJoy, there's plenty of options to adapt to your needs.
So which survival shovel are you thinking about? What will you be using it for? Let us know in the comments below. Need more tools? We got you, with the Best Multitools, too!