Have you ever wanted to go camping or backpacking without having to worry about bringing canisters of fuel for your stove?
Have you been on the lookout for off-grid means of cooking, provided there's a massive power outage in your area?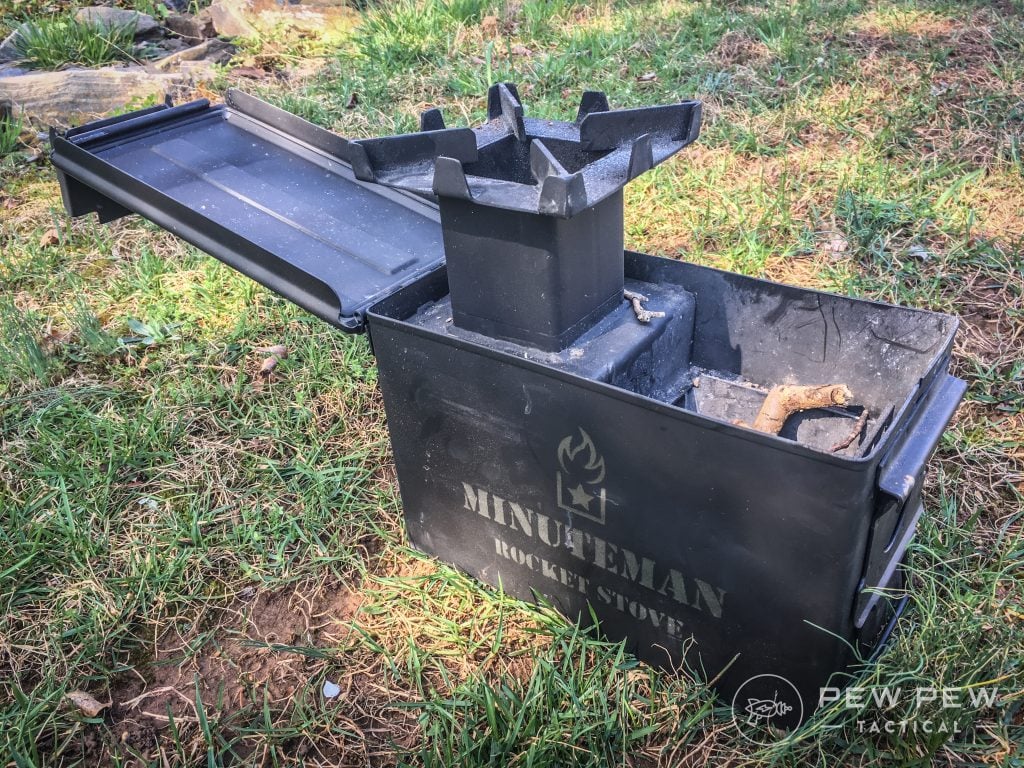 Enter the rocket stove.
In essence, rocket stoves are a metal version of a Dakota fire hole. They are incredibly efficient, require minimal fuel, and produce very little smoke whatsoever.
It's because of all these benefits that they've gained in popularity over the past few years.
As a result, rocket stoves have begun to flood the market from all over. However, not all rocket stoves are created equal, and consequently, choosing the proper one for you can be slightly confusing.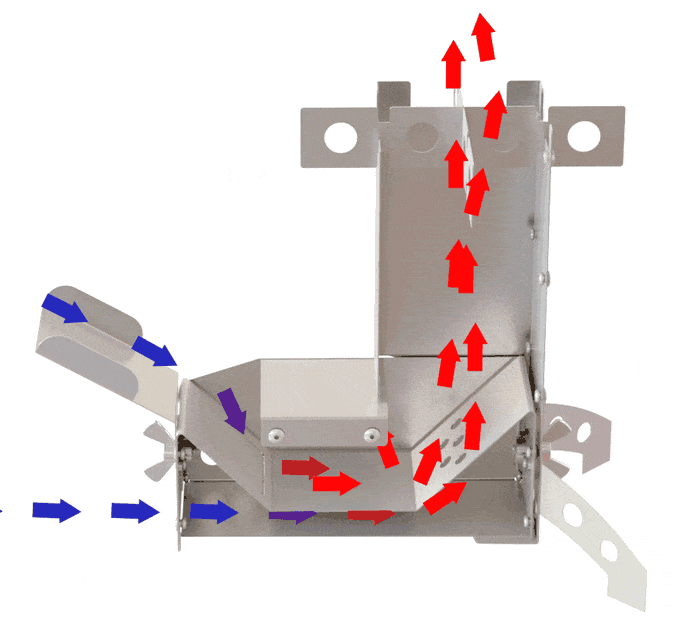 Thankfully, we've done all the heavy lifting for you, having narrowed down the options to what we deem to be the seven best rocket stoves on the market.
Take a look, and I think you'll find what you're searching for.
Summary of Our Top Picks
Most Durable Rocket Stove

This thing is built like a tank and makes for a great trunk-stored or home backup cooking device.

Most Portable Rocket Stove

This lightweight rocket stove folds up into a small form factor making it extremely easy to store.

Most Efficient Rocket Stove

This stove is incredibly efficient, making it ideal for use with limited or unknown amounts of fuel.
Table of Contents
Loading...
Best Rocket Stoves
1. Minuteman K Stove
I admit I'm a sucker for Minuteman products, including the K Stove. The primary reason for that love is that I tend to detest fragile backpacking/camping products.
In my experience, such items only break when you need them the most. If you've ever been 30 miles into the woods when a tent pole breaks, you know what I mean.
As such, anything built like a tank garners my support.
While this most certainly is not a rocket stove you're going to be taking with you on foot (it's too heavy for such), this would be a fantastic stove to keep in your trunk for camping trips or in your basement as a backup source of cooking.
I've found that the extra air vent within this design helps get your fire started a lot quicker. I've been able to cook some rather massive blueberry cobblers on this thing due to the wide cooktop as well.
This is an excellent choice if you need a backup form of cooking for a lot of people.
Most Durable Rocket Stove
289
at Minuteman Provision Company
Prices accurate at time of writing
Prices accurate at time of writing
2. Hot Ash Mini Stove
If you're looking for a rocket stove for backpacking, the Hot Ash Mini Stove is what you want.
I've long detested having to carry two canisters of fuel with me out into the woods, as well as a stove to boot.
If you're in the woods, why not use the fuel that's all around you instead of carrying it about?
Weight truly does matter when you're backpacking, something that the Hot Ash Mini Stove has no problem with, seeing that it comes in at all of a pound.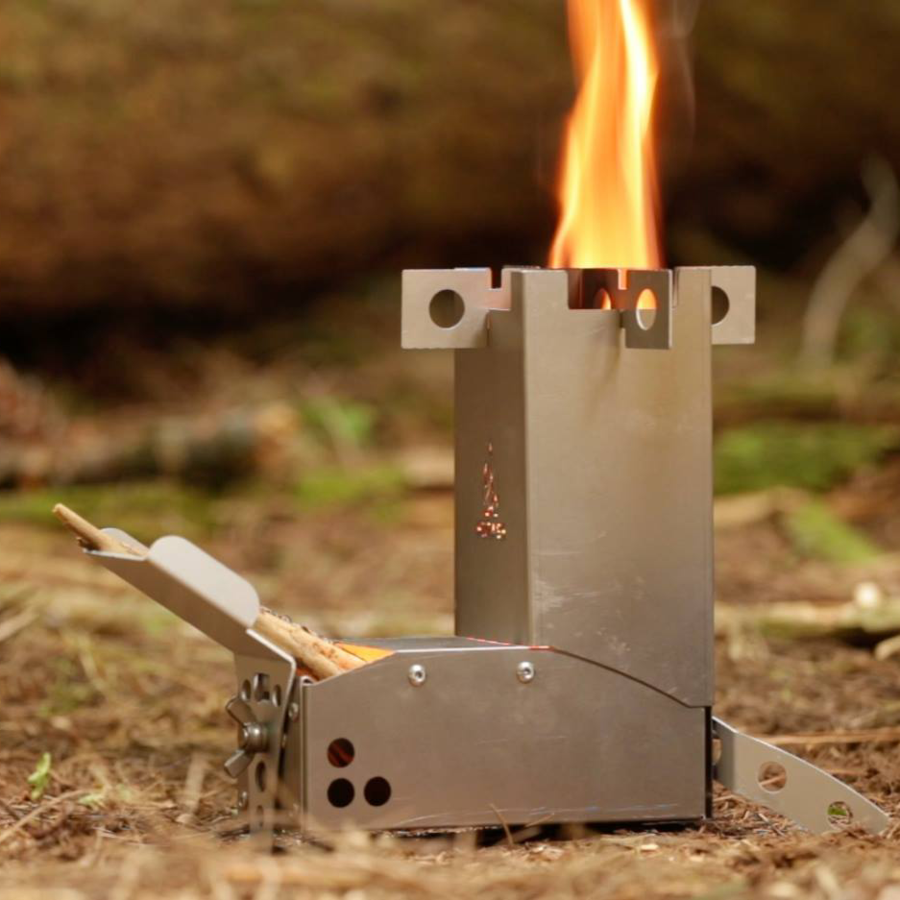 It comes with a lifetime guarantee from Hot Ash as well. So should you ever end up damaging it while you're out in the bush, you have the confidence that all will be well once you contact their customer service department.
It is important to note that due to its size, the Mini Stove will take a lot longer to heat up larger meals.
But provided you're using smaller backpacking pots and cooking your food in sessions, that's not something you really have to worry about.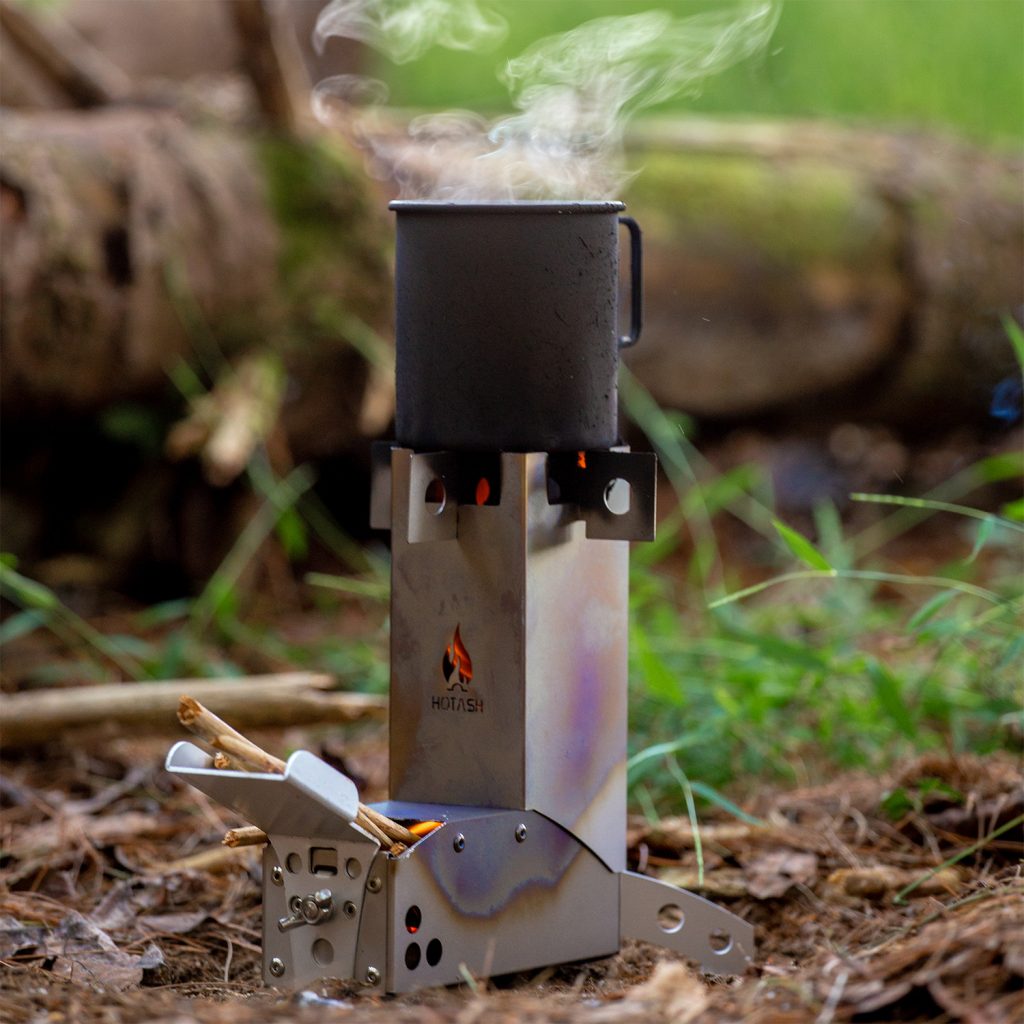 When you're done with it, the whole package folds up into this little box structure that you can easily stuff into the side pocket of a backpack.
Most Portable Rocket Stove
79
at Amazon
Prices accurate at time of writing
Prices accurate at time of writing
3. Bruntmor Camping Rocket Stove
As I mentioned before, I'm a sucker for gear that's sturdy.
The Bruntmor fits that description perfectly.
When I think of the term rocket stove, it's an image like this that pops into my head.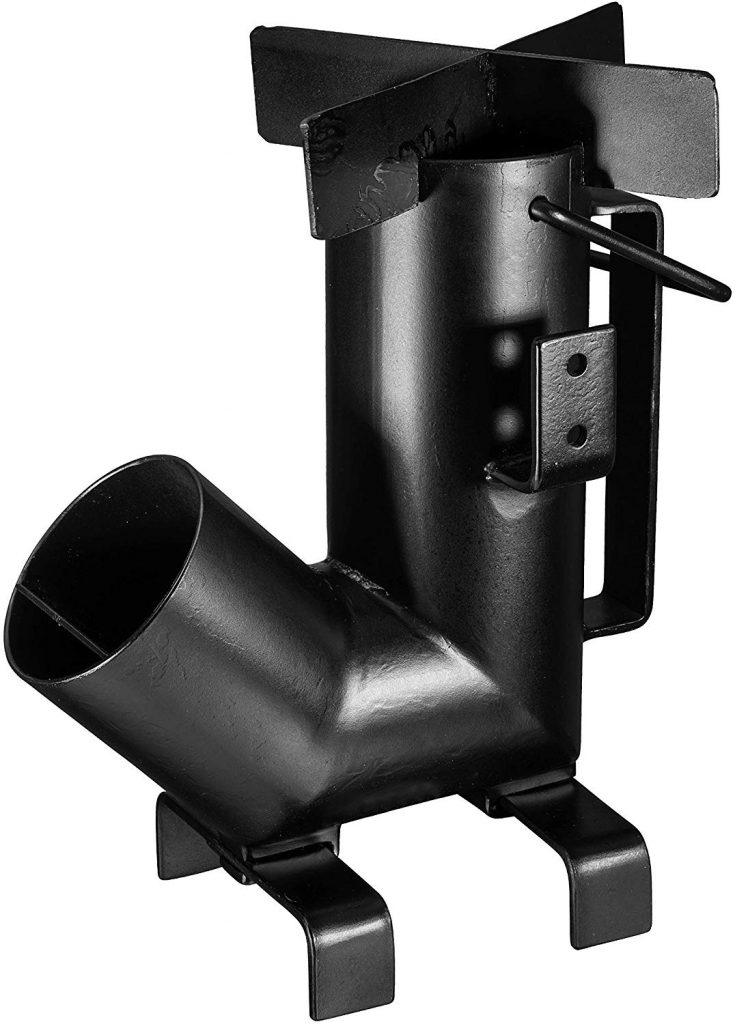 Again though, this sturdiness comes at a cost, and in this case, it's portability.
This isn't something that you're going to be able to just stuff into a BOB and go. But rather, it's a stove that you're going to want to either keep in your house or in your vehicle. Just in case.
Whatever your intentions, this rocket stove will have no problem whatsoever putting out some serious heat to cook whatever you throw its way.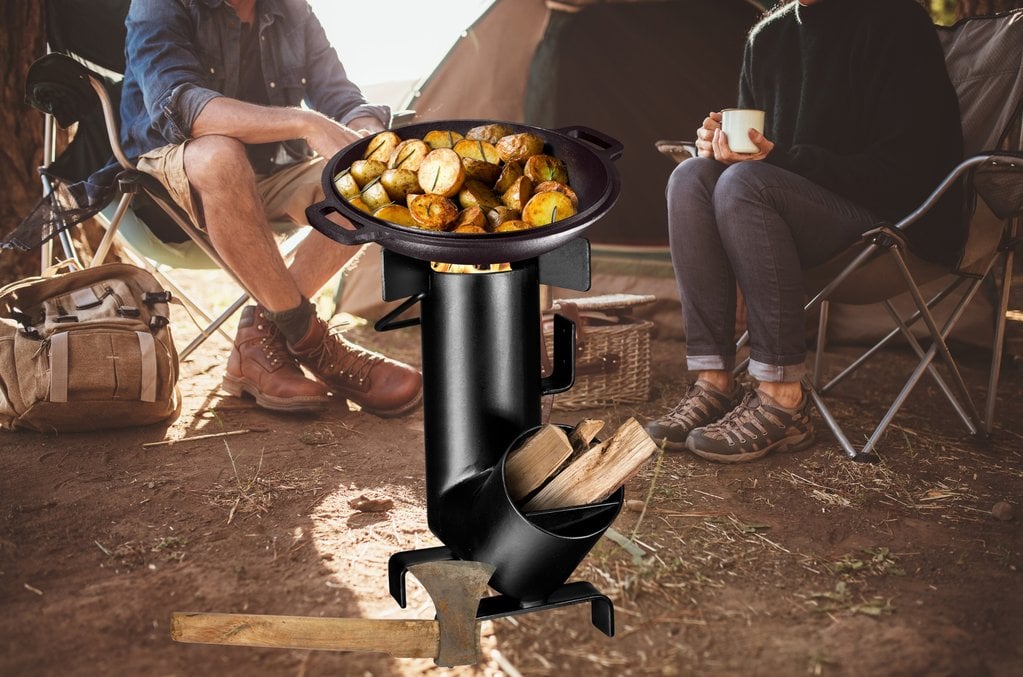 It is made and shipped over from China though, so shipping speeds may be an issue for where you live.
109
at Amazon
Prices accurate at time of writing
Prices accurate at time of writing
4. EcoZoom Versa Rocket Stove
It wouldn't be right to have a list of the seven best rocket stoves on the market and not include the incredibly popular EcoZoom Versa.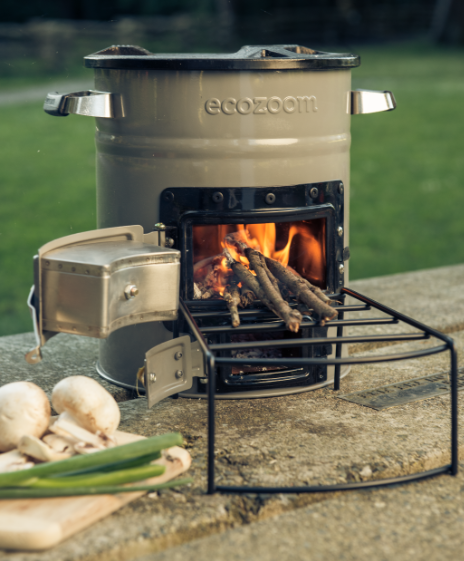 EcoZoom has a huge following within the camping world and does a lot of humanitarian aid work overseas with their rocket stoves as well.
That may be all the convincing you need to take a harder look at their products.
The EcoZoom Versa is easily one of the most efficient rocket stoves on the market as well. So, if fuel consumption is something you're worried about (perhaps you're not sure how much access you'll have to proper fuel), then that's a big plus.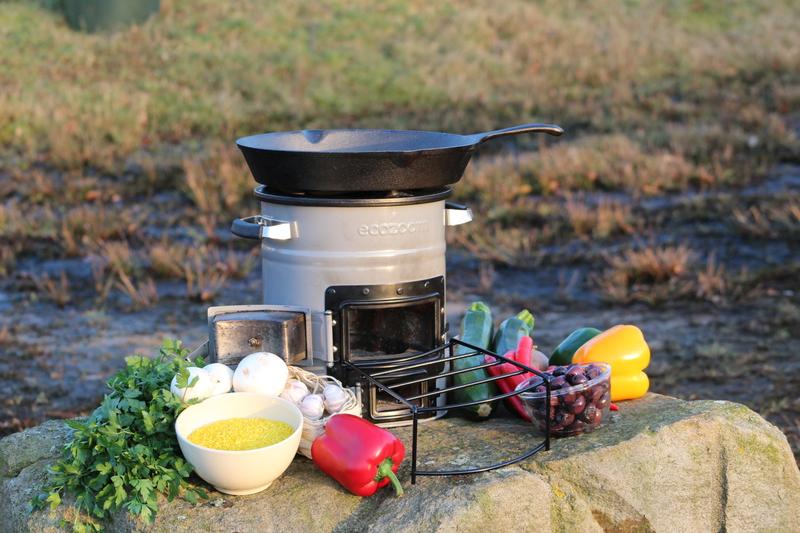 This efficiency is in part granted by the two doors that can be opened within the EcoZoom Versa.
One will always stay open as you feed fuel into it.
The other, however, can help to adjust the flame and temperature of the stove, allowing you to cook your food without burning it.
Most Efficient Rocket Stove
149
at Amazon
Prices accurate at time of writing
Prices accurate at time of writing
Have you tried the EcoZoom? If so, rate it below!
5. Marsh Kettles Camping Survivalist Prepper Flat Pack Mini Rocket Stove
The name of this thing is bigger than the stove itself.
This is what happens when you put somebody solely interested in search engine optimization in charge of naming your product.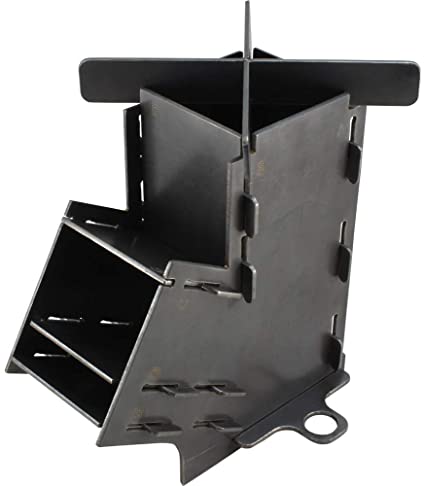 The Flat Pack Mini stove has a wee bit of an arts and crafts vibe to it, but if you're looking for a rocket stove that you can easily break down and shove into a BOB, then this may be the stove for you.
It packs down completely flat, and though it comes in at 6-pounds (heavy for a backpacking stove), you may be able to atone for the weight if you're in a situation where refueling a regular backpacking stove is unfeasible (e.g. you're stuck in the woods for a month).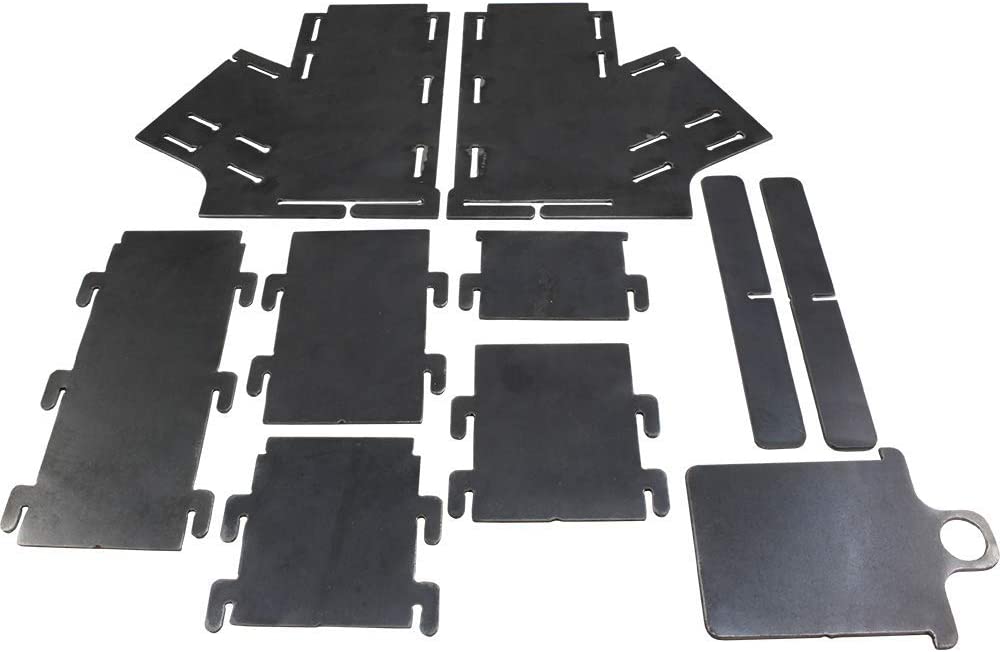 One potential pitfall of this product though is that it's not stainless steel.
As such, you really need to ensure that this thing is kept dry, or you're going to end up with a slowly eroding stove.
Provided you're cleaning it off as soon as possible after cooking with it and keeping it secured in the inside of your bag while on the trail, you'll be able to minimize the risk of such drastically.
76
at Amazon
Prices accurate at time of writing
Prices accurate at time of writing
6. SHTFandGo Bullet-Proof Rocket Stove
The main thing that I like about the Bullet-Proof Rocket Stove is the cant of the fuel hole.
This means that you don't have to constantly feed sticks into the fire by pushing them.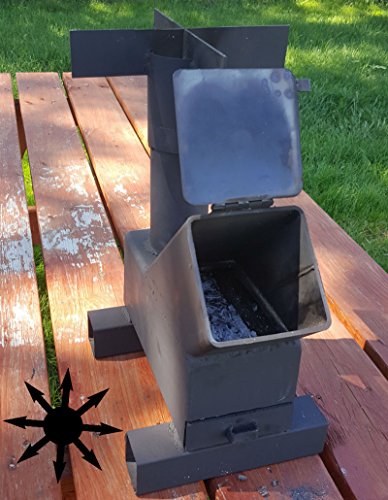 They'll automatically fall into the flames as they burn down. Not that this is that huge of an issue to begin with, but it is one less thing to worry about.
The size of this thing means it's better served by being a unit you keep in an RV or basement — it would take up a lot of room in a trunk.
One feature of this stove that others lack, is that it can actually be used as a tent stove, provided you have a chimney attached to it.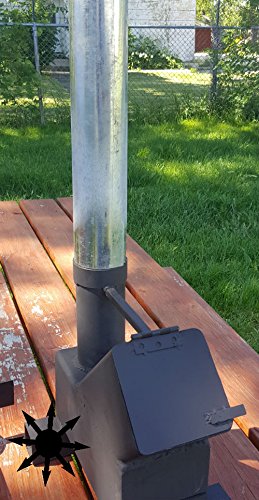 It accepts standard 3-inch venting pipe, which is easily found at just about every other home improvement and farm store you visit. So, finding such wouldn't be an issue.
If you're interested in deep country cold weather tent camping, this may be the stove for you.
185
at Amazon
Prices accurate at time of writing
Prices accurate at time of writing
Final Thoughts
Apart from the space and weight-saving ability that it provides for a backpack, a rocket stove truly is a fantastic way to ensure that you still have the capability to cook your own food should the electricity go down at your house.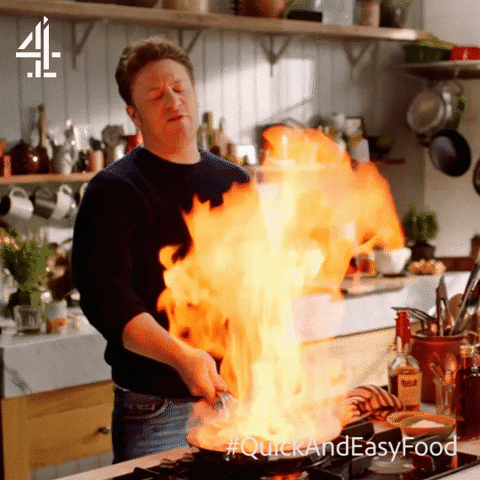 Considering how cheap you can find one online, it truly is an affordable prep that can help you to provide for both yourself and your family should disaster strike.
Did you agree with our list? Are there other rocket stoves that should have made the cut? Let us know in the comments below! Planning a Bug Out Bag? Check out our Bug Out Bag content checklist!