A ton of modern pistols have rails, and you know what those are for?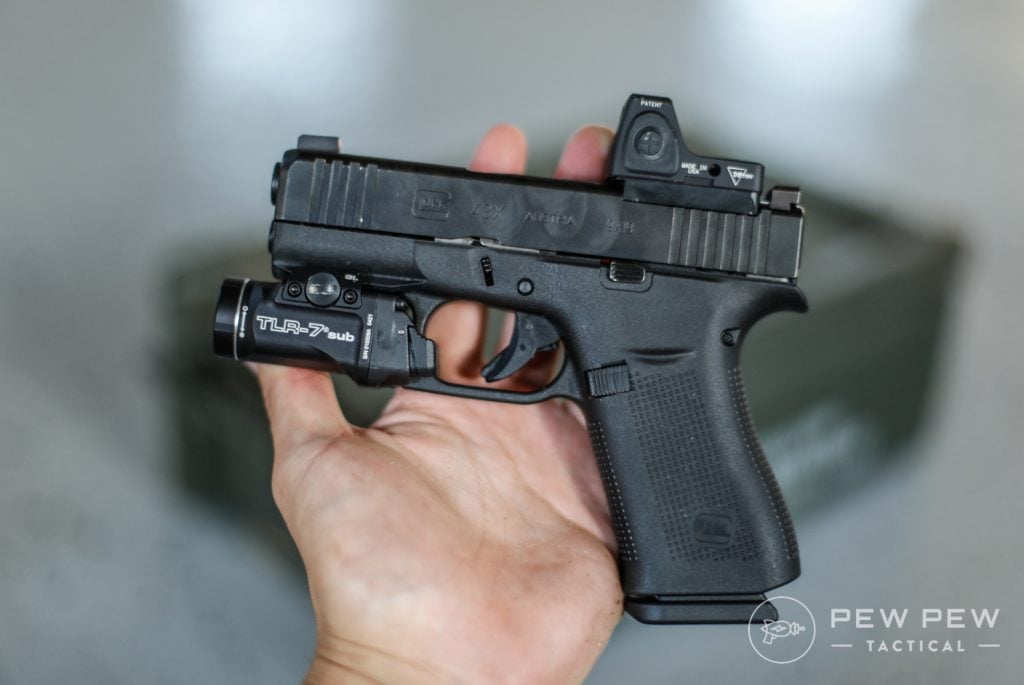 Modern lights…duh. Well, lights, lasers, MantisX devices, and other nifty accessories.
But at the end of the day, the most popular choice for rail attachments are lights, and if you have a light on your handgun, you might have the hankering to carry your gun with it attached.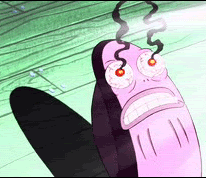 Luckily, we live in a time where light-bearing holsters are no longer rare, odd, or hard to find.
Heck, they aren't even too expensive these days, so let's look at some of the best ones on the market.
Summary of Our Top Picks
Table of Contents
Loading...
Why Have a Weapon Light?
Are weapon lights mandatory? Absolutely not — but they do provide you with another tool for the box.
Weapon-mounted lights don't kill the need for a handheld light either. It's just an alternative option that allows you to identify a threat positively regardless of the lighting conditions. Some people spend more time out at night, as any second shifter in the audience will tell you.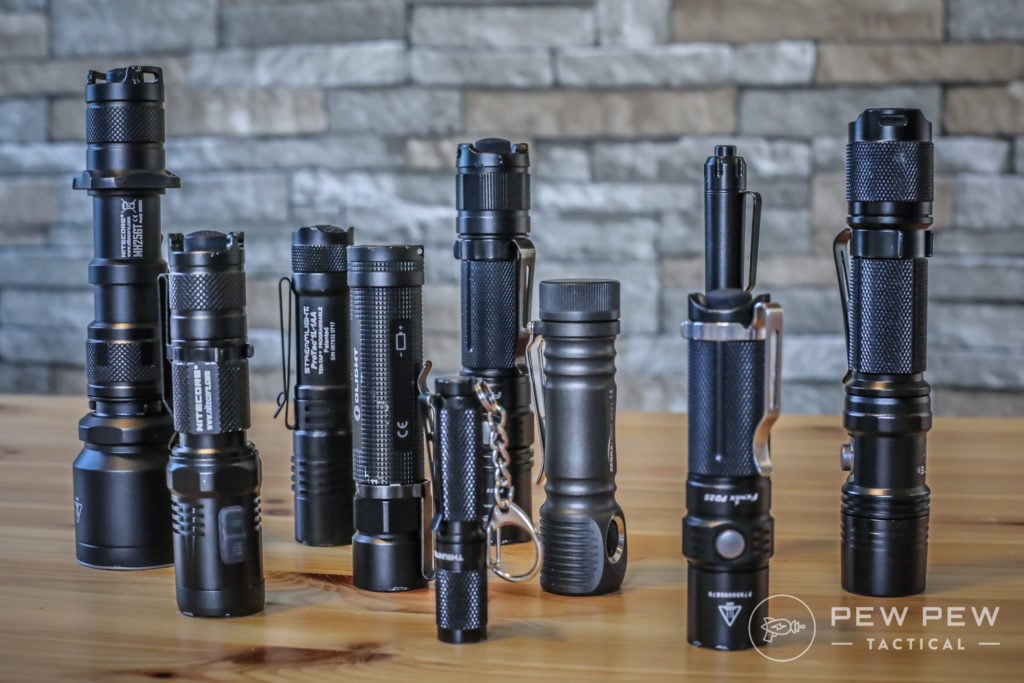 Having a weapon-mounted light grants you one more option, and options are great unless they make it tough to carry your gun.
A few years ago, carrying a gun with a weapon-mounted light was challenging — especially concealed.
These days there are light-bearing holsters everywhere designed for every task, including concealed carry.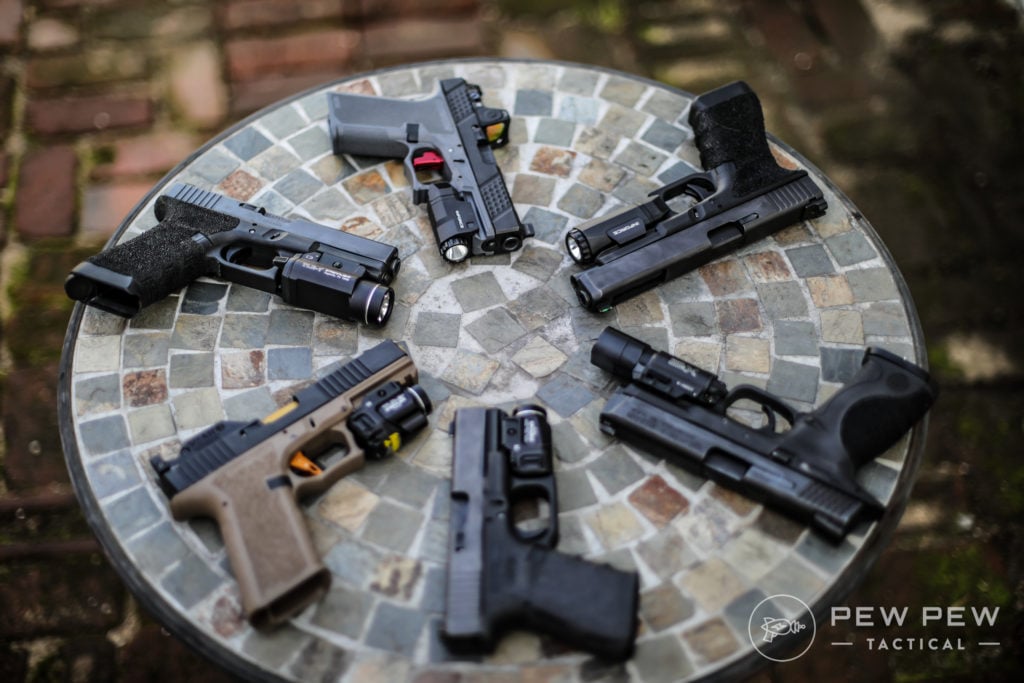 We've gathered what we think is the best for a wide variety of needs. Hopefully, we can help you make the right decision in choosing your light-bearing holster.
Best Light Bearing Holsters
1. PHLster Floodlight OWB and IWB
PHLster changed the game with the Floodlight and proved that universal holsters didn't have to suck.
Not only is this a light-bearing setup, but the key to its success is the ability to index on the light attached to your gun.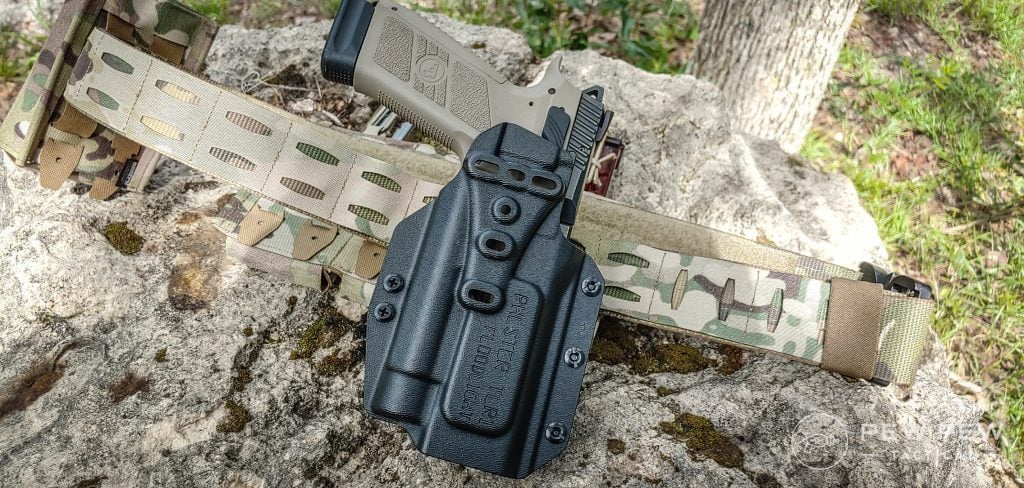 It's not 100% universal because it only fits compact and full-sized guns, so you can't toss your P365 in one.
But Glock 19-sized guns and up is a good rule of thumb. I've had no issues with it working with Glocks, CZs, Walthers, and so much more.
The PHLster Floodlight is compatible with the Streamlight TLR-1, the Surefire X300U series, and the new Modlite PL350. It is available in AIWB/IWB configurations and also offers an OWB option. Each option allows you to customize its retention and make the holster fit your gun.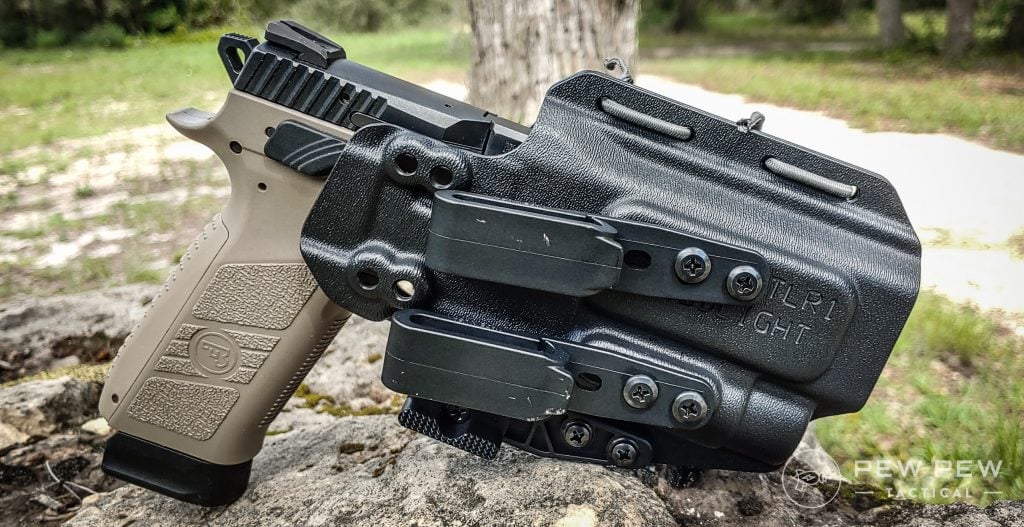 It's easy to use and customize with a wide variety of aftermarket clips, loops, wedges, and more. Users can also change the cant and ride height with ease.
If I had a complaint, it would be the somewhat blocky nature of the holster. It's not as streamlined as a purpose-built holster, but that's the nature of a quasi-universal rig.
Overall the PHLster Floodlight is a spectacular holster and one of my favorite options for AIWB.
119
at Brownells
Prices accurate at time of writing
Prices accurate at time of writing
2. Blackhawk Omnivore
Although the Omnivore is a universal-style holster like the PHLster, it is a big, blocky holster better suited for the range and the woods than concealed carry or duty.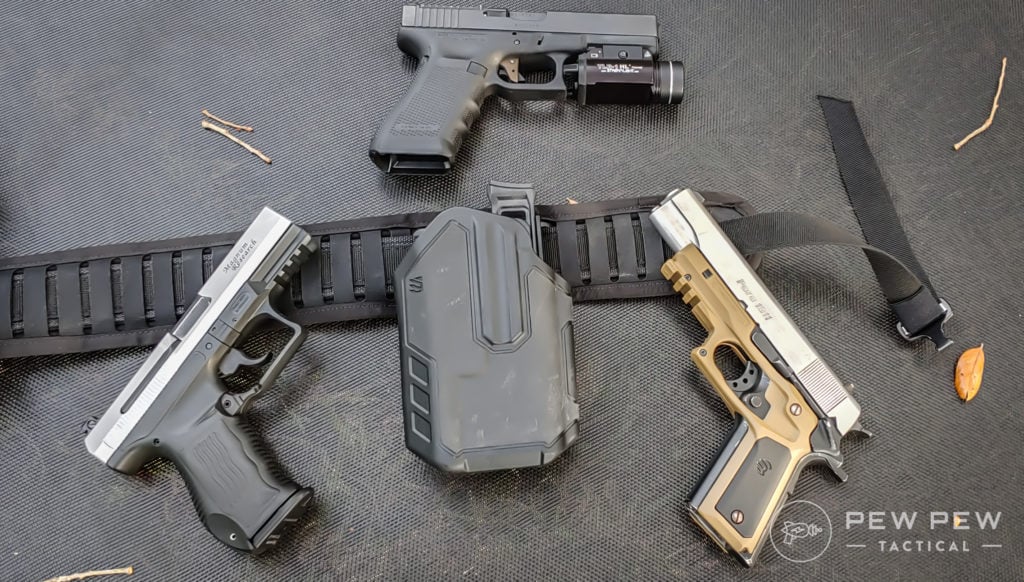 The Omnivore works with most compact and full-size handguns. It's not as compatible as the PHLster Floodlight but will work with the major players.
Blackhawk produces the Omnivore to work with the Streamlight TLR 1 and Surefire X300U series of lights.
Blackhawk also utilizes an easy-to-use active retention system with a thumb-driven release. The thumb device can be adjusted with various height thumb devices to ensure a clean, easy draw.
Retention is rock solid, and it indexes around the light to keep the gun secure until the thumb release is pressed.
One downside with your draw is that if it's not straight up all the time, the gun can snag on its way out and interrupt a smooth draw. While not a deal-breaker, it can be annoying, especially with firearms with odd-shaped slides like the Walther P99.
But for around $50, it's tough to go wrong with the Omnivore.
30
at Palmetto State Armory
Prices accurate at time of writing
Prices accurate at time of writing
3. Safariland 557 Open-Top Belt Slide
Safariland is the king of duty holsters, and they make tons that accommodate lights, optics, and every modern attachment on the books.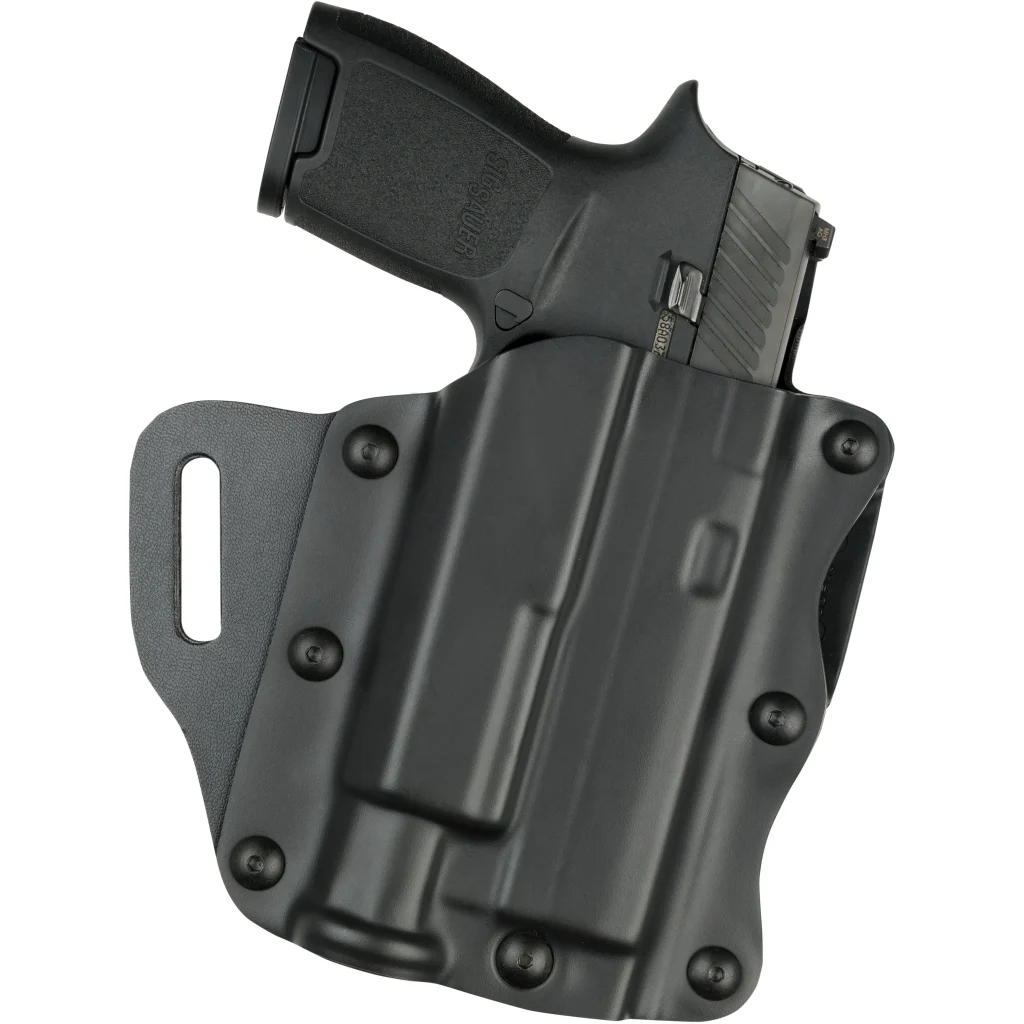 But for those that don't need a full-on duty rig, there is the Safariland 557. It is an open-top holster designed for OWB concealment while accommodating a light.
Safariland purpose builds the 557 to fit several different guns and lights. From old standards like the Glock 19 and 17 to oddballs like the FN Five-Seven.
Light-wise, it accommodates various options, including the TLR 1 and 2, the Surefire X300U, the Inforce APL, the Surefire XC-1 and 2, and the Nightstick TWM-350.
OWB makes concealed carry tough, but the 557 clings to the body tightly, helping hide the gun. The open-top design provides a clean draw without worrying about a retention device.
If you want to maximize comfort and have a simple, light, effective concealed carry rig, the Safariland 557 is right up your alley. It's rugged, safe, and makes carrying your light-equipped mohaska a breeze.
40
at OpticsPlanet
Prices accurate at time of writing
Prices accurate at time of writing
4. Dark Star Gear Rigel
I know nothing about astronomy, but Dark Star Gear has taught me a lot about what constellations and stars are named.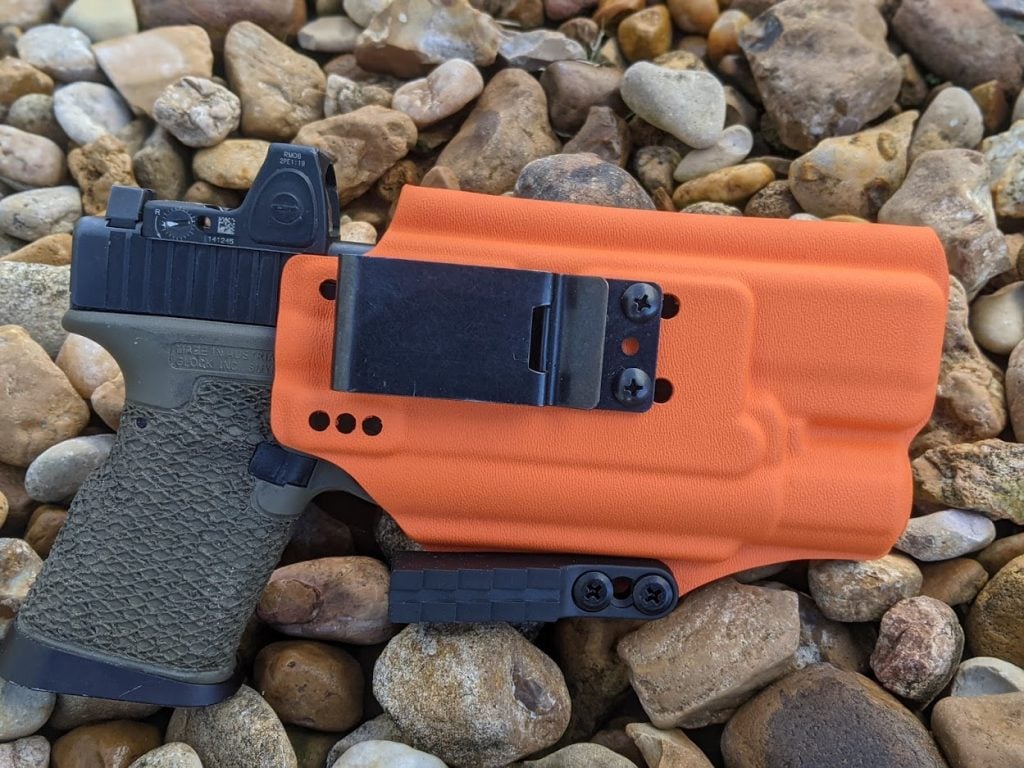 The Rigel is one of the brightest stars in the sky, which makes sense when you understand the Rigel holster is a light-bearing design. Specifically, it's a deep concealment appendix rig.
Dark Star Gear is a small company, and as such, they have to make what sells the best, and the Rigel is only produced for the Glock series of pistols, specifically, the medium-frame compact and full-sized guns Glocks that dominate the market.
The Rigel comes compatible with the TLR-1, the Surefire X300U, XH30, XH35, and XC-1.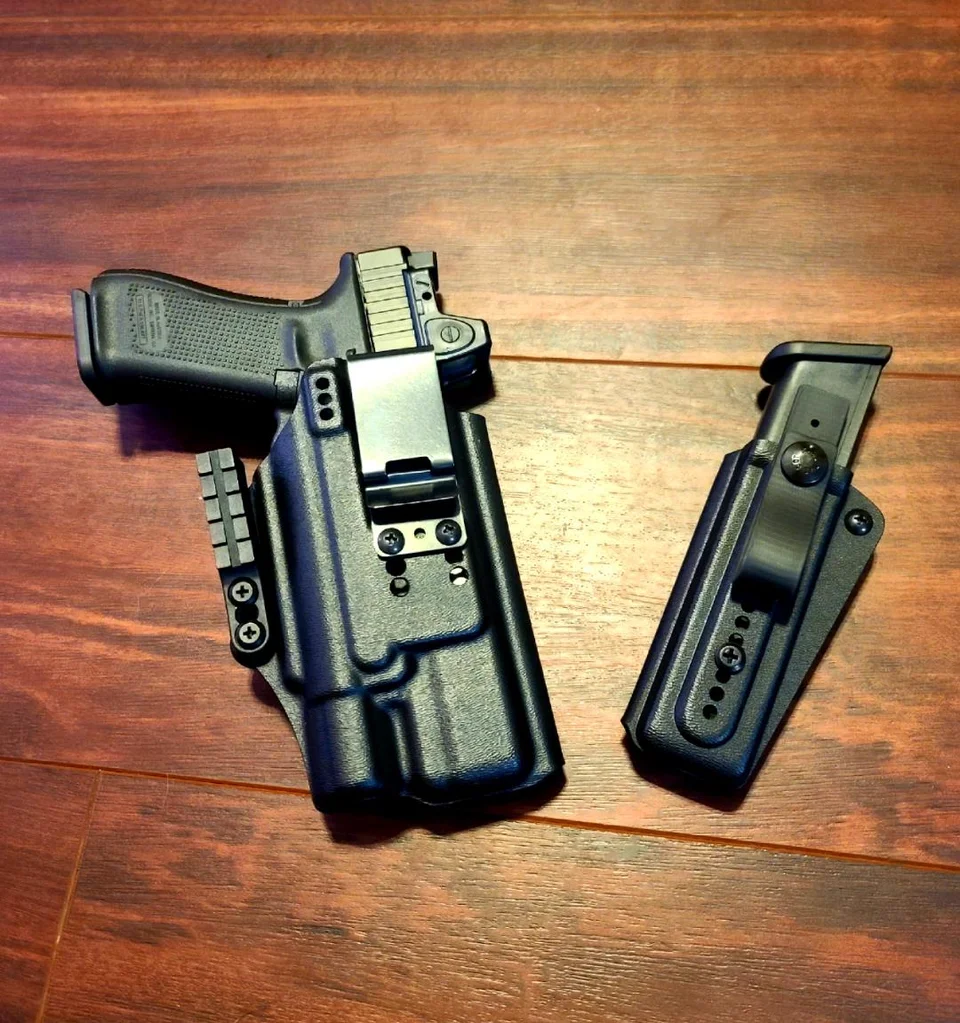 Dark Star Gear uses the latest in Kydex molding to produce a holster that excels in concealment, safety, and retention and makes access easy for a clean and quick draw.
The Rigel easily disappears under a shirt and in your pants, making concealing even a full-size gun easy. You can get an optic cut and choose between a metal clip, soft, or hard loops. Cant and ride height are easily adjustable to help fit the holster to the user.
Overall, It's a fantastic holster that is great for concealed carry. It's a shame it's only produced for Glock pistols.
95
at Dark Star Gear
Prices accurate at time of writing
Prices accurate at time of writing
What do you think of Dark Star Gear? Rate them below!
5. Raven Concealment Gear Morrigan
Morrigan is apparently a Celtic goddess of battle, and I am here for it.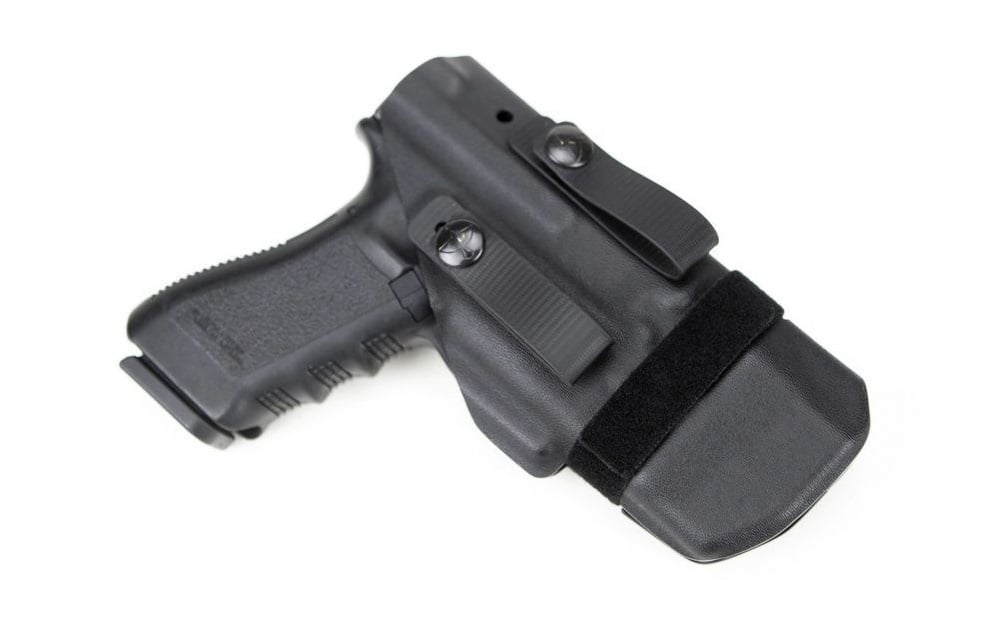 The Raven Concealment Morrigan is an IWB rig designed for strong side or four-o-clock carry. This holster has both light-bearing and non-light-bearing versions, so be aware of that.
Once again, all roads lead to Glock in terms of compatibility — specifically the compact and full-sized medium-frame models.
Light-wise, you're restricted to compact lights like the TLR-7 and 8, the Inforce APL, and the Surefire XC-1. Most designs fit the Glock 19/23, and one fits the Glock 17, but only with the XC-1 for some reason.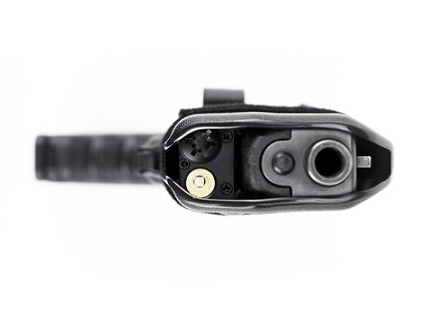 The Morrigan stands out due to its extremely thin and compact design. It does everything possible to trim bulk and increase comfort.
Raven uses an odd 360-degree velcro wrap that allows you to adjust retention, almost like tightening a tourniquet.
The Morrigan is innovative, and if comfort is the name of the game, this is for you. Even with its very limited gun and light compatibility, the Morrigan stands out as an impressive and well-made holster with some simple but innovative features.
Thinnest IWB Holster
54
at OpticsPlanet
Prices accurate at time of writing
Prices accurate at time of writing
6. Dara Holsters Light Bearing Action Sport Holster
Dara Holsters makes tons of light-bearing holsters for various use cases, but we are checking out their competition-oriented offering — the Action Sport Holster.
The Action Sport Holster is compatible with dozens of guns from Glock, Sig, Walther, Springfield, and many more. The wide compatibility extends to lights as well, with options for many of the TLR series, Surefire X300 series, Modlite PL350, and even a variety of Olights.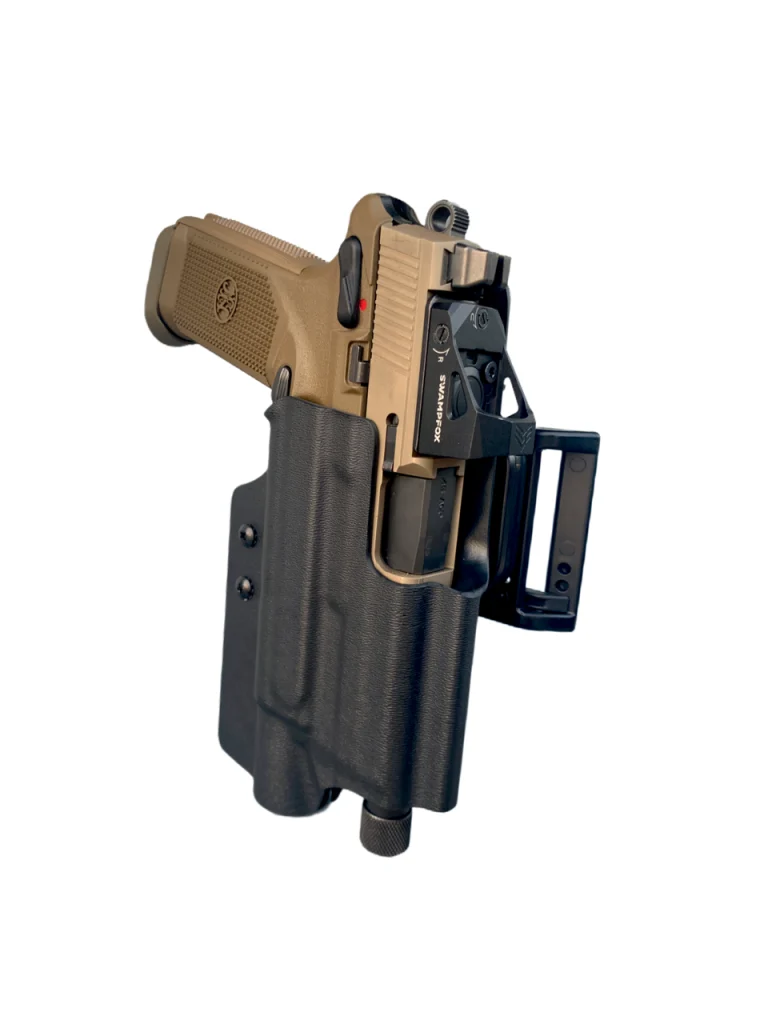 As a competition holster should, the Action Sport accommodates red dot optics, threaded barrels, and most muzzle devices. It features passive retention for a quick and easy draw and a low cut to make a fast draw even faster.
Ride height and cant are also adjustable, and the holster is compatible with various attachment options.
This is a specific holster designed for a particular task and isn't a multipurpose design by any means, but if you are looking for a dedicated competition holster, it is worth a look.
Best Competition Holster
73
at Dara Holsters
Prices accurate at time of writing
Prices accurate at time of writing
7. JM Custom Kydex AIWB Wing Claw 2.5 Light-Bearing Holster
Do you know why I like Raven and Dark Star naming conventions? Because it avoids the JM Custom Kydex super long names — like the AIWB Wing Claw 2.5 light-bearing holster.
This mouthful of a rig is a pain to say but pain-free to bear.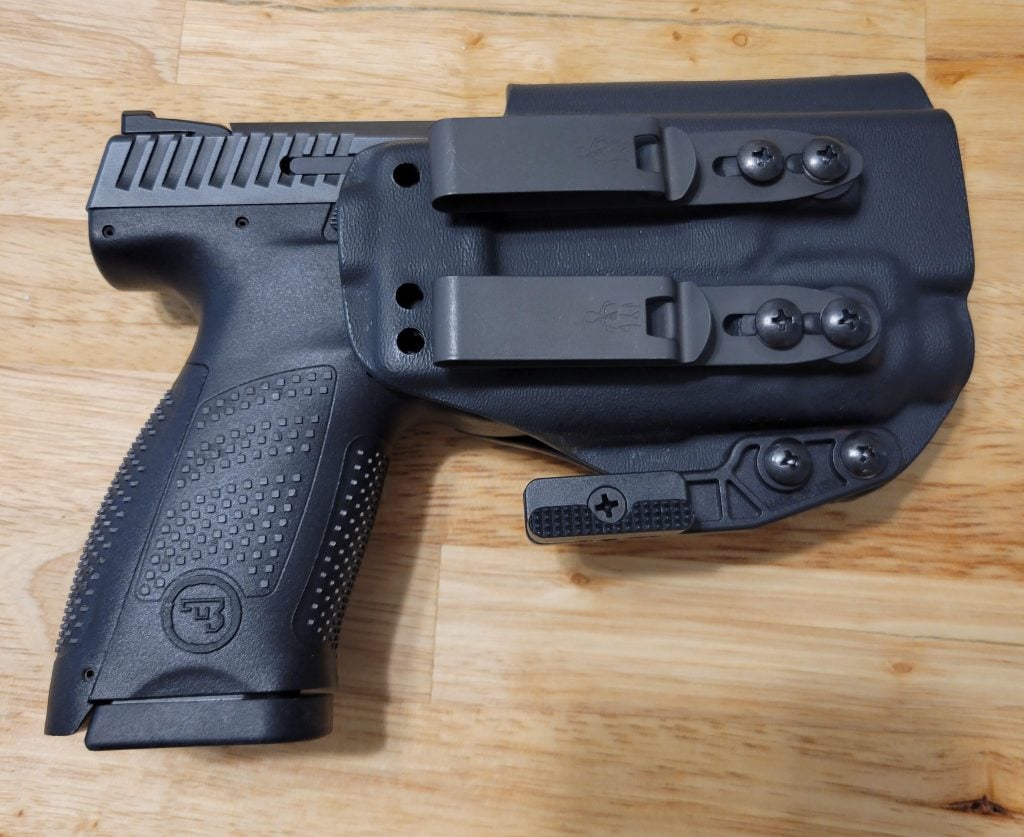 When it comes to weapon compatibility, this holster covers dozens of options from all the major companies and even more obscure choices like CZ and Walther.
In terms of size, they range from Glock 17-sized guns to the Sig Sauer P365. For lights, you can pick from a variety of Surefire and Streamlight options, including the TLR 7 SUB, and they even have Modlite compatibility.
The AIWB design provides a modern setup featuring numerous belt loops and clips, a varied height sweat guard, different hole patterns, muzzle pads, and red dot cut options.

Users can get the exact holster they want from JM Custom Kydex. The other options make it easy to get the proper rig for you.
The Wing Claw 2.5 is slim, lightweight, and disappears with absolute ease. Users should experience a smooth and quick draw without sacrificing access or concealment.
Retention is solid, and the holster delivers a full firing grip and total safety with a completely covered trigger. JM Custom Kydex does a fantastic job providing shooters with quality light-bearing concealment rigs.
85
at JM Custom Kydex
Prices accurate at time of writing
Prices accurate at time of writing
8. Bravo Concealment BCA Light OWB/IWB Holster
For those on a tighter budget, the Bravo Concealment Adaptive holster has you covered. The BCA gives you an OWB or IWB option that clings tightly to the body and won't break the bank.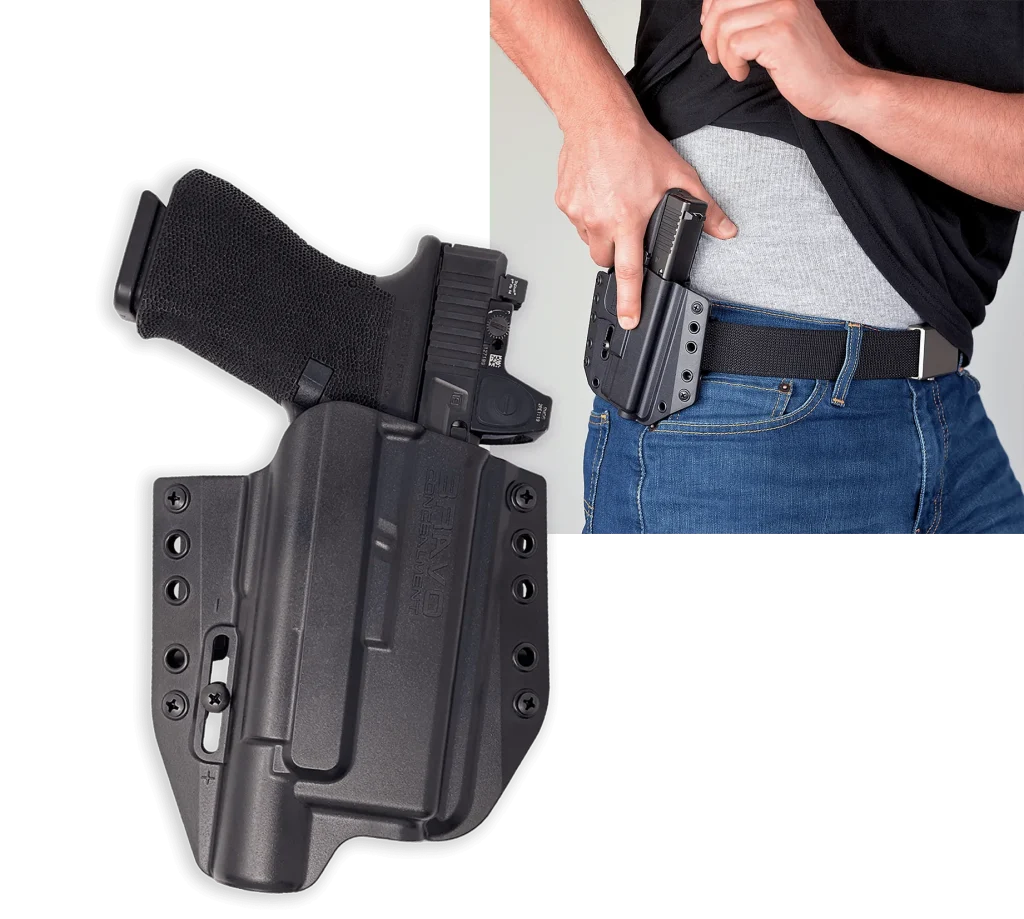 These are all polymer holsters molded to each gun. Unfortunately, this means you're limited to Glocks, S&W M&Ps, and Shadow Systems firearms. Regarding lights, you're predictably limited to the Streamlight TLR-1, TLR-7, and Surefire X300 series.
For concealment, the holster has a slight curve to help it wrap around your body, along with belt loops that keep the holster tight. Like most OWB rigs, it will be a little lumpy.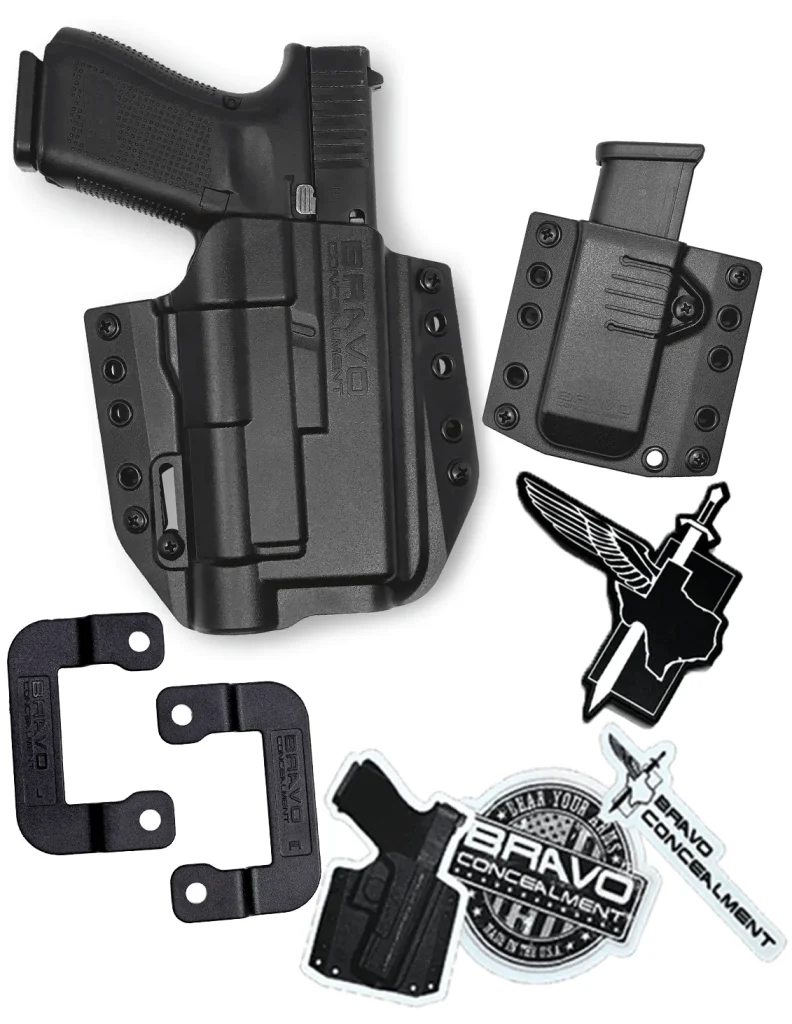 A full-length sweat guard provides plenty of protection for you and the gun and makes the weapon comfy to carry.
If OWB isn't concealed enough, Bravo allows you to swap the clips to convert the holster to IWB carry. It's more of an OWB holster, so for IWB, it feels a little bulky but is still very serviceable. Don't expect to comfortably appendix carry this one by any means, though.
All in all, It's not a bad setup for less than $40 while also avoiding long lead times.
Best Budget Option
28
at OpticsPlanet
Prices accurate at time of writing
Prices accurate at time of writing
Final Thoughts
Packing a weapon-mounted light isn't that tough to do these days. More and more companies are reaching into the game and delivering some stellar options for concealed carry, duty, and even sporting purposes.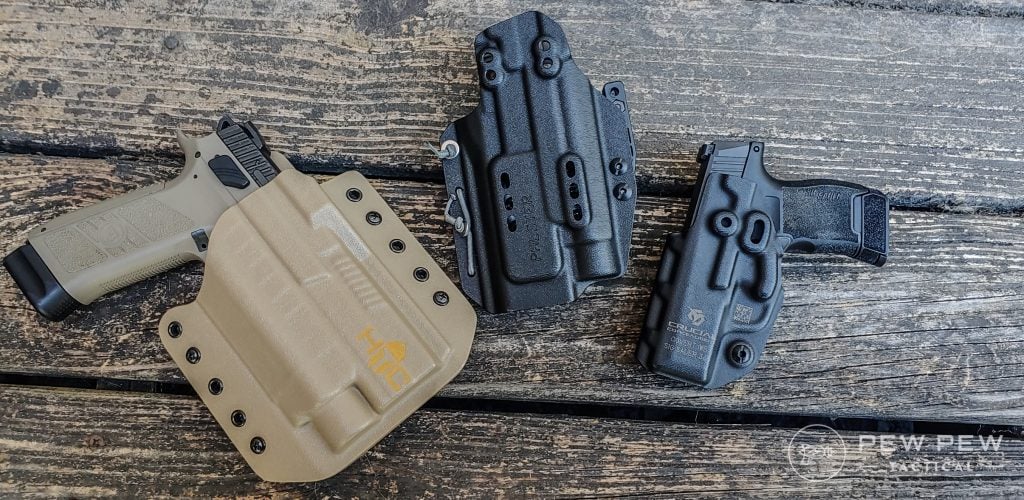 Whether you run weapon lights or not, having the option to do so is always nice because who doesn't like more options?
Do you have a favorite light-bearing holster? Let us know in the comments below! Don't have a weapon light picked out yet? Check out our hands-on review of the 10 Best Pistol Lights!