A good hunting blind can be the key to successful hunting.
The right model can help put you in the perfect position to call a big gobbler, ambush a monster buck, or get your daily bag limit of ducks.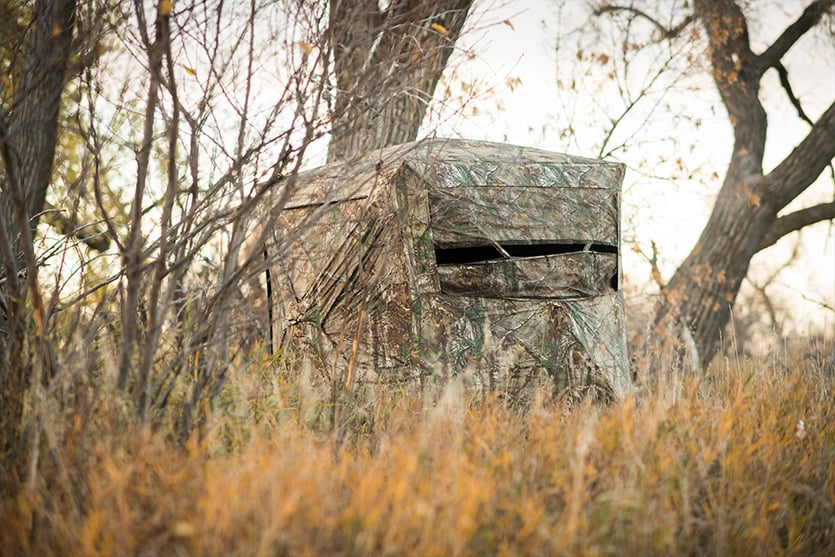 If those sound like worthwhile goals, you should consider adding a blind to your hunting arsenal.
I did some general recon and field research to find some of the best hunting blinds on the market.
Whether you're trying to stay hidden from deer, turkeys, ducks, or something else entirely, there's a blind on this list to help you do it.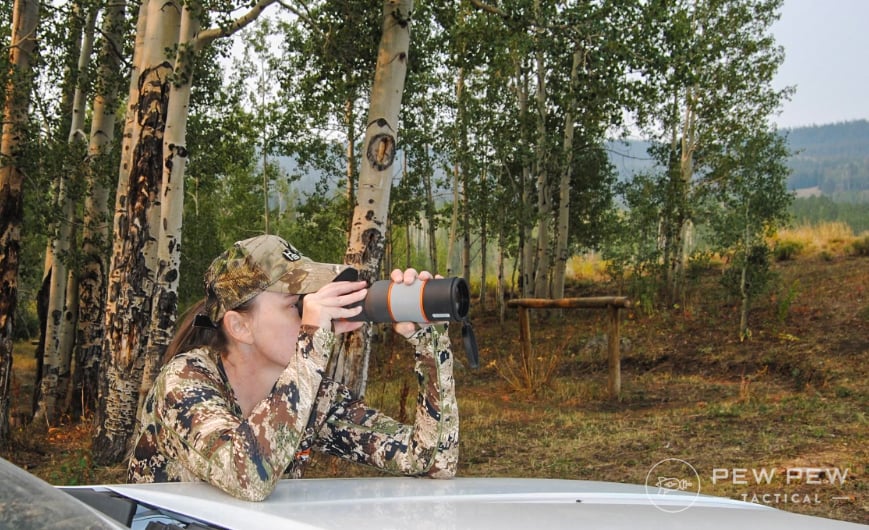 Table of Contents
Loading...
Why Use a Hunting Blind?
Blinds are incredibly versatile hunting tools.
Designed to provide concealment from the keen eyes (and sometimes noses) of wildlife, a good blind can increase your hunting success.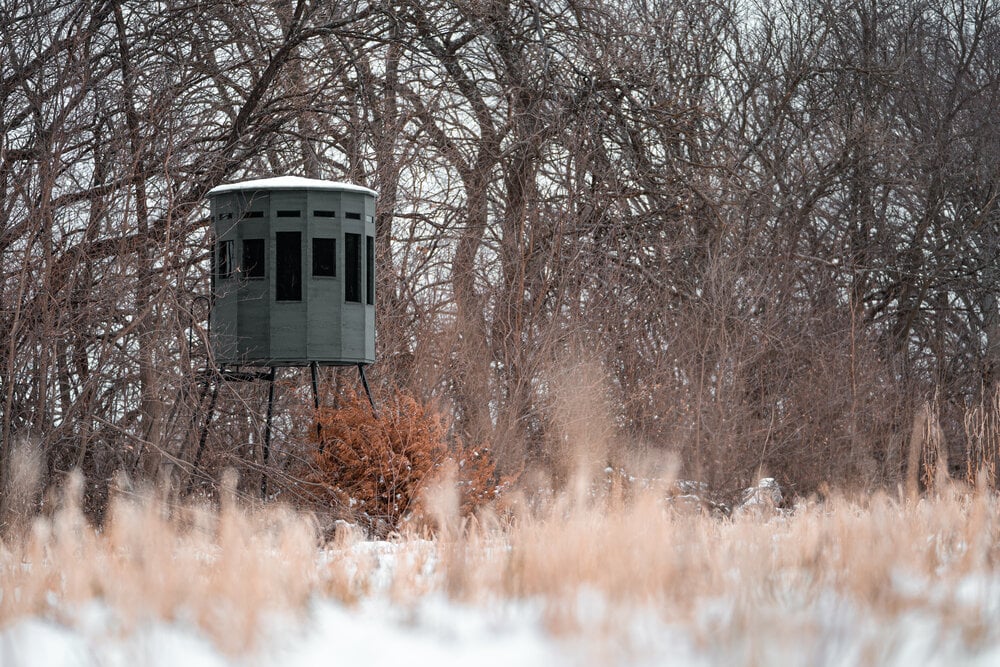 How, you ask?
Well there are a few ways.
First, they help conceal movement. This makes them ideal for hunting with fidgety kids (or other hunters who have a hard time sitting still).
Most blinds also provide protection from the elements. They keep you and your gear dry on rainy days.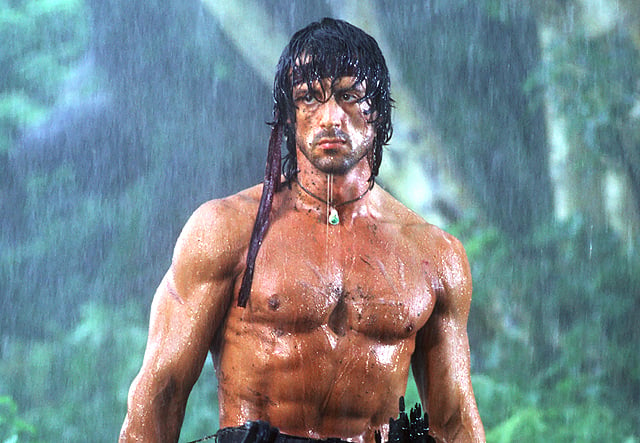 Ground blinds also prove much easier to slip in and out of than a treestand. This makes them well-suited for hunters with limited mobility.
The close confines of a hunting blind also work to contain human scent. Some high-end models incorporate scent elimination technology into their designs to further control human odors. 
This helps keep you incognito from the noses of deer.
Many hunting blinds are designed for portability. Treestands can be difficult to relocate, but most hunting blinds offer pop-up convenience.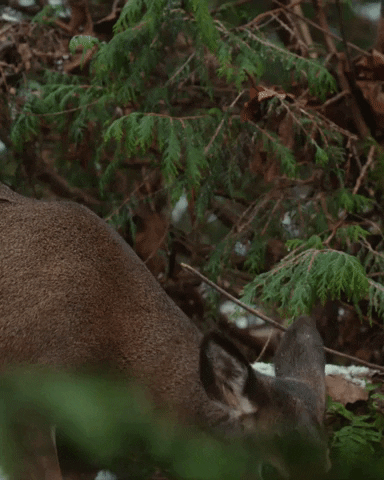 This allows you to quickly adjust your hunting site for game movement or weather patterns. We love versatility!
Finally, although some hunting blinds have a minimalistic design, others can accommodate chairs, blankets, and even space heaters, allowing you to stay comfortable and in the hunt for extended periods. 
Best Hunting Blinds
If you want something a little more sophisticated or convenient than hiding behind a pile of brush, we present our top picks for hunting blinds.
We've laid these starting with most affordable and ending with high-end to make it easier to stay on budget.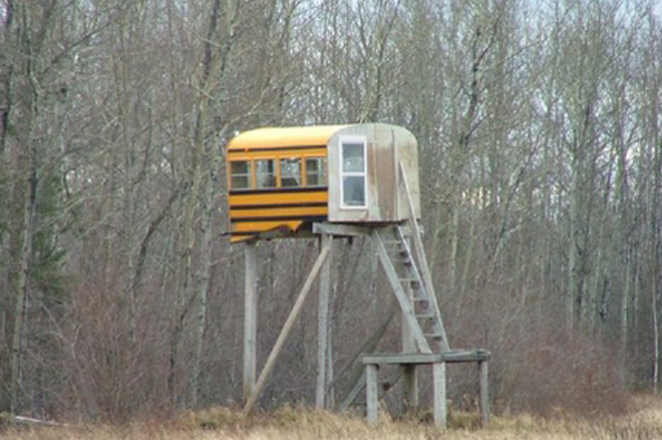 1. Ameristep Throwdown Run-N-Gun
It really doesn't get much simpler (or cheaper) than this.
Perfect for quick set-up turkey and predator hunting, the Throwdown is basically a set of camo panels you can easily stake into the ground.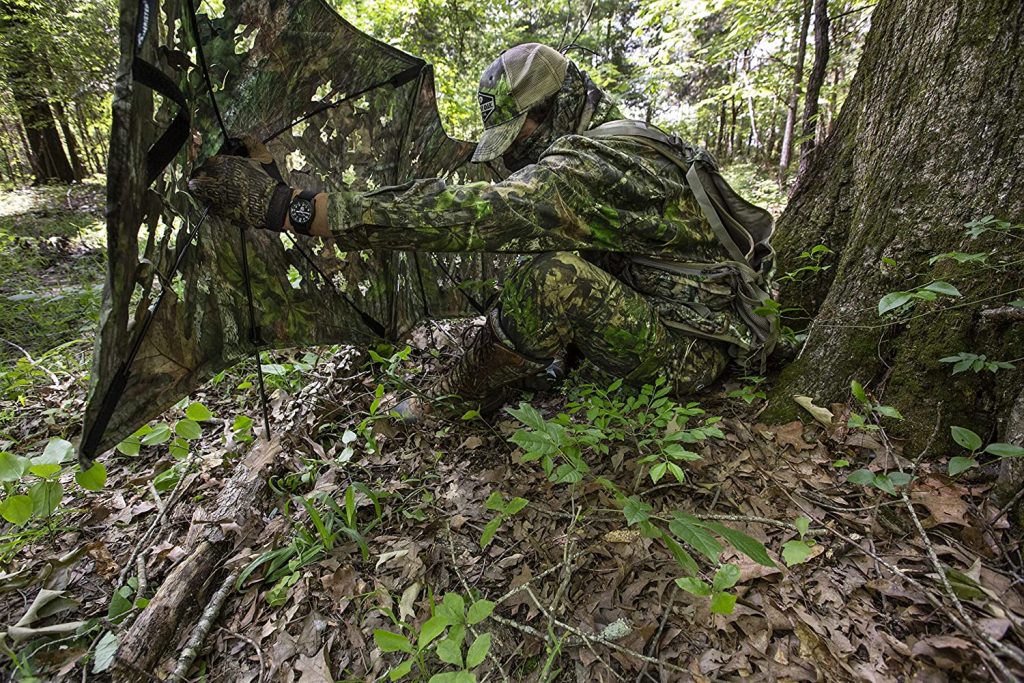 Once you have the blind set up — it literally sets up in 30 seconds — you just position yourself behind the panels. And you're good to go. 
The blind weighs less than 2-pounds and folds down to a size you can easily stuff in your daypack or turkey vest. 
40
at Amazon
Prices accurate at time of writing
Prices accurate at time of writing
2. Ameristep Doghouse Blind
This no-nonsense blind from Ameristep has been a popular option for budget-conscious hunters for years.
It transports easily, sets up quickly, and has enough interior space for you and a hunting buddy.
The exterior of the Doghouse is made from a waterproof Durashell fabric with a matte finish to cut reflection. It comes in either Mossy Oak Breakup or Realtree Edge camo patterns, blending into woodsy backgrounds.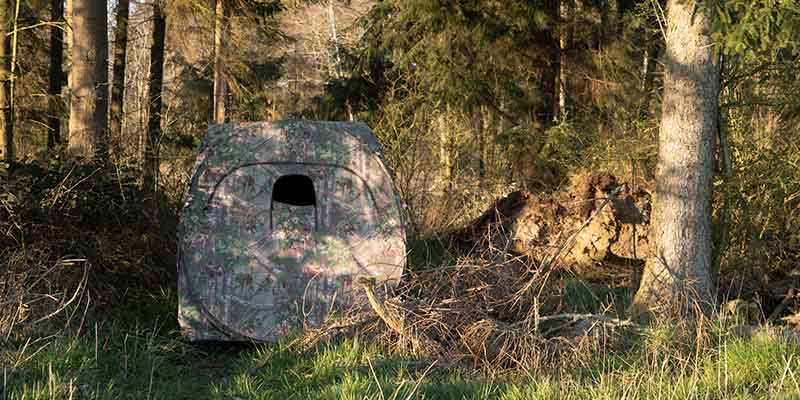 Inside you'll find a unique ShadowGuard coating to prevent shadows or silhouetting that could give away your position. 
The Doghouse comes with a convenient backpack carry case and weighs about 12-pounds. So, you can tote this blind all over the countryside and not end up nursing an aching back at the end of the day.  
This is a great blind for the money, but it isn't really sturdy enough to set up and leave in the woods.
If you want the convenience of a permanent blind, you should probably be prepared to fork out some extra cash.
73
at Amazon
Prices accurate at time of writing
Prices accurate at time of writing
3. NAP Mantis 2
New Archery Products (NAP) busted into the blind business with this gem.
The Mantis 2 has a unique peaked design that helps rain and snow slide right off. Its pointy profile also fits in between bushes and tree limbs.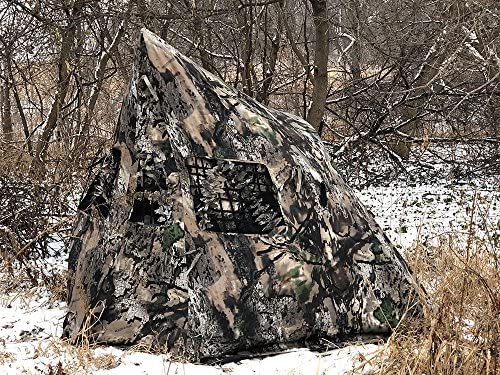 NAP designed the Mantis 2 with its exclusive Wicked Intent camo pattern.
This digital dispersion pattern tricks the eye better than old-fashioned stick-and-leaf motifs. It's also scaled for a large area, which prevents the brain from registering a repeating pattern. 
Designed with bowhunting in mind, the Mantis 2 provides plenty of room for archers to hold full draw. Weighing just 14.5-pounds, the Mantis 2 is also significantly lighter than the average ground blind.
If you need to hike to your favorite hunting spot, it shouldn't be a major struggle to take this blind with you.
The windows on this ground blind are a tad low. They work best if you're sitting on the ground or a low stool, so you'll want to leave your cushy chair back at camp.
150
at Amazon
Prices accurate at time of writing
Prices accurate at time of writing
4. Ameristep Deadwood Stump
This kick-out blind from Ameristep is designed to look like a real life stump.
While it does slightly resemble an over-sized tree stump (if you squint really hard and cock your head to the side), it definitely does a good job of hiding hunters from wary game animals.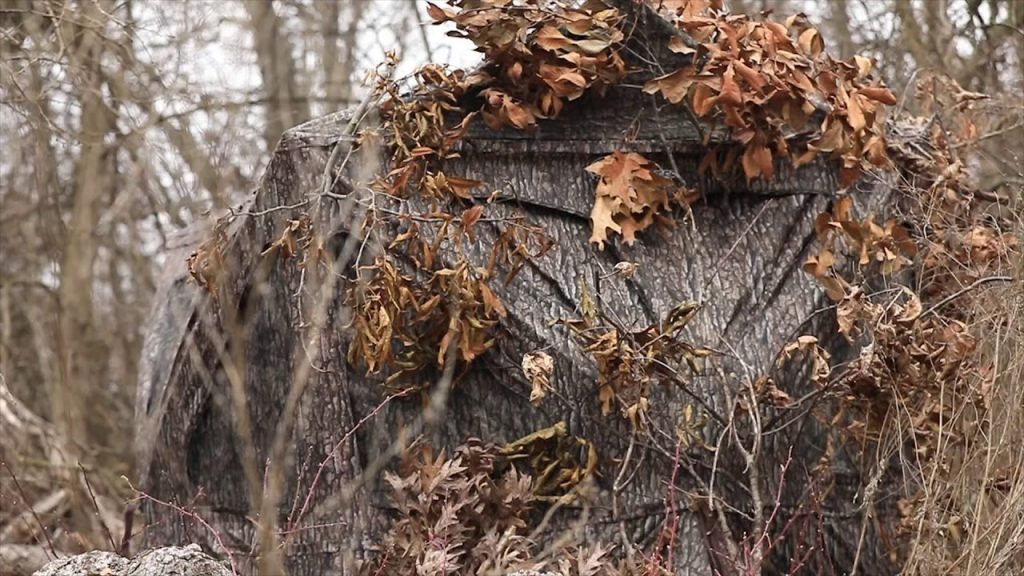 The Deadwood Stump features a unique silhouette that does a better job of blending into the landscape than a boring box-shaped blind.
Plus, it features a true bark camo pattern that perfectly mimics the texture of a tree. 

With plenty of room for up to three hunters, this is one spacious tree stump.
Since it weighs a whopping 23-pounds, you might appreciate some extra help lugging through the woods. 
220
at Amazon
Prices accurate at time of writing
Prices accurate at time of writing
5. ALPS OutdoorZ NWTF Deception
ALPS OutdoorZ teamed up with the National Wild Turkey Federation (NWTF) to produce this ultra-lightweight, low-profile hunting blind.
It's the perfect size for a single turkey hunter, and at only 8-pounds, this thing is light enough for chasing early morning, loudmouthed gobblers.
It also sets up with the simple pull of a tab.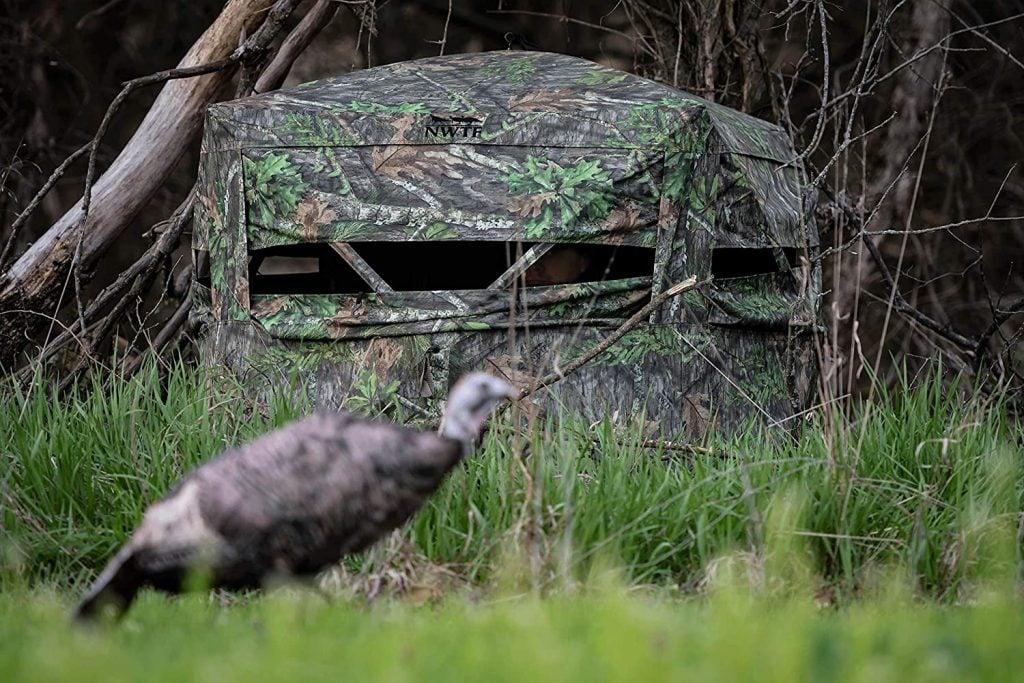 When we say "low-profile," we mean "low-profile." At just 46-inches tall, you definitely won't be making any standing shots from this blind.
However, it provides plenty of legroom, allowing you to quickly and comfortably set up on the ground.  
The blind features a no-gloss Mossy Oak exterior and a black-out interior. Turkey hunters will also appreciate the extra-large door which allows them to quickly shimmy inside.
The 270-degree view is also a handy feature.
180
at Amazon
Prices accurate at time of writing
Prices accurate at time of writing
6. GhostBlind 4-Panel Predator Blind
GhostBlinds use a unique reflective design that lets them to seamlessly blend in with any hunting environment.
The panels have a mirrored finish that reflects what's on the ground in front of the blind, making them perfect for any season and any terrain.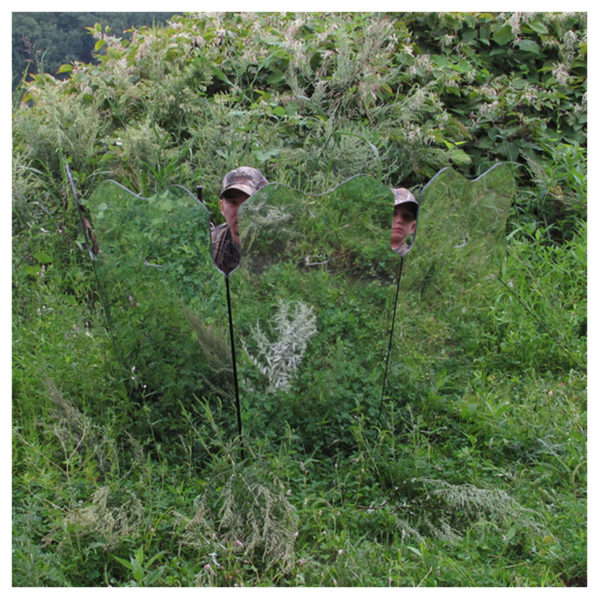 If you're concerned about hunting behind a set of mirrors, don't worry. Light is directed downward to avoid unwanted light glare and prevent reflections from spooking game.
The panels are made of shatterproof plastic and are completely weatherproof, so no worries about incurring seven years of bad luck, even on a raucous hunting trip.
The GhostBlind Predator sets up fast. Simply prop up the panels, stake them down to keep them in place, and then hang out on a stool or chair behind them.
When you're done with the hunt, the panels fold up like an accordion into a compact, 12-pound package that is super easy to transport.   
199
at Amazon
Prices accurate at time of writing
Prices accurate at time of writing
7. Rhino 180 See Through Blind
The Rhino 180 features two full panels of see-through mesh, which provides (as the name implies) a clear 180-degree view.
The blind also has 270-degrees of adjustable windows, so you don't have to worry about a monster buck sneaking up and surprising you.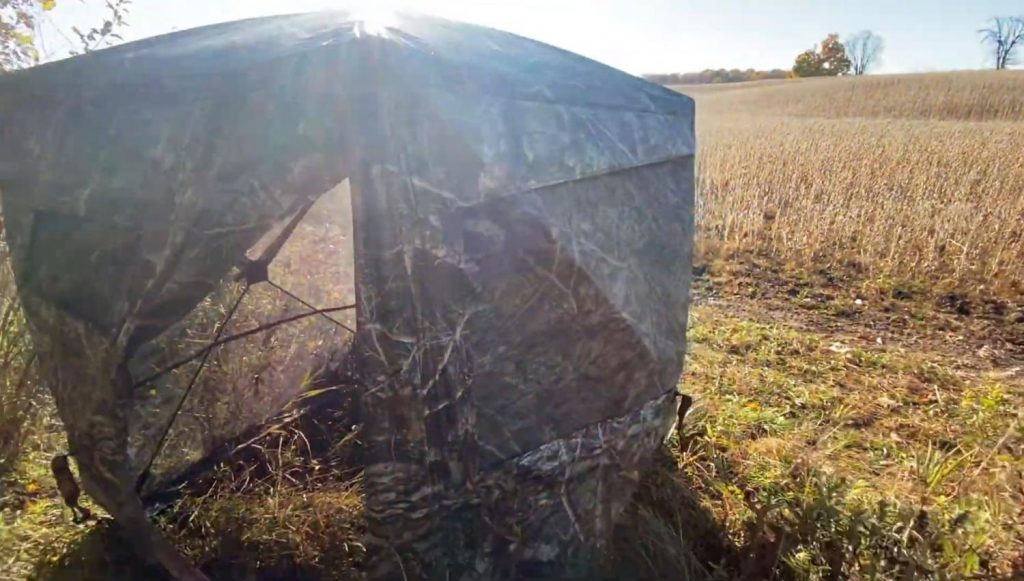 Covered with popular Realtree Edge camo, the Rhino 180 blends into most wooded environments. It also comes with brush straps so you can attach natural branches and vegetation to break up the blind's outline.
With a 58×58-inch footprint, there's plenty of space for three hunters and all their gear.
It weighs just 16-pounds, sets up fast, and has a sturdy construction capable of surviving years of regular use. 
250
at Amazon
Prices accurate at time of writing
Prices accurate at time of writing
8. ALPS OutdoorZ Legend Layout Blind
The Legend Layout from ALPS OutdoorZ allows you to hunt ducks or geese from open spaces like sandbars and farm fields.
Once you're in the field, you just unclip the buckle, unfold the blind, and climb inside.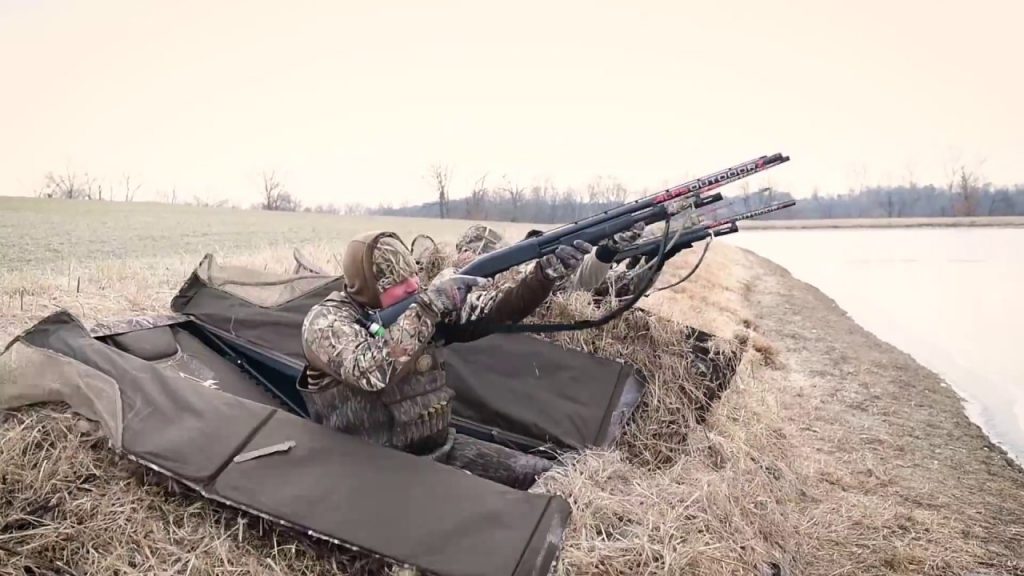 This lightweight blind features heavy-duty backpack straps so it easily totes in and out of your favorite honey hole. The blind also has a handy zippered storage area for your extra shells, duck calls, or candy bars. 
The Legend Layout is designed to keep you warm and comfortable even in cold, wet conditions. It features a zero-gravity chair with a comfy, padded headrest that keeps you up off the ground while maintaining an ultra-low profile. 
It also has a waterproof tarpaulin floor to keep you and your equipment dry, even in sloppy wetland hunting environments.
300
at Amazon
Prices accurate at time of writing
Prices accurate at time of writing
9. Primos Double Bull SurroundView 360
The Double Bull SurroundView 360 blind has what seems like Harry Potter-esque magic walls that provide a 360-degree unobstructed view while keeping you completely hidden inside.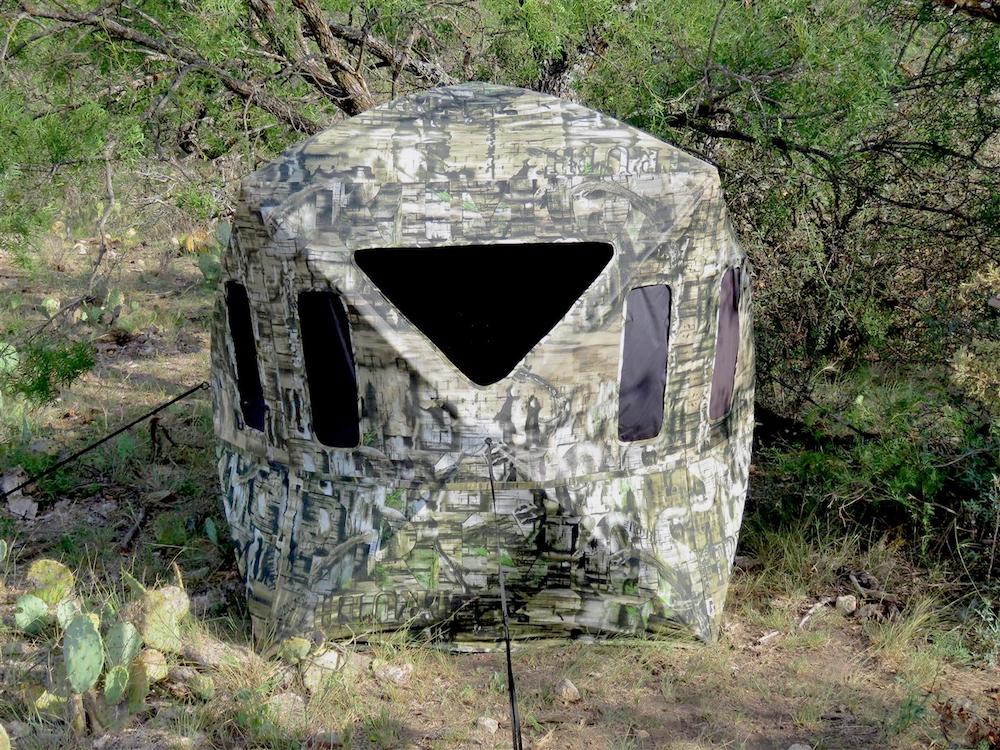 How did Primos manage to create what amounts to an invisibility cloak for hunters? With their exclusive one-way see-through walls. 
The walls are constructed of fabric with thousands of tiny holes. When you're outside the blind, the exterior camo pattern and natural sunlight force the eye to focus on the camouflage pattern.
Once you step inside the blind, the magic happens. The black underside of the fabric and the darkened interior lets your eyes focus through the holes and observe everything outside of the blind.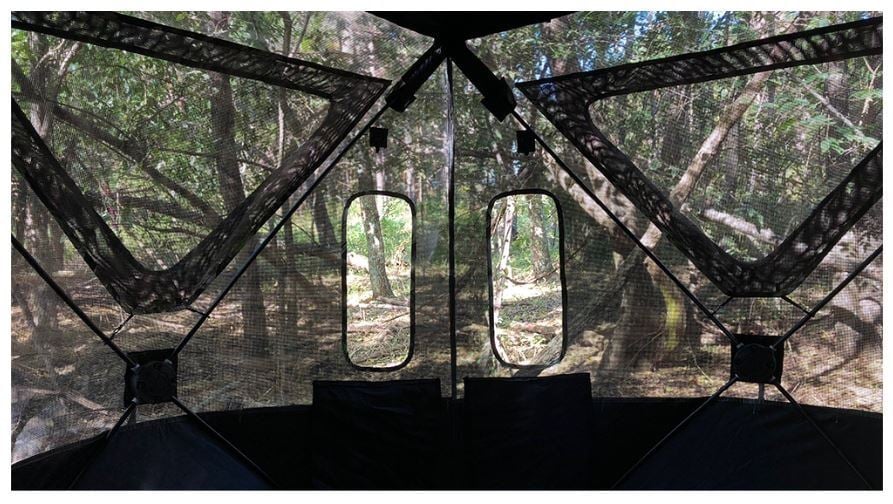 With that 360-degree view, 180-degree front shooting window, and five extra shooting ports, nothing is going to get by you in this blind.
The Double Bull SurroundView 360 has a spacious 60×60-inch footprint that provides plenty of space for you and a buddy. If you're into turkeys, I suggest inviting one who is skilled with a mouth call. 
The blind also plenty sturdy and pops up in just a few seconds, although the process does take some getting used to.
You'll want to practice setting this one up at home before opening day.  
381
at Amazon
Prices accurate at time of writing
Prices accurate at time of writing
Have you tried the Primos Double Bull SurroundView 360? Rate it below!
10. Barronett Blinds Big Cat
Barronett named this blind the "Big Cat" after the quintessential apex predator. Its design definitely helps human hunters maintain their own apex predator status.
The blind provides enough elbow room for up to three hunters.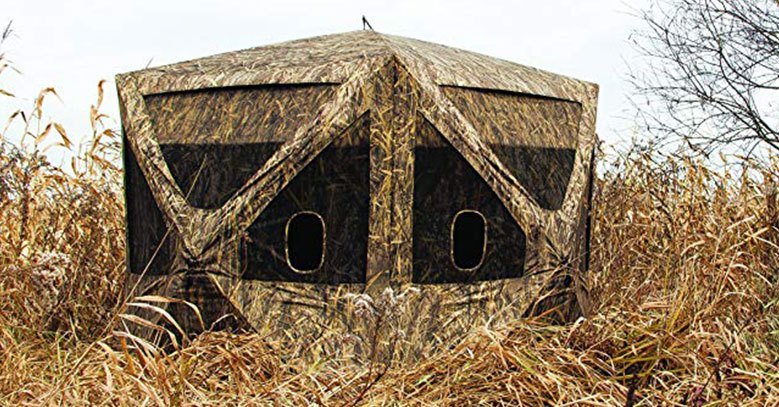 With 80-inches of ceiling clearance, you'll have ample room for standing shots, even if you happen to be a basketball star. 
The Big Cat also features silent, zipper-less windows and adjustable shooting ports that allow you to customize your line of sight. 
Tipping the scales at 19-pounds, this blind is pretty hefty. However, it pops up quickly, provides protection from wet weather, and has an expansive interior.
Carrying it also provides a nice workout. Your lats will look amazing by the end of hunting season.
355
at Amazon
Prices accurate at time of writing
Prices accurate at time of writing
11. Muddy Outdoors Penthouse Box Blind
This box blind isn't named the Penthouse for nothing. 
Designed for comfort as much as concealment, the Penthouse features insulated panel walls with dead air chambers and dark interior carpeting to keep in the heat, noise, and human scent.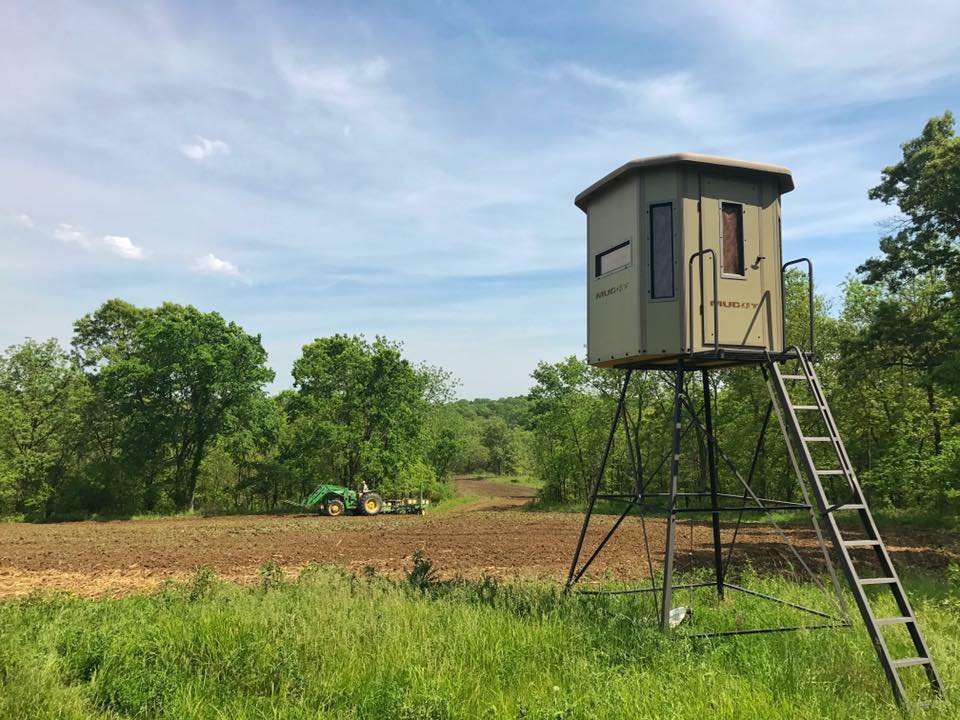 The blind also features 16-inch residential-glass, gasket-sealed windows that allow you to see deer coming from virtually any direction.
This is a heavy-duty blind that you can set up and leave in place for several seasons, allowing you to hunt in serious style. 
If you want to stay cozy and comfortable even during those later-winter rifle seasons (and you have a few thousand dollars lying around), this blind is the answer to your prayers.
Add a small space heater and bring a few snacks, and you may decide to take up residence for the whole hunting season.
3200
at Cabela's
Prices accurate at time of writing
Prices accurate at time of writing
Conclusion
Modern hunters have plenty of commercial hunting blinds to choose from. Which one is "best" largely depends on the game you pursue and how you pursue them.
If you need to follow moving game or like to change your hunting spot regularly, a lightweight, portable pop-up blind is the perfect tool for the job.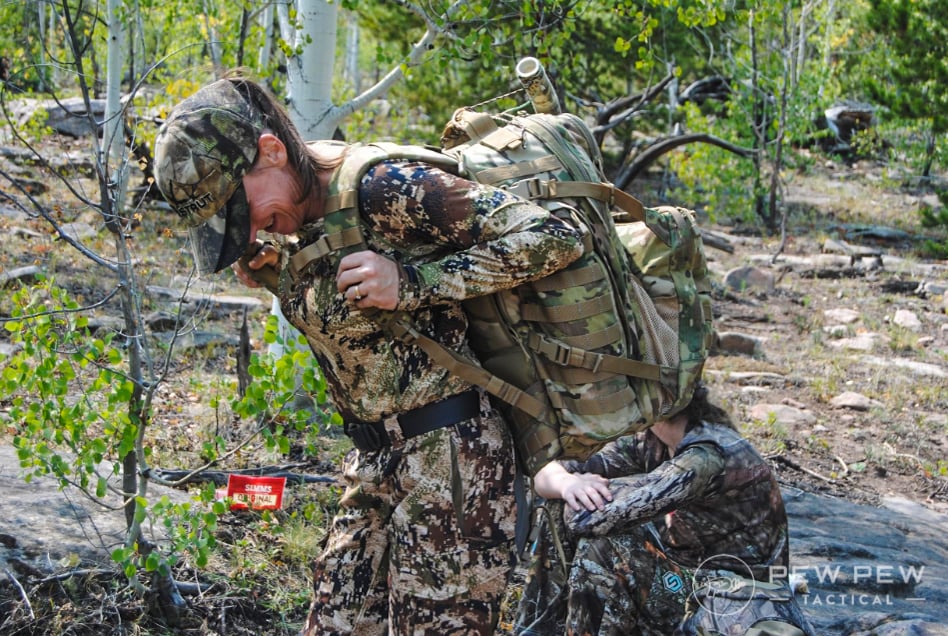 If you like to stick to a few favorite spots, a sturdier model you can leave in a location for the whole season is probably the way to go.
Have a hunting blind success story? Be sure to share it with us in the comments below. If you're looking for other ways to stay unseen in the woods, check out our Sitka Gear review for some of the best hunting attire on the block.