Since I've started working from home, I've been listening to podcasts almost all day.
TV distracts me too much, and music can get old after a bit.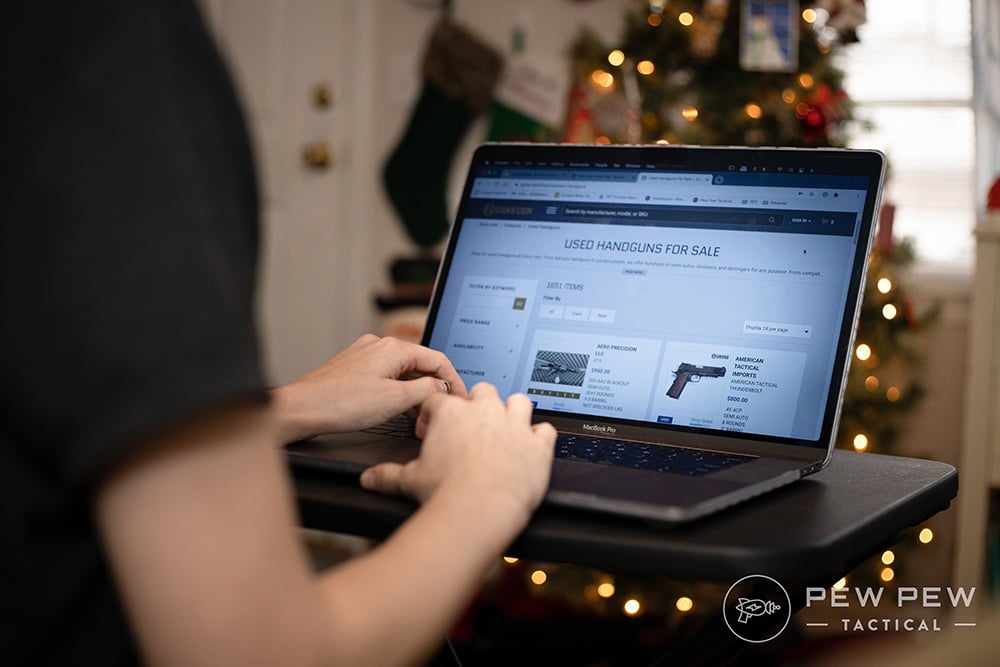 An excellent long format podcast doesn't demand my full attention and rarely gets boring.
So, I dove into history, comedy, and of course, gun-based podcasts. Since this isn't a history or comedy website, we're obviously going to talk about gun podcasts.
There are many out there. But today, I'm listing off my favorites I turn to when I need some noise in my life.
Let's dive in.
Best Gun Podcasts
1. Primary & Secondary
As far as professional-grade podcasts go, Primary & Secondary is one of the best.
P&S gathers some of the best experts in firearms instruction, weapon manufacturing, police, and military forces to discuss everything from optics to tactics.
Episodes last as long as four hours but are always full of excellent information.
Matt Landfair hosts the podcast and features an ever-revolving panel of guests.

I have learned so much from these podcasts and the panel of experts.
Stuff I didn't even know I didn't know, and stuff I might not need to know but enjoyed learning.
It's seemingly never the same subject covered. On any given night, you could be learning about holsters, AR-15s, shotguns, or social media and gun culture.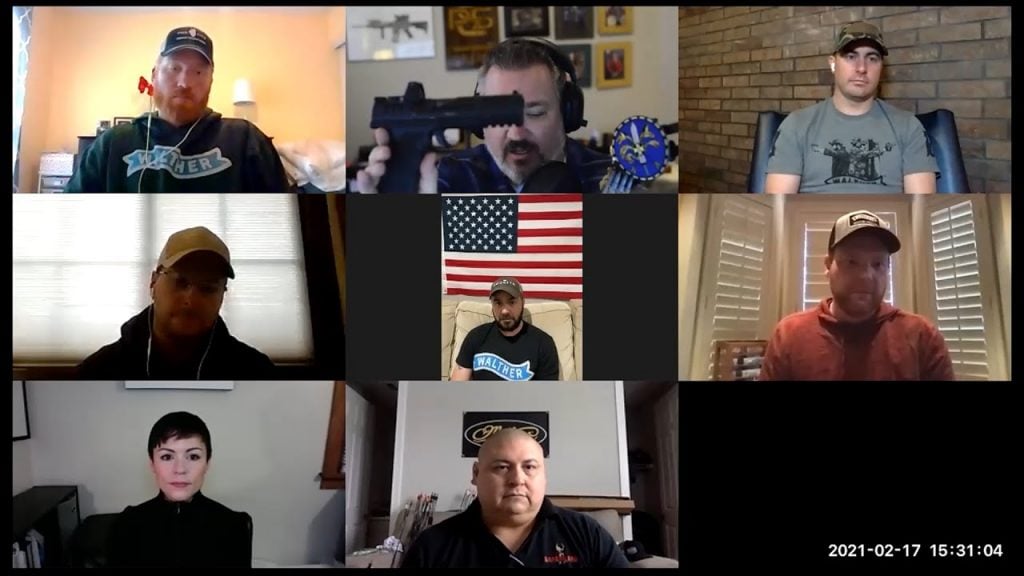 Experts like Ash Hess, Steve Fisher, Joe Chambers, and more pop up all the time.
Admittedly audio various greatly between each guest. On occasion, they can be near impossible to hear.
It's rare, but it can kill an episode when someone sounds like a static robot.
Recommended Episode – The Gauge
2. We Like Shooting
If you like consistent uploads and high-quality production, then the We Like Shooting podcast is for you.
A lot of gun podcasts are somewhat inconsistent. But We Like Shooting consistently uploads the multi-panel show each week.
Podcasts typically run around an hour-long. Each podcast covers a wide variety of topics — some silly like weird weapons, and others more serious like concealed carry and self-defense.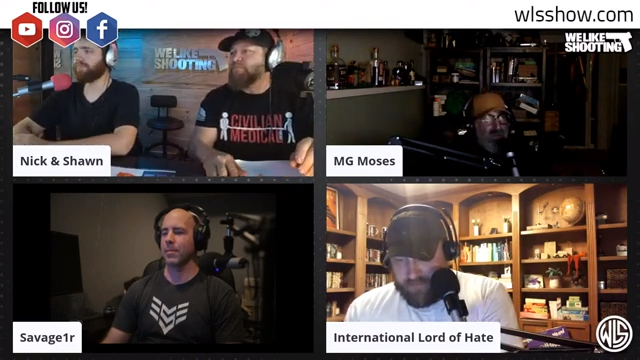 Information is presented in an easy-to-digest way, and the podcasts are always entertaining.
Be warned, humor can be crude, so it might not be the best for small ears or those turned off by the occasional swear word.
We Like Shooting has been around for quite some time, and they are bordering on 200 episodes now.
With that many episodes, they gathered quite the guest list over time, including Rob Pincus, Grant Cunningham, and Pew Pew Tactical's own Jacki Billings.
Recommended Episode – 393 Thumble
3. The Mag Life Podcast
The Mag Life Podcast comes from Gun Mag Warehouse and is hosted by firearms instructor Daniel Shaw.
Daniel Saw hosted one of the original gun podcasts, Gunfighter Cast, and revived his signature style for the Mag Life Podcast with co-host Varg Freeborn. Freeborn is a firearms and fitness instructor. The two discuss a wide variety of topics.
Topics are often explored in an entertaining way that doesn't beat around the bush.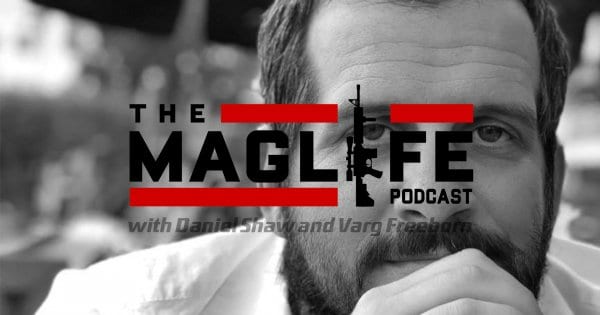 It's direct. So, listeners may want to keep a notebook to write down pockets of wisdom and information.
They pull a smattering of different guests, including industry experts, firearms instructors, and more.
Discussion revolves around important topics like what to do after the shoot, weapon malfunctions, and even protective dog training. The old episodes of Gunfighter cast have all been migrated over as well, so you can catch up with some shop talk from the good ole days.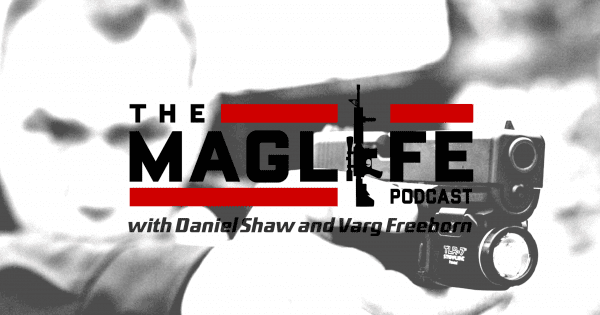 Episodes of the Mag Life run under an hour most of the time, so they are easy to digest and sometimes good quick listens when working out or even dry fire training.
It's also very well produced with excellent audio. If you listen to a lot of podcasts, you know how infuriating bad audio can be.
Recommended Episode – Episode 177 with Duane Liptak of Magpul
4. That Shooting Show with Steve Anderson
Steve Anderson is a USPSA Grand Master and teaches competition shooting full-time.
As you'd imagine, a lot of That Shooting Show revolves around both training and competitive shooting. If you are getting into the competitive scene, there's lots of good information that it's easy to digest.
While it's a podcast, it may feel more like a lecture. But I don't mean that as a bad thing.
Topics are presented from an expert's perspective and done so efficiently — not a lot of off-topic conversation here.

It's mostly Steve Anderson by himself, except for the occasional dog co-host in the background. His podcasts are straight, short, and to the point.
Listening to the podcast is a treat to the ears. Audio quality is top-notch, and Steve is easy to listen to. He has a great voice for radio and presents the information well.
Sadly, some episodes are locked behind a paywall, but many are available for free.
Recommended Episode – How to Have an Auto Magic Match
5. The Colion Noir Podcast
YouTube superstar Colion Noir has started a podcast! Colion stylized his podcast much like he stylizes his videos. Everything is remarkably polished and well done.
Colion has plenty of practice presenting information in an easy-to-understand way and does so with a lot of charm and wit.
The Colion Noir Podcast scores great guests, including John Lovell, Chip Lanskey, Kevin Brittingham, and many more.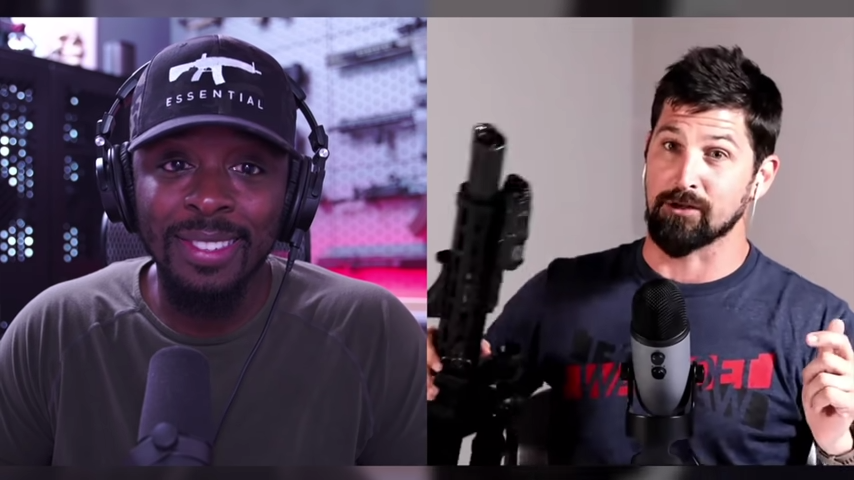 Each provides a great perspective on current issues that gives you the information straight from the horse's mouth.
You can hear about the pistol brace issue from Alex Bosco, the guy who invented the pistol brace.
Maybe you want to know why John Lovell doesn't use a can on his home defense firearm. Well, tune in and find out.
Conversations revolve around gun rights, technology, and even hunting — pretty much every topic revolving around guns.
Colion's background as a lawyer gives him a unique edge and perspective, as does the fact he got into guns as an adult.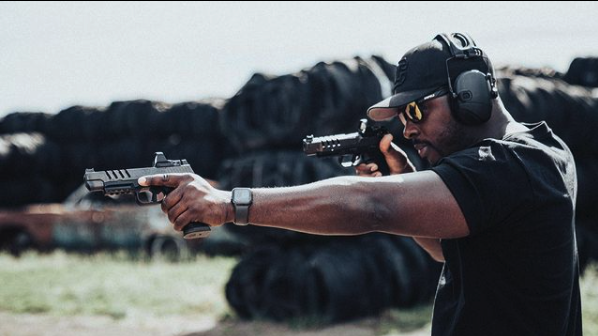 Podcast episodes range greatly — some are less than 20 minutes while others are 94 minutes.
Every subject discussed gets a thorough examination without running off into the weeds.
This podcast is rather new, and while there are only a few episodes out right now, I hope he keeps it going…or starts a career reading audiobooks. I'm down for that too.
Recommended Episode – Silencers, Home Defense, Riots, and Road Rage with John Lovell
6. TFB Behind the Gun
If you want a podcast that focuses more on the industry than tactics or competition, then The Firearm Blog has you covered.
Behind the Gun goes behind the scenes with firearms and gear companies. We hear from the guys at Glock, CZ, CMMG, and beyond.

You learn all about firearms design and manufacturing. It's an interesting perspective and Behind the Gun is one of the few to pursue this route.
Episodes last about an hour-long with a few that tip over that.
While the content is top-notch, I'm surprised by is how low the audio quality is. Not just the guests, but the presenters.
The clearest and easiest to listen to portion is the ad read.
TFB makes awesome, high-quality videos, so it's a little confusing why the audio quality is so poor.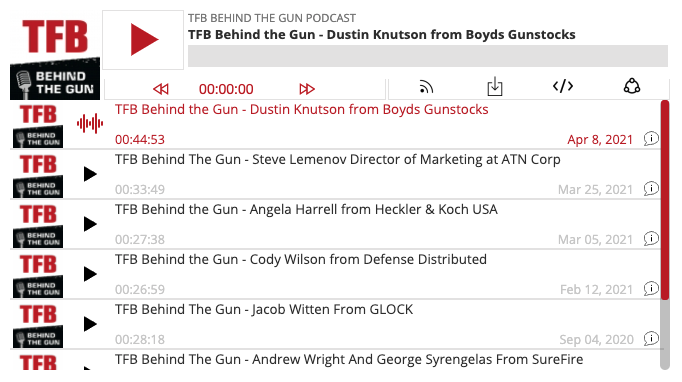 That said, the information is worth the poor audio quality.
I enjoy the content and will deal with the tin can sound to get it.
Recommended Episode – Zach Hein from CZ-USA
7. Larry Vickers Podcast
Larry Vickers is best known as a former Delta Force commando, Green Beret, firearms innovator, and firearm instructor.
And now he can add podcaster to that long list of accomplishments. This long-format video podcast is available on YouTube and is often a deep dive into a particular firearm.
Want to listen to an hour podcast on the STG 44? Well, boom, Larry lights it up.
The same goes for numerous other firearms, including a shorter episode of Larry's favorites.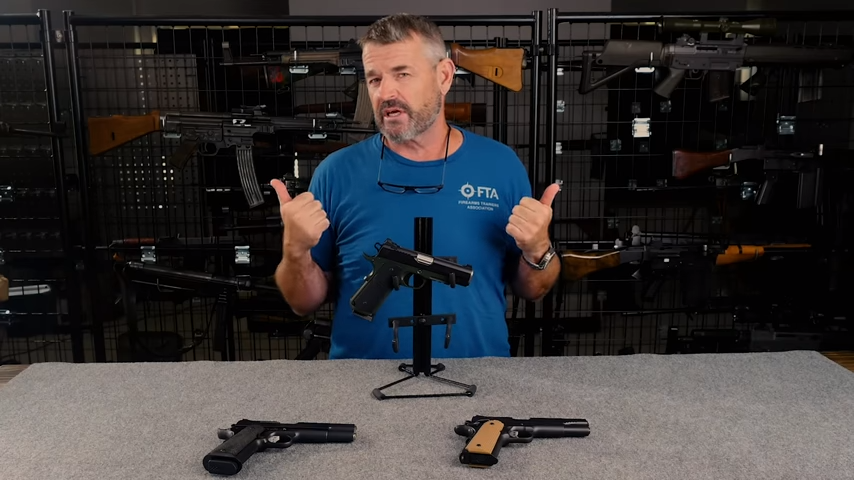 The occasional guest pops up, but they are rather rare. It's mostly a solo show.
Larry's undisputed expertise guides you through various firearms and how they tick.
These video format podcasts are fine to listen to but best to watch.
Both audio and video quality are outstanding, and you'll find yourself lost in a Staccato for an hour before you know it.
As many may know, Larry Vickers is going through chemotherapy and taking a bit of a break. So, the last episode to appear was in November. But I'm hoping the podcast makes a comeback.
Recommended Episode – Episode 5 Favorites
8. Practically Tactical Podcast
If you like the Practically Tactical YouTube channel, you'll love the Practically Tactical Podcast.
It's the same great content but in a longer format.
Practically Tactical is mainly focused on the defensive use of firearms from the civilian perspective.
Most topics focus on home defense and concealed carry. This podcast appeals to the average civilian firearms owner and packs a ton of information in the hour or so podcast.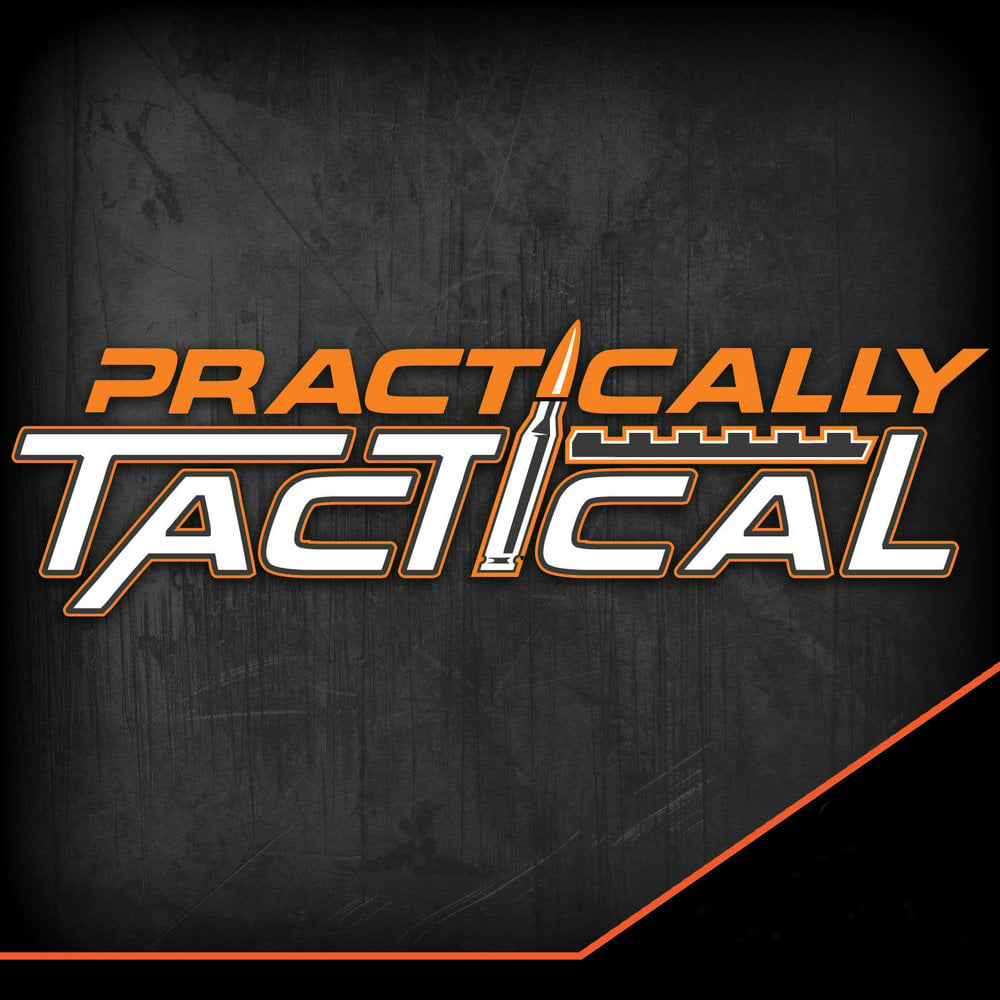 Admittedly the audio is a little sketchy at times, but these guys seem to be figuring it out.
This podcast is relatively new and often slow to update.
I imagine between managing a YouTube channel and the onset of COVID, times are tough. I do hope they continue because they often dispense some awesome information.
Recommended Episode – Home Defense Considerations with a Carbine
Final Thoughts
In a time where finding ammo is nigh impossible, you can still occupy the gun portion of your brain with some good ole fashion information.
And since I shared my favorites with you, I'd like you to share yours with me. Let me know all faves below. We've covered podcasts, but what about blogs and influencers? Check out the Best Gun Blogs and Best Gunfluencers!