For most shooters, the first accessory purchased after a new handgun is a quality holster.
That holster may be an inside the waistband concealed carry model, or it may be a high-speed competition rig. Regardless, it is something that allows the shooter to safely carry and quickly access their chosen handgun.
But what if you don't need concealment or speed?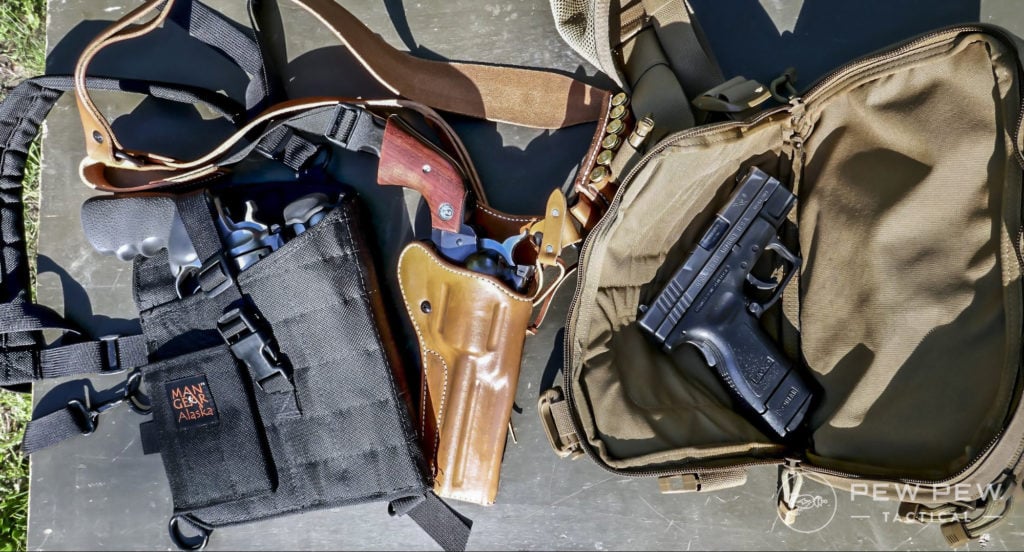 What if you are heading out for an afternoon of fly-fishing or going on a backpacking trip?
The normal hip holster is now something that gets in the way of the waist belt on your pack or gets buried under a vest and life jacket.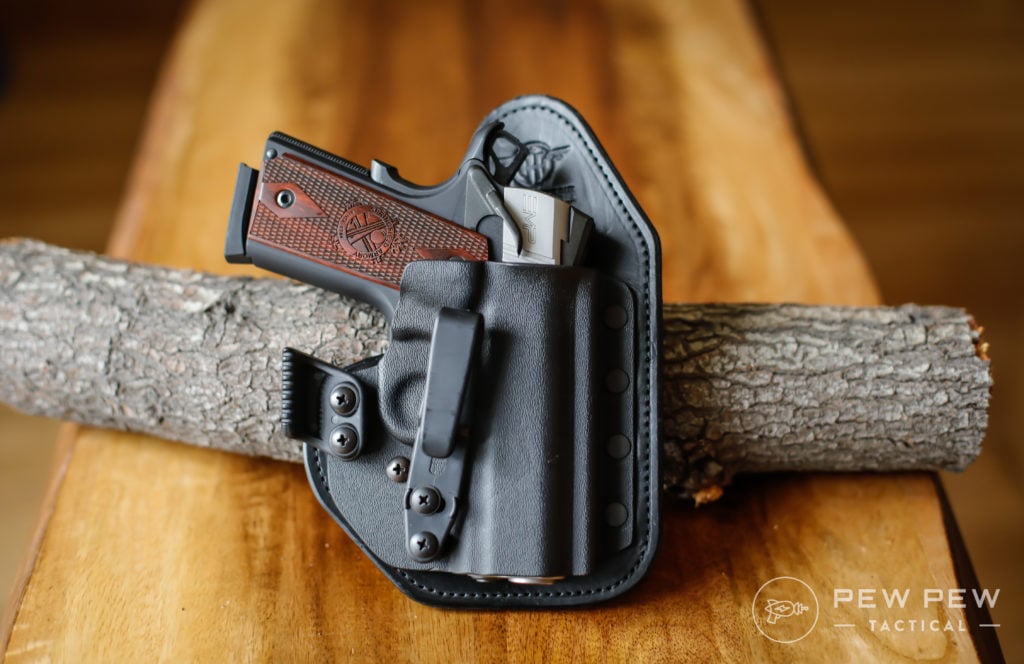 You need something that allows you to carry your gun, access it easily, and not be in the way of your normally scheduled activity.
Enter the chest holster.
The chest holster idea is nothing new, but modern materials, manufacturing and design have made chest holsters available in more configurations and more comfortable than ever before.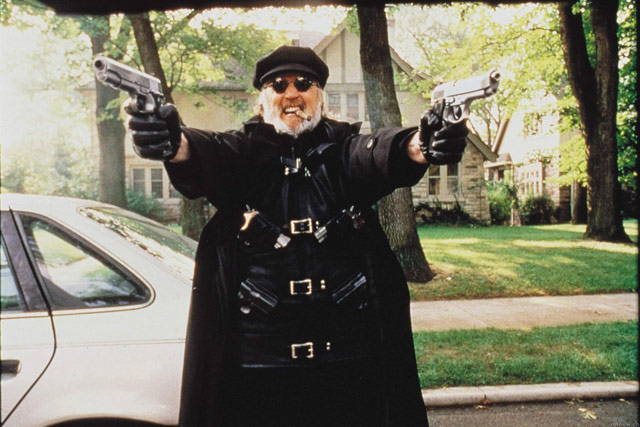 We'll take a look at some popular chest holsters that will carry your EDC gun just as easily as a scoped big-bore hunting revolver. Some are ballistic nylon, others are Kydex and some are beautifully crafted leather.
No matter what gun you choose to carry in the backcountry, there's a chest holster that will work for you.
Table of Contents
Loading...
Things To Consider
There are a few things to think through when considering a chest holster.
You will now have a shoulder/neck harness that supports the weight of the gun rather than your belt.
If you are not used to having a gun worn across your torso with a strap going over your shoulder or behind your neck, you may experience some muscle tension and soreness the first few times you wear your new rig.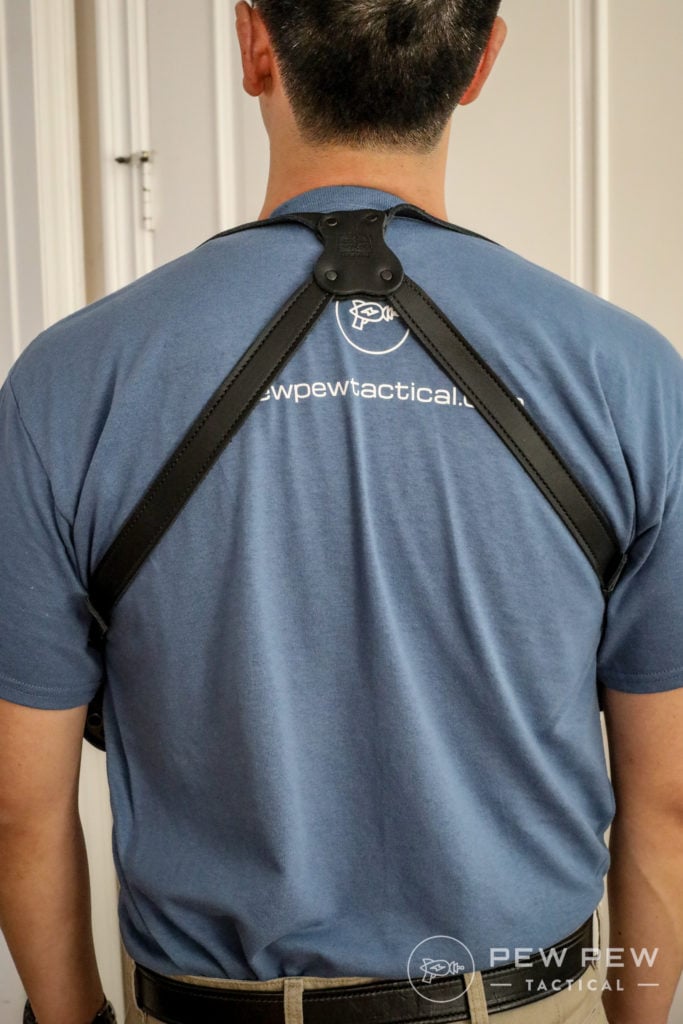 Having a holster resting on your chest will make you sweat. Be sure to wear breathable upper layers. If you are hiking in the summer your shirt will be drenched. There's no way around it.
Just learn to deal with it and accept it as a side-effect to chest carry. You also need to be ready to deal with guns that may get some moisture from perspiration on them over the course of your day outdoors.
You need to practice your access and draw just like you do for your defensive handgun.
The gun is now in a different location, it may have significantly different retention systems in place and you must learn how to manipulate the gun coming out of the holster so as not to sweep the muzzle across any part of your body or anyone you are hiking with.
Best Chest Holsters
Leather Chest Holsters
1. Galco Kodiak and Kodiak Hunter
Galco is famous for its high-quality leather holsters. 
Not only does leather look good, it is very durable, is easy on handgun finishes and if cared for properly it will last a lifetime.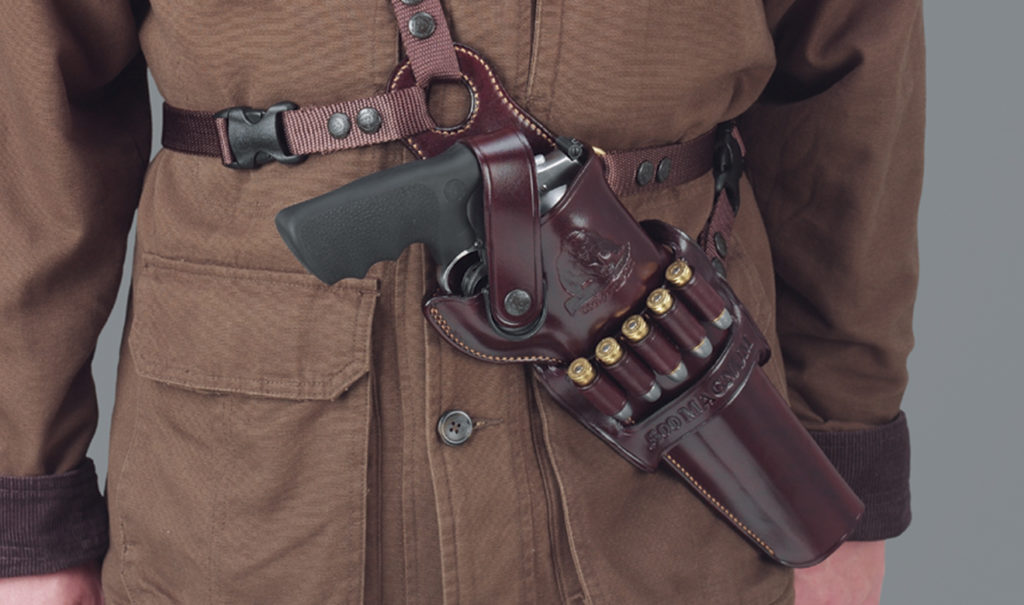 The Kodiak holster is designed for large, unscoped revolvers. The holster itself is made of premium steer hide and the shoulder strap is made of leather and padded nylon.
A nylon strap is used for the torso and is easily adjustable so the ride of the holster can be adjusted as needs change.
Worn in a cross-draw style across the torso so it is easily accessible. It can be worn over heavy outer layers or cinched up and worn right against your base layer.
No tools are necessary to customize the fit for your chosen activity.
185
at Amazon
Prices accurate at time of writing
Prices accurate at time of writing
Leather holsters are not cheap, but they sure are nice.
The holster comes fully assembled with the holster, the shoulder strap and the torso strap. An optional Bandolier is available to hold extra cartridges, very handy.
The Kodiak Hunter holster is basically the Kodiak, but designed for revolvers wearing optics.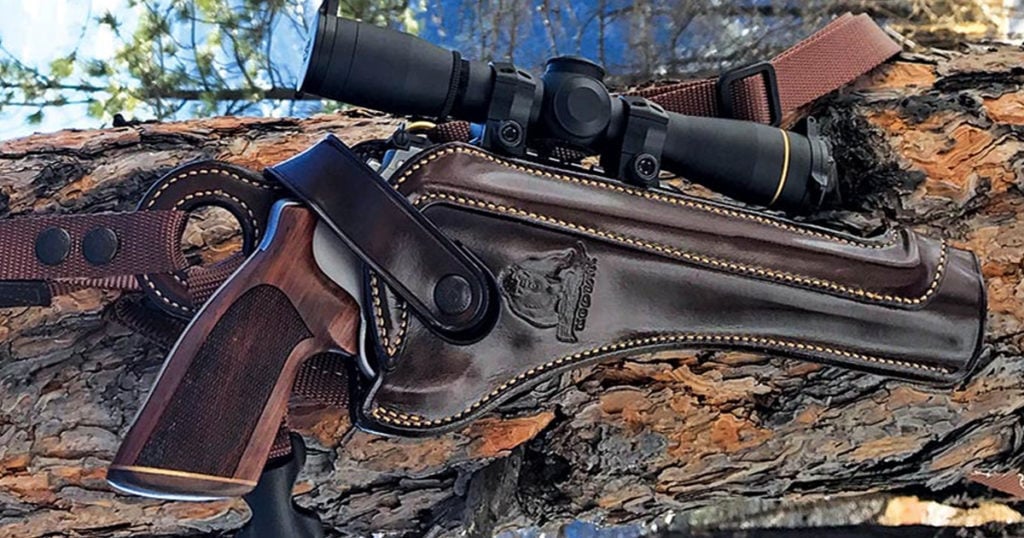 Rather than needing to draw the revolver straight out the back of the holster the top is open to accommodate the optic and rings/mounts.
This design means the gun can actually be drawn upward and perhaps increase draw speed and presentation.
185
at Optics Planet
Prices accurate at time of writing
Prices accurate at time of writing
Like the Kodiak, a Bandolier cartridge holder can be added.
2. Great Alaskan Shoulder System
This is another great option from Galco if you want to carry a shorter-barreled big-bore revolver or your favorite semi-auto with up to a four-inch barrel.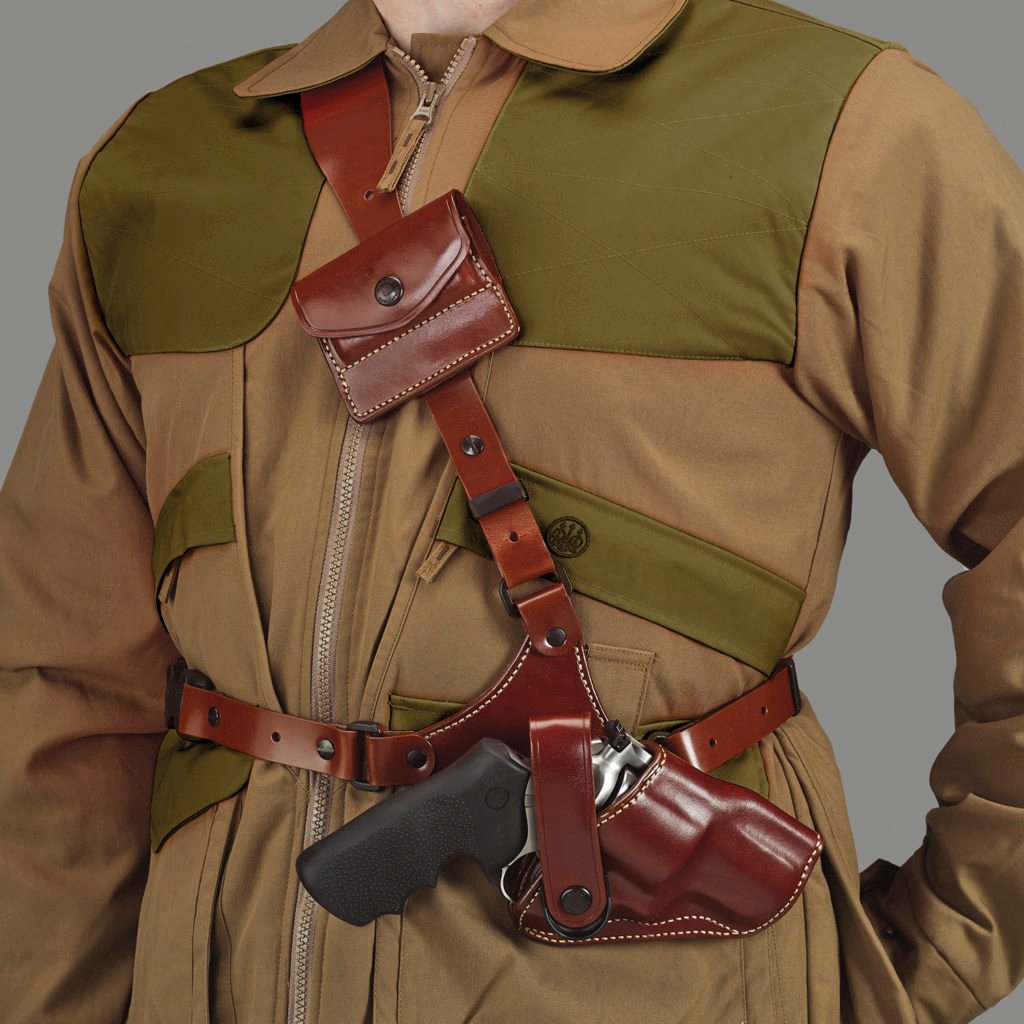 The holster is premium steer hide and lined with smooth leather. There is an easy-to-release retention strap and the Fastex buckle on the torso strap makes the holster easy to put on and take off.
The holster can be adjusted to be worn lower or higher as your other equipment or activity dictate.
An optional cartridge holder for six rounds is available, as well as a single magazine holder.
If you are traveling in bear country, this is an awesome chest holster to pack your big-bore bear spray.
180
at Amazon
Prices accurate at time of writing
Prices accurate at time of writing
Again, this is a leather holster so it doesn't come cheap.
3. Diamond D Custom Leather
Diamond D Holsters are made by folks who live and work in Alaska bear country. Over the years they have developed the Guides Choice Leather Chest Holster.
Constructed of premium Hermann Oak leather, you can expect a lifetime of service from these beautiful holsters.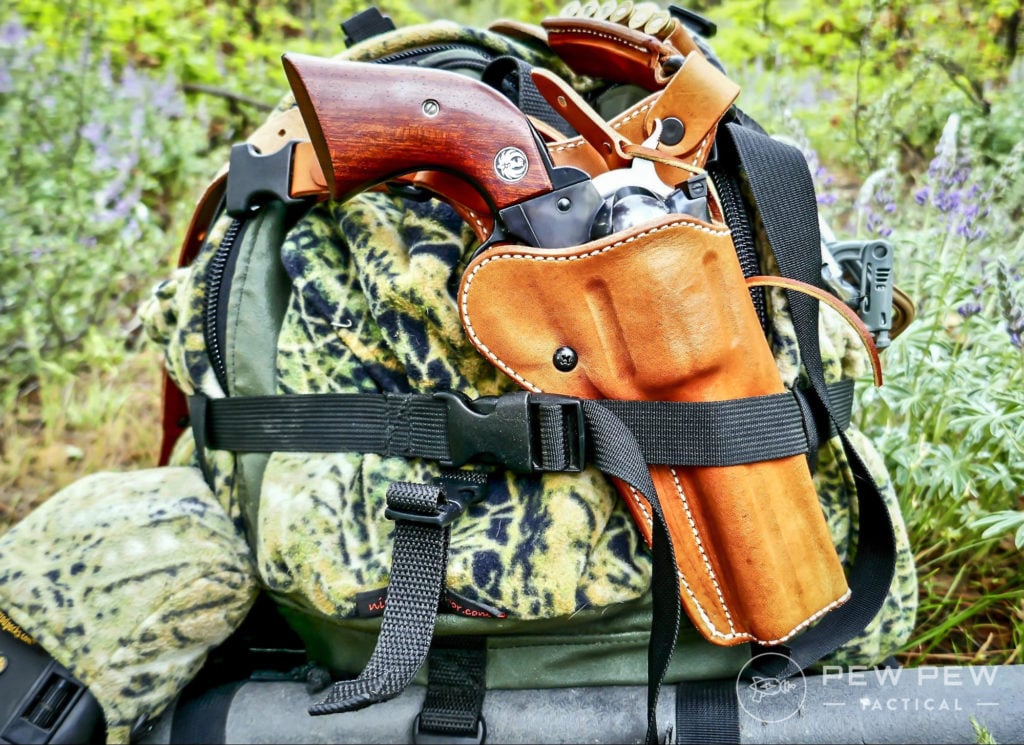 I had a chance to spend a few days afield with a Guides Choice holster fitted for a 4 ⅝" Ruger Blackhawk in 45 Colt.
Right out of the box holster fit me well and carried my handgun effortlessly. I must say the initial fit for the gun is tight.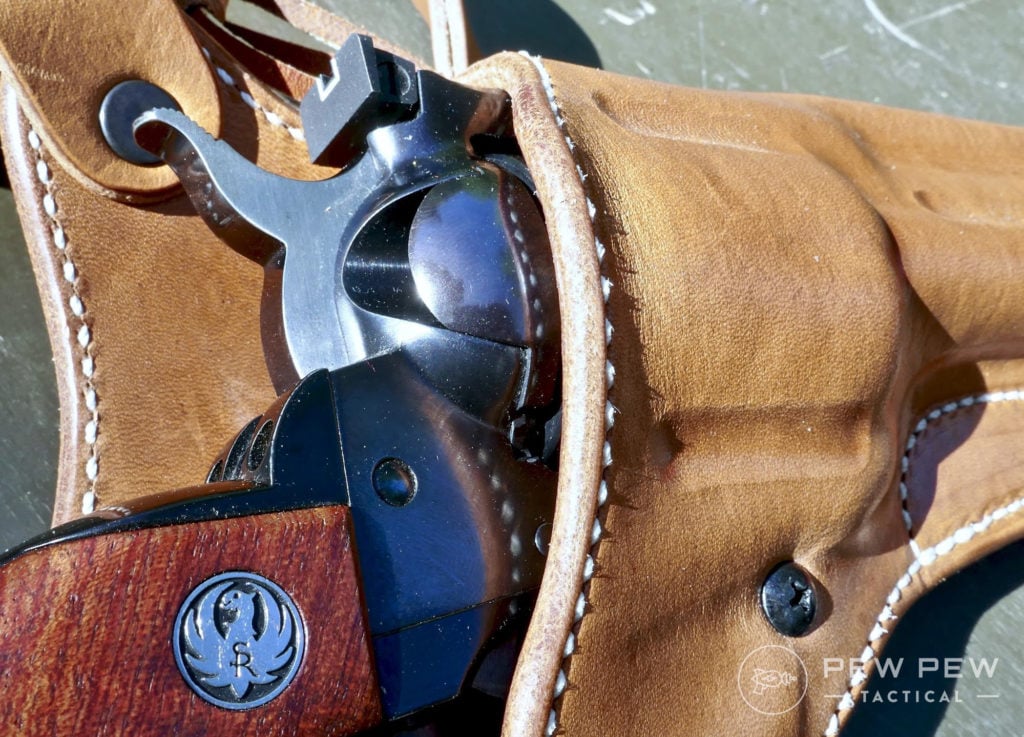 There is a tension screw that can be adjusted, but there is no substitute for time and just inserting and removing the gun over and over to stretch the leather a bit to achieve a truly custom fit for your gun.
The Guides Choice suspension has a wide range of adjustability and can be set up for comfortable wear whether backpacking, horseback riding, sitting on an ATV or snowmobile, or standing in a trout stream.
The shoulder strap is wide and comfortable and did not interfere at all with my Nimrod pack when I set out on a hike last week. The holster is quiet and once adjusted I did not notice any neck or shoulder strain.
I even wore a binocular harness over the hoster while out hiking.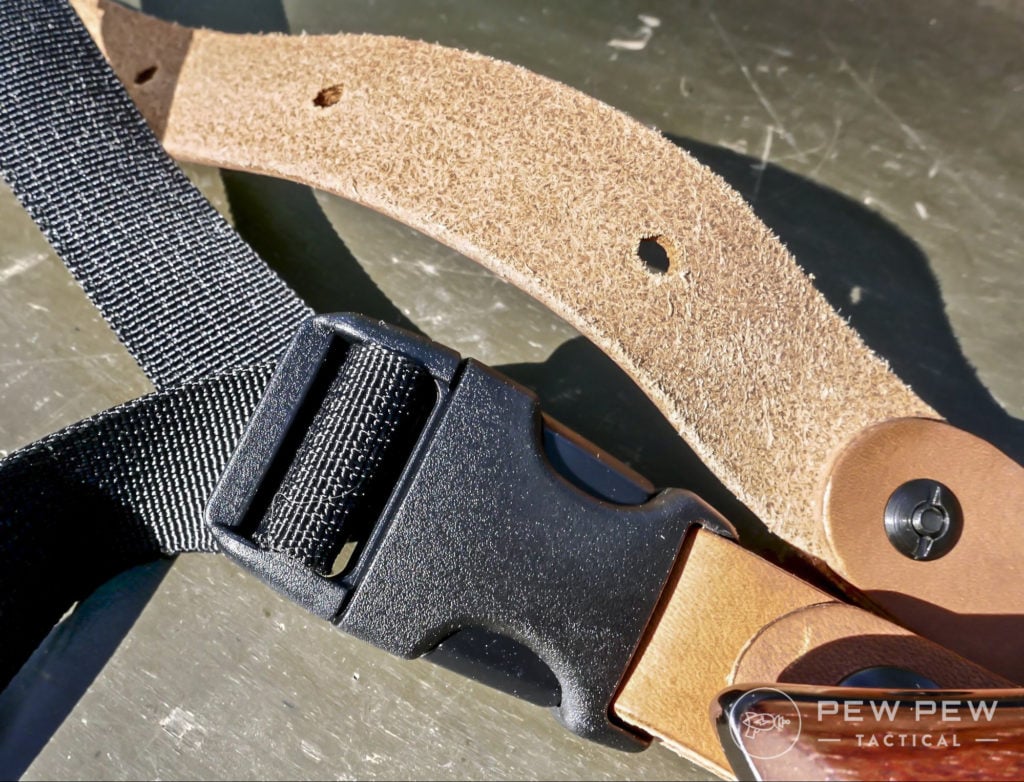 The torso adjustment strap is made of nylon with a Fastex buckle and is easy to adjust and to fasten or unfasten quickly.
To carry extra ammo there are several options available. I was supplied with a
Guides Choice Reload that holds six extra rounds in snug leather cartridge loops and slides onto the shoulder strap.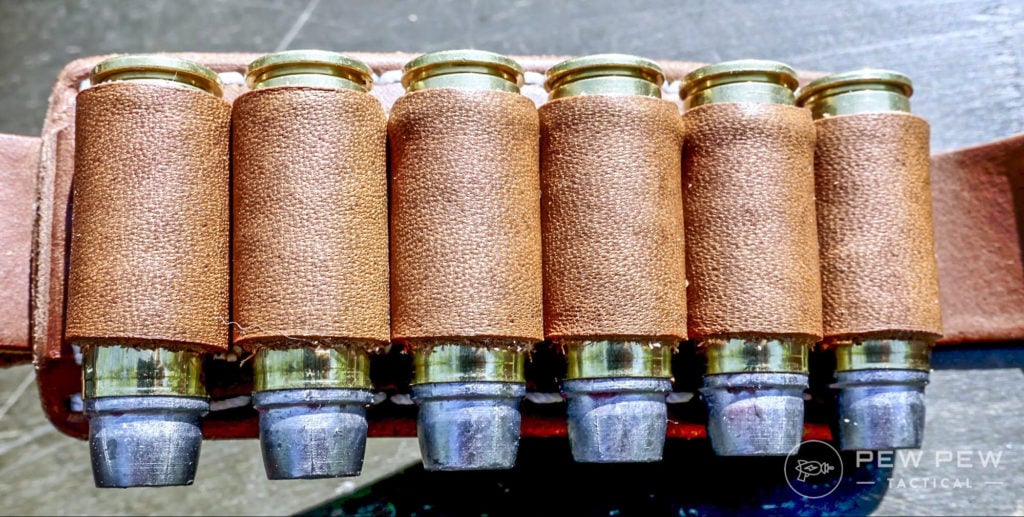 There is also a Speed Loader and a Magazine Pouch if you are carrying a double-action revolver or a semi-auto handgun.
The Guides Choice does not have an option for carrying a scoped handgun, but you can find nearly every revolver and semi-auto on the available gun list.
Finally, once you have the suspension system, you can order additional holsters for other guns and simply change the holster you want to use for a given adventure.
170
at Amazon
Prices accurate at time of writing
Prices accurate at time of writing
Thanks to the folks at Diamond D for sending me a holster to try out. It is beautifully made and a joy to carry!
Diamond D Bonus!
Diamond D also sent along one of their Alaska EDC Leather Belt Slide Holsters.
This is literally a one-size-fits-all solution to concealed carry for multiple handguns. The sample I received was a large size and I carried several guns over the last few days.
First up, I slipped my Sig P225 in the holster then drove for 500 miles to do some gun trading at one of my favorite shops up in Northeast Washington state.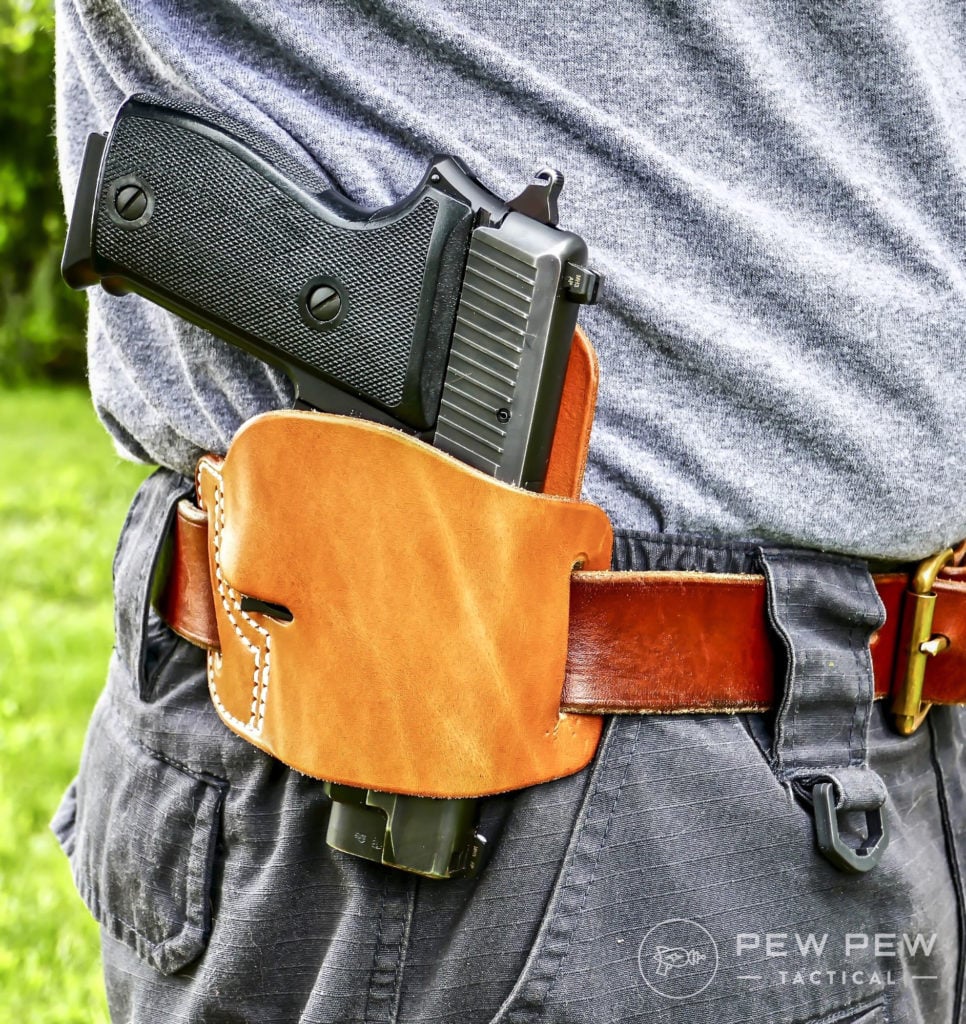 The holster was extremely comfortable and held my gun securely all day with no issues.
Next up was a day in the office and around town with my normal carry gun, a Springfield XD Sub Compact in 40 S&W. Again, super comfortable and the gun never moved in the holster.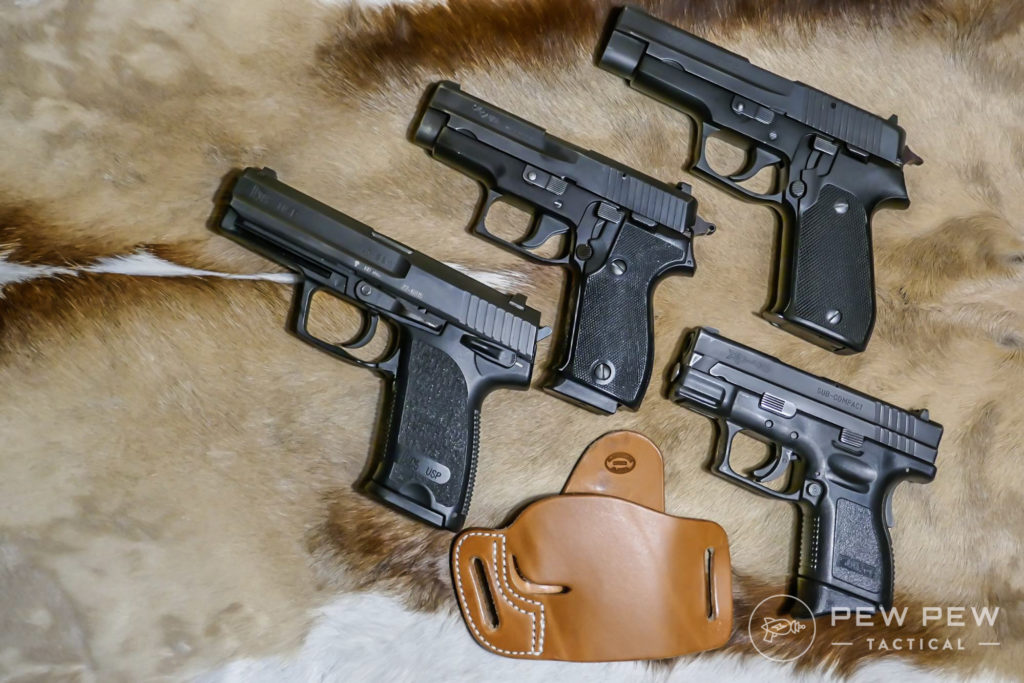 I also tried it with a full-size H&K USP 40 as well as a Sig P220 and a brand new Sig P320 M17.
If you want a high-quality way to pack a variety of guns without breaking the bank, get one of these awesome EDC holsters.
42
at Amazon
Prices accurate at time of writing
Prices accurate at time of writing
For the price you really can't afford not to have one or two in your collection. I will be sending a check to Diamond D and keeping the EDC holster they shipped to me.
Nylon and Kydex Holsters
4. Gunfighters Inc
Gunfighters Inc is a veteran-owned company headquartered in Leavenworth, Washington.
Their signature chest rig is the Kenai Chest Holster which consists of a custom-molded Kydex shell and web suspension system.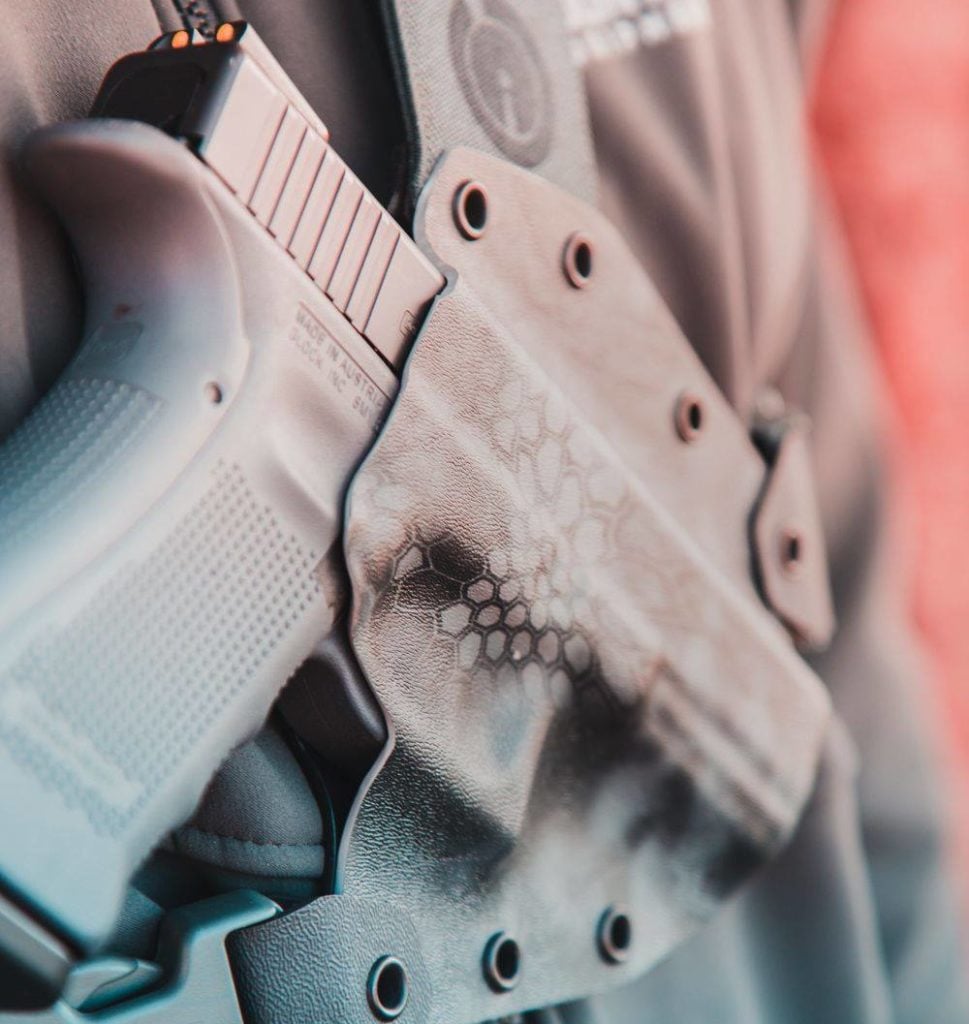 They have molds for over 200 guns and do custom work if you need a holster to carry a firearm with a light, a laser, or optics.
The holsters can be built for both revolvers and semi-autos and there are extra ammo carrying options available for both when you order.
Additionally, all nylon and materials are US-sourced and all assembly and manufacturing is done in-house.
The suspension system is flat nylon web so it will not interfere with clothing or pack straps and the yoke in the back is made of a four-way stretch material, providing for a very custom fit and some flexibility when moving through the backcountry.
150
at Amazon
Prices accurate at time of writing
Prices accurate at time of writing
Once you have a Kenai system you can order additional shells for other handguns and just swap the shell on the suspension system and you're ready to hit the woods.
For an extremely well made and durable, all-weather chest carry option, check out the Kenai Chest Holster.
What's your take on the Kenai?
5. Man Gear Alaska
The folks in Wasilla must know a thing or two about bear country. The Man Gear Alaska chest holsters are made in the same town as the Diamond D Leather holsters.
If you need an extremely tough nylon holster this is the one to look at. Constructed of a double thickness of 1680 denier and a multiple layer waterproof inner material the holster is both rigid and tough.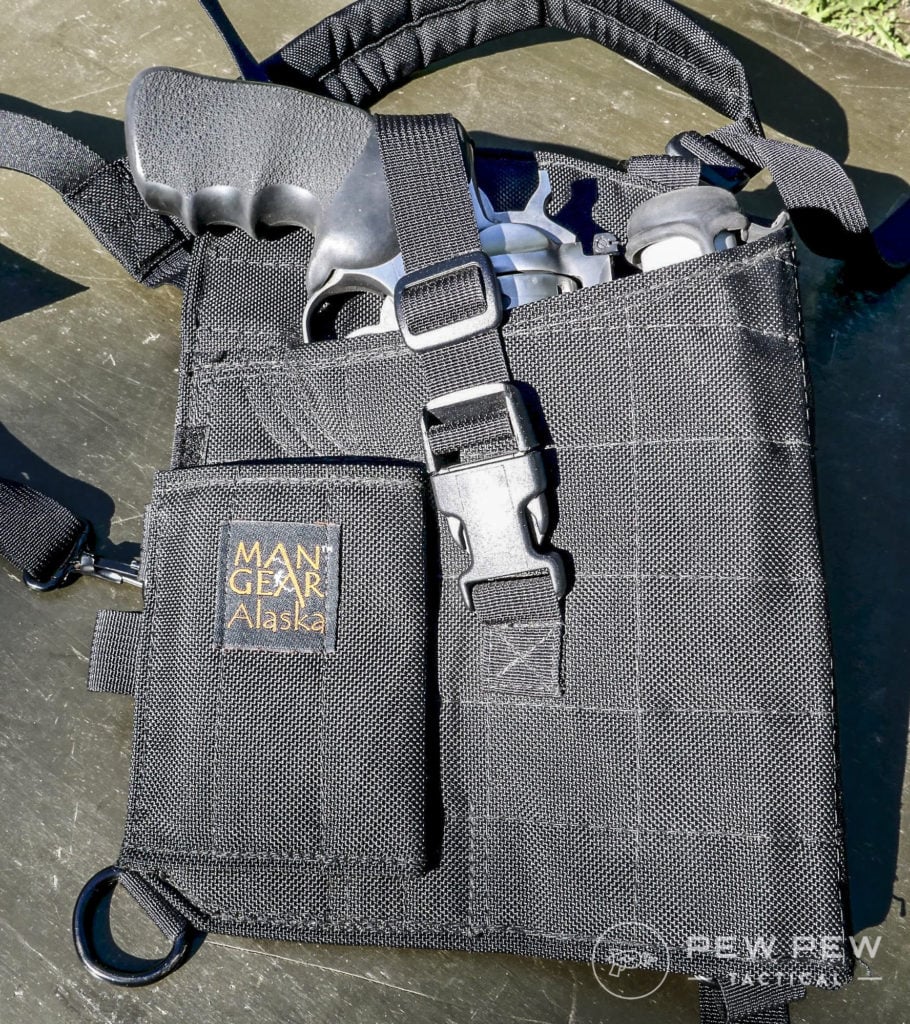 The holsters are made for both revolvers and semi-autos and can be ordered with a pouch on the front for magazines, small gear or with sewn-in loops to hold extra cartridges.
The suspension system is one-inch nylon webbing with metal hardware and clips. The shoulder strap is lightly padded.
The d-rings on the holster allow you to customize the angle you carry the holster and how high on your chest you want the holster to ride.
I have been carrying my Ruger Toklat with an Ultra-Dot optic for more than two years in my Man Gear holster. I have numerous backpack trips deep into the wilderness and the holster works perfectly.
Our later seasons can be extremely wet and the Man Gear holster sheds water well and dries quickly after a day in the rain and snow.
You will notice I have an optic on my handgun. I called Rebecka at Man Gear and discussed my needs.
After a few measurements and some photos she went to work and built a custom holster for the big Toklat and optic and included 8 cartridge loops covered by a flap on the holster.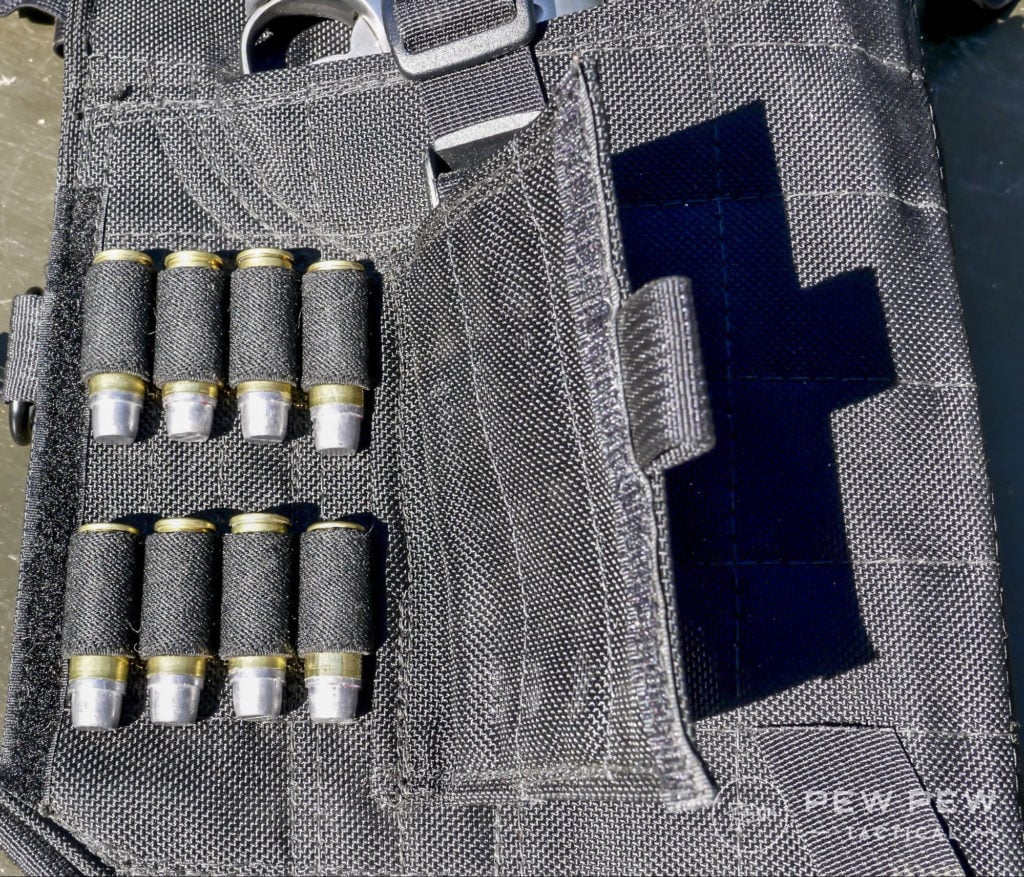 The gun fits tight and is easy to access when wearing a pack or on stand.
The Man Gear Alaska Ultimate Chest Holster is a great value.
6. Hill People Gear
I've had the pleasure of knowing Evan and Scott Hill for about 15 years.
I have watched a couple of guys passionate about the wild places take a few simple ideas and build some outstanding backcountry gear as well as teach other people the fine art of thriving outside.
My original Kit Bag is the first version released and has hundreds, if not thousands of miles on it. It is such a versatile piece of gear there is no reason to ever leave it behind.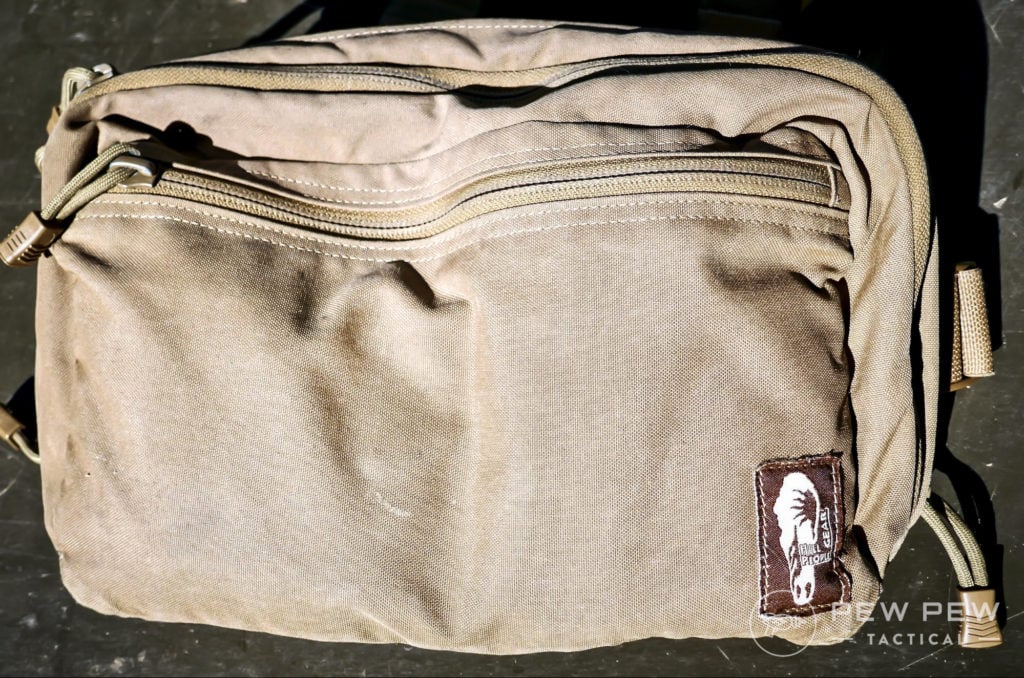 The Kit Bag was designed to be able to carry a concealed sidearm in the backcountry without interfering with your pack's shoulder straps.
Additionally, there is an option to attach your kit bag directly to your pack straps via the Lifter Straps to allow your pack to bear the weight of the gun and other goodies rather than your neck and shoulders.
The bag is constructed of 500 denier nylon and features robust #10 coil zippers. The harness is flat webbing and has a well-ventilated back panel that helps distribute the load and provides a smooth surface that will not bind or chafe when wearing a pack.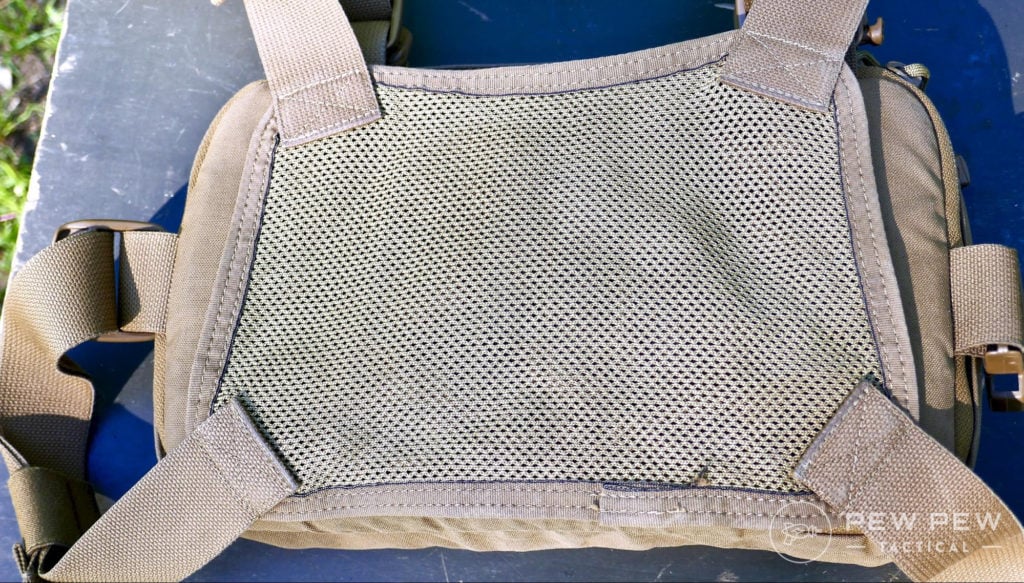 The front compartment is relatively flat and is perfect for your keys, extra magazines, lighter and a knife.
The middle storage compartment has two pockets that are perfect for a phone or notebook. I also stuff in a lighter, waterproof match case, my SureFire, a dummy-corded compass, map, my HAM radio and frequency chart, and whatever else I think I need.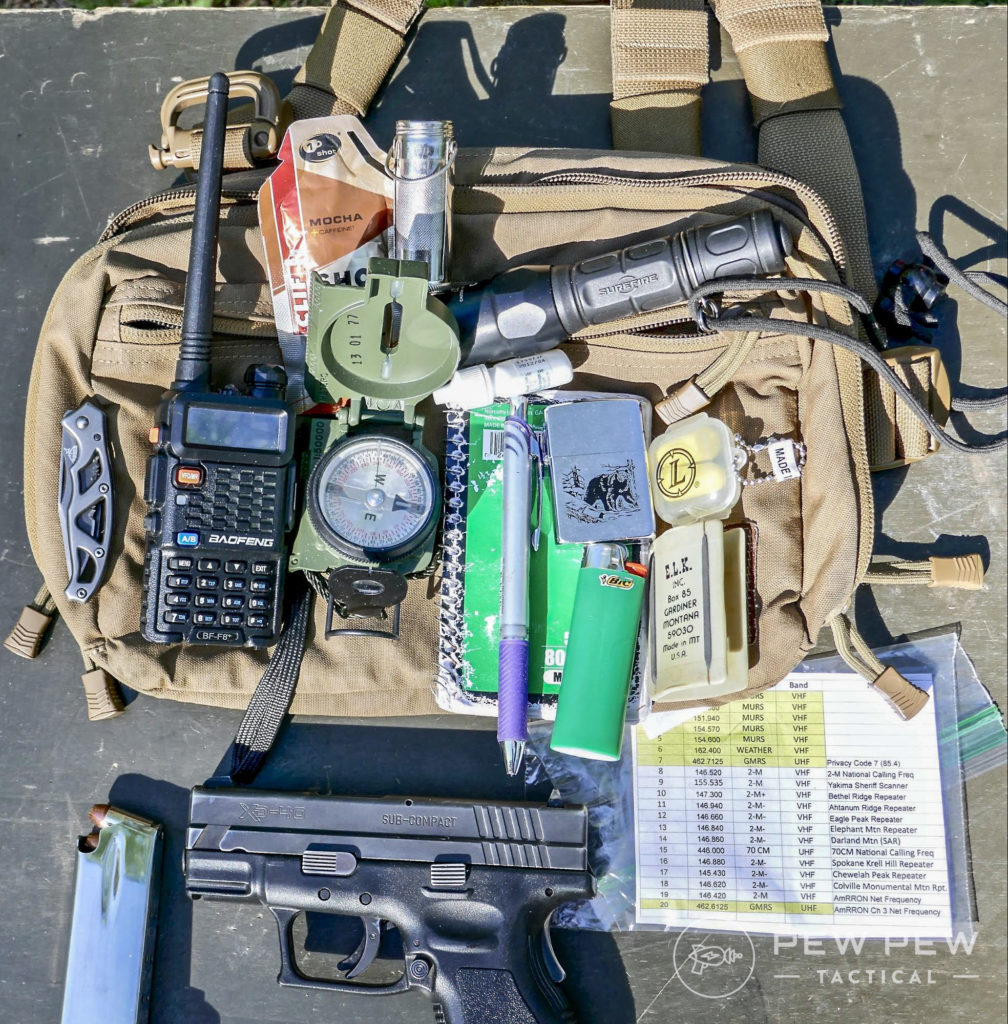 The rear pistol compartment is easily big enough for my USP or my Springfield XD with a light. I can also carry the Blackhawk 45 Colt pretty easily.
594
at Brownells
Prices accurate at time of writing
Prices accurate at time of writing
If I empty the middle section I can stuff the Toklat with it's optic in that section if I want to.
I also use it as a chest pack when fly fishing. A couple small fly boxes and some tippet and leader material and I'm ready for a day of fishing high lakes or wading down a mountain stream hunting for brookies.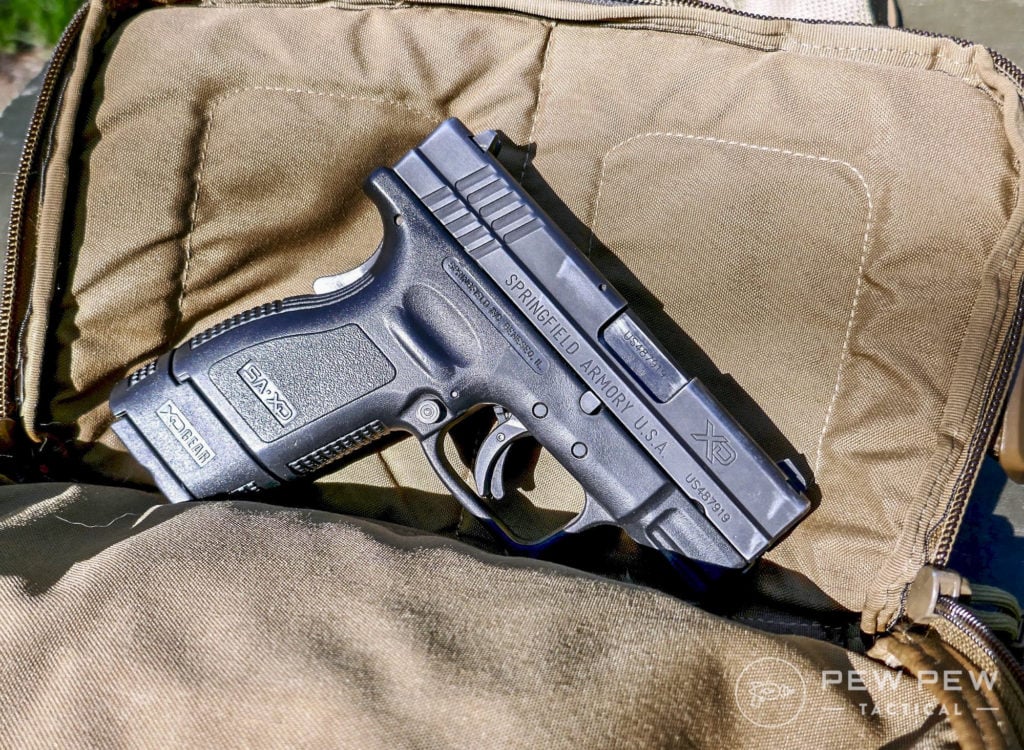 The Kit Bag is way more than just a chest holster. It can be your EDC rig and go with you as your man-purse everywhere.
I sling mine over the headrest on the passenger seat for quick access to my gun or radio when traveling. It sits by the bed loaded up and ready to go if something goes bump in the night.
125
at Hill People Gear
Prices accurate at time of writing
Prices accurate at time of writing
For a super versatile and well-built piece of gear check out the Kit Bag. It has been some of the best money I have ever spent.
Final Thoughts
Chest holsters are a great addition to your gear list if you spend any time traveling or working in the outdoors.
And you don't have to live in bear country to take advantage of the comfort and convenience of toting your favorite sidearm in a chest rig.
You will find that carrying a gun in chest holster is a lot more convenient and accessible when hiking, riding or doing camp chores than toting one on your pack waist belt or on your hip.
With a chest holster, you always have your gun with you.
Do you use a chest holster when cruising the backcountry or hunting? Tell us about your rig and what you like best about it! If you need a more normal holster, take a look at the Best CCW Holsters!