One of the most fulfilling aspects of being part of any community is participating in the terms, sayings, and acronyms that embody the cultural lingo.
The Marine Corps is one such culture. Not only do we enjoy nonsensical noises like "Oorah" and "Err," but we also like to describe our weapons in fun and weird ways.
My favorite example is the M16A4. Although it's been retired from the grunt side of the Marine Corps, it will always be known as the "Musket" in our hearts.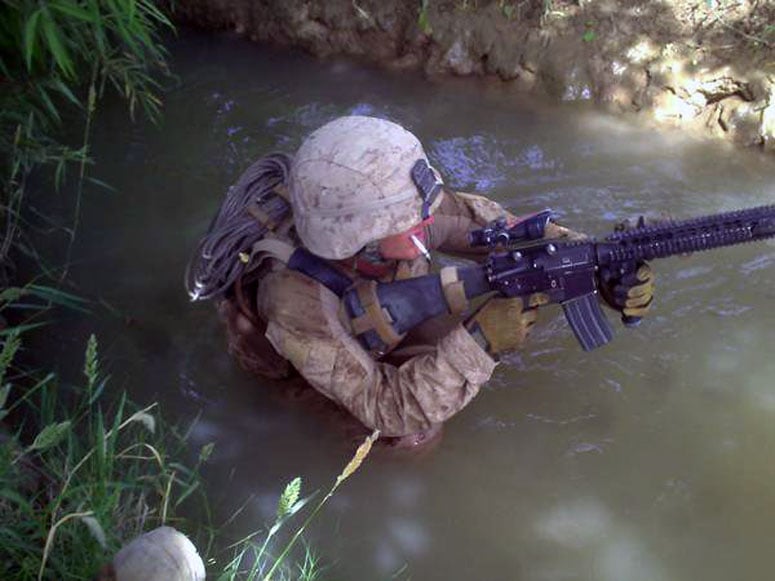 Sure, the M16A4 seems pretty outdated when compared to the M4 and M27 IAR – I mean, it was adopted back in 1997, so it's definitely behind the times.
But I love the Musket; in fact, I even constructed and reviewed an Aero Precision M16A4 quasi-clone last year. And since that review, I've been toying with the idea of updating the stock form into a truly modern musket.
At this point, you're likely thinking, "Didn't the Corps already do that with the M16A4?"
You are correct! The addition of a rail system, laser aiming system, optic, and light took the M16 into the GWOT with grace. This gun seriously rocks!
But I think I've succeeded in building a modern musket that's balanced, ergonomic, fun to shoot, and affordable.
I didn't cheap out in any way; every piece of gear on this build is a well-done piece of kit that's both durable and reliable.
Today, I'm going to run through my building process step-by-step, from base to charging handle to optics.
Let's kick it off.
Starting Point: The Base
Okay, before we dive into the details, I want to once again clarify that I'm updating my M16A4 clone and not building the Modern American Musket from scratch. The stock form is my jumping point.
I'm using the base, lower, and a couple of other parts from my last M16A4 building hurrah: Best AR-15 Build: M16A4 (Modern Musket).
I recommend reviewing this article as a starting point for learning more about the Musket and my reasoning behind certain parts.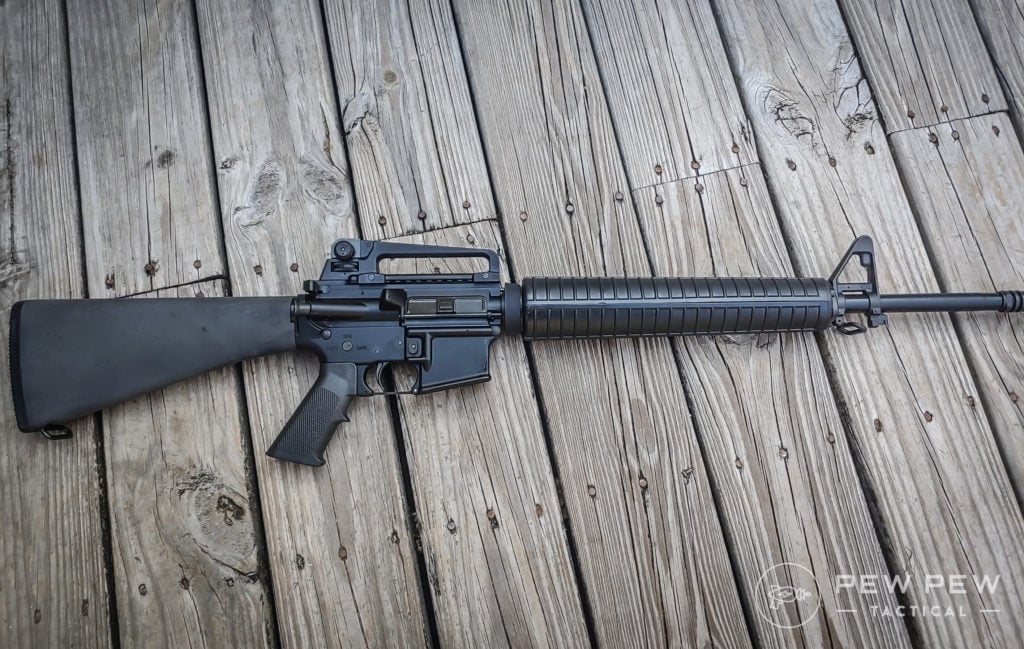 I decided to stick with the 20-inch rifle variant from my Aero Precision M16A4 clone for a few reasons.
For starters, this company is known for making high-quality rifles that don't break the bank. The base model I purchased for my M16A4 clone has proven to be reliable, accurate, and very easy to shoot.
I have zero complaints, so why waste money replacing something that isn't broken?
But I have to admit that my decision was also influenced by traditional aesthetics. The M16A4 is called the Musket, so it only seems appropriate to use a similar platform for my Modern American Musket.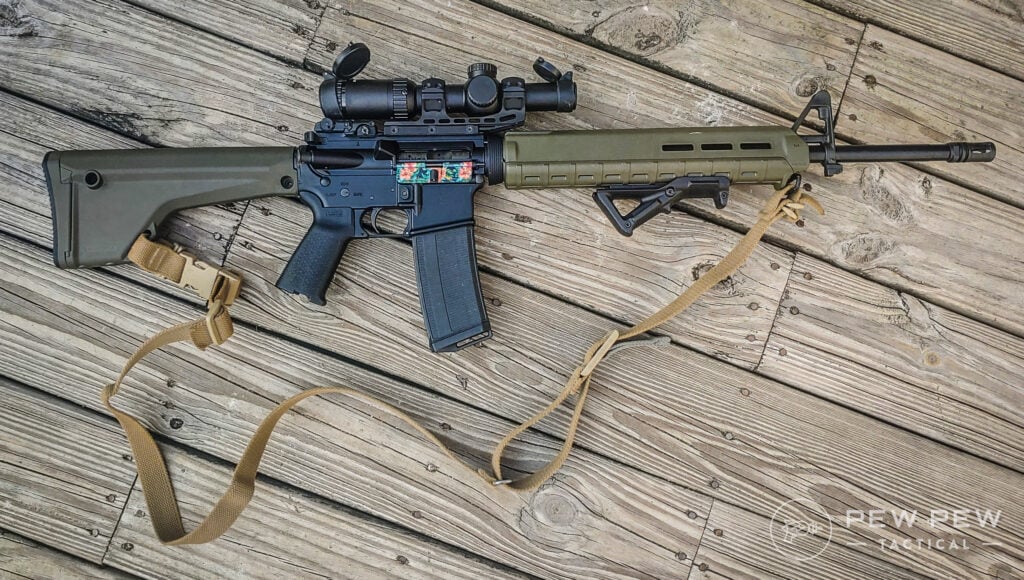 On the fence about that 20-inch barrel? I promise it's worth your hard-earned dollars, particularly for this build.
There are quite a few benefits to the 20-inch barrel that many people ignore. Sure, it isn't as sleek or sexy as a short-barreled carbine, and I certainly wouldn't choose it for shooting in tight spaces.
What the 20-inch barrel offers is superior ballistic performance.
In my experience, the 20-inch barrel adds some ass to 5.56 and .223 Remington rounds. Because the increased velocity gives the rounds more potency, they'll be able to puncture some impressive targets and barriers!
With the right lightweight FMJ load, you could even punch through steel armor.
Now, with that said, not all steel armor is the same, and some resist high velocity loads better than others, so don't go calling me a liar later…and always be smart and safe if you want to test the theory.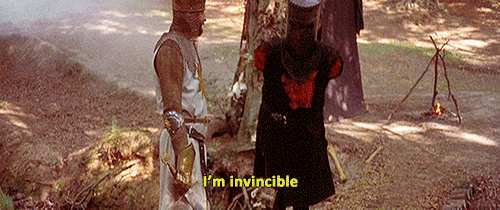 Rifle-length barrels also work better with .223 Remington soft tip or expanding hunting ammo.
In fact, this ammo is almost universally designed for 20-inch barrels – the rounds expand best at this size, and that expansion is necessary for humane hunting.
Another reason I chose a full-sized rifle barrel is because the longer gas system greatly reduces recoil, muzzle rise, and concussion.
This makes the rifle more comfortable to shoot and so much smoother than any shorty ARs.
Magpul Rifle Furniture
1. Magpul MOE M-LOK Handguard
Truth be told, I went back and forth on deciding which handguard to include in my latest build.
I didn't want to keep the lame A2 style handguards from my M16A4 build for two reasons: they heat up too quickly, and I don't like that I can't attach anything to them.
So, that left me torn between Knight's Armament M5 RAS Handguard and the Magpul MOE M-LOK Handguard.
Knight's RAS rail is, without a doubt, the best quad rail for the rifle variant of the AR-15. The only downside is the weight and cost of the unit.
After a bit of waffling, I ended up going with the MOE M-LOK Handguard. It's significantly cheaper and 2 ounces lighter than the Knight's RAS rail, so I count it as a win.
I also like that it's a bit more modern and comes with M-LOK slots for attaching accessories and rails right where you want them.
For me, comfort is always an important factor to consider when constructing any build.
Picatinny rails are called "cheese graters" for a reason, and it's not solely because they look like cooking accouterments.
Comparatively, the Magpul MOE M-LOK Hand Guard is way more comfortable to grip and handle.
It's also remarkably durable, made with heat-resistant polymer, and designed with an integrated riveted aluminum heat shield.
You also get four unique color options, from standard Black to Flat Dark Earth. I chose a nice green shade for my Modern American Musket.
2. Magpul MOE Rifle Stock
I originally chose a fixed polymer A2 rifle stock for my Aero Precision M16A4 clone. A fixed stock is great because you will always have the same length of pull.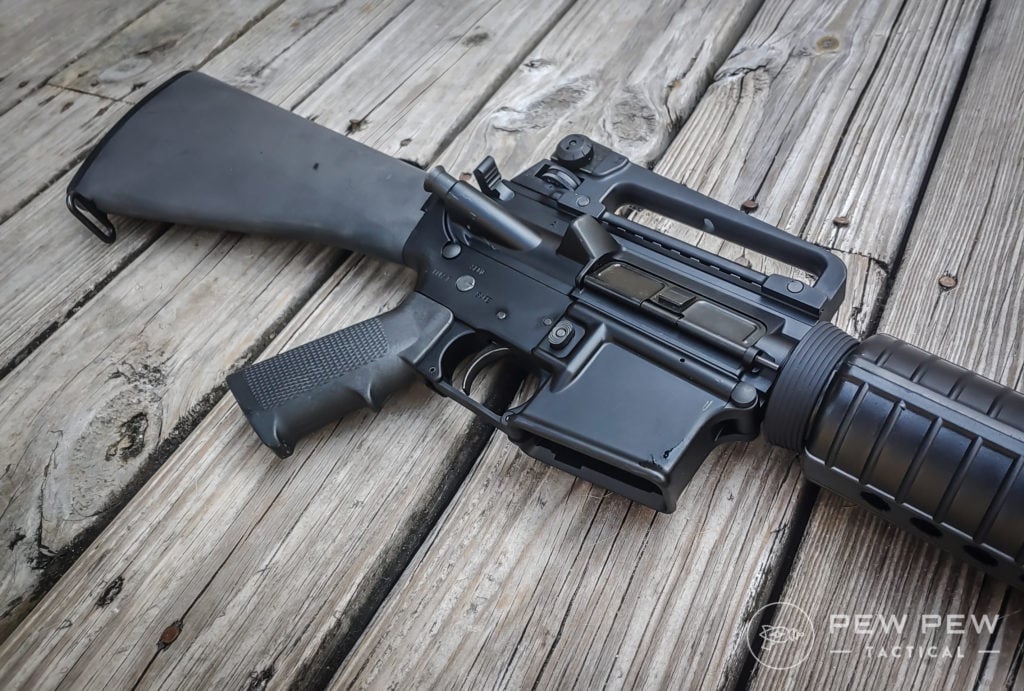 So why did I switch it out for a Magpul MOE Rifle Stock? I didn't like the length of the A2.
Size-wise, the MOE Rifle Stock is a bit shorter; in fact, it's the same length as the original M16A1 stock. The A1 length is about the same as most collapsing stocks when they are fully extended.
Installation was quick and easy – about 2 minutes – because the MOE Rifle Stock uses the same rifle receiver tube. All I needed was a single screw!
I love the MOE Rifle Stock.
It's comfortable, user-friendly, and provides an excellent, beard-friendly cheek weld. In my opinion, it's suitable for most shooters and would be a great go-to option for anyone wearing armor.
My favorite feature is the large storage space for extra gear, a cleaning kit, candy bars (don't judge me), and the like. It's quite a bit larger than the cleaning kit compartment on the A2 style stock.
You also get plenty of sling points, an area to mount a rail for a monopod, and a removable recoil pad.
3. Magpul MOE Pistol Grip
I went with the MOE Pistol Grip as well. What can I say? Magpul continues to deliver.
The MOE Pistol Grip is a simple but comfortable grip that drops the A2 knub. I also like that it doubles as a storage compartment for small tools and batteries.
It's also cheap, which is a good thing in my book.
4. Magpul Angled Fore Grip
I currently have an old school Magpul Angled Fore Grip (AFG) on my Modern American Musket.
This masterpiece of a foregrip has been kicking around in my parts bin for a long time. I figured, since this build is already so Magpul-heavy, why not take it a bit further?
Magpul's Angled Fore Grip provides a comfortable means of pulling the weapon into your shoulder without the need of a traditional foregrip.
It also has a built-in front barrier stop to give you better control over the rifle.
I'm stoked that I finally got to equip this part on a worthy build.
I have a nasty shoulder injury that likes to flare up at the worst of times. A slightly vertical grip – like the AFG or AFG-2 – allows me to pull the weapon to my shoulder and hold it there comfortably.
In the future, I'm going to upgrade to Magpul's AFG-2.
This model is slimmer than the classic AFG and is designed to mitigate recoil and facilitate faster follow-up shots. It also mounts directly on the handguard, which I prefer.
5. Magpul MBUS Rear Sight
Let's keep the Magpul theme running, right?
I always try to stay within a certain budget whenever I'm assembling the parts for a new build. Fortunately, Magpul MBUS Rear Sights are high-quality and kind to my wallet.
As you can see, the rear sight is well away from the barrel and less exposed. So, in this case, I don't have any issues with using a polymer rear sight.
Admittedly, I'm probably never going to use this sight with an LVPO towering over it.
I'd have to whip out a hex wrench and remove the optic to use the iron sight…which is only there because I like shooting iron sights.
I can't say that I've ever used it as a backup sight.
If I ever want to shave off some weight, I can always remove the optic and have a zeroed rear sight.
I know what you're thinking: Removing the optic seems silly because it might mess up my zero, right?
That's another point awarded to the MBUS Rear Sight. It acts as a marker to let me know how far back to mount the optic for it to maintain zero.
Athlon Argos BTR Gen 2
To keep things modern and affordable, I went with one of my favorite low-profile variable optics, the Athlon Argos BTR Gen 2.
It's a 1-8x optic equipped with Athlon's fancy illuminated reticle, which gives you points for both bullet drop and windage in the form of a pyramid.
The dots running left to right each stand for wind calls of 5 MPH.
The Athlon Argos BTR Gen 2 incorporates a system that allows you to lock down your zero position and quickly dial back to it.
It's also waterproof, so no worries about being caught in the rain or dropping it in a puddle.
Or, if you're like me, submerging it to test marketing advertisements. What else can you expect from a PPT writer? We're dedicated pros and curious scamps.
The glass-etched reticle has a BDC tuned for 5.56 and 308. It provides quick target acquisition out to 600 yards and is dead-on accurate with the magnification maxed out.
This BDC is also handy when you take the magnification down to 1X and need to make super close-range shots.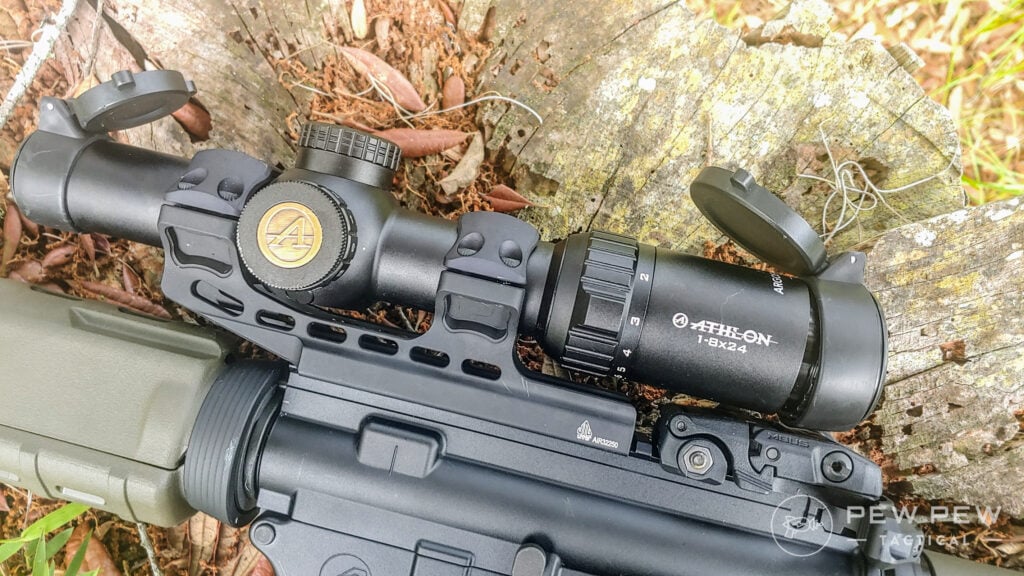 The BDC allows you to compensate for height over bore issues within 20 yards or so.
I used the third dot, and it was dead on at these close ranges. The bright half-circle reticle is eye-catching and is easy to use for close quarter shooting.
Overall the Athlon Argos BTR Gen 2 is a well put together optic that is made to last. It's also affordable, and that's one of the goals of this build.
Strike Industries Latchless Charging Handle
Unfortunately, a stock charging handle is tough to reach with that optic equipped.
With that in mind, I tossed on a Strike Industries Latchless Charging Handle and added the Strike Industries extension tab to the left side of the charging handle.
This design makes it easy to grab the charging handle and put it in play. This includes not only putting a round in the chamber but also clearing any malfunctions.
The charging handle is quite simple, and Strike Industries tends to make affordable gear that lasts.
Blue Force Gear Vickers Sling
If you've read any of my previous articles, then my choice of sling should come as no surprise.
That's right, I went with the Blue Force Gear Vickers Sling!
I've been using this model for almost ten years now, and I've never had any issues or complaints. This is my favorite sling. No joke, I own at least half a dozen of them.
The Vickers sling is a two-point sling that provides a lot of support for a full-sized rifle. It's plenty long enough for both my Modern American Musket and my 6'5" frame, even when I'm rocking some body armor.
This simple but innovative sling has two key selling points: durability and adjustability.
By playing with the pull tabs, you can either tighten the sling to let your rifle safely hang in position, or loosen it to maximize your maneuverability.
Vickers slings are impossible to beat, near as I can tell. I still haven't found anything better.
Streamlight ProTac Rail Mount 2
Every general-purpose rifle needs to have a light, right?
With a good light, you can accurately achieve target identification and, if necessary, navigate your path through less than stellar environmental conditions.
There are a lot of lights out there, but I went with the Streamlight ProTac Rail Mount 2.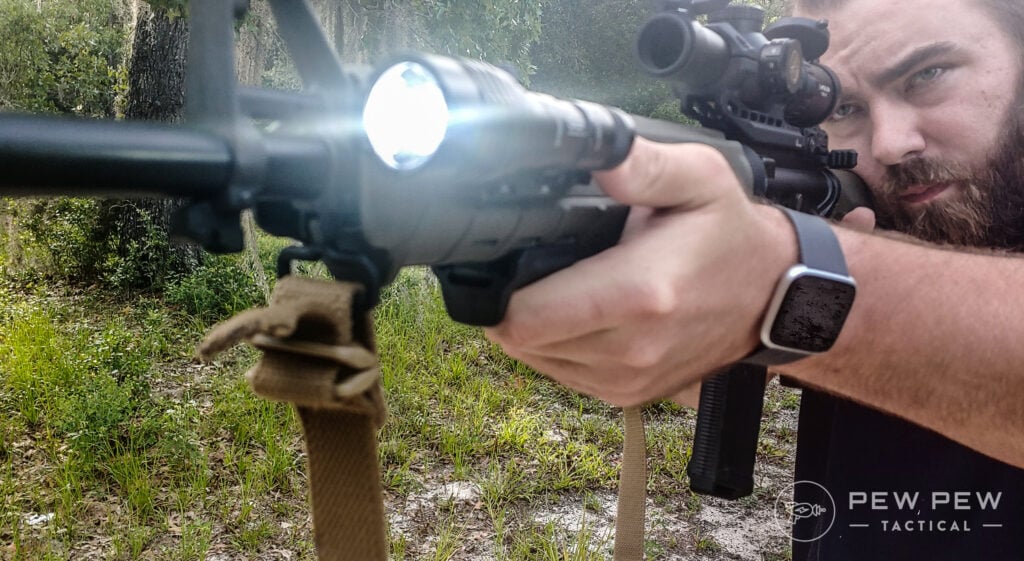 I really like this lightweight light. It prevents almost all barrel shadow and doesn't collide with the front sight or bayonet lug. I also had no trouble mounting it on the handguard.
Simple and ergonomic, the Streamlight ProTac is a complete system that comes with a mount and a pressure switch.
It may not be the cheapest light, but it is the most affordable option that I'd trust for serious use.
The light throws 350 lumens of power, and that's enough for me.
It's powered by one CR123A or AA battery, and I must say, the dual-fuel aspect is a nice touch that makes finding and storing batteries easy peasy.
The Modern American Musket
And that is my Modern American Musket build!
This rifle has a very distinct look that separates it from the various types of carbines you might find on the market. I love its smooth design and laser-like accuracy.
It's quickly become one of my favorite rifles and has earned a place of honor in my gun collection.
The Modern American Musket might not be best for clearing rooms, but the Marines, equipped with M16s, cleared Fallujah one house at a time, so when pressed, you make do.
This build is perfect for anyone who wants to construct a functional, general-purpose rifle that won't cost an arm and a leg.
Whether you're interested in assembling a build for hunting, defense, or a fun day of plinking, you can't go wrong with the Modern American Musket.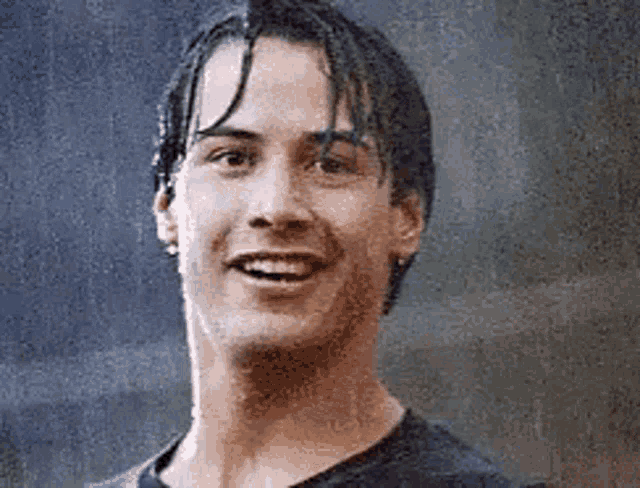 Ready to build a Modern American Musket of your own? Planning any interesting builds? Let us know in the comments below.
New to building rifles? Awesome! Check out our AR-15 Parts & Tools List: Building? [Start Here!] and Ar-15 Learner Build: One Man's Journey From Parts to Finished Rifle.