Smaller is better.
We have the mini SMG wannabes from CZ and SIG, we have smaller and smaller ARs, and of course, compact handguns rein supreme.
Today we are going to turn that on its head and talk about one of my favorite AR configurations, the M16.
Specifically, the M16A4.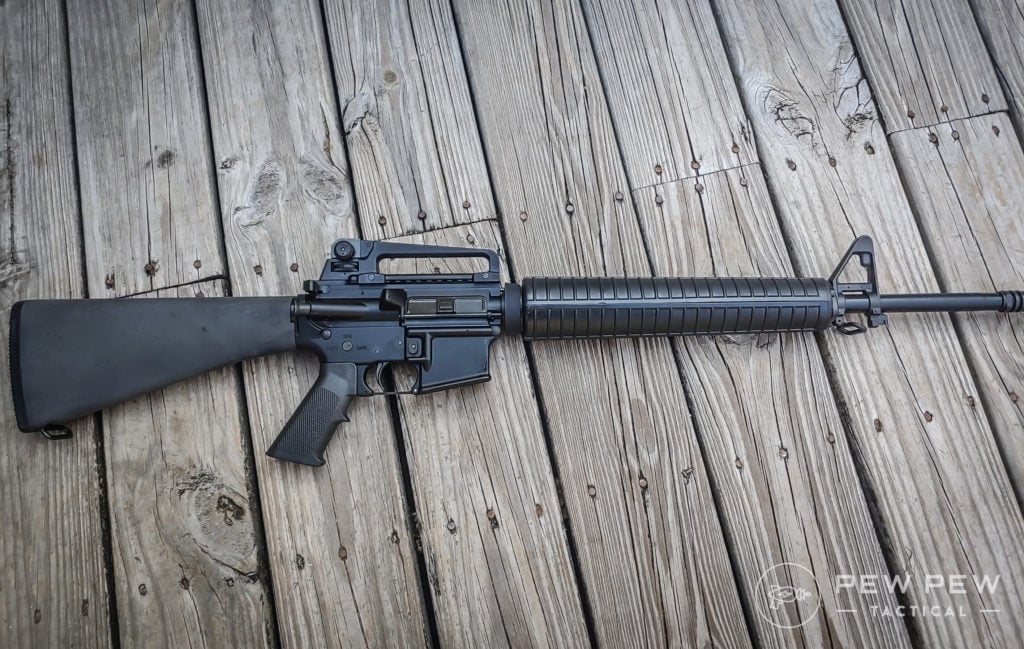 Background
My love affair with the venerated musket began in the early days of my Marine Corps career. 
The Corps has moved to M4s for grunts, but when I joined, infantry Marines were mostly carrying M16s.
In boot camp, we used ancient M16A2s and it wasn't until my time in SOI did I receive the more modern musket, the M16A4.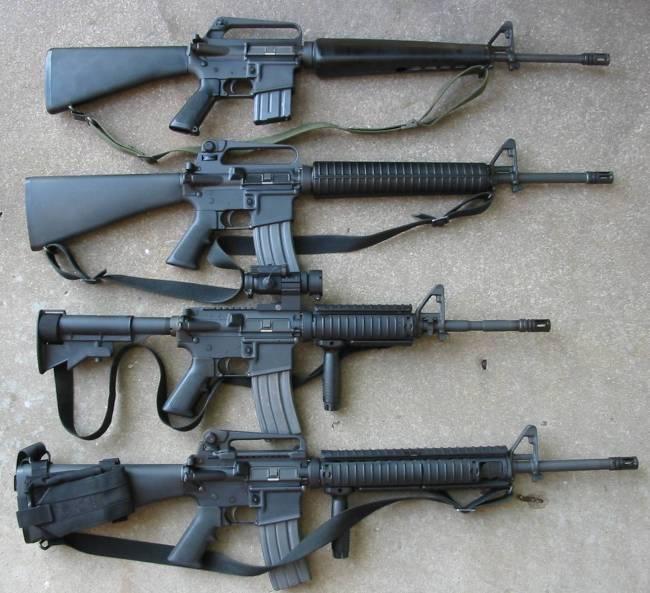 The M16A4 kept most of the features of the M16A2 but became more modular.
The M16A4 features the same 20-inch heavyish barrel, the fixed stock, the A-frame front sight, and Safe/Semi/Burst modes the M16A2 was known for. 
The big changes were the introduction of the Knight's Armament RAS rail system that gave Marines a quad rail system to mount lights, lasers, and so much more.
Additionally, the carrying handle was now removable and the Marine Corps began fielding the Trijicon ACOG as their rifle combat optic of choice.
Over time the Marine Corps did approve the use of the 6-position collapsing stock on M16s for smaller shooters to use while wearing armor.
I like to call these the reverse stretch M16A4s. This was past my time, but I doubt this was a common modification. 
In 2015 the USMC decided that the combat arms MOSes would finally be issued the M4 as the standard infantry rifle alongside the M27 IAR.
The M16A4 still serves in many non-combat positions and will likely be around for quite some time.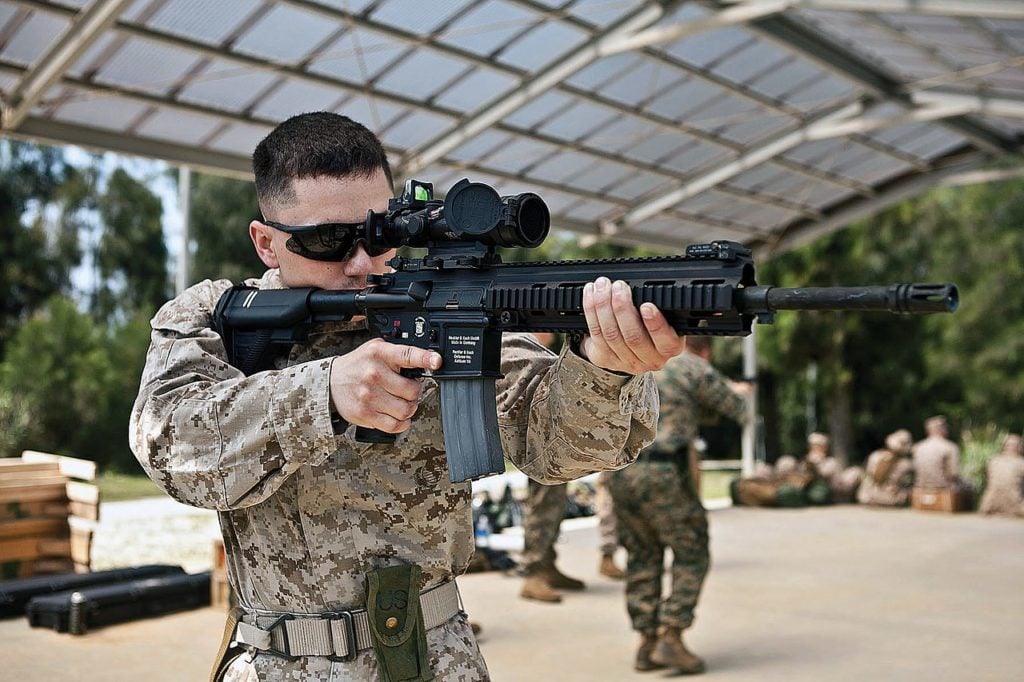 The M16A4 and I served together for a long period of time and I decided I needed one once more. This decision occurred at SHOT while shooting one of Aero Precision's post sample full auto M16A4s.
It'd been years since I fired a 20-inch barrel AR 15, and I forgot a few things about how great it is.
This leads us to my main point… 
Why Should You Build an M16A4 Clone
There are a few reasons, but performance is going to be where I rest my argument.
The M16A4 and it's 20-inch barrel give you the most ballistic advantage possible from your .223 or 5.56 round.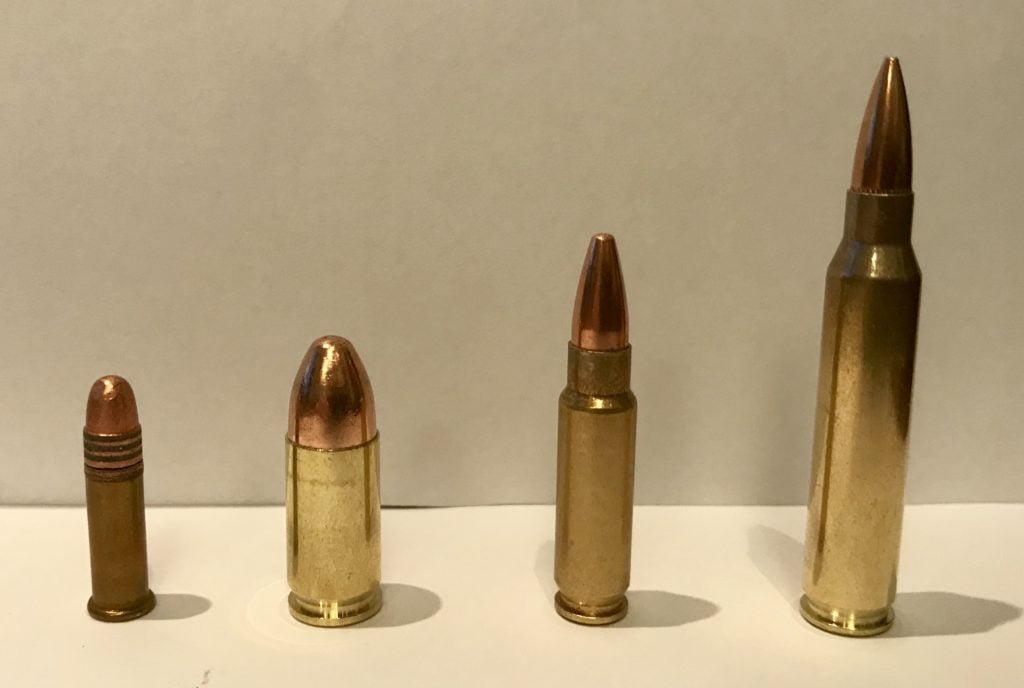 The .223 and it's military variant the 5.56 was built around the 20-inch barrel and reaches its peak potential in a 20-inch barrel.
You'll get a faster, harder-hitting bullet. M193 from a 20-inch barrel will often zip through most AR500 plates. That little extra velocity can make a big difference in barrier penetration.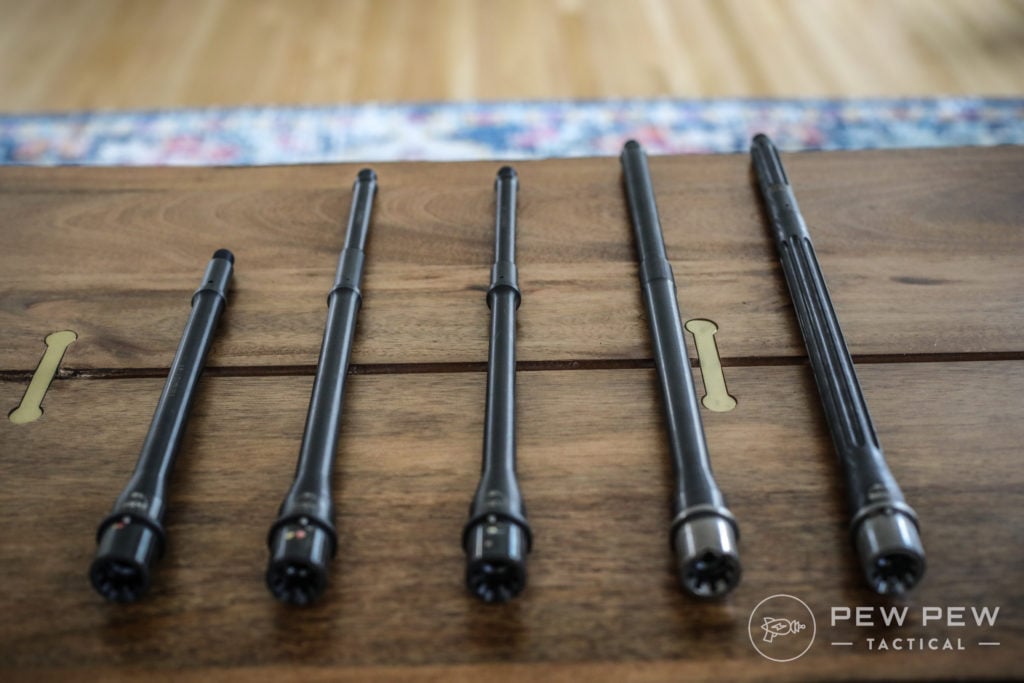 You'll also receive less overall recoil and muzzle rise. In fact, you'll find yourself feeling hardly any recoil or muzzle rise. Full-sized rifles are absolute kittens when it comes to shooting.
The full-length rifle stock is a manner of contention with many.
As a big guy, I always found the length of pull to be comfortable, but many smaller specimens did not share my appreciation for it. However, as a real rifle stock, it does provide an excellent cheek rest that allows for a solid cheek weld. 
Also, that stock is rock solid.
It doesn't move at all.
It allows you to rest the gun high in the pocket of your shoulder and get behind it with confidence. It makes it easy to stabilize and hold onto.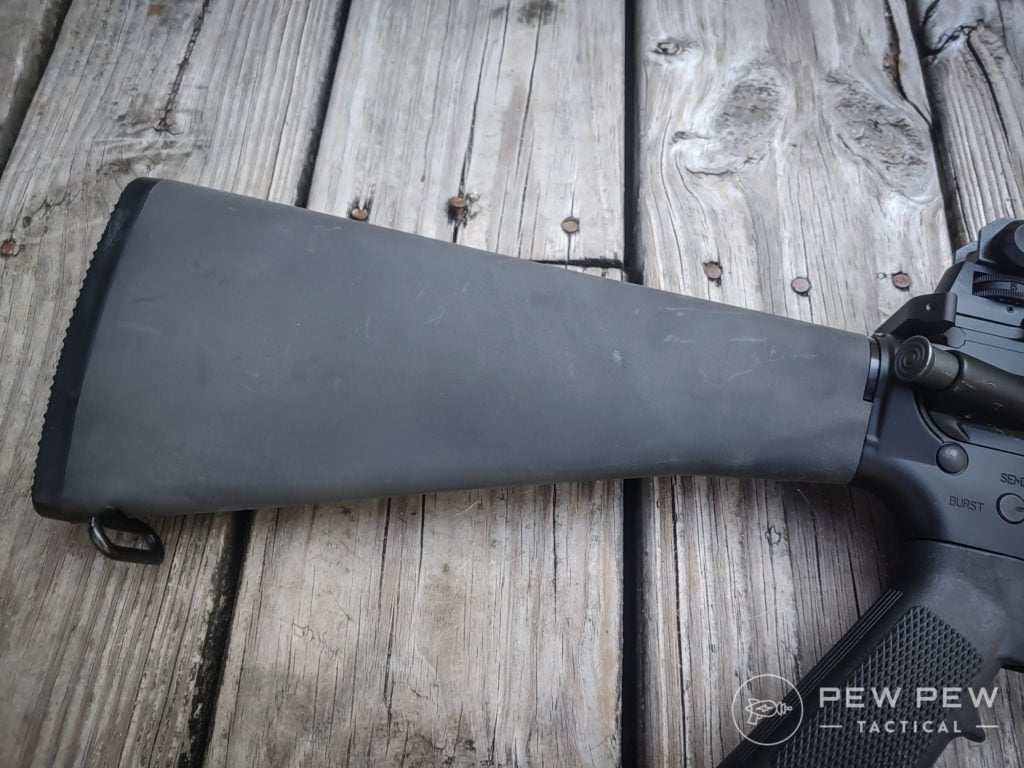 When it comes to using iron sights the longer barrel and fixed front sight provides a longer sight radius which makes it easier to shoot accurately.
Finally, a longer barrel gives you more room when you attach a bayonet. Now, this sounds foolish to count this as a plus in 2019. You say that until you try to stab a zombie in the brain.
That extra 4 inches over a carbine will be well appreciated, so will that solid stock for butt stroking zombies.
You can also compete in NRA High Power Competitions, at least with iron sighted models.
High Power matches replicate the USMC Table 1 qualification shoot in many ways and can be a fun and dynamic shooting competition.
M16A4 Clones Parts List
I admittedly didn't build mine, and as you can see, mine is not a true clone. This is an Aero Precision M16A4 clone base model.
They do two models, this is the slightly cheaper base model that lacks the rail system, but has the adjustable rear sights built into a carry handle.
The second model has a full-length rail system, rail covers, and a KAC vertical foregrip. This is much closer to an actual M16A4, but also a bit heavier and more expensive.
I went simpler because I wanted a simple rifle that shared the characteristics of an M16A4 in a cheaper, lighter weight platform.
If you want to build your own, great, we've tracked down the parts and pieces you need to build an M16A4, or at least the closest amalgamation you can.
It All Starts with the Lower
Like all builds, you'll need a lower. Any lower could technically work, but the Aero Precision M16A4 lower gives you a good mix of quality and a great price.
Most importantly this specific lower is marked M16A4 and has the Safe/Semi/Burst inscriptions.
Of course, the burst position is just for show cause gun laws suck. The lower isn't completely clone as it does still bear the Aero roll mark.
Next, you may be wondering what goes inside that lower? Good question, and a simple one to answer.
Any Mil-Spec lower parts kit will work. You can't get truly clone correct because of the Hughes Amendment, but you can get close.
Everyone makes a Mil-Spec LPK and I could spin a wheel and get you a good answer. I'd go with a reputed company like CMMG.
You could go more refined and more expensive as well if you want a bit better of a trigger.
Geissele is always a favorite for better triggers in rifles, and they make Mil-Spec models that improve upon the standard trigger pull.
Rifle Stock Life
The polymer A2 rifle stock also needs an A2 length receiver extension, buffer, and spring. These are cheap and widely available.
This stock is strong and stable and comes with a handy component to keep a cleaning kit or some skittles.
There are seriously some awesome kits out there designed for the opening in the stock. There are also weights which are popular with competition shooters to better balance the rifle.
But don't forget, Aero also has the lower, LPK, and stock in one complete lower if you'd like that method of building!
That Whole Upper
Aero sells the uppers if you don't want to assemble your own, but if you choose to go that route you won't need anything fancy.
I still advise sticking with reputable companies, but here's a shortlist of things you'll need for the upper.
Stripped Flattop Upper Receiver – Aero Precision, because why not? Match the receivers, get a quality part, and still not break the bank.
The Upper needs to be a flat top, forged upper, with a forward assist and brass deflector, not too big of a demand.
You can fill that upper with an upper parts kit from Aero as well for less than $20 bucks.
I'm a bit of an elitist when it comes to BCGs in some ways. I do want a quality model made to last. I also want a staked gas key a tough finish and a reputable brand. Daniel Defense makes a great BCG, as does Aero.
You got to get a 20 inch, A2 profile barrel. It's a little tricky to find as it's not the most efficient profile. Brownells makes an awesome set.
Palmetto State Armory has some 20-inch A2 style barrels that will work. Don't forget your delta ring assembly either.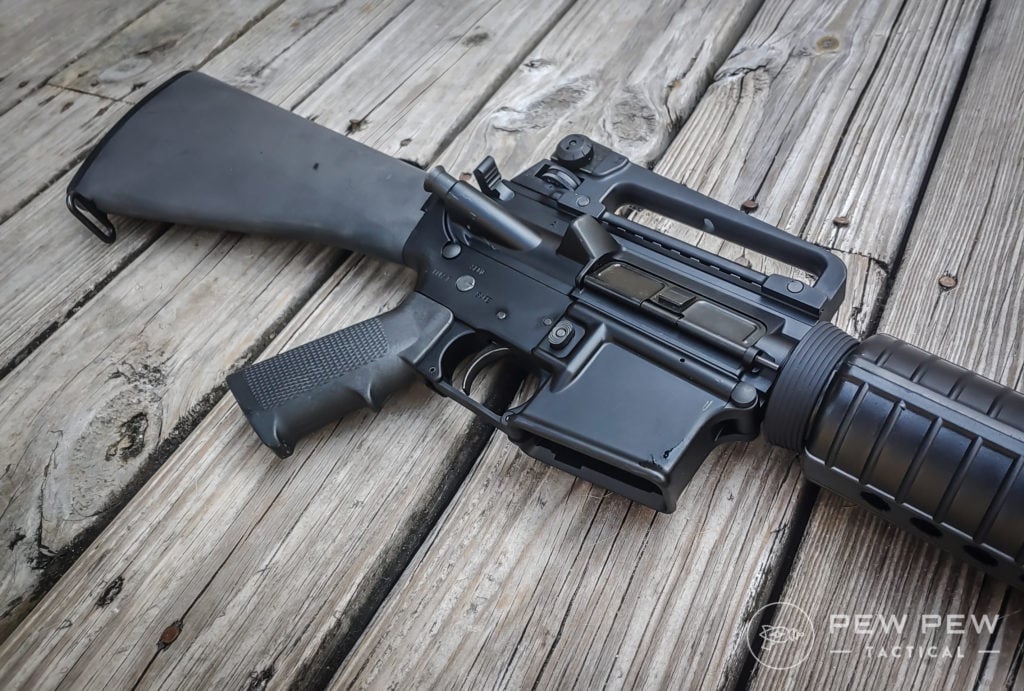 Oh, and that standard A2 flash hider is a must-have. It's a reliable classic.
That barrel needs an A2 front sight base, which Daniel Defense makes for a great price.
You'll also need the front sight post, detent, and detent spring.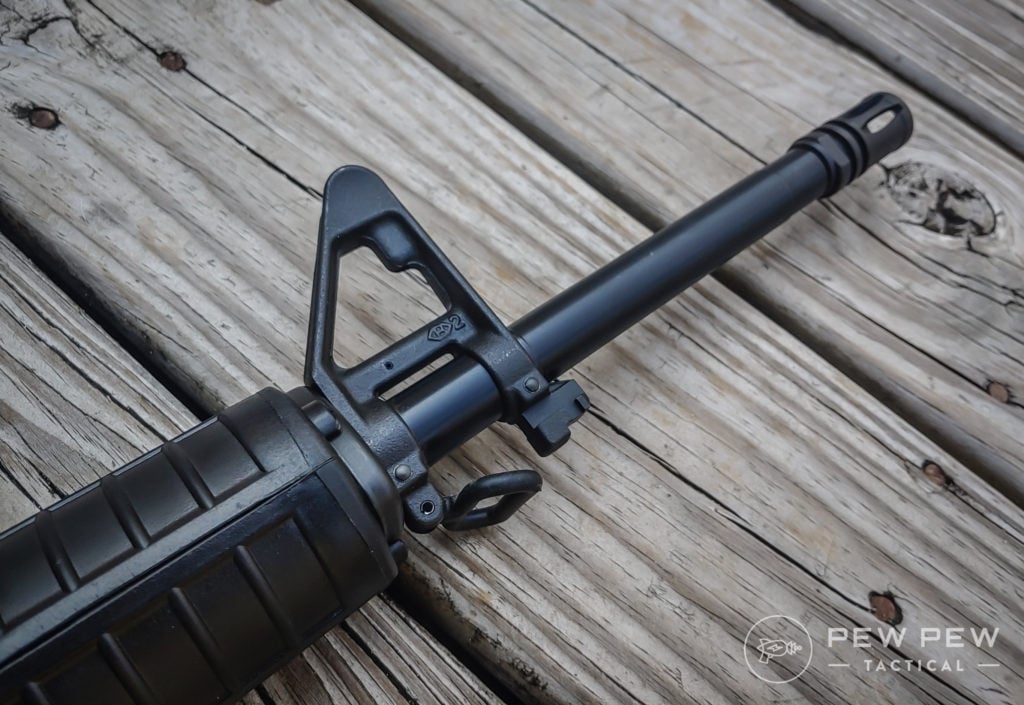 Of course, you'll need a rifle length gas tube as well. These are all parts you can use any trusted manufacturer for.
Handguard wise is where you can choose to spend a ton of money to get true M16A4 accurate.
The Knight's RAS rail is expensive, but in my five years as a Marine, I've never seen one break regardless of the situation.
The RAS rail comes with the standard covers and is a heavy-duty drop in an option that is well proven. It is expensive, but without a doubt, it's worth the cost.
It will ensure any laser aiming devices keep a true zero and it will provide you with an incredibly stable platform to grip your rifle with.
Sighting In
Lastly, to top off the upper you'll also need the famous carry handle sighting system. You can a carry handle for 20 bucks… But I don't suggest that. These cheap carry handles are rarely robust.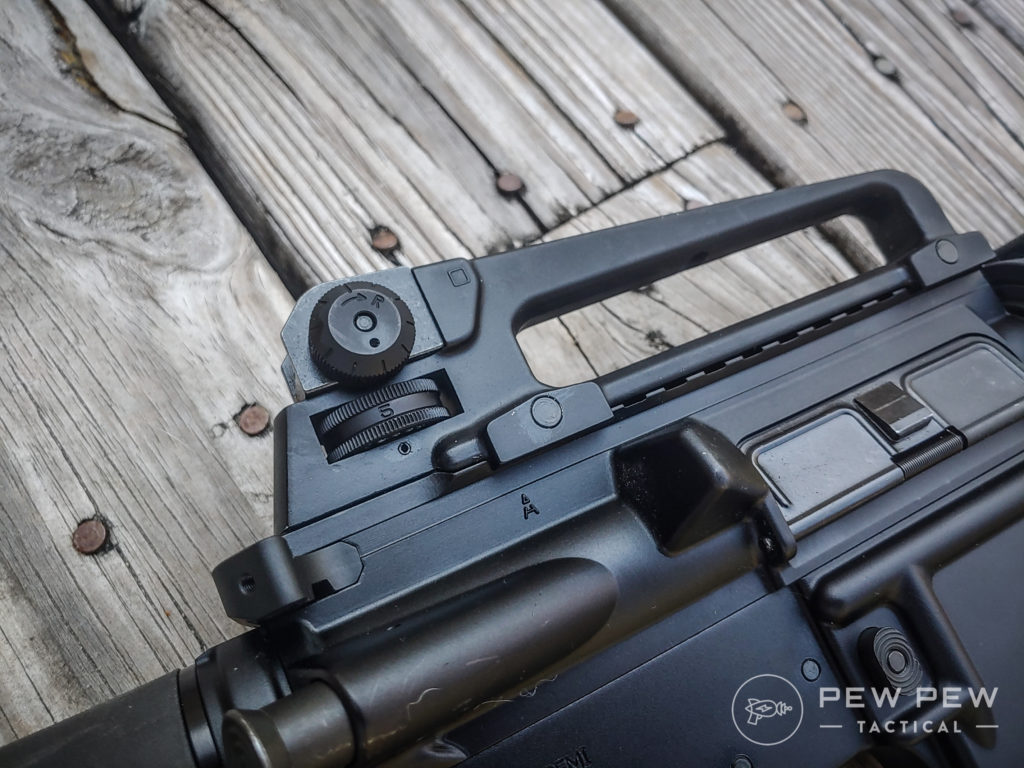 If you've never seen a set of M16A4 sights, you may not know how dynamic and robust they are. You can make some very fine adjustments to these sights.
They are more dynamic than most military rifle sights and you want a quality set to ensure you have a good zero, and proper adjustments for the 20-inch barrel of the A4 rifle.
Colt makes a true military spec carry handle iron sight set and is well made and very dependable for this role.
If you are going truly clone correct, you'll also need an ACOG. At least for a USMC build. The Trijicon ACOG is one of the best rifle combat optics on the planet.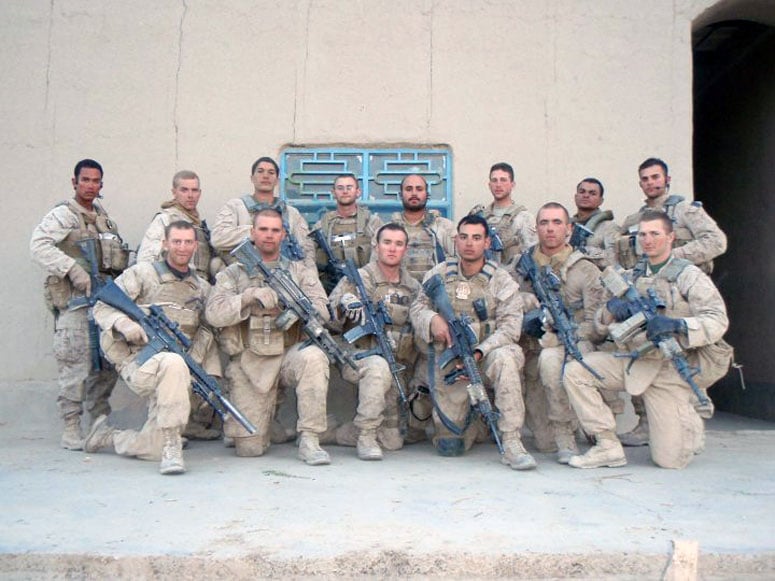 The ACOG utilizes a built-in bullet drop compensator and for this to be an accurate BDC you have to obtain the proper model for your barrel length.
For the 20-inch barrel, you'll want the TA31RCO-A4CP. This is specifically designed for the USMC and the 20-inch barrel M16A4.
I wrote all about ACOGs in a previous article, but I'll give you a quick overview.
The ACOG is one of the best combat optics ever made. It's only now slightly showing its age in comparison to the rise of LPV optics out there.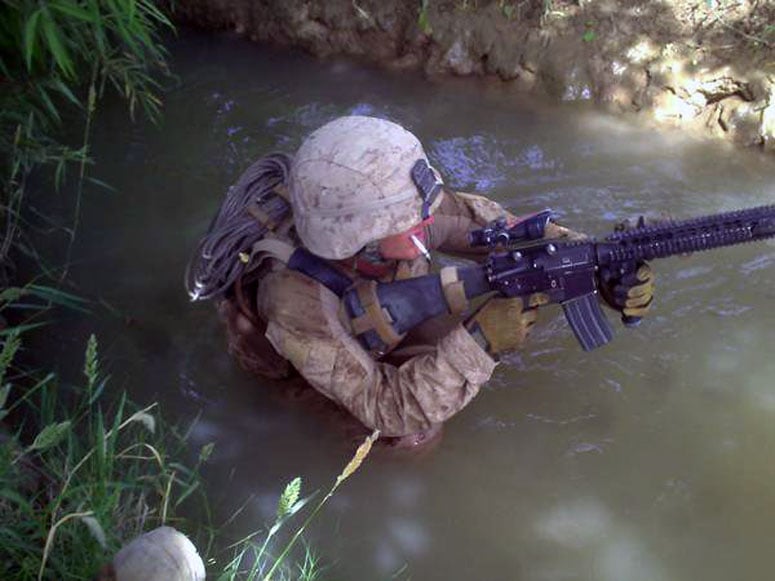 The ACOG is still an extremely durable optic designed to be beaten up and roughed up.
If you want to go crazy you can hunt down a PEQ-15. A PEQ-15 is a military-grade laser aiming device that contains a visible laser as well as an IR laser.
They are extremely expensive and quite hard to find. Some retailers have them on backorder if you want to play the waiting game.
Let's Get Crazy With It
So, how clone correct do you want to get? What about becoming a grenadier? Or, a non-NFA variant of one?
Lewis Machine and Tool makes a replica M203 that is a 37mm flare launcher. This keeps it from being a destructive device and therefore it's non-NFA. In fact, you don't even need an FFL for it.
This M203 is designed to work with A2 profile barrels and the Knight's RAS rail. You must remove the bottom rail and attach the LMT M203 over the A2 profile barrel.
Bam, now you are feeling the weight and pain of my friend Kyle on our second deployment.
The reason he punches holes in drywall is his rage at carrying an M16A4 with an M203 and a SMAW rocket launcher.
Seriously, it does add 3 pounds to your rifle and costs over a grand, but it sure as hell looks cool.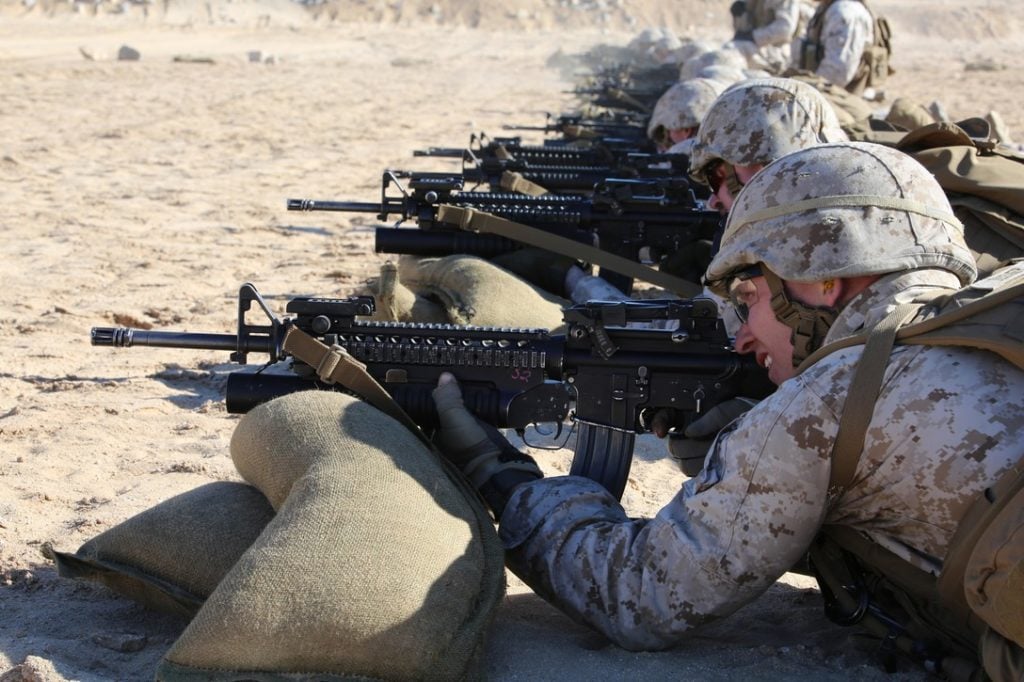 Also popping flares and smoke bombs with this bad boy is a ton of fun.
The Rifleman's Rifle
The M16A4 might be the last general issue full-length rifle our military sees. I know that carbines are rifles technically, but the M16A4 marks the end of an era with the United States military.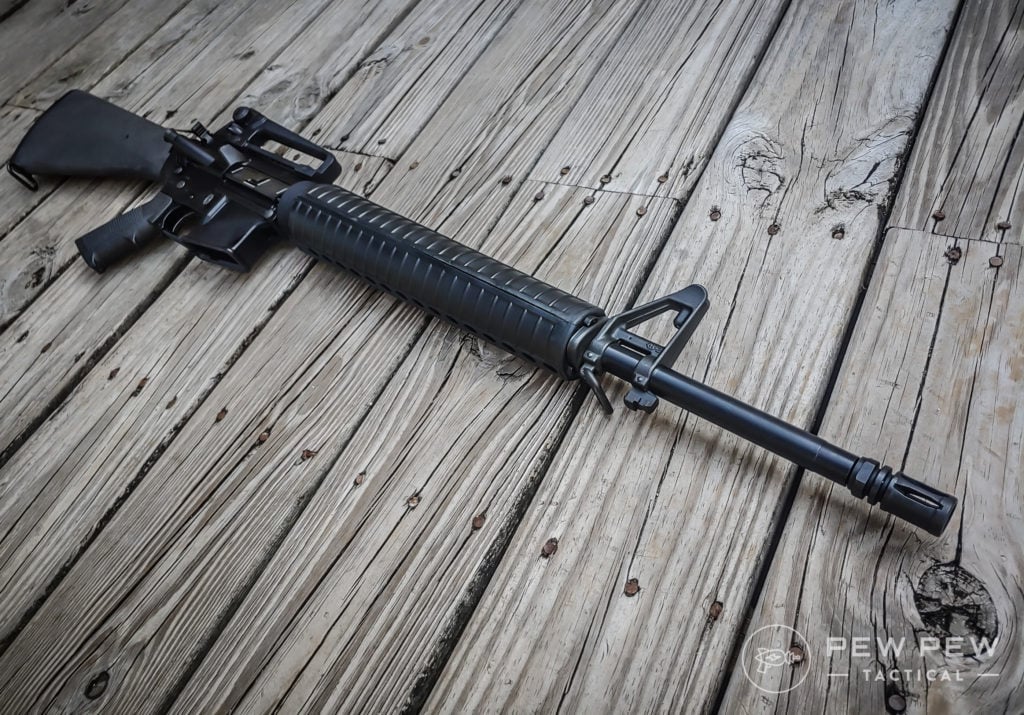 Maybe it's one that needed to happen.
Are you going to build your own M16A4 clone now? Want to jazz it up? Check out our Complete AR-15 Upgrades article to make it your own.