When it comes to handguns…nothing is more of an American classic than the .45 ACP.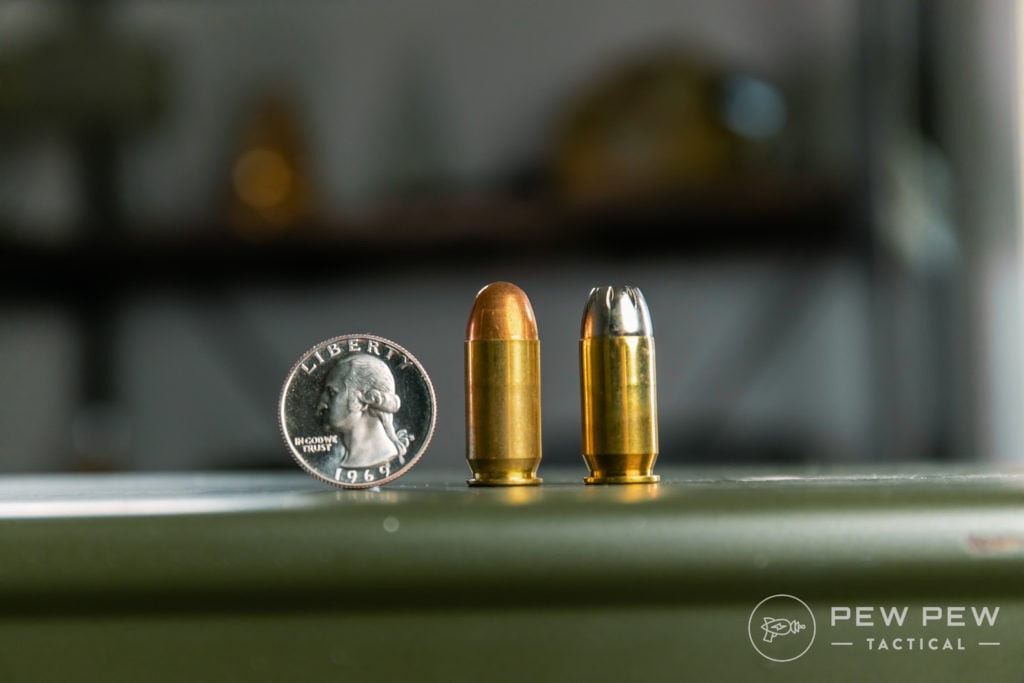 It's big, powerful, and packs a mean punch that can stop nearly anything that comes in its way.
The .45 ACP has been an American icon since Colt released the M1911 in 1911.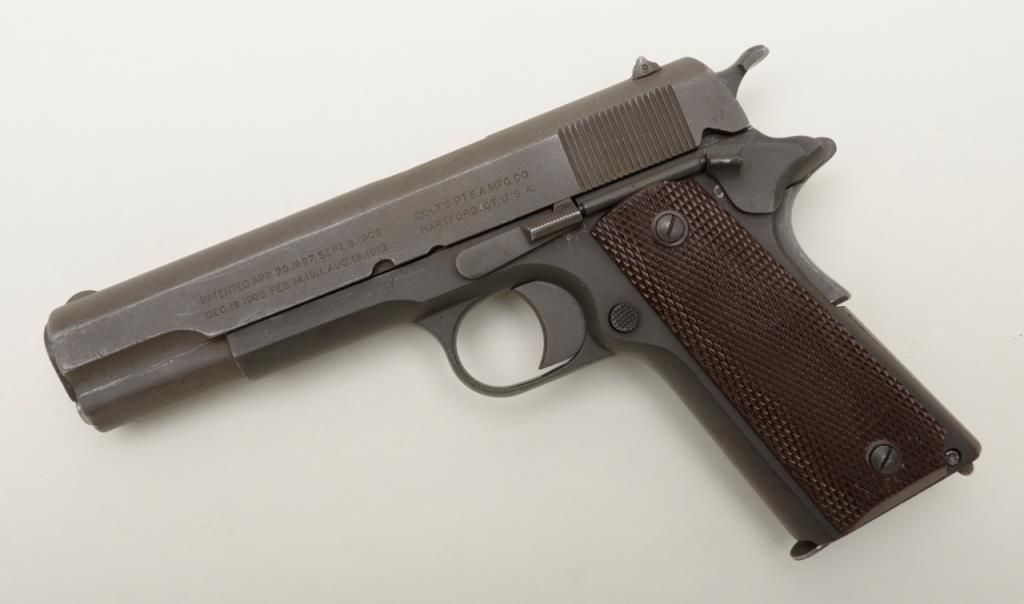 This pistol was the official sidearm of the United States military for the longest time and saw most of its action between World War I and the Vietnam War.
But now it's not only the 1911's that have the fun…
We'll cover what we think are the top seven .45 ACPs on the market.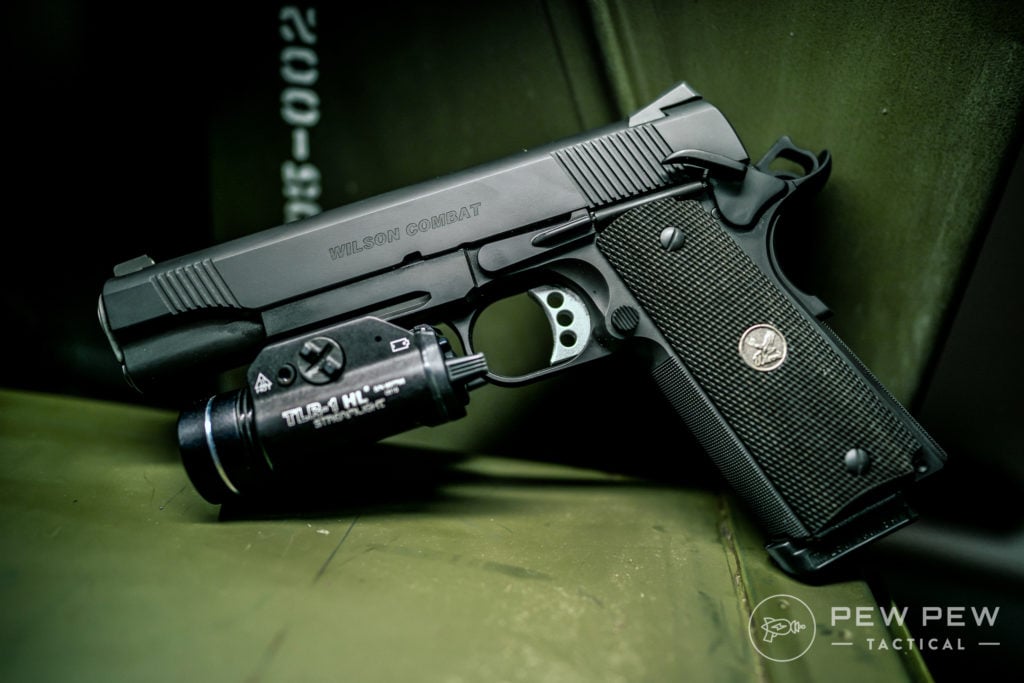 Each of these models have set the standard for reliability and accuracy. They're excellent for home defense and will make a great addition to your firearms collection.
If you really want a 1911 (everyone needs at least one) check out our Best 1911's for the Money.
Table of Contents
Loading...
.45 ACP
If you're a firearms enthusiast, you already know that the .45 has a little bit of recoil.
Because of this, it's not a caliber that's recommended for beginner shooters who're looking for a first self-defense handgun.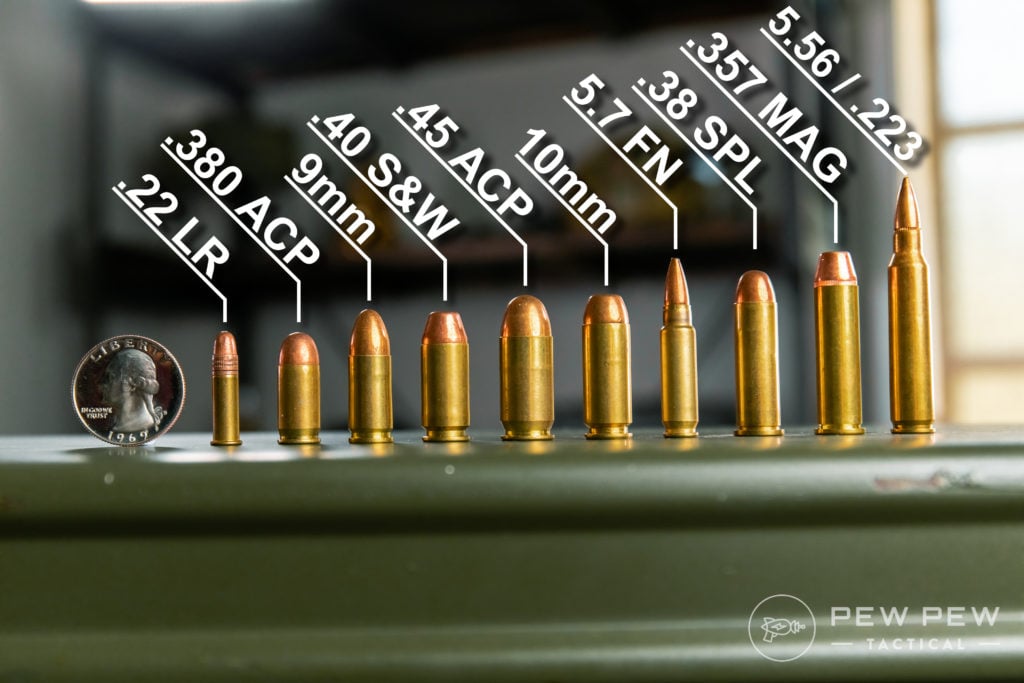 One of the reasons that the 9mm has experienced recent popularity among law enforcement is because it's easier to control than the .45 ACP.
Plus, hollow point ammo advancements have given the 9mm more stopping power.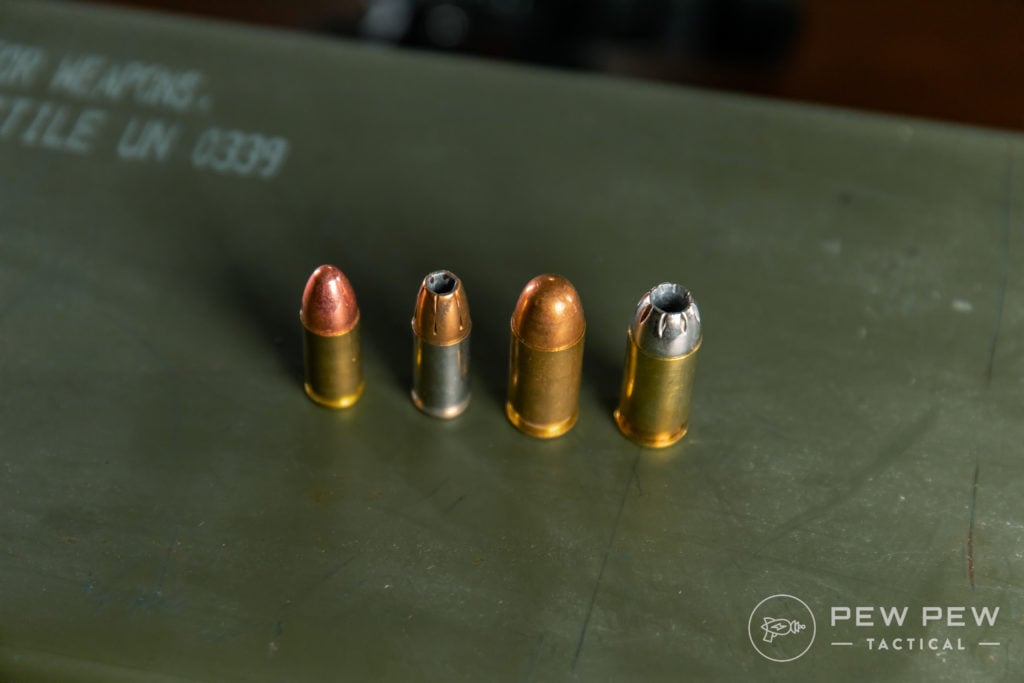 However, once you learn how to accurately shoot the .45, you'll appreciate that raw power that other most other handguns calibers just can't offer.
Pros/Cons of the .45 ACP
So we've established that one of the biggest advantages of having a .45 ACP pistol is power.
What's another?
The ammo variety.
There's so much out there because of its popularity. We help you narrow it down a little for cheap but reliable plinking ammo plus self-defense rounds.


The downside of buying a .45 pistol is that they're usually more expensive than other handgun models.
Also, the ammo tends to cost a bit more and most .45 ACPs don't carry as many rounds as their 9mm counterparts.
However, if you're looking for a reliable gun with a lot of stopping power, nothing beats the .45 ACP.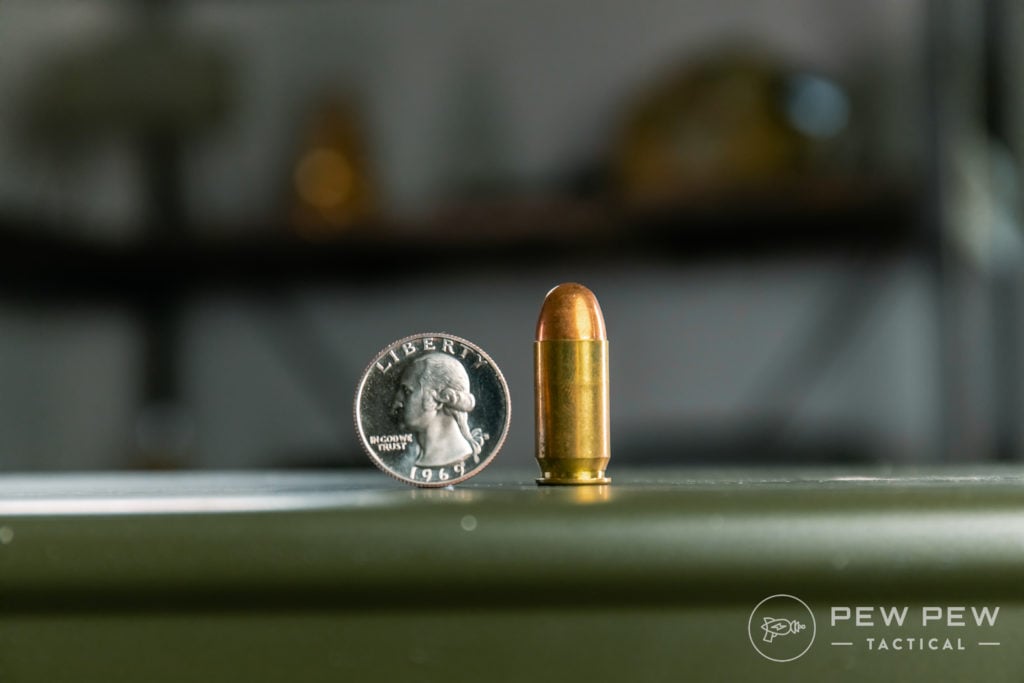 Big Bullet, Big Hands
While .45 ACPs are a bit bulkier than some of the other handguns on the market, they're still a very popular handgun for conceal carry.
If you're considering purchasing your very first .45 ACP, make sure that you do some testing before you make a purchase.
Comfort is part of what makes some guns better than others.
Take some time to see how the gun feels in your hand. Pay attention to how much it weighs, if the grips are slippery or not, and if you can easily reach all the levers with your hand.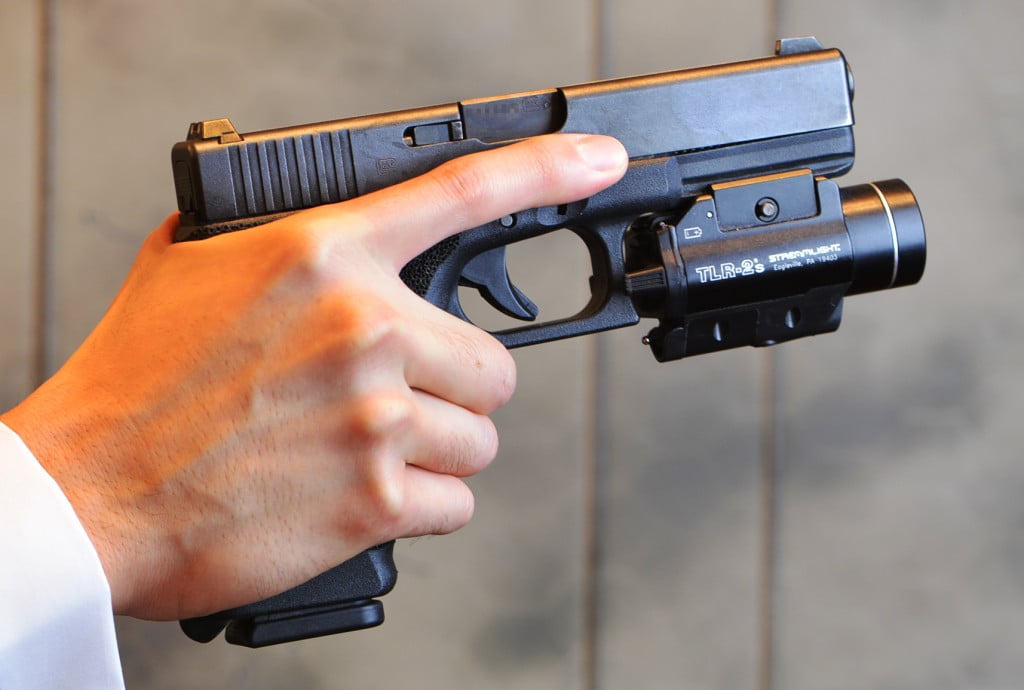 Some are better at range shooting and others are better for defense. Take some time to think about what your .45 ACPs primary function will be.
While there are a number of high-quality .45 caliber pistols out there, the guns covered in this article are some of the most well rounded and diverse pistols on the market.
They are the pinnacle of craftsmanship, dependability, and accuracy.
Now…finally (in no particular order):
Best .45 ACP Pistols
1. Smith and Wesson M&P 45 Shield M2.0
The .45 M&P Shield M2.0 is a stellar little carry gun that doesn't get nearly enough props.
If you're after a not-a-1911 .45 ACP for use as an EDC this gun is well worth it. This gun can be had with or without an external thumb safety (mine doesn't have a thumb safety).
400
at Brownells
Prices accurate at time of writing
Prices accurate at time of writing
It's a single-stack, striker-fired polymer pistol designed to withstand daily carry and frequent use, and it gets the job done.
This pistol has an aggressively textured grip, so aggressive you can hold on even when your hands are dripping with sweat or water (I may have poured water all over it).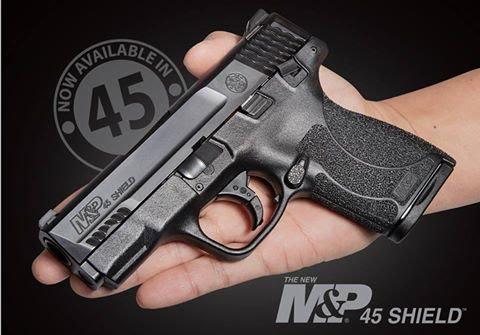 The polymer frame is embedded with a stainless steel rigid chassis for durability and the stainless steel slide has a tough Armornite finish. Capacity is a little limited; the 45 Shield ships with one 6-round magazine and one 7-round magazine.
36
at GunMag Warehouse
Prices accurate at time of writing
Prices accurate at time of writing
Factory white three-dot sights are standard. The barrel is 3.3-inches long, the gun's overall weight is 20.5 ounces, and it can be field-stripped without pulling the trigger.
As for accuracy, this is a precise pistol. Granted, it has a shorter barrel so it's better for distances under 15 yards, but that doesn't mean it can't be used at greater distances.
Just take the time to get familiar with the gun and your chosen ammunition to be sure you understand what it can and cannot do.
If you want an upgrade version right out of the box, Smith & Wesson also has the Shield 45 available from their Performance Center with a load of upgrades already made.
423
at Brownells
Prices accurate at time of writing
Prices accurate at time of writing
2. Sig Sauer P220 Legion
Right off I'll say I'm referring specifically to the Legion. There's nothing wrong with the original P220, it's a perfectly solid gun.
But the Legion is better.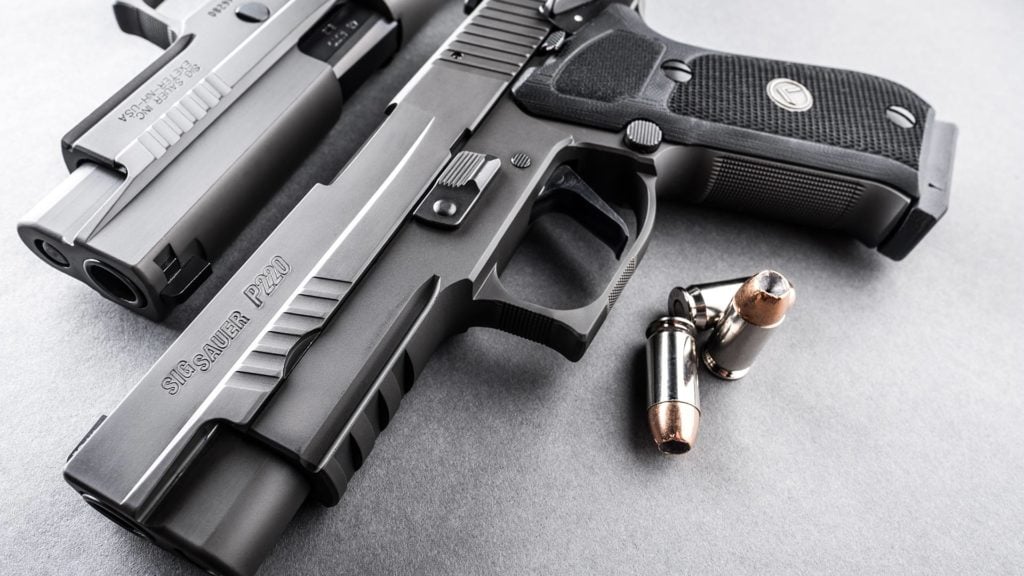 The SIG P220 Legion is a full-size handgun which does make it a challenge to conceal (but not impossible). Aesthetically it's a good-looking gun thanks to its Cerakote Elite Legion Gray-finished slide and frame, black G10 grips, and the Legion medallion embedded in said grips.
There's more to the Legion line that looking pretty, though. The P220 Legion's greatest feature just might be its P-SAIT trigger. The Legion's trigger pull is smooth and consistent, the break is crisp, and re-set is short. It rocks.
Yes, this is a hammer-fired, DA/SA gun. It is available as SAO but I admit to preferring the DA/SA model. Even the double-action pull is smooth, making it among my favorite DAs to shoot. The P220 has a thumb safety, too, something a lot of gun owners prefer.
Oh, and it ships with SIG SAUER Electro-Optics X-RAY hi-vis day/night sights and they are fantastic.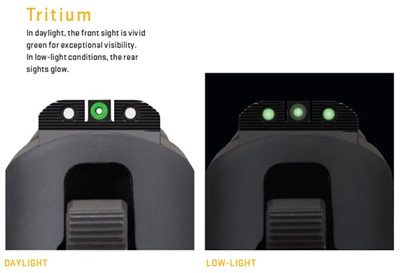 It's a somewhat bulky gun thanks to its alloy frame and stainless-steel slide and carbon steel barrel; the P220 Legion weighs in at 30.4 ounces, empty. It has an overall length of 7.7-inches, a height of 5.5-inches, and an overall width of 1.3-inches.
Basically, you need a good holster and sturdy gun belt to carry this gun (you should have those things anyway).
This gun is ridiculously comfortable in my hands. That doesn't mean it will be in yours; my hands are long and narrow so I do tend to prefer double-stacks to single-stacks, but I like this particular single-stack just fine.
1200
at Palmetto State Armory
Prices accurate at time of writing
Prices accurate at time of writing
The SIG P220 Legion in .45 ACP has an 8+1 capacity. It's also precise enough to drill all those rounds through a single hole at 15 yards as long as you do your part for accuracy.
Bottom line? This is a well-made, reliable pistol capable of stellar performance. (I have a P220 in 10mm, too.)
If you want a more direct comparison between the Legion and non-Legion Sigs, take a look at our review of the Sig P226 and P226 Legion.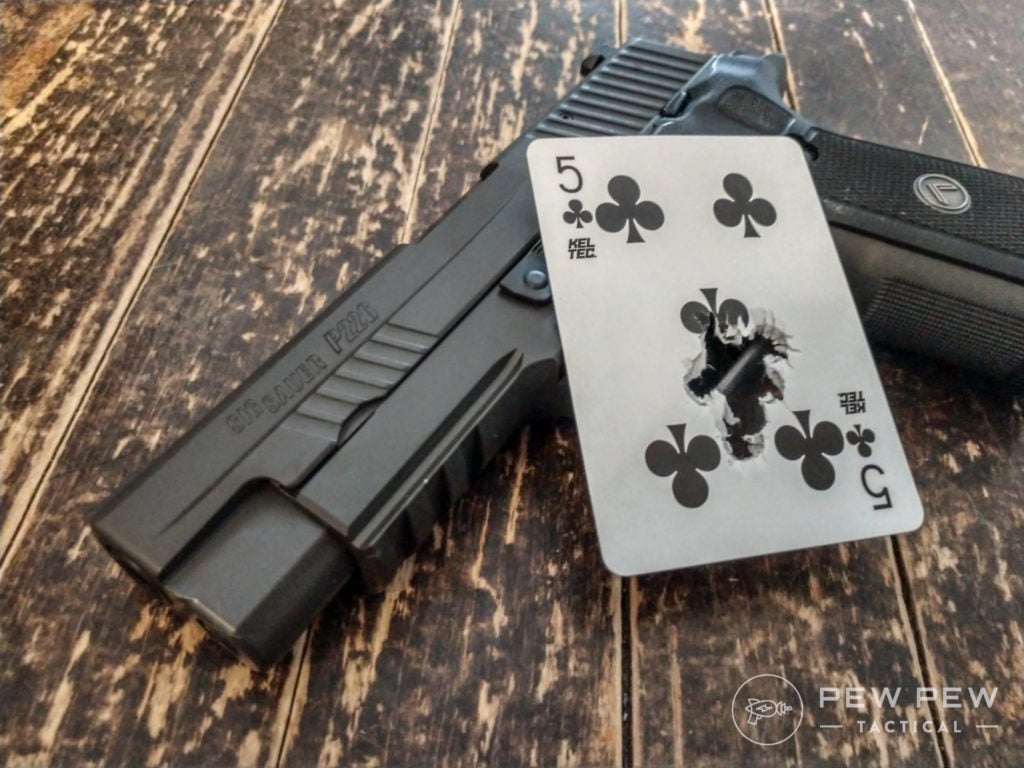 3. Walther PPQ .45 ACP
Walther manufactures some stellar handguns. More than once I've pulled a review Walther from its box and nailed beautiful single-hole groups with the first magazine.
The PPQ is among the models I favor. Like its Glock brethren, it doesn't have the aesthetic appeal of guns like the Legion but man does it ever work!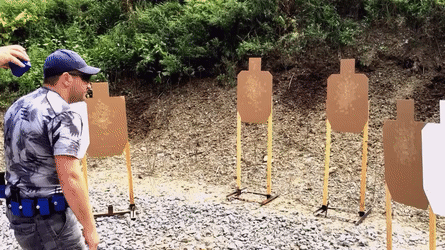 The Walther PPQ 45 is another full-size gun. It has an overall length of 7.4-inches, a width of 1.3-inches, and a height of 5.8-inches. You might have noticed these guns have similar dimensions and while that is true their grip shape and overall ergonomics differ noticeably.
For instance, the PPQ 45 has a curved grip with wide, sloping finger grooves that encourage a firm grip. The grip sports what Walther calls a "non-slip, cross-direction grip surface" and ships with a set of back straps so you can adjust as needed.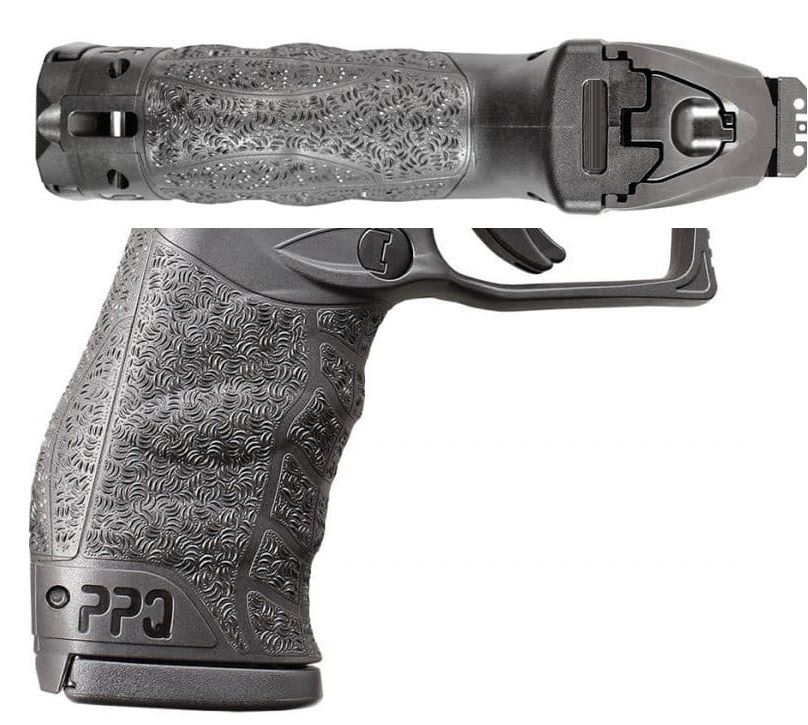 You'll find the magazine release is ambidextrous which can come in handy and the 5.6-pound trigger is surprisingly good. Smooth pull, crisp break, and easily operational for rapid-fire.
The trigger reset on the PPQ 45 is 0.1-inches so you could say it's short.
This gun has a 12-round capacity and eats everything it's fed. I've had excellent success with PPQs.
600
at Palmetto State Armory
Prices accurate at time of writing
Prices accurate at time of writing
Not only is the design a nice fit to a wide variety of hands but it's accurate. I like accurate. Walther did its usual good job on the PPQ 45.
4. Glock G21, Gen 4
You knew I couldn't write a .45 ACP roundup without throwing the Glock 21 in here.
It's a Glock so it's kind of a given that it's reliable. Of course, that also means it isn't a pretty face like the aforementioned SIG P220 Legion.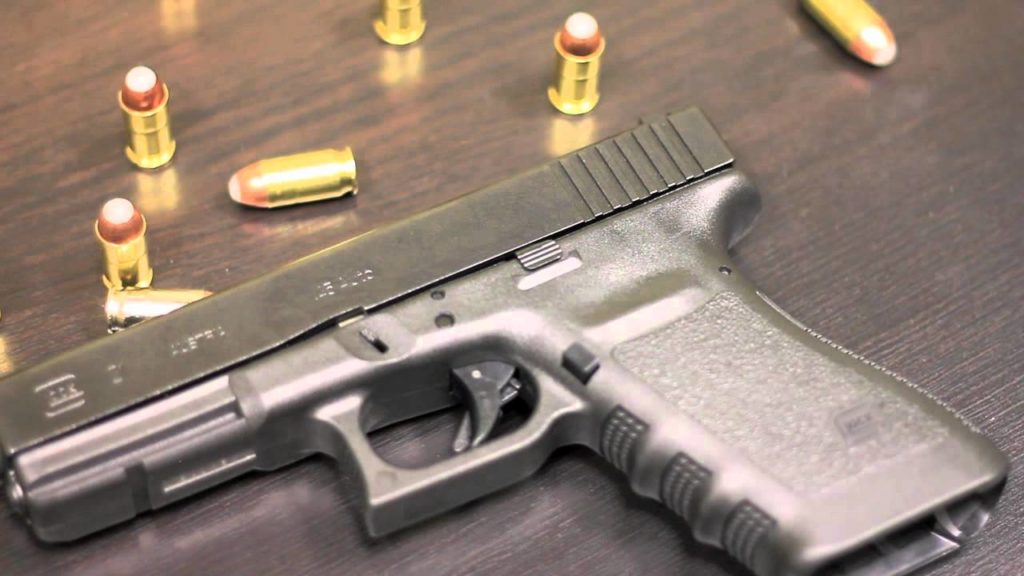 No, the G21 is a workhouse. It's a tool. It's meant to do a particular job and it does it well.
The Gen 4 G21 is a full-size, striker-fired handgun. It's a double-stack, of course, and has a capacity of 13 +1. The barrel on this gun is 4.61-inches long, a detail that does lend it accuracy and some reach, and it weighs 26.28 ounces, empty. Once you load a mag that jumps to 38.80 ounces.
With an overall length of 8.07-inches and a width of 1.34-inches it's a sizeable handgun. So yes, this is a heavier gun, but that doesn't mean you should avoid it.
My first handgun – nevermind when – was a Glock and today I have…let's just say quite a few.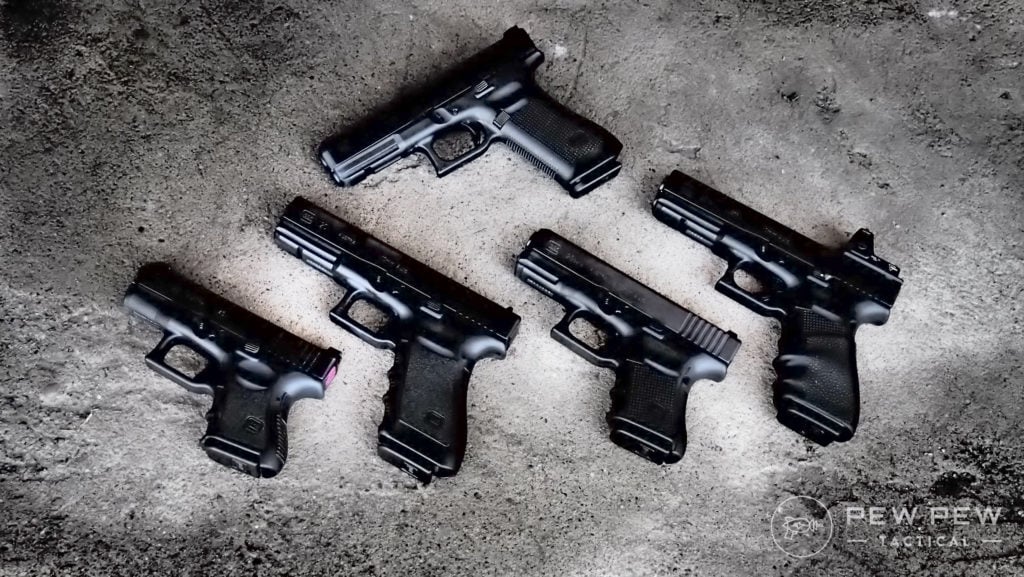 The G21 ships with a Modular Back Strap system so shooters can customize the grip to their hand sizes. I rarely end up using those back straps but I know a lot of guys who use them with great results.
Yes, your grip fit matters. You might be surprised how much of a difference it makes when your gun fits your hand properly.
Other features include a reversible magazine release – a great addition for southpaws – a dual recoil spring, and rough grip texturing. As you'd expect there is an integral accessory rail ahead of the trigger guard and drift-adjustable, dovetailed rear sights.
Since this is a larger gun to start with, a larger and higher power light is nice. Our pick is the Streamlight TLR-1 HL.
125
at Amazon
Prices accurate at time of writing
Prices accurate at time of writing
This gun has the expected factory trigger, meaning you might not love it, but I have good news: you have easily go wild on aftermarket parts for your Glock.
Want a new trigger? Get you one.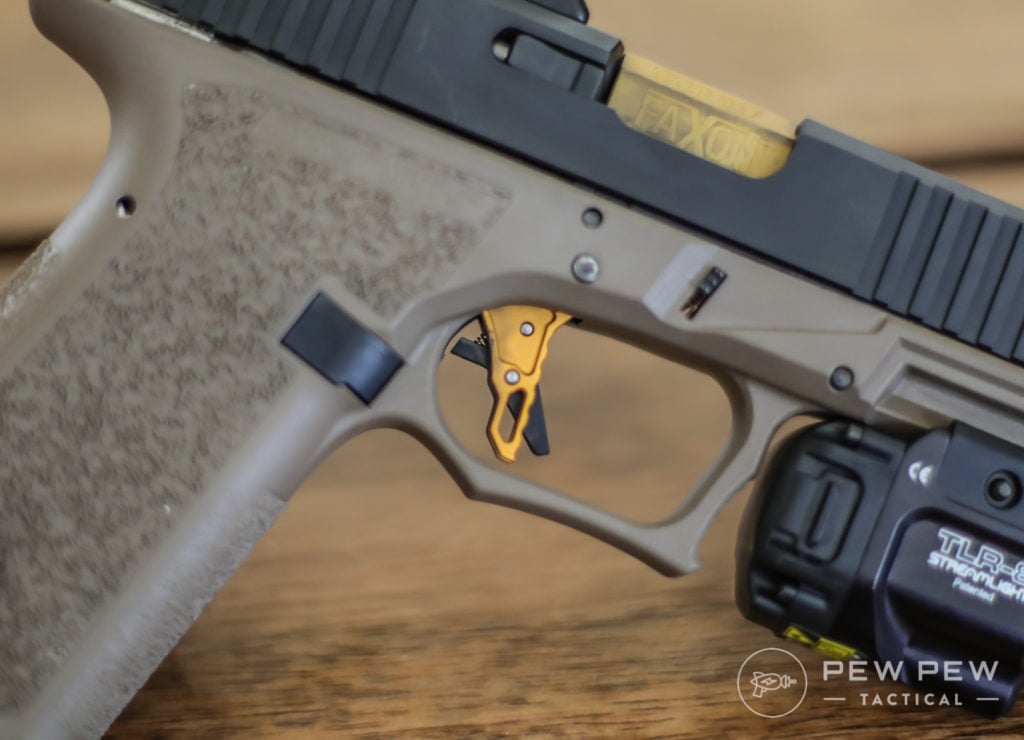 This is an accurate, reliable gun. I've abused my Glocks at length and they keep on going. If you want a .45 ACP that's solid and task-specific, you want the Gen 4 G21.
585
at Brownells
Prices accurate at time of writing
Prices accurate at time of writing
One of our favorites…what's your take?
5. CZ 97 B
This is one of my editor's personal guns and he LOVES it.
Effectively, this is the CZ 75 B scaled up to .45 ACP. In every way, it's the same gun just bigger and more American.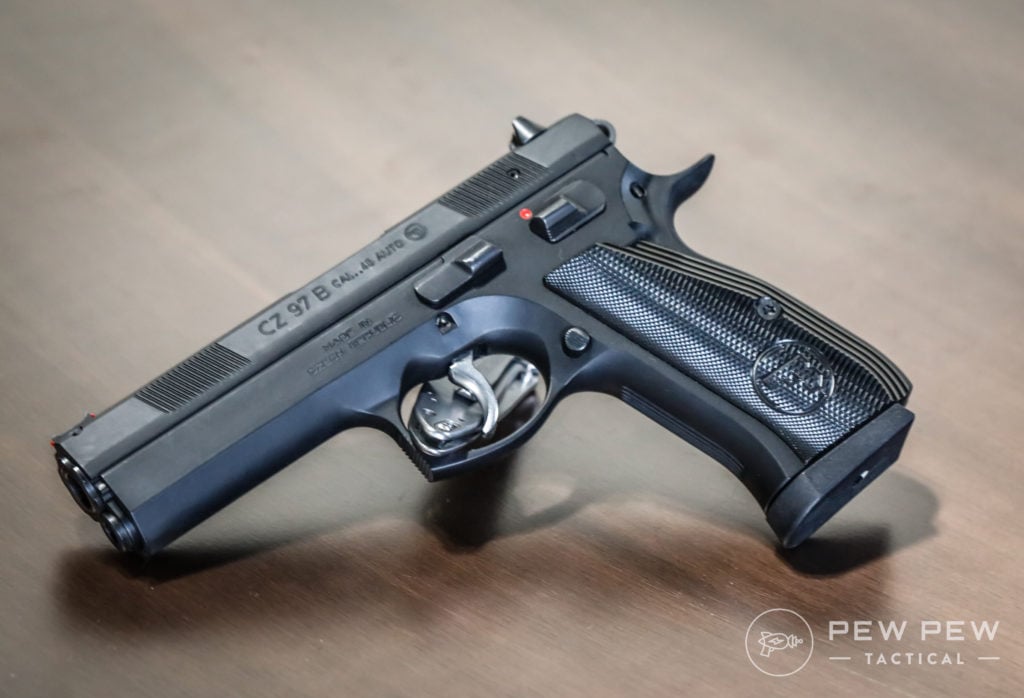 But… this was designed during the American Assault Weapons ban from 1994 to 2004, part of that ban included magazines over 10 rounds. To comply with that, the CZ 97 B only holds a max of 10+1 rounds.
That is disappointing from a double-stack .45 ACP, but it's what it is.
Other than that though — this is one of the softest shooting, nicest to handle .45 ACP guns ever made.
The 97 B features fiber optic sights that are super fast and easy to pick up, a thick grip, and a safety with no decocker. It's also DA/SA, just like the smaller 75 B.
In double-action the trigger is LONG and HEAVY, but in single-action it's very crisp with a fairly short reset.
Overall, I strongly recommend it — if you like CZ guns, you'll love this one.
750
at GunPrime
Prices accurate at time of writing
Prices accurate at time of writing
6. H&K 45 USP Tactical
What would a .45 ACP roundup be without Heckler and Koch?
The HK 45 USP Tactical is similar to the HK Mark 23 only a bit more compact. It isn't exactly a small pistol but it is technically smaller than the Mark 23.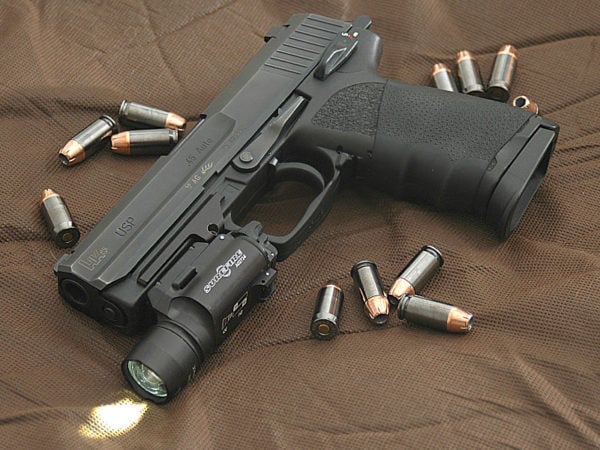 The Mark 23 has an overall length of 9.65 inches, an overall height of 5.90 inches, and an empty weight of 39.36 ounces and the HK 45 USP Tactical has an overall length of 8.64 inches, an overall height of 5.90 inches, and an empty weight of 32.8 ounces.
The HK 45 USP Tactical has a host of features to recommend it. It has a 5.09-inch threaded, polygonal bore barrel and is wickedly precise – you'll get your sub-two-inch groups at 25 yards with this one if you do your part.
This is a DA/SA, hammer-fired gun with a left-side decocking lever so if you like having the use of a decocker, here you go. The trigger is match grade and has an adjustable trigger stop; the trigger guard is oversized to facilitate use with gloves.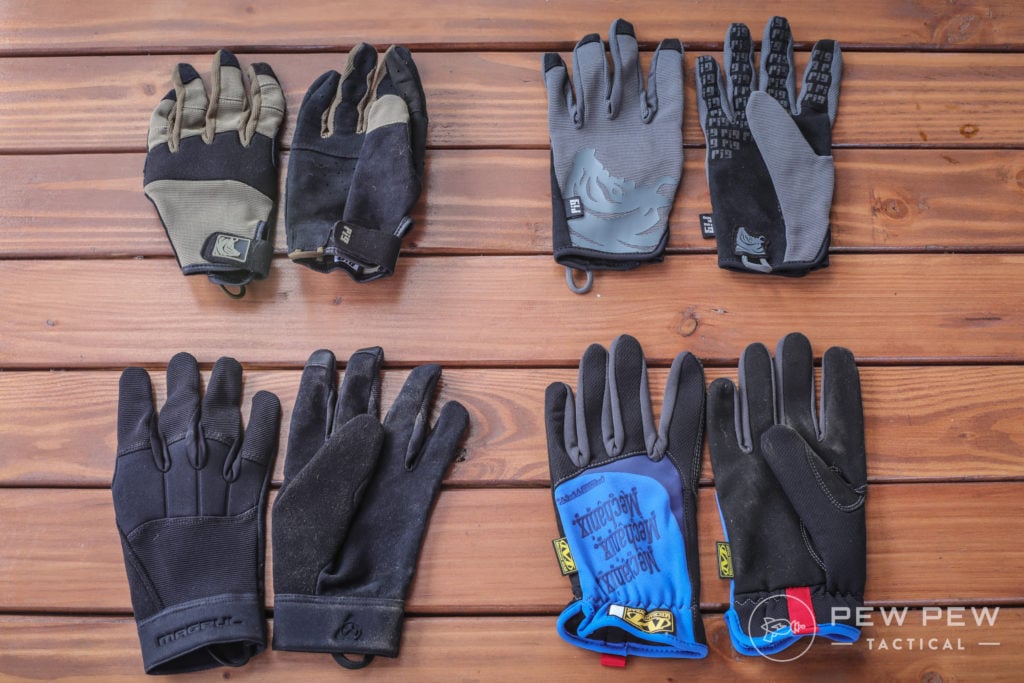 One thing that's made this an uber-popular .45 ACP is because it can be converted to one of nine variants to accommodate right or left-handed shooters (the controls can be installed on either side as needed in any manner of combinations).
It seems HKs can be a matter of personal taste, but what gun isn't? This one is a well-designed, reliable gun that fits my hands nicely and runs beautifully out of the box.
I'm a fan of the suppressor-height factory sights both because they have micrometer adjustments for windage and elevation and also because, well, they work if you want to run the gun suppressed as God intended. Then there's the extended slide release and ambidextrous magazine release.
It ships with two mags – one 10-rounder, one 12-rounder. Basically, this is a cool gun. If you're interested in a not-a-1911 .45 ACP capable of producing one-hole, five-shot groups at 15 yards and sub-two-inch groups from the bench at 25 yards, this is it.
840
at EuroOptic
Prices accurate at time of writing
Prices accurate at time of writing
Totally recommend.
7. Ruger Redhawk .45 ACP/.45 Colt
No list is complete without revolvers.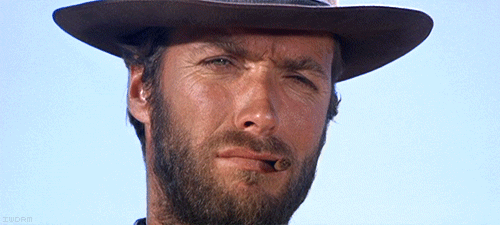 In this case the available pool of newer-model, quality wheel guns is a little shallow but we do have the Ruger Redhawk .45 ACP (and it's awesome). The Redhawk has a stainless-steel frame – actually, everything is stainless-steel – and ships with lasered hardwood grips.
It's a large frame revolver with a rounded butt that I admit I prefer over some of the other grip frames out there. Oh, and the grip panels are checkered on the sides but smooth at the back and upper edges.
Even if you are not a revolver aficionado the Redhawk in .45 ACP is probably going to appeal to you.
Quick rundown of features. The Ruger Redhawk .45 ACP has a 4.20-inch, six-groove barrel, ramped front sight, and adjustable rear sight. It's on the hefty side with an overall length of 9.50 inches and an empty weight of 44 ounces.
This gun was built to be tough and has features like a triple-locking cylinder – something that goes far to maintain good alignment and reliable cycling – and no side plates.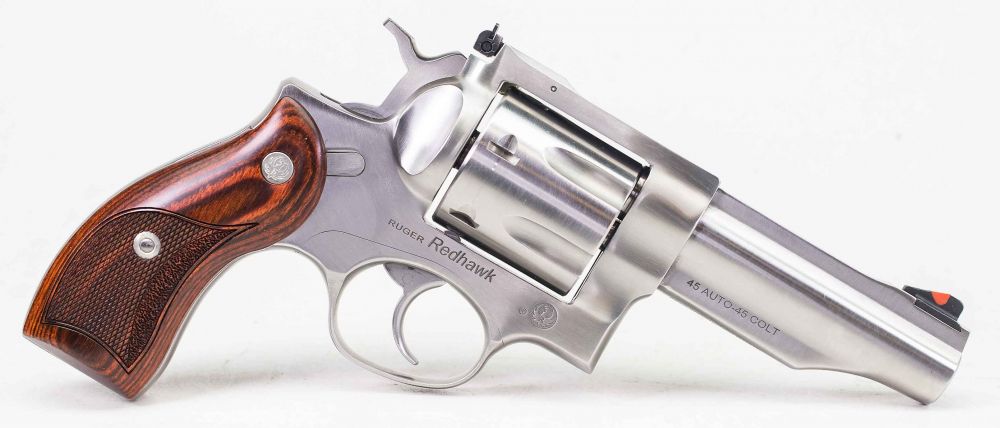 Why does it matter there are no side plates? Well, since you access this revolver's working parts from the bottom of the frame instead of the side it's more capable of handling recoil and extensive use thanks to the extra metal in the top strap and sidewalls. It was made to be used.
The six-round capacity might be seen as lacking to some, but I have a suggestion: learn to use a speedloader. Six rounds is equal to or only one or two less than a lot of other popular carry guns out there. Think on that. Speedloaders are fast, efficient, and just as easy to carry as a spare mag.
One of my favorite things about this gun is its trigger. It was designed with a single spring and has a smooth, even pull and clean break. This is a DA/SA gun so take the time to learn to run it double-action.
Don't just stick to single-action. It has a nice trigger firing both ways, so take advantage of it. This is also an accurate gun capable of reaching out and touching targets at longer distances than many of its shorter-barreled, smaller-caliber friends.
Of course, if .45 ACP just doesn't cut it — the Super Redhawk might be what you're looking for. Especially if you get it in .454 Casull!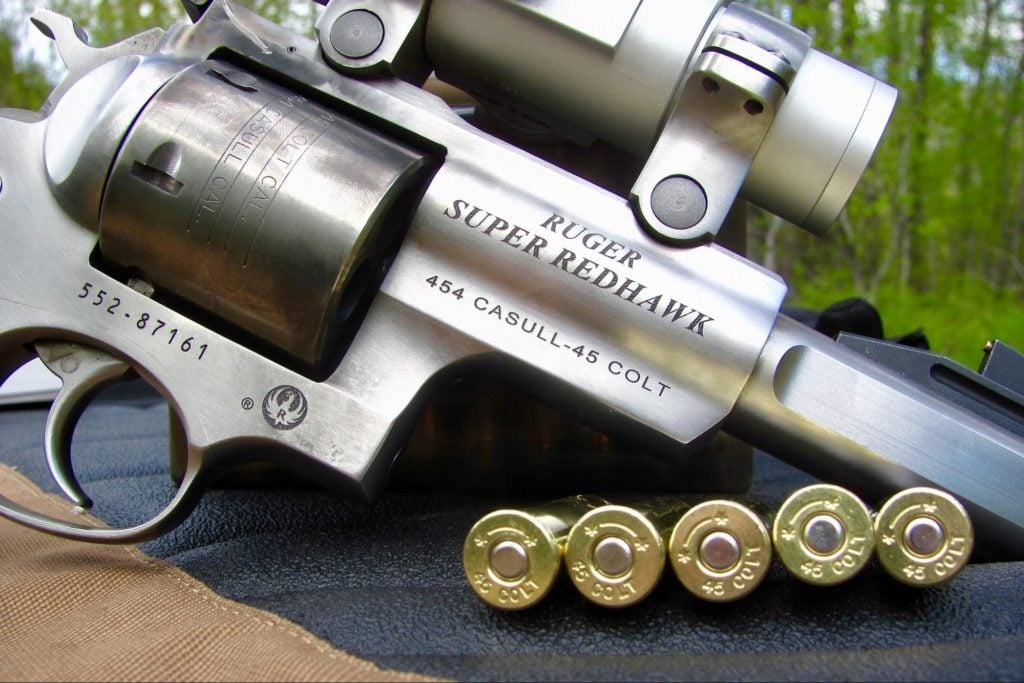 Honorable Mention
8. High Point .45 ACP
Whoa, whoa — put down your pitchforks!
Okay, we know, it's a High Point… but it's built like a truck and it's cheap, so if you're looking for something, anything in .45 ACP… give it a shot.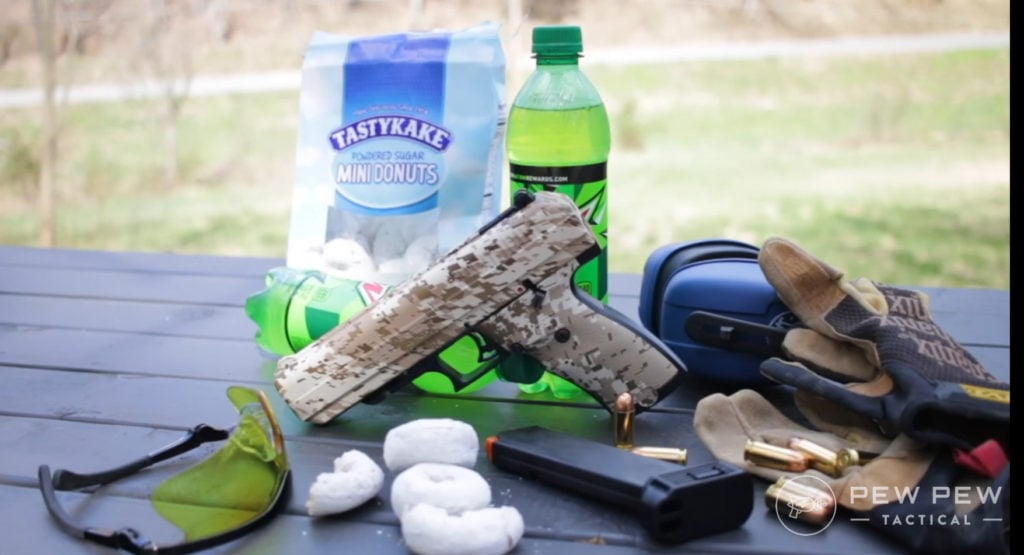 If you're not familiar, the High Point is cheap and goes bang every time. That's the good news, the bad news is everything else.
Trigger, mushy and ew.
Sights, you can see them — ish.
It feels like a brick but less ergonomic in your hands.
And disassembly? Good luck. Honestly, you might just want to get a new one rather than fight with taking the one you have apart.
All of that said… I mean it still shoots. Like, surprisingly well. Johnny has taken his out to the range for a lot of plinking and never had a failure, and High Point has a great reputation for amazing customer service also.
No one would call this the nicest or smoothest shooting .45 ACP pistol, but if all you have is 2 bennies and a dream of owning something in the best caliber — High Point .45 ACP is there for you.
145
at Sportsman's Guide
Prices accurate at time of writing
Prices accurate at time of writing
Parting Shots
As you can see, there are a number of excellent .45 caliber pistols available on the market. Each one has its own benefits and drawbacks, so finding the right one for you depends on what you're looking for.
If you're buying a gun for home defense, I'd recommend a .45 pistol with low recoil or higher magazine capacity.
You'll be thankful that you have that extra round or two if you are in a situation where you need it.
Best .45 ACP Self-Defense
28
at Brownells
Prices accurate at time of writing
Prices accurate at time of writing
Also, make sure that you spend enough time at the range getting used to your gun. Even if you have experience shooting .45 caliber pistols in the past, every .45 ACP model shoots a little differently.
The .45 ACP is a great gun to have. Not only will it be an excellent home-defense tool, it'll also provide you with hours of enjoyment at the shooting range!
What .45 pistol did you end up choosing? Check out more in Best 1911s, Best .45 ACP Ammo, and Handgun Calibers Ultimate Guide.