What's the best close-range optic?
A red dot, and that's without a doubt.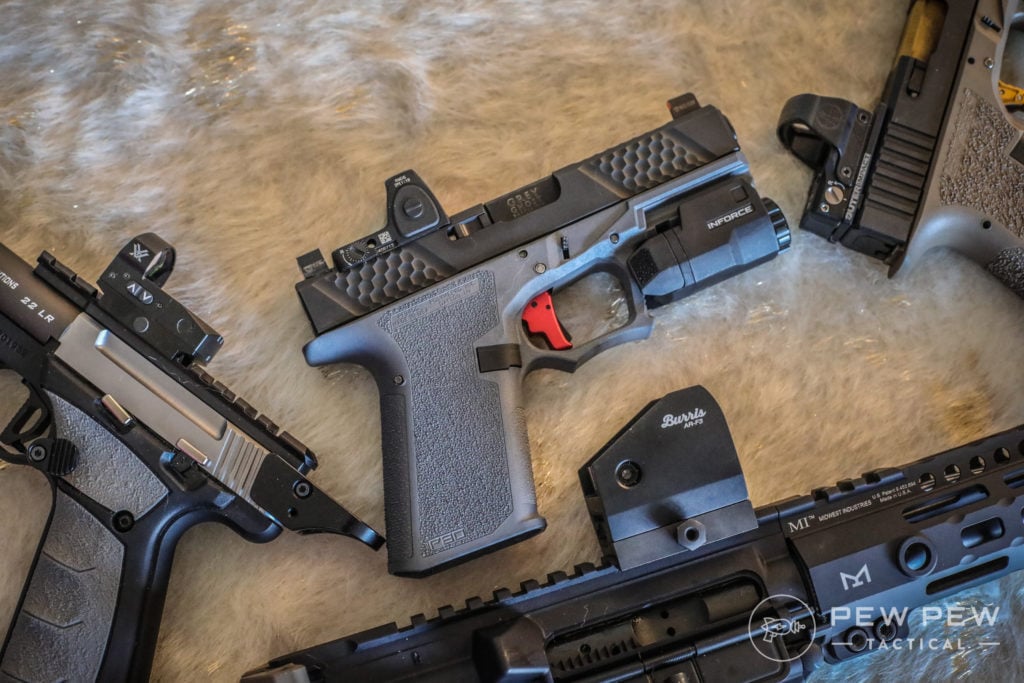 What's the best moderate to long-range optic?
Well, it's not a red dot, at least not by itself.
When you add a magnifier, though, well, things change.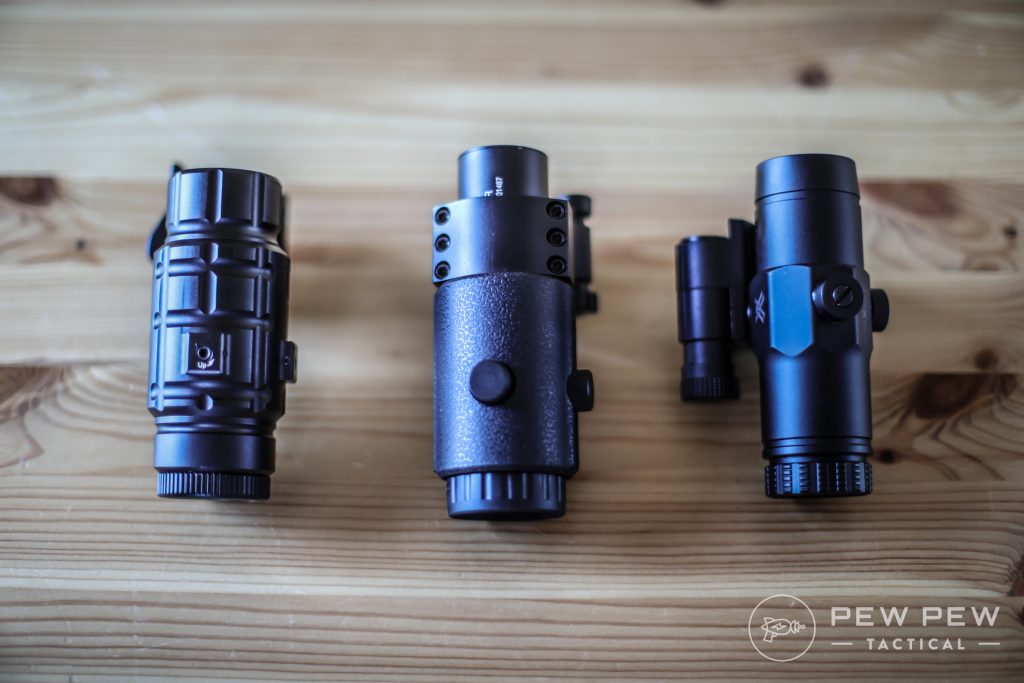 A magnifier is a device that sits behind a red dot, providing a fixed level of magnification. The level varies per magnifier. It can be as little as 2X to as much as 6X.
The problem lies in finding a red dot and magnifier combination that work well together.
Differences in optic heights and quality points can be a big deal once you start trying to pair the two.
But I've made it easy for you.
I've found six red dot and magnifier combinations that work. So, let's take a deeper look into these handy devices and learn more!
Table of Contents
Loading...
Why Combine a Magnifier and Red Dot?
A red dot is great by itself. You can hit stationary targets out to 200-yards with ease. Beyond that, things get rather tricky.
Even at 200-yards, you may not be able to see what a target is. Not a big deal, but it's not a great feature when it comes to hunting or threat identification.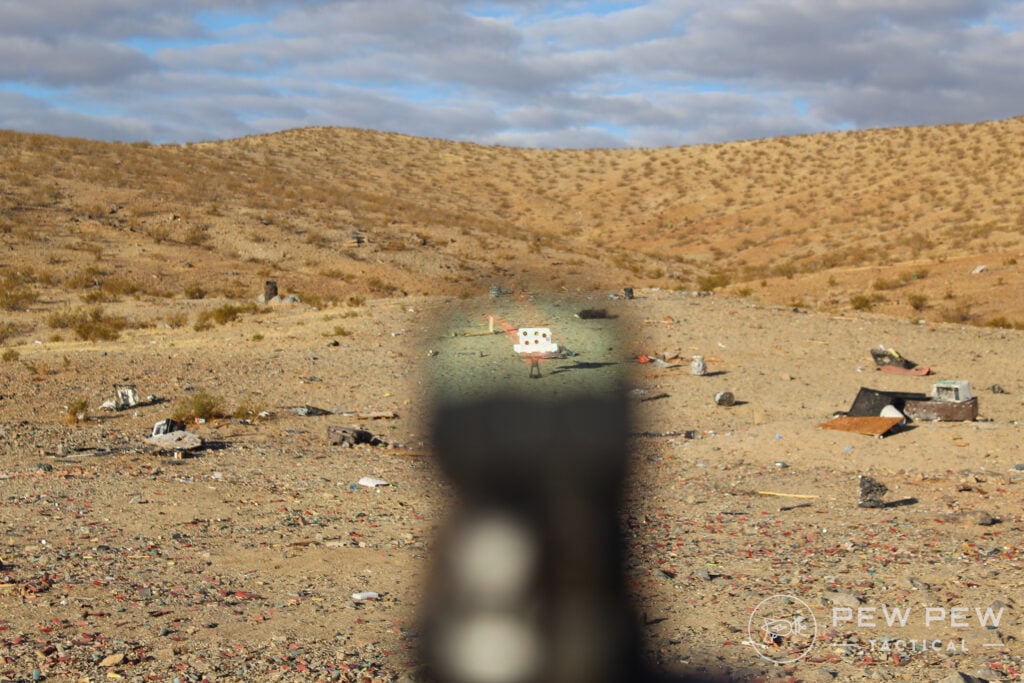 Now, add a magnifier, and seeing that target at 200-yards becomes a helluva lot easier. It also makes hitting that target easier. Move up to 50-yards, and small targets are even easier to destroy.
When things are up close and personal, most magnifiers simply flip to the side. This allows you to make use of that delightfully close-range red dot.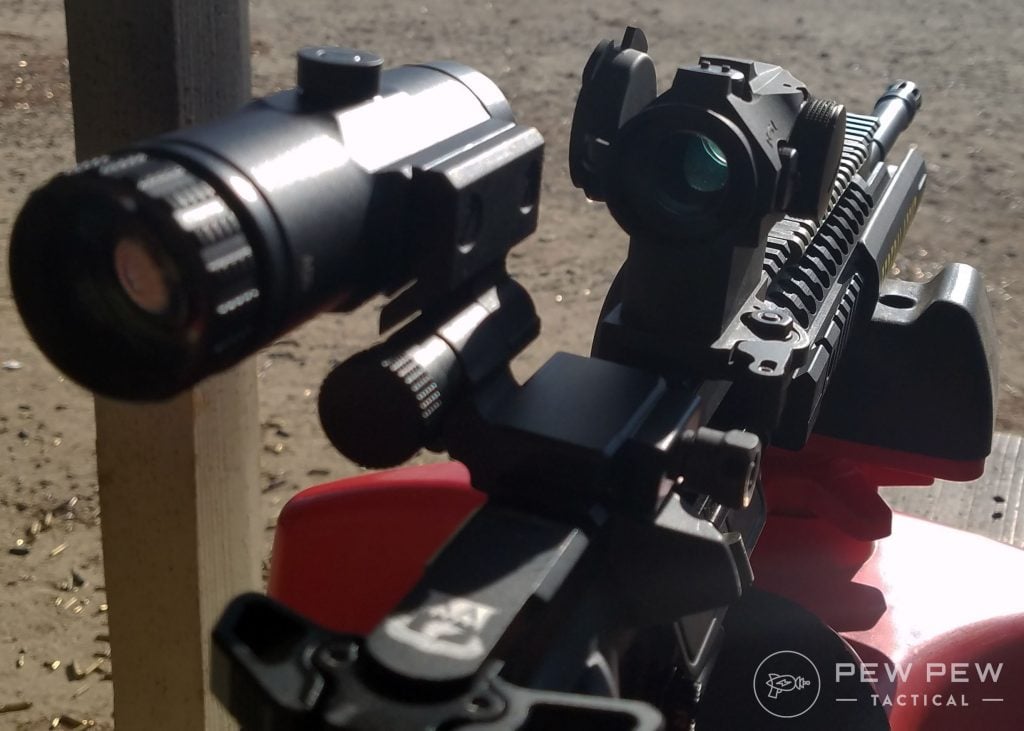 A magnifier is a small addition that pays big dividends.
Best Red Dot + Magnifier Combos
1. EOTech XPS3 and G33 Magnifier
When compromise isn't in your vocabulary, go for the "pro grade."
What makes a system pro grade, you ask?
That's a good question. I went about it by looking at what professional gunfighters use.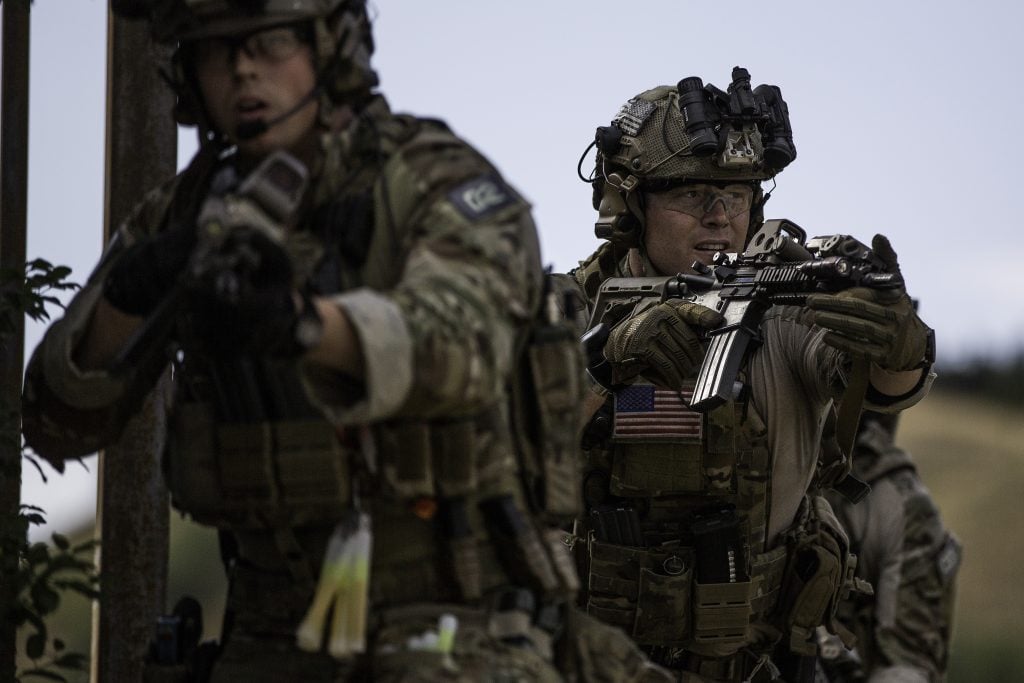 Eotech 553s and G33 magnifiers seem the consistent option when you look at Special Operations in the U.S.
The 553 is known as the SU-231 in military speak and acts as the standard close quarter's combat optic utilized by SOCOM/JSOC.
Countless Marine Raiders prefer the EOTech 553 Red Dot and G33 Magnifier combo, as do Army Green Berets, Air Force Pararescue, and more.
Unfortunately…that model isn't always easy to come by for us regular folk, so instead, check out the EOTech XPS3.
EOTech makes nearly bombproof optics built to take on the forces of nature, including water, shock, and dust.
Its reticle system offers versatility with a 68 MOA ring and dot-type reticle.
For close-quarter combat, it's tough to beat.
679
at Optics Planet
Prices accurate at time of writing
Prices accurate at time of writing
Without a magnifier, it's easy to hit targets out to 200-yards.
But toss on the crystal clear G33, and you have 3X magnification that allows for easier threat identification and greater precision at extended ranges.
The G33 flips to the side easily when not in use and can be deployed in an instant.
This creates an awesome degree of versatility from 5-yards to 500-yards.
579
at Optics Planet
Prices accurate at time of writing
Prices accurate at time of writing
Want more EOTech models? Check out our list of the 6 Best EOTech Holographic Sights.
2. Aimpoint PRO and 3X-C
If you want an optic that you can trust your life to, paired with a magnifier that does the same but under $2K, then I have the option for you.
The Aimpoint PRO was built from the ground up as an affordable professional-grade alternative.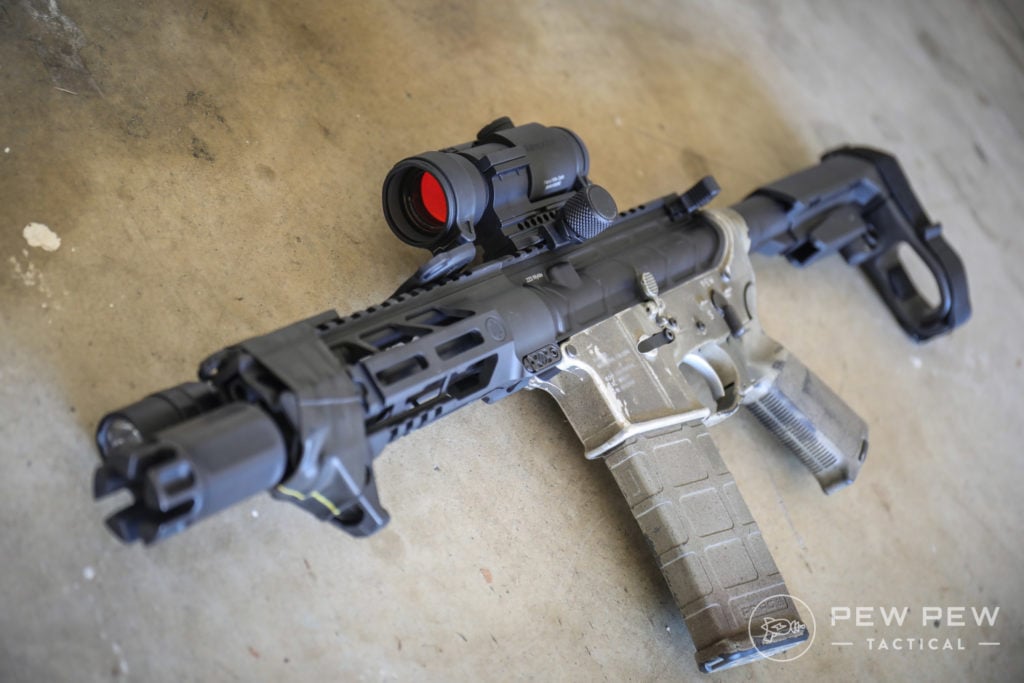 PRO stands for Patrol Rifle Optic and was designed for police forces who couldn't afford Aimpoint's $900 red dots.
At roughly half the price, the PRO packs the same durability, clarity, and reliability as other Aimpoint optics.
Its 2 MOA red dot is extremely crisp and clear. Even better, the settings provide both daylight bright settings and night vision compatible settings.
The "Goldilocks" Red Dot
482
at Optics Planet
Prices accurate at time of writing
Prices accurate at time of writing
It's tough to beat if a traditional red dot is your chosen route, especially when paired with the 3X-C.
The 3X-C is a simple 3X magnifier designed to function with any Aimpoint red dot and most other red dots.
It retails for about half the cost of the traditional Aimpoint 3X magnifier yet still packs the durability Aimpoint is known for.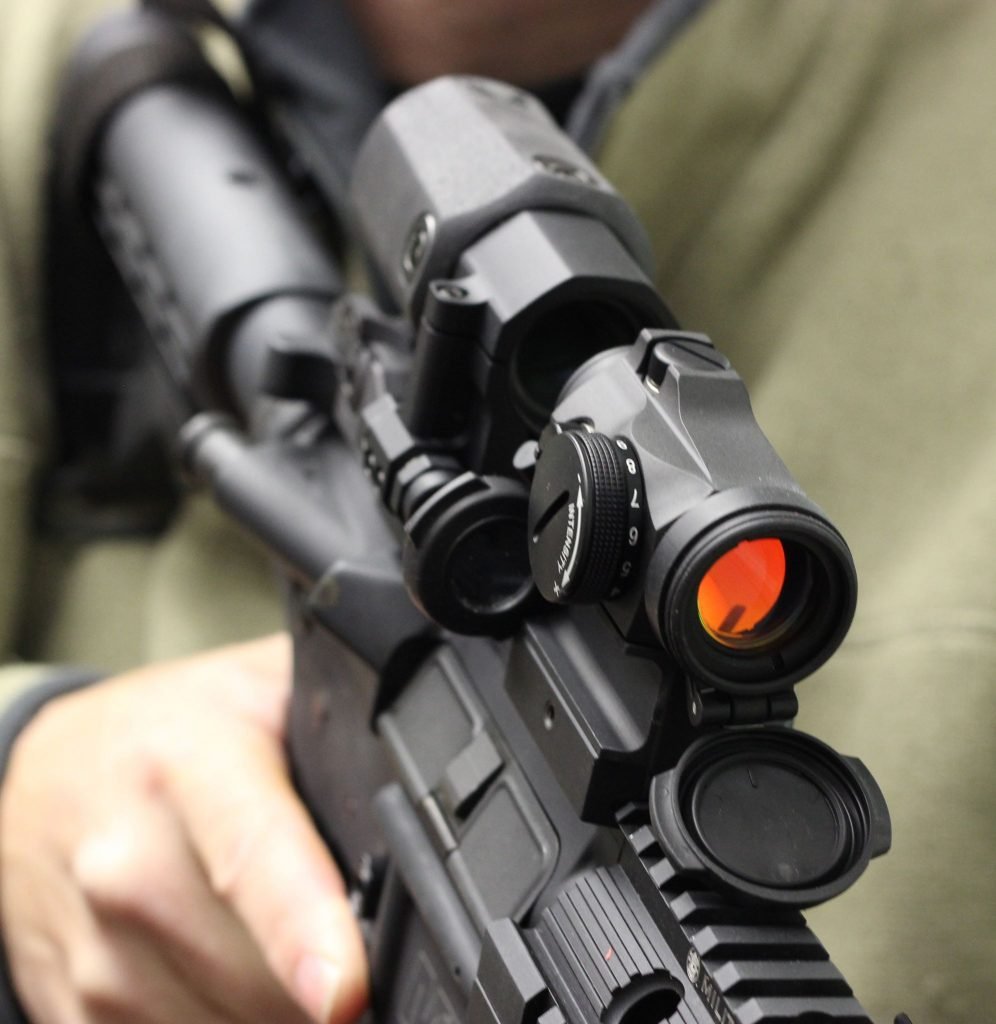 This magnifier keeps your red dot nice and crisp, while the 3X-C gives you that enhanced range to take you to 500-yards and beyond.
The PRO and the 3X-C aren't a 'budget' setup but an affordable go-to war rig.
You can rely on it when the SHTF.
287
at Brownells
Prices accurate at time of writing
Prices accurate at time of writing
Do you have the Aimpoint PRO? If so, give it a rating below!
3. Holosun HS503R and Vortex Micro 3X
Saving weight and trimming bulk is all the rage these days – at least with long guns. Handguns are another story (optics, comps, lights, and extended mags…)
If you're like me, you've learned to like to keep things nice and light.
I carried a near 30-pound machine gun for five years, so transitioning to a lightweight carbine is quite the treat.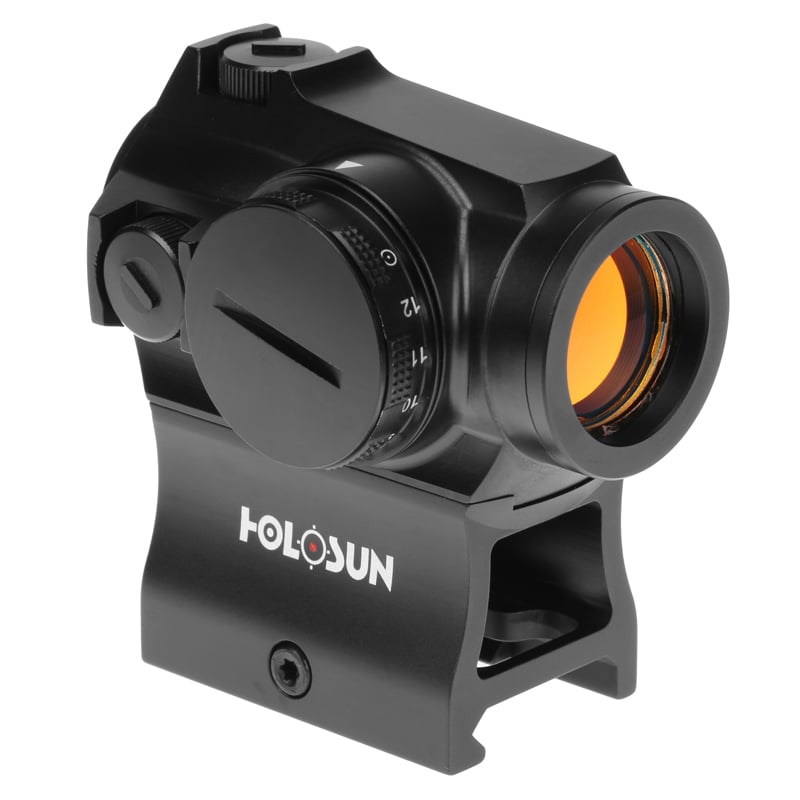 If you wanna keep things light, you gotta decrease the weight of your add-ons.
How do you do that? By opting for lightweight accessories.
The lightest combination of red dot and magnifier (that works) ends up being a mix of the Holosun HS503R and Vortex Micro 3X magnifier.
The simplistic but effective HS503R weighs a mere 3.74-ounces.
250
at Optics Planet
Prices accurate at time of writing
Prices accurate at time of writing
Meanwhile, the Vortex Micro 3X weighs 6.9-ounces without a mount and 9.55-ounces with the Vortex flip-to-side mount.
At a little more than three-fourths of a pound, the setup is light and low profile.
The short nature of both optics also means reduced length and reduced rail footprint.
Who doesn't love that?

You're given two reticle options with the HS503R – a 2 MOA dot and a 65 MOA circle with a 2 MOA dot in the center.
It's a versatile reticle combination with 10 daylight settings and two night vision settings.
Height-wise, the optic sits at a lower 1/3rd co-witness height, matching perfectly with the Vortex 3X Micro magnifier.
Vortex's sweet new Micro Magnifier promises a clear 3X magnification with an integrated flip to side mount.
The magnifier is water and fogproof, keeping up with the demands of a dynamic shooter.
This duo offers a lightweight, plug-and-play option that takes the weight and guesswork out of red dot and magnifier combinations.
299
at Optics Planet
Prices accurate at time of writing
Prices accurate at time of writing
4. Sig Romeo4H and Juliet6
Long-range is a relative term when it comes to shooting. For some long range is measured in miles, for others in hundreds of yards.
For a red dot and magnifier, let's say long-range starts at 500-yards and goes as far as a shooter's caliber and skill can take them.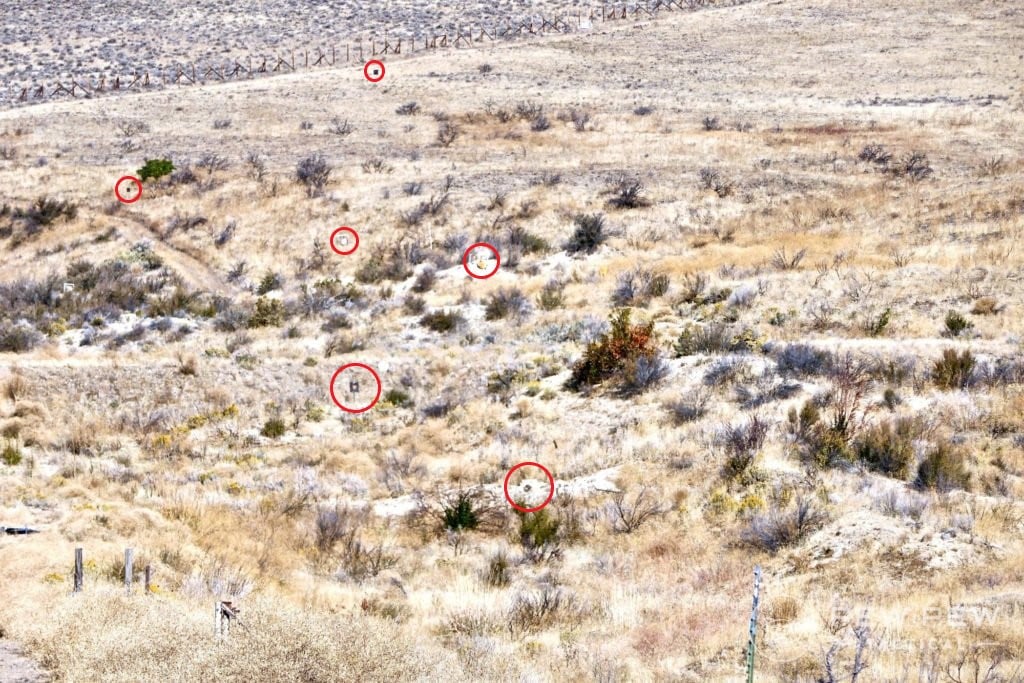 One thing that can help a shooter get to that range is a good combination of magnifier and red dot, and that's what we are presenting here.
The Romeo4H is a specific model of Romeo4 that's more than a red dot.
Sig's Romeo4 series is a step above the Romeo5 series and a little less budget-friendly.
350
at Optics Planet
Prices accurate at time of writing
Prices accurate at time of writing
The reticle is what Sig calls a ballistic circle quadplex reticle. This reticle is four reticles with varying additions.
For close-range shooting, the user pops on the basic crosshair or crosshair and circle reticle.
They swap over to a reticle with a circle, a crosshair, and two dots to compensate for ballistic drop for long-range shooting.
Combine that with the Juliet6 and its 6X magnification, and you get a very component combination of optic and magnifier.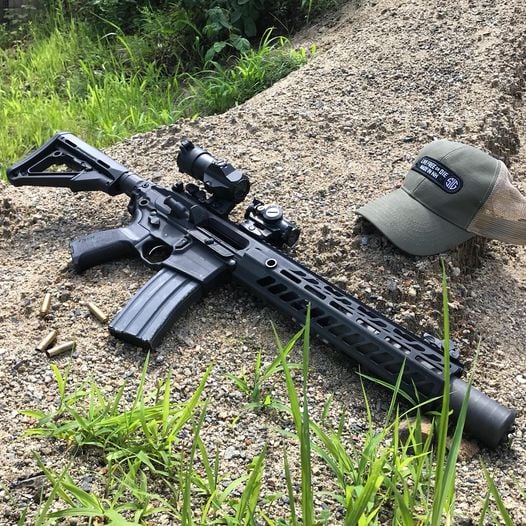 The magnification rating allows you to see targets at greater distances, identify threats and be a quasi DMR type combination.
The Romeo4H is a well-respected optic used by the SAS and approved for use by the FBI.
On the other hand, Juliet6 is one of the most powerful magnifiers on the market.
The combination of advanced red dot reticle and powerful magnifier gives you excellent long-range performance.
For a red dot and magnifier combo, that is.
500
at Optics Planet
Prices accurate at time of writing
Prices accurate at time of writing
5. Bushnell TRS 25 and UTG 3X Magnifier
Because a Smith & Wesson MP-22 doesn't need Aimpoint money…
If you're tight on money, the Bushnell TRS and UTG 3X Magnifier come in under $100 on sale.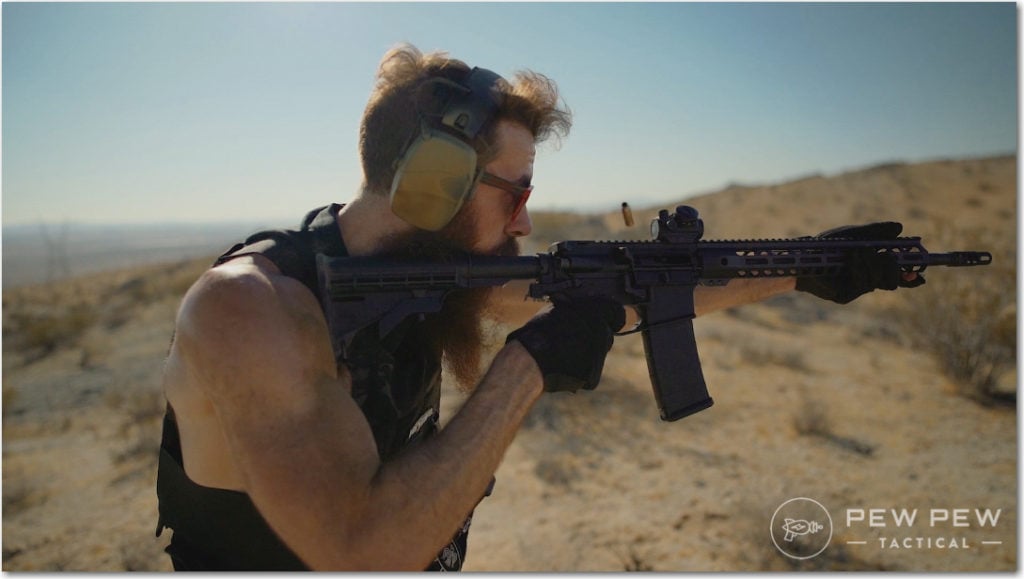 Word of warning, hitting that sub-$100 mark requires you to scope out sales. If patience is not your virtue, regular price sits at around $130 for the combination.
You'll also need a 0.83-inch high riser mount. UTG makes one for $10 or so.
This combination delivers budget-busting performance at a very low price point.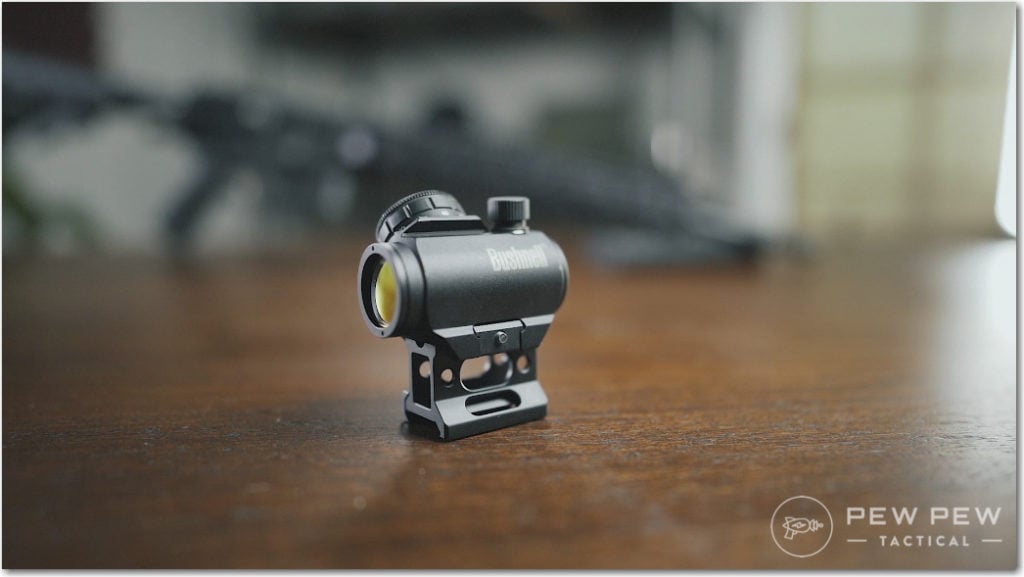 It's a competent hobby-grade optic that provides lots of plinking potential.
The TRS25 is a compact red dot that's both affordable and works well. It holds zero and can take some bumps and bruises along the way.
Though the dot is surprisingly crisp, the heavy amber tint may be a turn-off.
65
at Amazon
Prices accurate at time of writing
Prices accurate at time of writing
The TRS25 functions surprisingly well for the low price point and provides you with a reliable red dot experience.
The UTG 3X magnifier brings a simple option with an include flip to side mount.
It works perfectly with the TRS25 and provides a surprisingly wide field of view.
You won't be blown away by the quality of the glass, but for plinking, it's perfectly acceptable.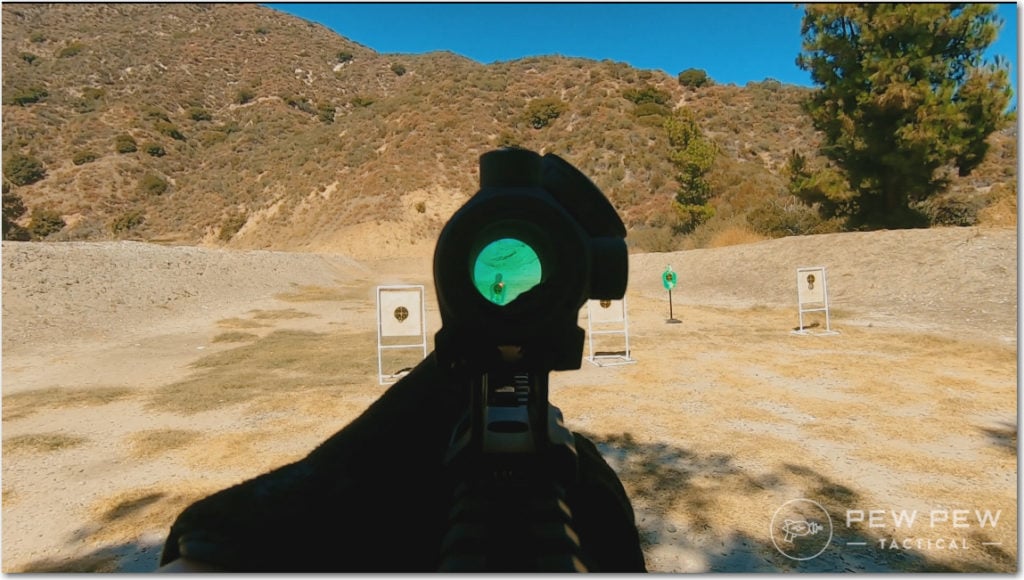 This combination provides a great starting point for new shooters — perfect on a .22 LR AR build or even a PCC.
Range is limited due to glass clarity, but for the value-packed price point, it's as good as you can get.
Both optics seem to be impressively durable for the price point. And if you want an affordable but frustration-free experience, this is the route to take.
48
at Amazon
Prices accurate at time of writing
Prices accurate at time of writing
6. Lucid HDx and Lucid 2-5x Variable Magnifier
Let's get a little weird with it!
Lucid is best described as underrated.
This small optics company does not get the attention they deserve.
Lucid makes some outstanding products that feature innovative designs at killer price points.
For example, who's ever heard of a variable magnifier?
We can argue all about LPVO vs. red dot and magnifier, but why not have both?
The Lucid 2-5X Magnifier has been kicking around for almost 10 years now and can easily settle that argument.
The variable magnification allows you to reach out a bit more, or a bit less than most magnifiers, and adds on a great degree of versatility.
153
at Optics Planet
Prices accurate at time of writing
Prices accurate at time of writing
Lucid's magnifier features compatibility with most red dot optics. So, you aren't stuck using a Lucid red dot.
That said, I paired it with a Lucid red dot that I also think deserves attention.
The HDx is a mid-size red dot that packs a lot of punch for a little dinero.
Reticle-wise it goes beyond a simple red dot and features an eye-catching and easy-to-use circle and chevron design. When paired with a magnifier, you still get a precision point of aim.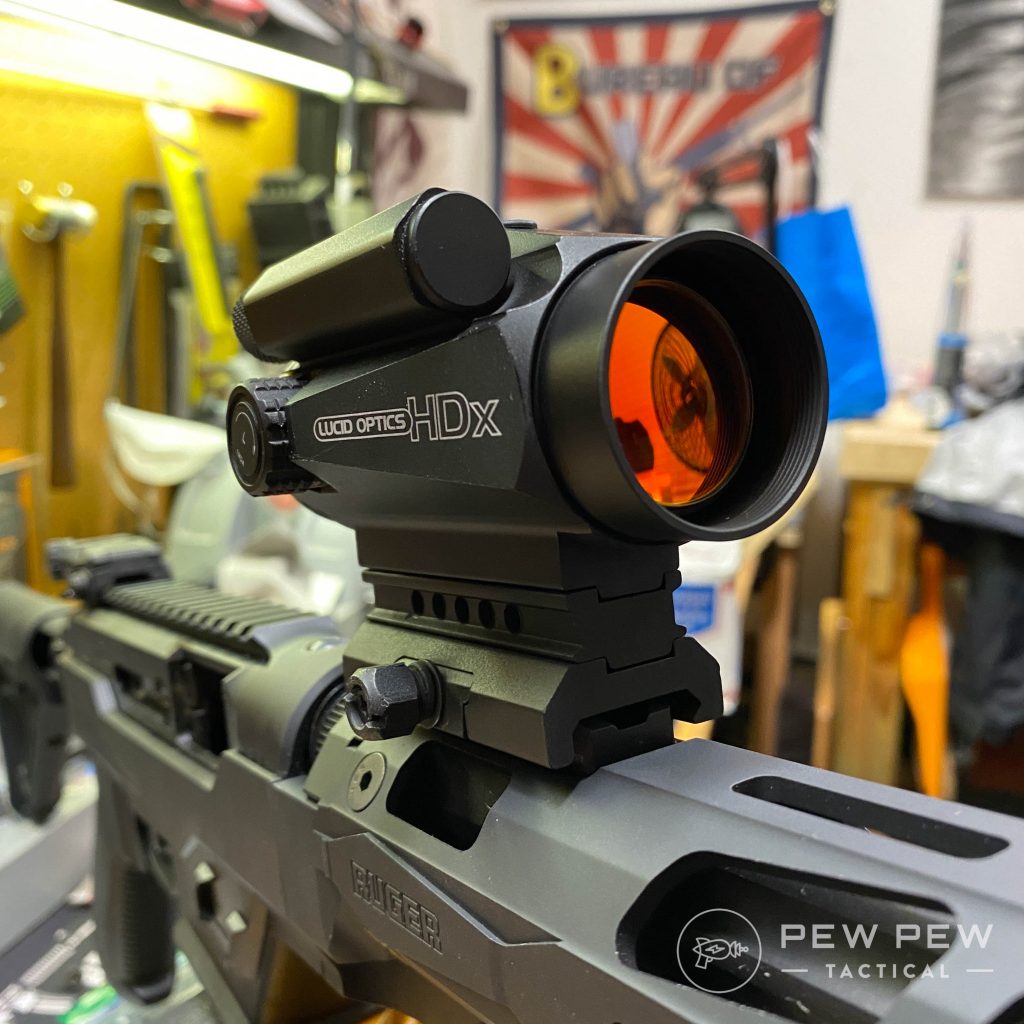 Reticle design includes a 32 MOA half circle, a 4 MOA center dot, and 2 MOA-wide chevron lines.
Bullet drop and windage estimations are possible and make it a smart pairing with the Lucid's variable magnifier.
A plain red dot is great, but a little extra adds precision to your shooting at extended ranges.
Best of all, these are two affordable optics that don't break the bank.
230
at Optics Planet
Prices accurate at time of writing
Prices accurate at time of writing
Conclusion
Red dots allow for rapid reactions and quick show on target capability, making them great options for close-range shooting. They work on nearly any firearm and are outstandingly simple.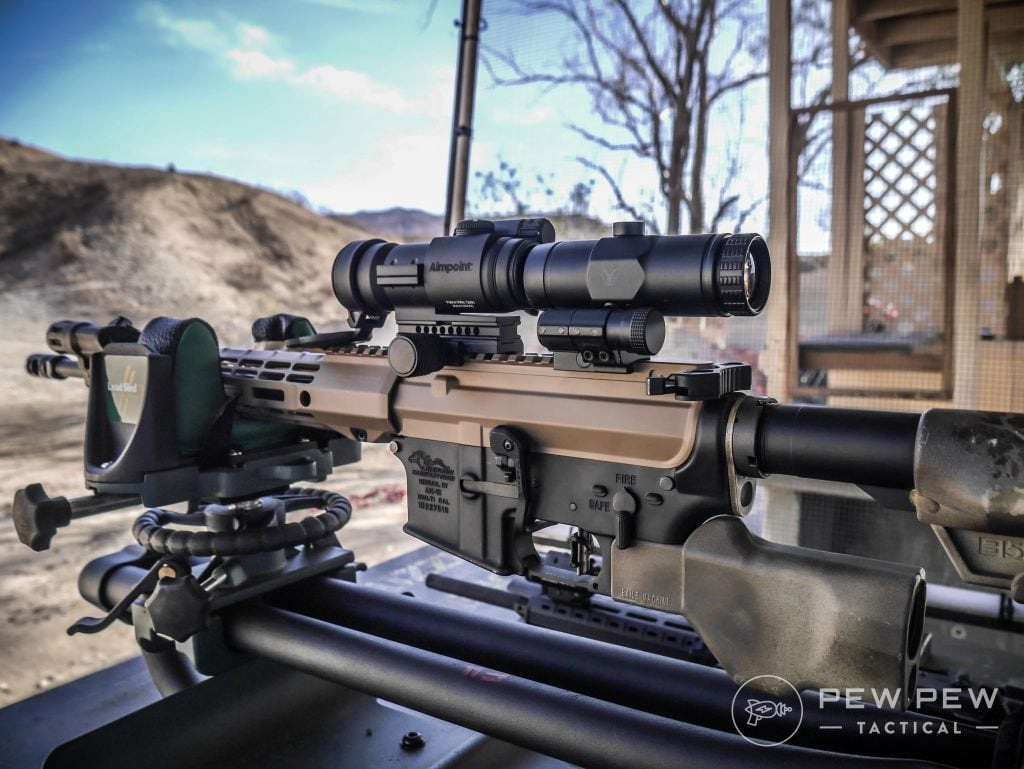 Adding a magnifier opens up the versatility of a red dot tenfold. The combination presents the best of both worlds for close to moderate range and even out a bit further depending on the red dot and magnifier.
A magnifier expands your horizons. What's not to love?
What's your favorite magnifier and red dot combo? Let us know in the comments below. Need even more red dot recommendations? We have you covered with the 8 Best Red Dot Sights: Rifle, Pistol, & All Budgets, as well as the Best AR-15 Scopes & Optics.