I love 1-6x scopes…or LVPOs (low power variable optics) as the cool kids call them.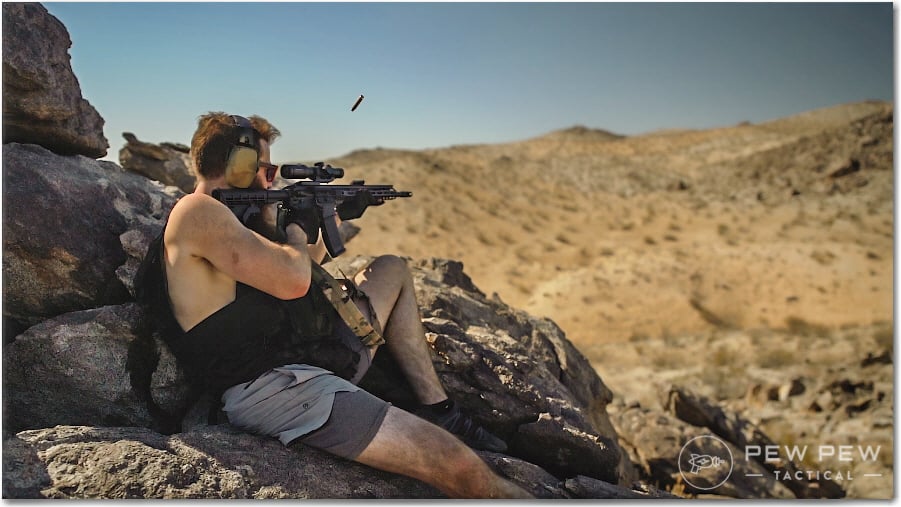 I run them in my general purpose and competition AR-15s since they do well up-close and out to several hundred yards.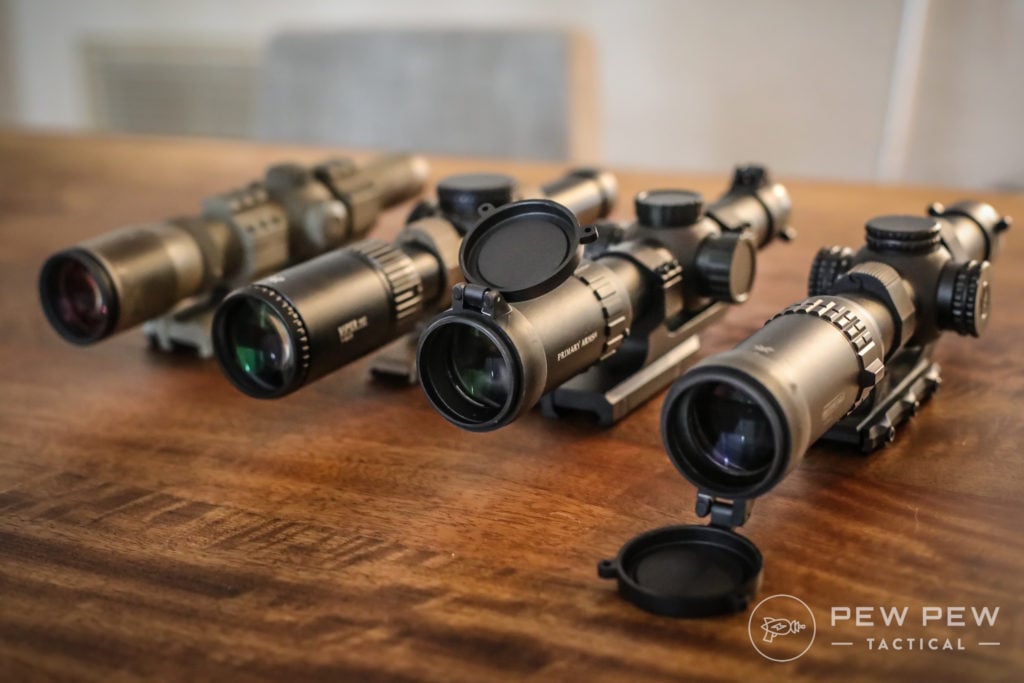 Now there's a decent amount of 1-6x scopes on the market…so what's the best budget one?
My pick goes to the Primary Arms 1-6x ACSS. It's one that we've used for 4+ years in competition, testing, and more.
Best Budget 1-6x Scope
289
at Primary Arms
Prices accurate at time of writing
Prices accurate at time of writing
This video review goes over everything (with some nice view-through footage).
Now…onto the written review!
*Update* The newest Gen IV 1-6x is here and we have a full review as well. It's a few bucks more than the Gen 3 and brings some nice upgrades. The the Gen 3 still holds its own for the price.
Table of Contents
Loading...
Why a 1-6x Scope?
First off…why even look at 1-6x scopes?
I kind of alluded to it in the beginning…because they are great for both close shots and going out to distance.
Exactly what you'd see in rifle competitions (or real life for you badasses out there).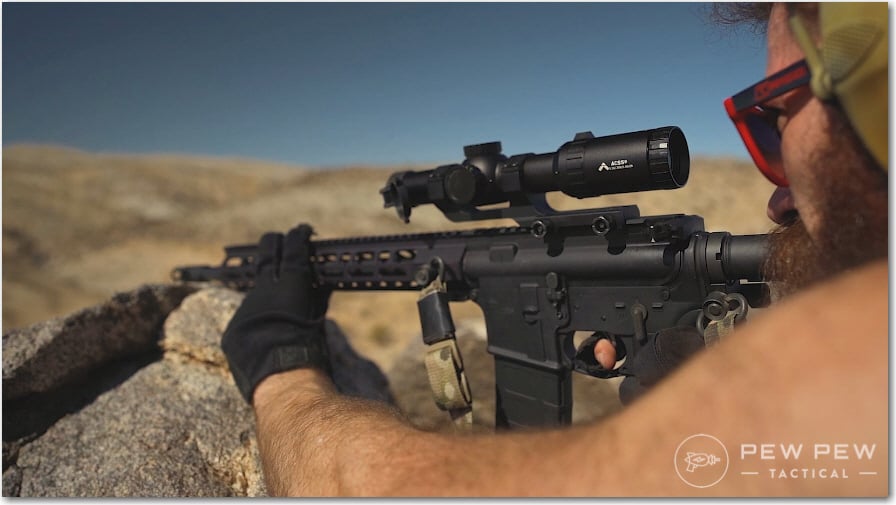 The 1x is clear and usually has a big reticle to hit A-zones. While 6x is enough for several hundred yards.
I can do 400 yards semi-easily while other better shooters can go further.
Now what sets the Primary Arms 1-6x apart?
ACSS Reticle
I love this thing.
That big 3/4 circle reticle with a pointy chevron for close shots. And great bullet drop compensation for longer shots.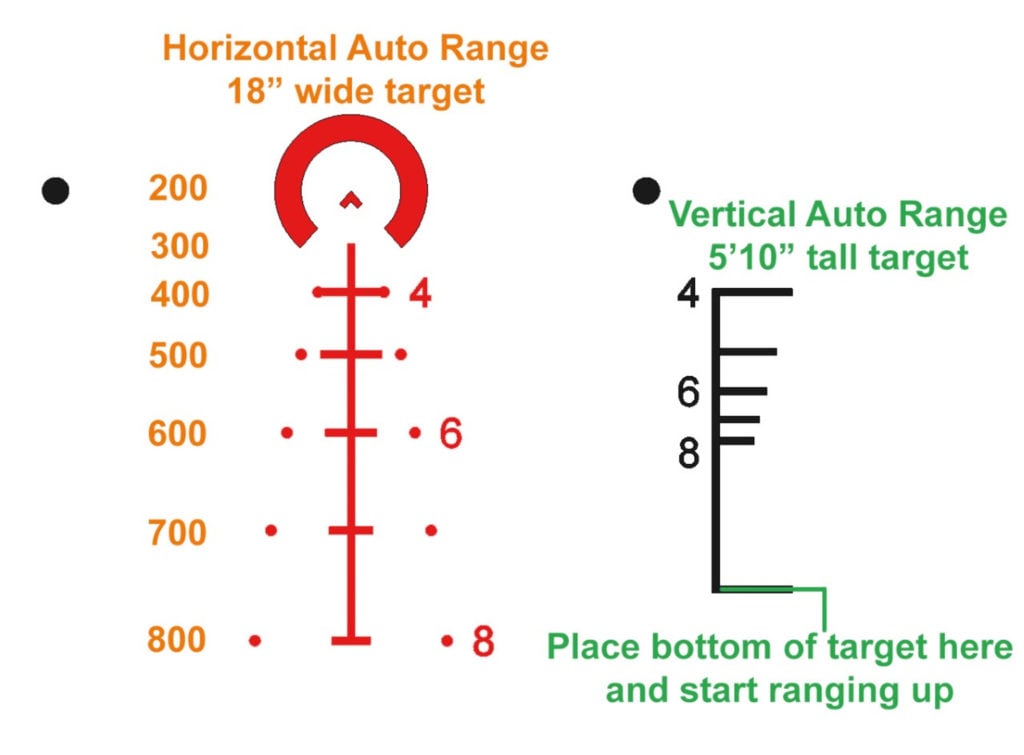 Plus ability to estimate height of a target, wind holds, and moving targets.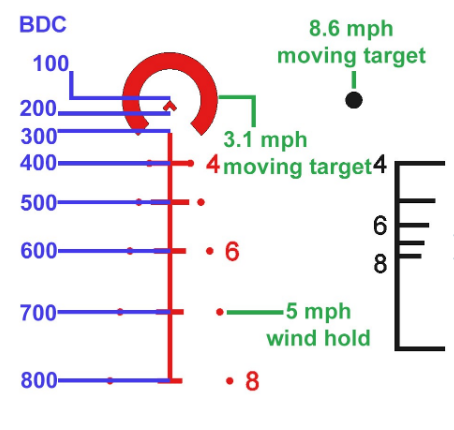 It's also illuminated…but it's not desert-noon rated. Most likely only usable at dawn or dusk.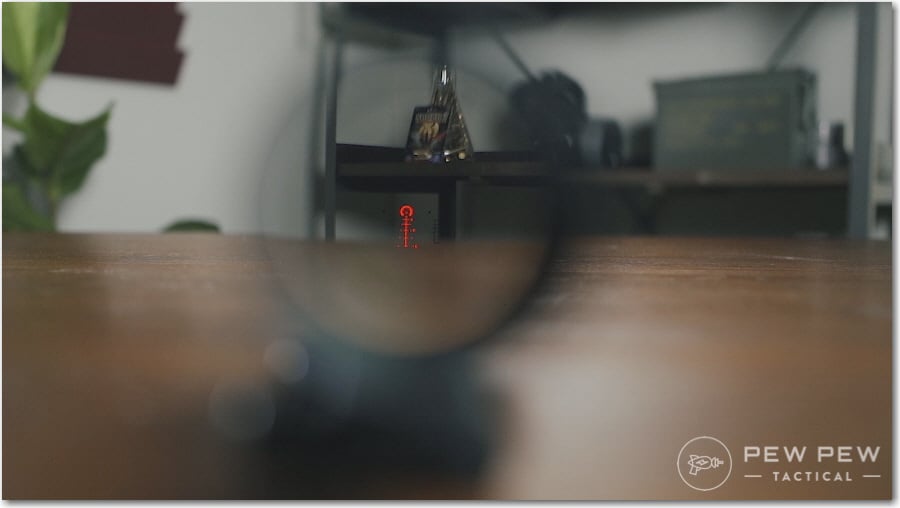 All of these things place it ahead of my previous favorite budget 1-6x scope…the Vortex Strike Eagle (full review).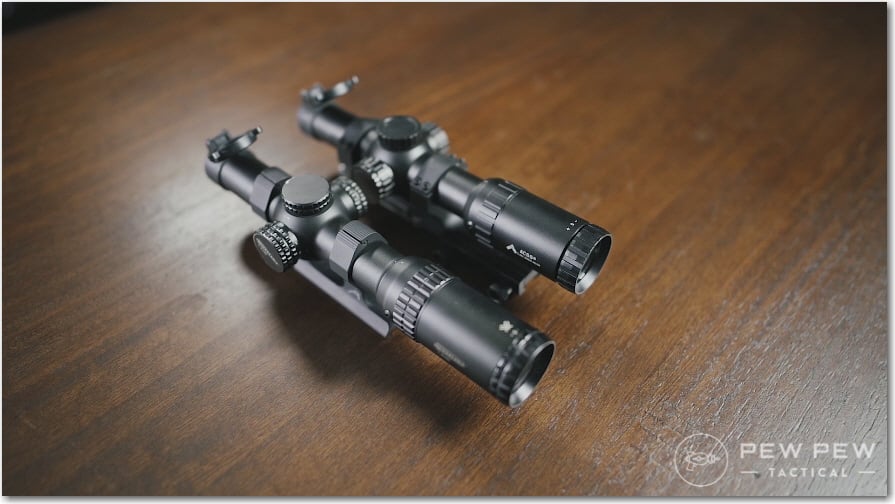 One of the things I didn't love about it was the lack of a definite point of aim…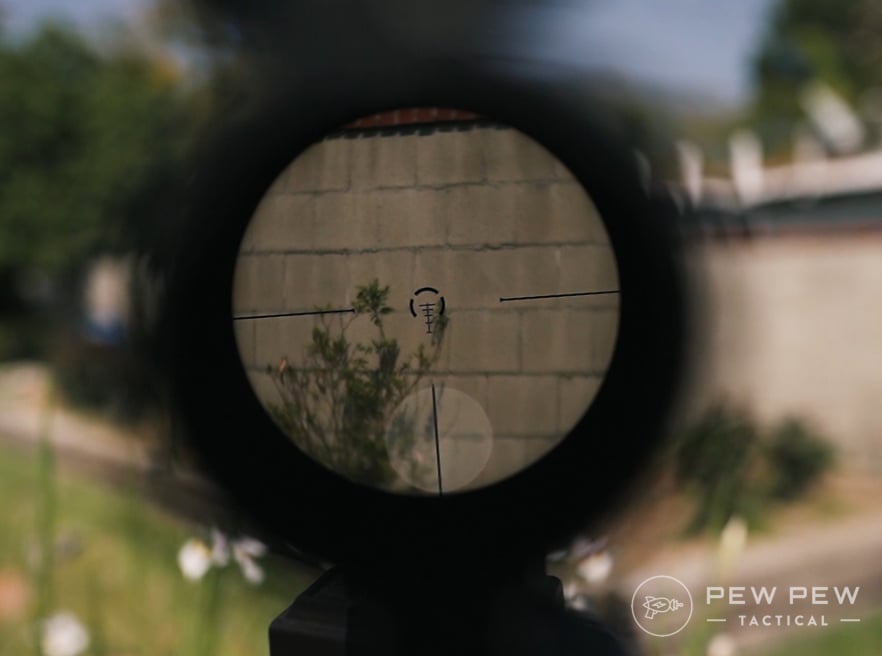 You had to mentally think…"ok, let's find that intersection of the vertical line with the first horizontal line."
Give me the ACSS chevron any day of the week.
Second Focal Plane
It's also second focal plane (SFP)…which means the reticle stays the same size at 1x through 6x.
It makes it…more affordable, and for small zoom ranges a full-sized reticle still doesn't take up too much real estate even at max 6c zoom.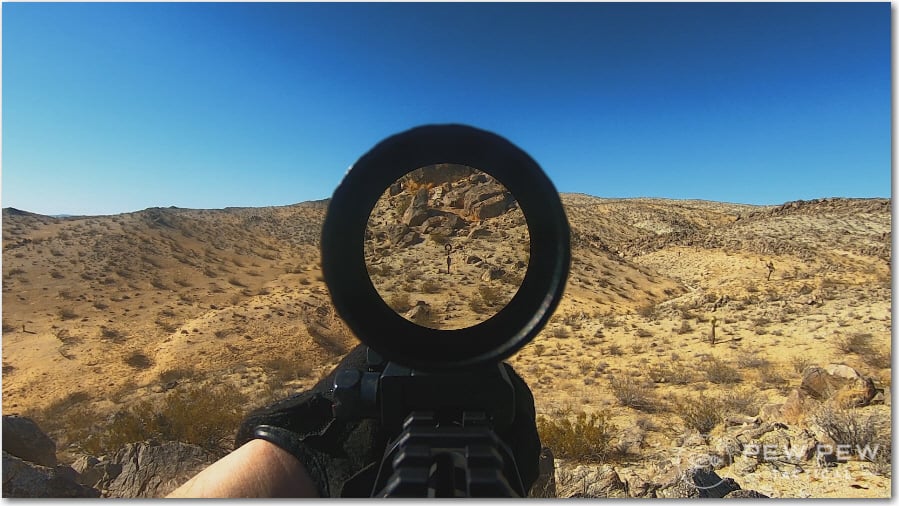 Glass Quality
Another category where the Primary Arms wins against the Strike Eagle is in glass quality.
It's clearer at 1x but where it really shines is at 6x…where the Strike Eagle has very apparent lens distortion.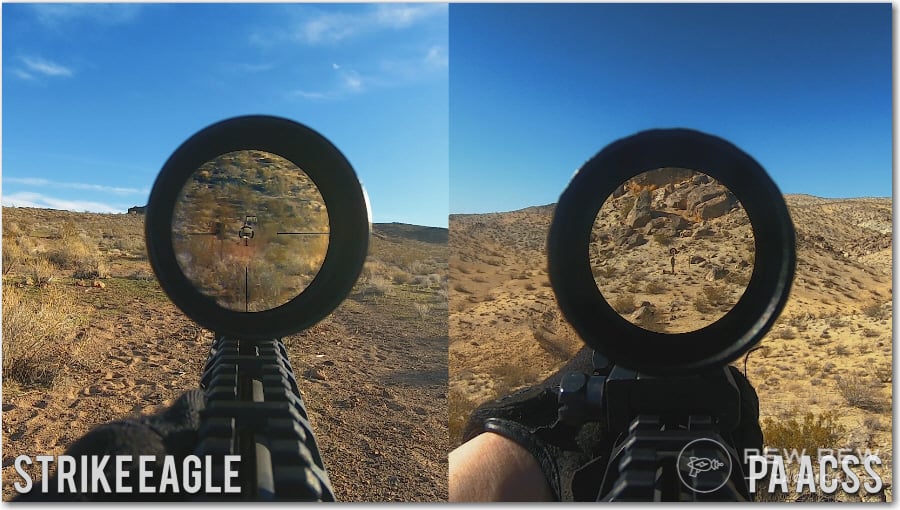 This video shows how clear it is…and a camera doesn't do it justice compared to your real eyeballs.
For a scope under $300…the glass quality is insane.
Shooting with the PA 1-6x
In short…it's really easy to transition from target to target at close distances.
And easy to shoot farther targets once you get your bullet drop down…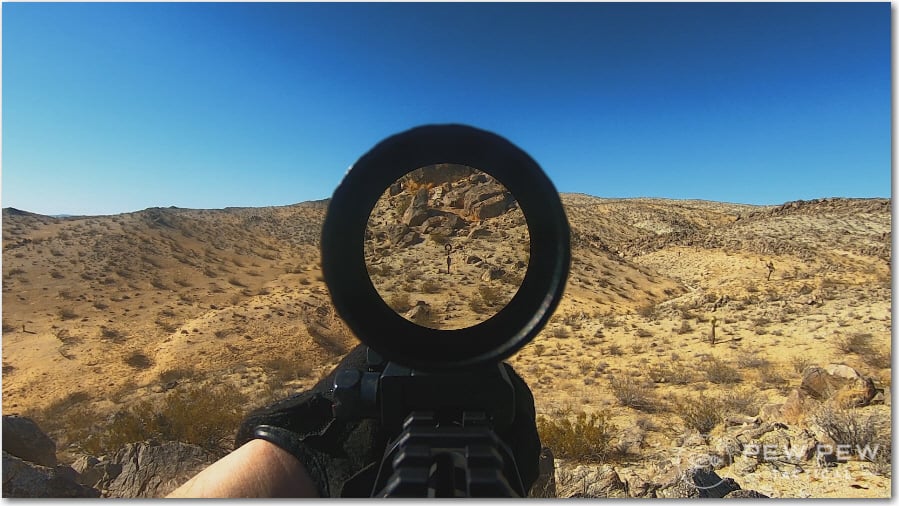 Here it is in action at 200 yards…
The magnification ring is easier to turn compared to the Vortex Strike Eagle…but not so light that it feels cheap.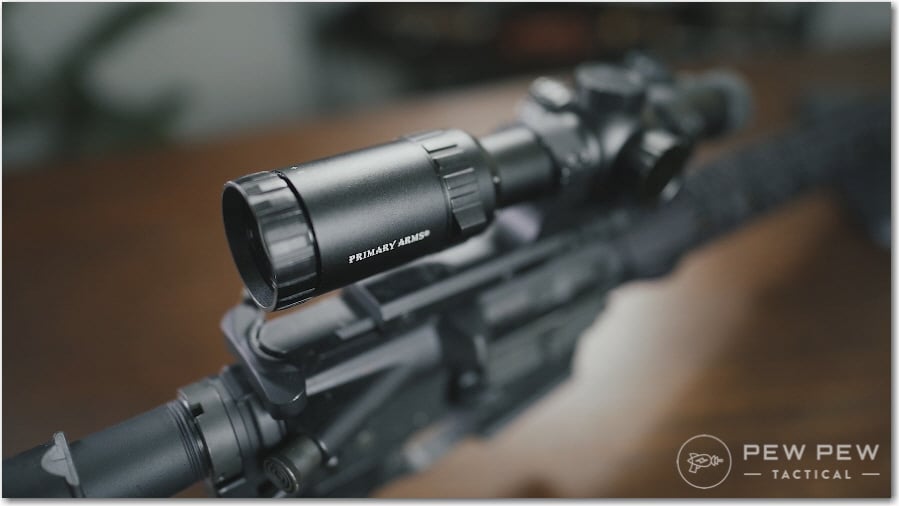 You can get a throw lever for really quick transitions too.
Mounts
I opted for the Primary Arms Deluxe Extended mount. You can add it on the main product page and some a few bucks.
You can see that it really pushes the scope forward, which I like on the AR-15 platform.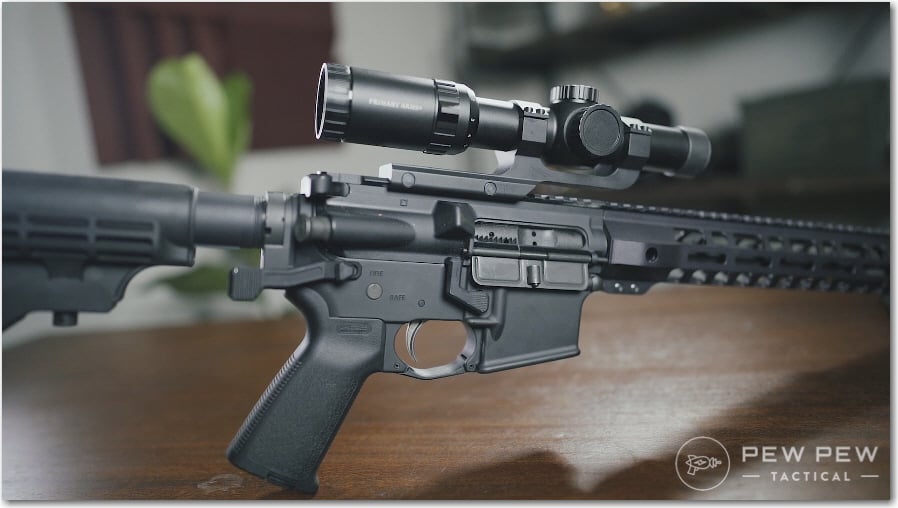 It's a hefty boi though but it's great for an additional $49 or so.
If you want to save some weight…I'm a big fan of the Aero Ultralight 30mm rings which is currently on the Strike Eagle.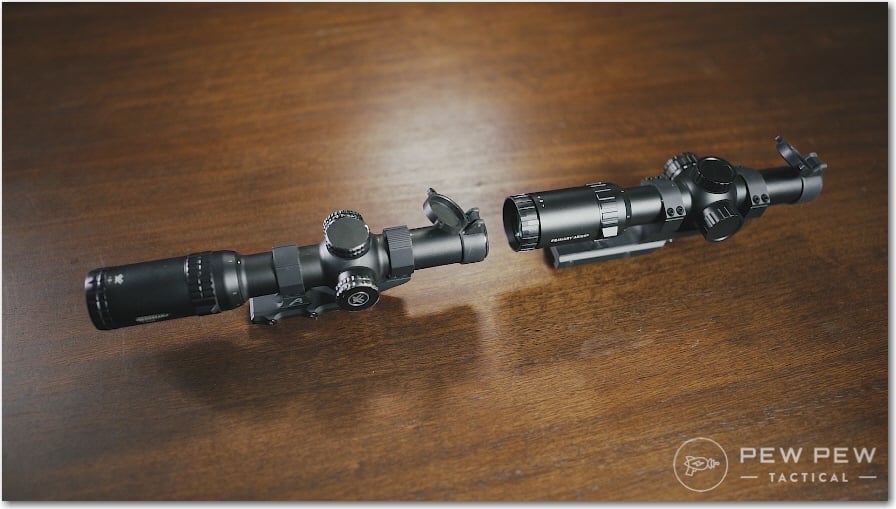 57
at Amazon
Prices accurate at time of writing
Prices accurate at time of writing
Primary Arms also offers a QD (quick-detach) option but those are much pricier at around $170.
Or by using my link you'll get a free mount as well.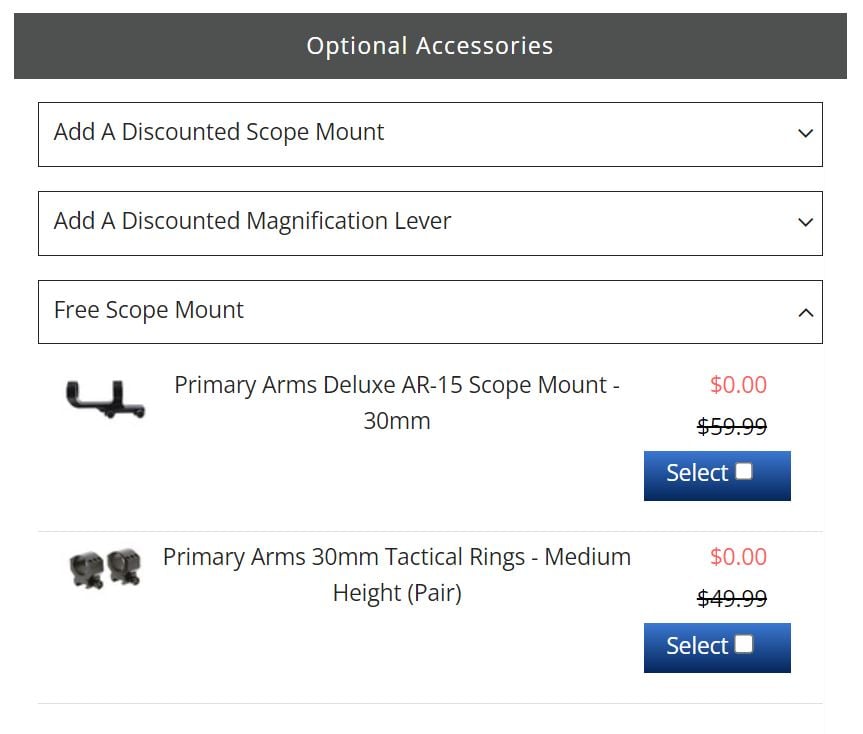 For me…I usually leave my LVPO on my competition rifle so I don't need to worry about minute zero shifts. And so I go with a fixed option over the QD ones.
By the Numbers
Reliability 5/5
We're up to over 2000 rounds with this thing…mostly on 5.56 platforms but a few hundred in .308…and it's held up great. And if it didn't…Primary Arms' warranty will make sure it gets fixed.
Ergonomics 5/5
No complaints here…the magnification fin is large and doesn't require too much force to change.
Looks 4/5
Personally I'm not a fan of Primary Arms' chop-sticky font…but I know that's a dumb nitpicky thing.
Customization 5/5
Ok…there not that much to customize about a scope. But it's no less than any other one. Scope caps, throw lever, and lots of scope mounts.
Glass Quality: 5/5
For the price I'm amazed at the glass quality. Manufacturing affordable scopes has really come a long way.
Bang for the Buck: 5/5
Again…my pick for the best Bang-For-The-Buck LVPO scope out there right now. Even more brownie points for the ACSS reticle.
Overall: 5/5
Conclusion
Overall a glowing review from me for the Primary Arms 1-6x ACSS Gen III scope.
289
at Primary Arms
Prices accurate at time of writing
Prices accurate at time of writing
If you're starting out…or even if you are a pretty decent competitor…you can't go wrong. The next level up is double the price.
And if you still haven't seen the video review…do it. It's such a visual thing.
What's your take on the PA 1-6x with ACSS reticle? Want to see more options (such as our next-level pick)? Check out the latest Gen IV version or our general Best 1-6x Scopes. Or if you want to go the distance…Best Long Range Scopes.