Ready to take your PRS game to a whole new level?
Then it's time to upgrade to a chassis that really does everything!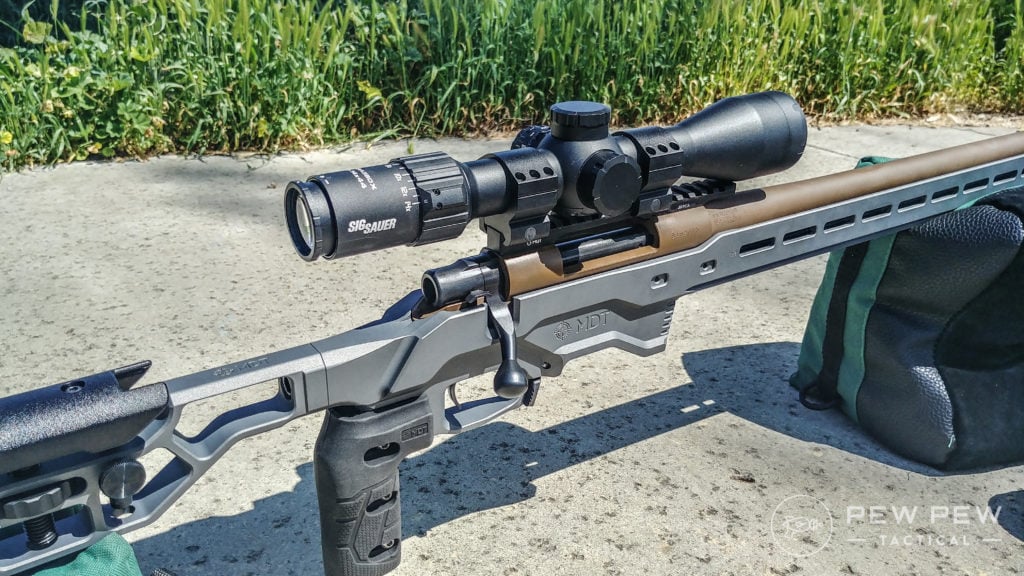 Meet the MDT ACC Chassis
An avid Pew Pew Tactical reader will note that this isn't the first (or last) MDT Chassis that we've looked at, but this one is very different from the rest.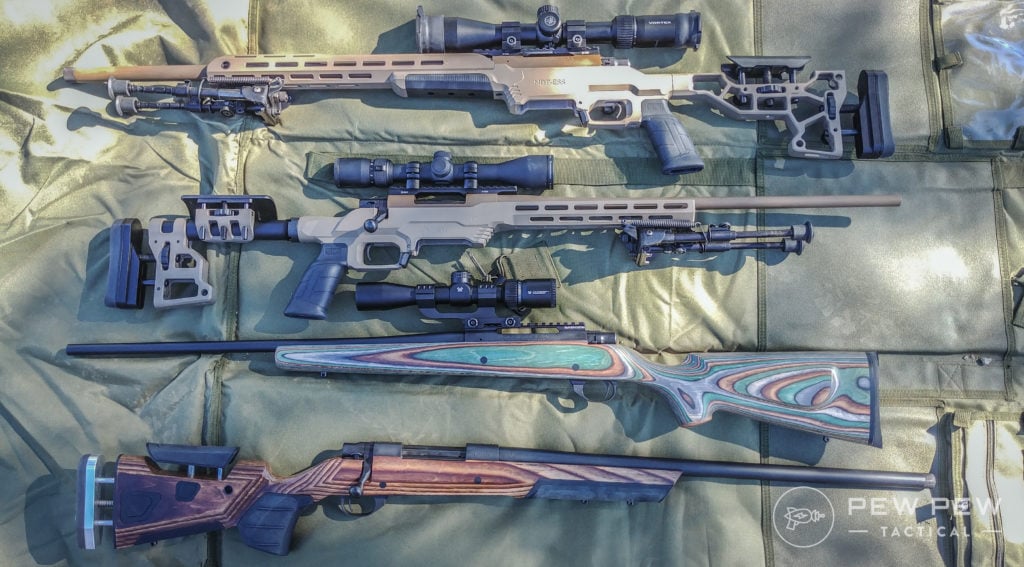 Who Is It For?
This chassis is purpose-built for the Precision Rifle Competitive community.
If you're new to shooting or even just new to PRS (Precision Rifle Series) or long-range, then this is likely going to be too much chassis for you. This is an investment and one that is going to really appeal to a fairly niche group of shooters.
But if you're serious about upping your PRS rankings or your shooting is being held back by sub-par equipment, then you're ready to join the big leagues with the ACC Chassis.
This is 100% a PRS chassis, through and through this was designed from the ground up to offer everything that the PRS shooter needs and to do it better than anyone else in the market. MDT aimed high with this one, for sure!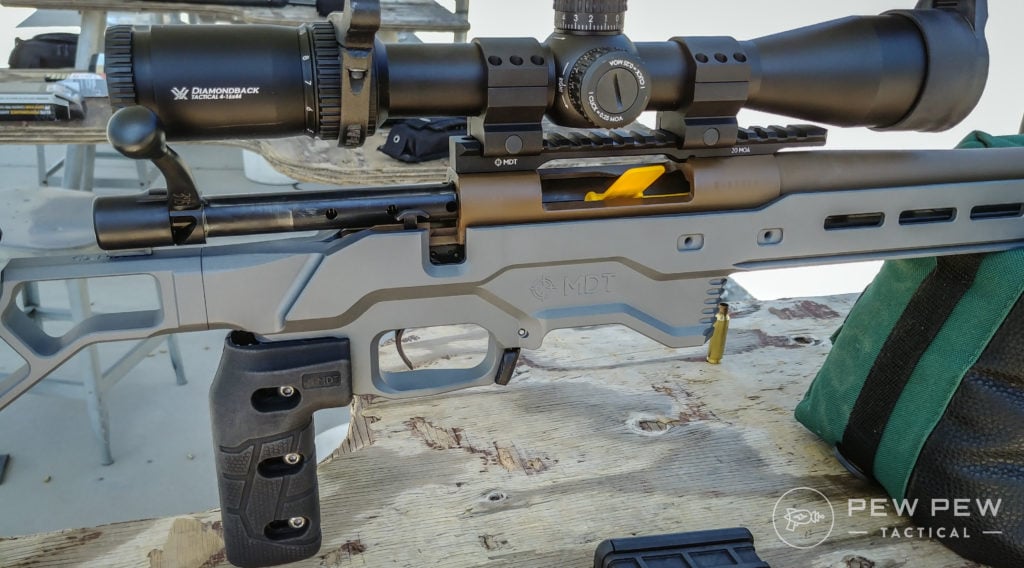 Fit, Feel, and Finish
MDT didn't hold back on the ACC, everything about the chassis they sent me is simply perfect.
The Cerakote is outstanding, the machining is top tier with smooth curves and razer straight lines, the cheek rest and adjustable buttstock are very easy to adjust using thumb screws and lock in place with zero movement.
They also took their chassis a step further by introducing an adjustable grip allowing you to move it further or close to the trigger to achieve the best positioning possible. Big hands, small hands, and anyone in between will be able to set this chassis up to match them like a glove.
Changing Weight
While the chassis itself is impressive, that isn't actually the coolest thing about it – the ACC is designed for the user to be able to change and customize everything, including the weight of the chassis itself.
Down the outside forend, in the buttstock, and even inside of the forend itself are spaces for custom weights. This gives you total control over the total weight of the system but also where that weight is located.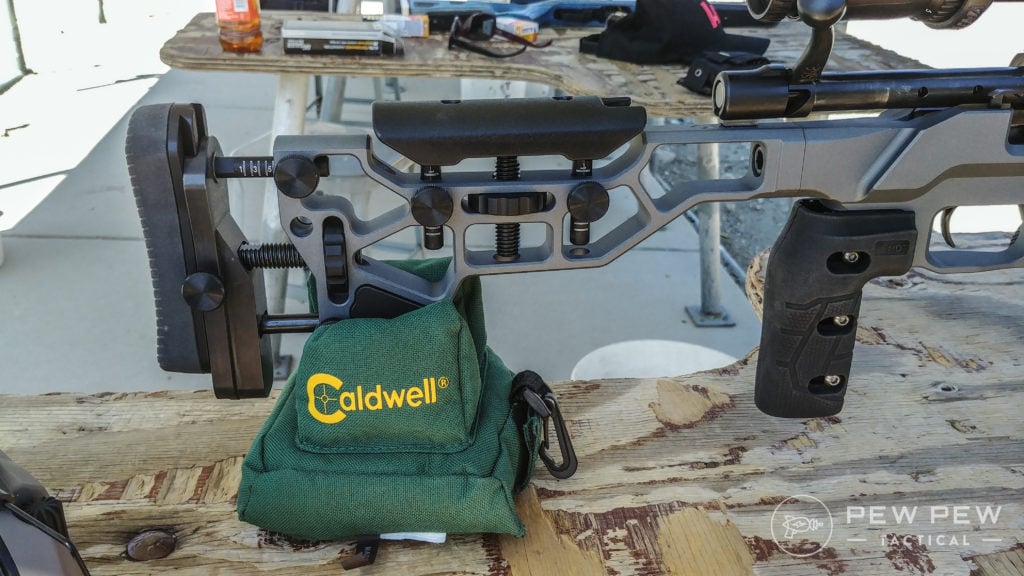 Total weight is great for reducing felt recoil, making the rifle steady, and ensuring that the rifle is still portable by whoever is using it.
But just adding weight to a rifle isn't new or uncommon in PRS – what is a bit different is the ability to place the weight exactly where you need it to be. Controlling the balance of the rifle is great for tailoring it to an individual shooter and effectively gives you a custom chassis for a fraction of the cost.
These weights are not really designed to be changed in the field though, mostly. The weights that connect to the outside of the chassis could be removed and added in the field if you really wanted to, but in practical use, this is something that you'll play with and set up ahead of time.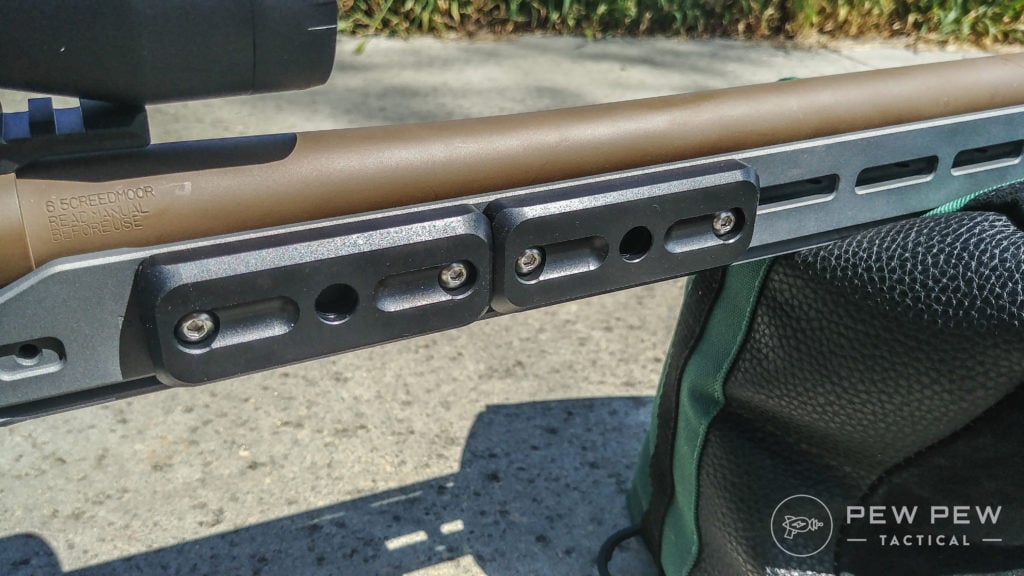 Installation
As with all of MDT's chassis, and really most chassis in general, installing the barreled action into the chassis is super simple. It involves literally just undoing two screws, dropping the barreled action in, and tightening down two screws.
MDT also has a whole set of videos to help you out!
The weights can be a little tricky but only because they are new, once you get one in getting the rest installed is easy.
One thing to note though – you cannot get the weights on the inside of the forerail in while the barreled action is installed. So you might need to go back and forth a few times before you get the weights just like you want them.
Because of that, I would recommend NOT using Loctite on the action screws until after you're really sure you have the weights exactly as you want them.
Thankfully, the weights on the outside are simple M-LOK and are very easy to play around with.
Shooting and Groups
Spoiler alert: The ACC is now my favorite chassis to shoot with. The squared off forend, the vertical adjustable grip, adjustable cheek riser and buttstock, everything about the ACC is made to just mold perfectly to your body.
I like to shoot off of bags, so the bare forend is great for me. But it also comes with lots of M-LOK attachment points so you can add things like a bipod, handstop, and more.
Groups!
Since I've used this action before, I already knew it was able to lay down some impressive groups – armed with this knowledge I also knew that this rifle really likes 140gr 6.5 Creedmoor ammo, but when I went to order more Hornady ELD-Match…I accidentally got 120gr…derp.
The vertical stringing is my fault, but even for ammo that I know my rifle doesn't love – this was a great grouping and is better than I normally get with 120gr, except for the poor shooting on my part.
Thankfully, I had also packed a couple of boxes of 140gr Sig Sauer Elite Match and it turns out my rifle LOVES that!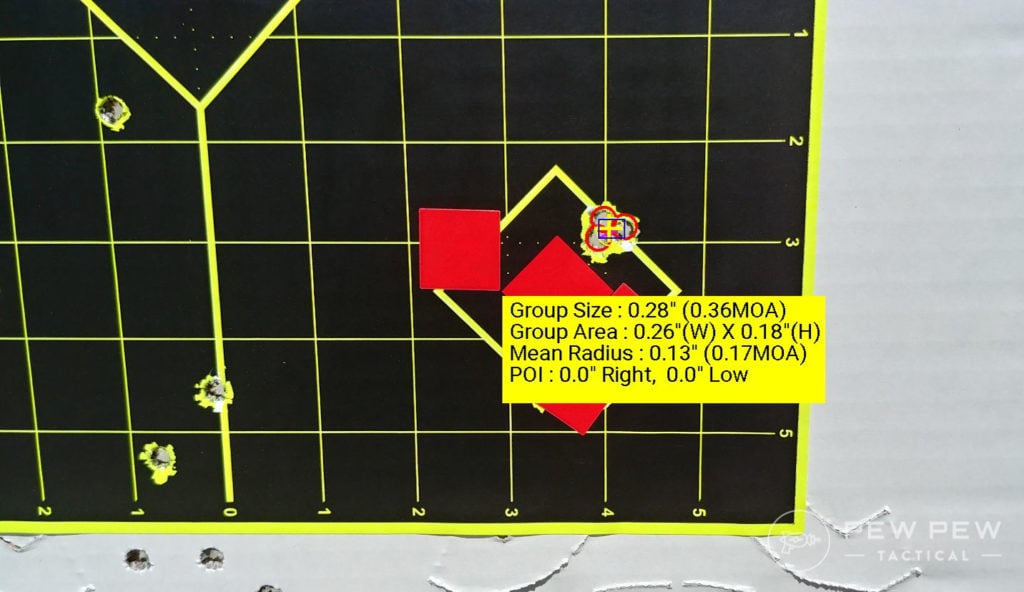 This was representative of the shooting I was getting all day with it, always dead on accurate and at every range.
By the Numbers
Reliability 5/5
This mostly depends on your action, but any bolt-rifle action you put in it should be 100%. There were zero issues with the chassis itself, from magazine to adjustments – everything worked perfectly.
Accuracy 5/5
I already knew this rifle was accurate, so it felt good to try it in a new chassis to see if anything change. As expected it shot very small groups with the smallest being 0.36 MOA, a 1/3rd MOA gun is a great thing!
Ergonomics 5/5
Thumb rest, new grip, adjustable cheek riser and buttstock, and most of all the weights! Everything fit great and was easy to adjust to being perfect. I especially dig the new grip MDT is offering for the ACC. This was the first time I've had a grip that allowed me to change the distance between grip and trigger, getting to customize this made for much crisper trigger pull.
Looks 5/5
My ACC came in a metallic grey, sort of a battleship grey but a little lighter. I loved it, personally. Gives the whole thing a real space age feel to it. My FDE Howa barreled action also looked good sitting in it, so that worked well for me.
Customization 5/5
The huge takeaway to the customization options on the ACC is the weights. Down the forend, along the rail, in the buttstock – the ability to adjust and micromanage the weight and balance of the ACC really sets itself apart from the pack.
Bang for the Buck/Value ??/5
I've said this in my other reviews, but I'll say it again.
The value you'll get out of this chassis is 100% on you. If you're looking to really up your PRS rankings or just want the absolute best chance you can manage, then this is a great value. 5 out of 5, easy.
That said – this does NOT come cheap. The chassis will run you $1,000 but that is for the base chassis only, weights and grip sold separately. That means you're looking at $1,400 minimum for the whole set – and it might run higher if you want more external M-LOK weights. Oh, and that is pre-tax and shipping.
Overall Rating 5/5
Parting Shots
To say this is a niche product is an understatement, but if you're in that niche then I know this really appeals to you.
Best Competition Chassis
999
at MDT
Prices accurate at time of writing
Prices accurate at time of writing
That said – if you're willing to invest the time and work it takes to become a 1,000-yard rifleman, then you owe it to yourself to invest in some great equipment. The ACC lives up to everything I hoped it would be.
Do you shoot PRS? What rifle/stock/caliber/chassis do you run? Let me know in the comments! Need a new long-range optic? Take a look at the Best Long-range Scopes!