Check out the video review from our Johnny B above!
---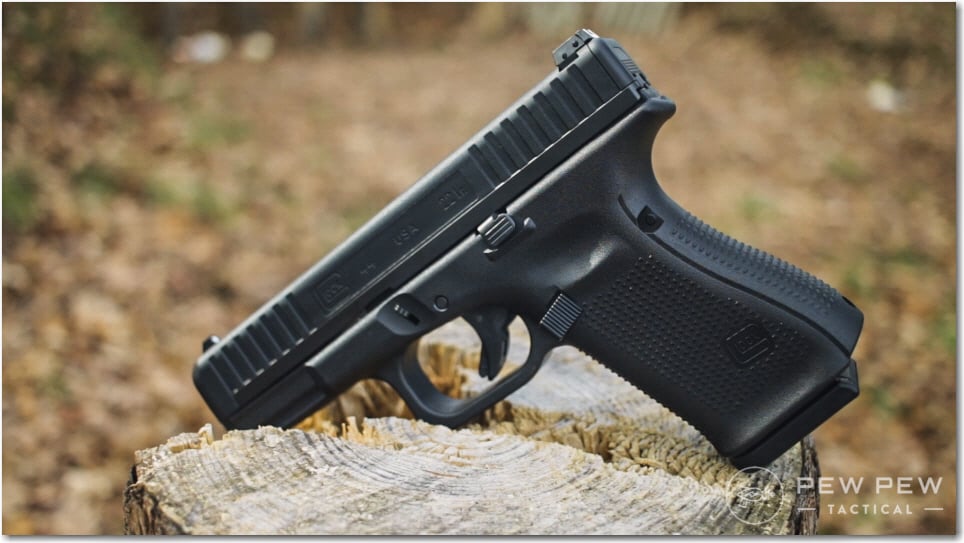 The Glock 44 is Glock's first .22LR since its founding in 1963.
Is it worth the wait?
We'll cover it's fun factor, reliability, accuracy, ergonomics, stats, target audience, and more.
Table of Contents
Loading...
359
at Kygunco
Prices accurate at time of writing
Prices accurate at time of writing
Specifications
You know about the Glock 19…Glock's best-selling compact 9mm handgun, right?
Well the Glock 44 is nearly identical to to the G19 besides being .1 inches skinnier in width and of course lighter when loaded (G19 loaded is 30 oz).
Width: 1.26 in
Length: 7.28 in
Height: 5.04 in
Weight Loaded: 15.94 oz
Capacity: 10 rounds
Here's some other important features…
Hybrid steel-polymer slide
Front serrations
Adjustable rear sights
Load-assist magazine
Glock Marksman Barrel
Ambidextrous slide stop lever
Reversible magazine catch
Interchangeable backstraps
See the official Glock G44 product page.
Background & Unveiling
Glock has been busy touting the G44 as "Legendary" and I was super excited to be one of the few media outlets to be invited to its unveiling in 2020.
Thoughts of a Glock carbine and maybe something crazy like a polymer lever action were going through my head.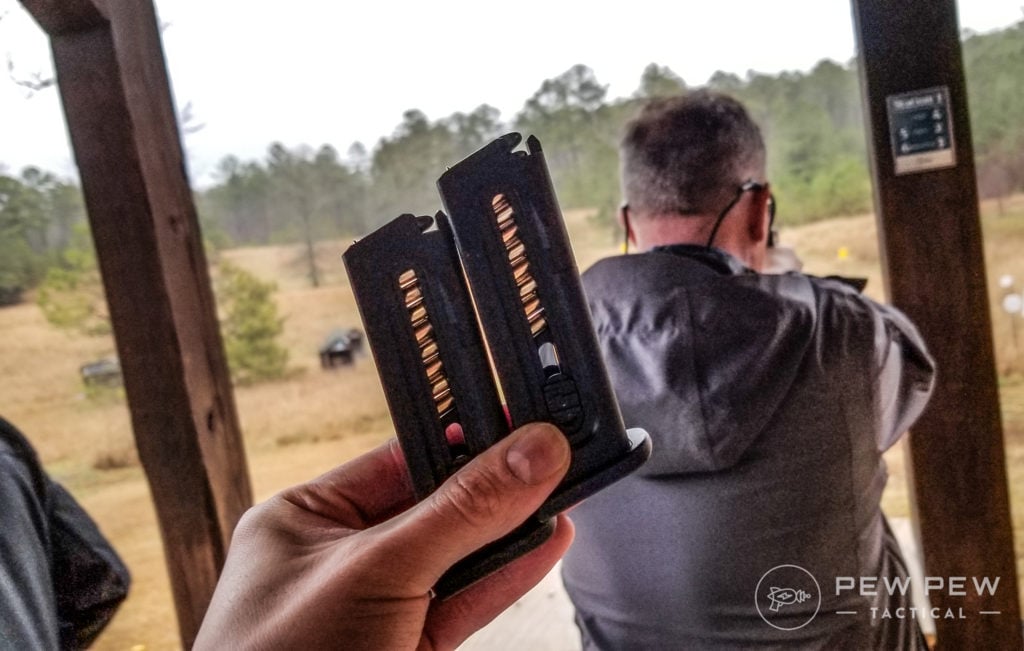 When I found out it was a .22LR pistol…I thought "cool."
Makes sense.
Glock never had a .22LR and they will likely sell a metric buttload for training and plinking once it is released.
People on the internet were less than enthusiastic…I think due to some overhyping.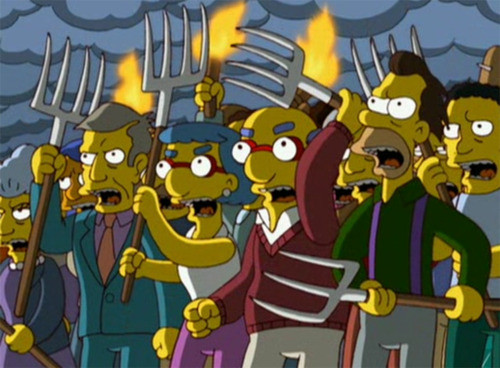 Glock 44 Pros & Cons
Here's a summary of the pros and cons.
+ Soft recoil
+ Affordable ammo – feeds .22LR
+ Almost the same dimensions to the Glock 19
+ Very lightweight – about 1lb loaded and 3/4 lb empty
– Didn't run well with cheaper and older ammo. We had multiple misfeeds and stovepipes. This matches up with some other reviewer experiences.
Who Is It For?
Who were the happiest folks at the event?
The TRAINERS.
They knew Glock hit a homerun with a G19-sized .22LR handgun.
Now you can start young, new, old shooters on a lighter recoiling gun that's almost the same as the most popular Glock model.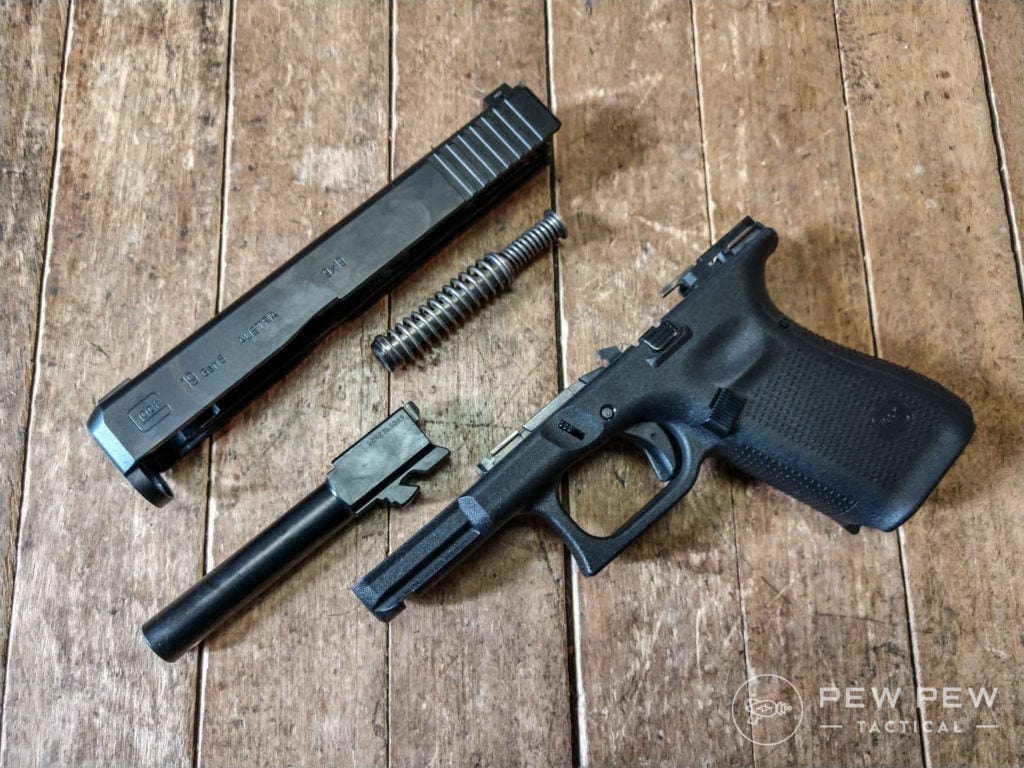 Full review of the Gen 5 Glock 19 from us.
And how about another huge audience? Plinkers who like saving money.
At release the MSRP is $430 but street price at the time of update (March 2022) is around $400.
Plus did I mention it takes affordable .22LR?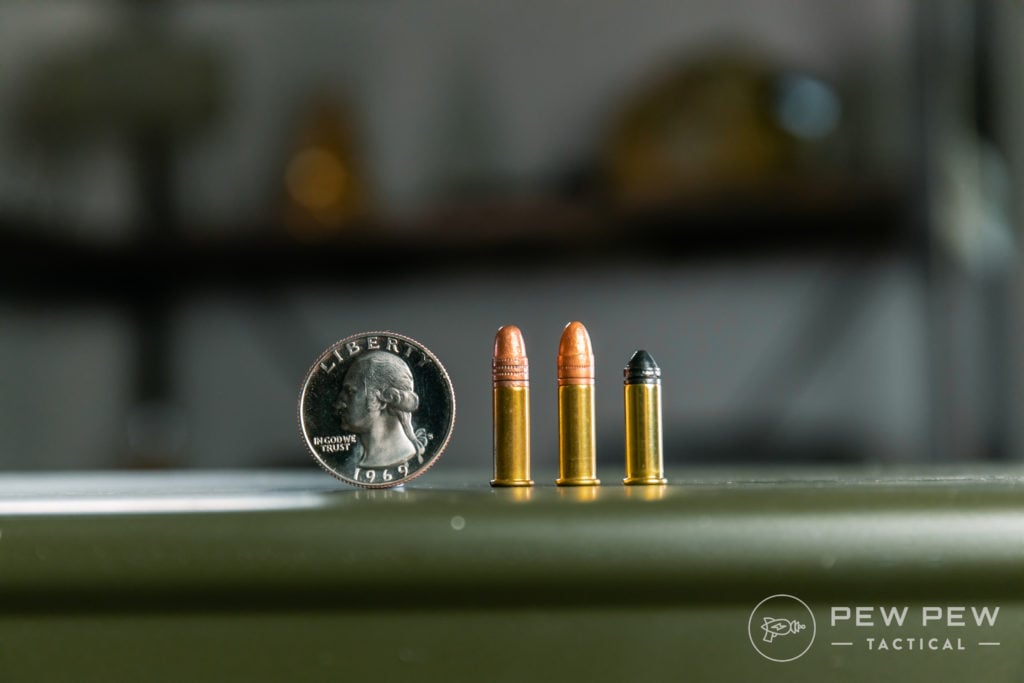 And because of its weight…some backpackers might like it as well.
Now let's dive a little deeper…
Fit & Feel
First thing…this thing is light.
About 3/4 pound empty and 1 pound fully loaded. A G19 is almost 2 lb loaded.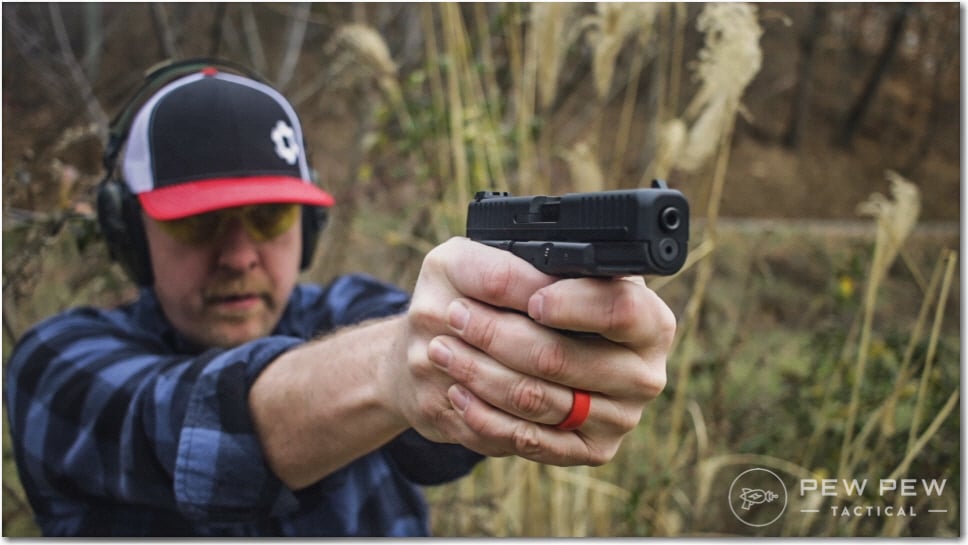 The weight reduction is due to a 5-section hybrid polymer steel slide which is needed so that the blowback action of the .22LR has enough oomph to cycle.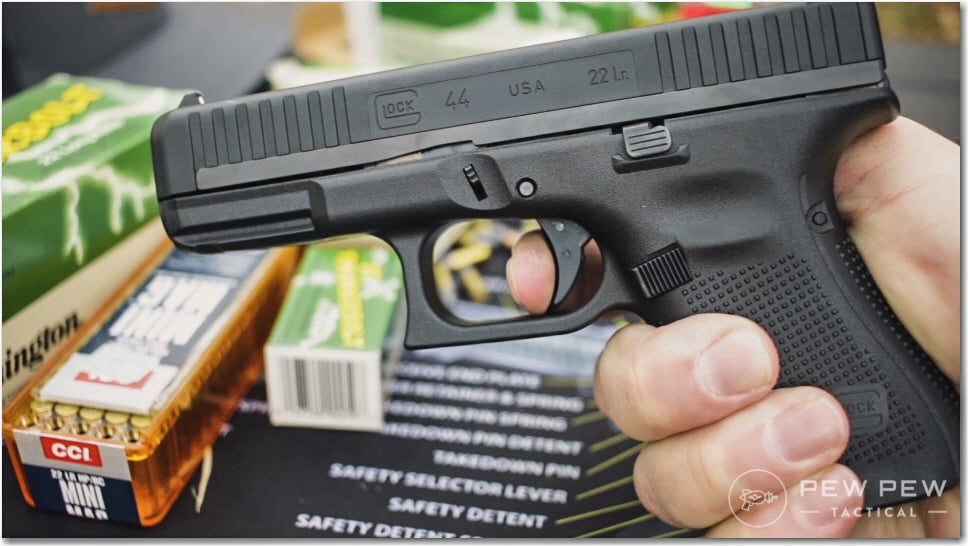 But have no fear…the important bits are all metal on metal.
Weight aside…if you handed the G44 to me blindfolded I wouldn't be able to tell it wasn't a G19.
And because of that…it fits in all G19 holsters. There's some ever-so-slight differences so you might need to adjust retention.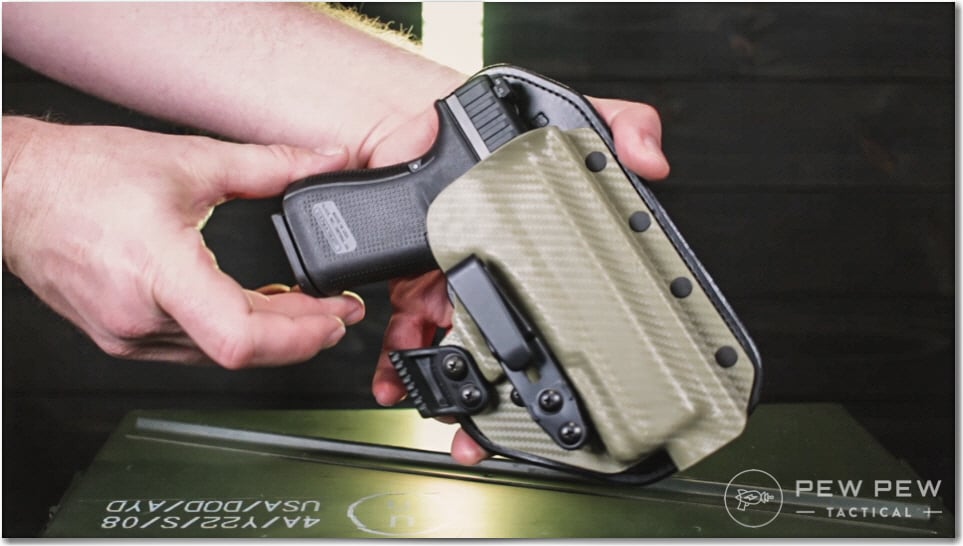 Check out some of our favorite G19 holsters here.
How about other stuff?
Trigger is the same.
You get backstraps to choose the right fit for your handsize.
Plus the same sights (for better or for worse) but with adjustable rear ones.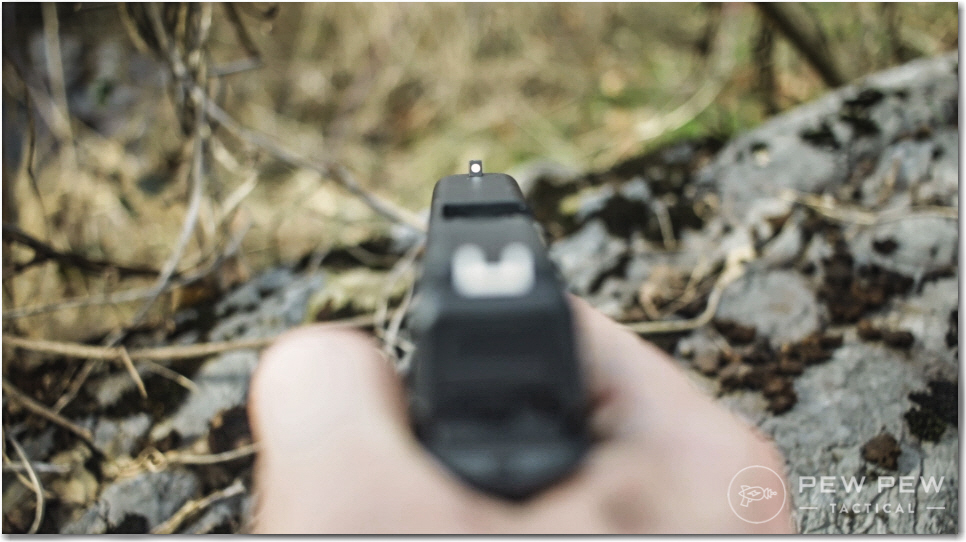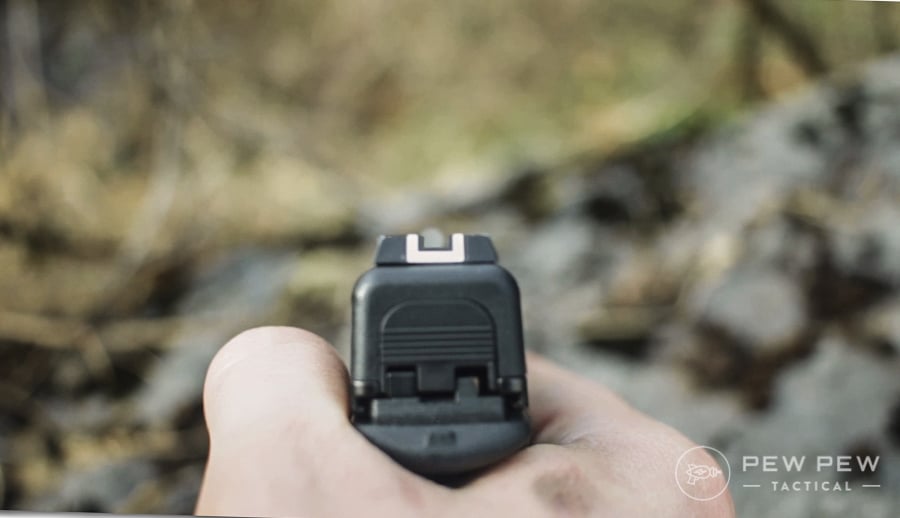 Breakdown is also the same.
If you can break down a normal Glock…you can breakdown the G44.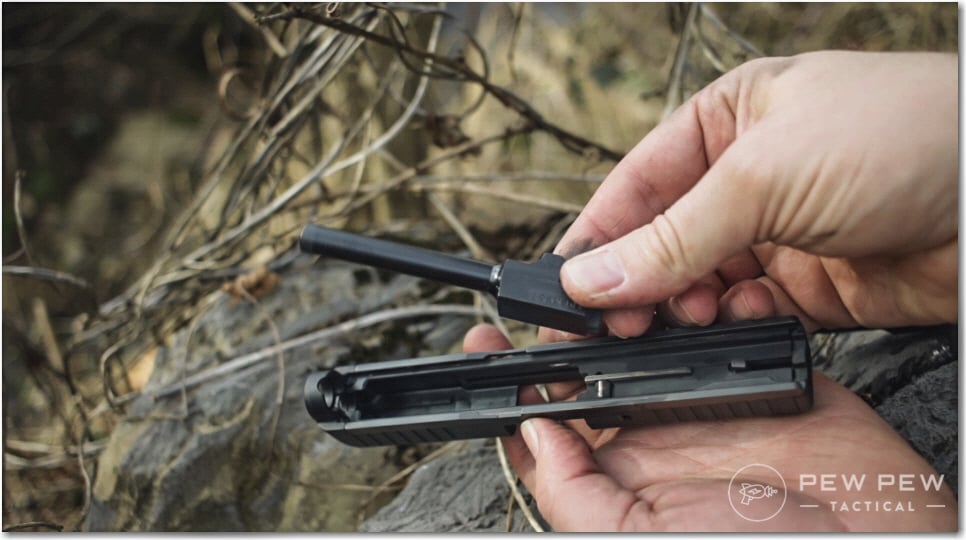 Magazines…this is where people flipped out.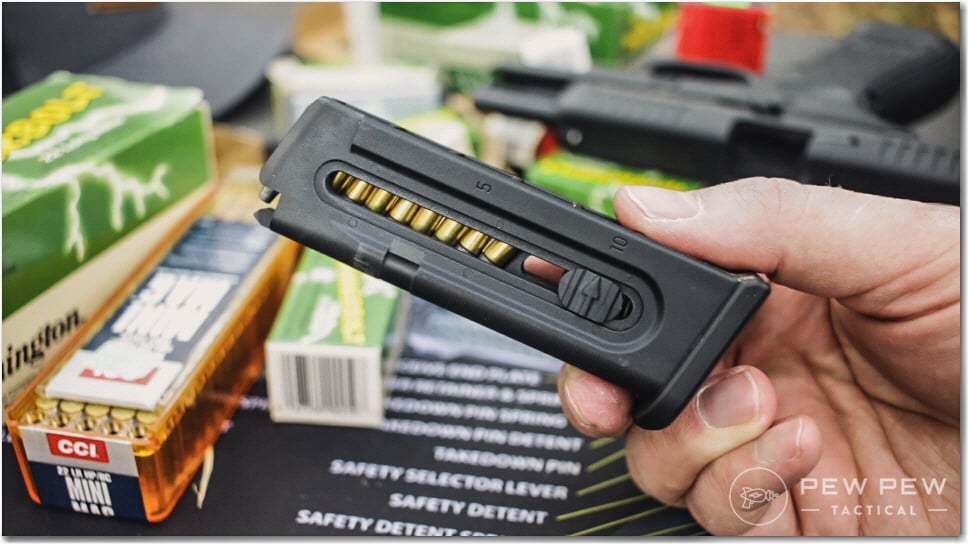 Yup…that's a 10 round magazine.
Glock chose the 10 round capacity for reliability since it's nearly impossible to double-stack rimfire rounds.
No one seems to complain about other .22LR pistols being only 10 rounds…but I can understand the frustration of it living in a double-stack body.
It does come with a super-helpful load assist mechanism that will help out new shooters' thumbs.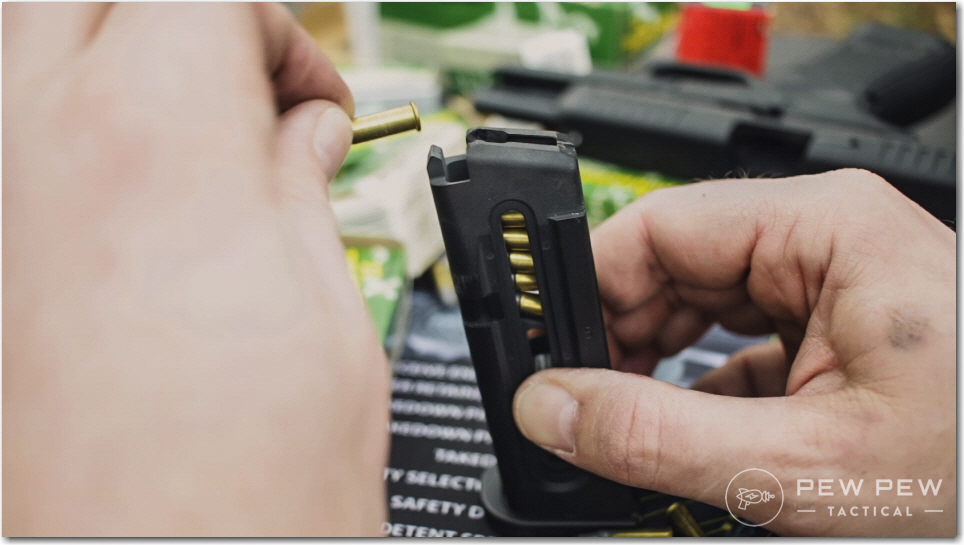 Hopefully a Glock 15-rounder comes out…or some other manufacturer steps up to the plate.
Now…let's dig more into how does it shoot.
Recoil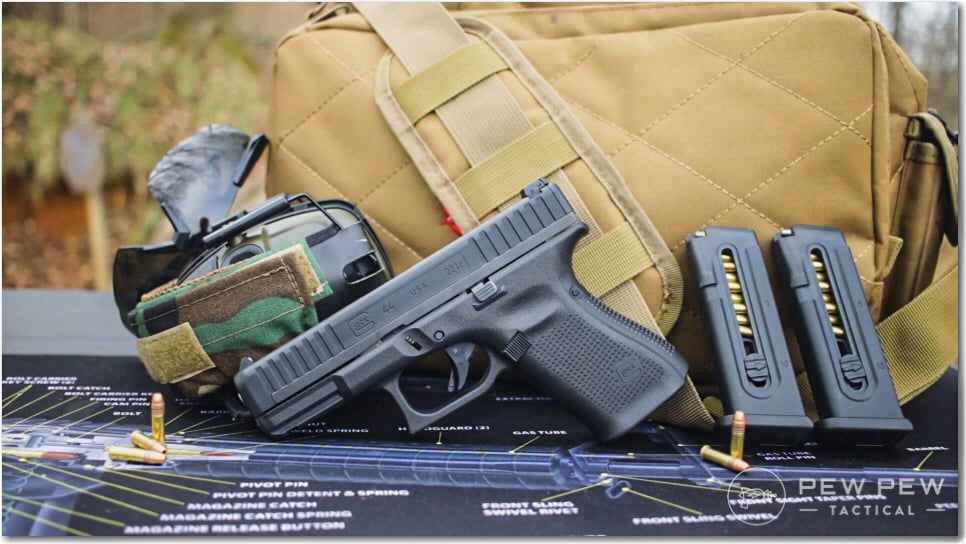 If I had to choose one word for the Glock 44…it would be fun.
My first mag brought amazement.
First because of the lack of recoil.
And second because it really highlighted how much I was pushing the front muzzle down to compensate for rise.
Easy to plink a few hundred rounds at the range…while not breaking the bank.
Accuracy
Johnny had no problems with 50 yard targets.
And I was able to consistently bring it out to 100+ yards at the Glock event.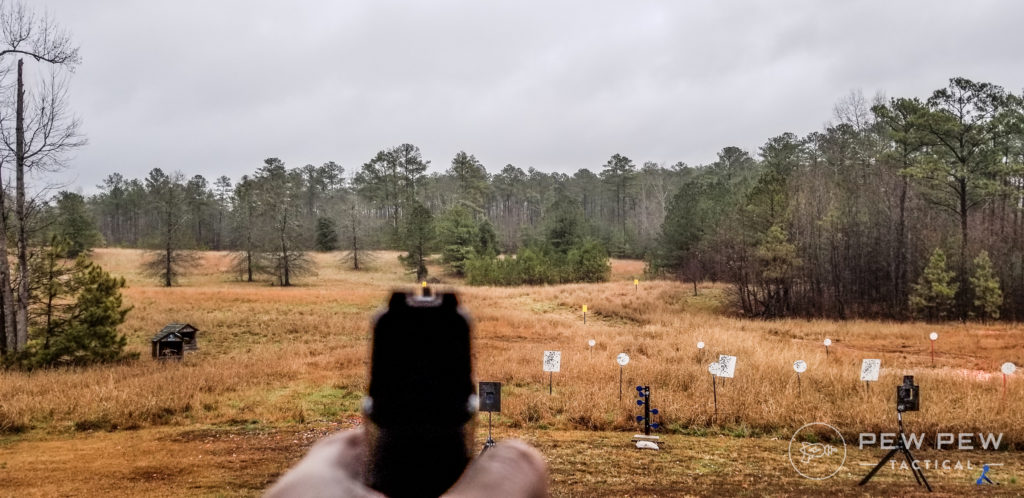 A Glock rep came up and congratulated me on hearing some different *ting* sounds from the far target.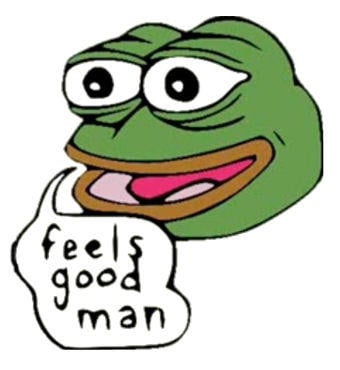 Reliability
I'm moving reliability into its own category.
At the Glock event…the test pistols have been through almost 10,000 rounds.
However, we started to see some misfeeds and stovepipes at the end of the event.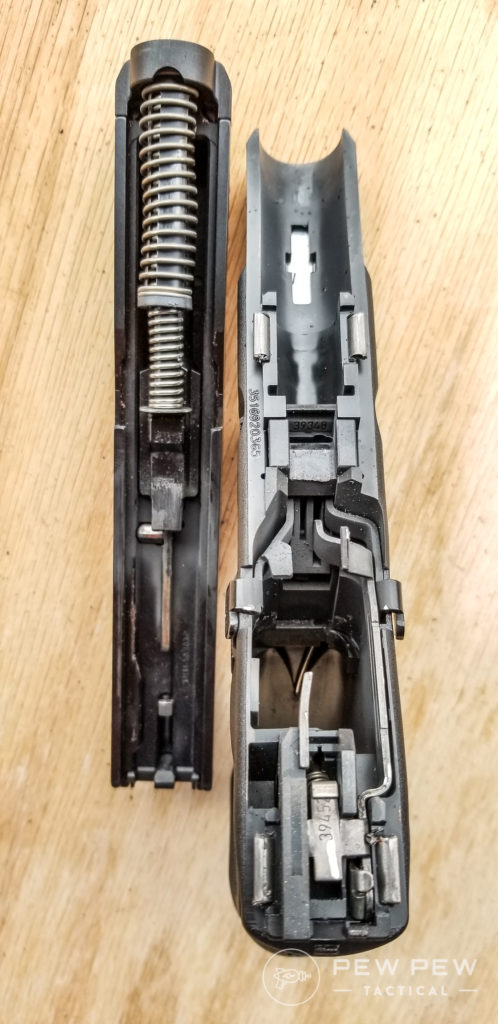 The frame and slide actually don't seem that dirty for the number of rounds.
But the barrel feed ramp?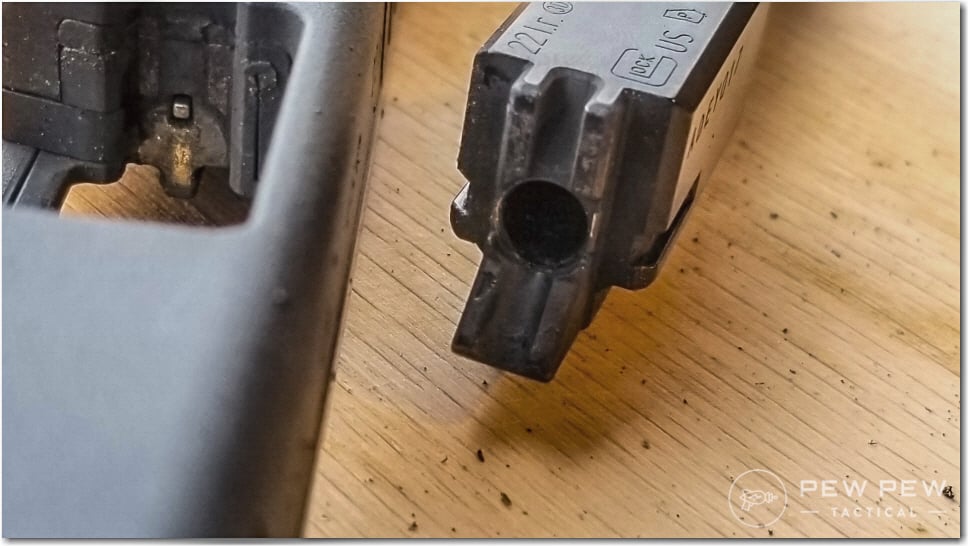 That bad boy had some stuck on carbon crud that started to break off. I think the created divots were the ones creating most of the stoppages for us.
As for ammo… we used exclusively Blazer .22LR.
But once Johnny got his hands on a test gun…
We had him running through some ancient Remington and Browning. And some Walmart Remington Thunderbolt and Winchester X.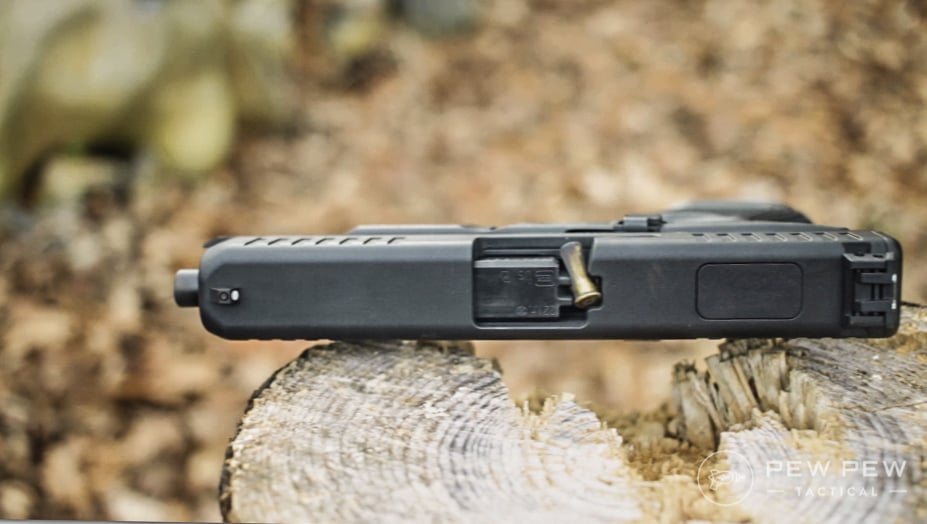 The cheaper stuff from Walmart and the older ammo gave our test gun multiple stovepipes, misfeeds, and didn't lock back the slide.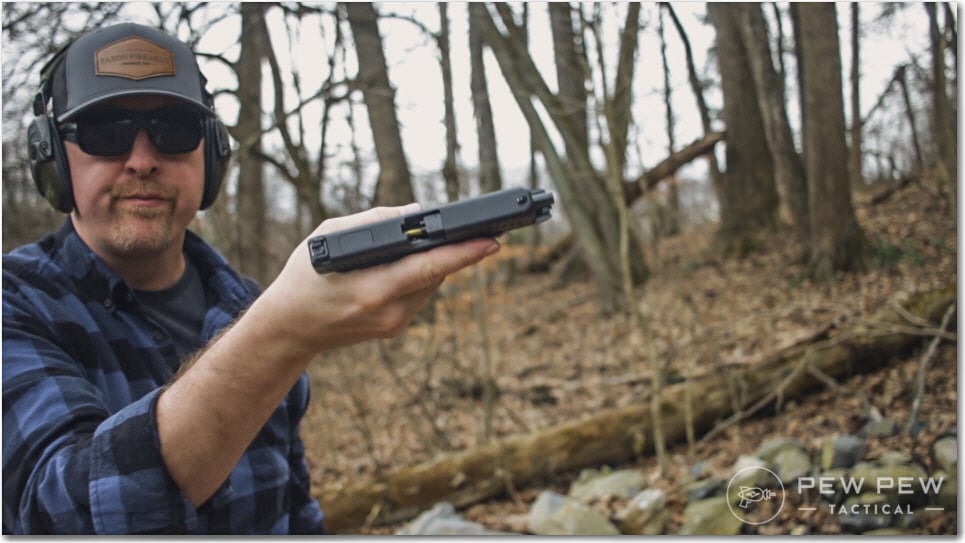 However, with hotter loaded new CCI Minimag (the good stuff)…the G44 ran flawlessly.
7
at Brownells
Prices accurate at time of writing
Prices accurate at time of writing
Based on our experiences…we'd recommend going with hotter ammo to make sure your G44 runs.
Check out some of our favorites in Best .22LR Ammo.
Glock said they tested over 120 brands of .22LR but maybe some of our batches were even more finicky than standard rimfire.
Here's the official blurb from the G44 Owner's Manual (download here).
The Glock 44 is designed to work with a variety of quality 22 l.r. ammunition that is manufactured to SAMMI and/or CIP specifications. GLOCK recognizes that some 22 l.r. ammunition offerings may not produce sufficient energy to fully cycle the slide. GLOCK also recognizes that the quality of 22 l.r. ammunition varies greatly between different types and brands. Therefore, it is recommended that you test fire several fully loaded magazines using your preferred ammunition to ensure optimum performance.

G44 Owner's Manual
What Sets the Glock 44 Apart from Competitors?
The main thing is going to be its form factor that closely mimics the oh-so-popular Glock 19.
Perfect for training and plinking.
Capacity is where the G44 sputters a little bit…10 rounds is considered normal capacity for much older .22LR pistols and with an introduction in 2020 people were wanting more.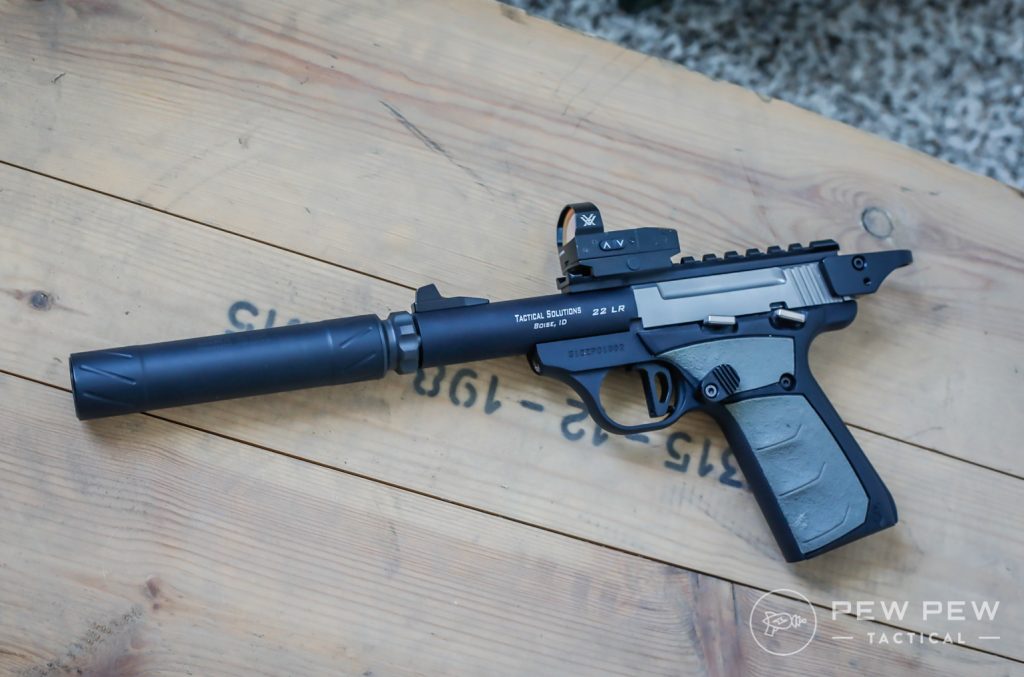 By the Numbers
Reliability: 3.75/5
With the cheap or under-powered stuff it's a 3/5. With Mini-Mag or Blazer it's a 4.5/5. Let's split it in the middle.
Ergonomics: 4/5
Glocks have grown on me over the years. Controls are easy to index and the grip angle is solid.
Accuracy: 4.5/5
It's not a match-grade pistol but it will put rounds where you want them. We're pretty impressed with it hitting 100+ yards consistently with a non-fixed barrel like other .22LR pistols.
Customization: 4/5
There's lots of stuff you can change on a Glock…especially when it's nearly identical to a G19. Get ready for some Gucci G44s to hit Instagram.
Plus there's also the option of a threaded barrel for around $150. It's metric so you'll need an adapter for your normal 1/2×28 threads.
But, it has a different locking block so you can't alternate stuff with a G19…sorry!
Value: 4.5/5
There's value at the street price of $400. Although I would have liked to see 3 magazines and a threaded barrel standard.
Overall: 4/5
359
at Kygunco
Prices accurate at time of writing
Prices accurate at time of writing
Accessories
This thing is nearly identical to the Glock 19, so obviously, there's a ton you can do with it to personalize it and make it yours.
We do have some humble suggestions, though.
Lights
So, you're probably not going to take on baddies with a .22 LR, but you can drill like you're going to, and for that…you want a light! We like the Streamlight TLR-1 HL for its compact size and really, really bright beam.
164
at OpticsPlanet
Prices accurate at time of writing
Prices accurate at time of writing
Holster
Want to practice your draw and getting on target? Then you're going to want a holster, as simple as that. You can use your Glock 19 holster, of course, but if you want to try something new, check out Hidden Hybrid Holsters!
89
at Hidden Hybrid Holsters
Prices accurate at time of writing
Prices accurate at time of writing
Magazines
You literally can never have too many magazines. Fill the safe! Pile them on every surface imaginable! Suffocate underneath an avalanche of them as they topple onto you an– okay, so maybe you can have too many, but surely a few extra won't hurt?
We're going OEM with this one and recommending the Glock 44 .22LR 10-Round Factory Magazine!
60
30
at GunMagWarehouse
Prices accurate at time of writing
Prices accurate at time of writing
Conclusion
The .22LR Glock 44 does what it is supposed to do. Shots on target, reliable with specific ammo, and comes in at a great value.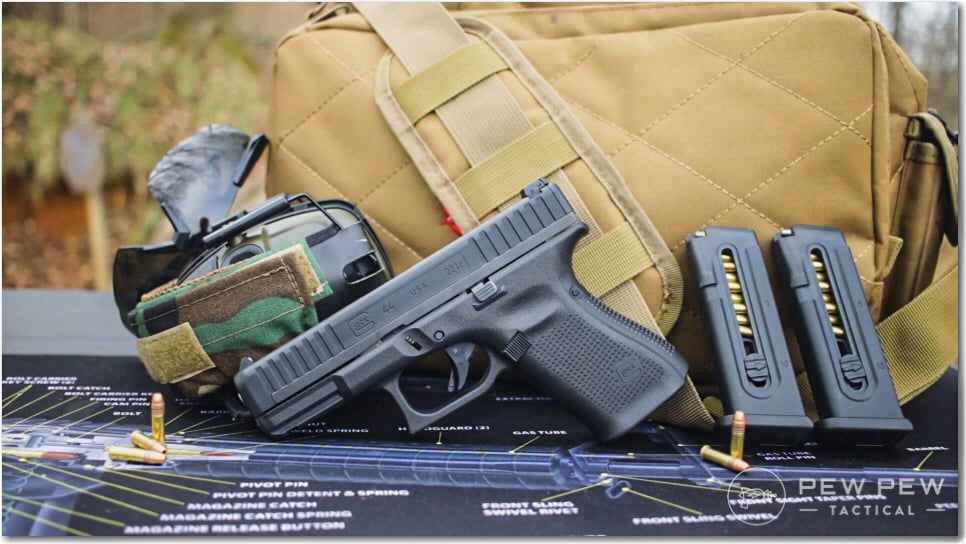 Plus it's nearly identical to the Glock 19 which makes it the perfect training and plinking gun.
359
at Kygunco
Prices accurate at time of writing
Prices accurate at time of writing
What do you think of the G44? Is it Legendary? Drop a review of the gun below. Check out our master list of Best Glocks and also Best .22LR Pistols.