They've become pioneers in creating supercharged weapon lights and have helped change the focus from lumens to candela.
Their lights are some of the best on the market, and in a few short years, they've captured the industry.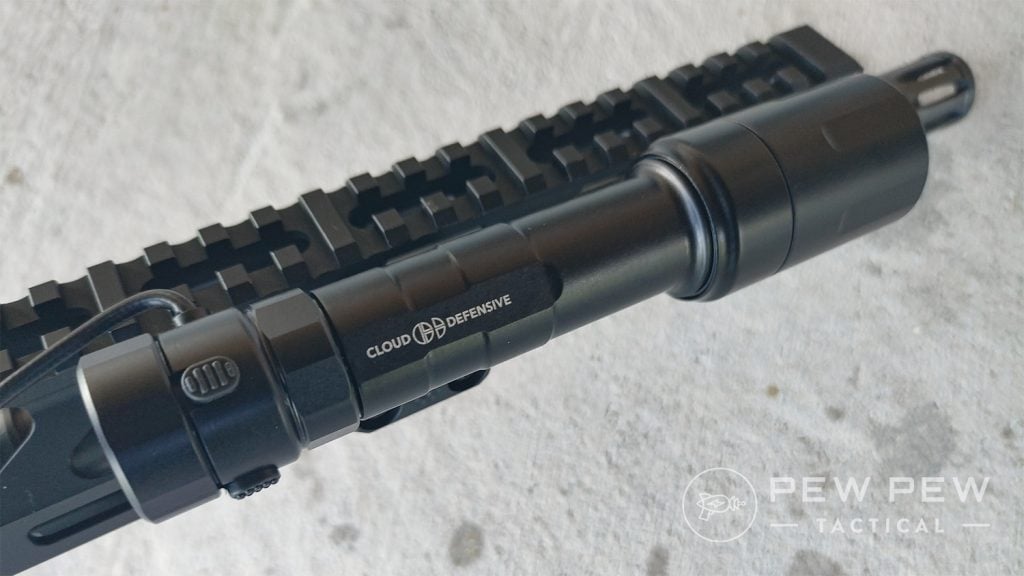 This company has forced adaption and evolution and is doing it again with the Rein 3.0.
Cloud Defensive sent me a model to test and review, and boy, oh boy, have I been testing it. Let's dig in and see what the Rein 3.0 has to offer.
So, keep reading as we walk through the specs, features, pros, and cons of this model.
Cloud Defensive Rein 3.0 Pros & Cons
Pros
Class leading power

Surprisingly lightweight

Fits close to weapon

Fantastic switch design
The Bottom Line
The Rein 3.0 is the light to beat if you're chasing down power in the weapon light world. It's not the most compact or the lightest, but with over 100,000 candela, it's a clear winner in the weapon light market. That kind of technology and premium design comes at a high price and with a retail price of around $400.
Cloud Defensive Rein 3.0 Specs & Features
Specs
Weight (with battery & remote switch)
6.91oz
Features
Easy to install pressure switch
399
at Cloud Defensive
Prices accurate at time of writing
Prices accurate at time of writing
History of Cloud Defensive
Cloud Defensive has always been on the bleeding edge of lights. The original OWL is still one of my favorite designs, and I've used it for years.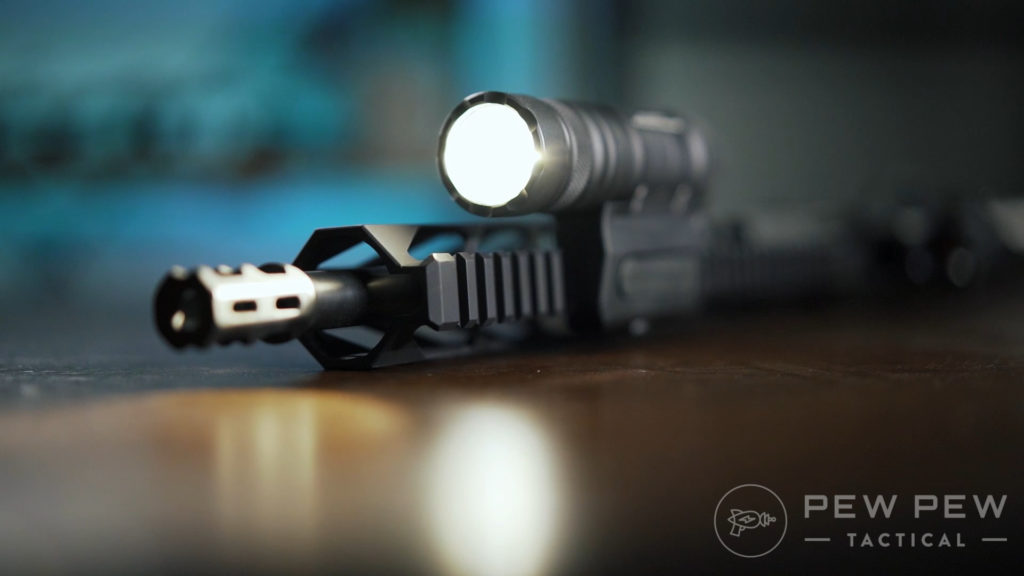 That said, the OWL wasn't for everyone, and they've designed the Rein series to provide the same kind of power in a more traditional layout.
The Rein started as a means to provide a secondary product but has quickly become their primary product.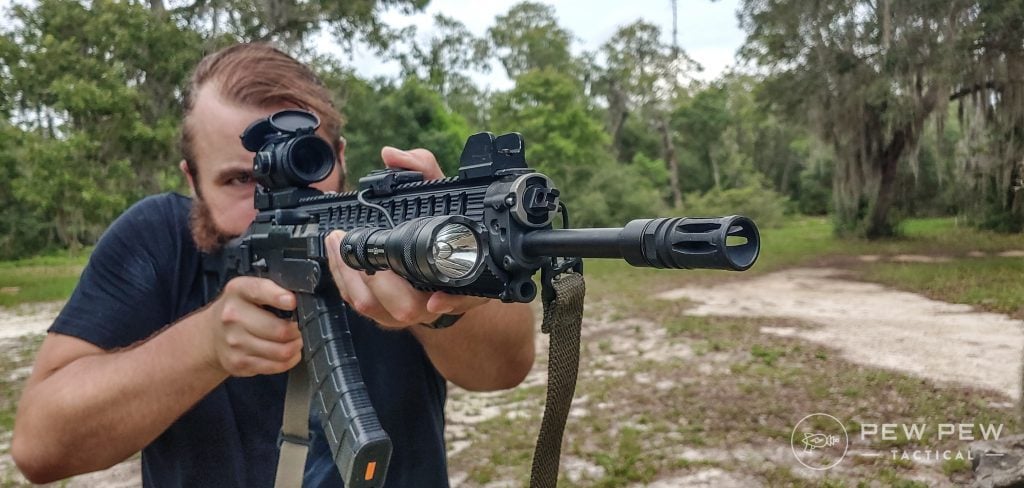 Every generation of Rein has built on the other. Not only have they become more powerful, but they've become smaller, lighter, and more ergonomic as well.
The Rein 3.0 is pushing the boundaries of what a light mounted to a firearm can do. It's a grant-no-compromise option to establish positive identification in the darkest of nights and through the brightest photonic barriers.
Who Is The Rein 3.0 For?
Like any weapon-mounted light, the Cloud Defensive Rein 3.0 is designed for defensive applications.
It would be at home on a cop's patrol rifle, a Marine's M27, or a home defender's weapon of choice. I'd never discourage anyone from getting the best gear possible, but this light might be wasted for the home defense role.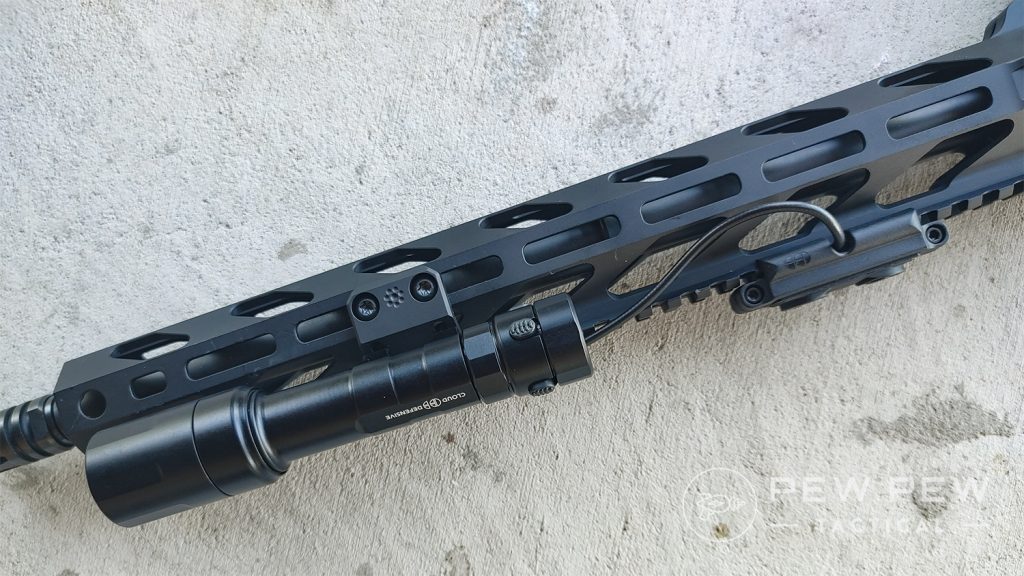 It's capable of throwing a lot of light, and all that light might not be that useful in the average home. If you aren't taking shots at 50 to 100 yards, you might not get everything you need out of the Rein 3.0.
Still, if you're a light nerd and just want the best, more power to you.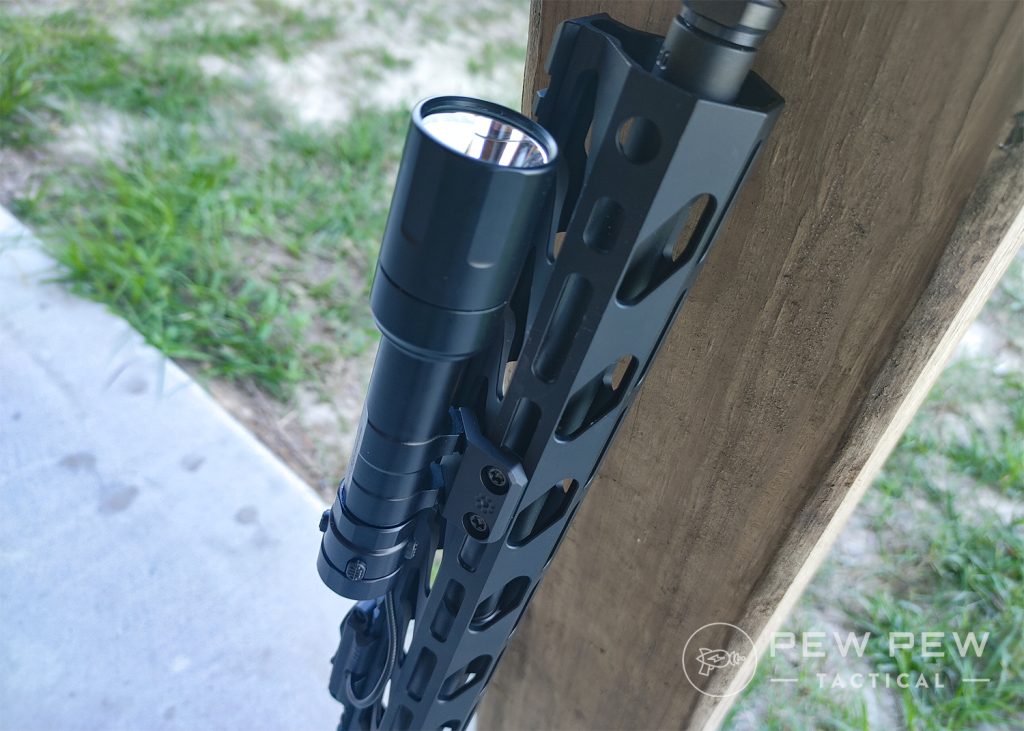 For police and military forces, the Rein 3.0 cuts through the fog, rain, and other photonic barriers like a knife through butter. It's at home in a rural setting and in an urban setting and can tackle the challenges presented by both environments with ease.
The Rein 3.0 is also a perfect light for light nerds. It's perfect for those guys and gals that get a kick out of what a light can do. I'm not a full-on light nerd, but every time a new Cloud Defensive light comes out, I deep dive into my inner light nerd.
Fit & Feel
Quality shows at every step, and that's apparent with the Rein 3.0. Its anodized finish is fantastic, and while mine is black, the best-looking model is the Olive Drab Green. The aluminum is smooth and evenly cut by precision CNC machines.
The controls are fantastic. Its button is clicky, tactile, and easy to press and activate.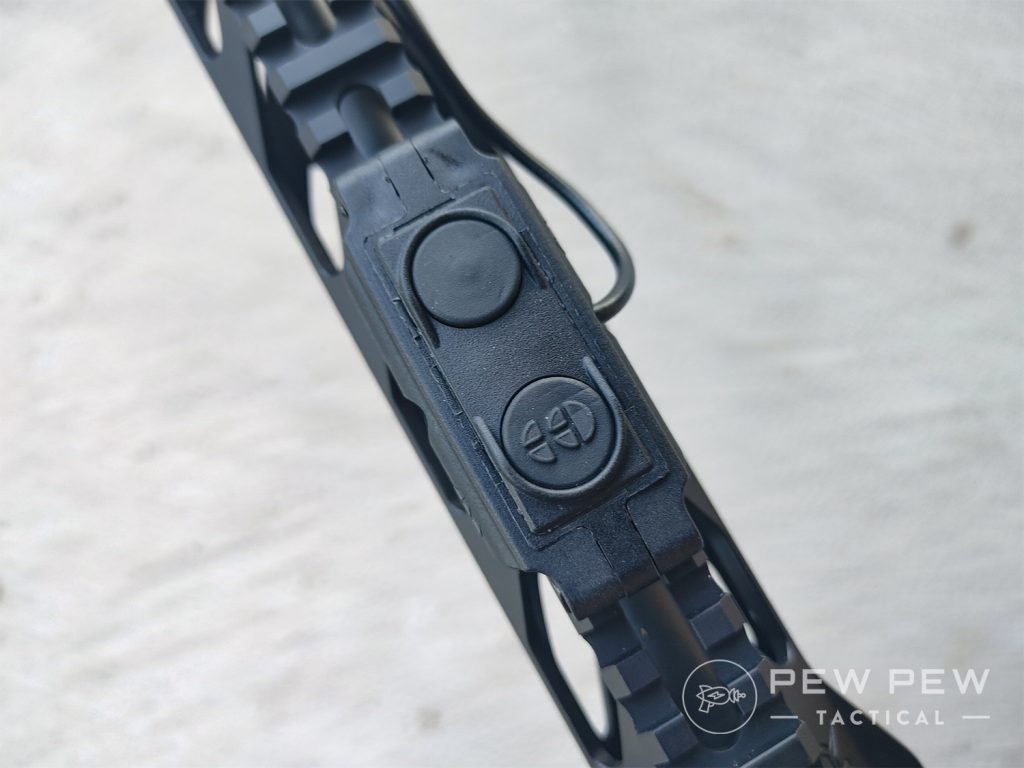 This light also mounts nicely and tight to your handguard. It doesn't stick out super far, and the 1.3-inch bezel it's a pain. Though it's not the flattest fitting light, with this much power coming out of the light, it's tough to make it any smaller.
Since the Rein 3.0 can use Surefire Scout light mounts, I decided to grab an Arisaka Offset Mount to take the light to new levels on my AR.
45
at OpticsPlanet
Prices accurate at time of writing
Prices accurate at time of writing
The Rein 3.0's pressure switch setup is to die for.
It's easy to install, and the method is ingenious all around. Both buttons provide a nice tactile feeling and give an easy choice between momentary and constant operation.
Using the Rein 3.0
Light nerd engaged…
With 100,000 candela, I was bothering my neighbors. Keep in mind, my neighbors are about a 10-acre field away from me. That beam cuts through darkness and eats it up, and downright scares it away.
With the Rein 3.0, I'm not scared of the dark…the dark is scared of me. Or the Rein, to be more specific.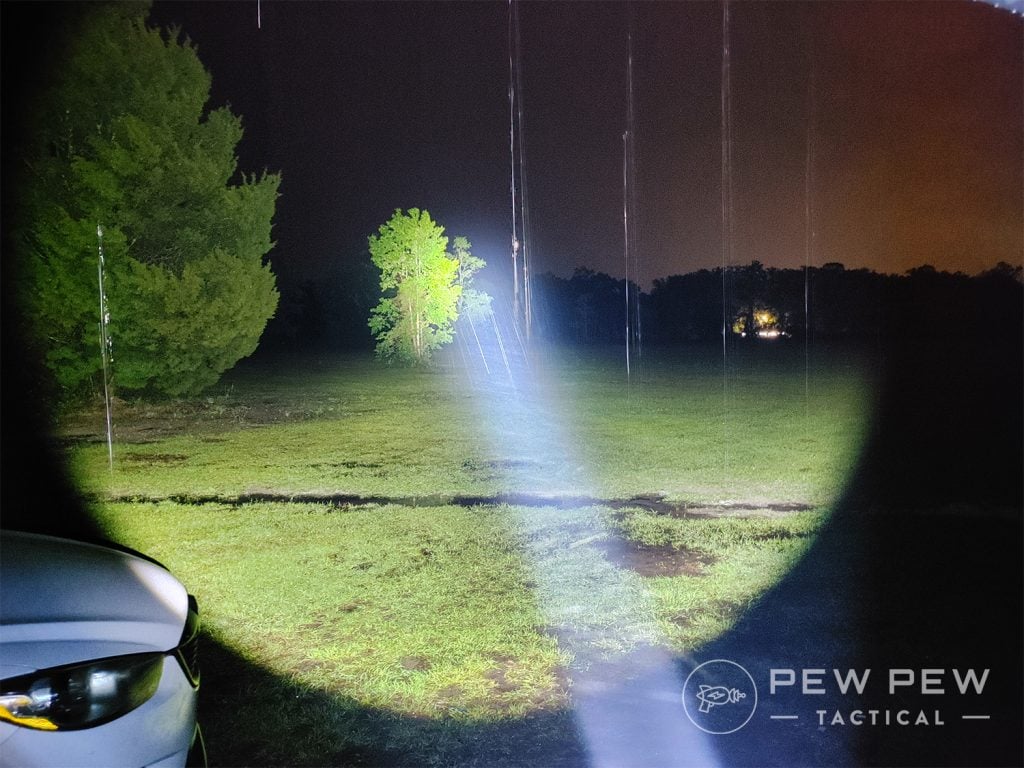 It allows me to see and identify targets at well over a hundred yards when using a magnified optic. I can zoom in and would be able to identify the color of a threat's pants and shirt and if they were armed or not.
The range is truly impressive, and I could easily pick off pests like coyotes or hogs without ever having to get too close to do so.
If I was an active Marine bopping across the next battlefield, I could easily tell a friend from a foe with the Rein without a potential foe getting too close.
One of the understated advantages of these ultra-powerful lights is the stand-off distance they can create. The light is bright and casts a beam quite far. Being able to identify a threat at greater distances is a clear advantage.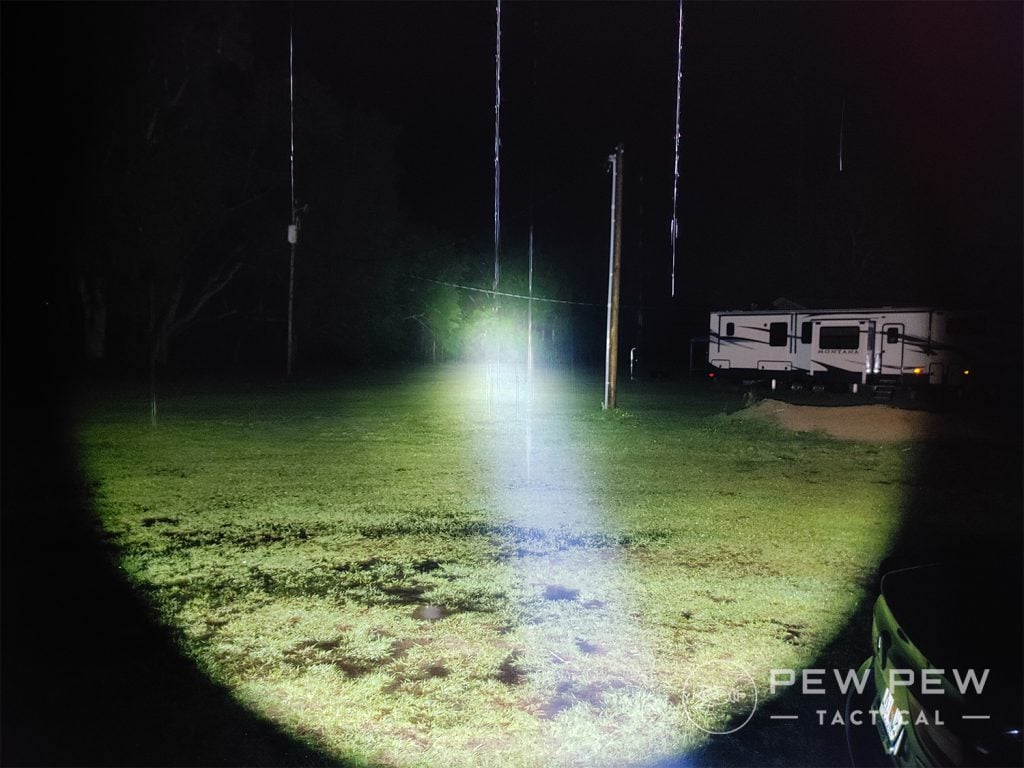 The Rein 3.0 provides us with a beam that is a combination of a focused hot spot and a large amount of spill. The hot spot is crazy bright and allows you to see clearly at long distances. The spill is less bright but provides good peripheral vision capabilities.
We get a clear cutoff between the hot spot and the spill, which helps prevent glare and makes it easier to see any potential threats. It's an impressive beam that works both at long ranges and up close and personal.
When we get to photonic barriers, there is no better tool to cut through them. The Rein 3.0 lays a siege down and destroys barriers created by rain, fog, and bright lights.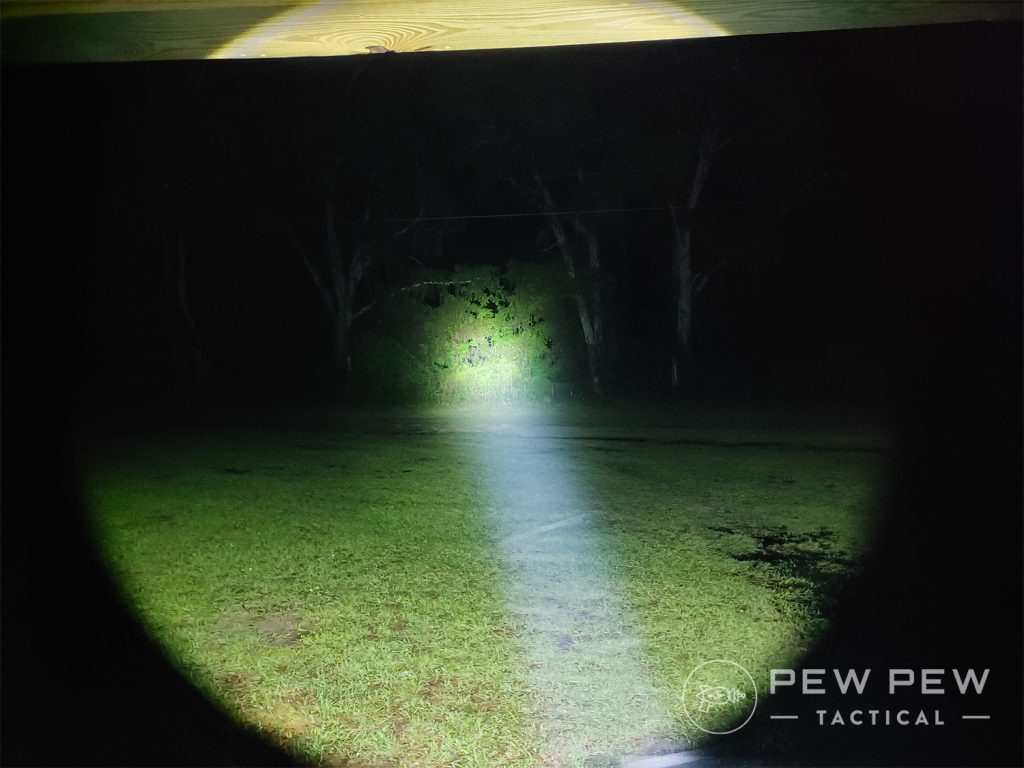 It cuts through other lights without issue, including Surefire Scout lights and car headlights, with ease.
If you need to overcome a bright light to identify a threat, the Rein packs that kind of power. It easily defeats lights with less candela output and puts them to shame. When you mean fog and rain, it cuts through, and spring in Florida means rain.
I went outdoors and tested this and could still see across that ten-acre field regardless of the torrential downpour I was experiencing.
Pedal Meet the Metal
This is a rifle light through and through. I love shotguns but feel this would be a waste on a shotgun just because of the extra range it offers.
When mounted to my rifle, it never offered up any issues during live fire. It shrugged its way through hundreds of 5.56 rounds and just kept ticking.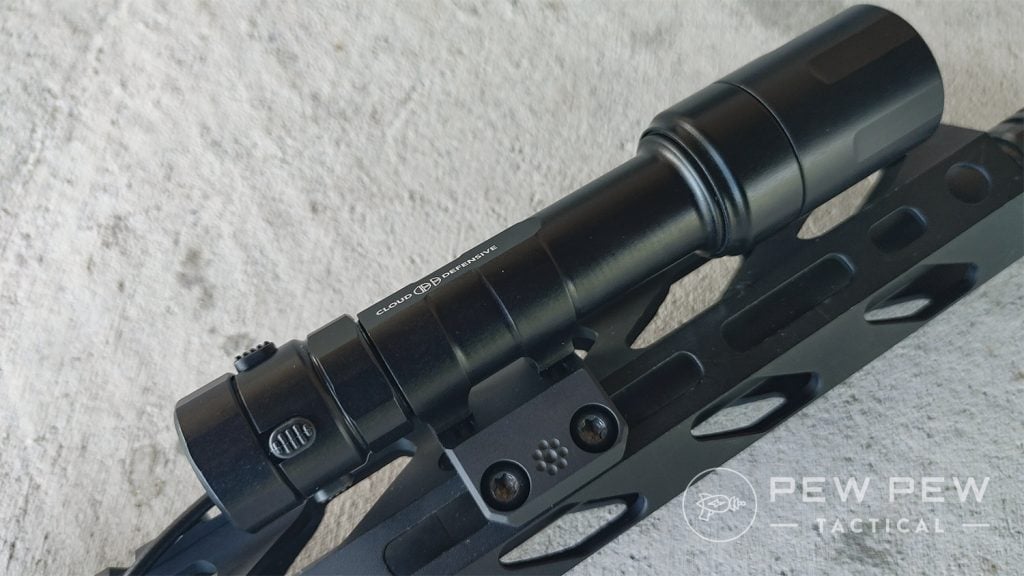 It doesn't flicker or flutter when faced with recoil, including that of an AR-10. The Rein 3.0 might be too tough to be pushed to the edge. Not only is it first in its class for power, but for durability.
The light uses a 3mm thick glass lens that is rated to take multiple 5.56 simmunition rounds at contact distance. It's IPX8 rated and can be submerged to 100 feet for 24 hours and still function.
It's a light designed to last. As the owner of a Rein 2.0, I can testify they last for years without issue. Hell, there isn't even any noticeable parasitic drain.
The 3.0 lives up to its ancestor's reputation.
What Sets It Apart
The power, dear boy! It's the power! 100,00 candela is insane. For comparison, the REIN 2.0 was considered crazy powerful with 71,000 candela. They used that 29,000 candela.
The difference between the REIN 2.0 and 3.0 leaves a gap bigger than most other companies' actual light power. As far as I can tell, this is the most powerful weapon light ever created.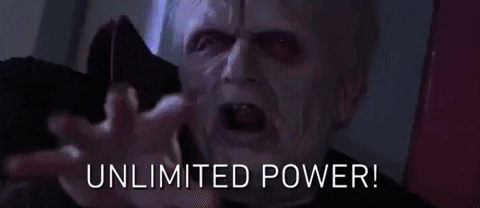 One of the nice surprises was the dual fuel capability.
Not only can this thing use the included 18650 battery, but also a pair of CR123s.
15
at Amazon
Prices accurate at time of writing
Prices accurate at time of writing
I have an OWL, and there are warnings everywhere that using CR123s will damage the light and void your warranty. So, I was pleasantly surprised to find out they've mastered dual fuel with the new Rein.
You can't expect the same amount of power or battery life from two CR123s, but you do get enough light to fight. In terms of battery compatibility, the Rein 3.0 can eat up all the 18650s you got, protected and unprotected, button and flat top options all work inside the Rein 3.0.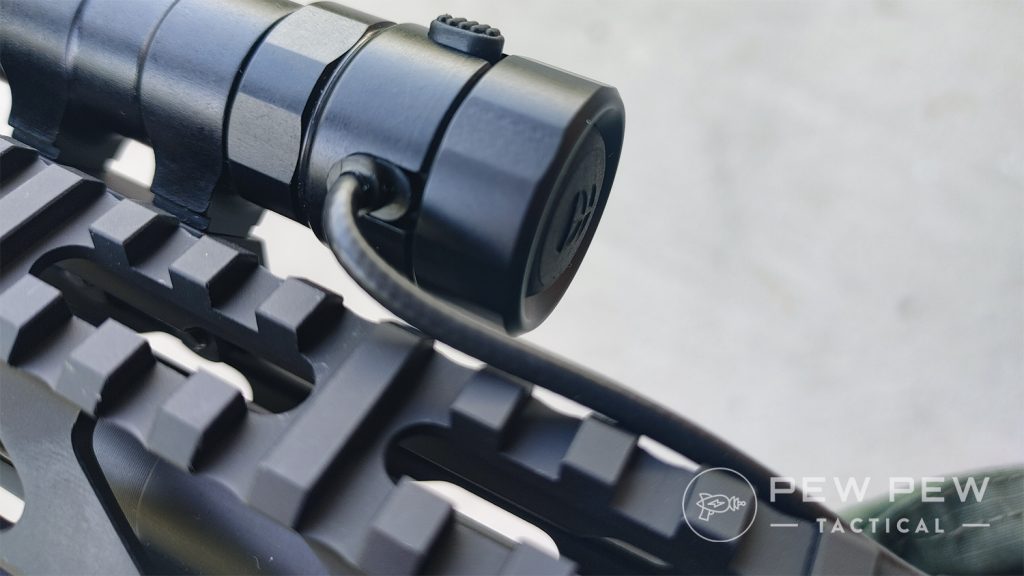 With the Rein 3.0, Cloud sends the same awesome switch found on the Rein 2.0. The pressure pad design allows for easy momentary or constant on use, as well as a clicky button rear if you prefer it.
The rear switch offers integrated cable control and four positions to direct the cable appropriately.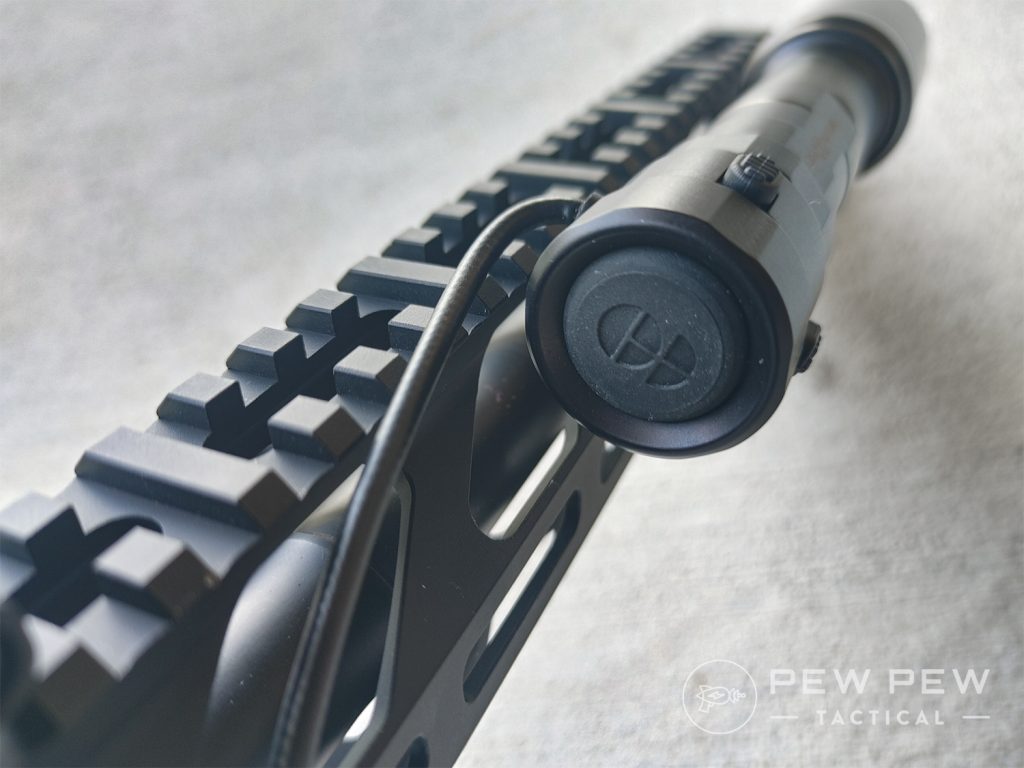 To be clear, you don't have to choose between a pressure switch and a click tail cap. You get both. The pressure switch even has tactile indicators to let you know if you are hitting the momentary or constant on button.
The Rein 3.0 ships with a simple Picatinny mount but is compatible with all Surefire Scout Light Mounts. Cloud Defensive also makes a number of aftermarket mounting solutions.
By the Numbers
Power: 5/5
Nothing beats the REIN 3.0. It's insanely powerful, and you can tell from the moment you accidentally blind yourself with it. It kills photonic barriers, eats through the dark, and makes it easy to see far and wide after the sun sets.
Reliability: 5/5
Rain and recoil certainly won't stop it, and it's designed to shrug off simmunitions and impacts. The thick glass, sealed body, and aluminum design keep things rugged.
Ergonomics: 5/5
I love the pressure switch, and I love the rear clicky tail cap button. The revised mounting system keeps the light closer to the gun, and I'll deal with a little extra size for the power benefits.
Value: 4/5
Cloud Defensive has delivered once more and released an extremely capable and powerful light that blasts away the competition and leaves them blind and stunned, but it's also $399, which might be out of reach for a lot of consumers.
Overall: 4.5/5
399
at Cloud Defensive
Prices accurate at time of writing
Prices accurate at time of writing
Final Verdict
The Rein 3.0 weapon-mounted light is the one to beat. Its power, durability, and excellent ergonomics make it a dominating force in the dark. If you don't mind a $400 price tag, you will love the Rein 3.0.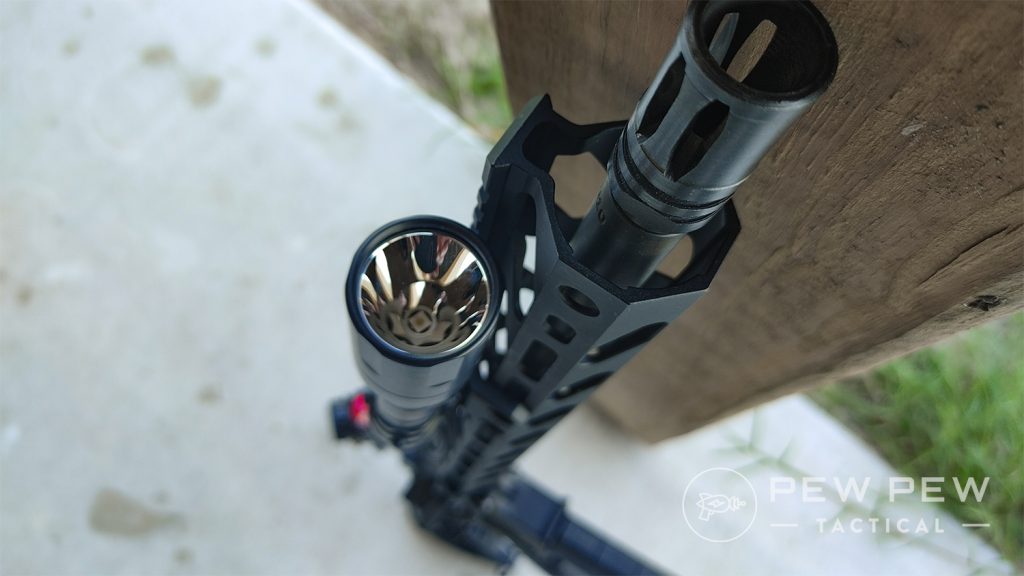 Now excuse me. I have light-nerd things to do.
What do you think of the Rein 3.0? Let us know in the comments below. For more lights, check out our suggestions for the Best AR-15 Weapon Lights.