The Ruger 10/22 is an iconic rifle and one of the most popular starter platforms for beginner shooters.
It's high-quality but affordable and the .22 Long Rifle chambering makes it easy to shoot.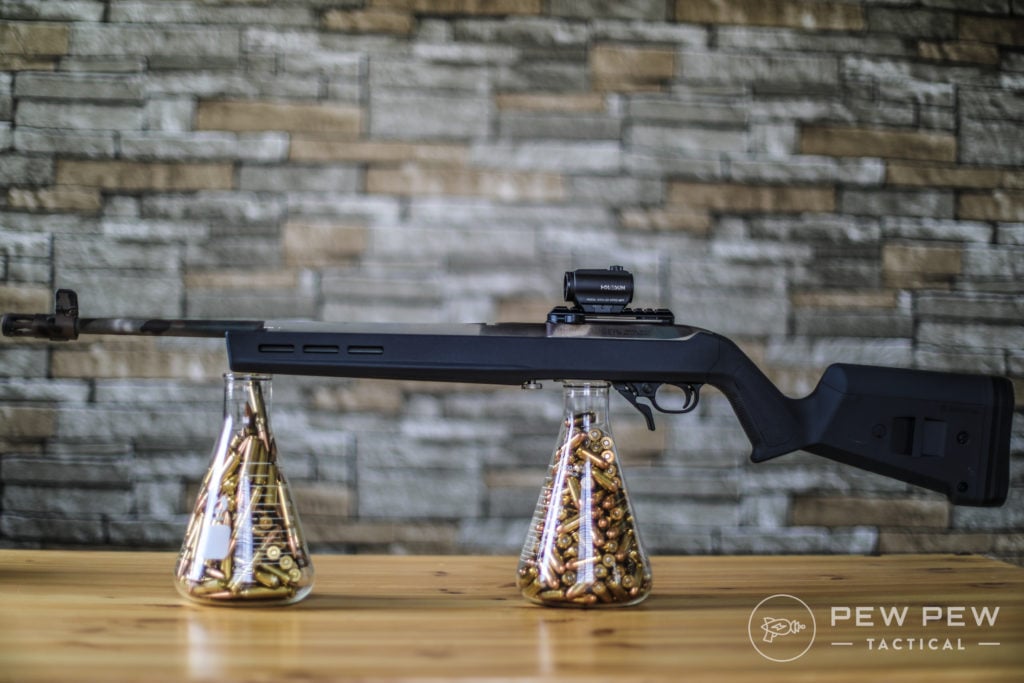 The Ruger also offers aftermarket support with accessories and upgrades, so it's easy to customize this little rifle to fit your needs and wants.
But how did the 10/22 reach its current level of popularity in the first place?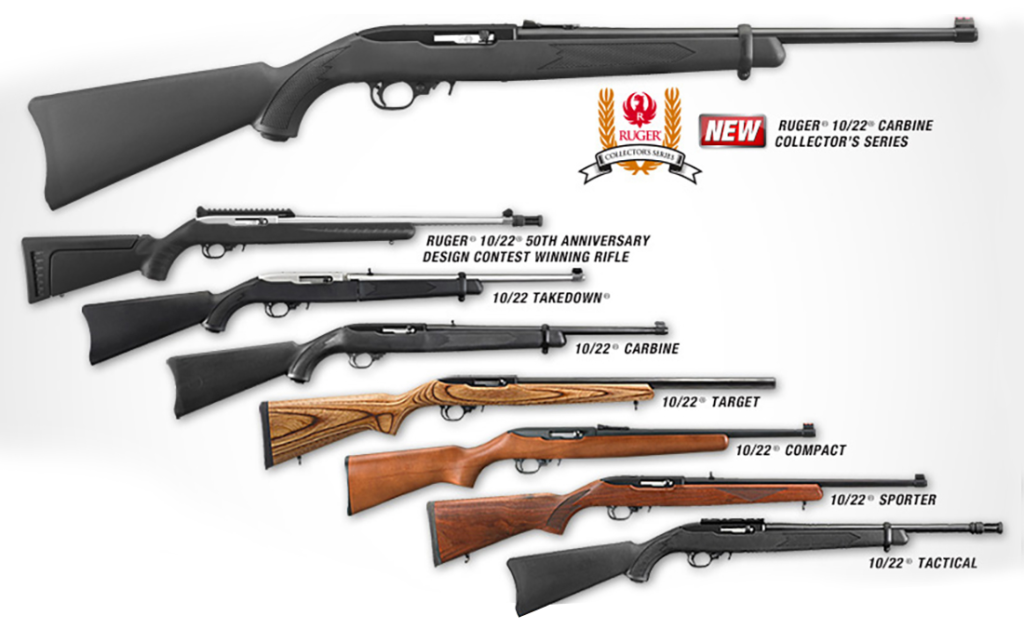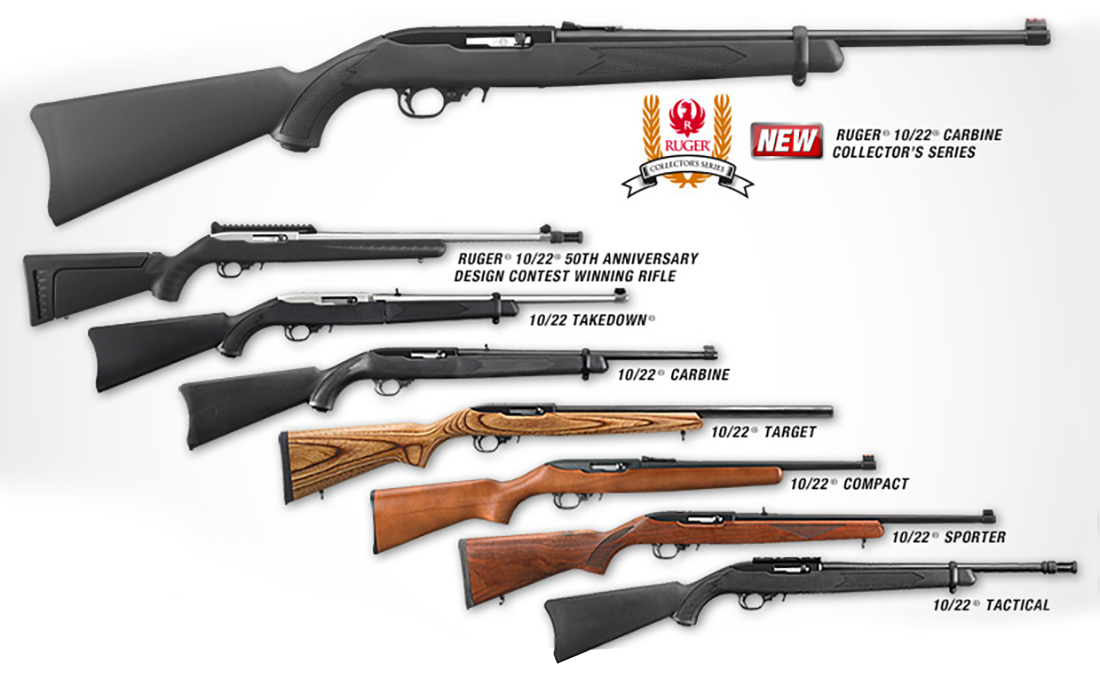 Let's talk about that!
We'll evaluate the history of this venerable rifle to see how it went from new-kid-on-the-block to a revered and beloved rifle platform.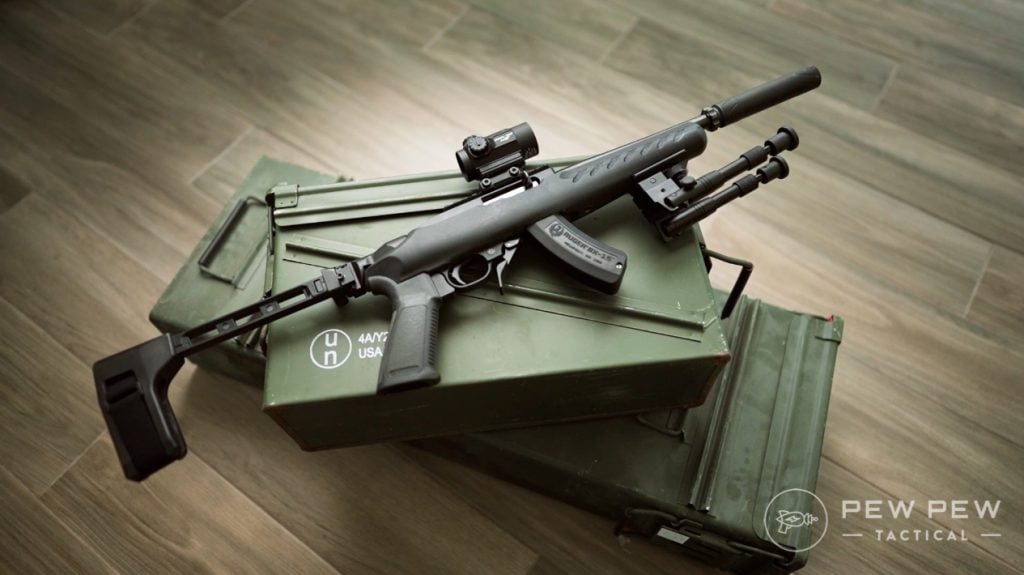 Then we'll lay out some of our favorite 10/22 models so you know what's worth that hard-earned cash.
Summary of Our Top Picks
Table of Contents
Loading...
From Humble Beginnings
When Ruger released the 10/22 in 1964, the firearm manufacturer already had a reputation for high-quality yet cost-effective firearms.
The 10/22, a semi-automatic carbine chambered for .22 LR, was no exception.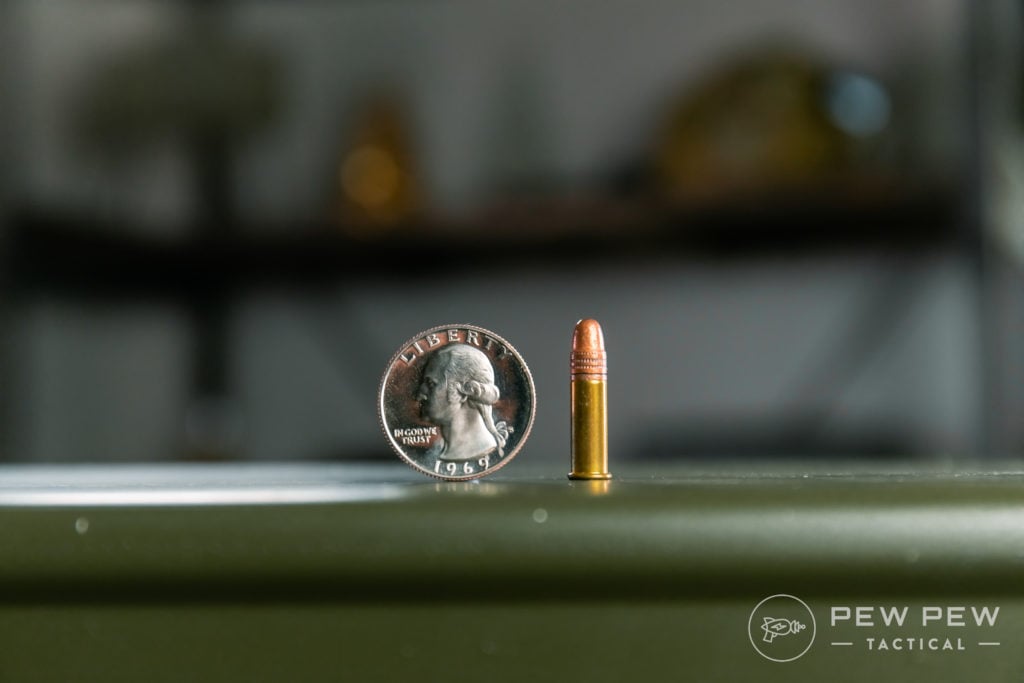 From the start, the 10/22 brought an affordable, reliable, lightweight, and easy-to-shoot rifle to consumers.
It was originally released as a companion to Ruger's .44 Magnum Carbine, but the 10/22 quickly usurped the .44 Magnum Carbine in popularity.
Eventually, Ruger stopped production of the older rifle altogether in 1985.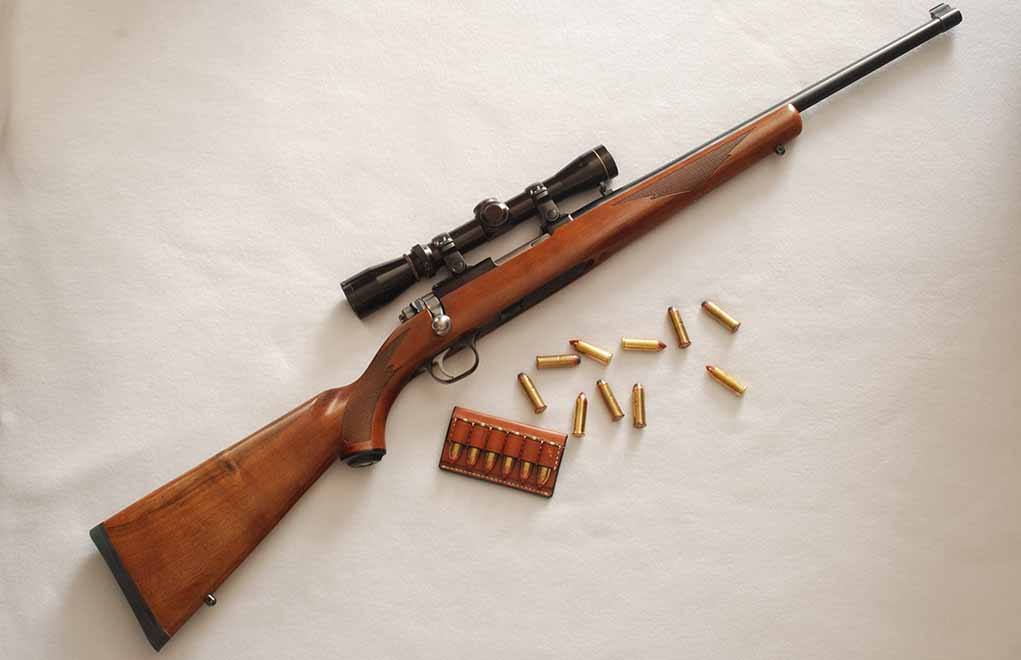 The original Ruger 10/22 boasted a walnut carbine stock, aluminum alloy receiver, and 18.5-inch blued barrel.
Just a year later, in 1965, the walnut stock was ditched and Ruger, instead, went with birch and maple stocks — the latter called the "hardwood" option.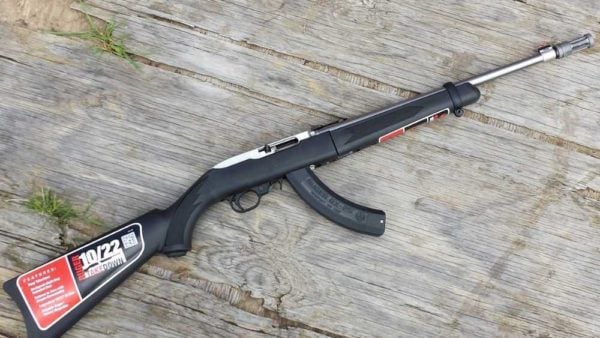 At the same time, the Ruger 10/22 got its Carbine designation, which would become important to differentiate this version from the other 10/22 models that Ruger would produce in the future.
Part of the immediate popularity of the Ruger 10/22 resulted because of a few different features that made it stand apart from other contemporary .22 rifles of the time.
Ruger 10/22 Stand-Out Features
There were three main features that differentiated the Ruger 10/22 from other rifles — all of which remain hallmarks of the platform today.
Barrel Block
The 10/22 uses a V-block mounting system with two screws.
This makes it easy to attach and remove the barrel with no gun smithing knowledge needed.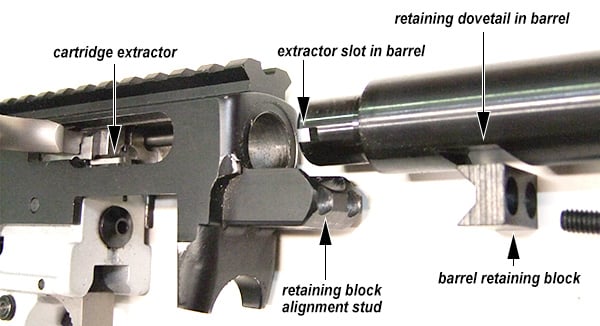 While Ruger instituted this system for easy manufacturing, it also makes barrel swaps super simple.
And it laid the foundation for the vast availability of 10/22 customizations and upgrades.
Rotary Magazine
The rotary magazine played a key part in the success of the 10/22.
Before this, box magazines were a little unreliable in the .22 LR world (as many still are), and tube magazines are slow and cumbersome to load.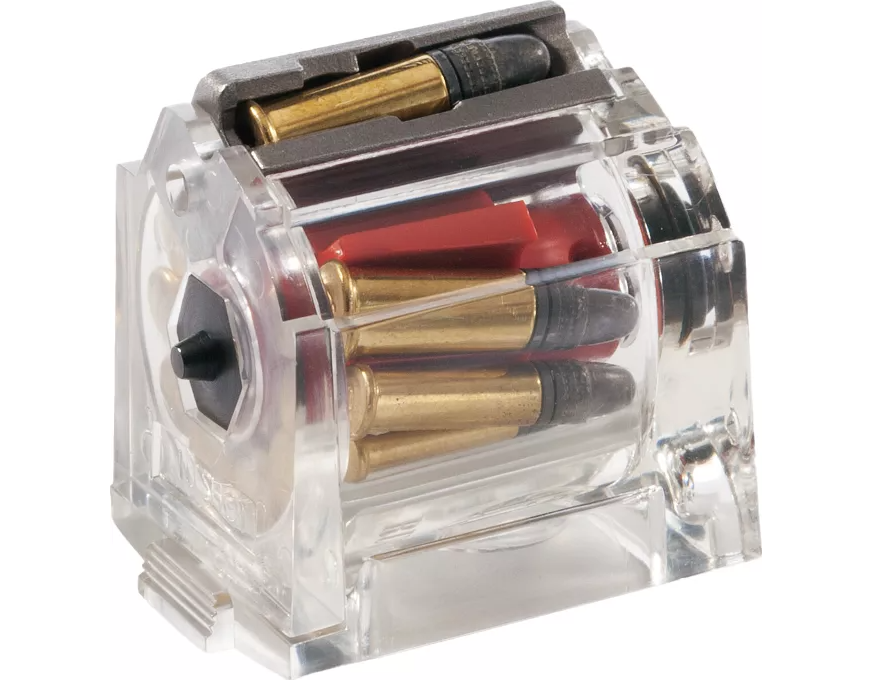 Enter the rotary magazine to save the day!
This magazine style granted a more reliable feeding of rimfire ammo than most box mags.
It also still gave shooters a detachable mag that could be quickly and easily reloaded or swapped for a fresh one.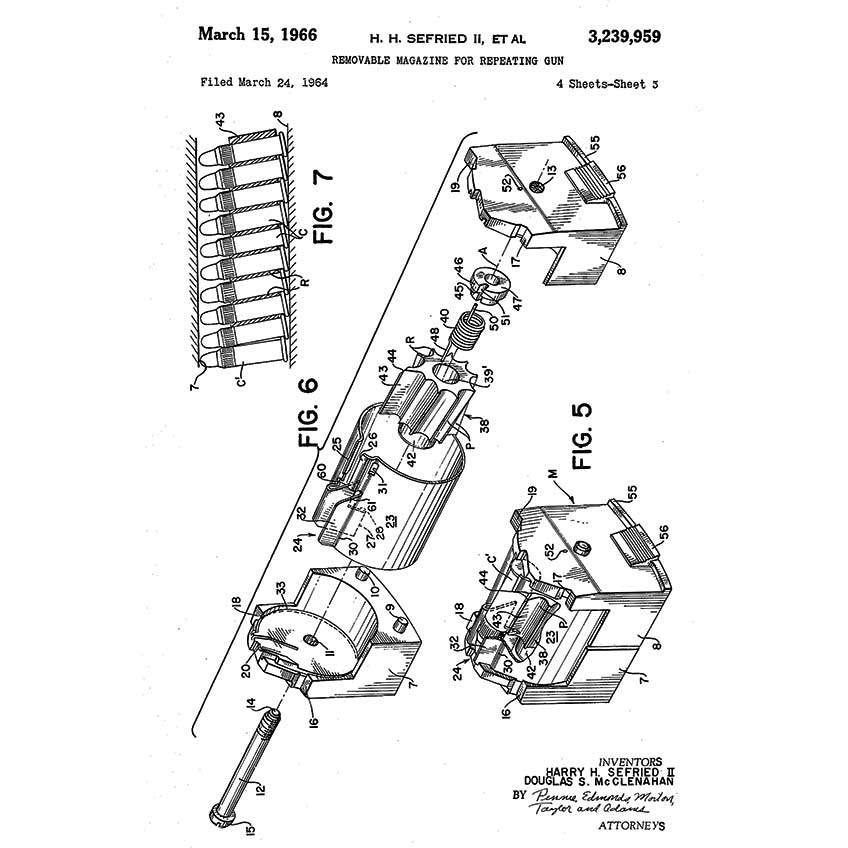 Breechblock Decelerator
The last feature that made the 10/22 stand out was the breechblock decelerator.
At the time, a major difficulty that designers of semi-automatic firearms contended with was the speed of the bolt cycle and the magazine cycle.
They needed to ensure the bolt cycle gave enough time for the magazine to put the next cartridge in position for the bolt to pick it up — otherwise, the gun would have nothing in the chamber to fire.
That's where the breechblock decelerator came in. Ruger designers designed a way to slow the rate at which the breechblock moved back.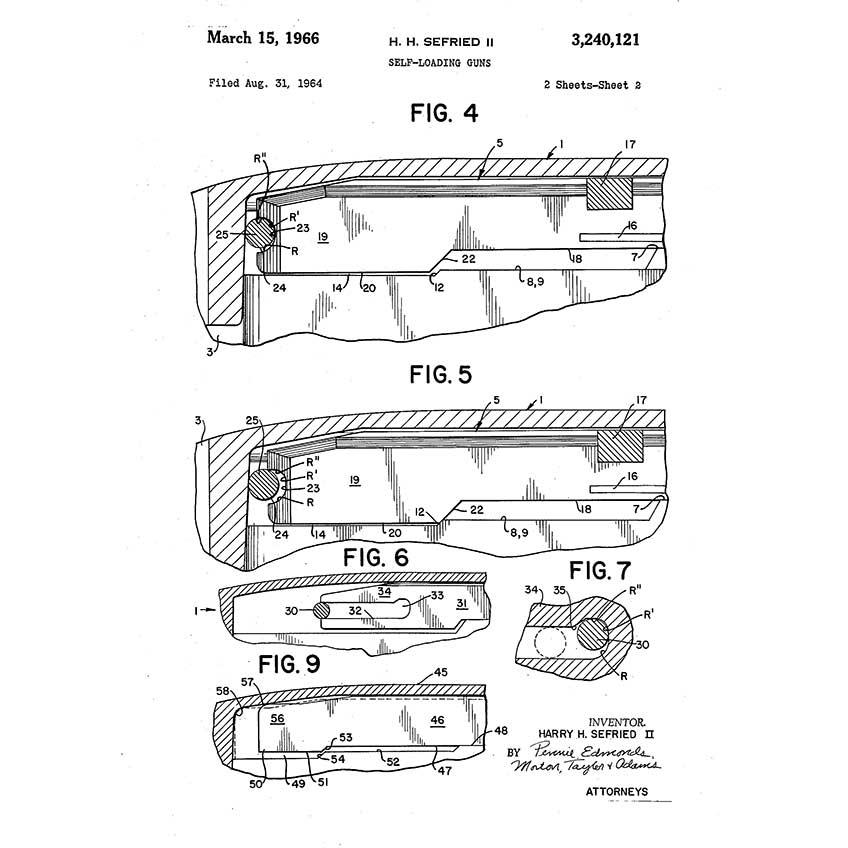 They added a cam action to do so with no extra parts needed.
Not only did this change make the 10/22 more reliable, it also kept with the simple design we know and love.
The Ruger 10/22 Today
Today, the Ruger 10/22 is one of the most popular firearms on the planet, and is the gold standard for rimfire rifles for most of the world.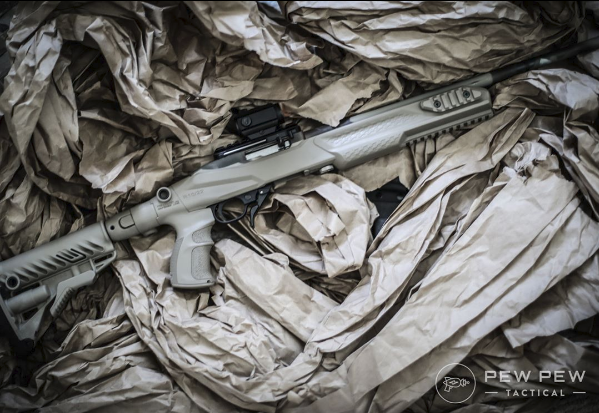 This is going to be many people's first firearm, and the insane modularity and aftermarket support mean you can build one for just about any use you can imagine.
For example…

You can literally just build a 10/22 without using a single Ruger part, which says a lot about how robust the support for this awesome gun is.
They're like the Glock of the rifle world!
And of course, Ruger makes a number of models with various stocks, barrel lengths, and finishes to choose from, including a really excellent Takedown model.
So, there's a variety of choices, which leads us…
Best Ruger 10/22 Models
1. Ruger 10/22 Carbine, Model 1103
The Ruger 10/22 Carbine is the OG of 10/22 variations, now considered the standard 10/22 variation.
So it's only appropriate that it's where we start.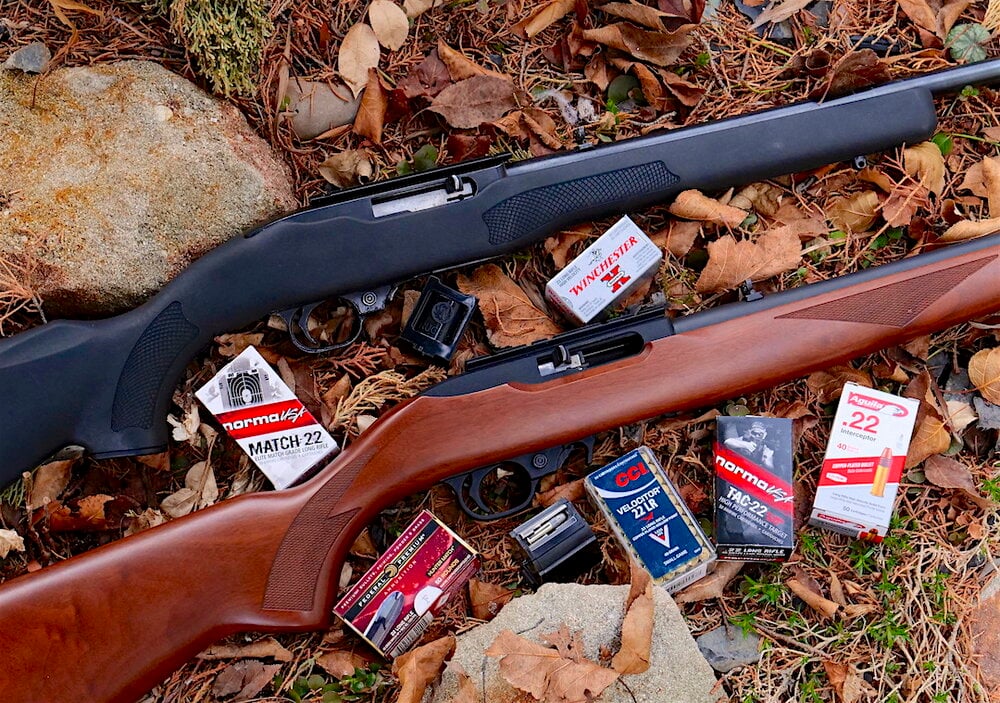 Now, realistically, any of the 10/22 Carbines are great for general purpose and just shooting for fun.
They all have the same simple design, with an 18.5-inch barrel and 37-inches overall length, as well as an adjustable rear sight and a gold bead front sight.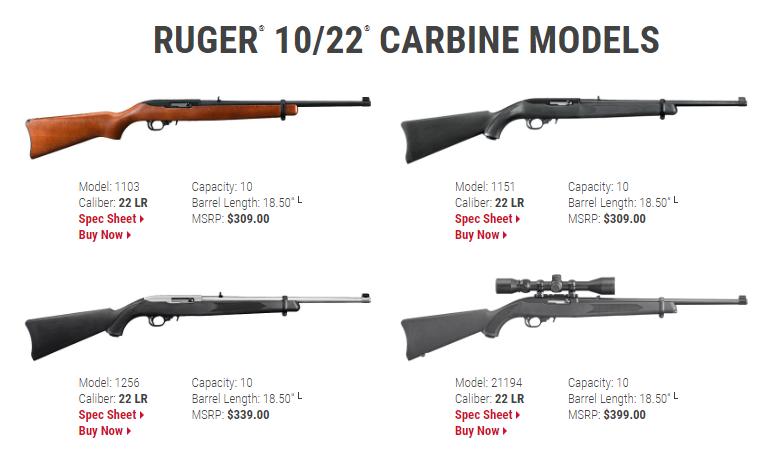 The only reason I pick the Model 1151 over the others is that I personally prefer the classic hardwood stock for a classic rifle like this one.
If you like the black synthetic stock, any of the other 10/22 Carbine models will do just fine.
And just in case you got a recommendation from a friend and are feeling a little confused, Ruger used to call the Carbine models with the synthetic stock their All-Weather models, and then their Synthetic models, but now they're just categorized as 10/22 Carbines.
But that brings us to our next model…
BEST FOR PLINKING & GENERAL USE
289
at Kygunco
Prices accurate at time of writing
Prices accurate at time of writing
How do you like the most classic Ruger 10/22 model?
2. Ruger 10/22 Carbine, Model 21194
Another 10/22 Carbine, the Model 21194 is my top Ruger 10/22 choice for hunting.
It has the same advantages as the other 10/22 Carbines: it's got a light and compact build and is super easy to shoot.

The black synthetic stock also gives this model some extra protection against the weather and any bumps it takes while your traipse through the wilderness in search of your prey.
But what really makes the Model 21194 stand out from the other 10/22 Carbine models is the included Weaver 3-9×40 scope with a Dual-X reticle.
This waterproof, fog proof, and shockproof scope is perfect for hunting varmints and small game.
217
at Palmetto State Armory
Prices accurate at time of writing
Prices accurate at time of writing
3. Ruger 10/22 Sporter
The 10/22 Sporter is the classic model with the wood or wood-like stock that many of us probably remember as young shooters.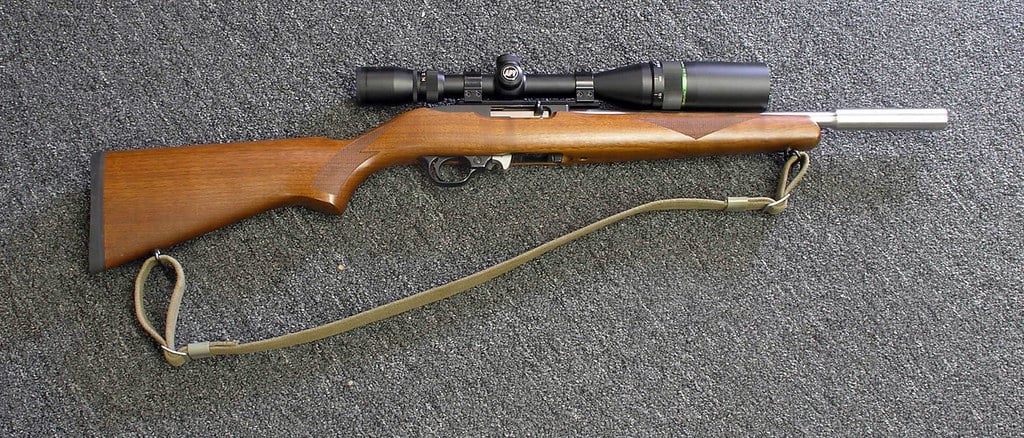 This is the OG model that mimics the original design pretty closely.
It offers a 10-round capacity, making it legal in most states. A barrel length of 18.5- to 22-inches keeps it short and handy for plinking and pest control.
And there are enough distributor-exclusive models out there that you can almost certainly find one with the exact style of stock that you want.
Overall, the Sporter is a classic model that won't light the world on fire, but it certainly won't disappoint either. 
And it differs from the 1103 with a floating barrel for increased accuracy. Plus the stock is a little nicer quality wood.
OG Model
324
at KY Gun Co
Prices accurate at time of writing
Prices accurate at time of writing
4. Ruger 10/22 Target
The 10/22 Target is, as the name suggests, optimized for target shooting.
This is one of the more precise auto-loading .22 rifles out there, especially in this price bracket.
So, if you're looking to get into say, NRL22 on the cheap, this is a good place to start.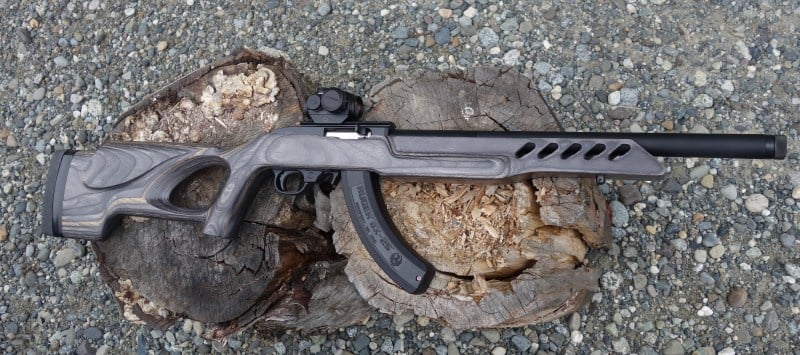 It has a 2- to 3-pound adjustable trigger, a laminate stock with a thumbhole, and an aluminum barrel sleeve that keeps the gun lightweight.
But the barrel still gives you the look and some of the heat dissipation benefits of a true bull barrel.
All in all, this is a great one for a classic target rifle, and is a super fun one for shooters of all ages.
649
at Palmetto State Armory
Prices accurate at time of writing
Prices accurate at time of writing
5. Ruger 10/22 Compact
If you're in the market for a 10/22 to keep in your toolbox or trunk, or maybe to carry with you in the boat, the 10/22 Compact is a great option. 
It features an overall length of 34-inches and a barrel length of 16.1-inches.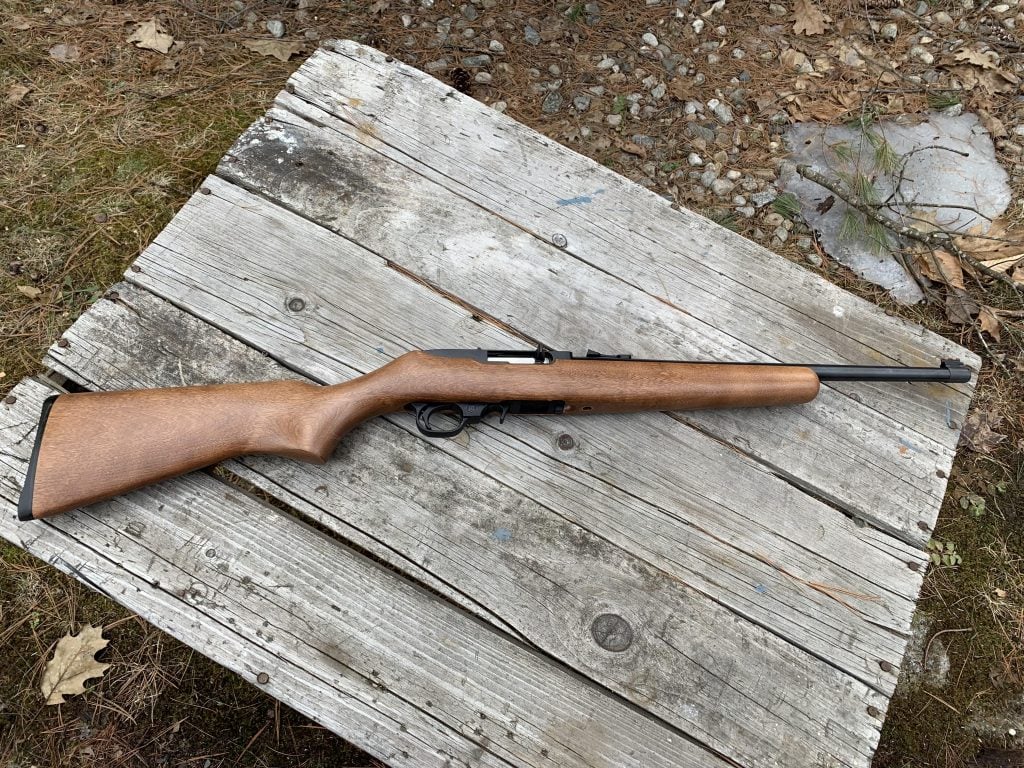 The Compact weighs in at just 4.4-pounds, making it a great option for moving in and out of vehicles or storing in a backpack sleeve.
This is probably the best choice of all for a young shooter as it's sized more appropriately for shorter arms, and won't tire them out by being too heavy either.
If you're looking for little Jack or Jill's first firearm, you could certainly do worse than the 10/22 Compact…and you're gonna have to try pretty hard to do any better.
299
at Palmetto State Armory
Prices accurate at time of writing
Prices accurate at time of writing
6. Ruger 10/22 Charger
Next, we have something of an odd option, the 10/22 Charger is basically just a chopped down 10/22 that's been made into a pistol.
This is a great choice for a fun range gun or keeping in a bag or pack. Then again, it's a great addition as another 10/22 to your collection.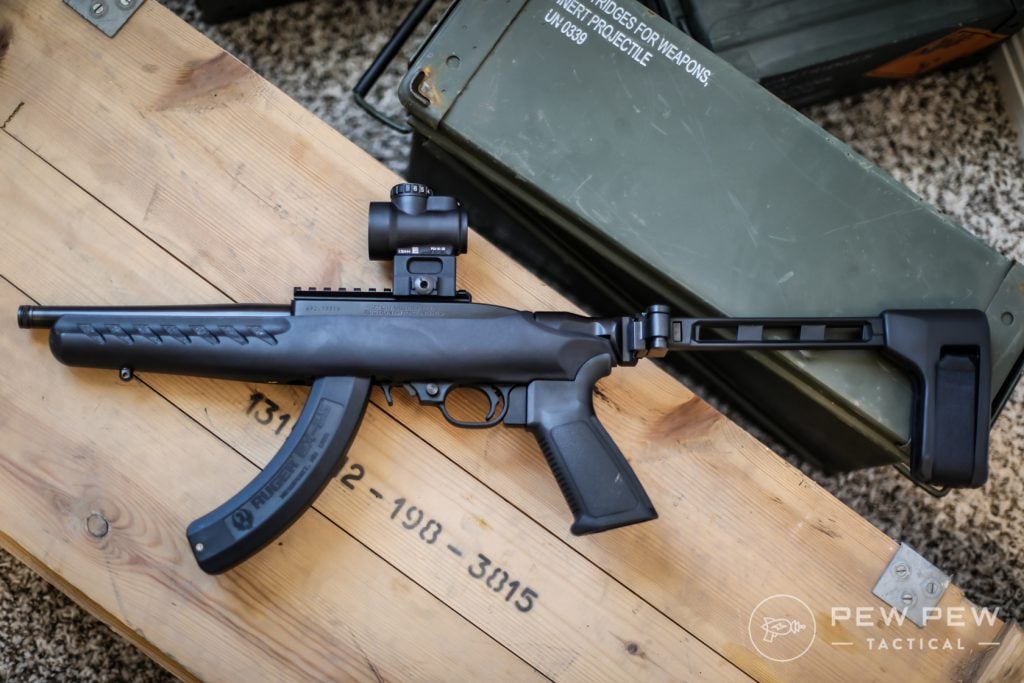 Personally, I love it for a fun gun.
It brings a length under 20-inches, so it tucks away almost anywhere especially with a folded pistol brace.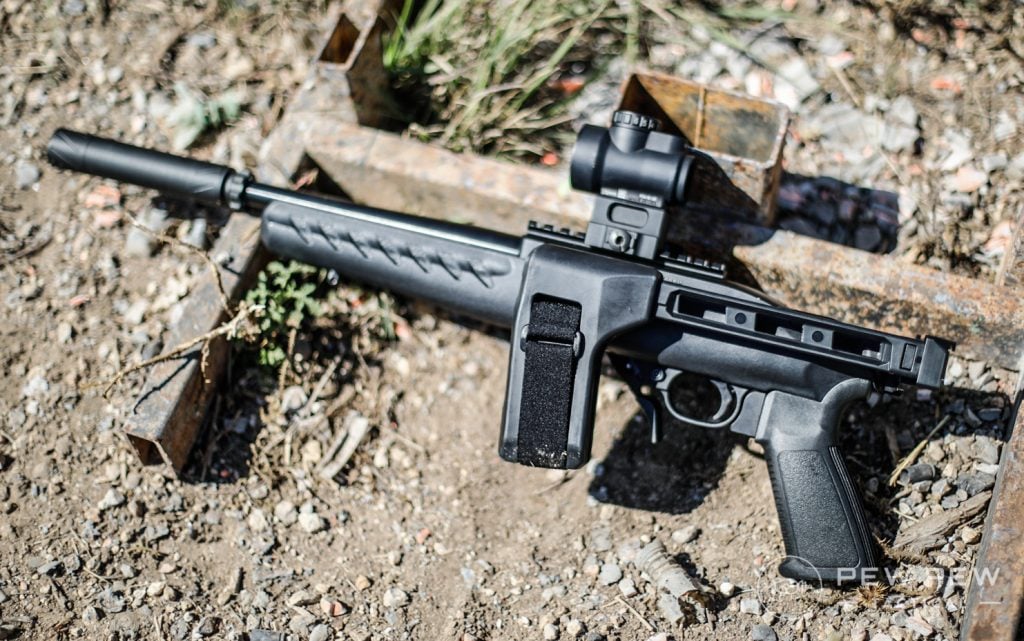 And it practically begs to be suppressed (Best Rimfire Suppressors).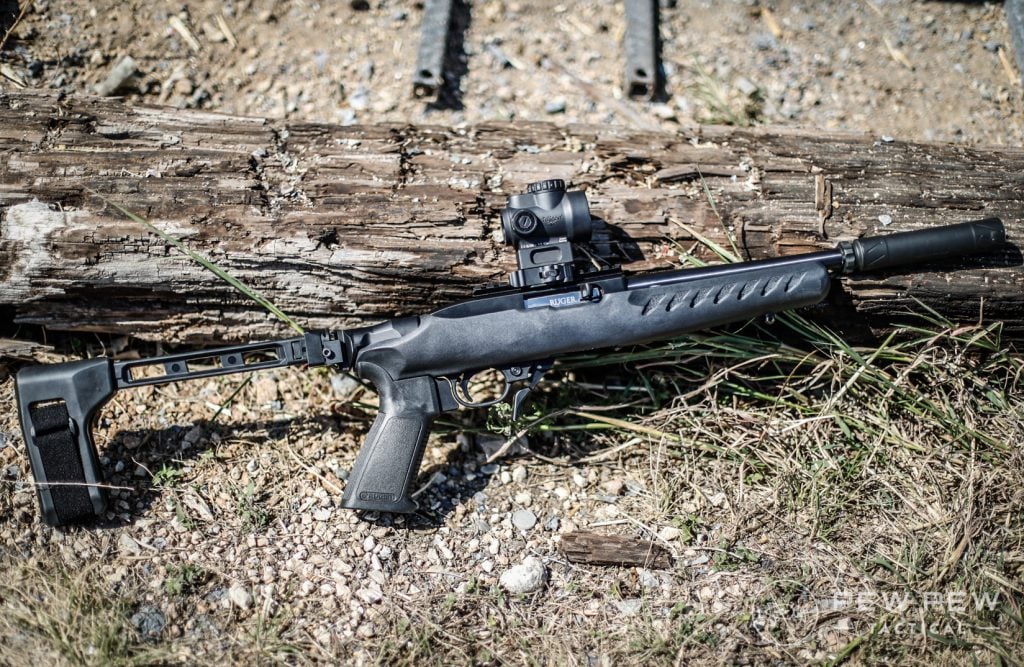 Dispatch a pesky varmint or take an impromptu trip to the sandpit to blast some soda cans (and then pick them up after) with the Charger.
279
at GrabAGun
Prices accurate at time of writing
Prices accurate at time of writing
Want more deets on the 10/22 Charger? Read our full review or see the Charger in action below.
7. Ruger 10/22 Tactical
The 10/22 Tactical adds a top rail and an A2-style flash hider to give it a slightly more menacing look.
Personally, I like it just because it's one of the better models for mounting a red dot or other Picatinny-ready optic right out of the box.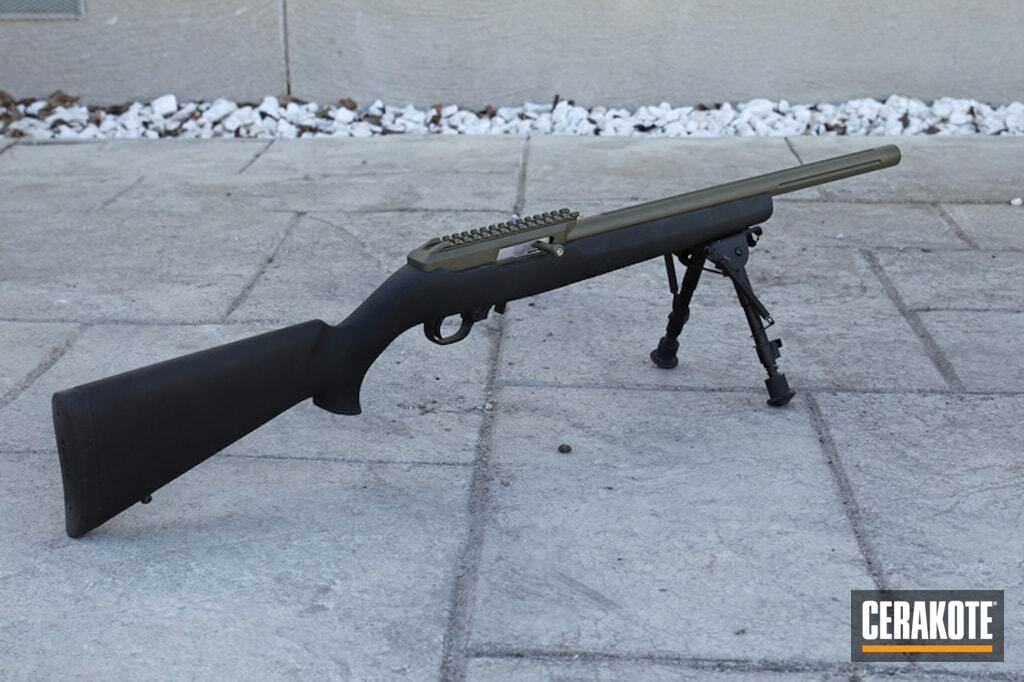 This makes it a superb choice for a cheap entrant into rimfire carbine competition.
Not to mention, it also serves as an immensely fun gun at the range. And if that's not enough, it's pretty decent on the hunt.
BEST FOR UPGRADING
350
at Brownells
Prices accurate at time of writing
Prices accurate at time of writing
8. Ruger 10/22 Takedown
Finally, we have my personal favorite, the 10/22 Takedown.
This one, as you probably guessed, breaks down into two halves, making it the ultimate backpacking or camping rifle.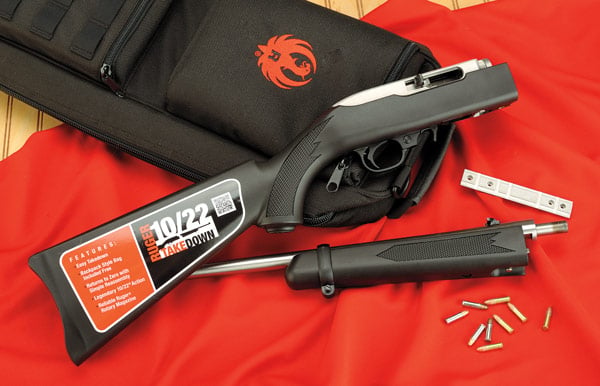 You'd be hard-pressed to find a better option for a full-size survival rifle or a rimfire rifle that's easier to store. (Other than the AR-7.)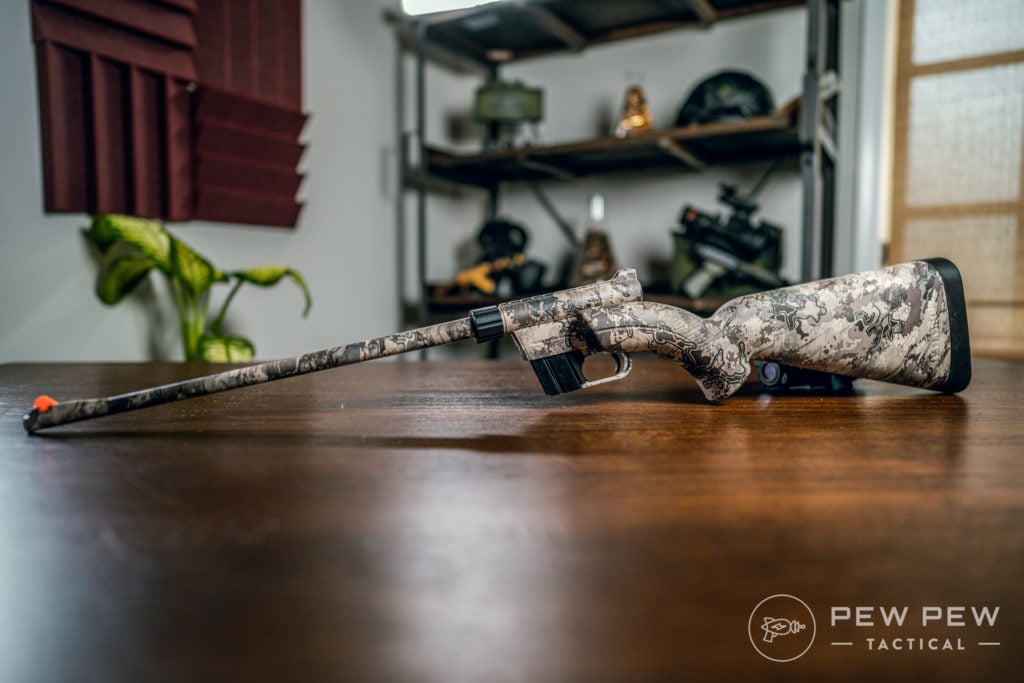 Besides, it splits in half for storage and transport.
So, it basically serves as a standard 10/22, with all the features and modularity you've come to expect from the model, but in a totable package.
383
at GrabAGun
Prices accurate at time of writing
Prices accurate at time of writing
9. Ruger Custom Shop 10/22 Competition
The Ruger 10/22 Competition entered Ruger's lineup in October 2018.

The 10/22 Competition was designed, as the name suggests, to provide Rimfire Challenge competitors with a top-of-the-line 10/22 ideal for the range.
Every part of the rifle has been optimized to accomplish that goal.
The 6061-Tg511 aluminum receiver is CNC-machined, hard-coat anodized, heat-treated, and stress-relieved. It offers an integrated 30 MOA Picatinny rail, ready for your preferred optic.
A second bedding lug keeps the stock firmly attached to the laminated stock. Speaking of the stock, it comes painted and textured to provide a more secure grip.
A vertically and horizontally adjustable cheek rest allows the shooter to position the rest in the way that feels best for them.
The 16.125-inch, heat-treated, 4140 steel free-floating bull barrel is fluted for reduced weight and improved heat dissipation.
Not to mention, it opts for a threaded muzzle for any barrel accessories you like.
899
at Palmetto State Armory
Prices accurate at time of writing
Prices accurate at time of writing
Potential Upgrades
Besides the AR-15 and Glock…you'll be hard-pressed to find another firearm with as much aftermarket support as the 10/22.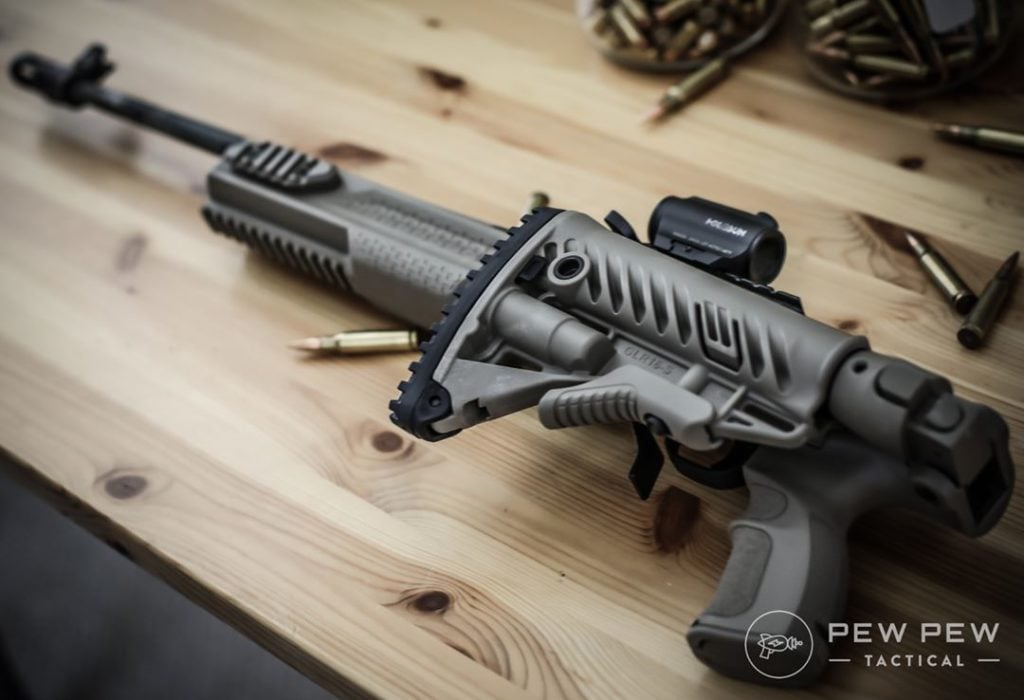 There's a bazillion stocks,sights, and accessories to fit your mood.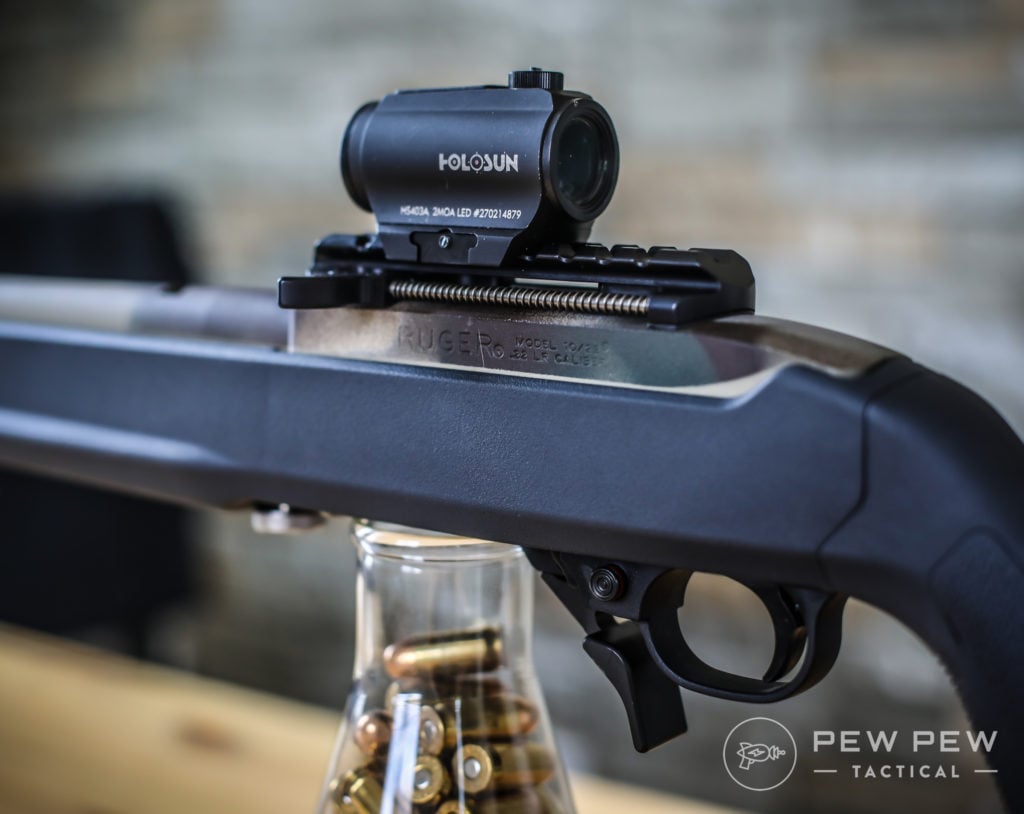 Plus what I think is the best mod is a trigger upgrade…there's plenty of those too.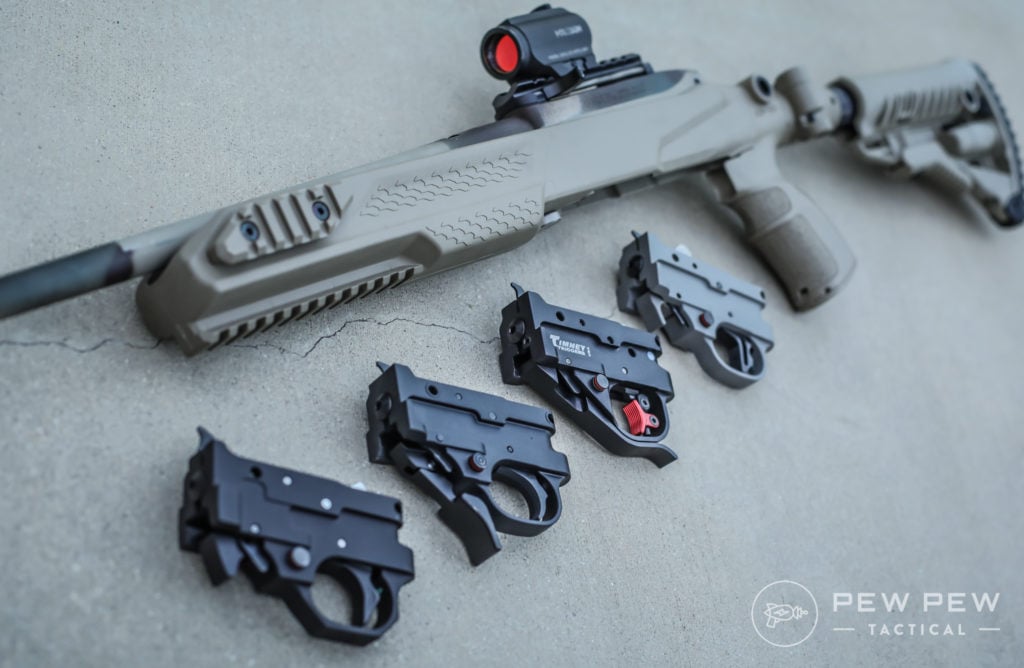 Find out everything we love in Best 10/22 Upgrades and specifically…Best 10/22 Triggers.
We've also got all you need in terms of optics with our Best 10/22 Rimfire Scopes & Optics.
Conclusion
The Ruger 10/22 is an iconic firearm and with incredibly good reason.
This humble rimfire rifle earned its place as one of the most popular and well-loved guns on the planet thanks to a stellar design, a wide variety of first and third-party support, and a fanatical fan base.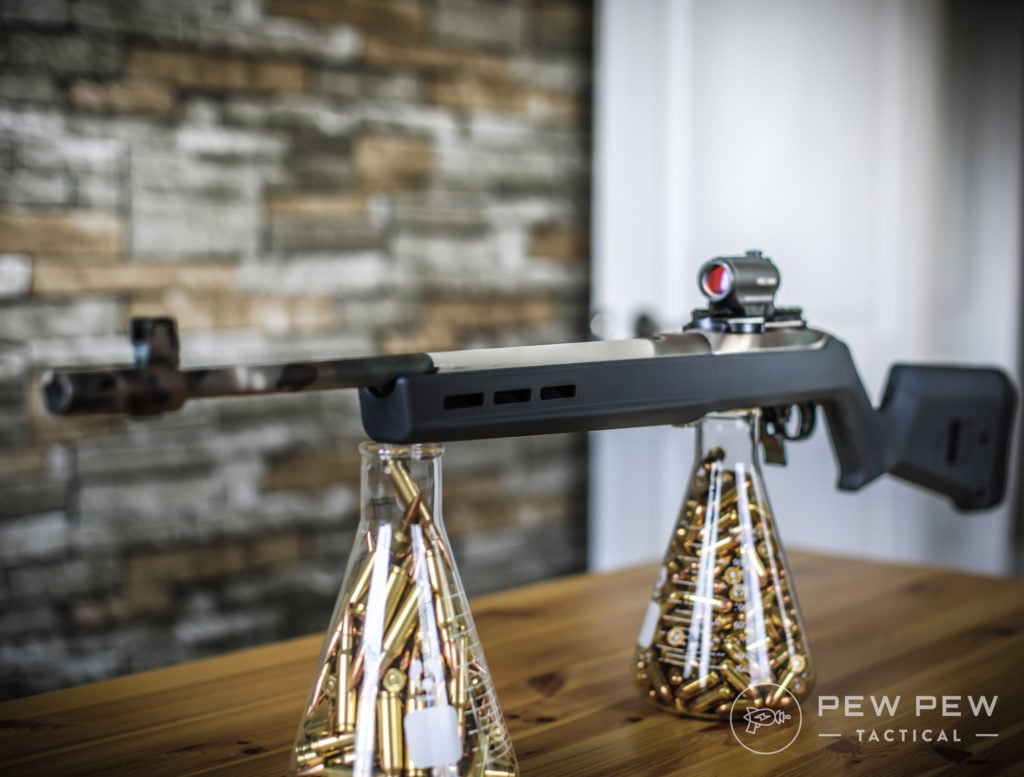 There really is a 10/22 for every occasion, and with such a storied history, you can be sure it'll never let you down.
These were our fave models, but what's yours? Let us know in the comments! If you need recs on upgrading your 10/22, see the Best 10/22 Upgrades!