If shotguns are my wife, then pistol caliber carbines are my mistress.
They are a category of firearm I've invested way too much time into, and I adore them well beyond the realm of normal.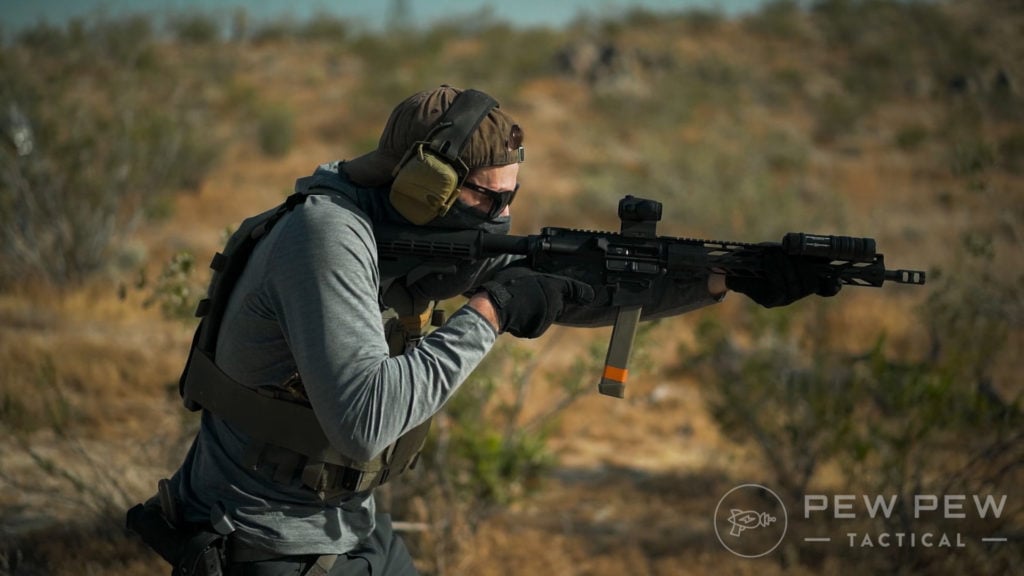 With all this time behind PCCs, I've most certainly experimented with optics.
Half of my job is just experimenting with different ideas. Now what you are likely thinking is that PCCs need a red dot, and that's it.
If that's your way of thinking, then I want you to open your mind to this article because we are going way beyond red dots today.
Don't get me wrong, red dots have most certainly made the list, but so did low-powered variable optics and prism optics.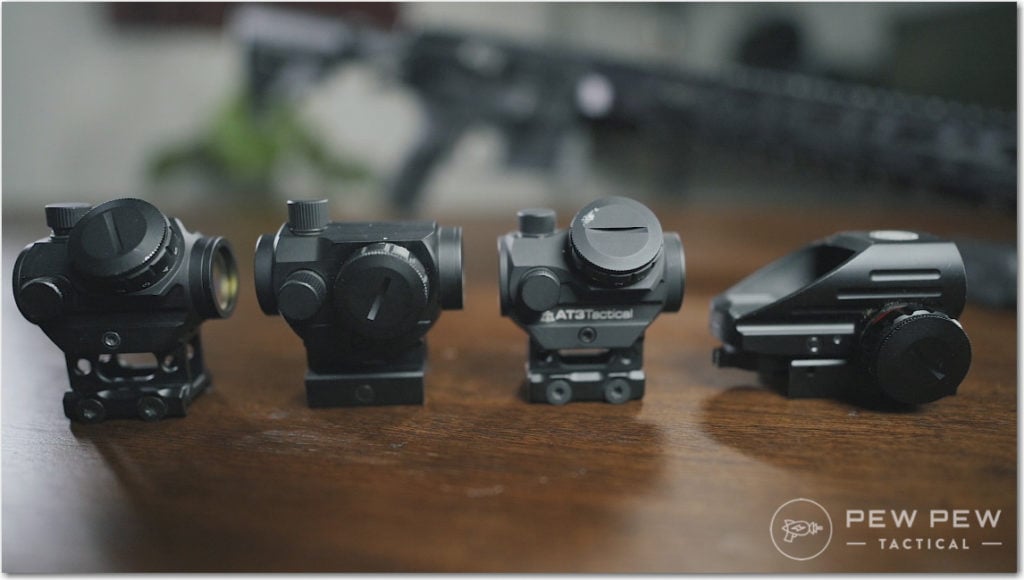 Yep, we are diving well beyond your average list of red dots. Most red dots work perfectly on PCCs, but they aren't the end-all, be-all.
Especially if you want to hit targets at 100-yards or to hit smaller targets faster.
A slight magnification can go a long way, and that's why we are including LPVOs and low-powered prism optics.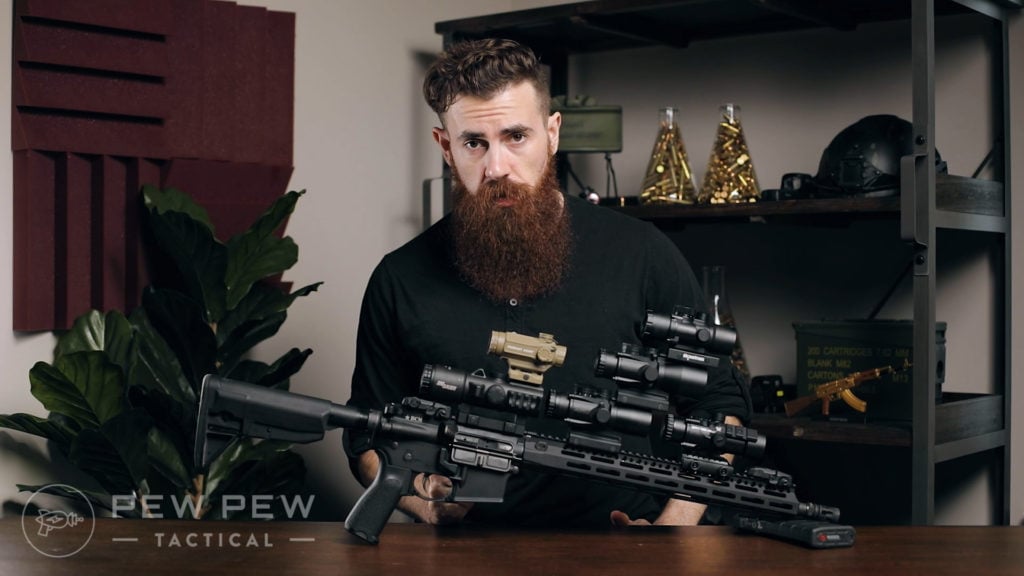 Both will extend your effective range and increase your accuracy even with a 9mm carbine.
Let's dive into PCC optics and see why it's okay to go beyond your average red dot.
Best PCC Optics
1. Swampfox Blade
Swampfox is somewhat new, but the company brings some awesomely innovative optics to the market.
And the Blade is one of their best for PCCs.
This is a 1X prism, and you might ask, why exactly would we need a 1X prism over a red dot?
Well, the Blade offers an etched reticle in case the batteries die, and that reticle is way more helpful than a simple red dot.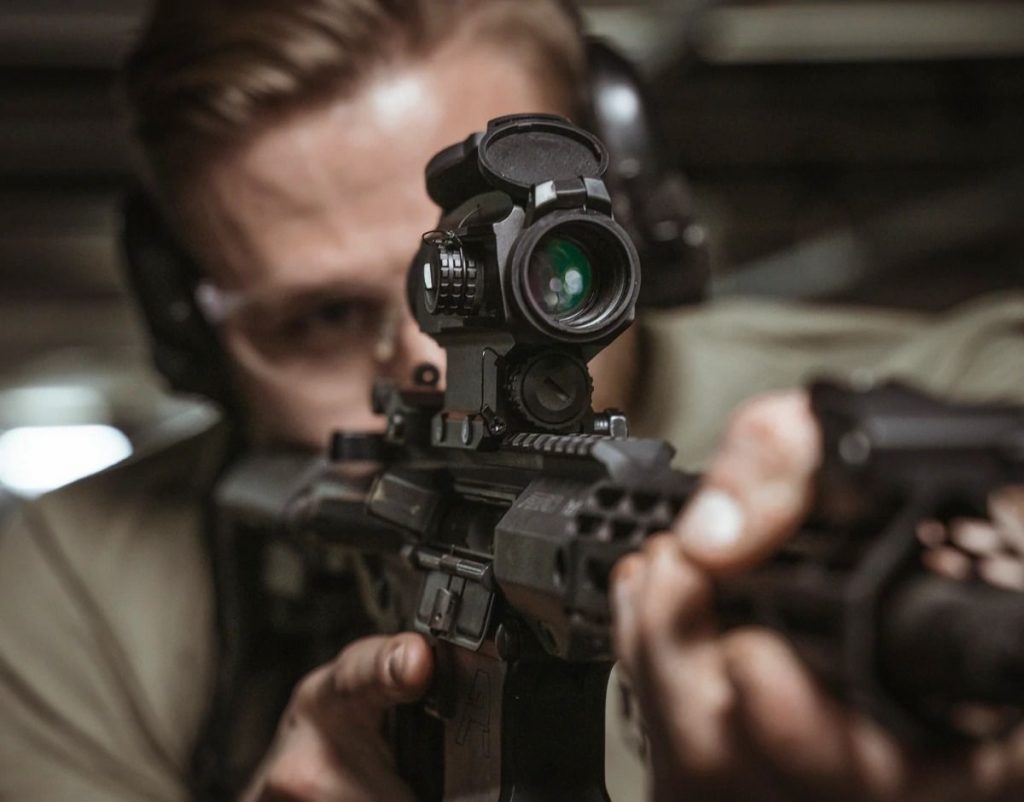 Don't forget those who suffer from astigmatism can use a prism optic way better than a red dot.
The Blade uses a bullet rise compensating reticle.
What does that mean?
Well, when you shoot at ranges from 15-yards and inward, the bullet will appear to hit high. This is due to the mechanical offset of the optic.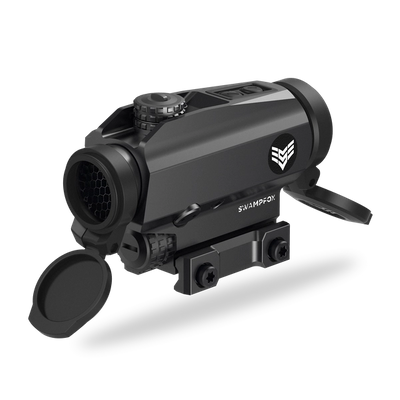 The Blade has three points of aim beneath the central reticle to compensate for this issue.
Your main aiming point is the tip of the chevron. But beneath the chevron, you have your 15-yard aiming point, then a circle for 10-yards, and finally a small stadia for 7-yard shooting.
Outside of the reticle, the Blade has a generous 3.8-inch eye relief and a massive field of view.
The glass is nice and clear, and the reticle is crisp and easy to see.
It's become a favorite for PCC users, with some serious professional shooters turning to the Blade for competition runs.
289
at Swampfox Optics
Prices accurate at time of writing
Prices accurate at time of writing
2. Lucid HDx
Lucid is a terribly underrated company producing excellent optics at fantastic prices.
The company has been redefining the budget optics game since, like, forever.
Lucid crafted the HDx from the ground up for the PCC world.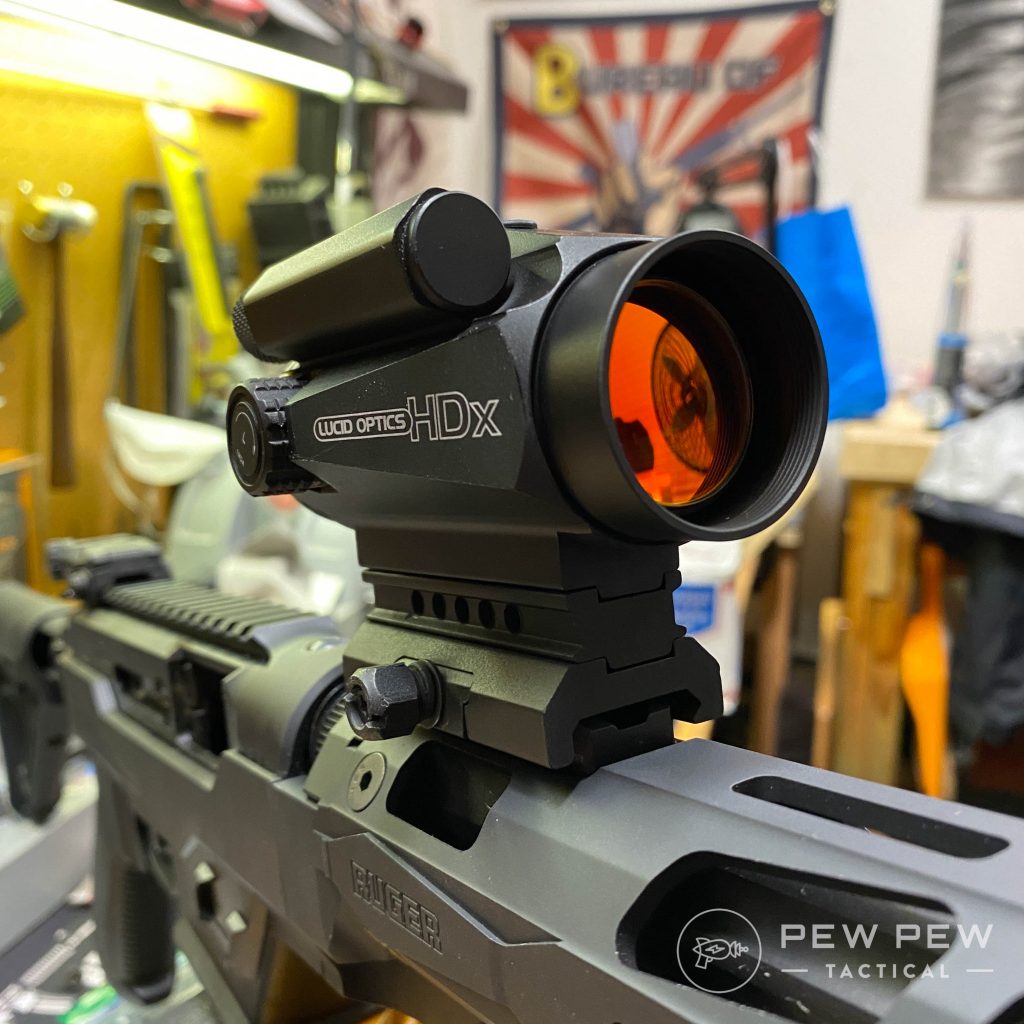 Utilizing the knowledge of both their pro staff and PCC competitors, Lucid manufactured a compact red dot with a unique reticle.
Durability was also a chief concern since competitors are rarely gentle creatures.
The combination of the two created an optic perfect for PCC competition and home defense use.
Reticle wise we get something I've never seen before. We get a 3/4s 32 MOA circle with a 4 MOA center dot, and offset from the dot is two lines going diagonal away from it.
Obviously, we can tell a few things off the bat.
The reticle is relatively large, and large reticles tend to be eye-catching and fast on target. But it doesn't feel cluttered — rare for a reticle for so much going on.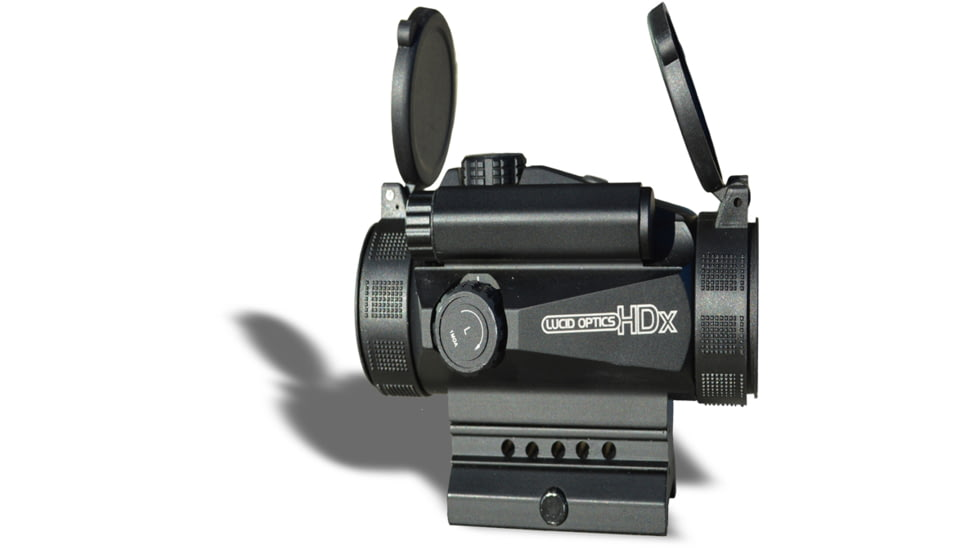 Outside of the exciting reticle, the Lucid HDx has an exciting design.
The windage and elevation knobs are tool-free and hand adjustable.
Sandwiched between the turrets is the battery compartment, placed for easy access and allowing for a hot-swap of AA batteries.
The mount allows for witnessing, and while simple, is very effective.
For durability purposes, the optic is water and shock-proof.
Oh, did I mention it's also very reasonably priced? Because it is.
230
at Optics Planet
Prices accurate at time of writing
Prices accurate at time of writing
3. Primary Arms SLx 2.5 Compact ACSS CQB
I'm a massive fan of low-powered prism optics and find them the perfect compromise between red dots and magnified optics.
Primary Arms has embraced prism wholeheartedly and produces some of the more innovative options on the market.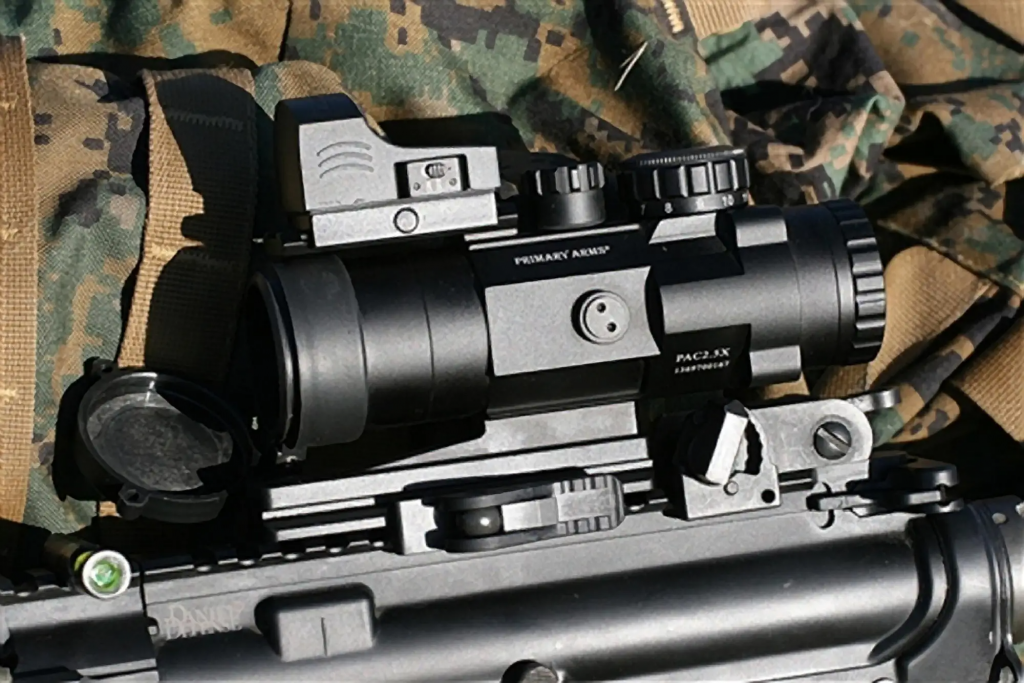 For a PCC, especially a 9mm PCC, the SLx 2.5 Compact with the ACSS CQB reticle proves an excellent option.
ACSS reticles are always rather fascinating and highly useful.
The ACSS CQB reticle will function with a wide variety of different calibers, including 9mm.
Using a 25/100 zero, a PCC shooter can use the three drop points to land 9mm rounds at 150-, 175-, and 200-yards.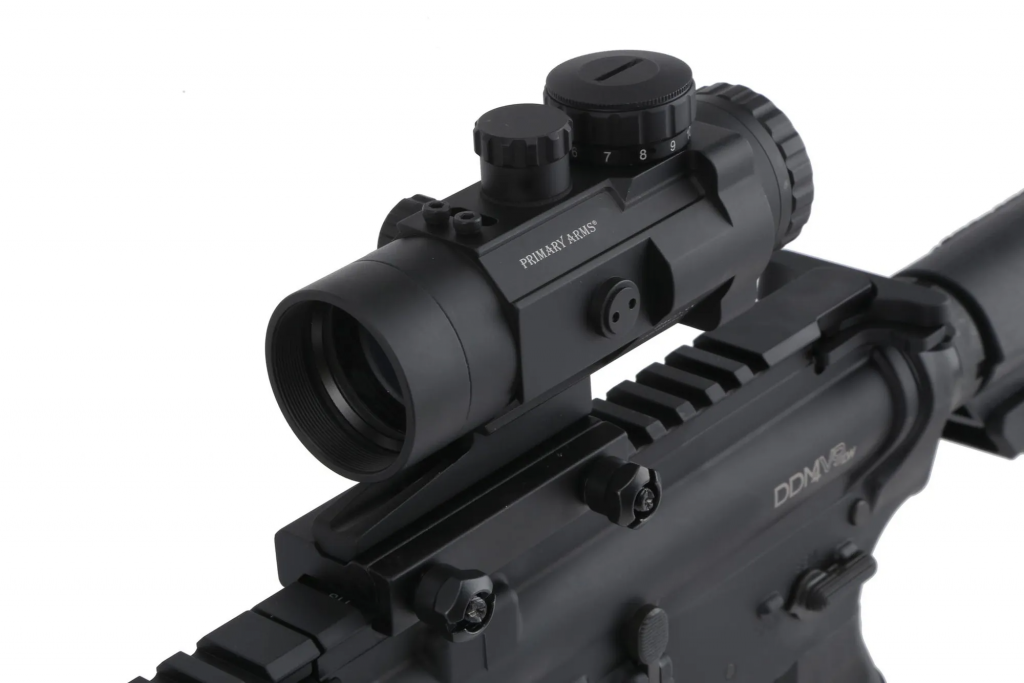 That's a good little way for 9mm to travel and is somewhat optimistic but doable pending wind conditions downrange.
2.5X magnification also seems to be a sweet spot for 9mm.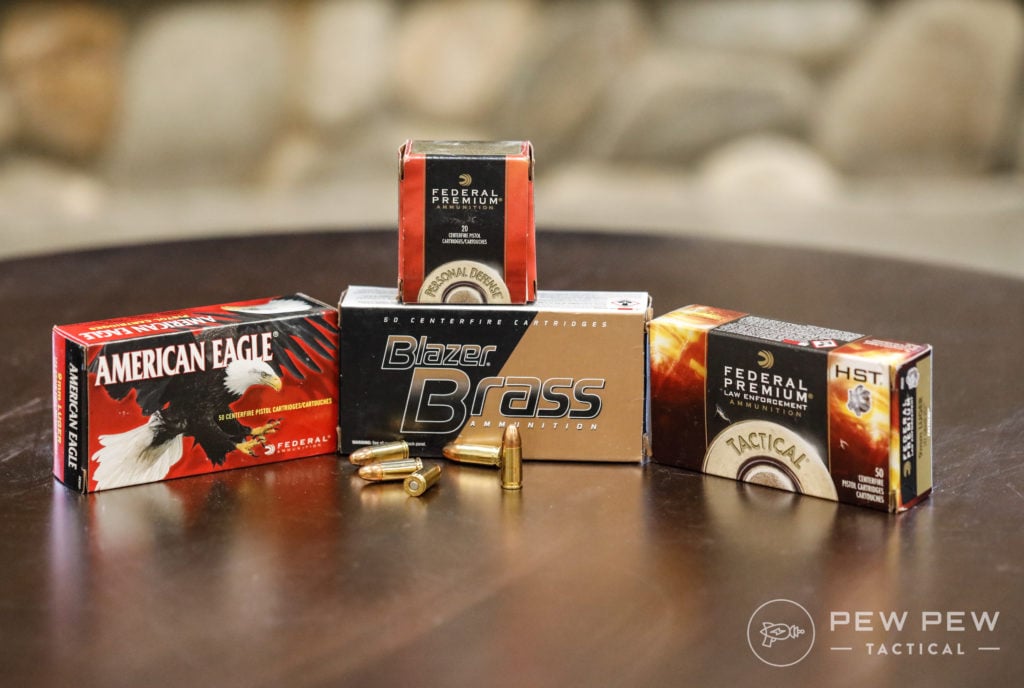 At 25- and 50-yards, it puts you somewhat close to the target and makes dinging steel and producing teeny tiny groups easy enough.
At close ranges, the massive illuminated reticle means it's easy to be fast.
Keep both eyes opened and focus on the target. The prism will act as a red dot and superimpose the reticle over your vision.
It has an etched reticle, so if the batteries die, we can still party.
Plus, Primary Arms backs their stuff with an excellent warranty and excellent customer service.
200
at Primary Arms
Prices accurate at time of writing
Prices accurate at time of writing
4. C-More Railway 8 MOA
When I began researching this article, I looked at what USPSA PCC shooters utilize for competition.
One optic that kept coming up is the C-More Railway with an 8 MOA dot.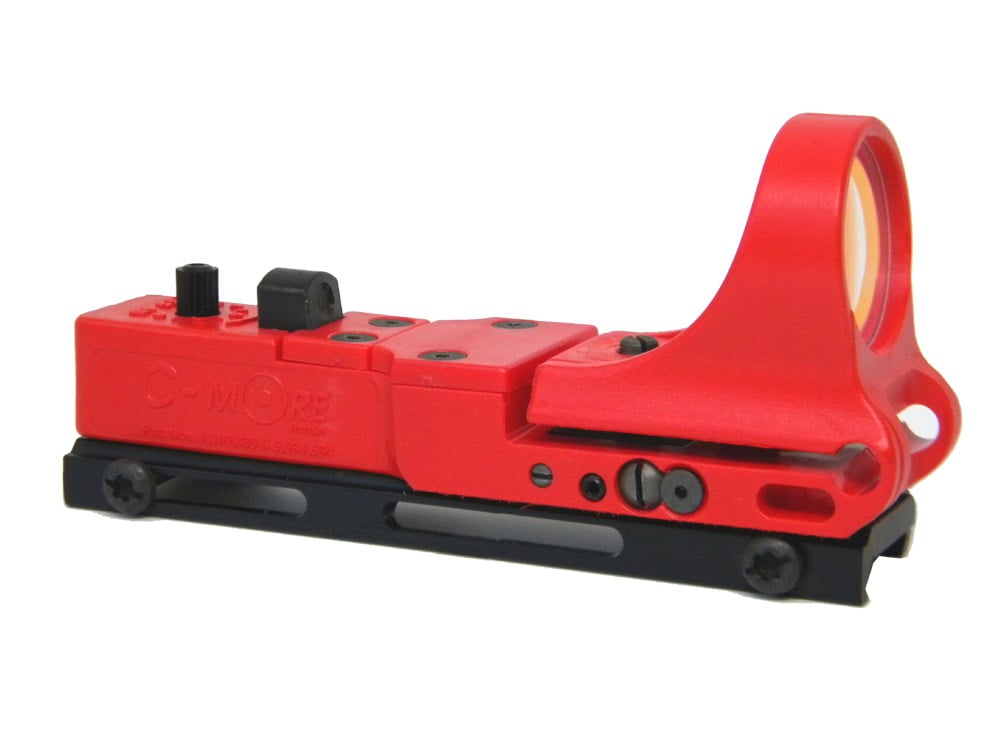 I know the C-More mostly from movies where it's an optic small enough to let you see the hero's face as he aims.
In real life, that ultra-small and thin size is beloved for allowing the maximum amount of peripheral vision an optic can allow.
It becomes a living heads-up display that will enable you to put the dot where you want the dot and make magic. Magic being accurate shots on target.
In rapidly moving USPSA matches, the open design makes it easy to see what's coming next.
You'll be able to safely navigate the range and engage the wide variety of targets tossed at you.
The 8 MOA reticle seems to be the favorite, and I could see why.

It's big, red, ultra-crisp, and easy to see and get on target. 8 MOA is rather large for a red dot, but it seems to make a lot of sense for pistol caliber carbine competition.
The C-More Railway even allows the user to swap diode modules for larger or smaller red dot reticles.
From 2 to 16 MOA. While the optics have a small window, they have a somewhat large underbody.
Even with the large body, the weight is 5-ounces, making them nice and light.
The C-More Railway is old-school cool and fits perfectly on a new series of rifles.
254
at Optics Planet
Prices accurate at time of writing
Prices accurate at time of writing
5. Holosun HS509T
Pistol caliber carbines are best when they are small and lightweight.
If that's your vibe, then you likely want a lightweight optic, and the HS509T fits the bill.
This pistol-sized optic comes with a Picatinny mount but will attach to any riser that uses the Trijicon RMR footprint.
Do the words enclosed emitter mean anything to you? Well, they should because an enclosed emitter provides the best degree of reliability.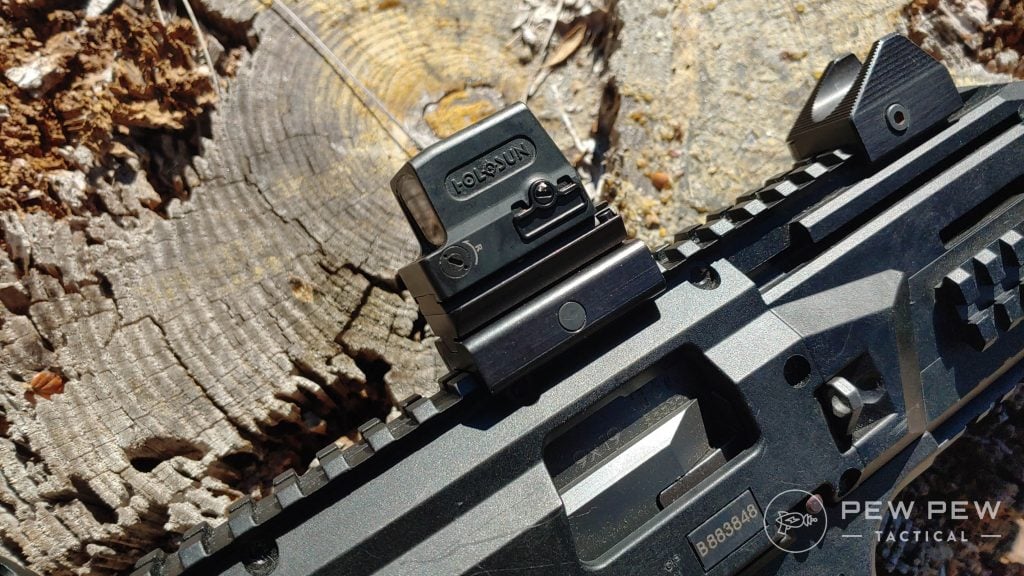 On a non-holster-able firearm, the enclosed emitter grants unbeatable resistance to rain, snow, sand, and other debris.
Most long gun red dots have enclosed emitters for this very reason.
The HS509T gives you an enclosed emitter on top, having the weight and size of a pistol optic.
Better than that, the 509T packs a ton of features that make it a highly desirable optic.
Reticle-wise we get to choose from a 2 MOA circle or a 32 MOA circle with a dot in the middle.
The 32 MOA reticle gives you a quasi-effective drop system for both close-range shooting and out 100-yards.
At 100-yards, you can use the bottom stadia to compensate for drop. A super close range, the same bottom stadia can be used to estimate for mechanical offset.
The 509T packs a solar panel for battery backup.
We get large buttons for easy control, as well as a side-loading battery compartment.
Holosun also uses titanium to improve durability while not increasing the optic's weight.
349
at Gunmag Warehouse
Prices accurate at time of writing
Prices accurate at time of writing
Have you tried the Holosun 509T? Rate it below!
6. Swampfox Tomahawk 1-4X LPVO Guerilla Cross MOA
An LPVO on a PCC is going to make some readers frown in disdain. Why would a PCC ever need an LPVO?
Well, for the same reason, any other rifle would need an LPVO.
A low-powered variable optic grants you both close range and moderate range precision.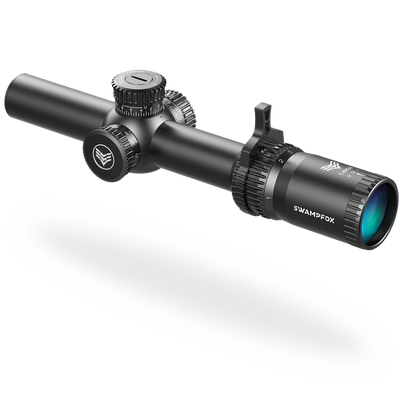 Most PCCs are not used beyond 100-yards, but that doesn't mean an LPVO isn't a handy tool.
The Swampfox Tomahawk presents a simple option for PCC owners and shooters.
Most LPVOs these days are fitted with some form of ballistic drop reticle designed for 5.56 or .308 rounds.
Not great for PCCs by any means.
The Tomahawk 1-4X comes with multiple reticle options, including the Guerilla Cross MOA reticle.
The Guerilla Cross MOA reticle offers simple drop compensation. It allows you to easily learn and utilize these MOA points for the drop of various pistol calibers.
With 16 MOA worth of drop, you'll have no issues figuring out where a 9mm will drop at 100-yards.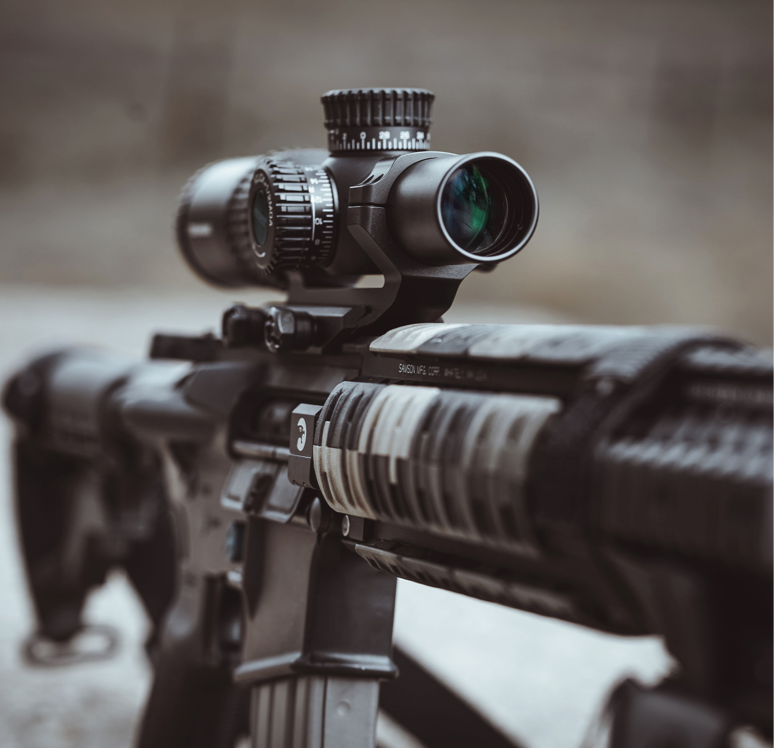 When you max out the magnification to 4X, the guerilla cross reticle will allow you to hit not just man-sized targets but small plates and gongs with superb accuracy.
At 1X, the massive three-quarter circle reticle acts like a red dot for quick and easy engagements at close range.
Since the optic is a 2nd focal plane design, the reticle remains the same size at 1X.
This gives it the size necessary to be big and easy to see when illuminated.
The precision granted by a first focal plane scope isn't needed here, and the optic benefits from the second focal plane capabilities.
279
at Swampfox Optics
Prices accurate at time of writing
Prices accurate at time of writing
To learn more about FFP vs. SFP, check out our article here.
7. Sig Sauer Romeo with Juliet 3
Finally, let's leave with an awesome budget-friendly option that mixes the versatility of magnification and the close-range power of a red dot.
Sig Sauer brings us the Romeo and Juliet 3 magnifier. Paired together, this combination gives you the best of both worlds when it comes to PCC shooting.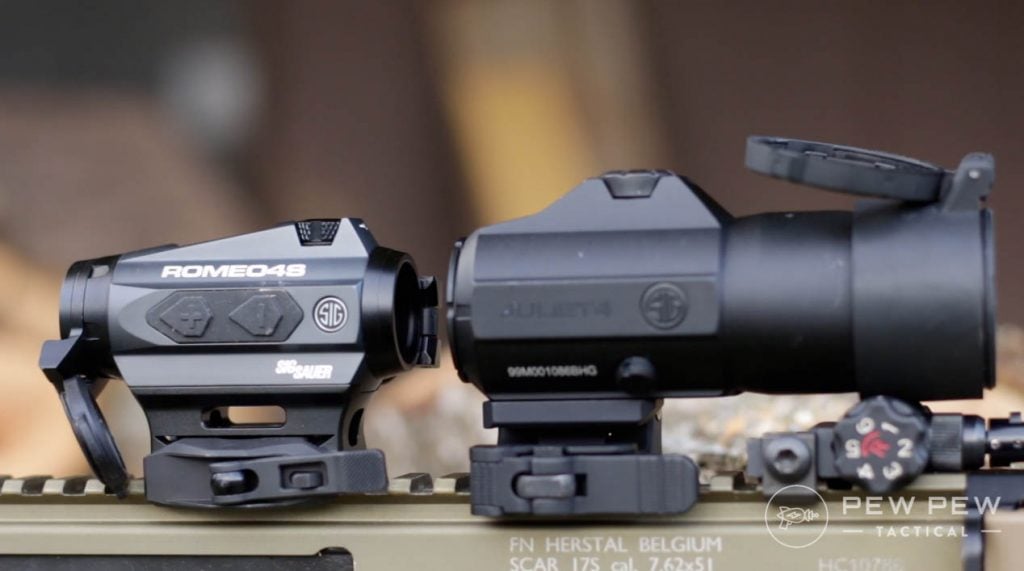 Red dots dominate close-range shooting for a reason. They are quick and easy to use, often quite precise, and when speed matters, nothing beats a red dot.
When paired with the Juliet 3, you gain an optional three-power magnification magnifier for longer range shooting.
Maybe it's not long-range, but you need to hit a small target with excellent precision at close range. You can pop the Juliet in and out of action on the fly and swap back and forth from the red dot to a magnified view on the fly.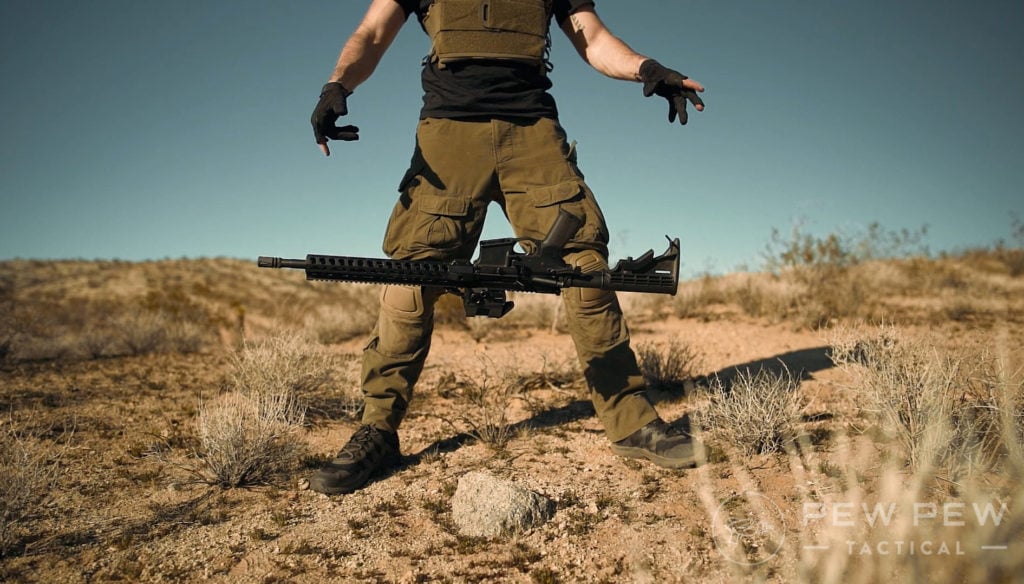 Both of these Sig branded products are budget-friendly if you're looking for a BOGO deal. Not to mention, they are completely capable, and useable.
They admittedly lack some fancy features here or there but conquer the basics well.
80% of being a good optic is just being good at the basics, and this combination grants you both close range and moderate precision on the fly.
246
at Bereli
Prices accurate at time of writing
Prices accurate at time of writing
Conclusion
PCCs are not just a growing trend in the general firearms world, but they are also a favorite of the competition world.
As USPSA PCC competitions continue catching the eyes of gun owners, I think we'll see the world of PCCs expand quite a bit in the coming years. And with that, the need for PCC optics.
Red dots and PCCs are like peanut butter and jelly. While LPVOs and Prism optics are the extra. Maybe the marshmallows and bananas that can top off those sandwiches.
Regardless, I think having an open mind when it comes to optic selection is important. An open mind will allow you truly tailor your PCC for a specific purpose and excel at that purpose.
What optics do your PCCs wear and why? Let us know in the comments below. Need a PCC to go with that optic? Check out our list of the Best Pistol Caliber Carbines for Competition.