Red dots have come a long way.
Now you can have a dependable red dot that runs 50,000 hours on for under $200.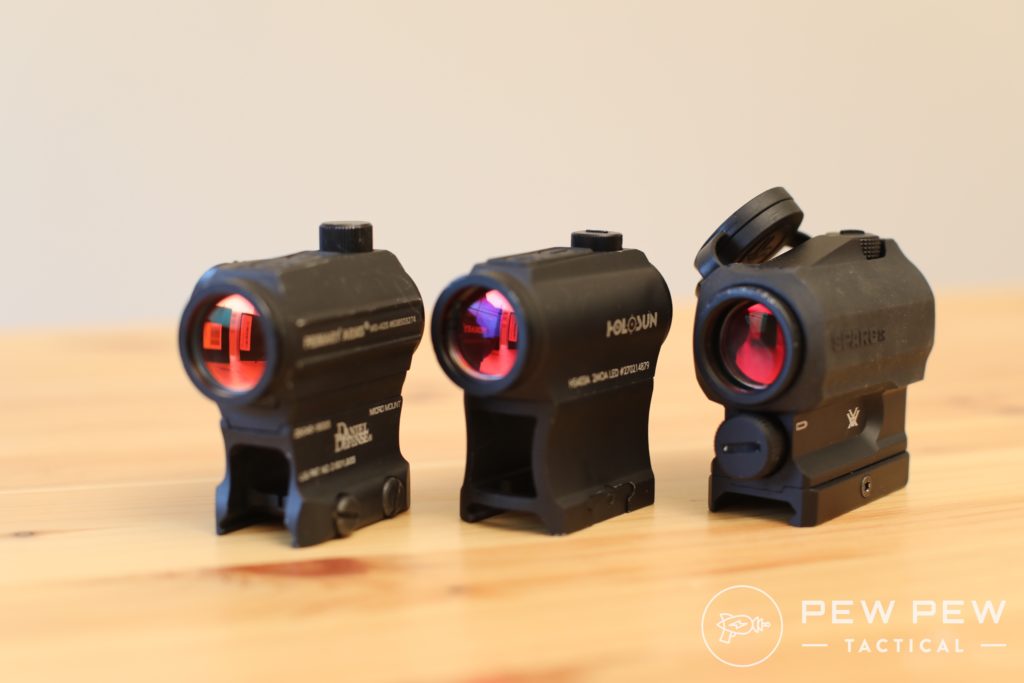 We will cover three of the most popular budget red dots and rank them in reliability, clarity, mounting options, bang-for-the-buck-ness, and more. Get ready for some torture testing too!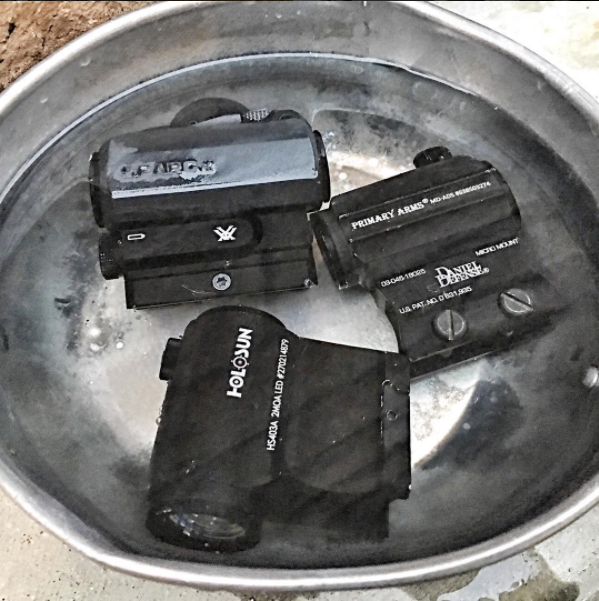 Models we'll cover:
Table of Contents
Loading...
Why Red Dots Are Awesome
I'm an advocate for learning how to shoot with irons and then upgrading to red dots. If only to understand how awesome they are compared to old school fixed sights.
Looking for other kinds of sights? We cover them in our Ultimate AR-15 Optics Guide.
There are four main reasons why I love red dots.
1. Unlimited Eye Relief
Unlike other sights, unmagnified red dots have unlimited eye relief…which means there's no set minimum/maximum distance you need to mount them from your eye.
2. Parallax Free
Red dots are essentially parallax free…this means when you move your head around, the red dot moves with you so you're still pointed at the same target. This way you don't need a super precise position to get the shot.
3. Co-witness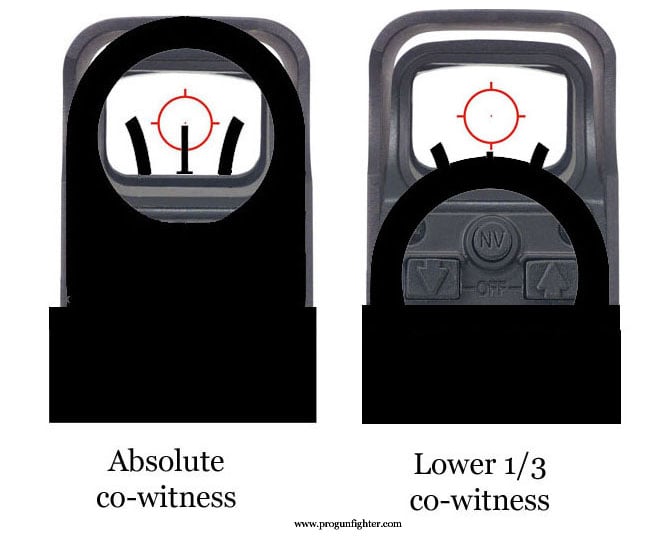 You can also choose the height of your red dot so you co-witness your irons. This way in case the red dots go down…you still have your irons. Absolute co-witness places the dot exactly on your irons while lower 1/3 gives you more room for the dot.
4. Keeping Both Eyes Open
Red dots are designed for you to keep both eyes open. It's much easier with red dots compared to iron sights and by using both eyes you get a nearly unlimited field of view while still superimposing the dot on your targets.
Now enough about red dots…let's see our test subjects!
The Contestants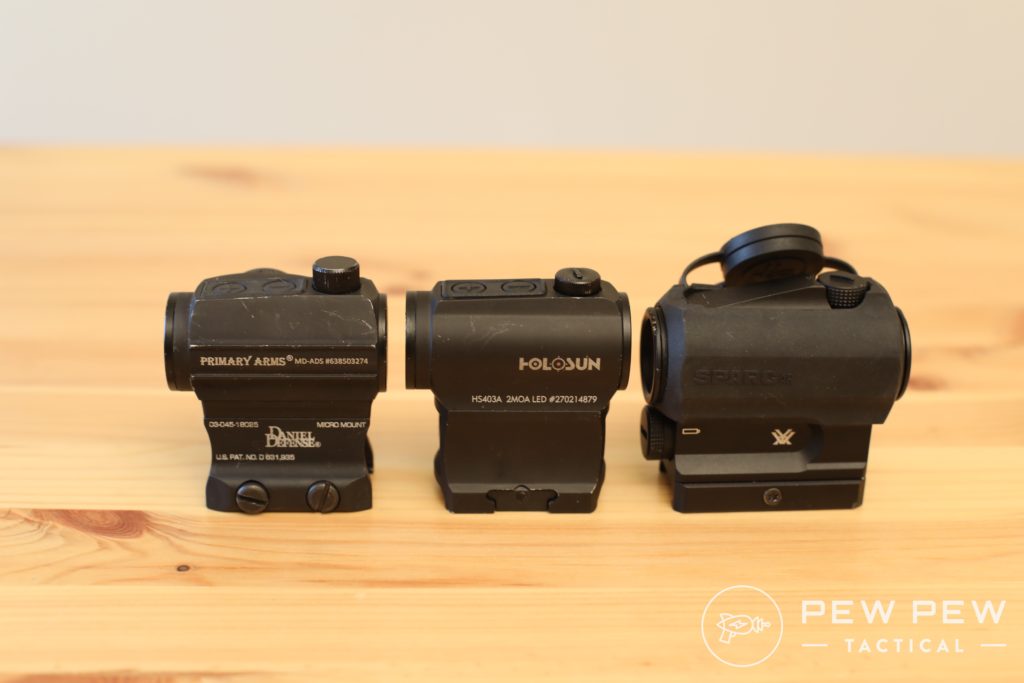 There's going to be some red dot terms that aren't self-explanatory, here's a quick breakdown of what they mean:
Dot Size (MOA): means minute of angle and describes the dot's size. For example, a 2 MOA dot will cover 2 inches at 100 yards.
Night Vision Compatible: you will still be able to see the dot while using night vision equipment
Here's what I chose for what I see as the three most popular red dots under $200 that come from well-known companies. If you want to go a little cheaper…check out our Best Red Dots Under $100.
Primary Arms Advanced Micro Dot
130
at Primary Arms
Prices accurate at time of writing
Prices accurate at time of writing
The PA Advanced Micro Dot is very well known in the budget optics space for being affordable yet reliable. Here are some of the important specs:
50,000 hour battery life (1x CR2032)
3-year warranty
2 MOA dot
Waterproof to 2m for 72 hours
Night vision compatible
-4 F to 158 F working temperature
Weight: 3.9 oz
Does not come with riser (Using Daniel Defense Mount)
Holosun HS403A
Best Red Dot Under $200
146
at OpticsPlanet
Prices accurate at time of writing
Prices accurate at time of writing
The Holosun HS403A is making a splash in the red dot world for really affordable sights with all the bells and whistles. Rumor has it that Holosun is the manufacturer of Primary Arms' red dots (to their specs).
50,000 hour battery life (1x CR2032)
2 MOA dot size
3-year warranty
8-hour auto shutoff
Waterproof to 1m
Night vision compatible
Weight: 4.2 oz w/riser
14 F to 122 F working temperatures
Comes with risers for absolute/one-third co-witness
Vortex Sparc AR
Most Robust
199
at Amazon
Prices accurate at time of writing
Prices accurate at time of writing
The Vortex Sparc AR is a newcomer from the very well-known Vortex that is robust with clear glass.
5,000 hours battery life (1x AAA)
2 MOA dot size
Unlimited & transferable lifetime warranty
12-hour auto shutoff
Waterproof to 1m
Night vision compatible
Weight: 8.5 oz w/ riser
-4 F to 158 F working temperatures
Comes with risers for both co-witness heights
Drop Testing
I bought these myself to test them out so this part hurt a little…but if something can't survive three drops from around 3 feet onto concrete (without being attached to a rifle)…then I probably wouldn't trust it later anyway.
All three survived but I found out later that the Primary Arms one had a crack on the rear window at 7 o'clock…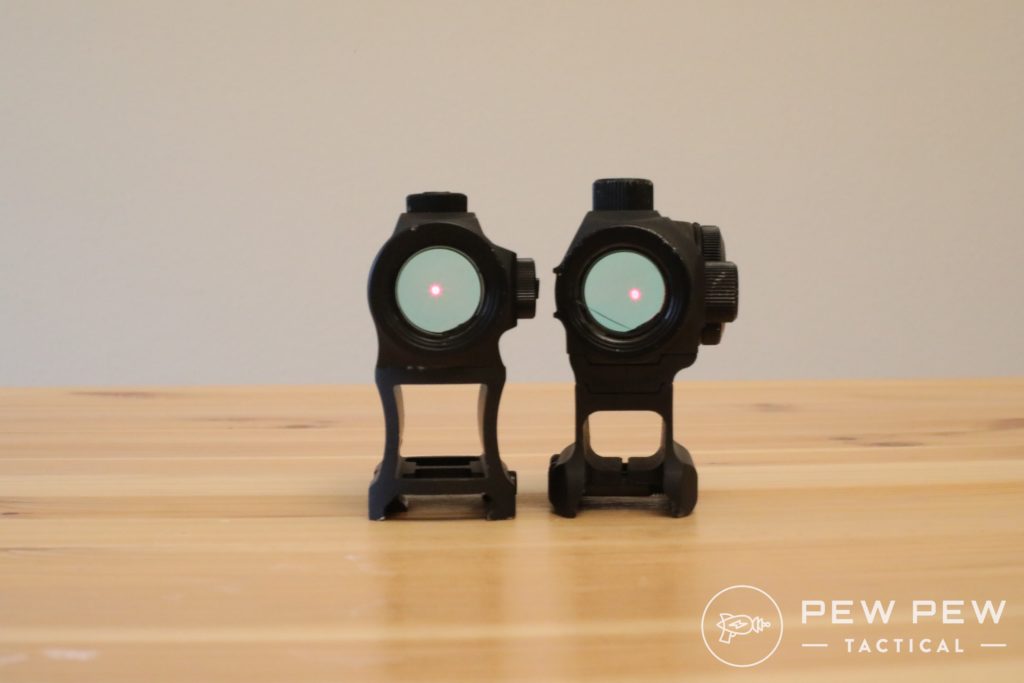 It didn't affect function and it made it through the next test with flying colors.
Waterproof & Temperature Testing
I don't have plans of swimming with my guns but in case I get caught in the rain, I'd like for it to survive.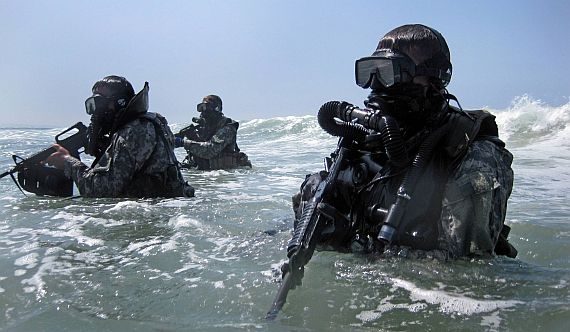 I combined this test with the temperature test and loaded up a pot with some hot water.  I let it cool overnight for the lower end of the temperature spectrum.
Again, all three passed function testing in the morning.
BUT…
I made the error of not wiping them down. Some time passed before I went shooting with them and I found a good amount of rust on the Primary Arms (rails, next picture) and Sparc AR (screws of the riser).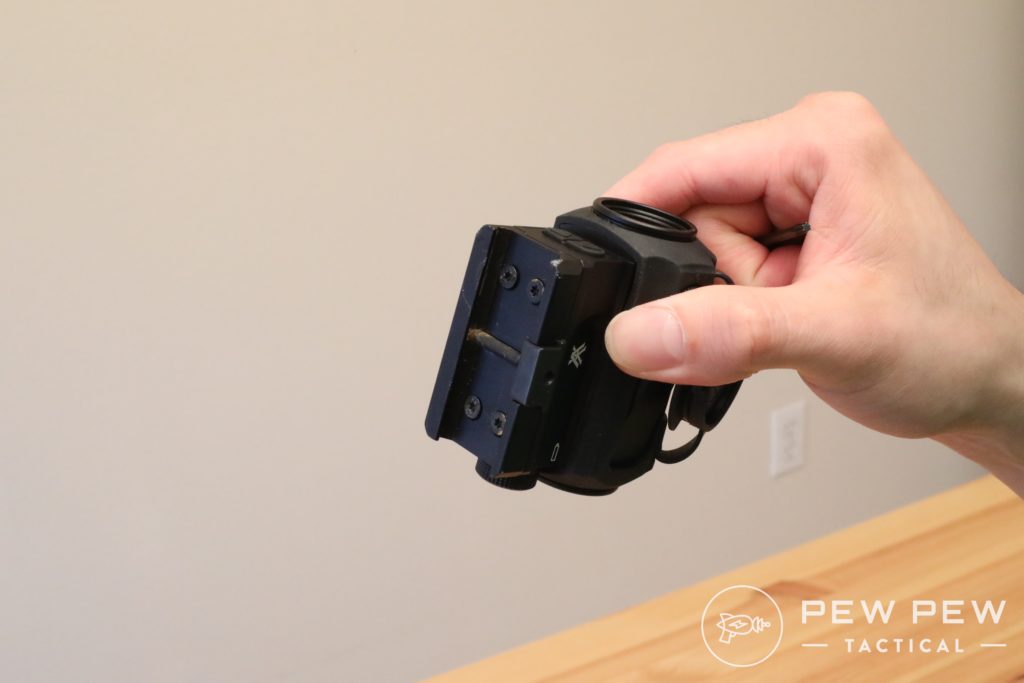 Battery Compartments & Risers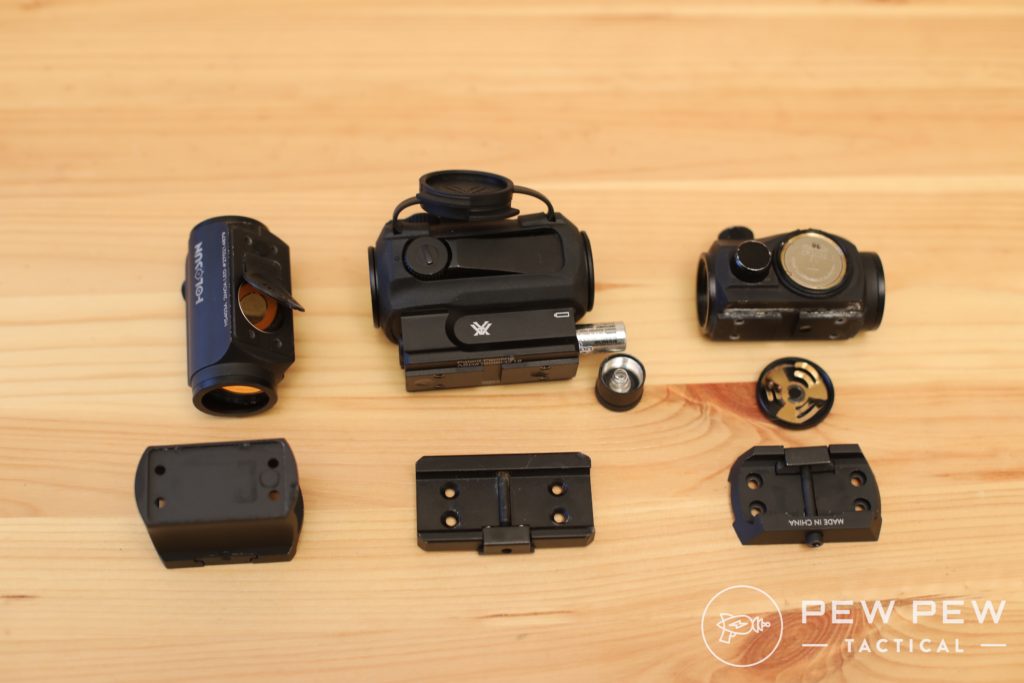 Here you can see the rust on the rails on the Primary Arms.
And how each red dot deals with its batteries. The Sparc AR has the added benefit of using AAA batteries but weights almost 2x the weight of the others.
The Primary Arms' battery is on the side for easy access while the Holosun is underneath and requires disassembly from the mount.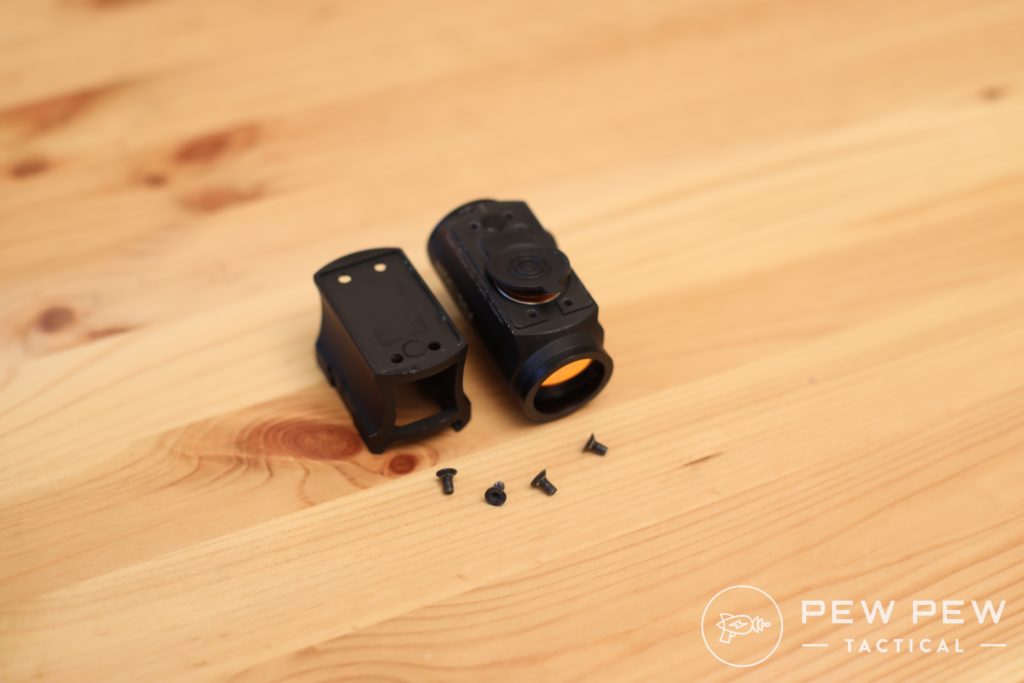 I was a little scared at the flimsy rubber housing but it held up during the water testing and there's no rust on anything.
Ok…how about how the dots and glass look?
Dot & Glass Clarity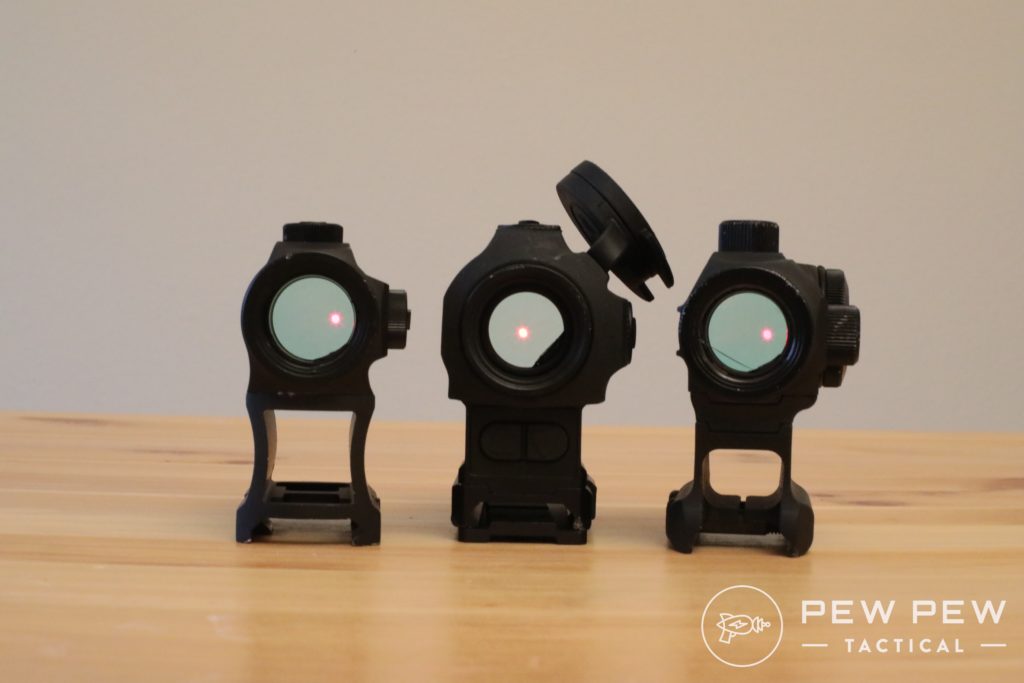 This picture is meant to showcase the glass clarity. I focused on the body instead of the dots so the dots appear fuzzier than in real life.
You can see that the Holosun and Primary Arms' glass is greener than the middle Vortex. I'd say Holosun edges slightly over the Primary arms in terms of clarity.
However, the view box of the Vortex is noticeably smaller (this was the main thing people picked up on while I was at the range and asking randoms to check out all three dots).
Here are pics of how the red dots actually appear at around 3rd from the brightest setting.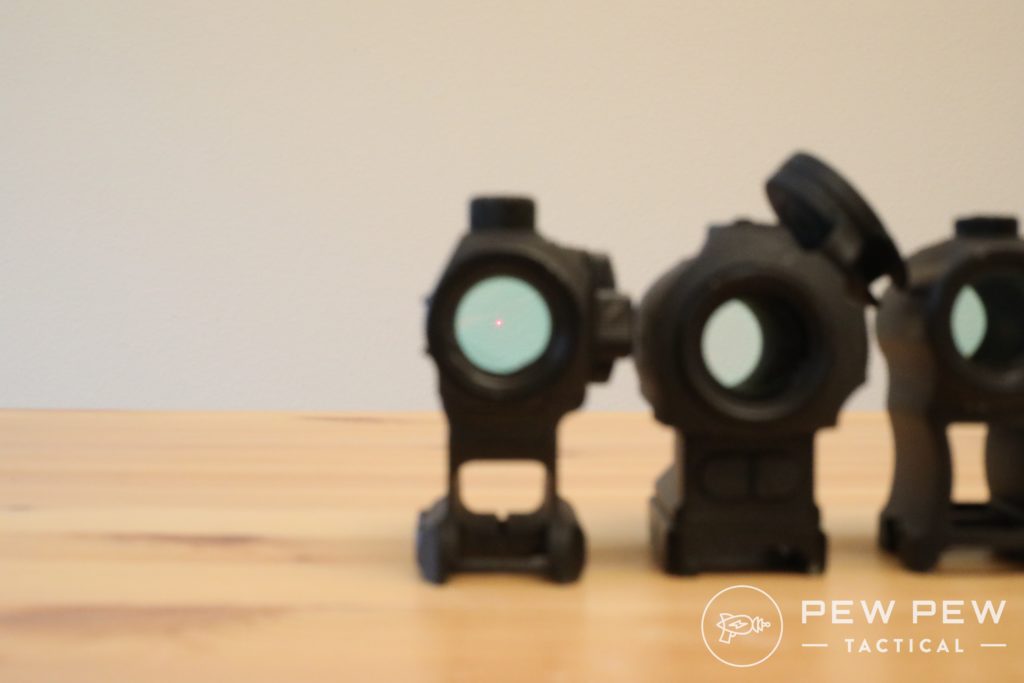 The Holosun was just as crisp as the Primary Arms. And here is the Sparc AR.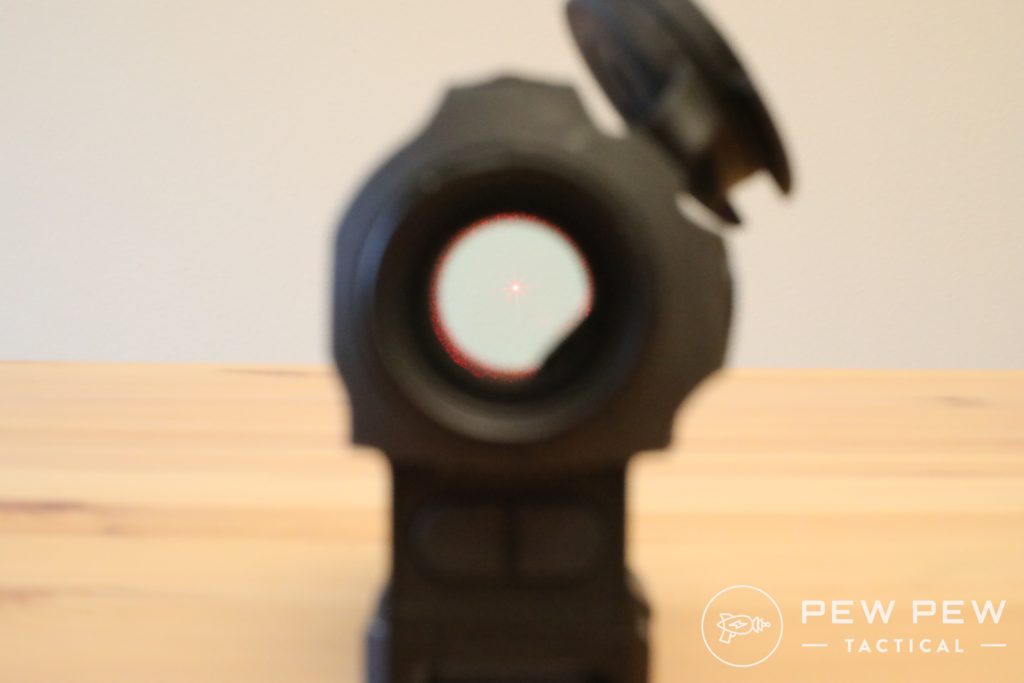 Fit, Feel, & Adjustments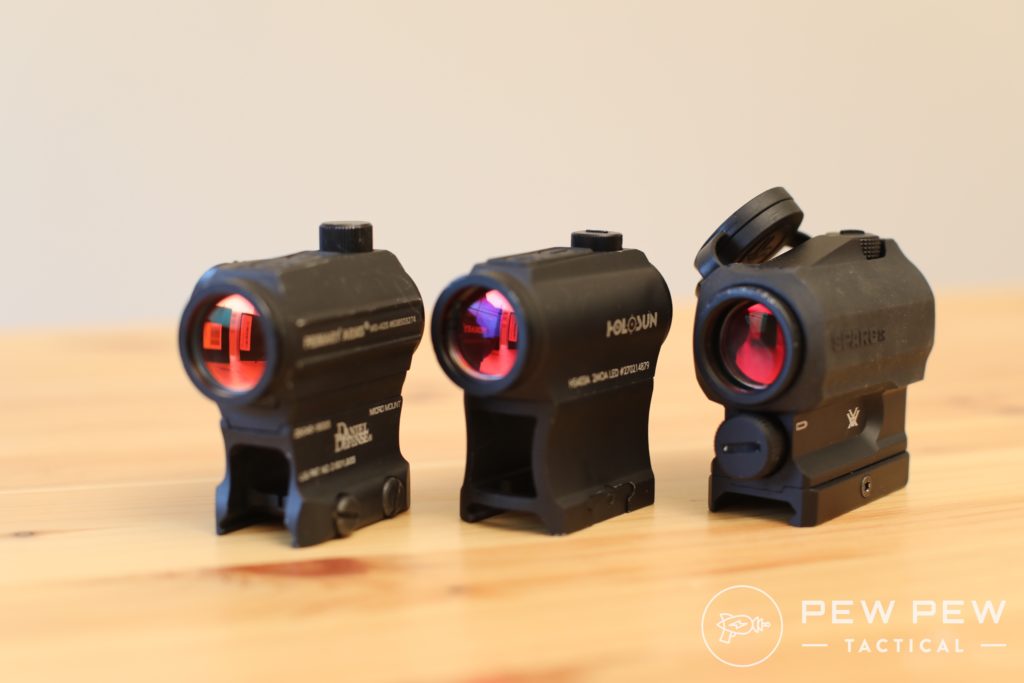 All three felt fine in hands but the Sparc AR felt extra beefy…like I could have continued drop testing all day long and it would still keep on going. The rubber cover also doesn't hurt although overall it is much heavier and bulkier than the other two.
The adjustments were also in different places. The Holosun and Primary Arms were on top while the Sparc AR is on the back. I have no personal preference so they were all fine and dandy to me.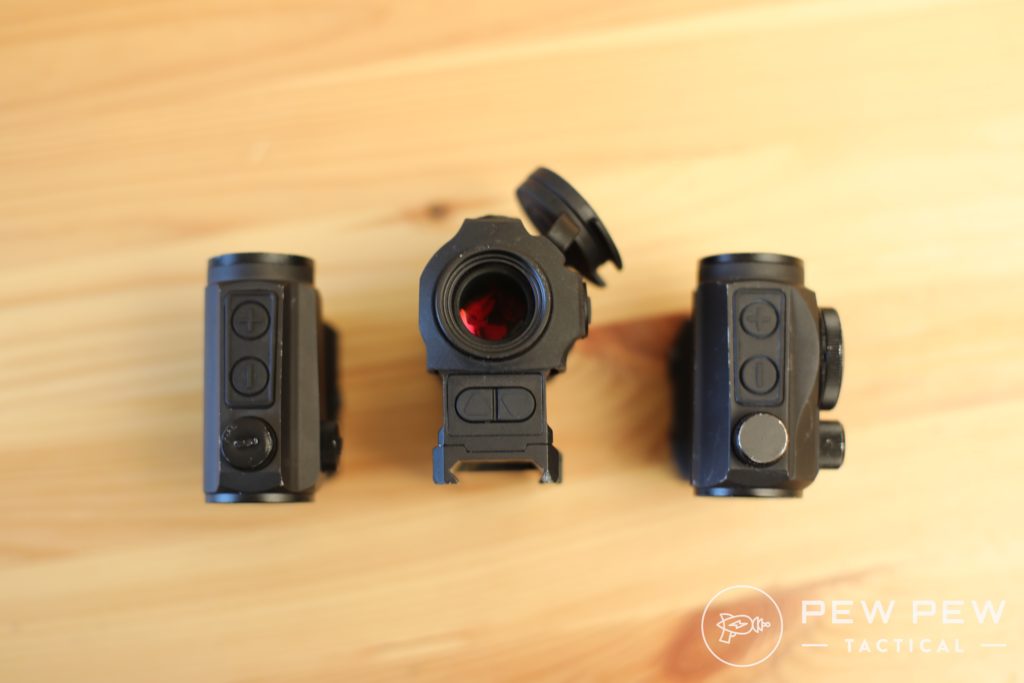 Keep in mind that the Primary Arms has no auto-shutoff while the Holosun is 8 hours while the Sparc AR is 12 hours auto-shutoff. Some prefer to leave the red dot on so it is ready to go, while others want to conserve battery life if they accidentally leave it on.
Shootability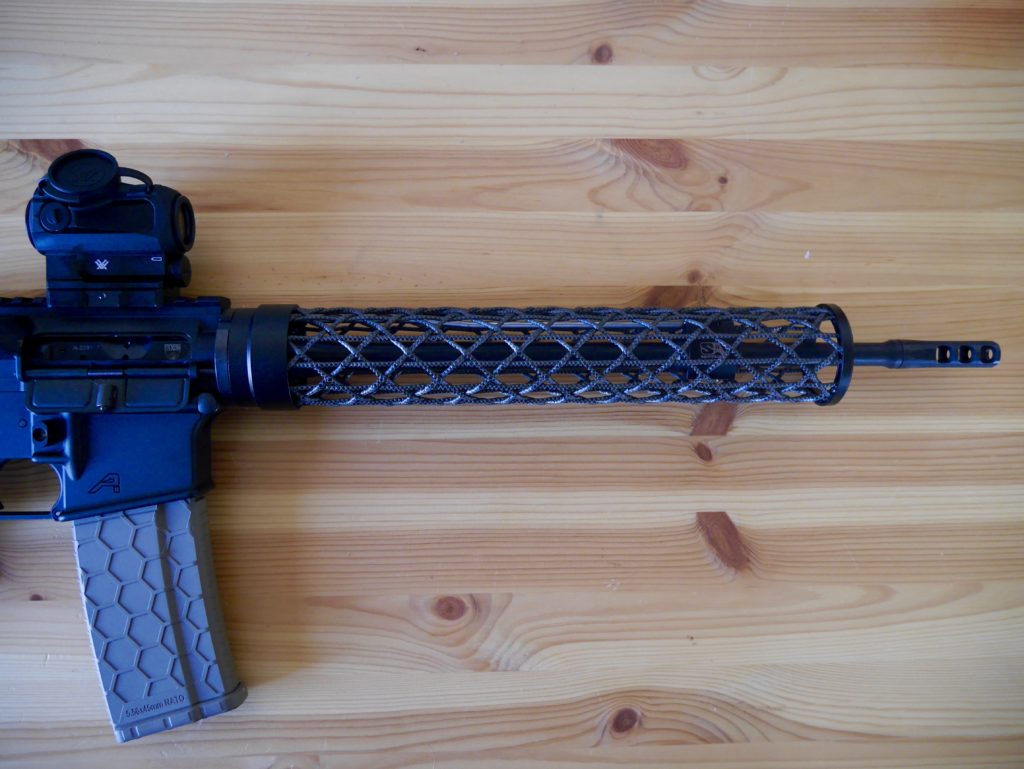 I used all three red dots on my lightweight build with my carbon fiber Brigand Arms handrail and Faxon 14.5 pencil barrel.
They all shot fine but there was a big difference of the Primary Arms and Holosun clarity & eyebox versus the Sparc AR.
The PA/Holosun had the slight bluish hue while the Sparc AR was much clearer. But the Sparc AR had the smaller eyebox.
Zeroes held fine as well even after the drop testing.
Warranty
Primary Arms and Holosun both have 3-year warranties. I used the Primary Arms warranty to fix the cracked rear glass.
It was very painless and after a quick call, email with attached pictures, and self-ship, they replied that they would be fixing it free of charge. I received the fixed sight shortly after with tracking and everything.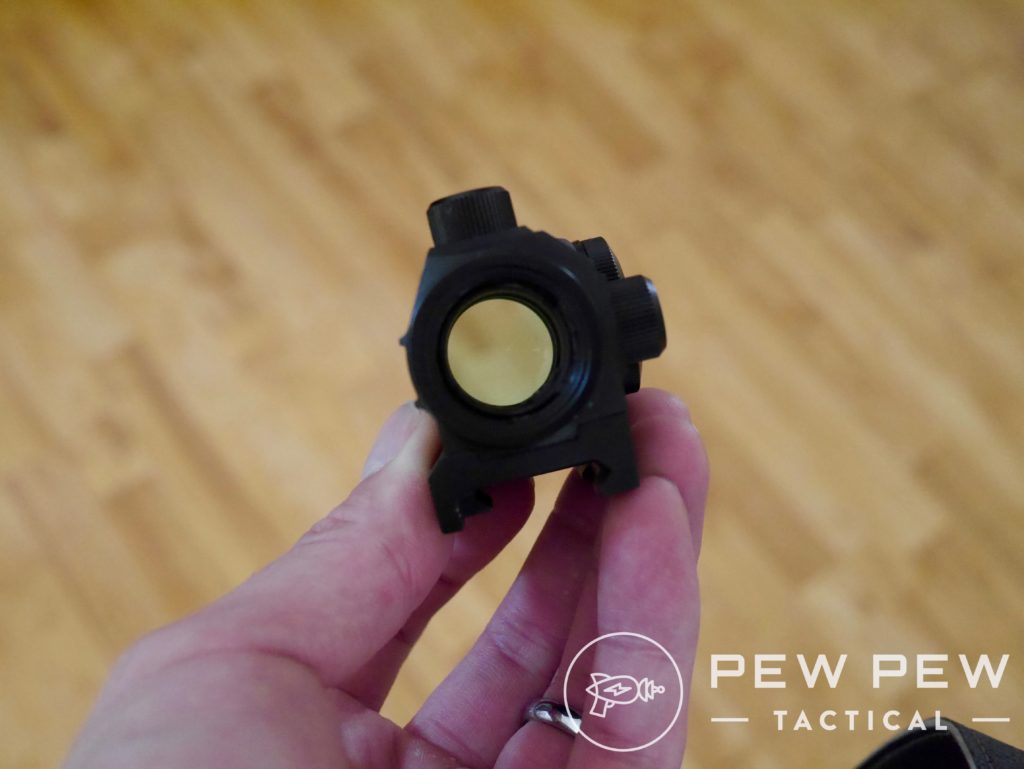 Vortex, on the other hand, has an unlimited lifetime warranty that is completely transferable. I had to show my receipt for Primary Arms so if you buy one second-hand…you might be out of luck.
Honorary Mentions
Yes…I couldn't get my hands on all the red dots out there (especially since I'm buying them out of pocket). But here are some other sub-$200 ones that seem to do very well.
Conclusion
So after all this stuff…what do I recommend?
Best Red Dot Under $200
146
at OpticsPlanet
Prices accurate at time of writing
Prices accurate at time of writing
For best bang-for-the-buck I'd have to go with the Holosun HS403A. You get a great optic that passed all the tests, didn't rust, and comes with a riser included in the price. You'll forego a little clarity on the glass and convenience in switching out batteries though.
Still working great almost a year since the initial testing. What's your take on the Holosun?
Most Robust
199
at Amazon
Prices accurate at time of writing
Prices accurate at time of writing
For robustness and ease of maintenance, I go with the Vortex Sparc AR. If weight is not a deal-breaker, I'm pretty sure this red dot can survive almost anything. Aside from passing all the tests (remember to wipe it dry), you get the ease of AAA batteries and the clearest glass of the bunch. However, there's reduced battery life, extra weight, and a smaller eyebox.
Unfortunately, since the Primary Arms Advanced Micro Dot ($170) did crack on me, I won't be recommending it (great warranty service though). Plus…it doesn't come with a riser so you'll have to get another one, which would raise its price above the Vortex.
Any other budget red dots you'd like to see? What do you currently run on your AR? Want to go cheaper? We now have a Best Under $100 Red Dots article and video.