As soon as Tactical Machining announced they would have an 80% 1911, I started researching all the parts needed besides the receiver.  I'll go over how I chose each part.
Budget or Top-Tier Parts?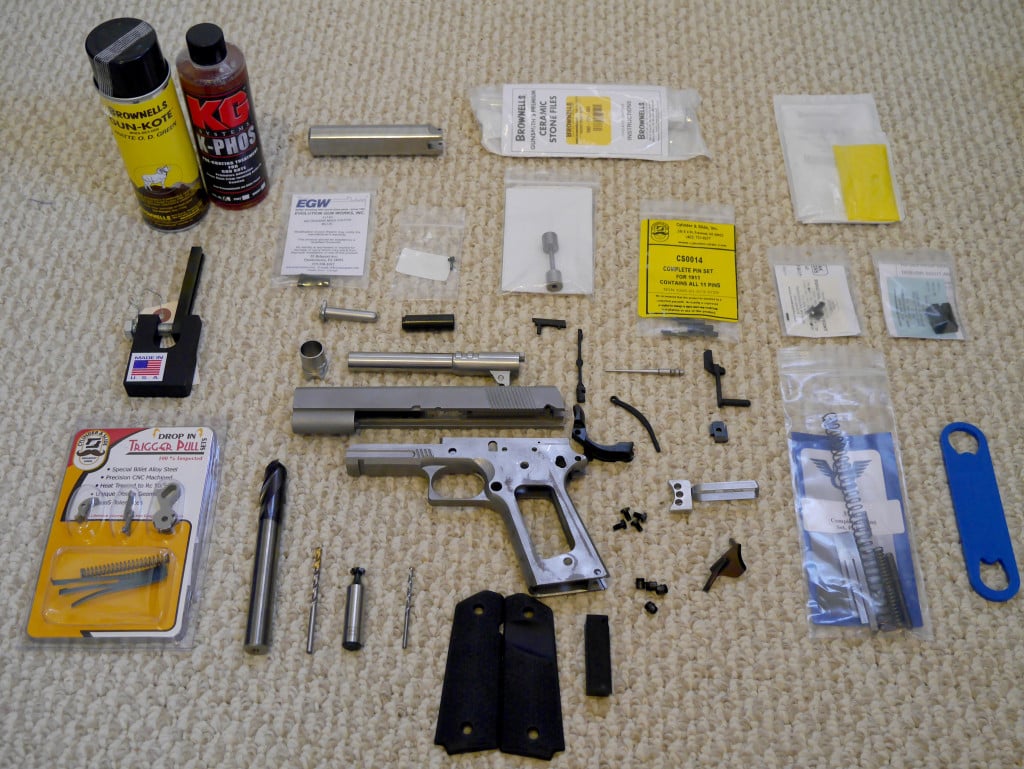 I first leaned towards a very budget build such as from Sarco, but after reading one really detailed blog post here, I decided to go with all "top-tier" parts since they would require the least fitting/machining.  Definitely add the link above to your resources list.
It is possible to build a 1911 out of el cheapo components, just like it's possible to fall out of an airplane at 30,000 feet and survive. That doesn't mean making one's plans contingent on a possibility is at all advisable.
Parts List
Almost forgot, I'll be building a 1911 Government .45 ACP Series 70.  I believe the Tactical Machining frame will support Government and Commander slide lengths.  Different calibers and lengths will need different parts.
I'm assembling most of the parts from Brownells and Amazon with some accessories and extra tools.
BUT, I did really like Midway's 1911 schematic.  I ended up printing it out and crossing this off old school.
Slide
Popular/top-tier/expensive slide options include Caspian, Ed Brown, Les Baer, and Nighthawk.  They are all around $200-300+ with the lower end of the spectrum cheaper since they do not have cuts for your sights.
I ended up going with a Fusion Firearms Slides 1911 slide which were highly regarded in forums.  The one I chose was $230 and already had Novak sights cut (Bomar is another option).  I liked it since it had thicker rear serrations.
Keep in mind that at least for me there was no communication of when my slide shipped, but I did get it in a reasonable time about 10 days after ordering.  Only thing is they sent me a slide with thinner serrations.  It still looked awesome so I didn't want to go through the fuss of returning and waiting again.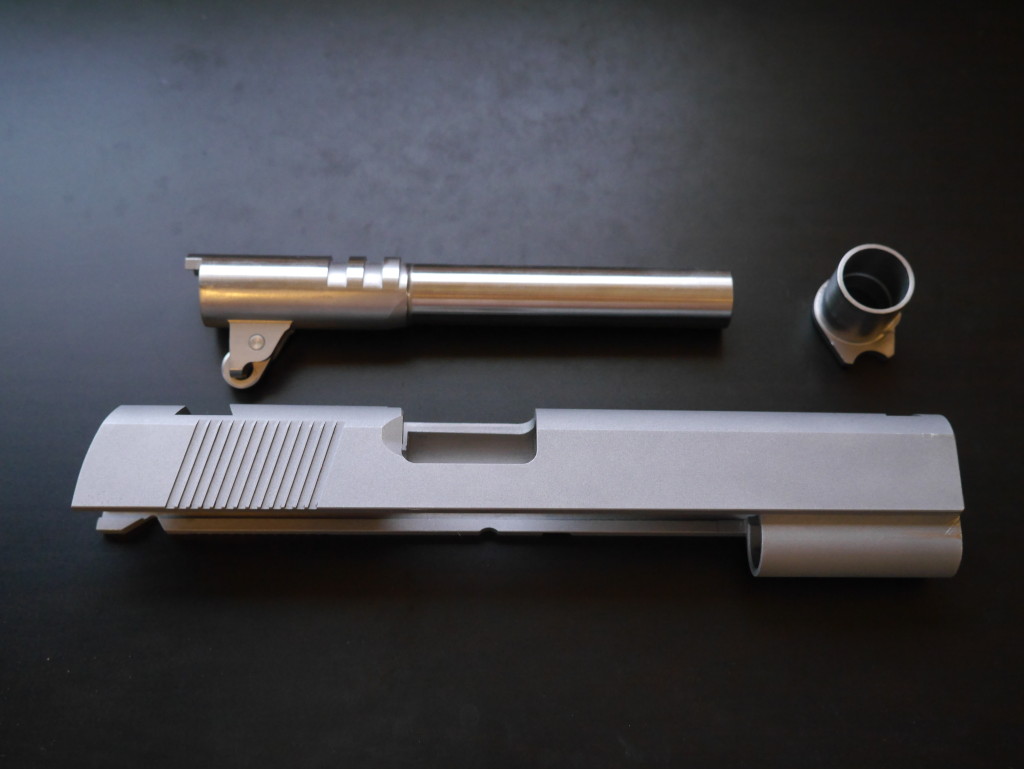 Another thing I wish they wrote in their descriptions was that the firing pin hole is for 9mm/.38 and not .45 ACP.
Barrel
I was not looking to fully gunsmith fit my barrel since I felt if there was one important part I don't want to mess up on, it's keeping the barrel inside the gun.  The end goal is still just a safe and reliable 1911.
I went with a 5″ .45ACP Storm Lake Pre-Fit barrel kit for $180 shown above.  Other 1911 Barrel Options should work fine but are a little more expensive.  They should all come with a fitted bushing and the lug already installed.
The combo of Fusion with Storm Lake seems perfect.  The barrel fits in super tight and there was the most minimal filing I needed to do to fit the bushing to the slide.
Small Parts
Finishing
I love finishing my firearms and for this 1911 I'm planning on using Gunkote.  I won't have access to bead-blasting (update: I ended up doing it) the surfaces so I'm just going to prep with degreaser (local auto store), K-Phos, and the GunKote.
Next Lesson
Part 1: Intro (Finding the 80%)
Part 5: Cutting the Slide Rail
Part 7: Hammer & Sear Pin Holes