A lighter AR-15 can often reduce the strain on shooters lugging their guns around, but shaving off ounces and pounds comes with its own drawbacks.
Increased felt recoil and decreased accuracy can rain on any range goer's parade.
So is there a way for a rifle to be both lightweight and accurate enough to please AR-15 shooters?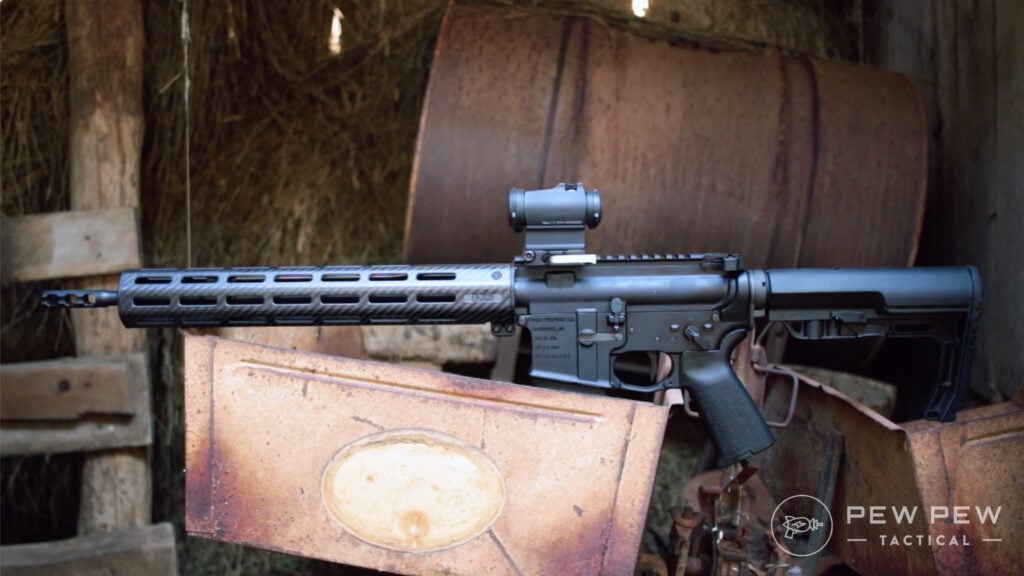 Faxon Firearms trims the fat from its newest firearms, a pair of AR-15s dubbed "Ion" with that lightweight, accurate goal in mind.
Offering two versions — a full-length rifle and an AR pistol — the Ions come chambered in 5.56 NATO. Facing a market saturated with ARs, what makes this pair worth the dough?
Well, that's where I come in — to help you determine whether these guns are something to add to your wishlist.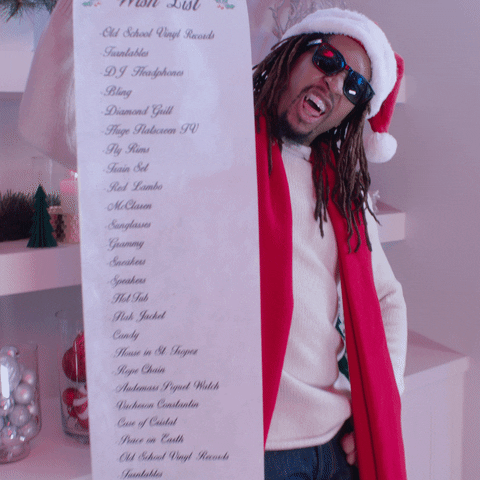 Faxon sent me a pair of Ions to put through the wringer, and I did just that…boy, do I have some thoughts.
For the complete video review — take a look below!
Want more Pew Pew Tactical goodness? Subscribe to the Pew Pew Tactical YouTube Channel!
Table of Contents
Loading...
Stats and Specs
The Ions are light, crazy light.
The full-length rifle weighs in at 4.95-pounds, with the pistol variant knocking mere ounces (seriously, we're talking .02) off with a slightly shorter build.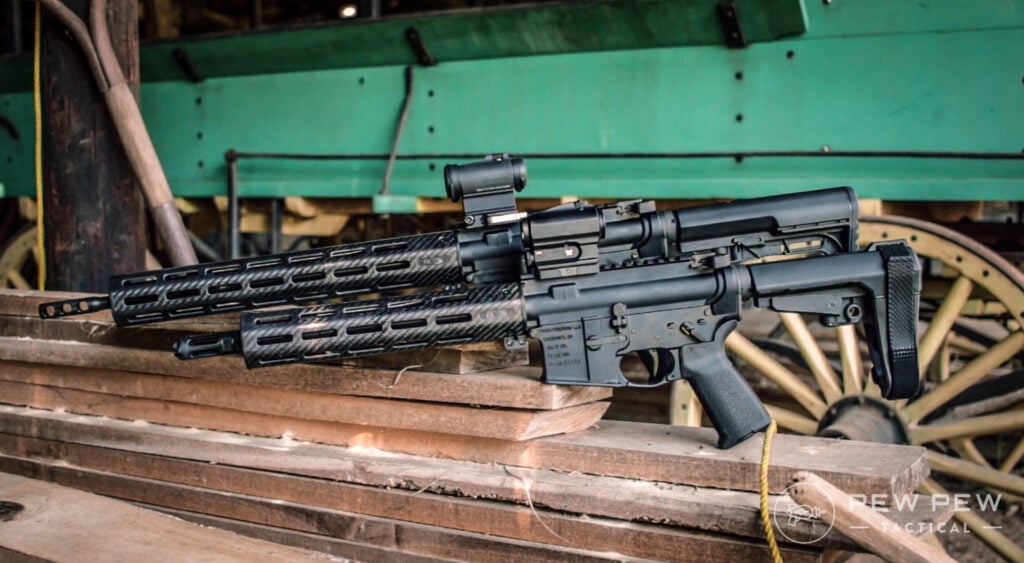 Faxon has cut weight all over the place. From the lightweight bolt carrier group to the carbon fiber handguard and super thin pencil barrels, the Ions are built to be light as a feather.
1575
at Faxon Firearms
Prices accurate at time of writing
Prices accurate at time of writing
While features between the two are nearly identical, the biggest difference you'll find is in lengths. (Duh!) The pistol sports a 10.3-inch barrel and handguard length. Meanwhile, the rifle equips itself with a 16-inch barrel and 13-inch handguard.
Both handguards are outfitted with M-LOK for all your accessories. They also offer a carbon-fiber design. Carbon-fiber is tantamount to reducing weight, so it's no surprise Faxon used it on the Ions.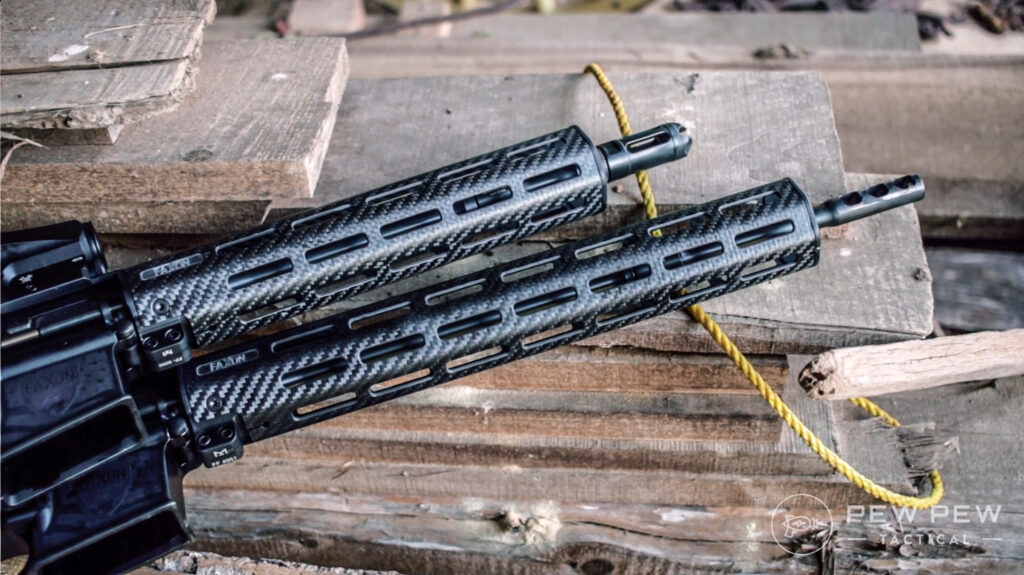 As far as the gas system, Faxon uses a multi-position adjustable gas block. It's a nice touch. Also, it helps that the package comes with a tool to make those necessary adjustments. I really appreciate it when everything I need is altogether from the get-go.
MSRP sits at $1,425 for the full-size and $1,450 for the pistol.
Fit and Feel
Ergonomics are okay. Of course, it's going to feel familiar on day one — it is an AR-15, after all.
The selector switch is a little different, but I like it. Both guns offer Magpul grips, and the pistol has the SBA3 brace, which is my favorite.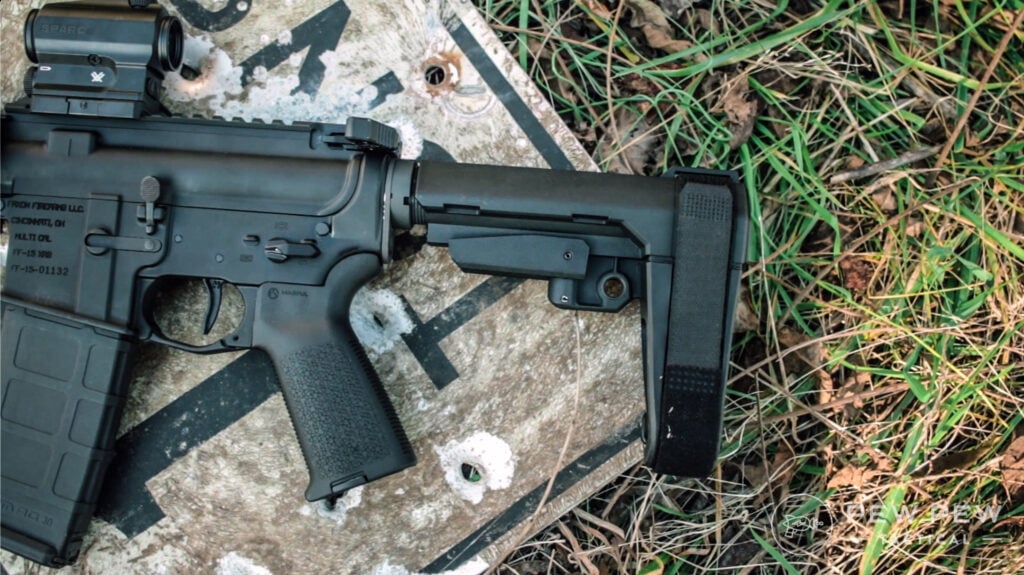 As far as aesthetics, it's a solid-looking rifle. The carbon fiber handguards are gorgeous. Both the pistol and rifle use a forged receiver set, with a nice finish.
Right out of the box (a hardshell case, by the way), these guns were clean.
I'm not big on gun artwork, so I was a little iffy about the American flag motif on the Ions' side. That said, it's fairly subtle.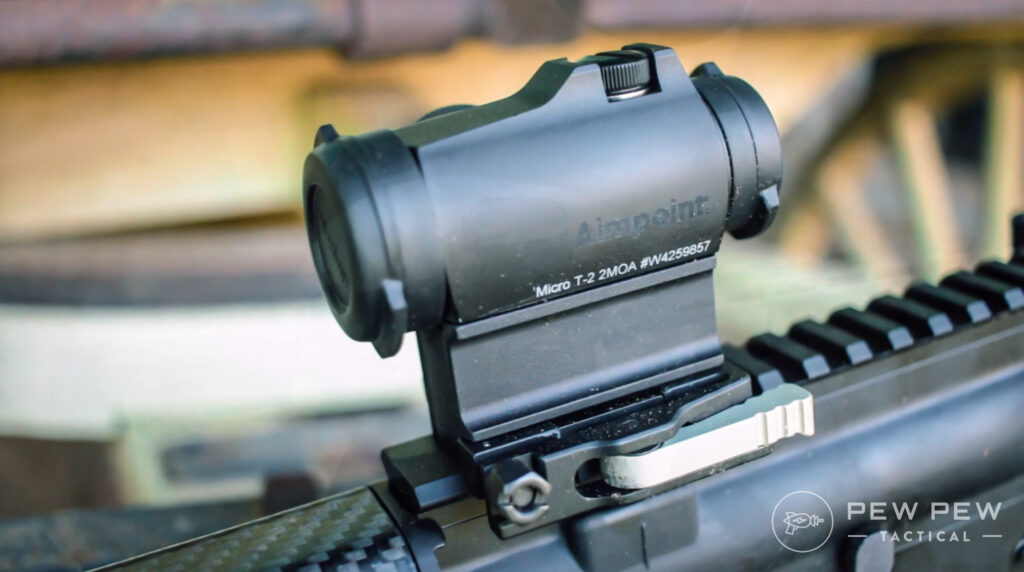 Both Ions come as flat tops with full rails. I paired one with the Vortex Spark AR red dot and the other with the Aimpoint Micro T-2. The optics sat nicely on top of the Ions and I had no issues there.
870
at Optics Planet
Prices accurate at time of writing
Prices accurate at time of writing
Range Report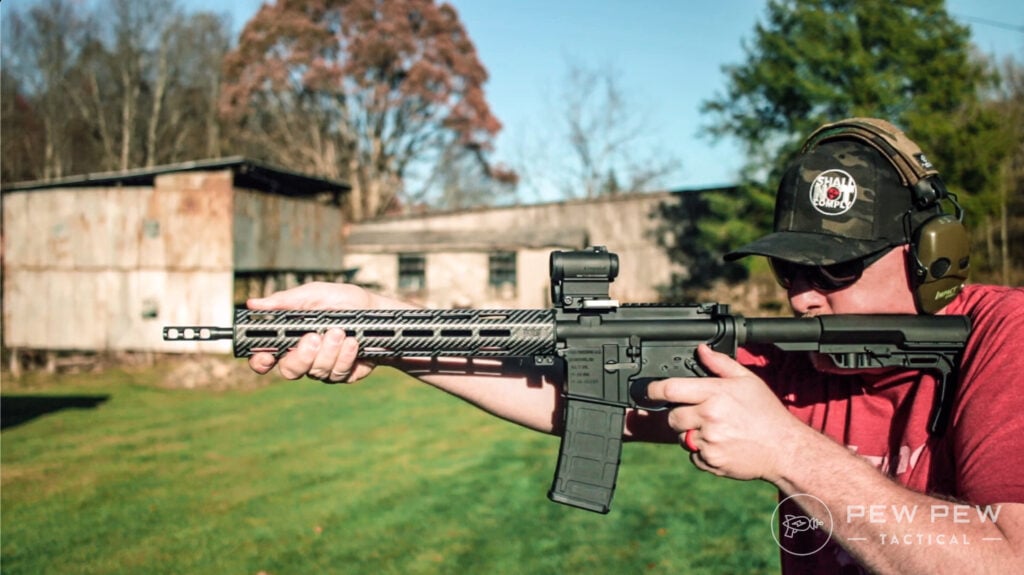 To test the Ions, I rustled up 300-plus rounds of Russian steel-cased ammo. I also used every brand of magazine I could get my hands on.
And boy, we let 'er rip.
Did the Ions fold under the pressure of testing?
Nope, not really. Both rifles ran great!
200
at Optics Planet
Prices accurate at time of writing
Prices accurate at time of writing
Despite the lightweight platform, the Ions really didn't feel any different. Perceived recoil was minimal.
The Radian Raptor LT charging handle felt fantastic. And with an ambidextrous design, lefties and righties have an equal opportunity here.
Best Lightweight Charging Handle
56
at Brownells
Prices accurate at time of writing
Prices accurate at time of writing
Those magazines we threw at them?
No problem. Each and every magazine we tried performed flawlessly alongside the Ions. The guns locked back on empty every.single.time.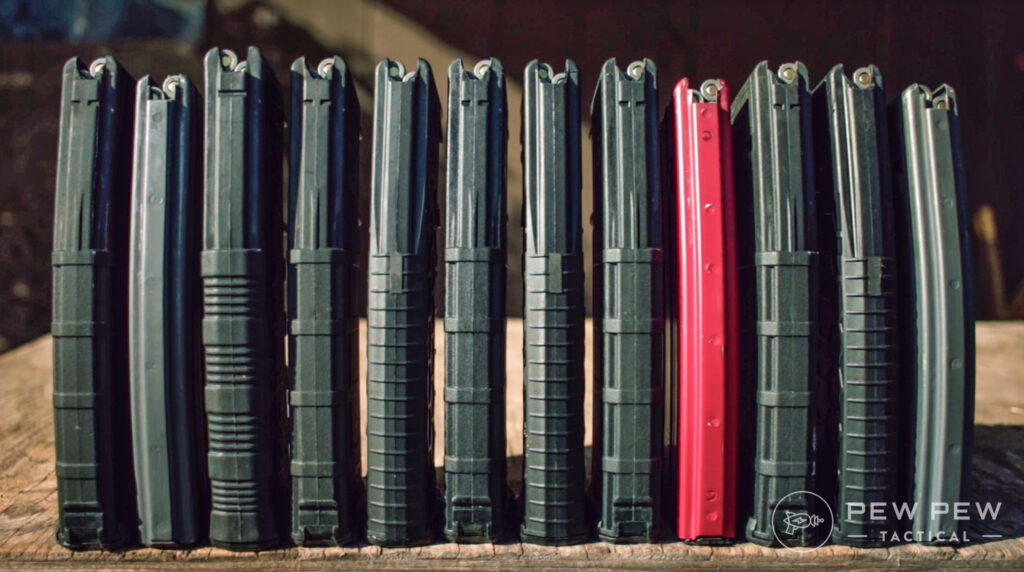 Using a Hiperfire EDTDM Single-Stage Trigger will require a little practice. Overall, I liked the Hiperfire trigger, but the reset is a little different. I can't really explain it — just one you'll have to work with to get the feel.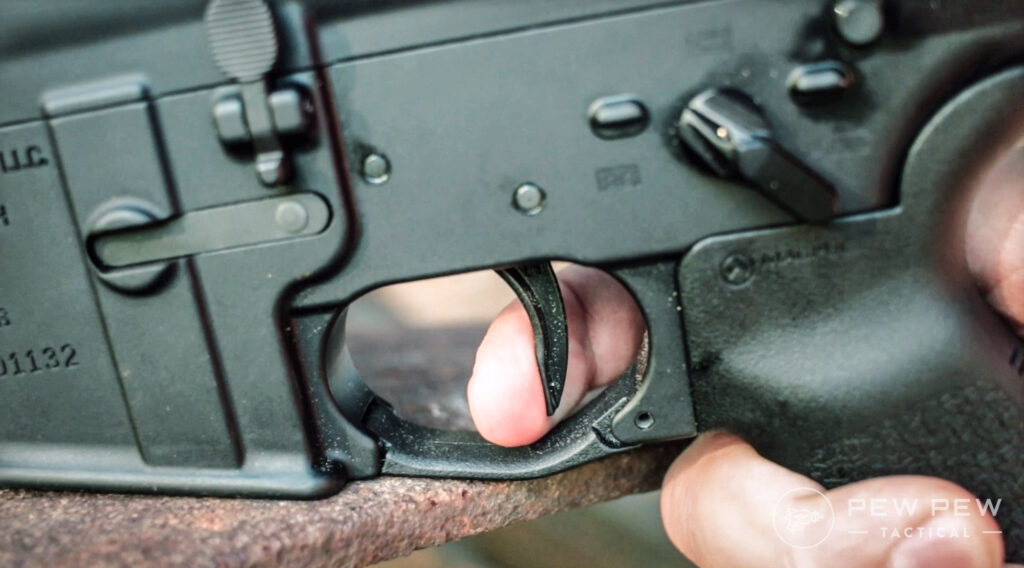 I kept my shooting short and sweet, staying inside 100-yards. The Ions handled this distance just fine. Shots were placed exactly where I wanted, no problem.
Pistol vs. Rifle: Are There Any Differences?
There's a reason we're talking two guns in one article. Because the Ion pistol and the Ion rifle are strikingly similar. Both have the same look, same trigger, and almost the same weight.
190
at Brownells
Prices accurate at time of writing
Prices accurate at time of writing
Obviously, one is longer (the rifle), and the other is shorter (the pistol). Outside of that, there isn't too much on the surface that separates these.
On the range, though, it's a different story.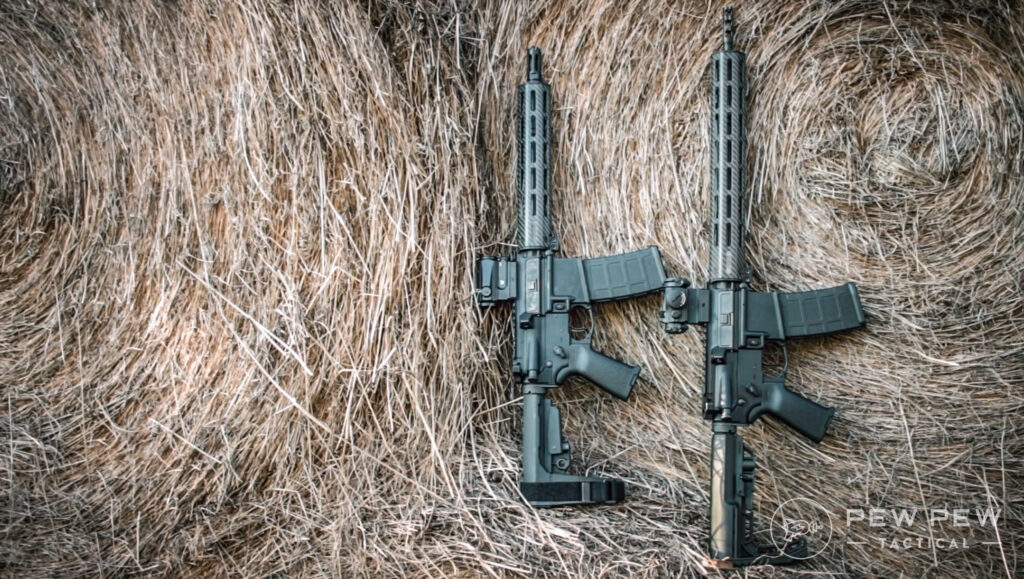 While I was impressed with the Ions performance, the range trip wasn't without a hiccup. Namely, the pistol version experienced a couple of light primer strikes.
1449
at Faxon Firearms
Prices accurate at time of writing
Prices accurate at time of writing
Was it the ammo? Was it the gun? It could reasonably be either/or. Time will tell.
The other key difference between the rifle and pistol is that the rifle version is loud.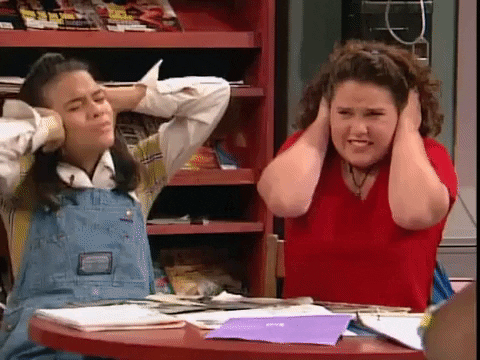 REALLY LOUD.
I was genuinely surprised at the volume. In short, your neighbors will hear you popping off rounds. If you prefer a quieter AR, you might want to stick with the pistol version.
No doubt the most important difference between the two Ions comes down to the threading.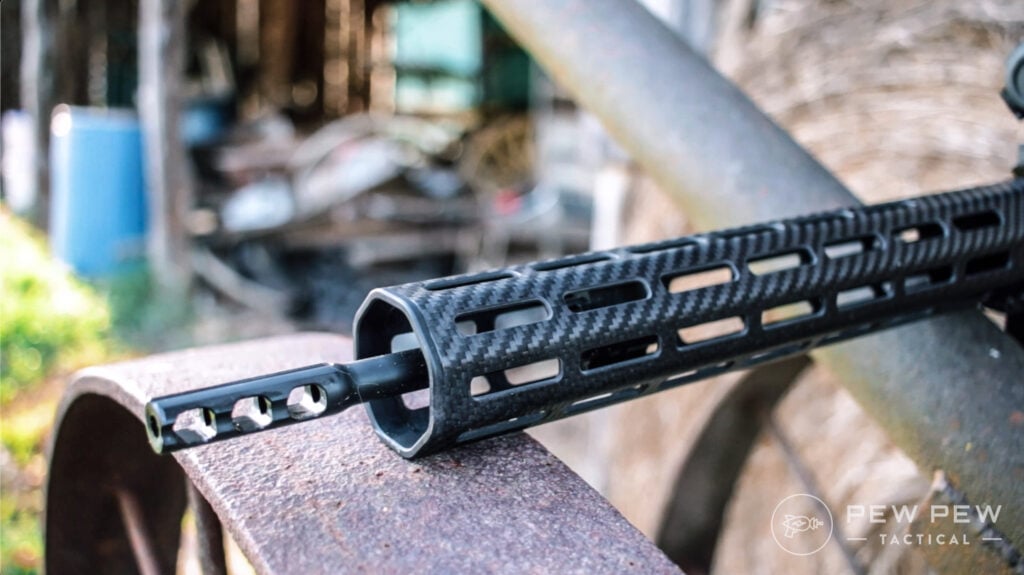 The rifle opts for an integral muzzle brake, which means it is NOT removable.
What's that mean for you? If you want to eventually pop a suppressor on the end, you can't do that with the rifle so grab the Ion pistol instead.
The AR pistol features that coveted threaded barrel.
By the Numbers
Reliability: 4.8/5
I had a few light primer strikes on the pistol, but the Ions run. They ate the Russian steel, and we had zero problems from seven different magazine brands.
Ergonomics: 4/5
The AR-15 style is familiar, but the 45-degree selector is different. Minor obstacle to overcome. That Radian charging handle, though…pure bliss.
Accuracy: 4/5
Faxon's Ions put rounds where you want them, no problem-o.
Customization: 4/5
M-LOK guard, flat-top receiver, and stock/trigger options for days. Do your thing. The only hindrance is the non-threaded barrel on the rifle. That said, the Ion does weigh less than 5-pounds. We call that a tradeoff, Sparky.
Value: 4.75/5
Huge value with this one. Hardshell case, top-shelf carbon-fiber handguard, nice trigger with extra spring, adjustable gas block with tool, and a lifetime warranty. There's a lot in this package.
Overall: 4.5/5
I had a blast with the Ions! They are crazy light and a solid value. Not to mention, they look great. Thumbs up!
Conclusion
Faxon's Ion series delivers a super lightweight, accurate AR-15 to shooters. My pair chewed through 300-rounds of ammo, though the AR pistol version saw a few primer strikes. Also, be prepared for a big bang when you step out onto the range with the full-length rifle — it's LOUD.
With a Radian Raptor Charging Handle, carbon-fiber handguards, and the Faxon Lifetime Warranty, you can't go wrong with grabbing an Ion…or two.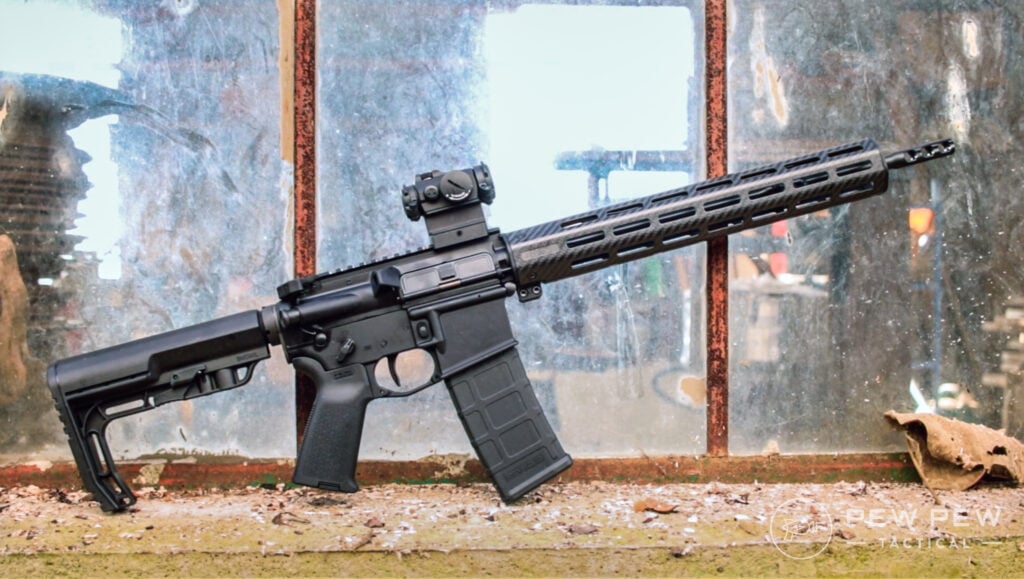 Aside from some minor gripes, there's not much to complain about here. Overall, I had a blast with the Faxon Firearms Ions.
They look great, and ran great.
Let me know your thoughts on the Ion in the comments below. And, if you need even more AR-15s in your life, skim through our guide of the Best AR-15s.