Lights on shotguns, specifically pump shotguns, can be tricky but why?
Well, because the pump moves back and forth.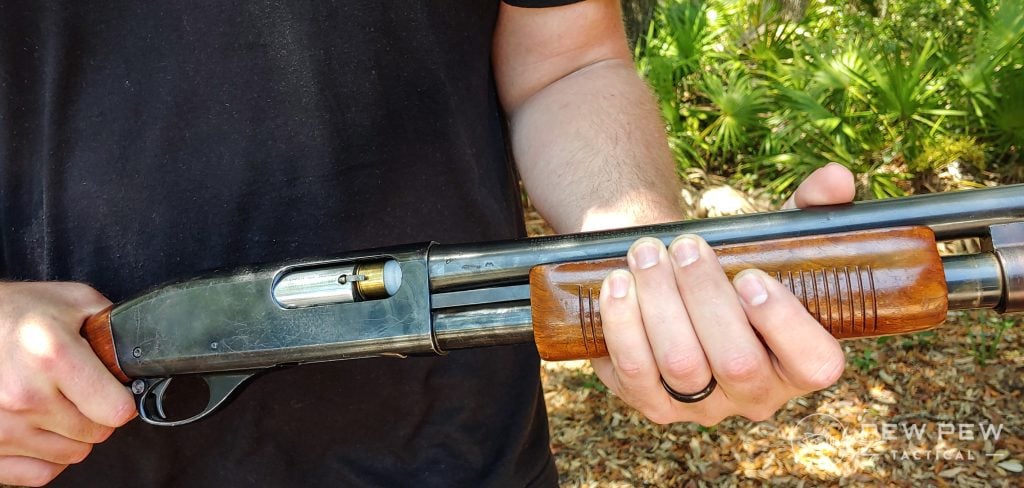 This makes it tough to mount a light and even more difficult to mount a control system for the light.
If you ever want to see chaos, run a pressure switch on a shotgun pump and see how easily it disconnects when you violently pump the shotgun.
In the United States, there are only a handful of companies that are serious about weapon lights – and only two produce dedicated shotgun options…the SureFire DSF series and the Streamlight TL-Racker.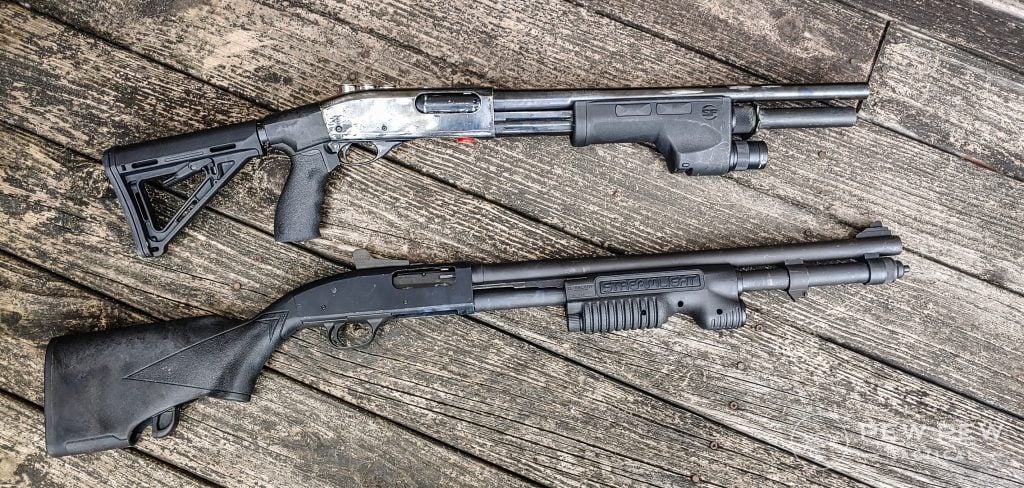 These shotgun lights come in the form of a dedicated pump with integrated lighting systems.
I got my greedy little hands on both, mounting the SureFire DSF on a Remington 870 and the Streamlight TL-Racker on a Mossberg 590A1.
I'll walk you through what sets these two designs apart, the pros/cons of each platform, and help you decide which is right for your shotgun.
Table of Contents
Loading...
Why You Need a Shotgun Light
Before we dive into the beatdown between the two, let's talk about why your shotgun needs a light.
If you utilize a shotgun for home defense, then it needs a light. Any kind of long gun needs a light for defensive use.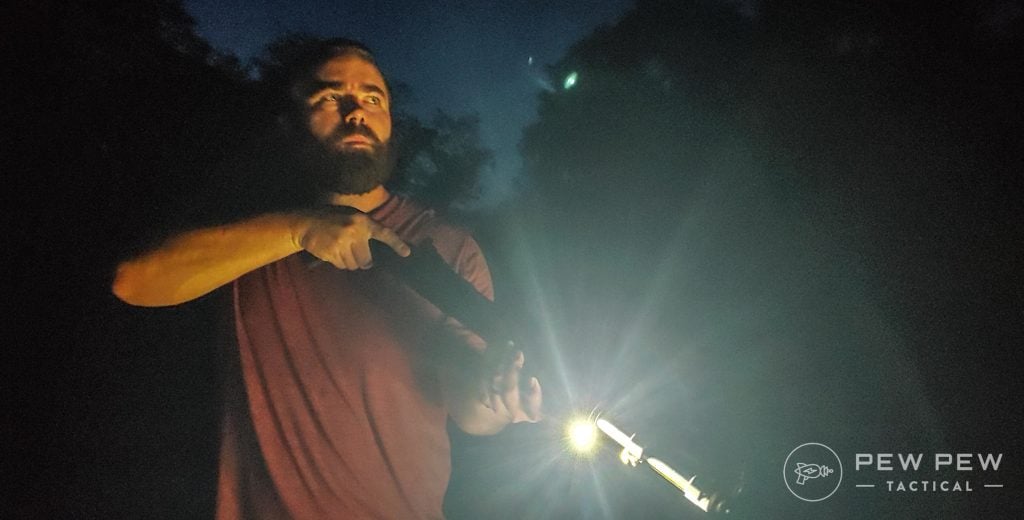 The reason being is you must establish positive identification before you ever take a shot.
When something goes bump in the night, you don't just send a load of lead in that direction. You utilize a light to identify a target and ensure it's a bad guy and not a mischievous cat.
Shotguns need lights, and the SureFire DSF and Streamlight TL-Racker aim to help with that.
Streamlight TL-Racker vs. SureFire DSF: Ergonomics & Specs
SureFire's shotgun-mounted lights have been around forever in various configurations.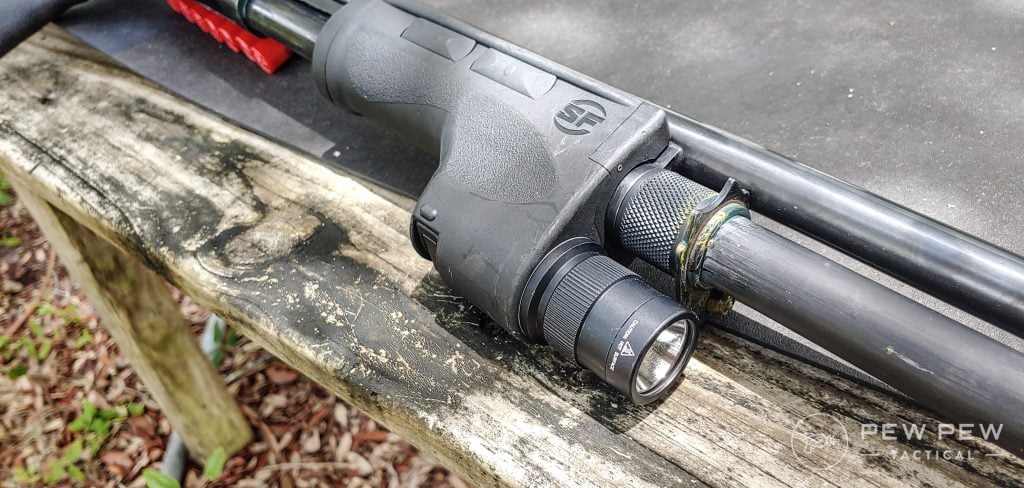 Our latest entry, the DSF, provides more light and power than any other SureFire shotgun light.
We get a high mode of 600 lumens backed by 13,000 candela with a low mode of 200 lumens.
359
at Brownells
Prices accurate at time of writing
Prices accurate at time of writing
Not too shabby. But what does the TL-Racker have to offer?
It's Streamlight's first dedicated shotgun weapon light and comes out of the gate quite strong with 1,000 lumens backed by 20,000 candela.
That's a significant difference. The TL-Racker provides lots of light in its package. More so than the SureFire.
136
at Amazon
Prices accurate at time of writing
Prices accurate at time of writing
Have you tried the Streamlight TL-Racker? If so give it a rating below.
The TL-Racker only utilizes a single mode, but SureFire utilizes two separate modes, which is a nice touch.
Where this really matters is in battery life, as the TL-Racker lasts 90 minutes.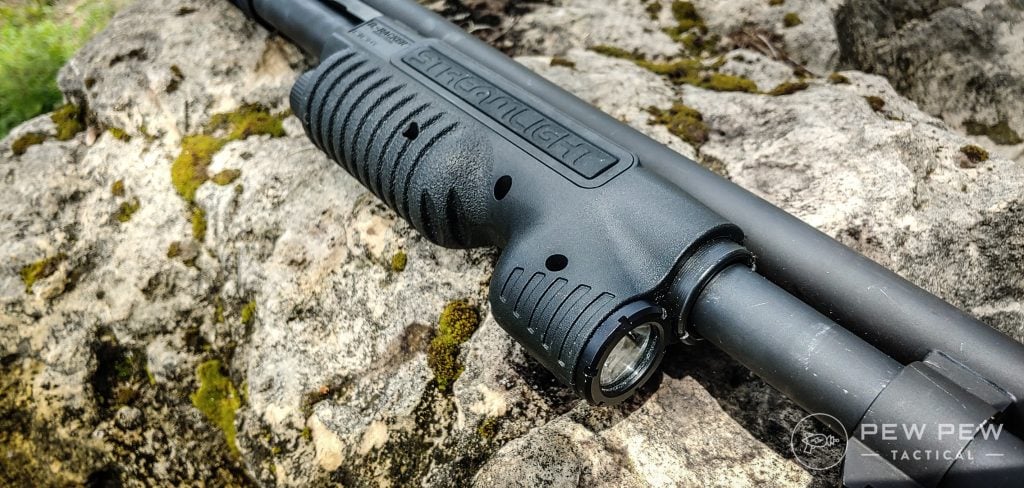 On the other hand, the SureFire DSF operates for 90 minutes on high and three hours on low.
From a duty perspective, the low mode stretches out the battery life when the light is used by police and military shooters.
What About Weight?
Well, the SureFire DSF weighs a hefty 17.8-ounces compared to the TL-Racker's 12.1-ounces. A lighter light offers a more balanced shotgun.
My 870 feels quite off-balance with the SureFire DSF. Holding the 870 up with one hand means forcing the barrel up to keep it on target.
The 590 feels much better balanced with the TL-Racker.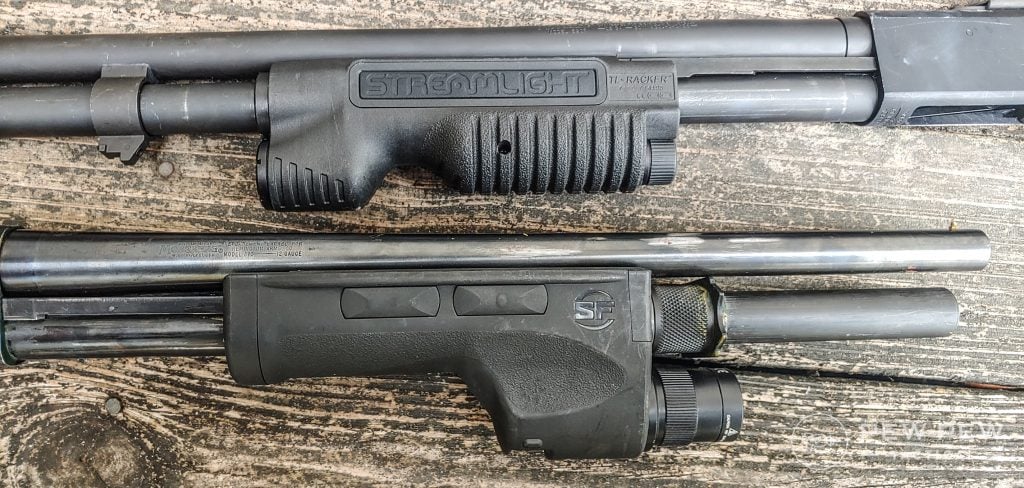 Both lights are shockproof and rated to IPX7 for complete submersion in up to a meter of water.
However, the TL-Racker is made from mostly polymer with an aluminum face cap. SureFire went a different direction with the DSF.
The pump might be made mostly of a high-impact polymer, but the light itself utilizes a mil-spec hard-anodized aluminum body.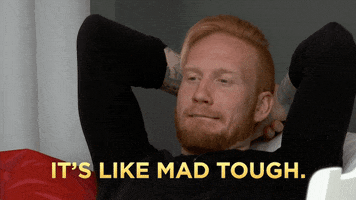 It's certainly the tougher option, but that extra strength means you get a good bit more weight behind it.
Ergonomics
A light integrated into a pump means nothing if it's a big pain in the butt to use. Ergonomics matter.
When comparing these two lights, we see a big difference in the lights' ergos.
SureFire approaches it with a total of five buttons, but they only offer three different functions.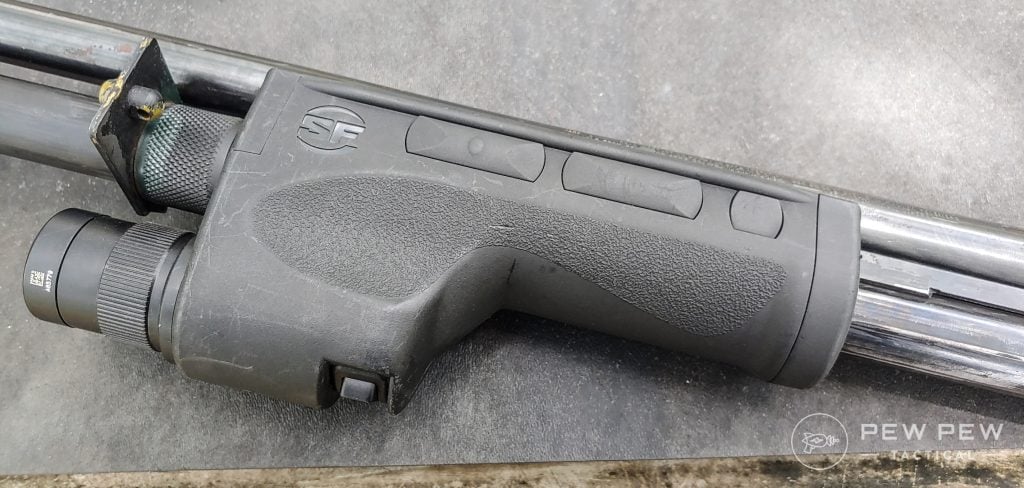 The buttons offer an ambidextrous system for utilizing the light.
On the left and right sides of the DSF 870, you get two big buttons for controlling the light's modes.
The forward button is a momentary option, casting light until you release it.
Behind it, we get a big constant button.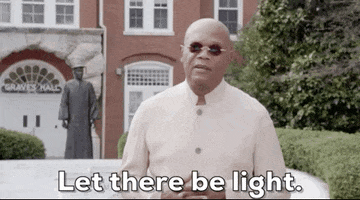 Hit the button, and it pops on and stays on until it's hit again.
You have a little button on the left side that allows you to swap between high and low modes.
Additionally, you get a kill switch on the bottom for storage and transportation. If it's turned off, the light will not function accidentally.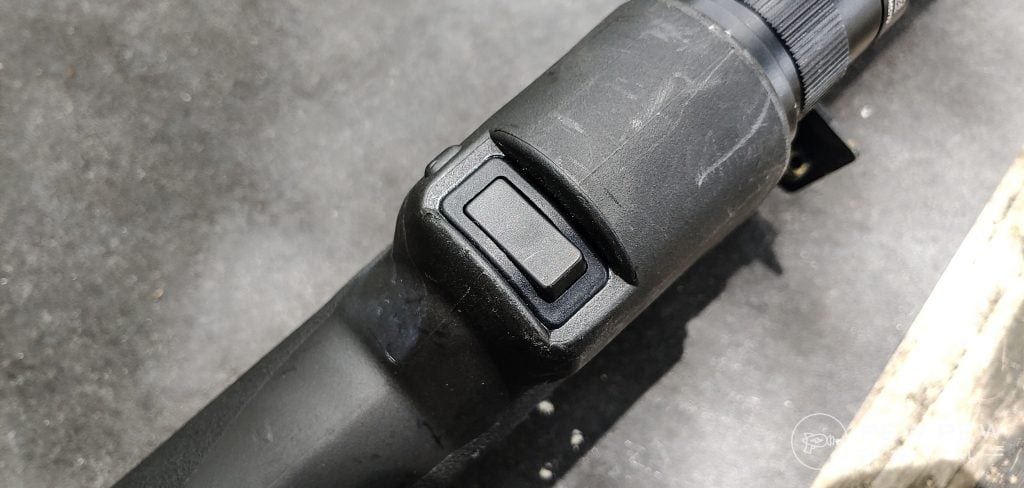 SureFire's controls are well done and easy to access. Its ambidextrous design allows the non-dominant hand to easily control the light and its various modes.
And large buttons make it easy to choose between modes and outputs.
Also worth mentioning, outputs are programmable. You can even reverse these settings, so the constant mode is the forward button while momentary is rearward.
On top of all that, the light remembers your settings. If you set it to low output, it remembers low output. If you set it to high mode, it remembers that it's on high mode.
Meanwhile, the Streamlight TL-Racker keeps things super simple with one huge ambidextrous button.
On the other side of the pump, the big Streamlight logo acts as the go button.
These two buttons make up the entirety of the TL-Racker's controls.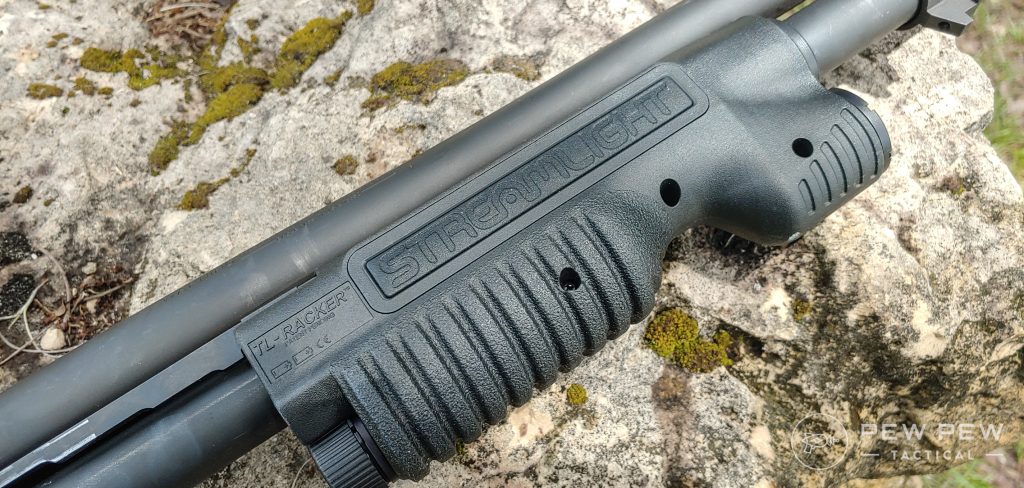 This massive button is quite easy to engage, offering two modes.
Constant on is one short press. Momentary requires you to hold the button for 1 second and then release it.
Momentary is tricky to use, and I believe that's a weakness of this light.
Constant is nice and easy to activate, but the SureFire dual button system works better.
How Do They Work as Pumps?
On the other side of ergonomics is how these things work as pumps. They aren't just lights but important controls of a pump shotgun.
The SureFire has the light integrated into a big hump. Honestly, I have a love/hate relationship with it.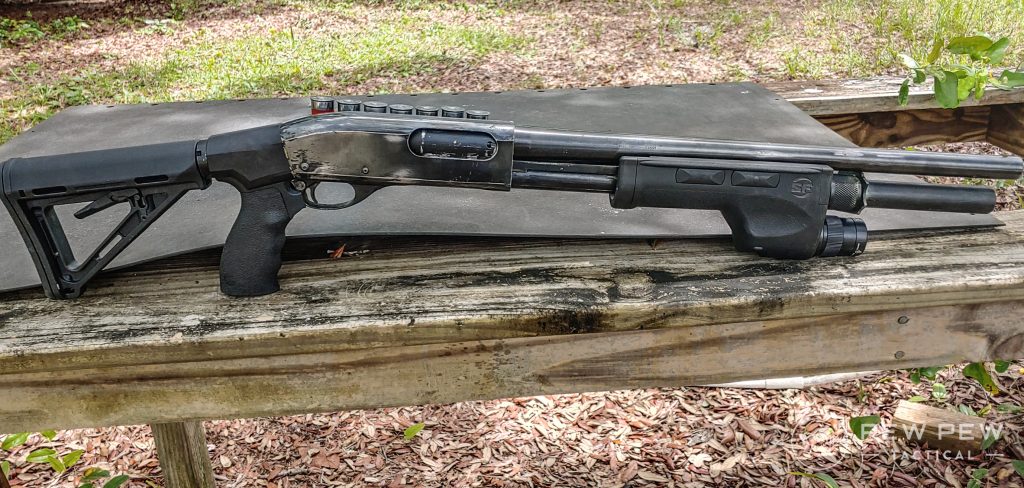 I use the Rob Haught method of recoil control, meaning I press forward on the pump and pull rearward on the stock or pistol grip.
That big hump makes it easy to press forward but also impacts your hand every shot.
That said, the weight of the SureFire does help with muzzle rise.
That extra 5-ounces makes a difference with how the gun handles and does make it more controllable overall.
The Streamlight utilizes a more inline design, forming a slight divot between the light and pump that allows me to push forward with a good grip.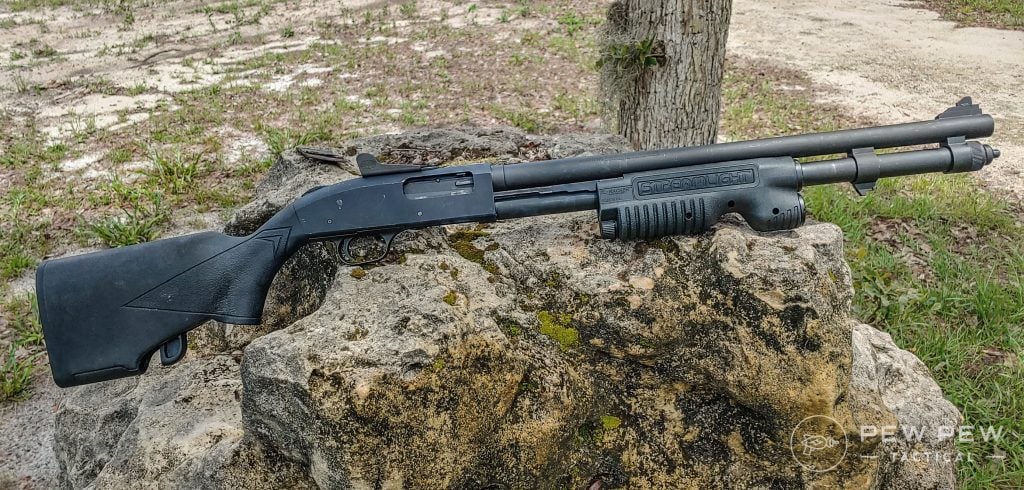 This design doesn't impact my hand or cause any pain.
Streamlight also aggressively textures the pump for a sure grip, which I appreciate from a control perspective.
It also reduces muzzle rise, at least compared to your average pump. However, the SureFire is more effective than the Streamlight at this bonus goal.
Putting Them to the Test…at Night
We hit the ground running with box lights and put them through a series of tests, evaluating max range, how much spill the beam has, how well it defeats photonic barriers, and the color of the light.
Max Range
I took both beams to 25-, 50-, 75-, and 100-yards.
Within 100-yards, I could still see the target with the SureFire DSF, but I might not be able to identify it as a threat.
The Streamlight TL-Racker has a slight advantage in light power and range.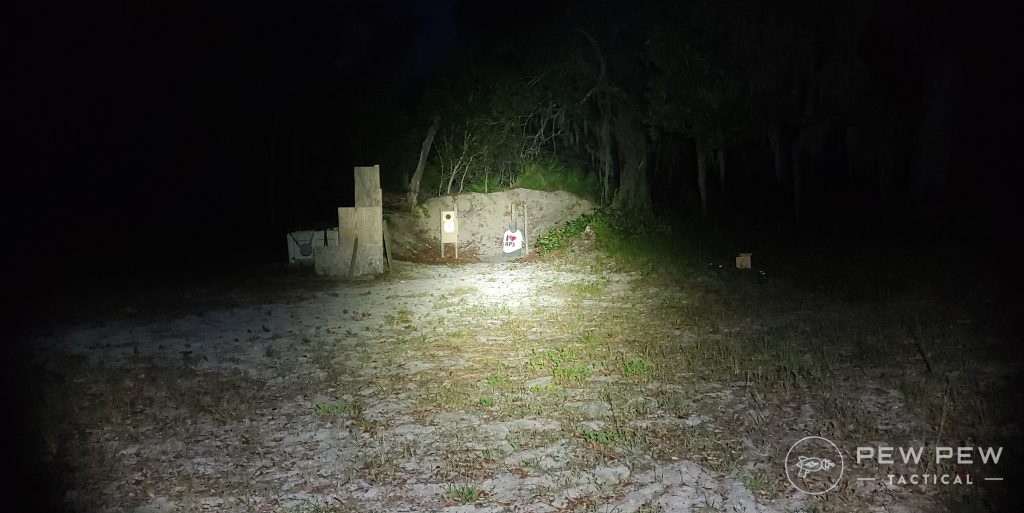 The extra lumens and candela with the more focused beam make it easier to see the target at 100-yards.
I can easily pick up the red and white of the target's shirt, and I establish identification quite clearly.
Inside of 75-yards or so, both beams provide enough power to easily see and engage the target.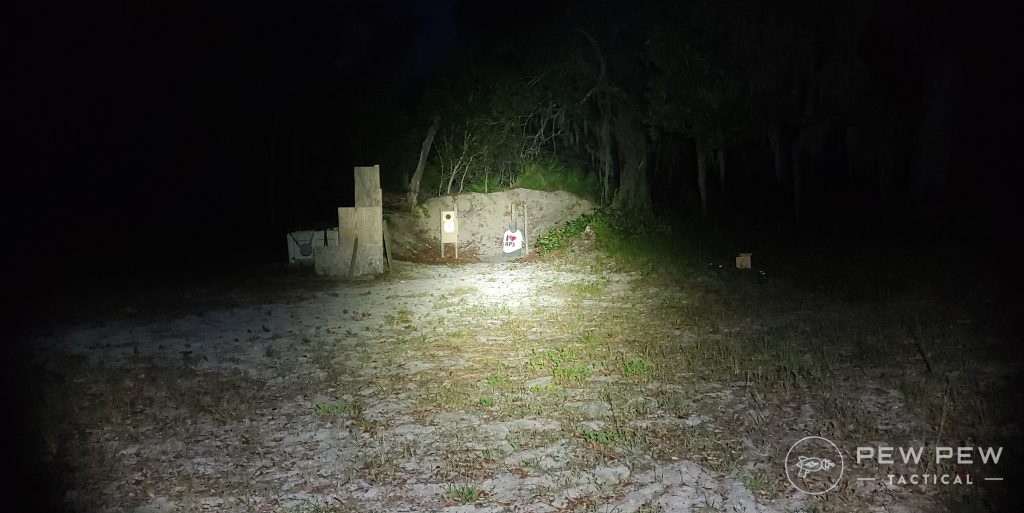 At 25- and 50-yards, these lights are both blindingly bright, making it easy to see the target as well as what's around it.
That said, the more focused beam of the Streamlight doesn't provide as much peripheral vision capabilities as the SureFire DSF.
Beam Width
Here is where SureFire makes a huge difference. The DSF beam provides way more peripheral vision capabilities.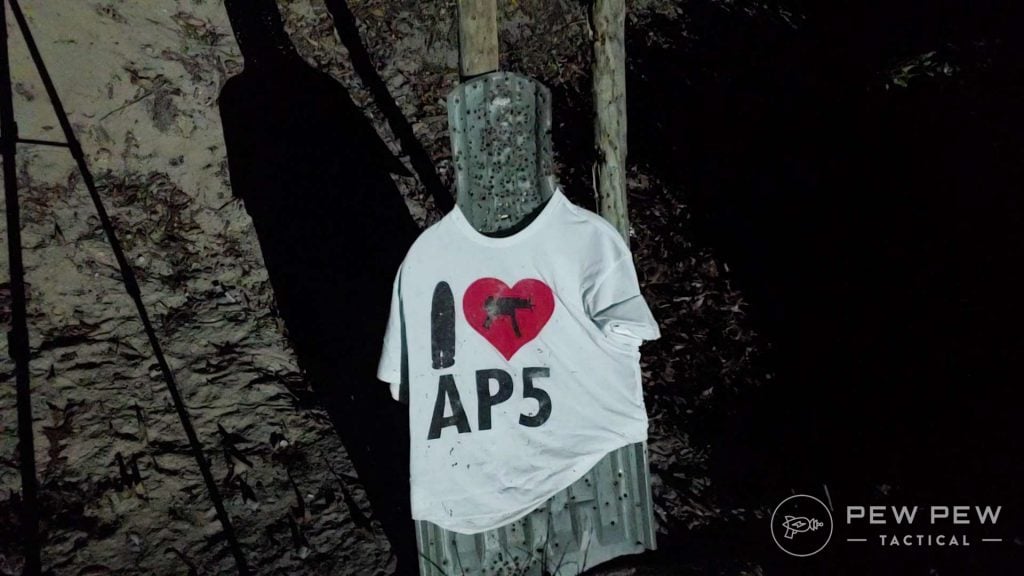 Pictures of lights at night rarely portray them accurately. However, there is a clear difference between the two beams in terms of width.
There can be a real argument that this wider beam is better suited for the old scattergun.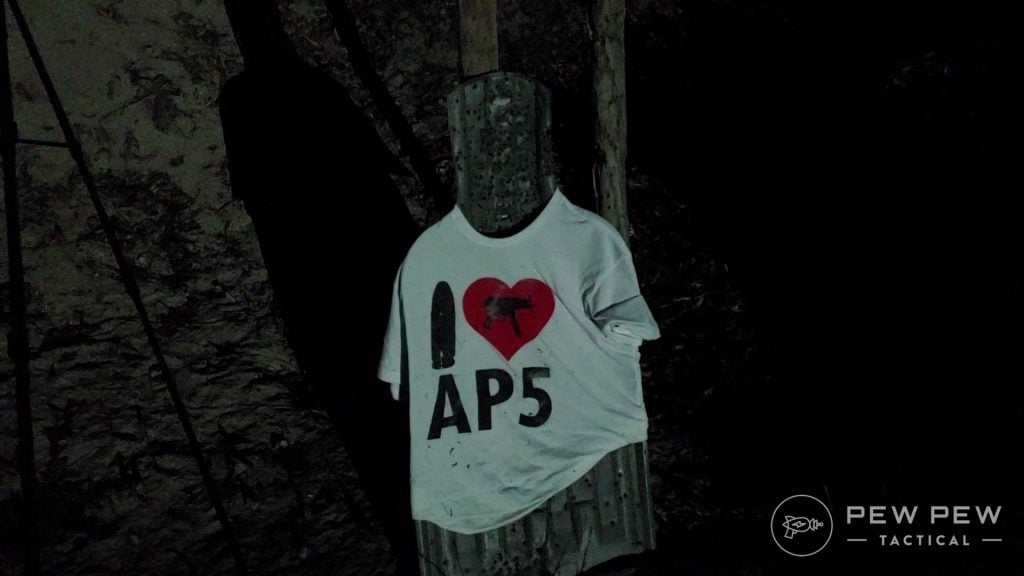 I'm not taking shots at 100-yards with a shotgun. At that range, I'd want a rifle over a shotgun and slugs.
At 25- or 50-yards, the SureFire's beamwidth makes a big difference for potential targets or threats approaching your flank.
Light Color
The color of light is often described as cool or warm. Cool beams are blueish in their tint, while warm beams are more yellow.
If you like cool beams, the TL-Racker provides you a blue-tinted beam.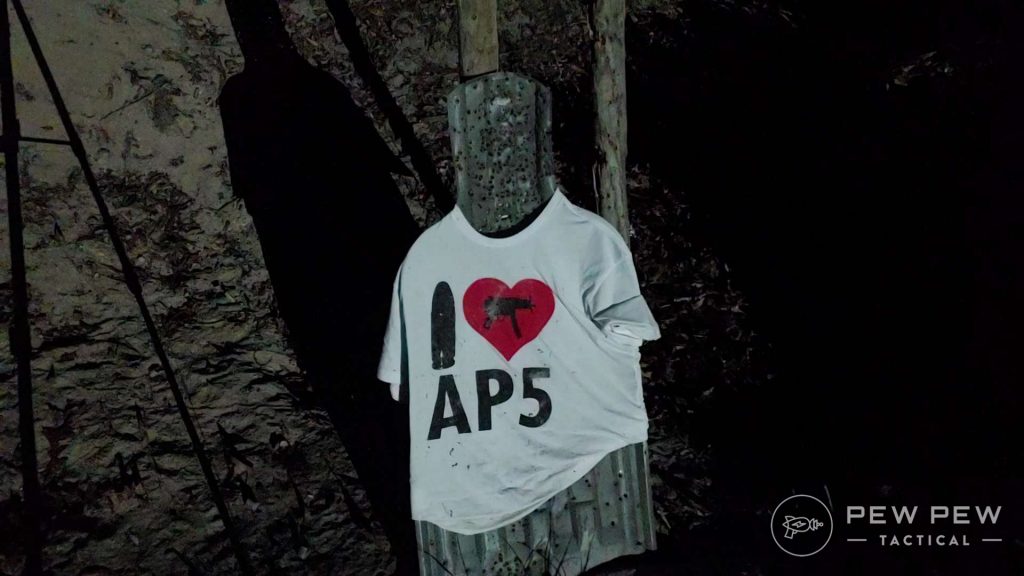 It's not superbly cold like some lights, but cooler than the SureFire DSF for sure.
However, I prefer a warmer beam, so the DSF and its warmer tone suit me.
A warmer beam allows you to see colors better and can help fight through photonic barriers.
Photonic Barriers
I set these lights up against a 500-lumen handheld light.
Without a doubt, the more powerful TL-Racker beats the 500-lumen flashlight into submission. It's easier to see past the light, and it's quite simple to see the target.
The SureFire DSF defeats the 500-lumen beam on high mode, but it doesn't do quite the job that the TL-Racker does.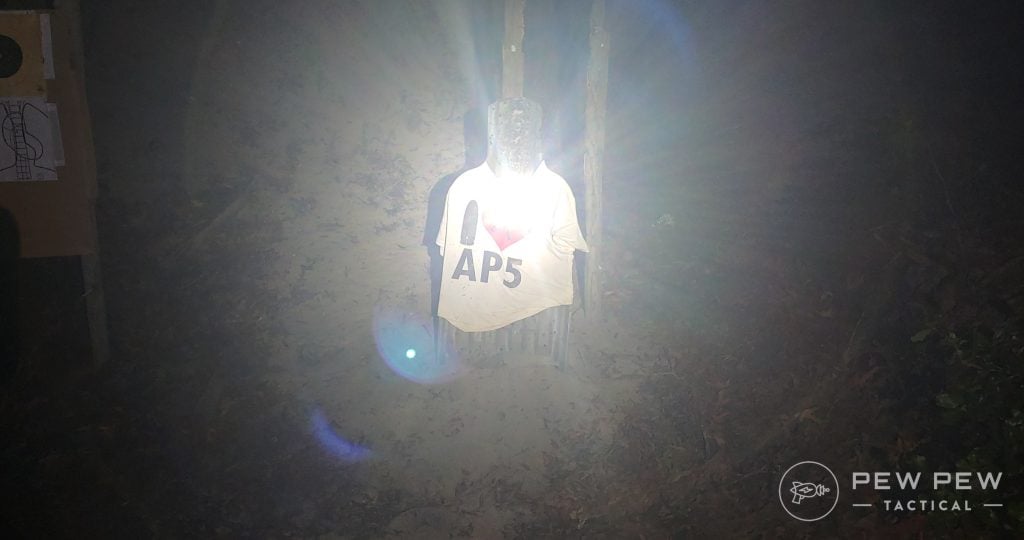 Bottom Line: Who Wins?
Personally, I like SureFire's ergonomics more than the Streamlight.
Plus, the SureFire's wider beam works perfectly for home defense.
359
at Brownells
Prices accurate at time of writing
Prices accurate at time of writing
But if you want simple, then the Streamlight rules.
Before you go all-in on one or the other, though, we can't forget about the price.
136
at Amazon
Prices accurate at time of writing
Prices accurate at time of writing
The SureFire DSF retails for around $330, while the TL-Racker can be had for $129.
That's a massive difference.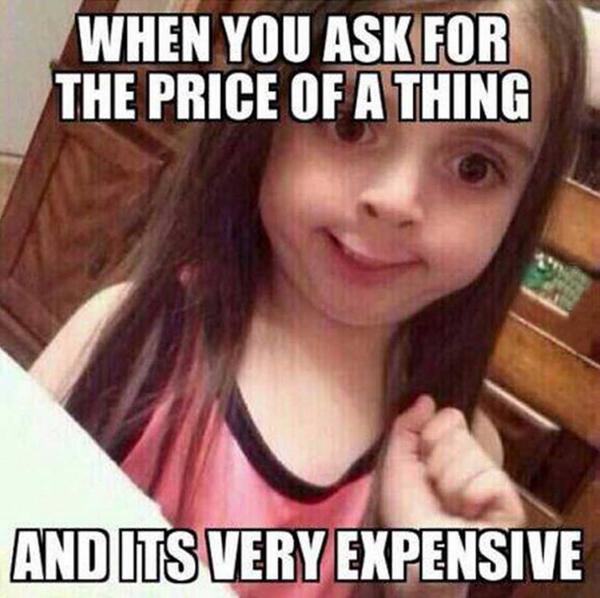 I like the SureFire DSF's ergonomics and beam, but I don't like it $200 more than I mind my small complaints with the Streamlight.
(Heck, I didn't spend $330 on the 870 the light is mounted to.)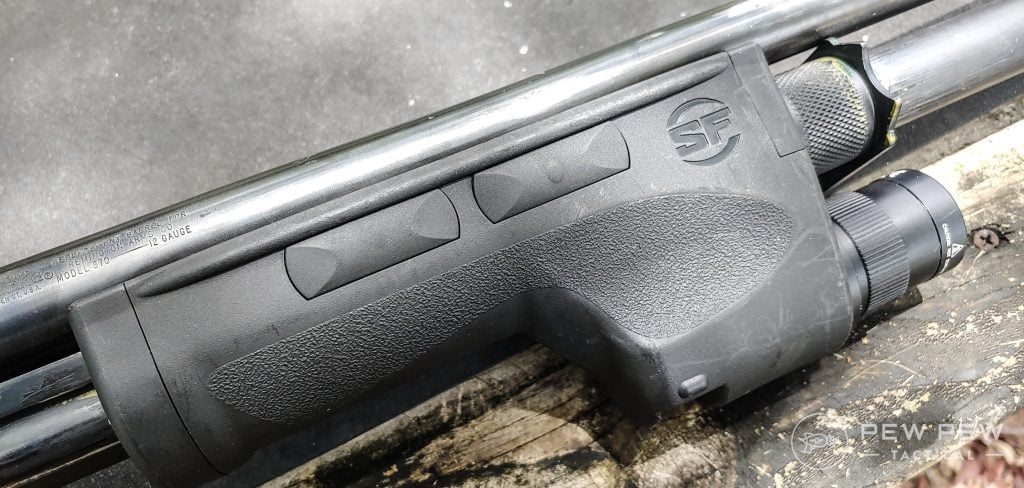 If I was a cop or military member, then the SureFire would be my choice for sure. It's more robust and useful with its multiple modes and button controls.
For home defense, the TL-Racker's friendly price makes it the more rational choice.
Conclusion
Got a scattergun for home defense? You'll need a light, and both the Streamlight TL-Racker and SureFire DSF provide an intuitive light option for home defense use.
While the Streamlight is priced more budget-friendly, SureFire comes with all the bells and whistles.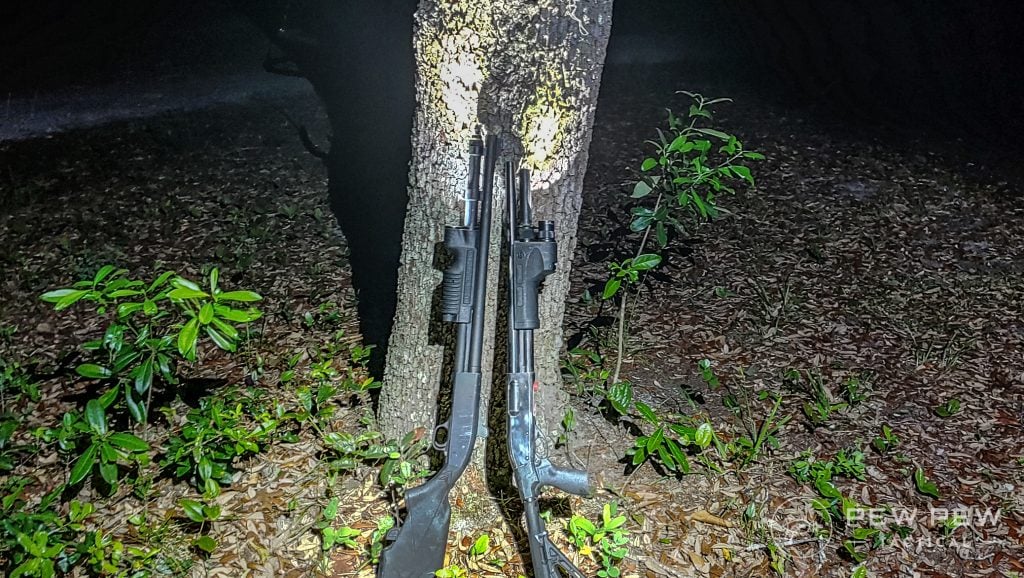 At the end of the day, it comes down to what features you want and how much you're willing to pay to get them.
Honestly, you won't be under-gunned with either.
Which one would you choose? Let us know below! Need more lights in your life? Check out our list of the Best Tactical Flashlights Under $100.