Do you want to hear a slight exaggeration?
The AR market is a little crowded these days.
I mean, let's be honest, the AR market is chock full of every gun and caliber you could ever want.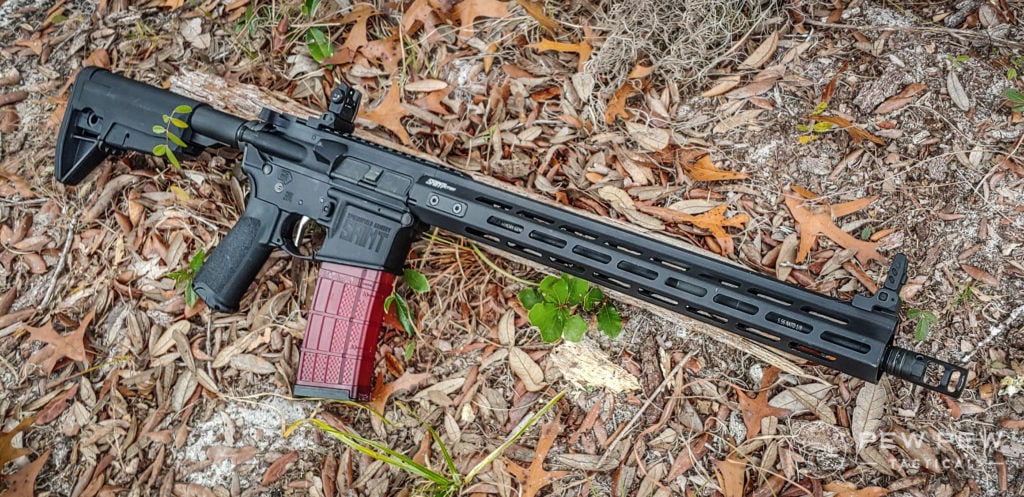 It's full of furniture, accessories, lowers, uppers, and everything from boomer cringe to post-modern artwork.
While I wouldn't change anything about this, I will say as a gun reviewer, and it makes it hard to review an AR model without some kind of hook.
The Springfield Saint Victor doesn't have a crazy hook, what it does have is an impressive set of features, a lot of extras, and it comes in at a crazy reasonable price.
The hook here is that I think the Springfield Saint is that it's the best sub-1K AR-15 on the market. The MSRP is 1,073 bucks, but when was the last time you paid MSRP for a gun?
Online they can be found for around 900 dollars. After shipping and transfer, that should still be under a grand.
850
at Palmetto State Armory
Prices accurate at time of writing
Prices accurate at time of writing
Table of Contents
Loading...
Specs
The Saint Victor is a standard AR carbine with a 16.1-inch barrel. It's chambered for 5.56 and uses a standard AR loadout. You'll find that this gun is very light–only 6 pounds and 9 ounces.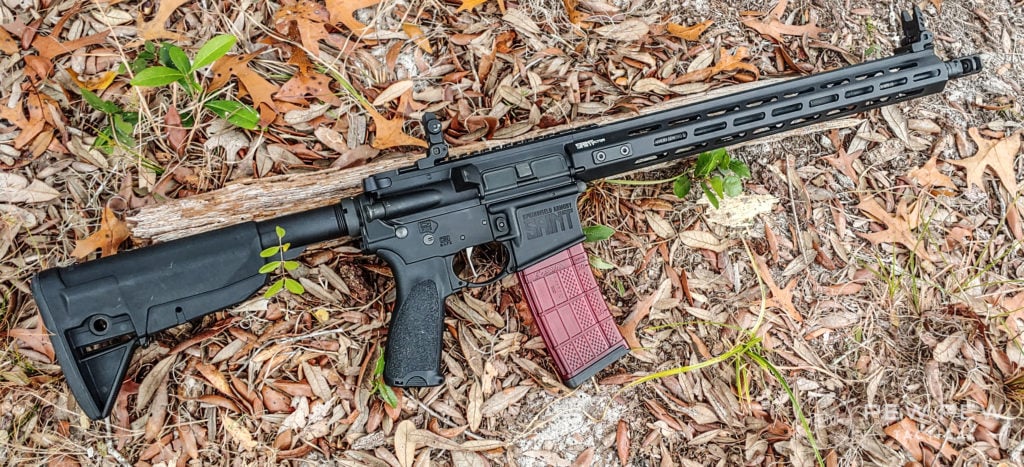 The Victor's barrel has a 1:8 inch twist, and the upper and lower are both made from 7075 T6 aluminum.
It is 35.5 inches with the stock fully extended, and 32.25 inches full collapsed.
Springfield gave it a type III hard coat anodized finish and M4 feed ramps.
Brilliance in the Basics
Brilliance in the basics is a term I heard a lot in my USMC time.
It's merely stressing being proficient in the basics because that's the most important thing to be good at.
I like to apply this idea to AR-15s.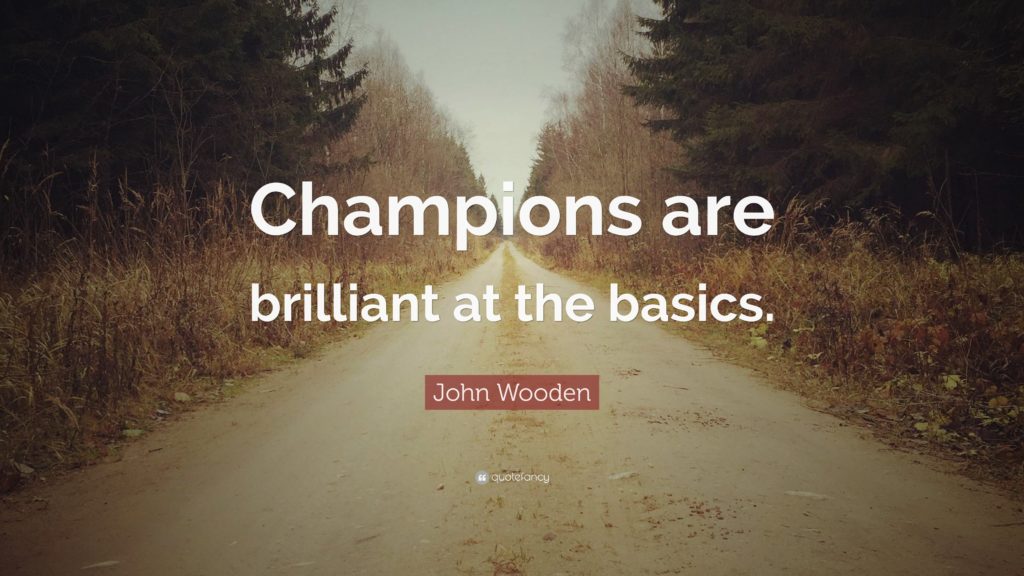 An AR-15 like Brownell's retro series is cool, but if they don't work, what's the point? If it doesn't hold together, what are you going to do with a big paperweight?
The Springfield Saint Victor is an excellent example of brilliance in the basics.
From the outside, things start lining up quickly. Springfield staked both the gas key and castle nut. The handguard is appropriately aligned and installed. It's not moving a hair in any direction.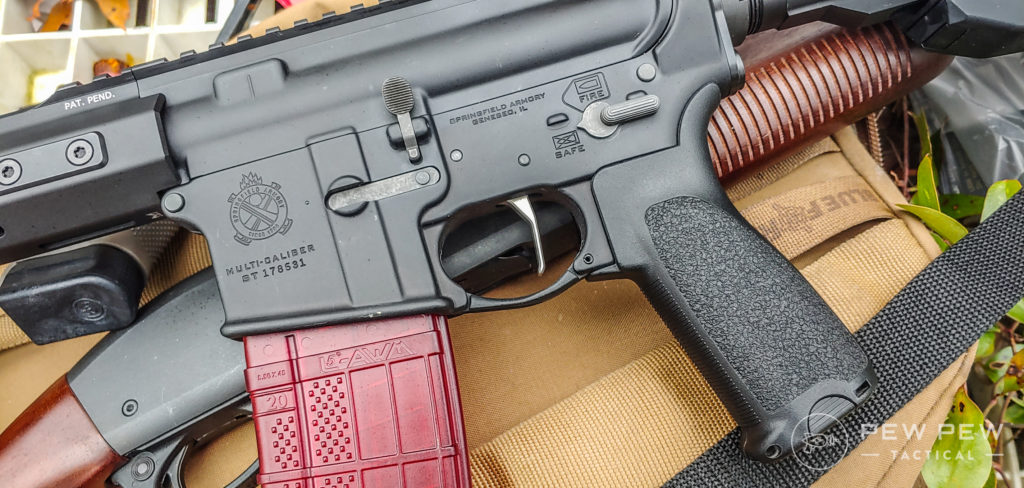 The finish is evenly applied, and the stock and pistol grip are aligned and locked onto the gun. Springfield pinned the gas block rather than hold it on with set screws.
Furniture wise the gun doesn't slap on a standard M4 stock or pistol grip. Instead, Springfield tacks on Bravo Company gear that includes the Gunfighter stock and pistol grip.
I love this stock. I typically stick to a Bravo stock from B5 systems, but the Gunfighter is winning me over.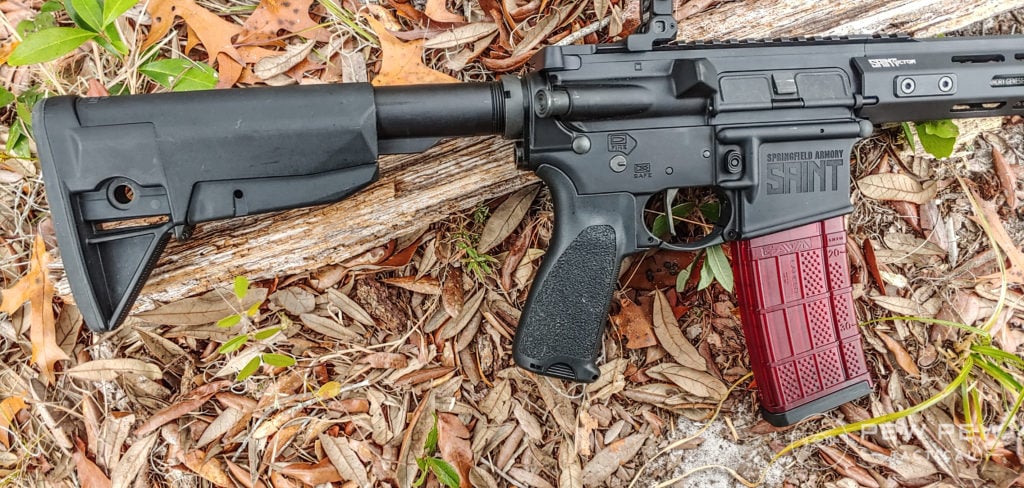 The handguard is 15 inches long and made from M-LOK, and it lacks a full length i12 o'clock rail. You get a small rail section for a front sight. This rail design makes it quite light but limits rail space.
If you are looking to run a night vision clip-on or another optic extension, this isn't the gun for you.
Do you know what the Saint Victor does out of the box that other guns don't?
Included sights.
Holy crap, is it hard to tack on some sights to my 1,400 dollar MPX?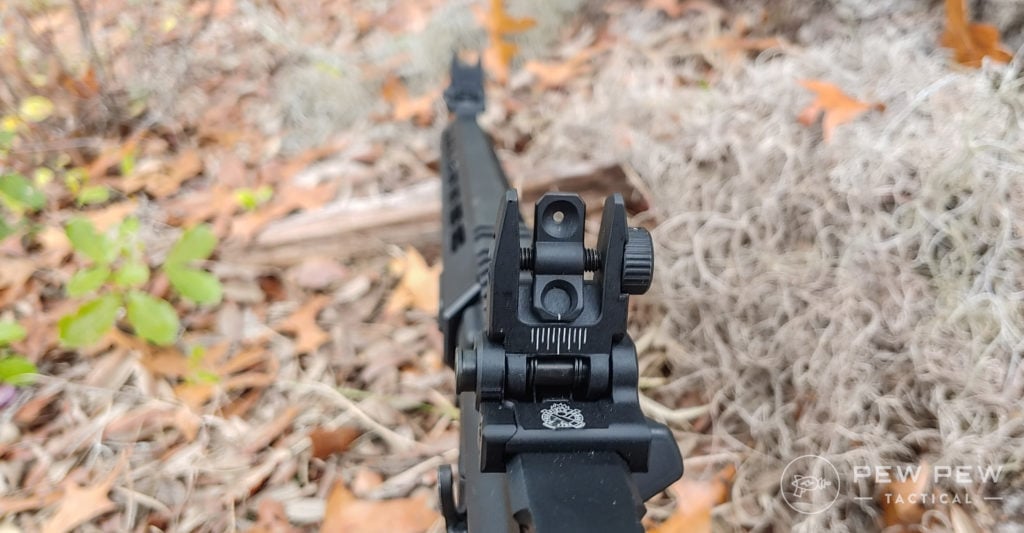 The sights are simple but very useable. It has both a fine and wide aperture for easy target engagement at iron sight ranges.
The Saint Victor comes with metal front and rear flip-up iron sights. These low profile sights mean your gun is ready to go out of the box. It comes with a PMAG as well as a nice little carrying case for the gun.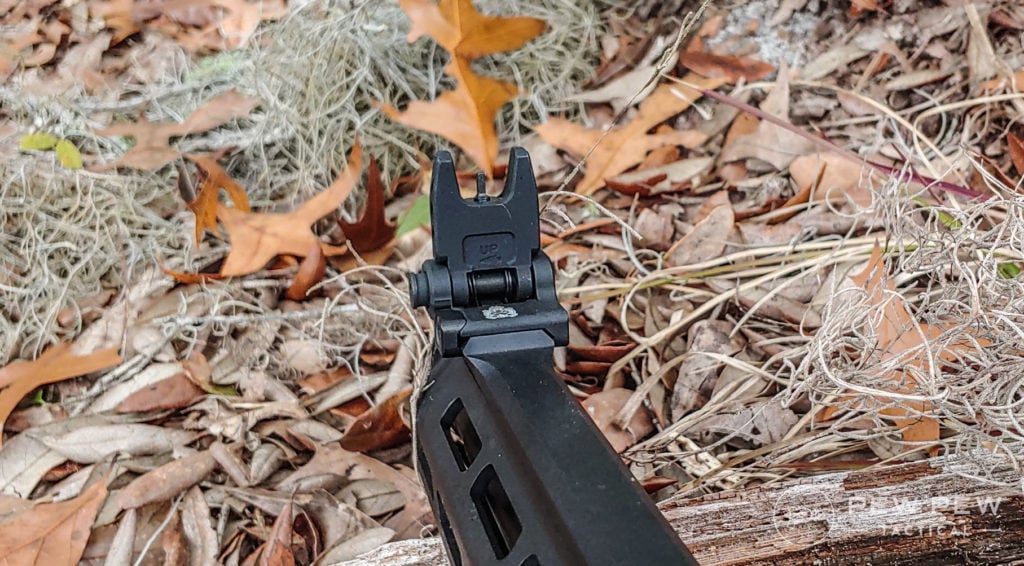 It's a great package, and Springfield did an excellent job of ensuring it's a complete package out of the box. I can't state how much I appreciate being able to take the fun out of the box and start shooting it without having to buy anything else.
The Saint Victor also has a standard M16 bolt carrier group that is HPT and MPI tested. What I particularly liked is that the BCG is made from a more robust 9310 steel instead of your usual Carpenter 158.
The Extras
I've mentioned that the gun is great out of the box. I
t's well put together and lacks a lot of features that would classify the firearm in the budget category. The Springfield Saint Victor goes beyond that and gives you tons of extra features.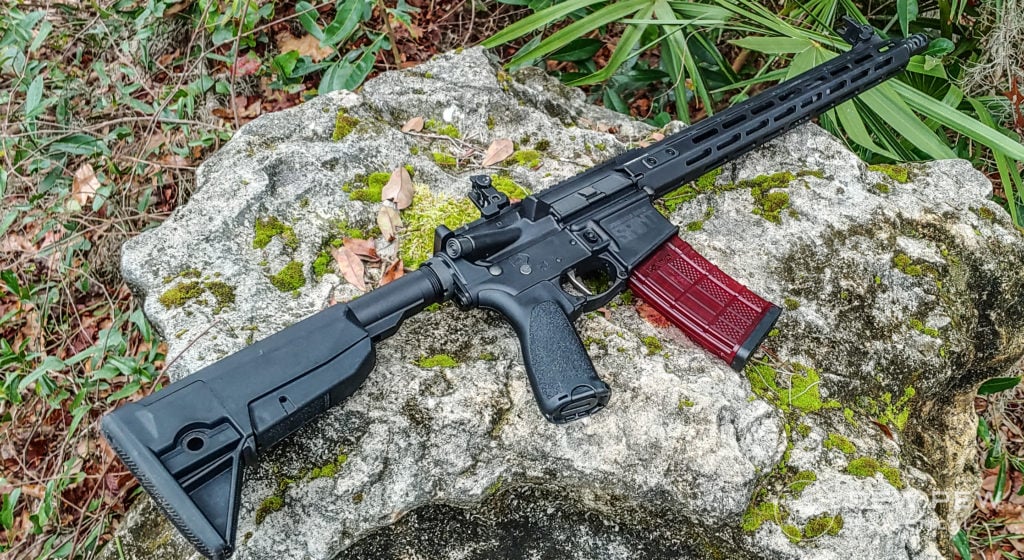 As I mentioned, the stock and pistol grip are BCM made Gunfighter models.
The Gunfighter pistol grip has a sharp downward angle that is more comfortable than the A2 nubby grip. It allows you to pull the gun rearward and into your shoulder.
The grip also has a small storage compartment for the little goods you can store, like small parts, tools, and skittles.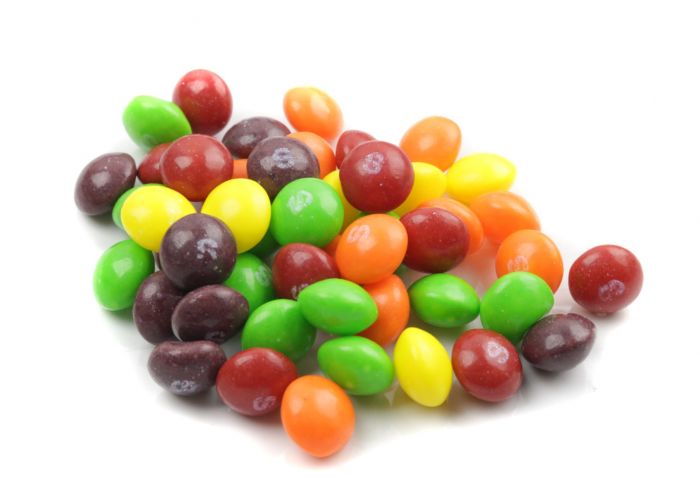 Gunfighter stocks have a feature I consider very important–it's beard friendly.
I didn't grow this hipster beard for guns to pull on it. The Gunfighter stock carefully avoids that.
I guess it also offers you a solid cheek weld, easy adjustment, multiple sling points, and a robust wiggle free design. That's all-important too, I guess. It is an excellent stock, and its plenty comfortable.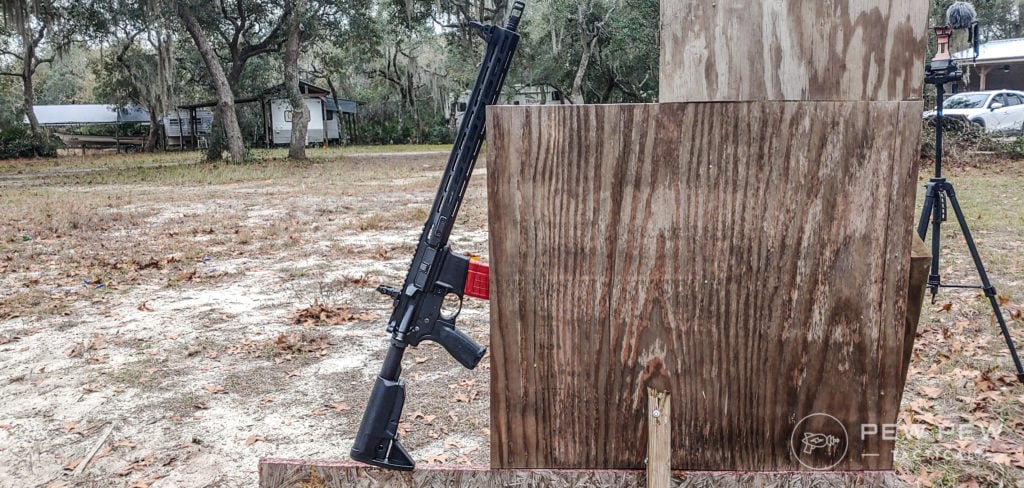 In front of the stock is a staked receiver end plate with a QD mount, which is a nice little touch.
The trigger is a nice flat-faced design inside of an enlarged trigger guard for use with gloved hands. The trigger isn't matched grade drop-in good, but it's very nice for a stock trigger. I like the flat-faced design and feel it gives me more control over the trigger.
I'm not sure if it makes a real difference, but flat-faced triggers are more comfortable to me. The trigger components have a NiB coating that makes everything a little smoother. This single-stage trigger is heads and tails above a mil-spec style trigger.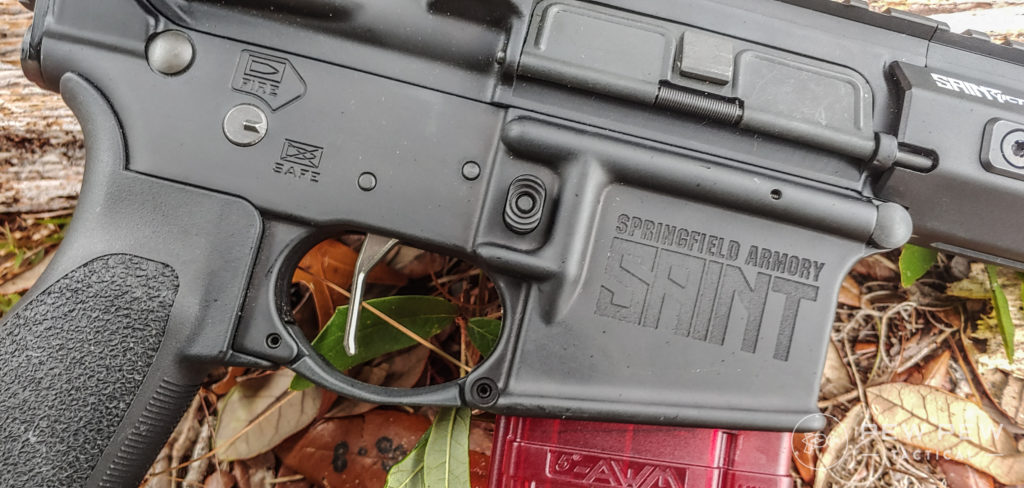 The lower is outfitted with Springfield's Accu-Tite system. This takes the form of a user-adjustable screw located in the lower. It's adjustable by the end-user and allows you to tighten the connection between the upper and the lower receiver.
The Accu-Tite eliminates that sloppy fit between an upper and lower. If you've ever chosen an upper by company A and a lower by company B, you may have experienced this slop. You can adjust the screw to tighten it more, but this will make it harder to disassemble.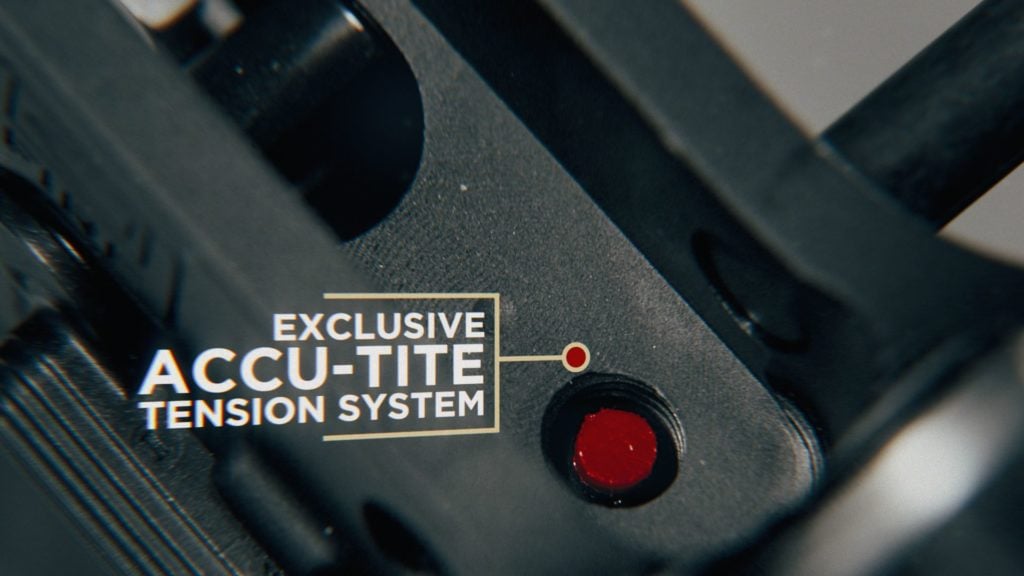 The good news is mine came from the factory nice and tight, and I can still take the upper off the lower easily enough.
The M-LOK handguard comes all the way to the end of the barrel, and the muzzle device is the only thing sticking out.
The handguard does allow for that Costa style C-Clamp grip if you like that sort of thing. M-LOK slots run up and down the rail makes it easy to attach accessories wherever you want them.
It comes fitted with a muzzle brake that reduces recoil.
The muzzle brake has two slots, one larger than the other, and this shoots the gas sideways. It does a fantastic job of reducing recoil and also making your gun very loud.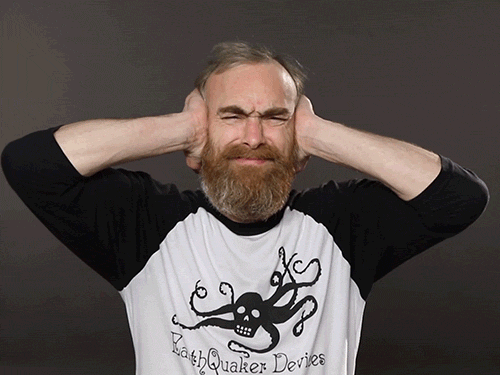 Way louder than an AR should be.
The muzzle device is efficient, though, and the gun barely moves. It feels like an AR with a 20-inch barrel. Super smooth, low recoiling with minimal muzzle rise.
Hitting the Range
AR-15s are typically all pretty much the same when it comes to handling. Recoil, handling, and even triggers all fall within a very standard design and look.
I will say the Saint Victor isn't exempt from those descriptors.
The Saint Victor simply does it in a smoother manner. It does have less recoil than most ARs, and the brake does its job. The trigger is more fluid and lighter than MIL-SPEC ARs, and the stock and grip contribute to improving the already awesome AR 15 ergonomics.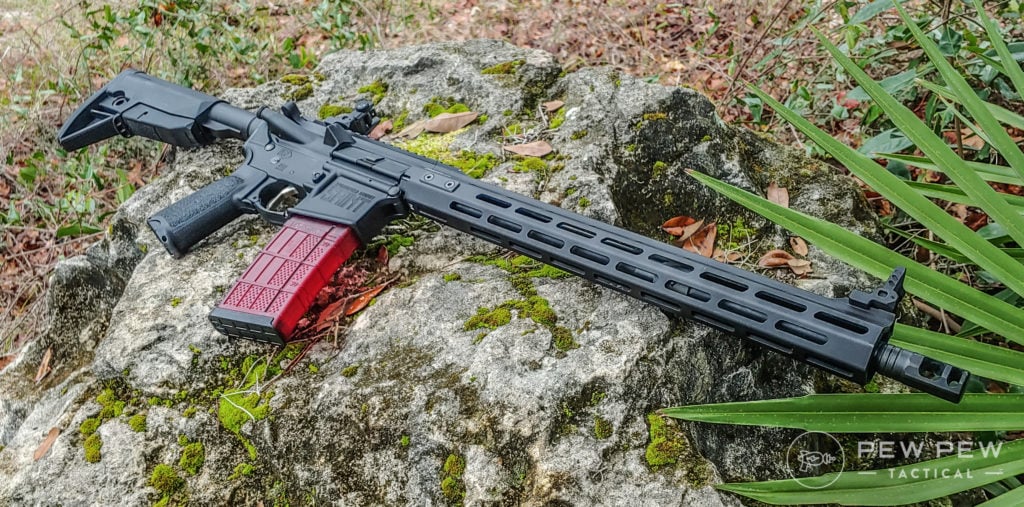 The real difference between the Saint Victor and most ARs is how lightweight it is. This low weight makes it easier to hold up for more extended periods, and quicker to get on target from a low ready or when transitioning from target to target.
Once you factor in the lighter single-stage trigger and recoil reducing muzzle brake, the gun is naturally a fast shooter. If the firearm is barely moving, why not pump 3 or 4 rounds into a target? It's plenty easy to do. The Saint Victor is perfect for action shooting and excels in this role.
From a practical shooting perspective, this is an excellent defensive rifle. The trigger is just right for a duty or defensive style rifle, while the handguard allows for plenty of modularity, and a light would be a must-have for a home defense rifle.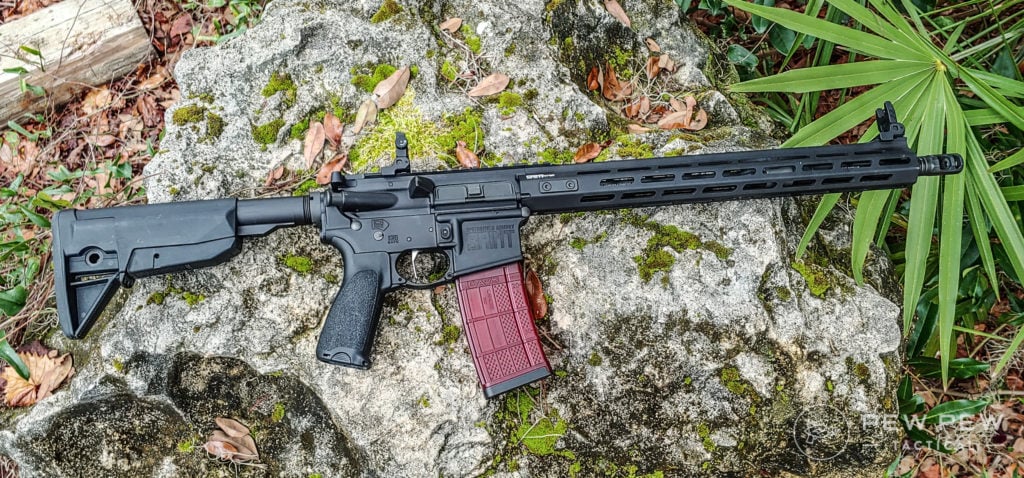 The term "driving the gun" fits this weapon well. The lightweight design makes it easy to transition between targets, and the lack of recoil makes sure you can do so without much difficulty.
Running simple drills like a failure to stop or box drill is simple, and when you move into the more complicated Viking Tactics, 1-5 drill the rifle still excels.
How About Accuracy?
While a lot of focus on the modern rifle is all about sexy close quarters shooting, a rifle is made for more than that. A good gun and a good rifleman should be able to take an AR out to 500 yards and hit a man-sized target.
The Saint Victor excels in close quarters use, and in my experience, it has no problems reaching out beyond 300 yards. That's the max range I've taken the gun out too, and with iron sights, I scored plenty of good torso shots on a standard silhouette target.
With an optic, I could be even more precise. The Saint Victor is a solid rifle and performs as it should in various roles. Springfield made a formidable weapon with the Saint Victor.
Upgrades
The safety, magazine release, and charging handle are all standard AR-15 accessories.
They also represent the few things I'd change on the gun. The rifle doesn't need any upgrades but could be improved just a bit.
The charging handle could be larger, mainly when used with optics, so a Radian Raptor would be my first upgrade.
94
at Brownells
Prices accurate at time of writing
Prices accurate at time of writing
The next would be an ambidextrous safety from Battle Arms Development. It is a modular safety that I'm a big fan of.
39
at Primary Arms
Prices accurate at time of writing
Prices accurate at time of writing
I'm not picky about magazine releases, but a more significant release is always easier to engage. The Magpul model is super big, cheap, and I trust Magpul. After that, I wouldn't change a thing.
19
at Brownells
Prices accurate at time of writing
Prices accurate at time of writing
Let's not forget a Blue Force Gear Sling, a SIG optic, and maybe a Streamlight TLR 1. The magazine is, of course, the red Lancers. Lancers have long been my favorite and the red ones just make it pop.
164
at OpticsPlanet
Prices accurate at time of writing
Prices accurate at time of writing
By the Numbers
Accuracy 4/5
I've fired more accurate AR-15s, but those guns were built from the ground up to be precision guns. I've also fired a lot of less accurate ones. For under a grand, this is a lovely and accurate rifle that will perform accurately up close and at extended ranges.
Ergonomics 4/5
The AR-15 is already a very ergonomic weapon, and the Saint is no different. The stock, pistol grip, trigger, and rail system make it a comfortable and easy to use gun. I have no major complaints, but with a few more upgrades, it can snag five stars.
Reliability 5/5
I've had this gun for months, and it's been my primary training AR. I've used just about every type of round you can imagine without failure, including Tula and Monarch ammo. It eats it all.
Customizability 5/5
It's an AR-15, and you can attach a cup holder for God's sake.
Bang For Your Buck 5/5
The Victor is the best sub 1,000 dollar AR on the market. It packs a ton of features into an affordable package, and I can get behind that.
Overall 4.5/5
Conclusion
The Springfield Saint Victor is an accurate, reliable, and easy shooting AR-15. It's well built, and the gun is super light and packed with features. I would have no issues recommending it to anyone and my current favorite AR under $1000.
850
at Palmetto State Armory
Prices accurate at time of writing
Prices accurate at time of writing
Have you given the Saint Victor a try, or do you want to? What do you think about it? Let us know in the comments below! While you're here, why not dream about how you'd upgrade it with our Best AR-15 Upgrades list!