You get what you pay for in firearms, we all know that.
But in the ever-evolving world of the AR-15, prices are dropping while quality is skyrocketing for America's favorite sporting rifle.
You want a quality AR-15 and want to spend under $1000? Then the Springfield Saint might be the rifle for you!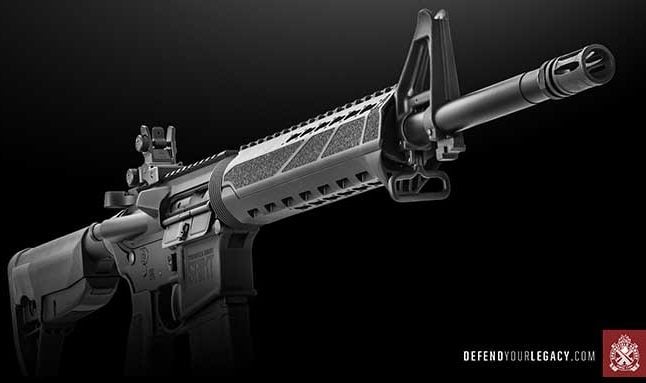 In late 2016, Springfield joined the competitive and ever-growing market for America's favorite sporting rifle. 
While many people (myself included) were skeptical of Springfield's first AR-15, the Saint has proven itself to be a stand-out among entry-level AR-15's.  You may know Springfield from their famed M1A rifles and 1911's – both good signs of a quality arms company.
Already looking to purchase my first AR-15, I did what any gun lover on a budget would do: Research. 
Hours of review videos later, I found myself with a lengthy internet history and some positive assurance about the Saint.  Can a rifle be reliable, accurate, and fiscally reasonable? I just had to find out for myself.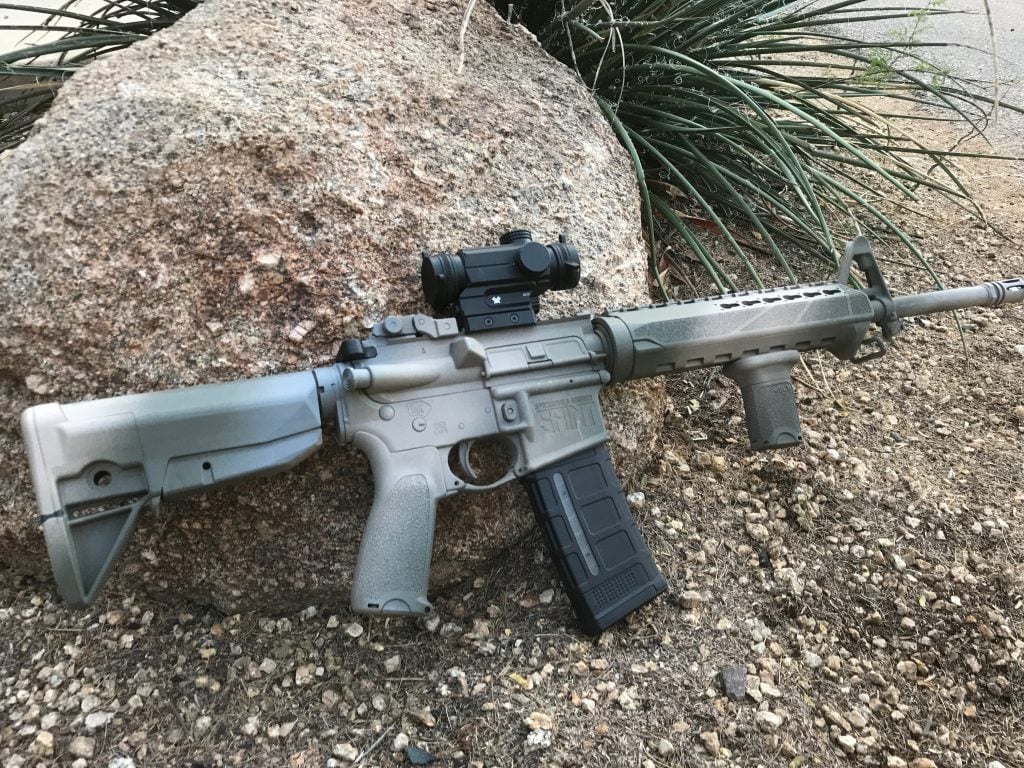 Who is it For?
The Saint truly hits a sweet spot with this combination, especially for first time AR-15 buyers or anyone looking for a solid rifle with the availability for personalized modifications.
Best Selling
800
at Brownells
Prices accurate at time of writing
Prices accurate at time of writing
Fit & Feel
Upon first uncasing my new love, I took special attention to how durable the Saint looked and felt.
I've put hundreds of rounds of 55 grain and 62 grain 5.56×45 NATO ammo through it with no malfunctions.  While the Saint is chambered for the 5.56mm round, it will also accept .223 Remington (like all other 5.56mm rifles).
The Bravo Company Buttstock is sturdy yet comfortable, the A2-style front sight gives it a vintage look, and the Nickel Boron bolt carrier slides with ease.
57
at Brownells
Prices accurate at time of writing
Prices accurate at time of writing
For my first AR-15, I have no complaints.  In addition to shooting it myself, I have also had quite a few friends and first-time shooters experience the ease and enjoyment of the Saint. 
It is simple and straightforward to operate, and the sturdy, but not quite heavy, weight of the rifle minimizes felt recoil.
Comparable Models
If you have access to a firing range with guns for rent, I would definitely recommend shooting as many as you can to get a feel for what you like. 
At least taking a few trips to the gun store to hold the gun, feel the bolt, and test the trigger will ensure a worthwhile purchase.
During my research, these are the other entry level AR-15s I considered.
Specifications
For my fellow gun-nerds out there, here are the key specifications and the numbers to go with them, provided by Springfield.
Size:
Length: 32.5" collapsed, 35.5" extended

Weight: 6lbs 11oz
Upper: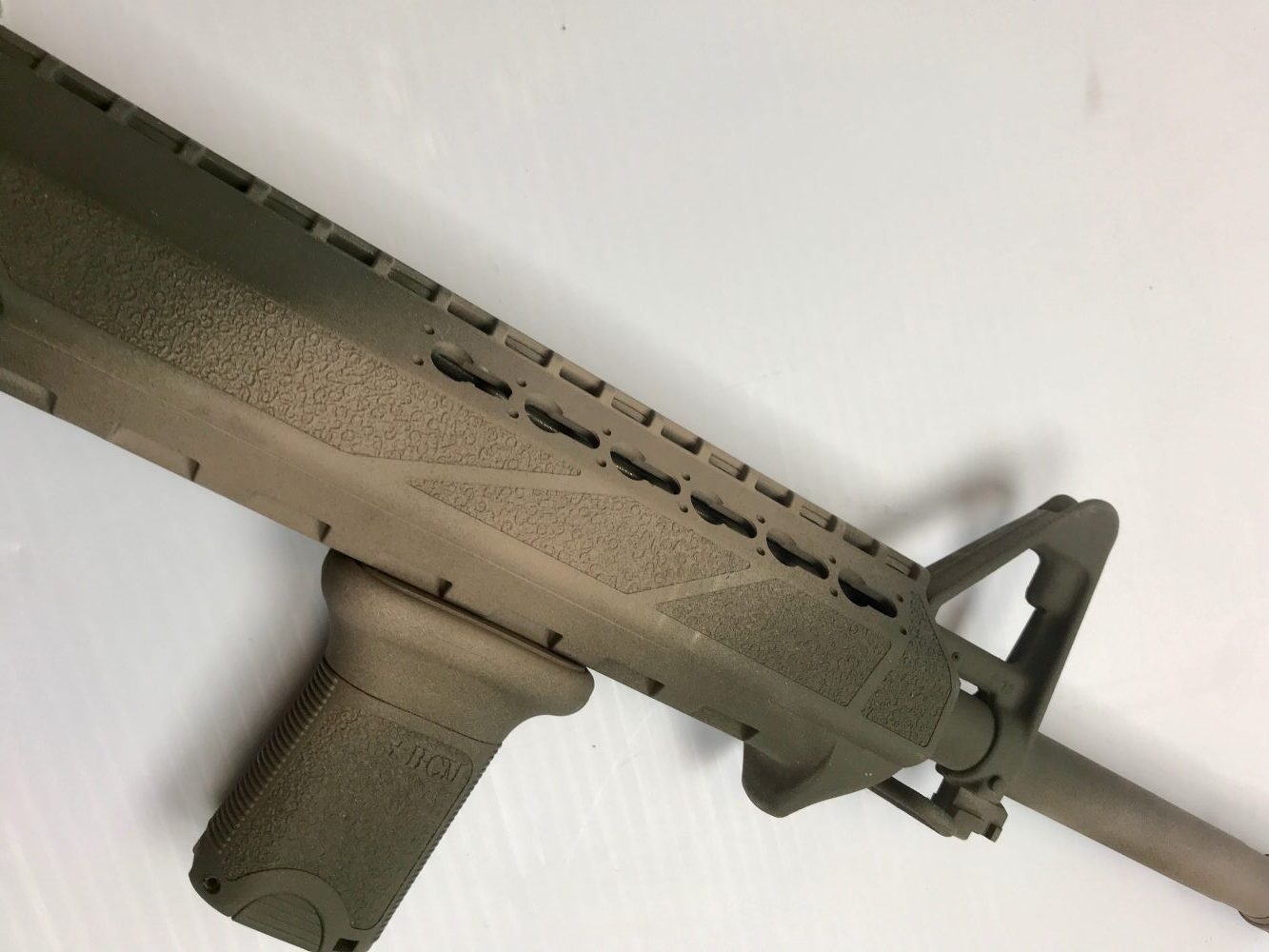 Receiver: Type III Hard Coat Anodized Aircraft Grade 7075 T6 Aluminum Flat Top

Barrel: 16″ Chrome Moly Vanadium, 1:8 RH Twist, Melonite

Gas System: Direct Impingement Mid-Length

Handguard: Bravo Company (KeyMod)
Lower:
Receiver: Type III Hard Coat Anodized Aircraft Grade 7075 T6 Aluminum,

Trigger: Springfield Proprietary

Pistol Grip: Bravo Company Mod 3
By The Numbers:
For those who care less about the numbers and more about the overall review, I'll sum up the key points you should know before possibly purchasing a Saint.
Reliability: 5/5
I have not had any issues personally! So far I have used your standard, cheap (see the trend here), FMJ ball ammo.  This is one of my favorite aspects of the Saint.  The last thing I want to do is save up for a gun just to spend money on a gunsmith–that is certainly not a problem here.
Accuracy: 3.5/5
With about a 6.25 lb trigger pull, the Saint is a bit better than the standard entry-level AR-15 that normally rocks the infamous MilSpec AR trigger.  When it comes to putting holes in paper, the Saint's trigger is great. 
The improved trigger helps and 1.5-2 MOA is readily achievable out of the box—or shall I say great quality hard case (keep reading for more details on that).
If you want to improve the trigger further and help your accuracy, then check out what we think are the Best Drop-in AR-15 Triggers.
Looks: 4/5
These days, AR-15 design can get pretty fancy, and yes I'm talking about you Daniel Defense.  The Saint combines the standard A2 look with a sleek a timeless design.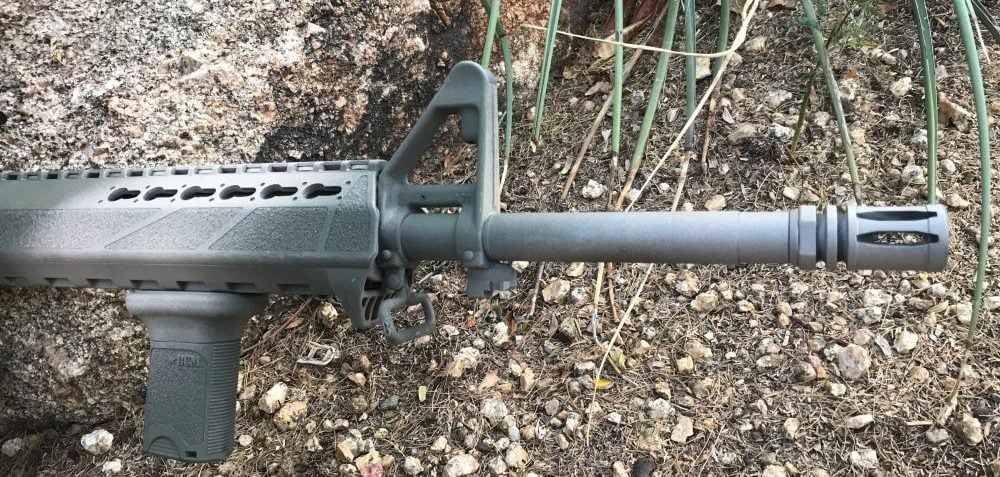 Ergonomics: 4.5/5
Form meets function and sets the Saint apart from competitors like the S&W M+P 15, which can have a bit of a plastic feel.  The BCM handguard features a rougher texture at some points, which lets you use a bit of a tighter grip with your support hand. 
Manipulation is comfortable and natural, while the overall feel is sturdy but definitely not heavy.
Customization: 4.5/5
Something I loved about the Saint before I even bought it was the option to customize.  While it was great to shoot right after swiping my card and filling out the 4473, I knew I wanted to make this gun mine. 
Since purchasing, I have outfitted my Saint with a Vortex Spitfire AR (1x) red dot, which has worked great and was quite easy to zero.  Find the right optic for you in our Best AR-15 Optic 2018 review
250
at Brownells
Prices accurate at time of writing
Prices accurate at time of writing
I also added a BCM Vertical Foregrip, because why not.  Springfield recently released the Saint in an FDE version, which features the gun community's favorite tan but better color on the stock, grip, and handguard.  I do admit I was a bit jealous, but a few cans of spray paint cured my jealousy. 
My awesome coworker blended together OD green, grey, and FDE, which turned out to be a great combo that gives it the rugged and war-torn look.

Bang for the Buck: 5/5
It really comes down to how much you want to spend when you're buying a weapon.  I knew I didn't want to eat Ramen for a month, but I also wanted a rifle that was going to last and accomplish the necessities. 
While my mom might think differently, purchasing the Saint was a great choice because of its great value and many other great features. 
In addition to a great rifle, you also get an awesome hard case.  While it's not quite Pelican level, it is certainly better than a cheap Plano, and definitely better than getting a gun in a cardboard box. 
After many hours spent talking with people, reading reviews, and shooting it myself, it seems as though you can't do better for the price.
Overall Grade: 4.25/5
Yes, I know that's a super weird number but go with me here.  I would recommend it to a friend, first-time AR-15 buyer, or anyone who wants a solid rifle that will perform without you feeling guilty when the credit card bill arrives.
Conclusion
The Springfield Saint AR-15 is a great entry-level AR-15 that is easy to use and customize.  It's perfect for sporting or home defense with high reliability and some furniture and trigger upgrades that set it apart from other budget AR-15s.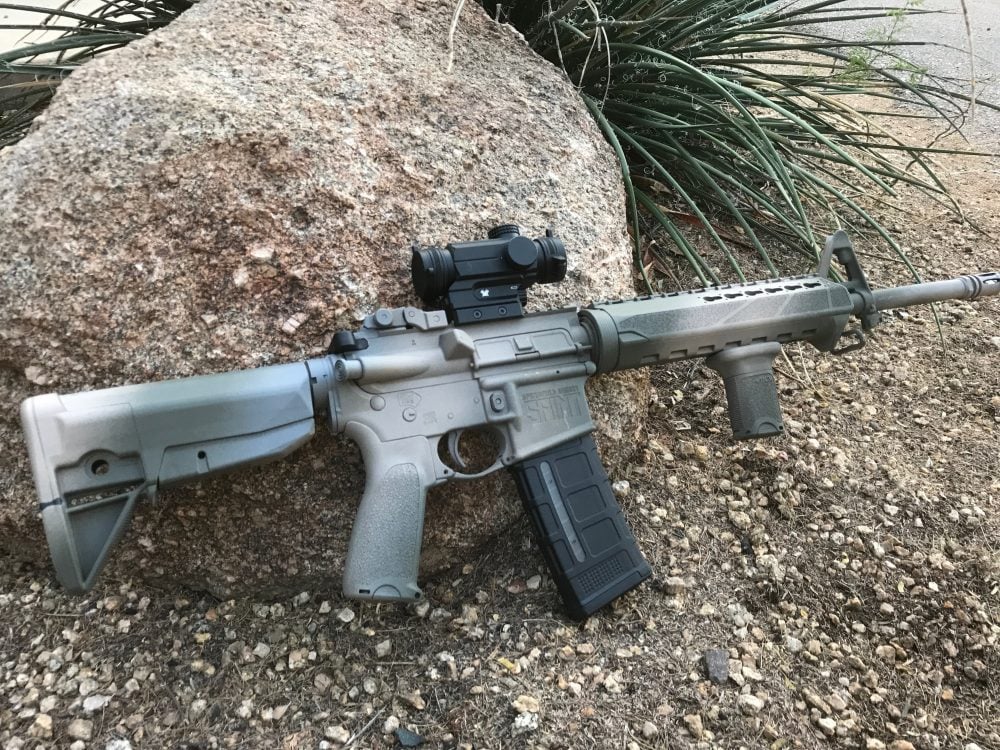 Since I bought mine, Springfield has turned the original Saint into its own line.  You can now buy the Free Float Handguard version, the Lightweight Edge, or Pistol with SB Tactical Brace and 7.5" barrel!
Need ammo for your new AR15? Find the best options for the range and home defense in our Best AR-15 Ammo review!