If you're like me, half the fun of owning some guns is getting to show them off.
Unfortunately, its hard to balance the desire to keep them safe with the desire to show them off when it comes to firearm storage.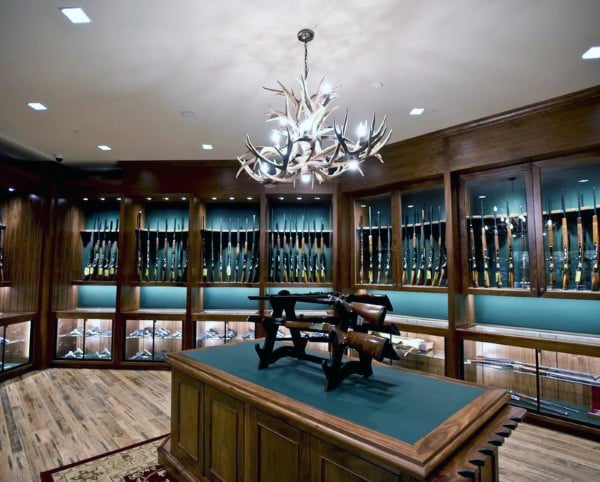 Either you keep your guns protected by hiding them away in a safe, or you display them where they can easily be grabbed by people you don't want to have access to them.
But that doesn't have to be the case. I've assembled here some tips and tricks to help you show off your firearms while simultaneously keeping them secure and protected.
These will include a few general display methods, as well as some ideas that could be applied to all of these methods to keep your firearms as safe as possible… while still letting you show them off.
Now these tips won't protect against the most determined gun thieves, but they'll be enough to help keep your guns safe from children and the run-of-the-mill smash and grab thief most likely to break into your home.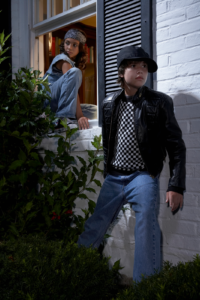 One more quick note before we start, if you want a truly secure option, a safe like one of these is always going to be your best bet. By displaying your guns, you're inherently taking a risk. Its up to you to decide if that's worth it or not, and there's no real wrong answer.
Types of Displays
First let's look at some display methods. We'll mostly ignore security for now.
Traditional Display Case
The most obvious option is the traditional style display case.
Aside from tucked away in a closet, display cases like these were the most popular choice for firearm storage before proper gun safes became more accessible for the average gun owner.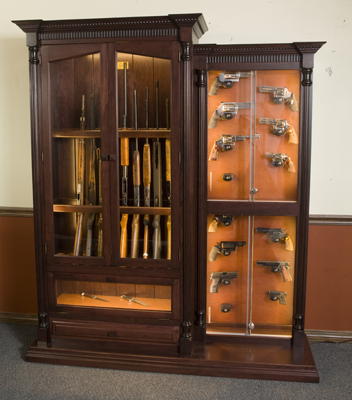 Display cases offer a lot of flexibility. You can have a gun cabinet or a wall mounted display. You can purchase something as is (like the American Furniture Classics Glass Door Display Cabinet – $169) or have something custom made. It can be brand new or an antique (or new, but antique looking). You can purchase a cabinet style case or one that is wall mounted (like this Lockable Long Gun Wall Rack Cabinet with UV Protection – $130).
For an extra dose of style, try to match the style of your display case with the style of the weapons you're displaying.
In short, what I'm saying here is that your display case can be whatever you want and can get away with. Because of this flexibility in style, size, and price range, cases like this are the most common choice for those who want to display their firearms or other weapons.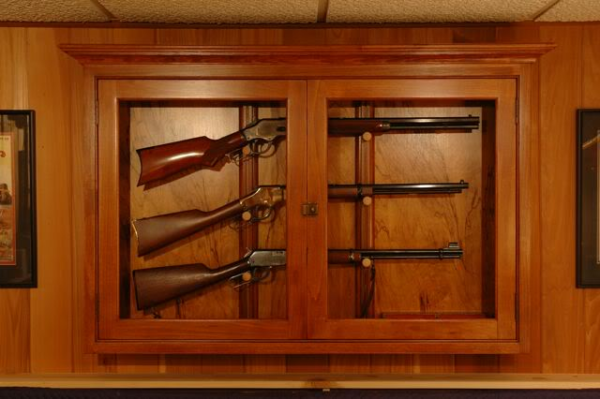 However, most cases don't offer much in terms of security. Even if they lock, glass fronts can be broken pretty easily and the gun removed.
Display cases don't have to lack security, though. In the tips section below we'll cover some ways you can make storing your firearms in the display case safer, even without having to buy an expensive new case or heavily modify your old one.
Coffee Table
If you do much browsing of gun related sites, you've probably seen coffee tables made from surplus Mosin Nagant crates. These can be purchased or DIYed using one of the many tutorials available online, but generally include lighting inside and almost always feature one or more locks to keep out anyone who has no business reaching inside.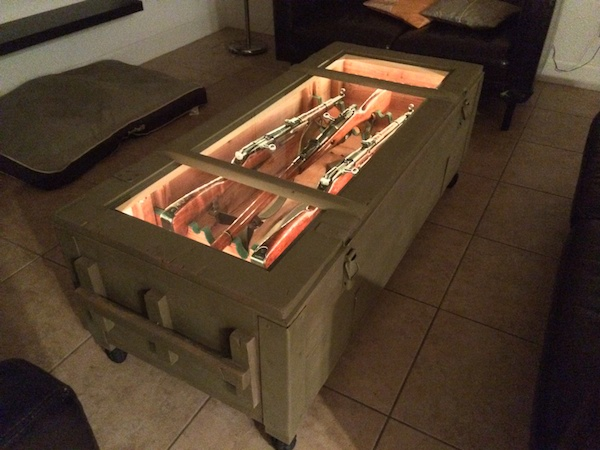 This is a popular option for gun enthusiasts, especially in man caves, but less firearms oriented family members may take issue with the look of the Mosin Nagant crate in more public areas of the home, no matter how much you try to convince them. Fortunately, the Mosin crate isn't the only option for a coffee table display.
Any sort of chest, crate, or table top can be refurbished to create a similar feel, so suggesting something closer to the style of your home may help convince the other adults (or the only adult) that keeping your guns on display in the literal center of your sitting room isn't such a bad idea.
Try looking for – or creating – options made from vintage chests, antique shipping crates, or more traditional or stylish coffee tables. Adding in other important family objects, like photos, collectibles, and other keepsakes, particularly if you're displaying antique firearms or replicas of antiques, can also create a warmer, less intimidating vibe if you have some gun-averse family or friends.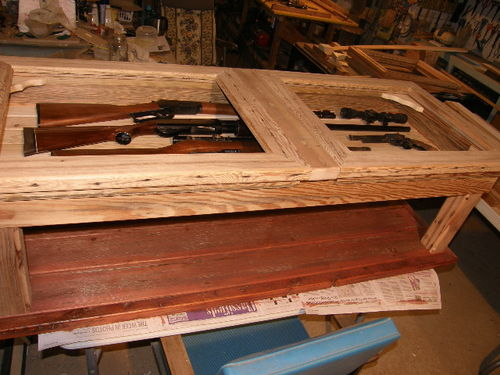 In-Wall Display Case
Display cases that are actually built into your wall are a less popular, but more secure option, for those who want to display, but still protect, their firearms.
In-wall display cases require actual modifications to your home (or else having the display case put in while your home is being built, should you be so lucky), which, for many homeowners and certainly renters, makes them less accessible than freestanding alternatives.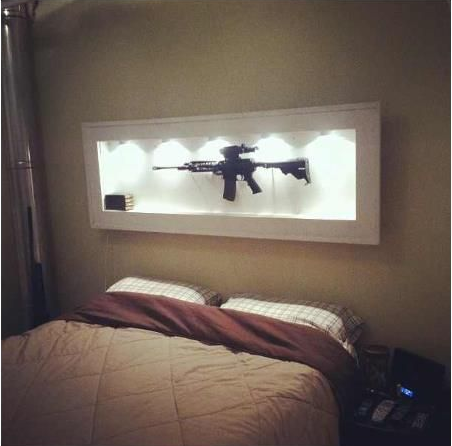 If you have the know how and tools to safely cut into your drywall while simultaneously also avoiding important bits like wires and pipes, then you could absolutely install a in-wall display case in your own home. Otherwise, you'll need to hire a contractor.
As far as security goes, in-wall displays have two major advantages over coffee table or traditional display cases.
First, they are only accessible from one side, making them less vulnerable to clever thieves, and second, they can be far more easily hidden when you don't want your firearms on display. Simply hang a painting or mirror over your in wall display and no one who doesn't already know it's there will be the wiser.
That said, the one accessible side has the same disadvantages as other displays. Without extra security precautions, an intruder can easily break the glass front, allowing them to access your firearms.
Tips for All Kinds of Displays
With all that said, let's look at some tips that you can apply to all three of these displays to keep your firearms safe, but also where you can easily admire them.
Glass Alternatives
The glass in any display is the clear weakness, so addressing that is typically the best thing you can do to protect your firearms.
Laminated glass or polycarbonate provide a less easily broken, but still very clear alternative to glass. For those of us with children and animals running around, more sturdy options have the added bonus of making us feel better about the safety of our lovable little destruction machines, as well as our firearms.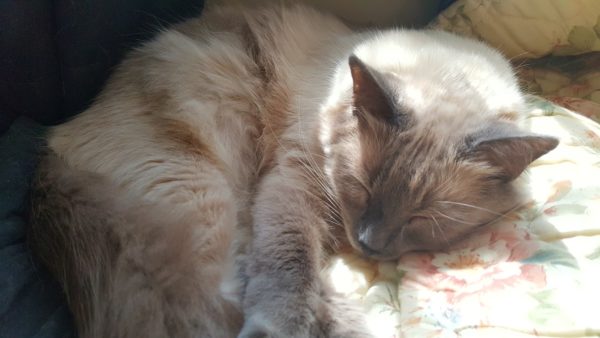 You can either purchase displays that already use these materials, or retrofit a glass display to make it more secure.
If you have a high tech budget, you may want to spring for suspended particle devices. SPDs are sheets of nanoparticles that are placed between two sheets of glass or plastic (you may have heard of this referred to as smart glass) and control the tint of the glass, as well as the amount of glare and the amount of heat allowed through.
This allows you to hide the contents of your display at will, minimize glare even when the display is visible, and temperature regulate the inside of the display. The opaque effect may look a bit odd for a wall mounted display, but will look more intentional on a coffee table or cabinet display.
Extra Reinforcement
Alternatively or, for extra security, additionally, adding bars or wooden beams across the glass of your display can help reinforce the glass, as well as prevent someone from removing a long gun from the case without also removing the bar.
Often, the frames of the doors is enough to serve this function in a traditional display, but for particularly large displays or coffee table displays, you may need additional bars.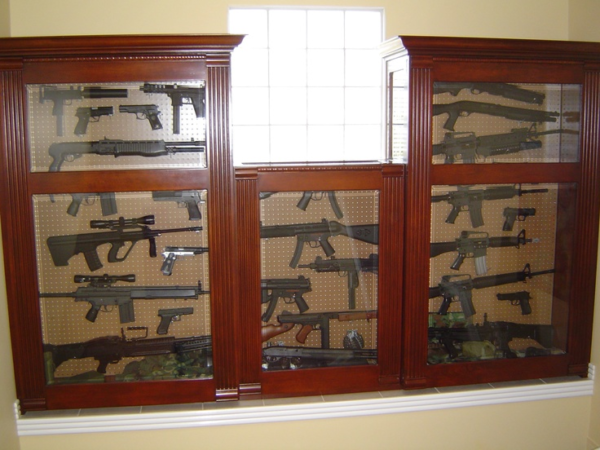 For a particularly rustic looking – and secure – option, refurbishing windows into doors and walls for your display case can make it a lot more difficult to access your firearms without unlocking the case while also giving your display a unique and less utilitarian feel. Plus, you can purchase old windows pretty inexpensively through flea markets and thrift stores.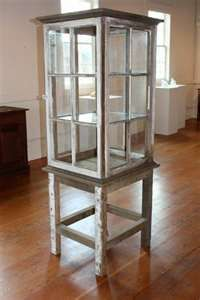 Of course, bars can impede the view a bit, so there is some trade off of aesthetics and security.
Locking Up
Now that we've talked about protecting your display from those trying to circumvent your locks, let's talk about the locks themselves.
Obviously you want a sturdy lock on your display, resilient enough that the bolt cutters from the junk drawer in your kitchen won't let a would be thief get access to the contents of your display case. But for extra security, you'll want to keep more than just the display locked.
Not every weapon in your house needs to be ready to be accessed immediately in the case of a burglary, home invasion, or zombie apocalypse. Those that do need to be ready shouldn't be kept in displays.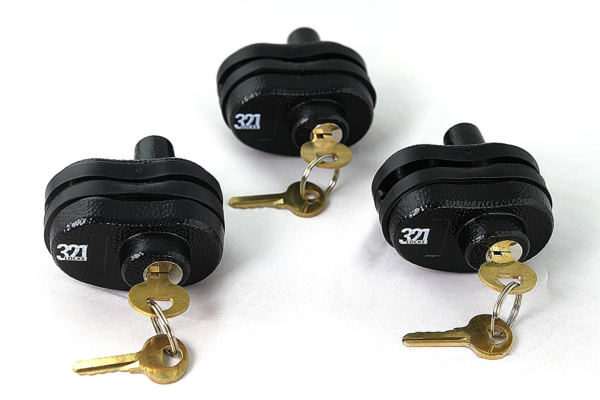 Put trigger locks on all guns in your display case. You can buy packs of several same combination or keyed alike locks for added convenience. Just make sure that you hide the combination or key discretely and far away from the case. 321 Locks Gun Trigger Lock (3 Pack) Keyed Alike GL-10 ($20) and RioRand 3-Digit Combination Gun Lock (5 Pack) ($32) are both great options.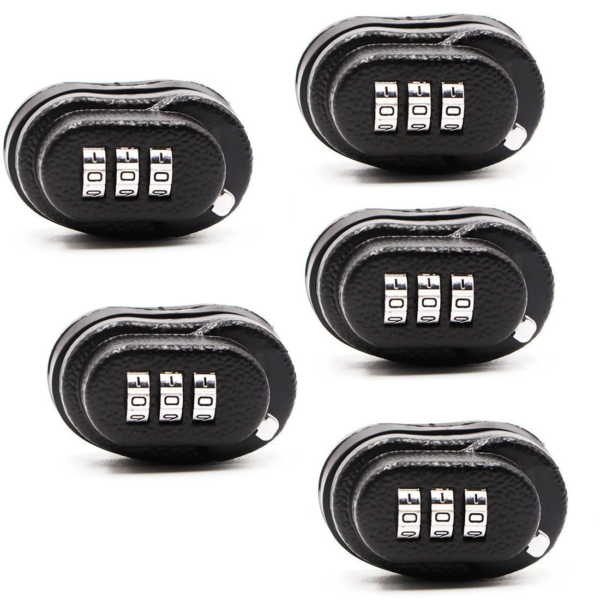 You should also consider cable locks to affix any guns to the display itself, making them more difficult to even remove from the case, let alone steal or use.
Like with trigger locks, you can buy multi packs of keyed alike or same combination locks for added convenience. FSDC 15″ California-approved Keyed Cable Gun Lock 3-pack is an affordable but effective option.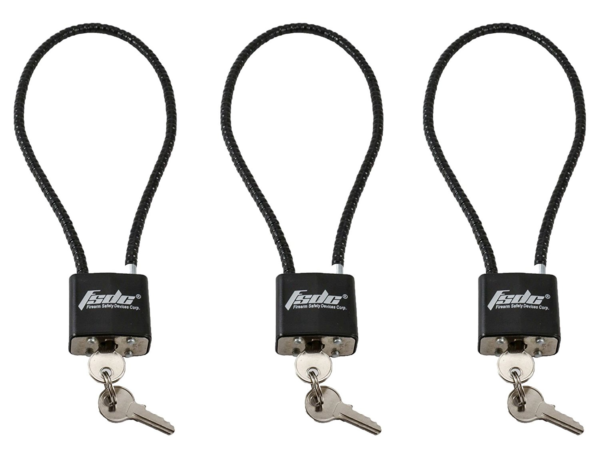 Miscellaneous Tips
Let's finish up with some odds and ends type tips to help improve the security of your displayed firearms. Some of these tips you've probably heard before, but it never hurts to re-emphasize firearm safety.
All the locks and reinforced glass in the world don't mean you can forget basic firearms storage safety. Store firearms unloaded and separate from their ammunition. You may even want to remove rifle bolts and keep them stored apart from the rifle.

If you rely on firearms for home defense, do not keep all firearms in the display case. Keep at least one in a place that is more accessible, but still secure like an easy access gun safe. The last thing you want is to be caught without a gun in the case of a home invasion.

A motion sensor with a loud alarm that goes off when the door to your display case opens can be enough to deter curious children or scare a thief out of your home completely. Keep everything locked up, but don't underestimate simple solutions, either.

Make sure you have insurance on all of your firearms. This helps you recoup your losses if you do become the victim of theft. It also, however, makes sure there's an extra record of all your firearms, with serial numbers, which is essential when reporting the guns stolen.

Finally, make sure a thief can't just walk out of your home with the display case. All the security in the world only does so much if a thief can take it home to work around at their convenience.
Now It's Your Turn. . .
Do you have firearms displayed in your home? What tips and tricks do you have for keeping up a good looking, but secure display? Tell us in the comments. Better yet, share some pictures!