Gone are the days of buying a pistol and simply enjoying it.
Welcome to the age of Gucci Glocks, where he who has the gun with the most mods wins.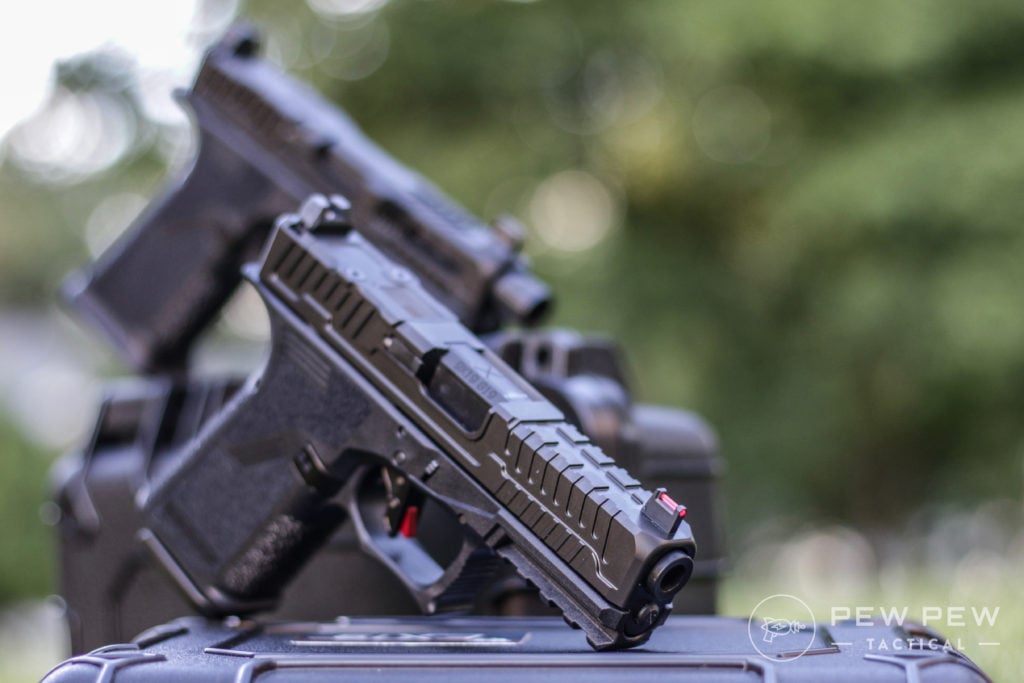 Faxon Firearms has jumped into the Gucci market with a new line, the FX-19, a compact 9mm pistol that is essentially a Glock 19 with no Glock parts. So it's a Glock. But it's not a Glock.
I got a pair, got them to the range for a full test, and am going to tell you everything you need to know on how to be the ultimate Gucci Glock hipster.
Check out my full video review:
Editor: If that was awesome, give Johnny's YouTube Channel some love. And get ready for weekly vids from the Hill Person himself.
Now onto the written review!
Faxon Firearms
Cincinnati-based Faxon has come on strong in recent years, and their AR barrels are used throughout the industry.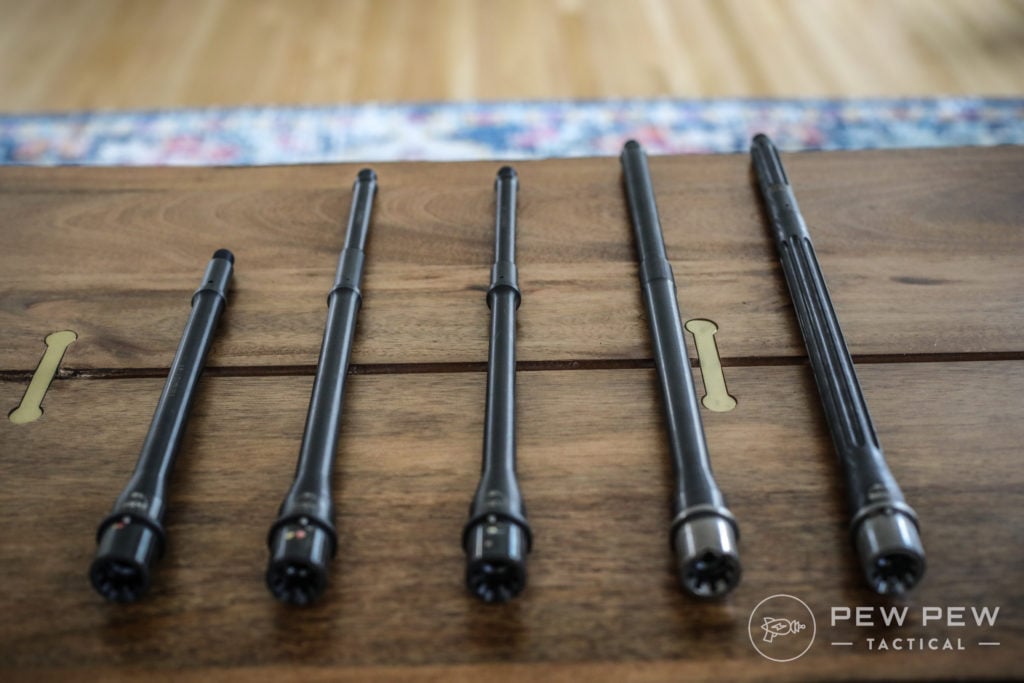 They do their own machining in-house, and it was just a matter of time before they came out with a full pistol.
American made, which I like.
The Patriot
The FX-19 line has two models. Up first is the Patriot which is designed for concealed carry.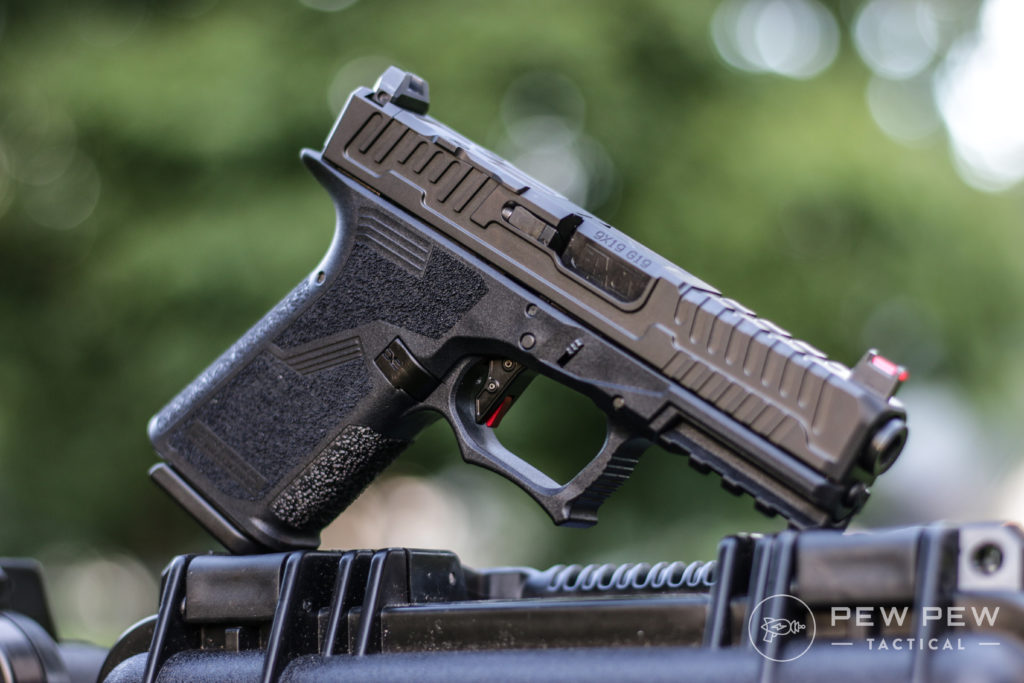 The slide truly stands out. Serrations all around for your John Wick press checks, and the slide is already cut to accept an RMR or Holosun.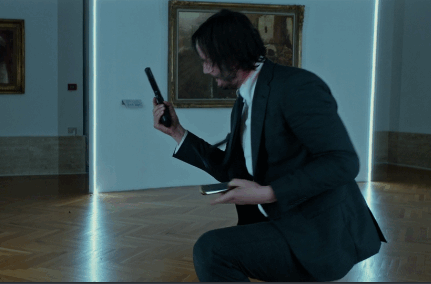 Front site is a fiber optic and is easy to locate. The Patriot comes with a match-grade stainless steel barrel that Faxon makes in-house, and ships with a 15-round magazine.
1300
at Faxon Firearms
Prices accurate at time of writing
Prices accurate at time of writing
The Hellfire
The Patriot's big brother is the Hellfire.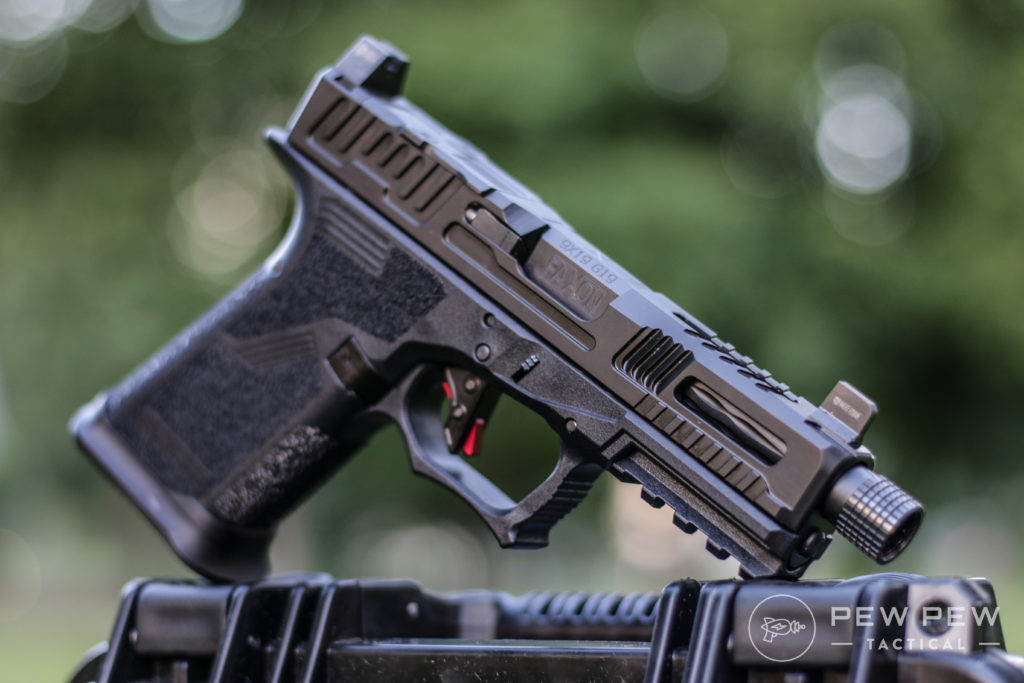 The frame and slide are the same dimensions as the Patriot, but the Hellfire has a flared low-profile magwell, suppressor-height sights, and a threaded stainless steel match-grade barrel.
It ships with an extended 20-round magazine. The slide has serrations and is RMR ready.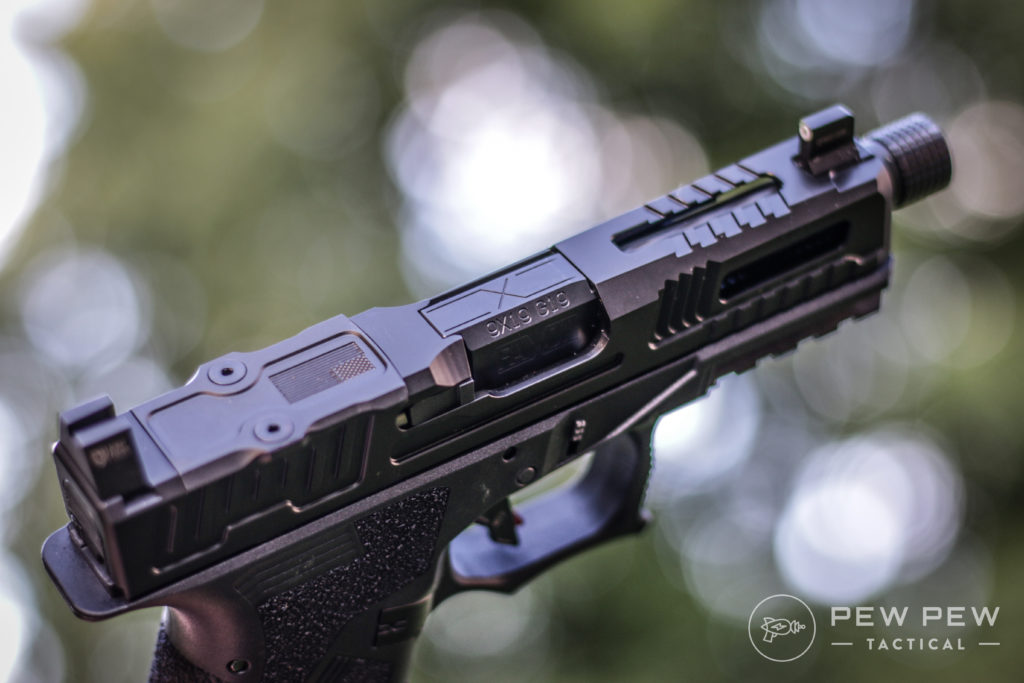 Hellfire also has three substantial cutouts which decrease weight, increase slide cycling speed, and give keyboard warriors an opportunity to complain about getting dirt inside the slide.
1500
at Faxon Firearms
Prices accurate at time of writing
Prices accurate at time of writing
The Frame
The FX-19 is not is just another Polymer 80 build. The Patriot has a custom polymer frame with a 1911-style grip angle and excellent grip texture.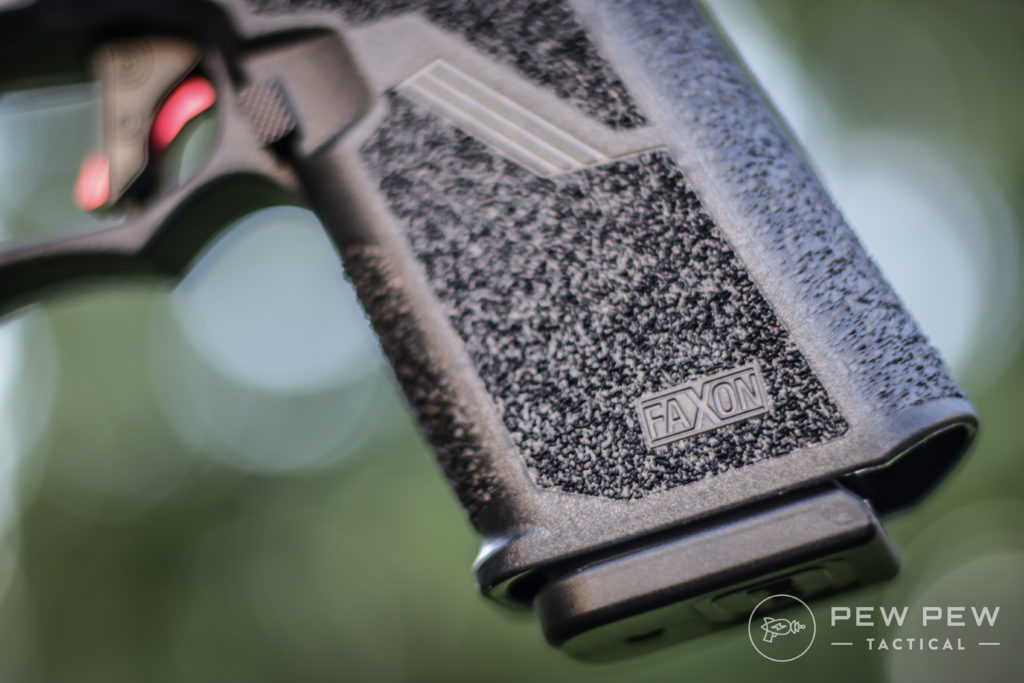 Featuring the Overwatch Precision Trigger and it is doggone heavenly. Take-up is medium length.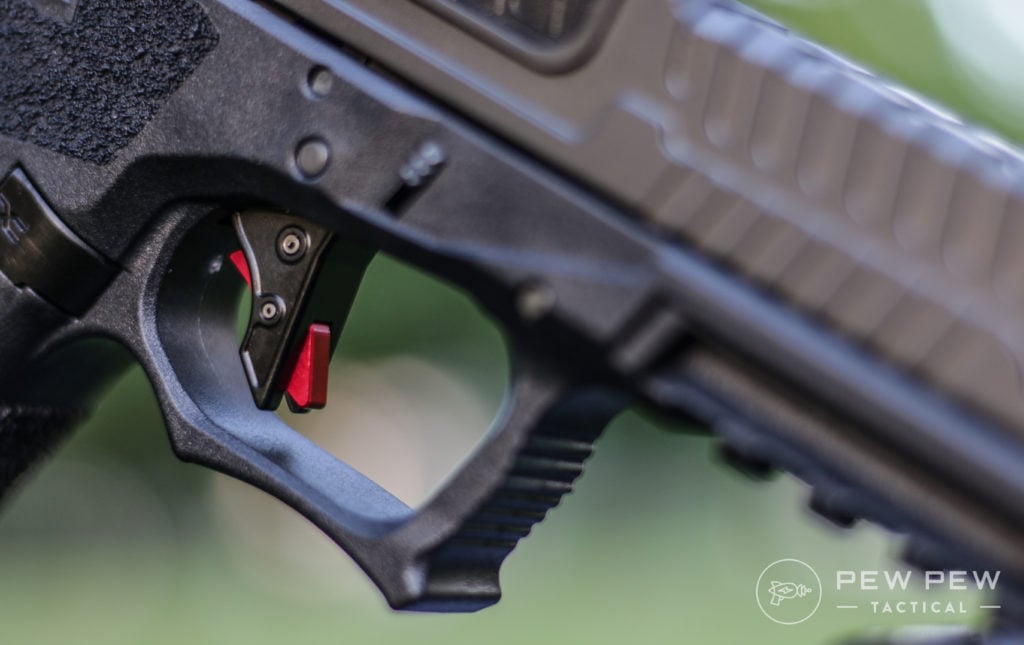 Break is crisp. But boy oh boy the reset is short. Yuge upgrade from a stock Glock trigger. And I like the red.
The Cases
Talking about how guns are shipped is usually lame-o.
But Faxon has brought the heat with the FX-19 cases. They are TSA approved and the foam is cut perfectly.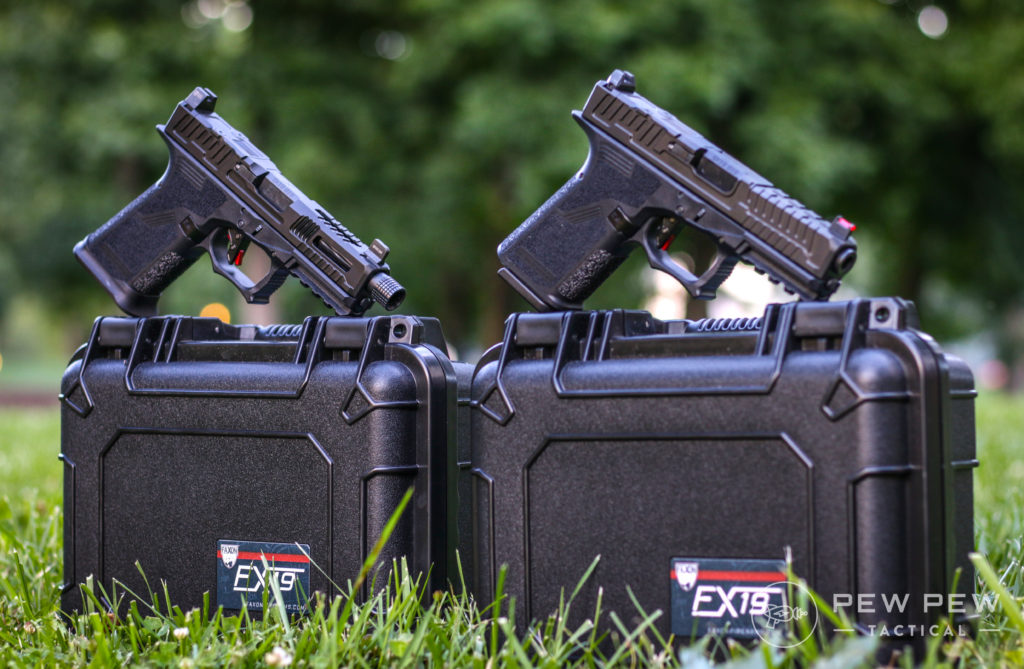 I think folks will enjoy actually using the cases instead of sitting them on a shelf next to the other Glock OEM cases.
The Range
We all know how Glocks are at the range. We know they are as accurate as the shooter, and personally, I know how Faxon barrels perform.
So for this test I was primarily interested in the overall feel and reliability of the new Faxon platform.
I did mag dump after mag dump and used Blazer brass ammo because I trust it and the OEM mags that came with the pistols.
359
at Bereli
Prices accurate at time of writing
Prices accurate at time of writing
Reliability
Spoiler alert: zero misfeeds and zero misfires. No problems to report.
The slides locked back every time minus one, which is excellent considering the springs are all new.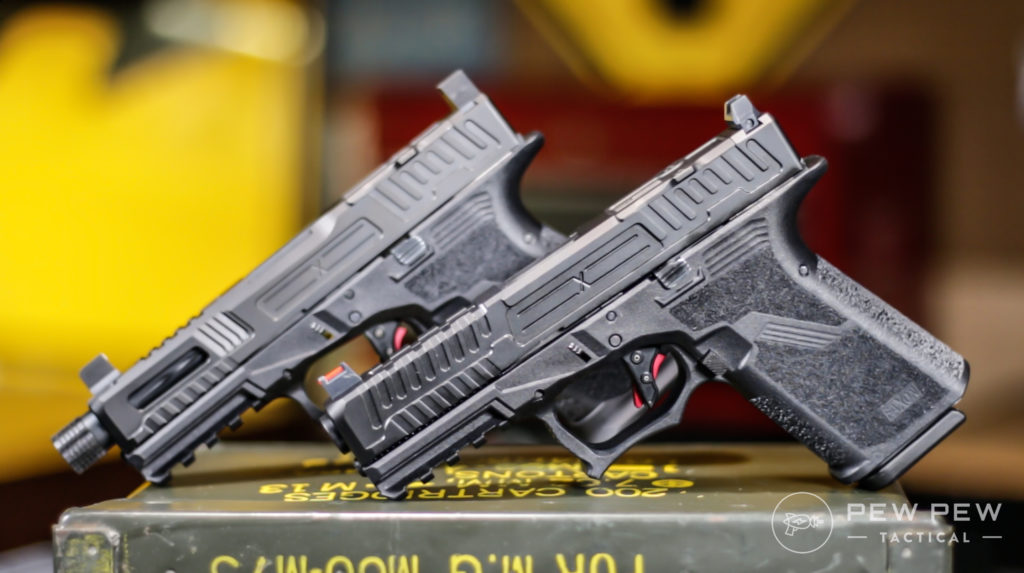 Both pistols functioned perfectly.
The Best
Besides the trigger and the aesthetics…and let's be honest these guns are friggen gorgeous…my favorite is the ergonomics.
The double undercut trigger guard and side gas pedals make for solid purchase for your mitts.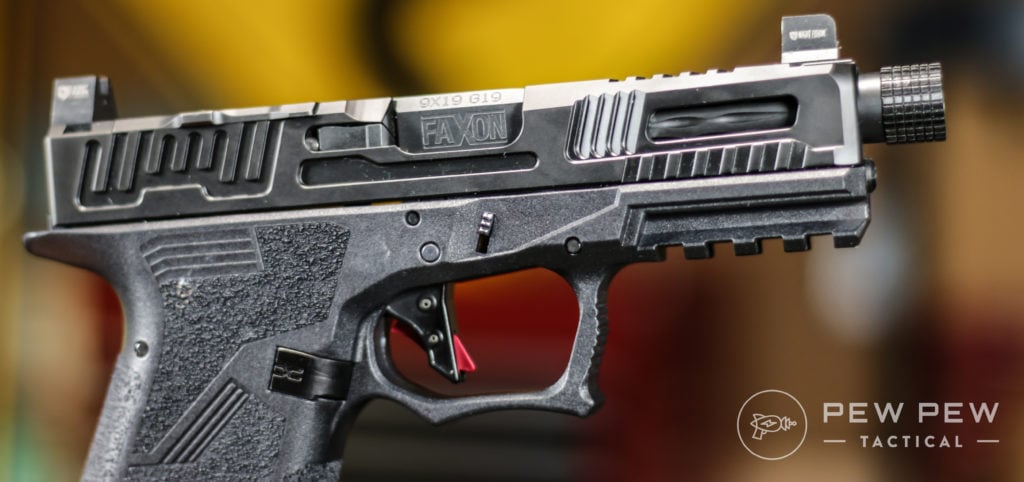 I also like the grip texture and getting ahold of the FX-19 is just rad. Looks good and feels good.
The Worst
So much for my ergonomics praise, cause I got some serious slide bite. Was bleeding after the first mag.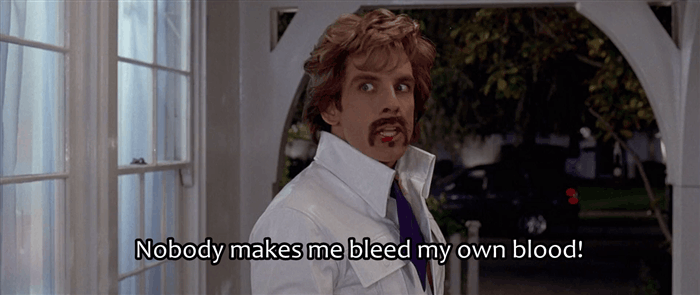 This lessened after I lowered my grip, but I just wasn't a fan of having to move away from my normal grip.
Keep in mind that I'm built like an orangutan, and folks with large hands often have a little trouble with slide bite from Glock and P80 style frames.
One My Little Pony band-aid and I was back in business.
7
at Amazon
Prices accurate at time of writing
Prices accurate at time of writing
Need More Data
New guns are just that: new.
This line just hit the market and it will be some time before folks have enough rounds through them for us to really know how they perform.
We need testers, reviewers, and regular Joes to get 100K cumulative rounds down range. I'm doing my part!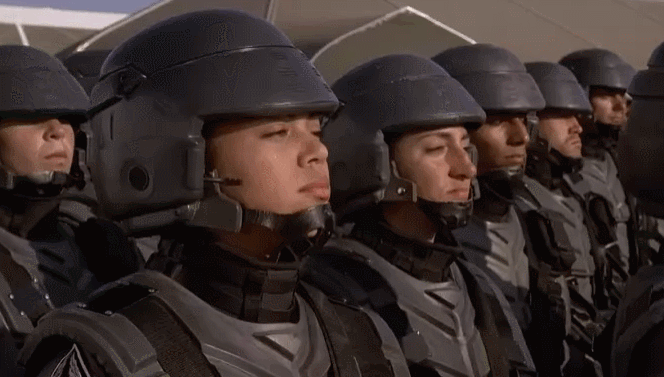 Bottom Line
The FX-19 has a hefty price tag, especially for folks who only see a Glock with window dressing. But for those who want serious upgrades, the FX-19s are ready to go on day one.
No need to send the frame out for stippling, upgrade the trigger and sights, and send the slide out for serrations or an RMR cut.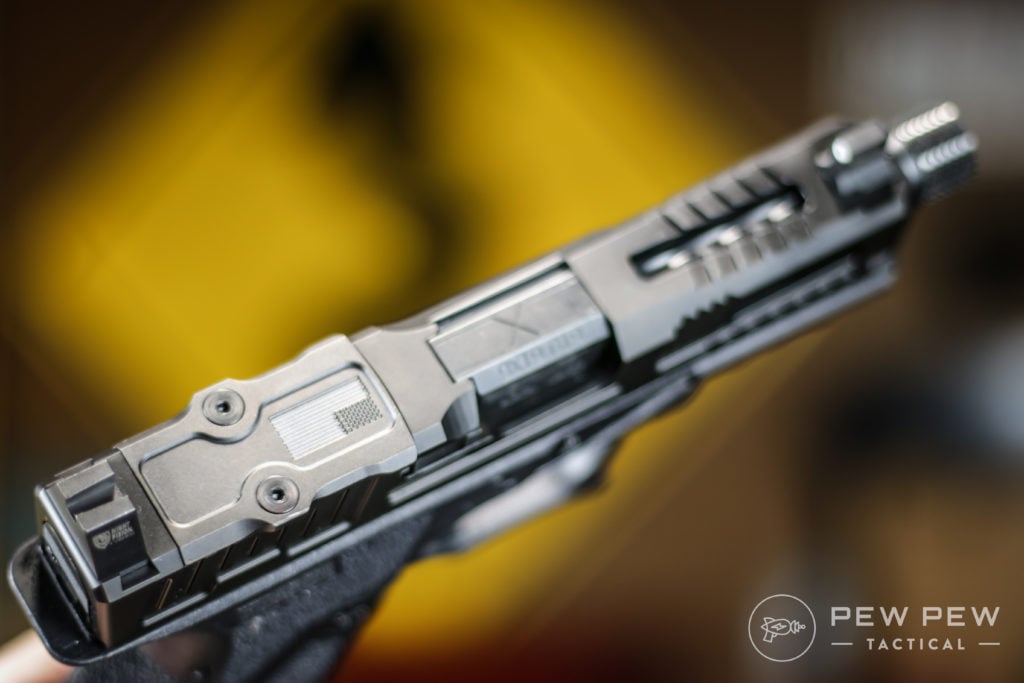 The Patriot and Hellfire are Gucci-ready right out of the box, and the overall price is significantly less than many one-off custom Glocks.
By the Numbers
Reliability: 5/5
It's a Glock…it runs. Well, it's not a Glock, but it still runs.
Ergonomics: 4/5
The grip texture and undercuts feel fantastic. This would be 5 out of 5 if not for the slide bite I experienced, albeit because of big hands. But overall, the guns feel great and the slides are easy to grip from the front or rear.
Accuracy: 4/5
While the FX-19 is not a precision shooter, the match grade barrels in the right hands can do some serious groups. Perfectly accurate for home defense, conceal carry, or for suppressed fun at the range.
Customization: 5/5
The Patriot and Hellfire accept Glock aftermarket parts and there is no end to the nonsense guys will add to their guns. Have at it, boys.
Value: 4/5
As mentioned above, the price is hefty, but there is value in the overall package. Buying a stock Glock and subbing out the slide, trigger, and grip work would be higher priced than the FX-19 in most cases. Expensive, yes, but it's a Gucci Glock, not a Hi-Point Glock.
Overall: 4/5
Solid value. Fantastically reliable. Great looks. I do want to get more rounds through it, but overall I'm happy.
Parting Shots
It's a polymer framed, striker-fired 9mm.
If you are on a budget, go buy a Glock and enjoy it.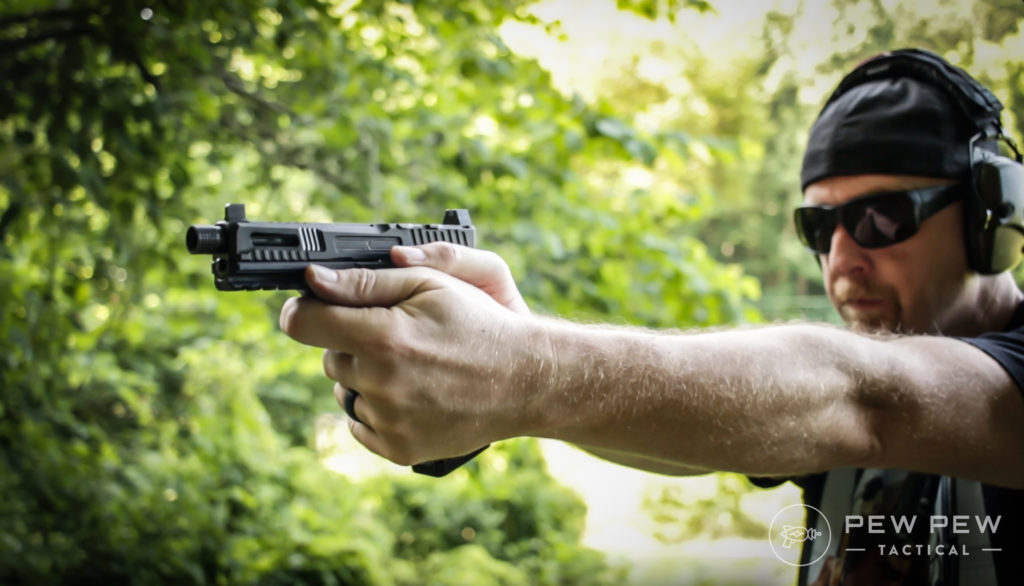 But if the hipster life is calling you, and you have the discretionary income, the FX-19 line is solid. Plus it has a red trigger.
1500
at Faxon Firearms
Prices accurate at time of writing
Prices accurate at time of writing
What is your take on Not-A-Glocks? Let us know in the comments! Looking to fill in that RMR cut – check out the Best Pistol Red Dots!